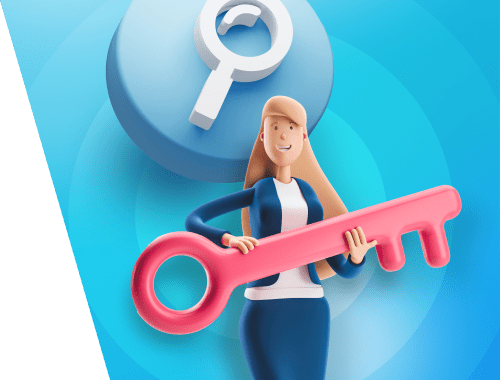 Free Keyword Research Tools — Top 20 List in 2023

Are you looking for some free keyword research tools that will help you have a fresh look at your SEO content? You will be amazed by the diversity of tools that you can use to discover untapped keyword ideas absolutely free of charge. Explore these ones, I bet you'll choose five or something to add to your daily arsenal of keyword research tools.
1. Google Search Console to research your best keywords
Google Search Console is the most popular free keyword research tool that every marketer knows of. Here you can find those keywords that your site already ranks for.
Go to Search Performance > Search Results, and see Impressions. The Console shows the average position for each keyword you rank for, how many impressions and clicks you get from organic search. The tool allows filtering up to 1000 keywords, but the point is to focus your effort on those key terms that have a large potential to rank higher. So inspect your keywords and optimize pages better for the first top 20 positions or so.
2. Google Trends to spot trending topics
Google Trends is a great free keyword research tool that shows an overview of how a key phrase performs on Google. It illustrates keyword data with beautiful visualization graphs and maps. This is a nice tool to capitalize on rising trends and hot topics. You will see which queries are seasonal, or sparked by certain events. You can check out what has come in trend recently, or how the keyword performance has changed over a time range.
In Google Trends, you can see interest scores by locations and by various web search channels. You can change the channel from the drop-down menu to see results from YouTube, and also trends from Google Shopping, Google Images, and News. You can compare keyword phrases, and analyze what related topics and queries have formed a certain trend.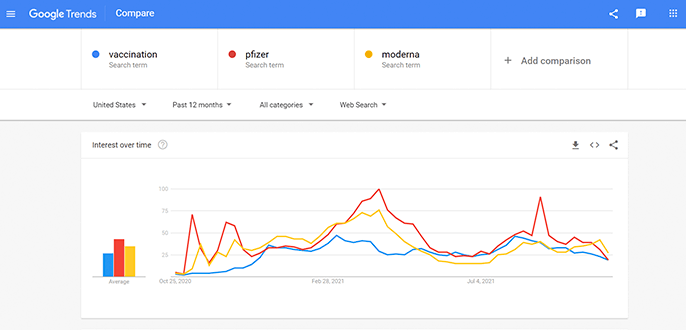 3. Google Suggestions to find long-tail keywords
Google is one of the most insightful free keyword research tools, taken that billions of people use it. The search suggestions vary by the search method.
The Google Autocomplete feature is a simple and straightforward tool to generate long-tail keywords: these are the most popular queries that searchers type into the Google search bar.
The principle for Related Searches or Similar Searches is that Google's AI identifies topics, narrows a topic, or suggests a variant that would probably bring you better results.
You can check this with Google Images where you will see labels narrowing the topic to smaller search result groups. The tool may give you some more keyword ideas for intersecting topics.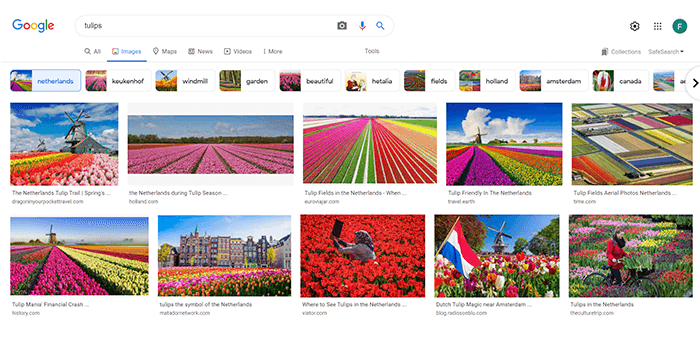 4. People Also Ask to find keywords for more place on top of the SERP
Special attention goes to the People Also Ask box where you get endless questions for your target keywords as you unwrap more and more answers to your initial query. The free keyword research tool is especially useful for mobile SEO and optimizing for voice search.
5. Also Asked to quickly analyze People Also Ask keywords
Also Asked is a special keyword research tool that aggregates data appearing in the People Also Ask box. You just set the query, define the language and location, and let the tool extract all the data you need, clustering the questions into relevant subgroups. You can interact with the question data on the site to explore it.
The free version of the tool allows 10 searches per month. In a paid version you can export data in PNG or CSV formats to process it with other tools or present them to clients. This tool can be helpful for PPC and SEO marketers who want to go into detail and expand the topic in order to improve their content optimization score.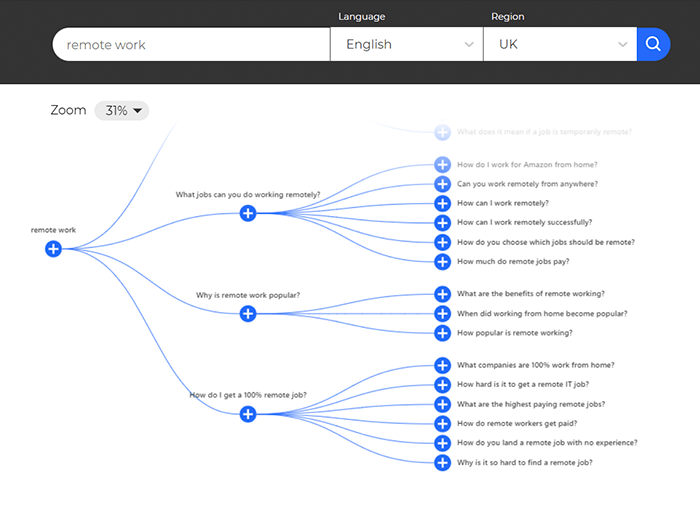 6. Answer the Public to find keyword phrases, prepositions, alphabeticals
Unlike the above tool, AnswerThePublic is a free keyword generator tool that powers data from Google Autosuggest features, like related searches, similar searches, etc. The tool creates a visualization of keywords, clustering them into groups by potential questions, and even providing word combinations with certain prepositions used. You can view the same data combined alphabetically and in columns. The results are downloadable as an image or in CSV format. That's all as far as the free version goes.
The pro version allows unlimited daily searches. You will be able to monitor keyword performance over a time span. Also, you can be alerted as new questions appear for your brand name or target keyword.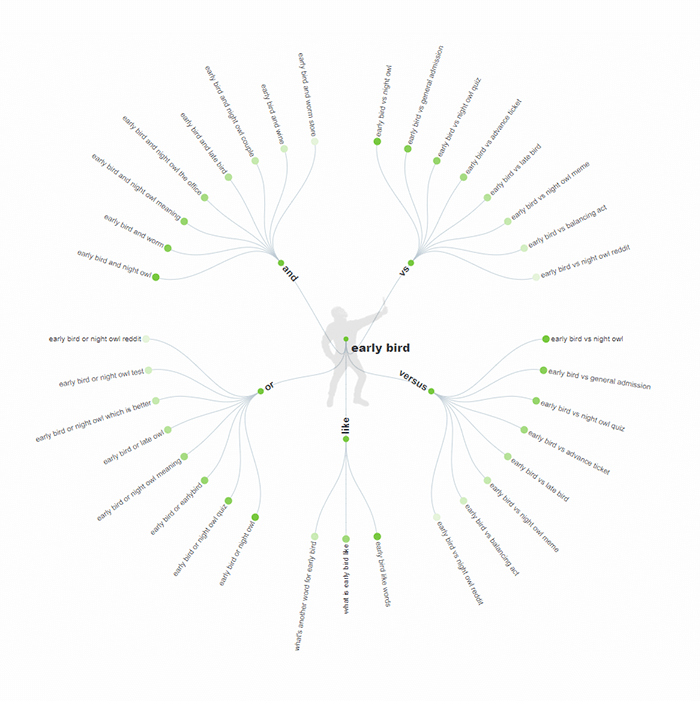 7. Tag Crowd to visualize keyword density on a page
TagCrowd is a nice free keyword research tool for SEO. Briefly, it visualizes keyword frequency by creating a word cloud from content. You paste the URL, and the visual keyword generator creates the word cloud showing the prominence of the keyword in certain contexts. Alternatively, you can add the text from a file or simply copy-paste. This technique is valuable to know which keywords became the main targets in your competitors' ranking pages.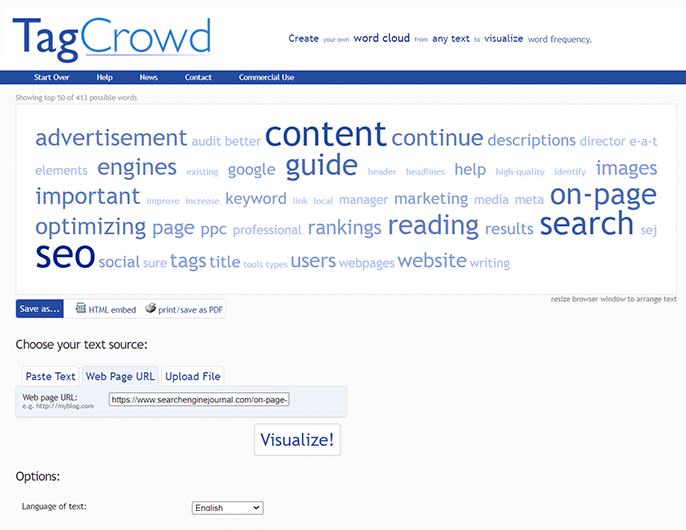 8. Keyword Surfer plugin to discover keywords and optimize content
Keyword Surfer is a free keyword research extension for Chrome browser that lets you see keyword data right in Google search results. For every fresh search, you'll get search volumes, cost per click, keyword suggestions, related terms, online visibility, and on-page stats.
The tool shows the exact match number which is how many times the word has been used on the ranking page. You will see the stats when the titles have been changed recently.
Moreover, there is the Content Editor tool that provides guidelines for writing and optimizing your content straightaway. You will see keywords suggested to you based on LSI (Latent Semantic Indexing).
You can press Generate Outline, and the tool will create a free AI-generated outline for your article with major headlines and even a short introductory paragraph. Of course, you'll get more out of the tool if you upgrade to a full Surfer plan, but even the free version gives pretty much.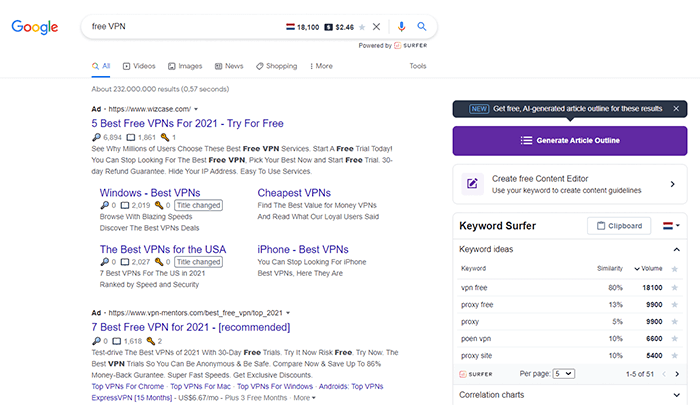 9. Keyword Sheeter to get a plain list of keyword phrases
Keyword Sheeter is a basic keyword research tool that pulls in autocomplete queries from Google. These are real-time data of what people are searching for in the search engine. This is a great free tool to generate keyword ideas fast.
Keyword Sheeter pulls in a large number of keywords over a few moments, you just add them and they are generated into a keyword list that you can then download or copy. However, that's all about the free features of Keyword Sheeter, you'll need to buy Sheet Coins to get search volumes or competition data.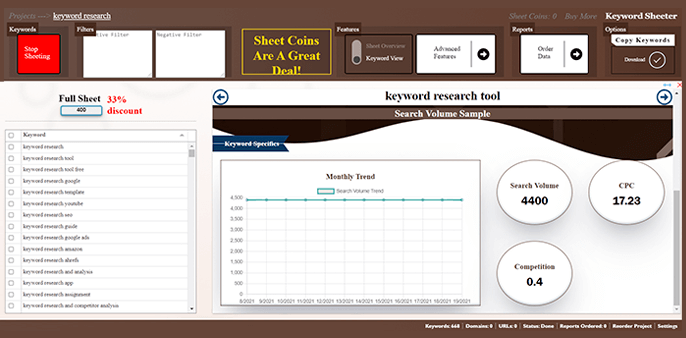 10. TubeBuddy to find keyword ideas for YouTube
YouTube has been one of the fastest-growing features with its own search engine for videos. YouTube Autocomplete works just like Google suggestions. Users paste in the query and get search suggestions showing up. Also, next to the video you are watching, you can view suggested videos and similar videos offered to you based on the search history.
That's where TubeBuddy works as a handy assistant for YouTube search optimization. TubeBuddy is an extension for the most popular browsers to ensure channel growth. It offers an advanced keyword research tool for your YouTube videos, suggesting top related keywords, and popular video tags. General keyword data helps analyze which keywords are more profitable for getting more traffic on YouTube. The free browser version provides limited stats which still give plenty of insights into what potential a topic has on YouTube.
11. Keyworddit to discover trending topics on Reddit
Keyworddit is another insightful tool that generates free keyword ideas from Reddit. To have it work, you need to type in a subreddit's name and pick one of the auto-generated lists that the tool suggests. The results are suggested based on subreddits with over 10,000 subscribers. The more activity you have in the comments, the more keyword ideas you'll get. The tool looks through the titles and comments, pulling up to 500 keywords together with their search volumes.
The search volumes are extracted from the keyword research database GrepWords. The tool creators say that monthly search volumes are very close to those given in Google Ads Keyword Planner. The tool is a great addition to your existing keyword research tools, especially that it's free and it's from a popular crowd-sourced platform. The tool can be helpful to find low-competition keywords that may bring additional audiences. Plus you can get a better understanding of your existing audience.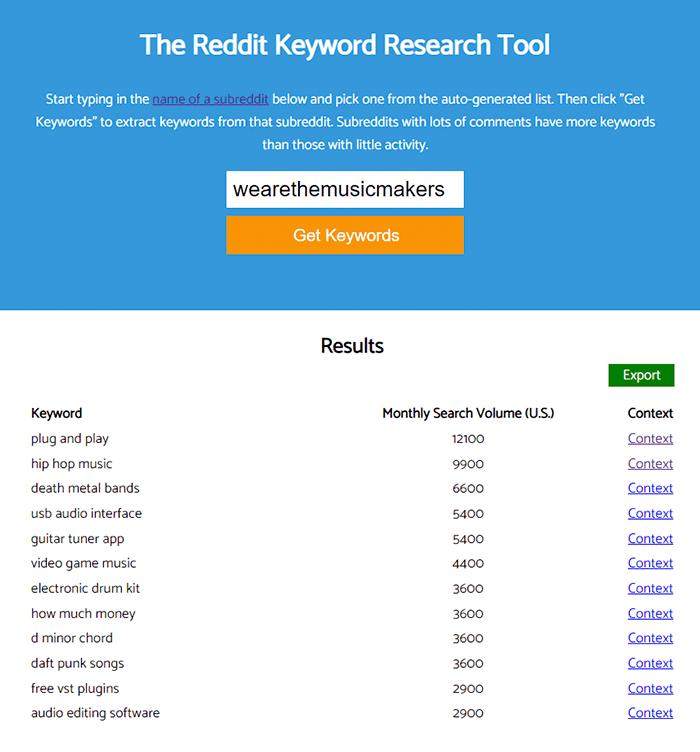 12. QuestionDB to mine question ideas from Reddit and Quora
QuestionDB is a great tool to mine fresh keyword ideas. This is a massive database based on queries asked on question-and-answers websites, including Reddit and Quora. The free version of the keyword research tool allows unlimited searches, however, the results are limited to 50 rows per query. You will paste in a broad keyword (as the tool creators suggest you should do) and will get a lot of question-based keyword ideas and a long-tail keyword list that you can download.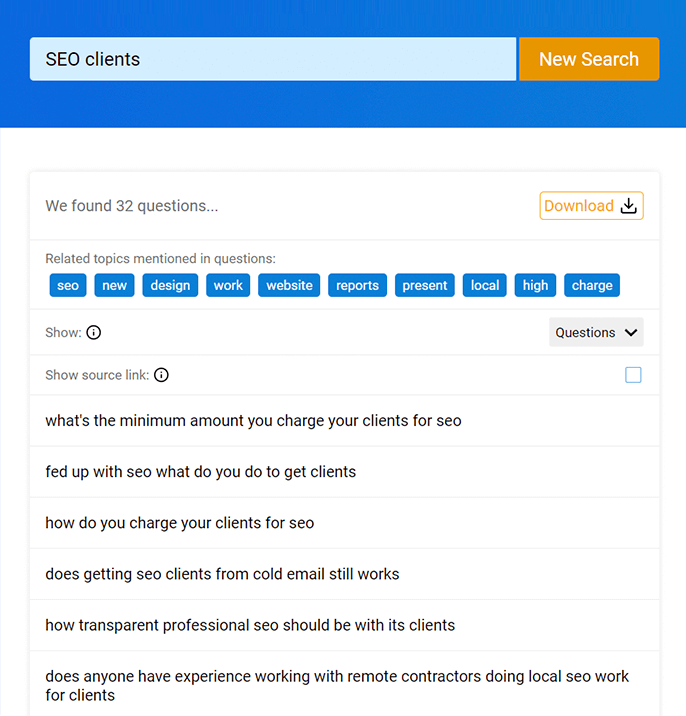 13. Soovle to structure your keyword ideas by platform
Soovle is a great free keyword research tool and ideas generator. It finds popular keywords across various search engines such as Google, Yahoo, and Bing. Also, keywords will be pulled from popular YouTube, Wikipedia, and Answers.com the importance of which to search and Google cannot be doubted. Soovle will also be extremely valuable for e-commerce platforms finding keywords for Amazon. The tool is fast and provides unlimited searches for free.
Soovle provides a list of the most used keyword suggestions organized alphabetically. You can download all of them in a CSV file. Or use the in-built Saved Suggestions feature, creating your own list by drag-and-drop of your needed keywords. The links are active so you can click through to every search results page. And you can add your logo to the results page inside Soovle and send the resulting research URL to your clients.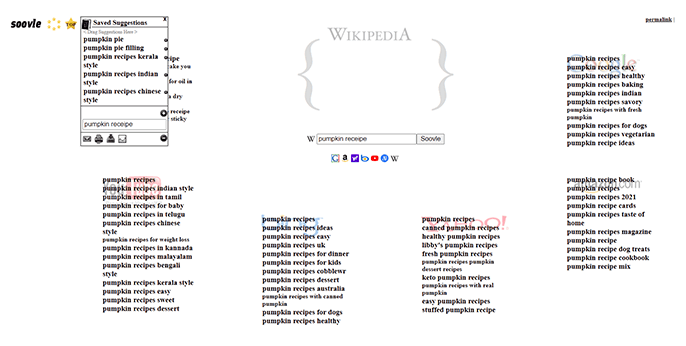 14. Rank Tracker to find and analyze SEO keyword ideas
SEO PowerSuite is powerful keyword research software with over 20 research methods. The benefit of the module is that you will have all possible free keyword research tools collected in one place. All the results needn't be checked manually one by one but can be drawn altogether in the SEO tool database containing hundreds and thousands of key phrases at a time.
Besides, the tool drives plenty of metrics that let SEOs evaluate a keyword's potential and choose your best keywords to optimize for. The tool shows the search volumes, keyword difficulty, keyword effectiveness index, costs-per-click, and more. Rank Tracker integrates with Google Search Console and Google Keyword Planner to give more accurate estimates for your website.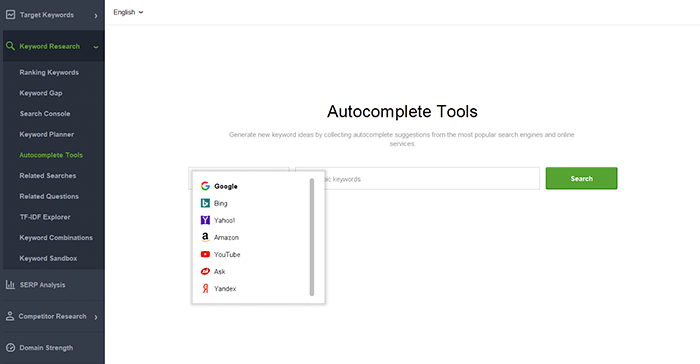 Keyword Gap in Rank Tracker is an awesome keyword research method to find out what keywords your competitors are ranking, but you aren't. The Autocomplete Tools method combines a whole bunch of search prediction tools from Google, Amazon, YouTube, Bing, etc. TF-IDF is a statistical keyword research method that estimates how important a certain word is as related to the rest of a document text. Word Combinations method is a keyword generator tool that mixes words to match them into all possible combinations. Related searches method draws related questions from Google.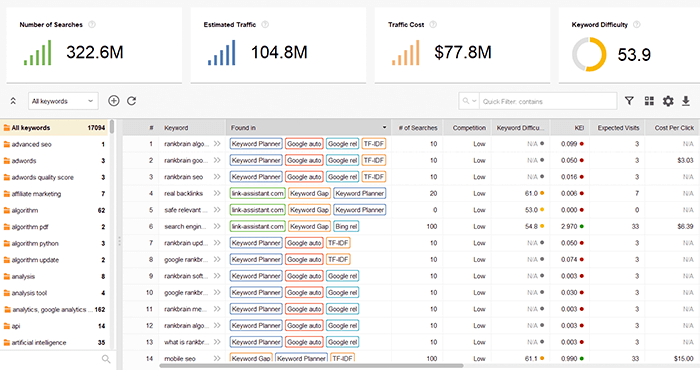 Besides, there is a vast competitor keywords research module where you can find relevant topics by domain and by topic. You can compare your domain and competitors to see how much you intersect. What you do is find keywords with high search volumes that you miss on and integrate them into your content.
There is a special SERP Analysis feature that shows the average keyword difficulty analyzing top 10 ranking results. You will be able to compare the ranking competitors and choose the best optimization strategy to start ranking for the selected keyword.
Rank Tracker is a freemium keyword research software with extensive keyword check features available absolutely free. To make the best of it, consult this keyword research guide.
15. Keyword Generator for quick keyword tips for local businesses
For local SEO, there is the Bulk Keyword Generator tool available for free research from HigherVisibility SEO agency. The keyword generator is nice for small businesses in catering and household services. You select the business type and the city from the dropdown menu, and the tool will generate local keywords for your industry that potential customers might use to find you. There is also a DIY keyword generator template that lets you use a more flexible variation of your 'location' and 'service' keywords.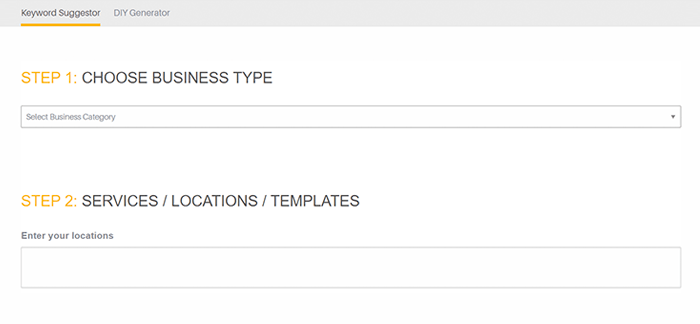 16. GetKeyword to tap into SEO competition research
GetKeyword is another free keyword tool for local SEO with a focus on intent analysis. Simply type in your target keyword and narrow down the search to a certain location. You'll get the list of top locations within the area you're looking for where the word is popular. There will be a breakdown of user traffic searching for this query by mobile and desktop.
You will see top questions related to the topic and related keywords grouped by the type of search result, including autocomplete, video searches, and e-commerce.
The tool is great for competitive research because you will also get information about top advertisers and CPC/PPC costs for the queries. One of the most insightful is the search trend dashboard where you will get a full SERP analysis. The tool shows the SEO keyword difficulty, the average bounce rate, and the average organic click rate for the SERP. However, to further save and export the queries, you will need to start a free trial.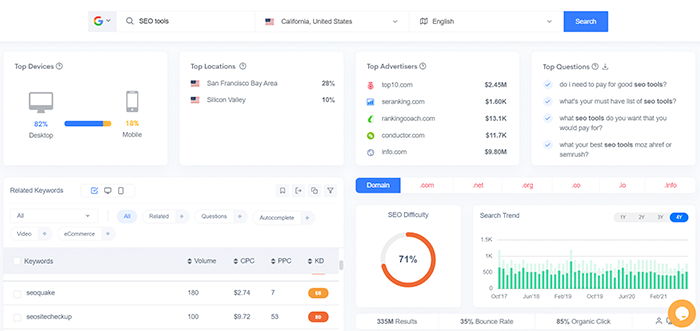 17. Google Keyword Planner to find keyword ideas for paid ads
Keyword Planner is one of the best and most known free tools for keyword research with some limitations, though. First of all, you won't be able to use it by itself unless you have an account for Google Ads with active spending. But once you'll have it, you will be able to check on keywords, and forecasts on their monthly searches and costs per click.
The second thing to keep in mind is that Keyword Planner researchers best keywords for Search campaigns, not for the organic traffic. Estimations are made for PPC, not for SEO, although you will have an approximate idea of how a key term would behave in organic search as well. Google Ads provides a detailed keyword research guide with tips, for example, to avoid too specified keywords in setting up your paid campaigns.
18. Jaaxy to collect keyword ideas for affiliate marketing
Jaaxy is a keyword tool designed specifically for affiliate marketers. The free version of the tool however is limited to 30 keyword searches only. Keyword stats are limited as well, meanwhile, it is pretty useful. The tool shows the long-tail keywords based on your seed keyword. It provides its average monthly searches and calculates expected organic traffic if you reach the first result on the SERP.
The tool calculates QSR metric, or Quoted Search Result, which is the number of competing websites for a key term. Next to it, the Keyword Quality Indicator (KQI) is calculated — great, normal, or poor. Next, you see the SEO score calculated based on traffic and competition: the higher the score, the more likely you are to rank in the first position.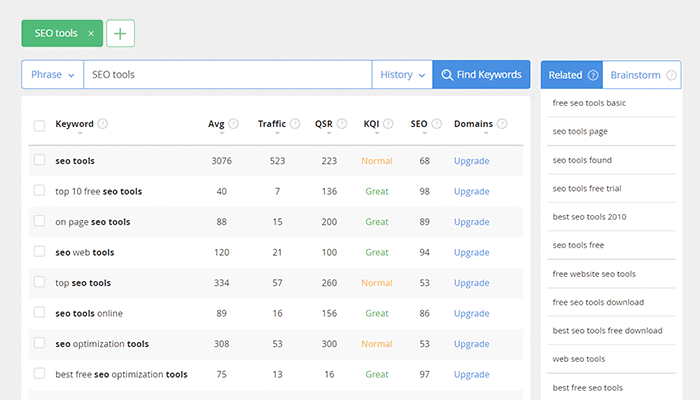 19. SEO Scout to group long-tail keywords and get content ideas
SEO Scout offers a free keyword suggestion tool to discover additional ideas for your target keyword in your language and country. It uses Google's Autocomplete research to dig the most popular long-tail queries. Thus, the tool is good for finding keyword ideas for local SEO on Google.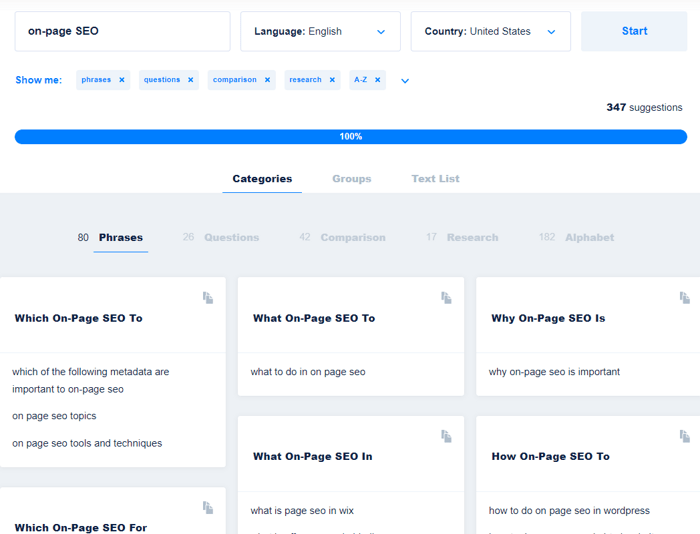 The great feature of the free tool is that it not only provides a comprehensive list of keyword ideas (listed alphabetically, if needed). It categorizes them into groups and topics helping you to plan content creation around the keyword suggestions. Here, you will find ling-tail phrases around which you can build your questions for FAQ blogs or for Help sections. The keyword tool provides tips and ideas about what kind of content you may create with these key phrases.
The discovered data can be imported as a CSV file as groups. There is an option to share the list with your colleagues by a shareable link. Unfortunately, there won't be monthly search volumes or costs-per-click, just a plain list of keyword ideas. To get more SEO data, you'll need to opt into a paid version of the keyword generator.
20. Keywords Everywhere to look for keyword suggestions while browsing
Keywords Everywhere is a free browser plugin that allows searching for keyword ideas while browsing. The free version of the add-on shows no search volume, however, it predicts expected monthly traffic data. It powers keyword suggestions from Relates Searches, Autocomplete, and People Also Search. It shows trends charted for Google and YouTube.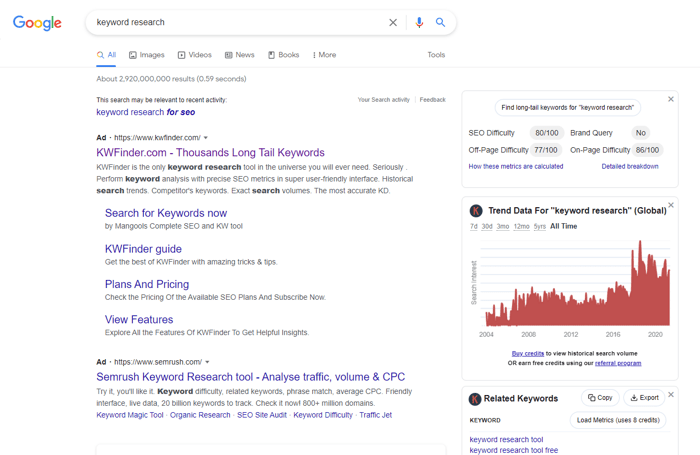 Besides, the keyword tool analyzes the on-page optimization rate to reveal the URLs' top keywords and keyword density. The tool will help you collect the best keyword suggestions while browsing, and check out competitors' keywords to borrow them for your on-page improvements.
What are your favorite keyword research tools?
Hope you liked this list! Do you happen to use some other free keyword tools? What do you value the most in keyword research tools that you use daily? You are welcome to share with us in the comments!
Article stats:
| | |
| --- | --- |
| Linking websites | N/A |
| Backlinks | N/A |
| InLink Rank | N/A |