Top 7 Link-Building Mistakes to Avoid

7 link-building mistakes

that can cost you your biz
And why you need to run Anti-Penalty Link Audit today!
Link building has never been so challenging and contradicting as it is today.
— You need backlinks to make your site rank.
— You fear of wrong backlinks that put your site at risk of Google's penalty.
To boost your link-building efficiency and, at the same time, stay safe from penalties, you need to instantly identify and neutralize any harmful links in your profile.
That is why today, to help you make sense of what's truly harmful for your site, we'll show you:
1) 7 deadly link-building mistakes that may be poisoning your site now
2) 2-minute solution to spot and neutralize all harmful links with SEO SpyGlass
---
Find and neutralize harmful links before they ruin your ranks!
Mistake #1: Backlinks from pages with excessive (over 1,000) outgoing links
When a backlink page links out to hundreds and thousands of other pages, its value drops drastically. And more to that, massive outgoing links can be a sign of low-quality spammy blog or directory. These backlinks are suspicious and need a closer inspection.

Detected with SEO SpyGlass: Yes
SEO SpyGlass's Penalty risk score: Suspicious
---
Mistake #2: Links coming from pages with the same IP (same C-class)
Many backlinks coming from sites with identical IP addresses may show that some of your links are attained via link networks — which is a red flag for search engines. Inspect you backlinks for IP addresses to keep your link-building effective.

Detected with SEO SpyGlass: Yes
SEO SpyGlass's Penalty risk score: Suspicious
---
Mistake #3: Too many links with exact match anchor text
Standard practice used to be: you'd aim for about a 30% to 50% match. Now those numbers dropped drastically. So, look through your backlink anchor text and take action if exact match anchors exceed 10%!

Detected with SEO SpyGlass: Yes
SEO SpyGlass's Penalty risk score: High Risk
---
Mistake #4: Overoptimized anchor text and lack of anchors diversity
Just as with exact match anchor text, Google frowns at backlink profiles with too many optimized link anchors. Make sure your backlinks have a variety of natural anchor texts (junk anchors, branded phrases, naked URLs, etc.) and review site's links for overoptimized anchors.

Detected with SEO SpyGlass: Yes
SEO SpyGlass's Penalty risk score: High Risk
---
Mistake #5: Sitewide backlinks
A high number of blog-roll, header, footer or sidebar links can trigger Google's "overoptimization" wrath, so keeping them to a minimum would be a rather reasonable thing to do. The fewer sitewide backlinks — the better, so mark them all in your backlink profile for revision and possible removal.

Detected with SEO SpyGlass: Yes
SEO SpyGlass's Penalty risk score: High Risk
---
Mistake #6: Backlinks from pages not indexed in Google
When a web page is not indexed in the search engines, it's possible it was banned for violating search engine's rules. Logically, having links from de-indexed pages is a red flag too. Stay away from banned pages and domains.

Detected with SEO SpyGlass: Yes
SEO SpyGlass's Penalty risk score: Critical Risk
---
Type #7: Backlinks from pages that look suspicious and weak
Beware of the pages that offer quick and easy link opportunities, without even looking at your site's content and moderating submissions. These backlink pages may contain in title/body such words as "forum," "link directory," "article directory," "links," "submit url," etc. On the whole, be cautious about pages with very low PageRank (zero or n/a) and backlink domains with short history.

Detected with SEO SpyGlass: Yes
SEO SpyGlass's Penalty risk score: Critical Risk
---
Run Anti-Penalty Risk Audit in under 2 minutes!
Checking all these factors one by one can take lots of your time. Luckily, SEO link audit for your and your clients' sites can finally be automated.
The recently added Anti-Penalty Link Audit tool in SEO SpyGlass sums up all the penalty-trigging factors to give you a quick way to evaluate potential penalty risk for each of your backlinks and point out all dangerous links you need to immediately get rid of.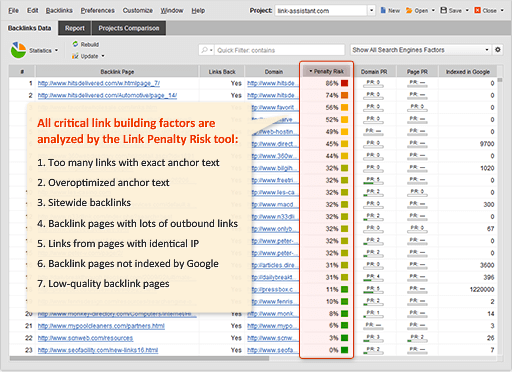 1. Launch SEO SpyGlass and check out the new Penalty Risk column to see how risky it is to have each of your backlinks:
2. Just hover your mouse to the Info icon on the left to see the exact risk factors that make up the score for each particular link: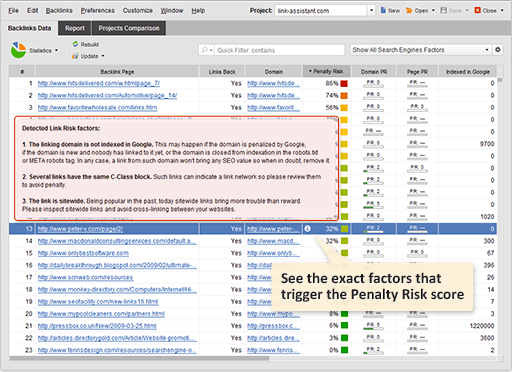 3. And this is it! Here's how quickly and easily you can now make sure that your backlinks are safe (and spot any harmful ones that can damage your site)!
Read on to see how to take action on all bad links SEO SpyGlass finds and get new SEO SpyGlass right now to safeguard your site from Google's harsh link-spam policy!
---
Don't ignore poor backlinks as it may be too expensive for you in the future, when Google penalizes your site and all your content gets de-indexed. Here's what you should do after you detect harmful backlinks.
How to get rid of the harmful links you've found?
1 Ask webmasters to remove the links
Contact webmasters and site owners of the linking domains, asking them to remove the link to your site.
Tools to use: Export the links you'd like to remove to LinkAssistant — the tool will collect contact info for each of the domains and then help you manage email correspondence with webmasters via its inbuilt email client.
2 Submit the harmful links to Google disavow tool
It's also very probable that some webmasters will ignore your e-mails and the backlinks will remain on their places. In this case, the best solution is to use the Google Disavow tool to tell the search engine it should ignore those links.
And here's how you can do that:
In your SEO SpyGlass project, select the links you wish to remove;
Go to File -> Export -> Backlink data and follow the simple Wizard to export selected backlinks in .txt format;
Note that it may be helpful to supplement the file with comments, showing you've tried a link-removal campaign before going into links disavowing (describe when did you contact the webmasters and what results you got);
Now log in to your Google Webmaster Tools account and go to the Disavow tool. Upload your file and let Google do the rest! It may take some time for the links to get disregarded by Google.
3 Make sure to regularly re-check your links!
Even when you've finished the clean-up and your link profile looks perfectly healthy — make sure to check it every once in a while. This way you're sure to safeguard your site from competitors' negative SEO attacks and all sorts of SEO tricks and spot any harmful links before Google does.
So, is your website safe?
Check your Penalty Risk now with new SEO SpyGlass!
Now you know how to keep your and your clients' backlink profiles safe — and it's time to take action. Get a copy of SEO SpyGlass to clean your link profile of any low-quality links and protect your hard-earned rankings.
---
Article stats:
| | |
| --- | --- |
| Linking websites | N/A |
| Backlinks | N/A |
| InLink Rank | N/A |