Full Guide To SEO-Friendly Site Redesign
Full Guide To An SEO-Friendly Site Redesign
How To Keep Rankings Safe While Updating Your Website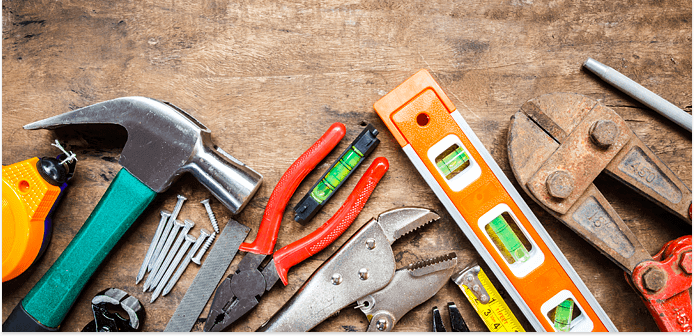 I know, I know, a site redesign is always a pain in the neck. First, the process requires lots of time and hard work — and still never results in anything you thought it would. Second, it's deservedly associated with a risk of busting all your previous SEO efforts.
But just because redesigning a website can bring about a drop in rankings doesn't mean it ought to. In this guide, we'll look at the steps to take to make sure your redesign makes your SEO situation better, not worse.
But before we begin... There's one question you need to have a clear, grounded answer to before you commit to start a site redesign.
Does your site really need a redesign?
You see, web design trends change fast. Web 2.0, parallax, HTML5... It's impossible (and unnecessary) to always keep up with every design fad. If you're thinking about redesigning your site, ask yourself if you have a substantial reason to do that.
Here are my personal top 3 scenarios when a site redesign is definitely a good idea.
1. Your site's outdated design affects user experience and conversion.
If your user experience and conversion metrics are well below average in your industry or have been going down lately, and you've ruled out other possible causes for that (bugs on the site, your pages' load time, and so on), updating your site's design and layout can often help.
Here's a pretty impressive recent example. This April, the Awario team revamped their website, completely changing both its design and content.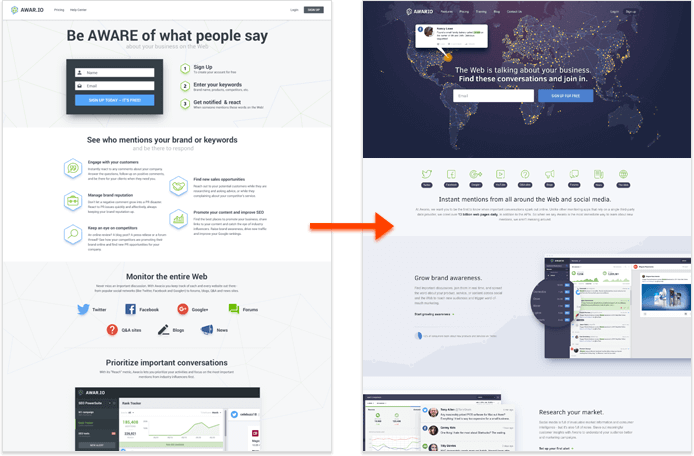 Guess what happened next? They started getting over 6 times the number of conversions they used to. Signups increased by 524.12%, from 2.04% to 12.74%.

2. You're updating or changing your site platform.
If you are looking to add new functionality to your site or enhance its security, you might be thinking about shifting to a new content management system or web framework. This is also a good time for a redesign, since you're taking your site through lots of changes already.
But remember that whatever is under the hood of your website, there always is a way to keep the design, layout, content, and URLs intact if that's what you prefer to do.
3. You are trying to bring your site in line with SEO best practices.
Many recent search engine algorithm updates (eg. site speed, mobile friendliness, HTTPS) require significant changes on your site. If your site is lagging behind these search engine trends, taking care of them before it's too late is a good idea for SEO purposes alone.
Since these changes are likely to affect both your site's design and the underlying platform, redesigning at this point would require less effort than it normally does, saving you lots of time and hassle.
---
OK, you've got your reasons and are ready to redesign your site, but where do you start? The trick is, you need to start before starting.
Before you start
1. Do A/B testing.
It's surprising how often websites are redesigned without thorough testing. Redesigning just because somebody thinks the new design would work better or look fancier is a recipe for disaster. Whenever possible, make sure that all changes you make on your site are data-driven.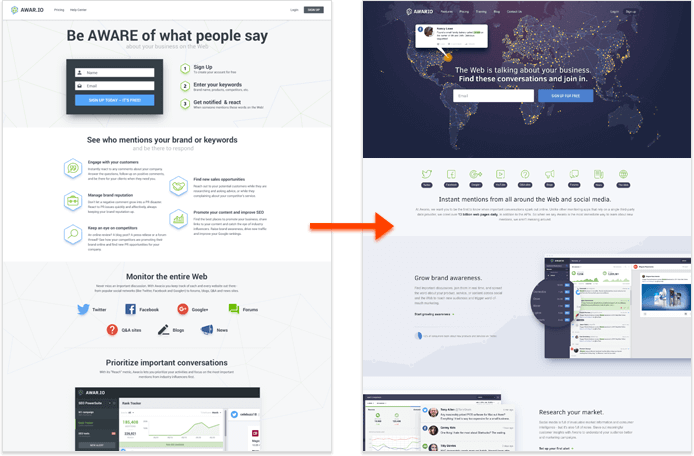 Run a series of A/B experiments to test which changes in layout, site colors, or images make users spend more time on your site, lead to better conversion rates, or work for any other metrics you're tracking. Make notes of your takeaways to incorporate into your site's new design.
How-to
1. Identify the pages you will be running the tests for.
For example, if you have an e-commerce site, the pages you'd probably want to test first would be your home page, category pages, product pages, and the checkout page. As a rule of thumb, you should be testing the pages that are part of the conversion funnel on your site. To get actionable results faster, it's a good idea to run the tests on the pages that enjoy more traffic.
2. Prepare a set of alternative designs for each page.
It's best to test one thing at a time (e.g., variations in the layout or the color of your CTA button) — changing too much at once makes it hard to determine the impact of individual factors on conversion and user behavior. But it's totally fine to run a few independent concurrent experiments on different pages as long as you're sure the results of one won't mess with the results of the other.
3. Choose the testing tool. There're plenty of such tools available; here are my top 4:
4. Run the tests and pick the winners.
2. Get a list of high-traffic pages.
At this point, you need to determine which pages enjoy substantial amounts of organic traffic and which ones you can get rid of safely. You can easily get this list in your Google Search Console account.
How-to
1. Go to Search traffic > Search Analytics.
2. Click the Pages radio button, check the Clicks box, select 90 days in the date range menu, and sort the list in descending order.
3. Copy the URLs of the pages that get a substantial number of clicks (e.g., >50) to a spreadsheet.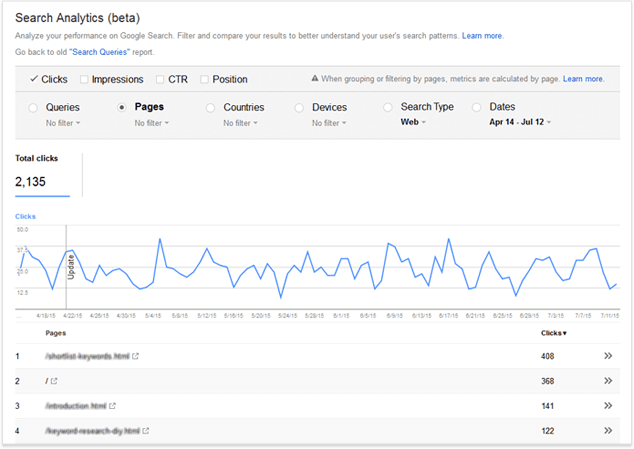 3. Get a list of pages with incoming links.
You don't want to lose any of your valuable backlinks and the link juice they bring, do you? That's why you'll also need to add the pages that have backlinks pointing to them to your spreadsheet. You can get a list of these pages in SEO PowerSuite's SEO SpyGlass.
How-to
1. Download and install SEO PowerSuite.
2. Launch SEO SpyGlass and enter your site's URL to create a project.
3. When the app has collected the links to your site, go to the Anchors & Pages dashboard and switch to Linked Pages.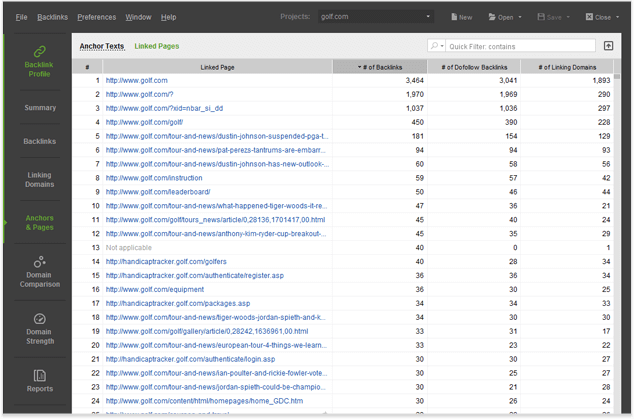 4. Select all records in this view, right-click the selection, and hit Copy records to clipboard.
5. Paste the URLs to your spreadsheet.
4. Put up a list of obsolete pages.
If your website has been around for a couple of years, chances are many of its pages have grown outdated or useless. Dig through your site and look for old promotions, content that is no longer relevant, etc., and compile a list of pages to delete.
The redesign
1. Work with your team.
Designers and web developers rarely care about SEO or marketing. Before they start working on the redesign, arrange a meeting with your team to explain the SEO side of things and work out a common, comprehensive redesign strategy.
2. Prepare the environment.
While you're working on the new version of your site, you wouldn't want it to be available to search engines. First, the work-in-progress version may be buggy; second, if it gets indexed while the old website is still live, you will end up with lots of duplicate pages in search indexes. This can lead to a drop in rankings or even a search engine penalty.
To be on the safe side, it's better to work on a test server that can't be accessed unauthorized users and search engines.
If you can't set things up on a separate server, you can deploy the new version of your site in a subfolder or subdomain of the existing site (eg. http://mywebsite.com/new-design or http://new.mywebsite.com). If you go with this option, make sure that this folder or subdomain is blocked from indexing in robots.txt.
User-agent: *
Disallow: /new-design/ User-agent: *
Disallow: /
3. Map 301 redirects.
When possible, try to keep the URLs of your pages unchanged. If some of the URLs do change, use a 301 redirect to make sure the old URLs take users to the new ones.
Before you remove any pages, look them up in the list of URLs with incoming links (remember the spreadsheet you put up at the prep stage?). If there are valuable links pointing to the old URLs, always set up a 301 redirect to the most relevant new page.
4. Fix on-site issues.
Before your newly designed website goes live, you need to audit it to make sure no technical or SEO problems can affect your site's performance in search results. You can easily do that with SEO PowerSuite's Website Auditor.
How-to
1. Download and install SEO PowerSuite if you haven't already.
2. Launch WebSite Auditor and enter your site's URL to create a project.
3. Review your site audit to spot any serious errors or warnings.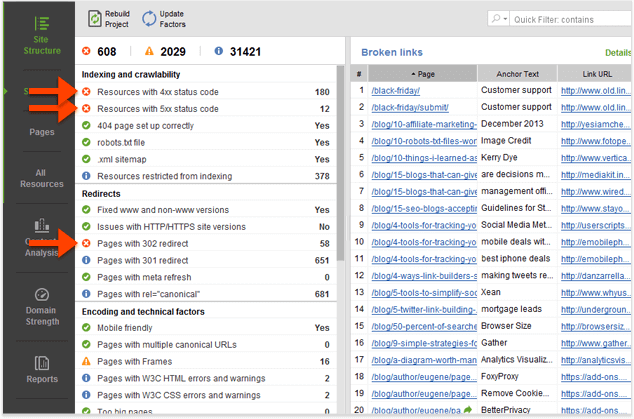 4. When you're done fixing, go to the Pages dashboard and hit the Sitemap button.
5. Review your sitemap. For any pages you don't want included in it, uncheck the Include into Sitemap box.
6. Hit Next and proceed with uploading the updated sitemap to your site or saving it to your computer.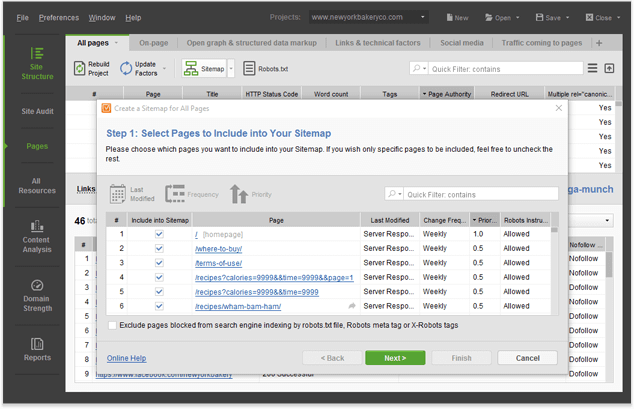 After the launch
Here are the crucial things to check after your redesigned website goes live.
1. Look out for indexation issues.
Make sure that your website's content is available to search engines, and none of the important pages are blocked from indexing. Again, you can easily do that with SEO PowerSuite.
How-to
1. Launch Website Auditor and create a project (if you're doing this for an existing project, open it and hit the Rebuild Project button).
2. At Step 1 of project creation/rebuild, check the Enable expert options box.
3. At Step 2, uncheck the Follow robots.txt instructions box, and hit Next.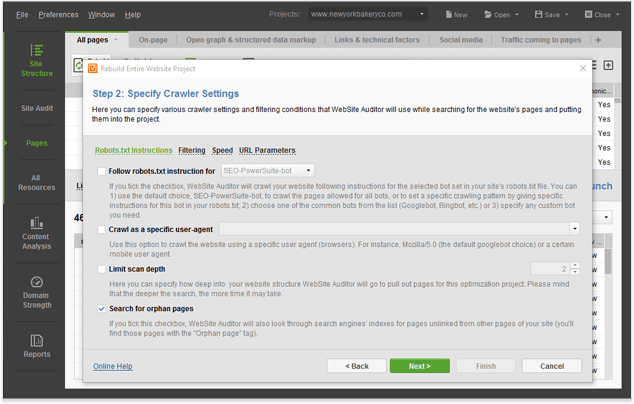 4. When the crawl is complete, click on Resources restricted from indexing to see which parts of your site can't be crawled by search engines. Make sure none of your site's important pages and resources (such as your CSS and JavaScript) are listed there.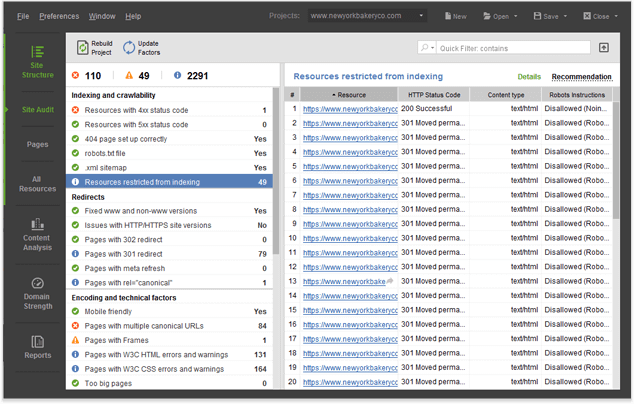 2. Observe how your rankings change.
After the redesign, it's important that you keep checking your ranks religiously for your most important keywords so you can spot any drops early and fix the underlying issues. Use SEO PowerSuite's Rank Tracker to do that (it doesn't have any limits on the number and frequency of ranking checks).
How-to
1. Launch Rank Tracker and create a project for your site by entering its URL.
2. Specify the keywords your site ranks for. You might want to download your keywords from your Google Search Console account to make sure you don't miss any important terms.
3. Select your target search engines and click Next to proceed with the ranking check.
4. Schedule regular checks to be run automatically by going to Preferences > Scheduler and adding a new scheduled task.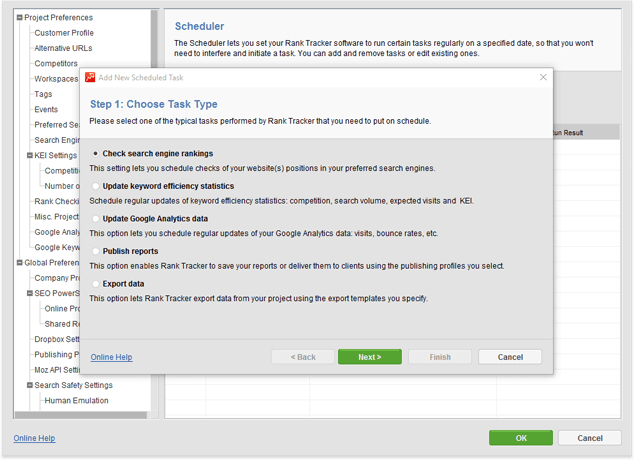 Bonus: common redesign mistakes
Last but not least, here are the common SEO mistakes that can be made during a site redesign:
Cutting the number of the site's pages significantly.
Substantially reducing the amount of content on the website's pages.
Ignoring keyword usage when changing the site's content.
Increasing pages' load time.
Changing URLs without proper redirects.
Removing pages with the most valuable inbound links.
Blocking the site or part of it from indexing.
---
That's it! Now that you have a solid idea on how to redesign your site the SEO friendly way, your new, better-looking website is sure to only change your ranking and traffic stats for the better.
As always, I'm looking forward to your thoughts and questions in the comments below.

By:
Yauhen Khutarniuk
Head of SEO at SEO PowerSuite