How to Build a Successful Travel Blog: Interview with Ryazan Duray-Tristram

How to build a successful travel blog: interview with Ryazan Duray-Tristram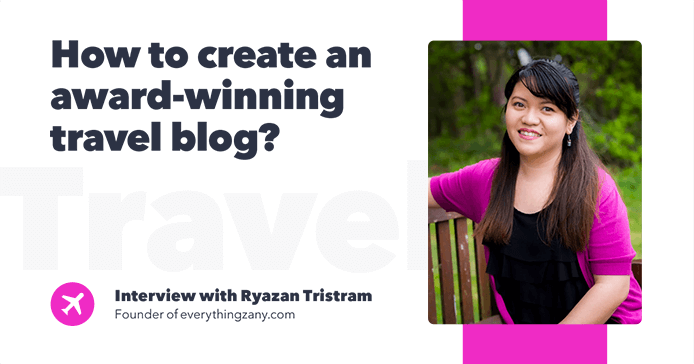 About the blogger:
Ryazan has a background in Tourism and Hotel Management from Pamantasan ng Lungsod ng Maynila (University of City of Manila). She also has extensive and outstanding experience in hotel and travel sectors in Asia and Europe.
Getting involved in the blogging scene, gave her loads of different opportunity working with the various budget and luxury brands in the tourism and hospitality sector around the globe.
Ryazan's work has been featured in various media and publication including Huffington Post, Lonely Planet, Discovery Channel, Reader's Digest and many more. Everything Zany is also one of the 2018 finalists for UK Blog Awards for Travel and Photography categories.
About the project:
Everythingzany.com, an award-winning travel and photography blog, covers a wide variety of topics, such as photography tours, backpacking, gastronomy trips, city breaks, sustainable travel, and so much more.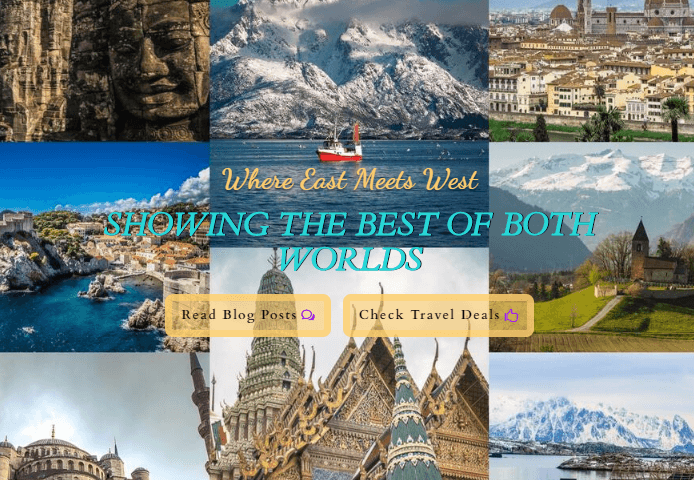 How did you get started with your blog? Why did you choose the travel and photography niche?
I started blogging in 2015 when I joined a community blog without even knowing the whole concept of it and let alone the technical side of managing a website. I love to share my personal stories with people with the hope to inspire and help others.
Travel has been my first love! Having an in-depth understanding and experience in the travel and hospitality industries, it is an obvious choice for me to pick the travel niche in blogging.
As for my photography niche, I only started to take the craft seriously when I started blogging. I really aspire to take amazing photographs that will help me deliver my travel stories to my audience through visual content. Plus, it also helps me to develop my photography skills more by sharing what I know to my audience.
What's your process of content creation? What gives you the inspiration to create authentic content? Any examples of your favourite (top-performing?) guides and posts?
I always aim to create a helpful and informative post. I typically based my topics on the season trends of my niche as well as the commonly asked questions from my blog audience and community groups.
My top performing posts are typically about dual citizenship, my expat how-to guides, travel itineraries and visa guides.
Do you hire other people to code pages/write content or do you manage everything on your own?
I managed everything on my website from designing it and up to its SEO & Marketing efforts. I personally write my own content and create the majority of the photos on my site.
I hired my writer back in the last quarter of 2018 to help me to speed up the content creation. However, I'm still the one who gives the full SEO brief to my writers — including what topic to write, keywords and the goals of the blog posts.
Tools! What kind of tools you use and what for?
These are the tools that I currently use to run my website. I wrote an informative blog post about the blogging tools that I would recommend.
SEO Powersuite — for all my SEO efforts from keyword research, website audit, link building campaigns and management. I made my SEO PowerSuite review here.
Tailwind — for scheduling my Instagram and Pinterest content.
Facebook Scheduler — this is the platform own scheduling tool for posting on my page.
Twitter Scheduler — this is the platform own scheduling tool for posting on my page.
MailChimp — for sending and managing my monthly newsletter updates.
Adobe Spark — for creating beautiful video content for my website and Pinterest banners.
Lightroom & Photoshop — for all my photo editing.
Filmora — for more complex video editing.
Google Drive — for centralised storage for my whole team.
Content, SEO, Social, Ads, Email, Offline events — what's the proportion of these tactics in your marketing strategy?
I focus the majority of my efforts on creating SEO optimised content. Probably around 60% of it.
I use social media (Facebook, Twitter and Instagram) for brand awareness. Since the majority of the brands and other tourism boards would love a good social following. The algorithms of these social platforms are designed to keep the audience within their own sites, so they don't like it much if you share any article links.
I use Pinterest to bring more traffic to my site. As for Email marketing, I typically send an update on a monthly basis as I don't want to be so spammy. It doesn't appeal to my audience.
I also attend a few networking events and conferences to promote my brand and to connect with brands and fellow bloggers for collaborations.
Speaking of SEO, what's your current strategy?
My current plan is to publish more quality, relevant and informative content. I typically do my topic research based on trends, my audience and any potential SERP topic gaps.
Competitors — how challenging is the competition for your niche at the moment?
Travel niche is very competitive. Other than fellow travel blogger site, I also need to make sure I can tackle the big publishing travel media giants.
What are the major monetization methods? How do you cooperate when some well-known brands and product companies approach you with partnership opportunities?
The main income of my sites is from serving Mediavine ads. I'm currently one of the Mediavine publishers. The premium ad network offers a better RPM rate.
I also collaborate with brands and product companies, I always make sure that our goals are inline and both agree on the terms of the collaboration. Knowing the goals and deliverables of the collaboration makes it easier to create content that will fulfil the KPI goals and metrics.
All collaborations from companies and brands are paid or product/service exchange.
Can you share any interesting 'aha' moments from your blogging experience?
One of the main 'aha! Moments' is when I understood the ropes of Pinterest.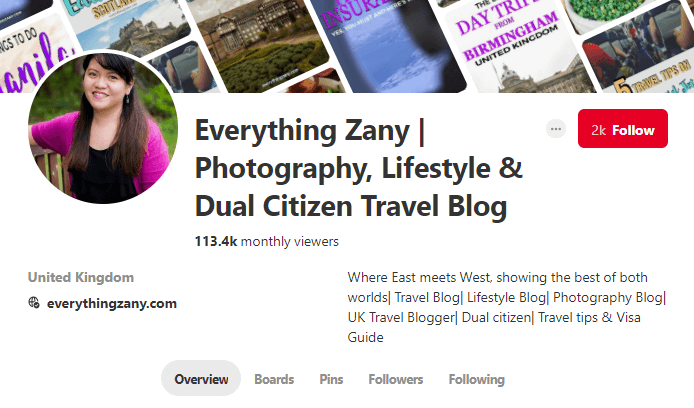 I was so focused on optimising my site for SEO, but I wanted to open another source of traffic hence I turned to learn Pinterest.
Did you experience burnout in your work and how did you 'unplug' from it?
Oh yes! There were times that I felt uninspired to do anything with my blog. So it's a hint for me to take a break!
I always make sure that I will have a day off from doing anything and just completely do other social activities outside the digital world. It is really important to have that pause every week to increase productivity and let the creative juices flowing again.
What are your big plans for growing the project?
I'm currently focused on creating more great content. Mainly focused on building more clustered and relevant content to grow the website. I also want to focus more on growing the affiliate marketing side of blogging.
What kind of advice can you give to someone who's just started writing a blog?
If you want to turn your blog into a passion business, then learn SEO (even the basic first) from the get-go.
This will give your blog a solid foundation and you will eventually adapt to very good blogging practices that will pay off in the long run. Do not get discouraged in the first few months or even years of blogging most especially when things do not go as planned.
Connect and network with like-minded people who are doing well in your niche. Attend various conferences and events to build relationships and connections that can possibly lead to collaboration.
---
Do you also work on your own travel blog? Or maybe you'd like to ask Ryazan some questions related to her SEO and marketing? Feel free to share your opinion in the comments below!
---

By: Ryazan Duray-Tristram
Article stats:
| | |
| --- | --- |
| Linking websites | N/A |
| Backlinks | N/A |
| InLink Rank | N/A |