Why YouTube SEO is a chance not to overlook
Now that video format is spreading across the Internet like a plague, ignoring YouTube SEO will make you look like an ostrich hiding its head in the sand. Yes, all the hype surrounding video format is actually quite reasonable. So, if you still haven't implemented it in your marketing strategy, you are really missing out on life, let me say. If still in doubts, have a look at this:
YouTube reports mobile video consumption increases 100% every year — Hubspot
A video in an email leads to 200-300% increase in click-through rates – Hubspot
55% of people watch videos online every single day — Digital Information World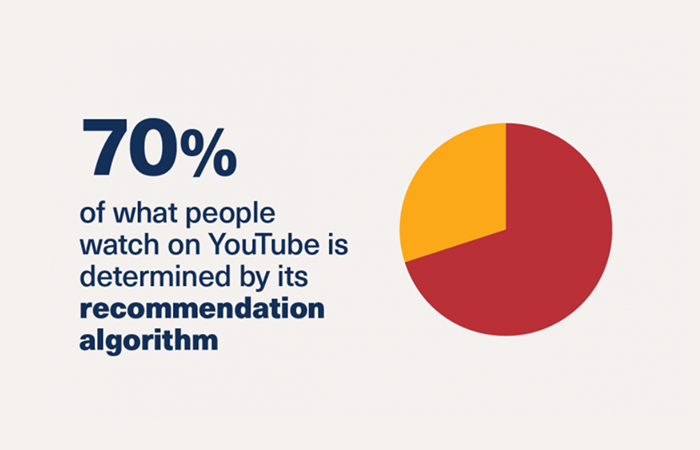 Given this, YouTube has all the legitimate rights to be called the web's largest search engine after his majesty Google, of course. Yes, YouTube is a search engine for videos, full stop. And since YouTube operates like a search engine, you've got to be aware what factors YouTube considers important for videos to rank well.
What are YouTube ranking factors?
1. Views and subscribers
A view is counted if a user watched at least 30 seconds of a video. A repeated view is also treated as a count, however, multiple views per day from the same user might be treated as spam and not added to the total view count. Such measures prevent spam bots from cheating on video watching stats.
2. Audience retention
Watch time is a ranking factor that YouTube considers even more important than merely clicks and views. So your goal is to create videos that people want to keep watching. The same way subscribers cannot be fake bots: you need real returning visitors who watch and interact with your videos.
3. Engagement
User engagement is a strong ranking factor for YouTube. It is highly important for your channel to have comments, replies to comments and new subscribers after a fresh video has been published.
4. Video quality
With these factors in mind, you certainly need videos of great quality. Think of switching to HD format: multiple studies prove that HD videos do get higher ranking positions more often. You've got to create the best picture you can.
5. Channel authority
YouTube offers powerful monetization possibilities, but it requires a lot of analysis and thoughtful content creation all the way through. When your channel reaches impressive figures, usually somewhat 100, 000 subscribers, you can go for badge verification and make your channel an official source.
In real life, video content needs optimization and promotion just like any other website. In addition, by optimizing your YouTube videos, you can significantly increase the chance of appearing in organic Google's search results, because YouTube operates as one of Google's subsidiaries. So, without further ado, let's get down to the list of techniques that I personally consider life-savers when it comes to YouTube search optimization.
1. Keyword research
Bearing in mind that YouTube is a search engine, it's only right to kick off with proper YouTube keyword research. By doing that, you will get an idea of what your target audience is interested in and how it talks about it on the net. Think of giving Google Keyword Planner a massive try, the tool will kindly supply you with topically-relevant keywords as well as with their competitiveness rates.
YouTube video results in Google Trends
Surprisingly enough, a lot of SEOs out there do tend to underestimate the power of Google Trends. The tool has a separate YouTube search feature, which hides under the Explore > Web search option. This tool is great to use when you've already come up with the list of keyword ideas and need to compare them in order to leave the most potentially profitable keywords.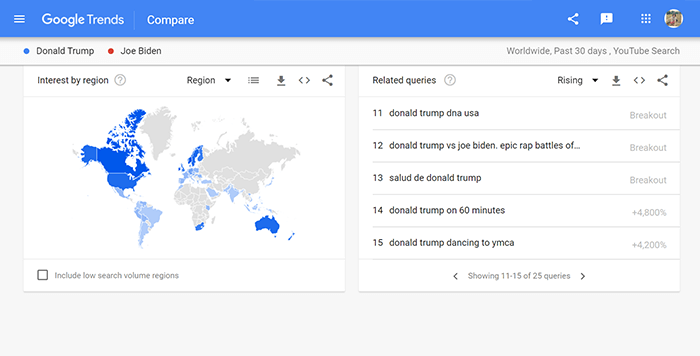 Here, you can check keywords' popularity in video results in your niche. Filter by such metrics for Related Queries as Top (with the most search traffic) and Rising videos. The Breakout are new queries that hardly ever had any prior search traffic at all. A great tool to keep the hand on the pulse of breaking news!
YouTube Search Suggest feature
Now let's move on to searching for so-called video keywords. You are certainly familiar with YouTube's Search Suggest feature, the main source of your video keyword research. When you start typing a search term, YouTube suggests to pick from the most popular related queries in the drop-down list. The good news is that now you can evaluate the popularity dynamics with Rank Tracker keyword tools.
In my admittedly biased opinion, Rank Tracker software is simply a must-have when it comes to video keyword research. There you'll be able to check rankings of as many keywords as you want, to spot the keywords that have greater chances of bringing up a video on the YouTube SERP.
Create a project for your site, and enter a few seed keywords to start your keyword research with. The software will collect data about your most profitable related keywords, with their search and ranking stats. Then go to Keyword Research > Autocomplete Tools and select YouTube Autocomplete. Start typing your keyword phrase just like you would normally do in YouTube. After that, the software will nicely supply you with the list of the most popular search queries.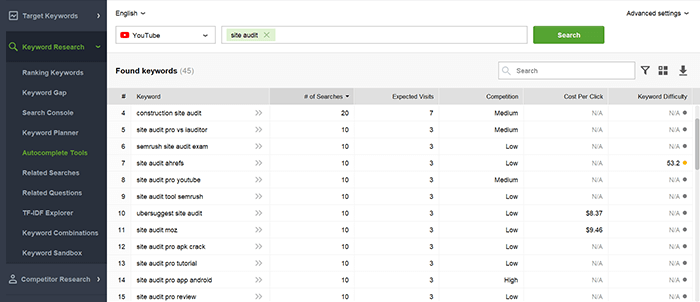 I personally think this feature is super cool to find video keywords, because it really gives you a clear understanding of what your potential customers type into YouTube while searching for some products or services related to your business, and, which is by no means less important, what they call it.
Besides, the software provides all possible SEO stats for your keyword ideas: the search volume, competition and keyword difficulty. Which is great to estimate how competitive your niche is and whether the keywords are profitable enough to optimize your video for search.
Get YouTube keywords to rank videos in Google
Video keyword phrases are also of the greatest value for you, because these are the ones that can make your video appear in the regular organic results in Google.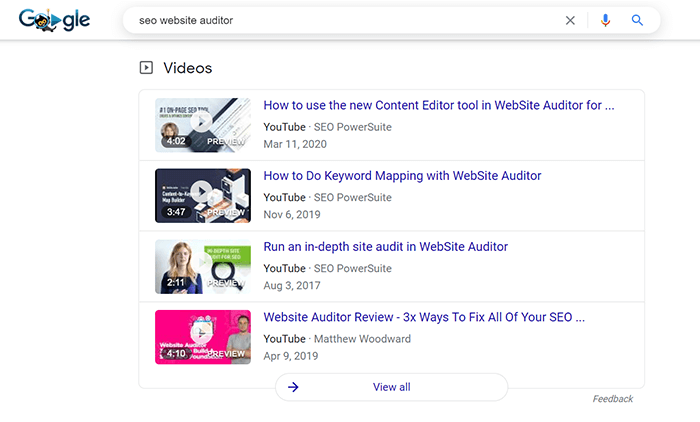 Here, the Rank tracker tool is of great help, as it allows you to quickly check if your site ranks for the target keyword in video results in Google.
Once you've researched your best related keywords, add them to Rank Tracking where all their rankings will be tracked. Check out the Google SERP features: see if there are video icons or thumbnail icons, meaning you have a video ranking with a SERP feature on the result page in Google.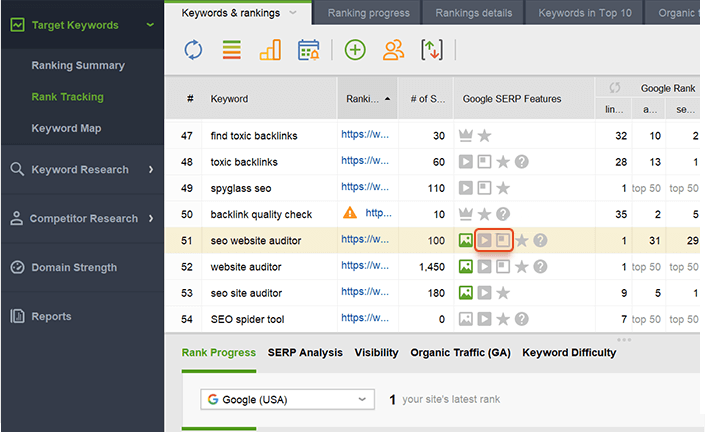 2. Video Metadata
As a rule, when we refer to metadata with regard to a video, we mean all the textual and visual information that assists it. Interestingly enough, the times of metadata being the major factor that determines a video's relevance to a certain search query are melting away.
The Internet is getting smarter, and now Google and YouTube are turning their heads to machine learning for object recognition. Basically, it means that YouTube algorithms can now recognize objects in videos and understand their content. That brings us to a conclusion that metadata may no longer be as important as it used to.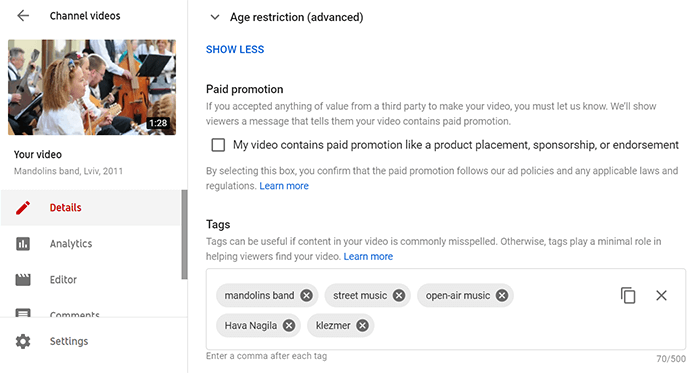 On the other hand, metadata is exactly what users see first when they come across your video. So, your task here is to arrange it in such a way that it's appealing, relevant, and, what is even more important, clickable.
Remember that the first 48 hours of your video's life are the most crucial. So, for the sake of YouTube SEO, don't publish a video thinking you'll optimize metadata later. It is incredibly hard to recover it once the algorithm has marked your video as unworthy.
Ok, enough for scary stories, let's get to the root of the matter and see how you can optimize metadata components to conquer YouTube SERPs.
Include keywords in the title
I guess I hardly need to explain to you the importance of a YouTube video title or any other titles really. It goes without saying that a title should reflect the topic of your video and include the keyword phrases that you want to rank for. According to the research conducted by Backlinko, videos with an exact keyword match in the title do rank better.
And please don't forget to fit into a 60-characters limit in a video title to avoid being cut off on result pages. Try to sound unique to stand out from the crowd of your competitors. Don't overhype your title (nobody likes that), don't make false promises (no clickbaiting), and omit ALL-CAPS letters in your title.
Write a good description
The description box appears under the title and views count of YouTube videos and unwraps with the Show more button for desktop viewers. Meanwhile, for mobile users it is collapsed by default. Two or three lines of it will show up in the video search results. So, ideally, you should thrill, put forward the gist of your video in the first 150 symbols.
An optimized description has been designed to help viewers find your videos through search. That is why you've got to optimize your video description for both people and search engines. So, try putting relevant keywords from the title closer to the beginning of your description. However, don't forget to sound like a human, and add a call-to-action in between.
Bearing in mind that YouTube allows descriptions of 5,000 characters long, it doesn't necessarily mean that your mission is to take up all the space. The truth is, YouTube is the place where people go to escape from reading, so don't force them to.
Under the Show more button of the description, you can hide all your marketing information which, by the way, is great to mention once or twice in your video. Another good practice for a YouTube description is to share links to your website and social media, or to add links to playlists of related videos you've created. A great practice is to provide timestamps for long videos to increase engagement and help users navigate through video sections. And you can add some relevant #hashtags to the description: unlike keywords in titles, hashtags can be broad match keywords and general associations.
Create captivating thumbnails
A thumbnail is what I want you to take especially seriously, because this is exactly what is going to catch a viewer's eye first. But while YouTube can do all the scutwork for you and generate a selection of thumbnails to pick from, I strongly suggest creating a thumbnail of your own. In terms of technical characteristics, the best practice is to upload an image, which is:
1280x720 pixels
16:9 ratio
< 2 MB
.jpg, .gif, .bmp, or .png format
Sticking to these parameters will make your thumbnail look equally good across multiple viewing platforms both in large and small sizes.
Obviously enough, a thumbnail should be attention-grabbing, tease potential viewers, and reflect a video's subject. I guess I don't need to tell you that inappropriate, unprofessionally looking, and spoiler-alerting thumbnails are not our bros.
Here is quite a good example of a thumbnail.

The thumbnail above is cool for quite a number of reasons. First of all, the picture includes a human, which instantly makes it more attractive and "alive" in comparison with other thumbnails with cakes on them only. What is more, text takes up about 30% of the picture, which is also good, because it makes the image more informative but, on the other hand, doesn't overwhelm it. And on the whole, the image looks quite professional and complete.
Optimize your tags
Tagging is probably the easiest part of metadata optimization. YouTube underlines that tags will be helpful when your main keywords are commonly misspelled. Tags are not visible to regular users, but you can reveal your competitors' tags under YouTube videos with the help of VidIQ browser plugin. Although YouTube is not restricting the number of tags, try not to overuse them: up to 10-12 tags will be more than enough. Give your preference only to relevant tags. If lacking ideas, use the autofill to find tags.
3. YouTube Analytics
Trying to improve YouTube SEO without knowing your audience is like cooking a soup without water – impossible. In other words, YouTube Analytics is simply irreplaceable when trying to figure out who your viewers are and what their watching habits are.
It supplies you with a whole bunch of useful metrics like: demographics, traffic sources, CTR, the number of unique viewers, etc. The YouTube search stats on a popular video will give you insights about your target keyword and interests of your audience around the search term. Moreover, you can find video keywords you've never ever thought of before.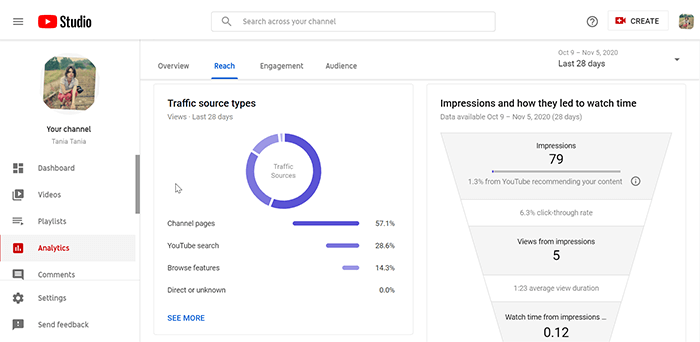 In YouTube Analytics you can find out plenty of useful data about your channel audience. By thoroughly analyzing these stats, you will get a clear idea of what deserves attention in your optimization process and what is a waste of your time.
The Reach report shows the general performance for your videos: traffic sources, impressions and clicks. Pay attention to click-through-rates: if you optimized your videos well, the CTR should get higher.
You will find top videos, top playlists and top elements of your videos in the Engagement report.
The Audience report will help uncover your viewers' interests and watching habits. Here you will get plenty of insights into how to rank YouTube videos for your target audience.
What is more, by linking YouTube channel Analytics to Google Analytics you will unlock even more sophisticated features to track transactions and conversions.
4. Watch time optimization
Basically, watch time is the amount of time a viewer spends on watching your video. Bearing in mind that YouTube has an evil plan of destroying and replacing television, it's only logical that long videos are getting more and more prioritized. That allows YouTube running more ads and keeping viewers' attention for more.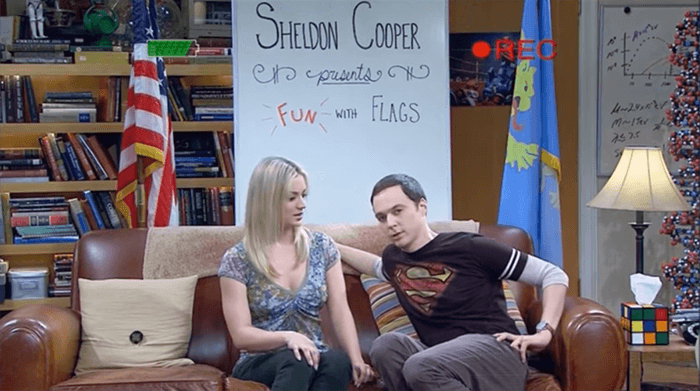 There is a widely shared opinion that video length matters because longer videos perform better. In addition to that, our beloved research by Backlinko proves that longer videos do actually beat shorter ones. In my view, the rule here is the same as for long-read articles. In fact, there is no ideal length for a video to rank - just give value to viewers and encourage their activity.
So, the best thing you can possibly do is creating a video that would keep viewers' attention from the very start till the end, make them want to watch more of your content, subscribe to your YouTube channel, and comment. No, you don't need to film Game of Thrones for that, just consider this:
Think of combining videos of similar topics into a playlist. This will make your videos pop up when someone has watched even a single video from the series.
Don't make a mistake of giving too much context at the beginning of your video. Catch your viewer's attention straight away and get to the meat of the question without empty chatter.
Make sure to give your Watch Time reports a big old check. By doing that, you can spot an Achilles' heel of your strategy and fix it on time.
Encourage viewers to watch other videos of yours by mentioning them directly in a video or in the description below.
You will find a few good tips about your viewers from the YouTube audience retention report. Check the spikes where viewers take off, probably, that can give you a clue where to improve your video. Probably, you can fix the issue by adding some notes, cards and other attention-grabbers.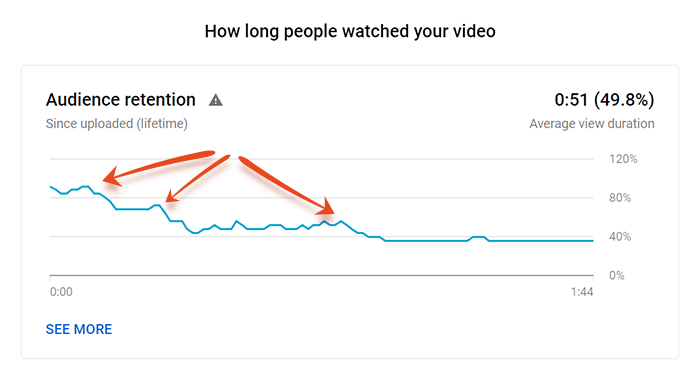 6. Interaction encouraging
The first things to check when aiming to encourage interaction are Engagement reports. They are of the greatest help when it comes to understanding what your audience likes and what, on the other hand, causes unsubscriptions and dislikes. Once you've spotted strong and weak sides of your channel and done correction work, your videos are more likely to gain love and support. And that's exactly what our ultimate goal is, because audience's engagement and subscriptions are what your YouTube SEO would absolutely love.
Since we're talking about interaction encouraging here, creating and adding an End Screen can be a good idea. By placing it at the end of your video, you can remind your viewers to subscribe or, for instance, suggest watching another video of yours just like in an example below.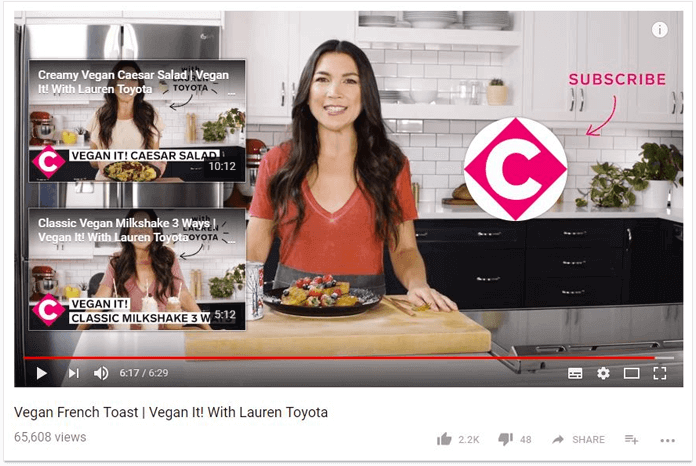 Nothing can probably provoke a conversation better than a direct question, so go ahead and ask one. Consider asking your audience's opinion on a subject to your liking or, on the other hand, encourage them to ask you any questions.
Don't forget to be a role model yourself, be active in comments, and show appreciation to your viewers. Naturally, people are more willing to interact when they have a feeling of some kind of community. So, show your audience you are on the same level and talk to people.
Another thing I can highly suggest you should do is adding Cards to your video. It's a great way to raise your video's interactivity and promote your brand as well as other videos right on the go. I'm sure you have seen this small "i" icon right in the upper right corner of a video.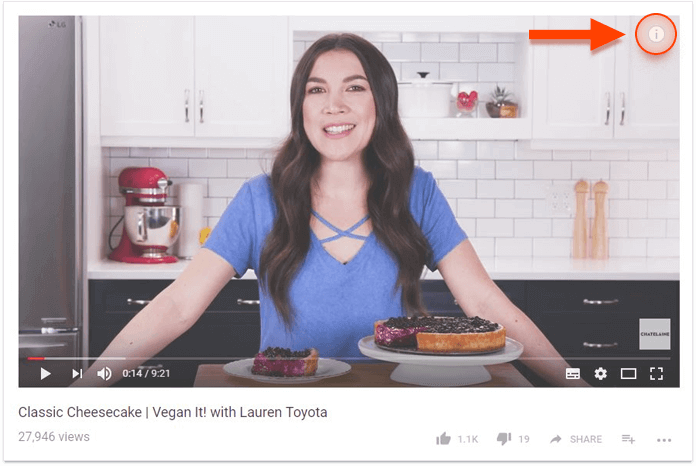 The point is, after hitting the icon, a user may see up to five cards. They can be of 6 various kinds, those that:
Promote a video or playlist
Encourage viewers to participate in a poll
Link to an approved website
Promote another channel
Feature a nonprofit organization
Encourage your viewers to support the creation of video content.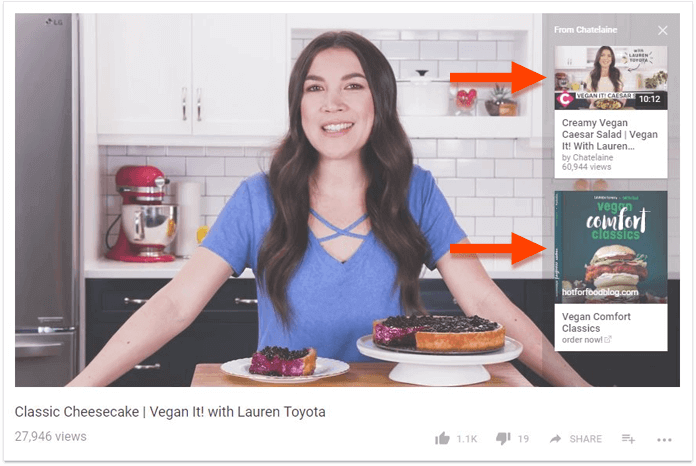 If you want to learn more about cards and how to set them up, go check out this video of Derral Eves, the founder of VidSummit, a video marketing strategist and consultant.
7. Promoting in social media
The Internet of today is social. I know that the concept of sharing a video across social networks is pretty obvious and hackneyed, but I couldn't omit it. Cross-posting YouTube videos still remains the most powerful strategy for maximizing visibility and traffic.
In a survey from February 2019, around 50% of US users on Facebook and Snapchat replied they were using these social media for watching videos. So, reasonably enough, social media like Facebook and Instagram can be the best advertising platform for your YouTube videos.
On top of that, I would also highly suggest brand monitoring and analyzing your social media presence with the help of social listening tools. By setting up an alert in Awario, you can see how people interact with your video across various social networks. Or you can go further and create an alert to track how your competitors' videos are being shared and promoted. That's how you can get yourself some ideas of what kind of content is worth creating next.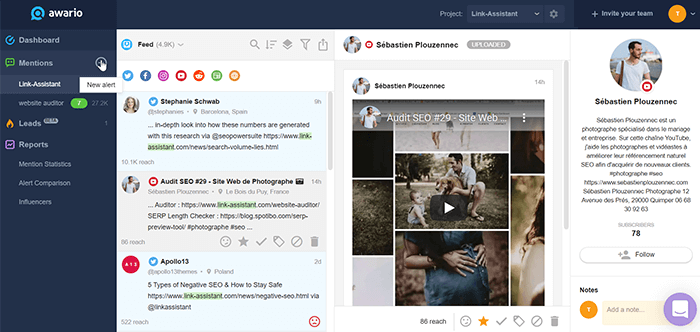 What makes the strategy win-win is its side effects in form of links' and social presence growth.
8. Brand recognition
In the harsh YouTube reality of 2020, high quality videos are not a "wow" thing anymore, it's something that goes without saying. Now YouTube is all about building serious long-term relationships rather than short random romances with its viewers.
On the bright side, the platform lets you easily optimize your YouTube videos, build up the audience and create a brand of your own, with plenty of tools simplifying the process. Default settings for your uploads as well as customization features for the YouTube channel allow creating a unique appearance for your brand.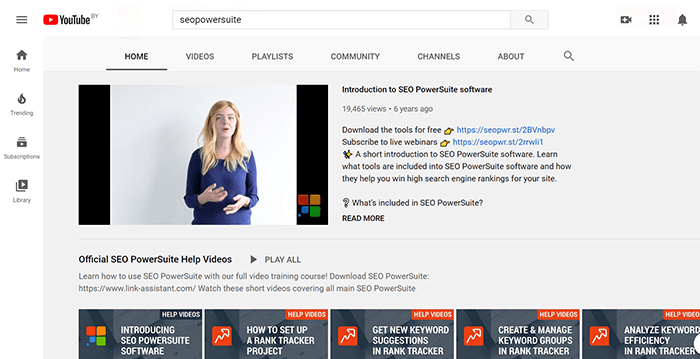 Painstaking work and SEO optimization on YouTube should reward you with dedicated subscribers, and it will be easier to rank once your channel has grown really large. To make it happen, you need to implement a few best practices to stand out, such as:
Invent a unique recognizable name for your brand;
Add a high-quality channel icon on your videos;
Personalize homepage and layout, add links and contacts to the header;
Make a short trailer telling about your channel;
Be authentic and original in your self-representation.
Extra Tips
Embedding links
Links are not a ranking factor for YouTube the way it is for Google. However, link building tactics around your videos can boost your YouTube SEO overal. Consider featuring and embedding your videos in blog posts. By doing this, you can significantly increase the chance of appearing in Google's organic results and earn links. Highlight your videos in outreach email campaigns. Invite other people to share your videos by highlighting embed links in Cards and the description.
The tricky thing is how YouTube counts cross-platform video views. For example, the video view count on YouTube will not include its views on the OK social network. In that case, you have an option to make viewers from the social net proceed to YouTube and watch your video there.
You can do it by unticking the Allow embedding option. You will still be able to copy the embedding code and share the video via social media. But clicking on such videos on platforms where views stay unaccounted will open the link to your YouTube channel in a new tab.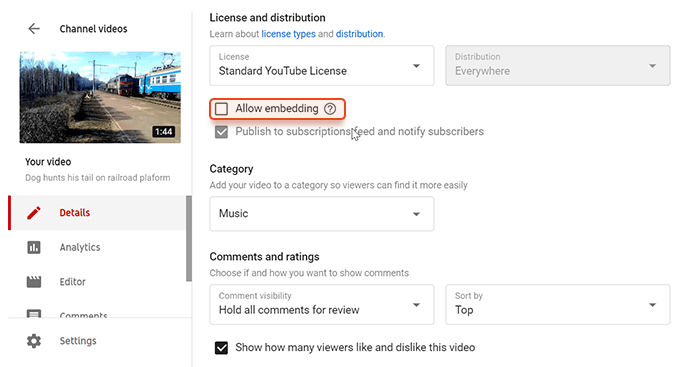 Another option is to use URL shorteners like Bitly.com and embed links that are copied from your browser and shortened. Then the social media will consider such embedding as an external link and will not play them with their inbuilt player, but rather refer users to your YouTube page.
If you have many videos to manage
It is believed to better have one great video that ranks well than several average videos that underperform and ultimately can drag down your channel's popularity. Actually, this can be a minor issue: if your next videos will earn better engagement with your audience, it's more likely to appear again among recommended videos. For more tips about Search and Discovery on YouTube, watch first-hand Q&A series on Creator Insider channel.
Automatize uploads
As I mentioned in the above, consistency is a crucial thing. Not sticking to your plan will immediately influence the number of your subscribers and views, negatively of course.
The good news is that you don't necessarily need to sit in front of your computer with your eyes glued to YouTube's processing graph to upload a video. Now you can make your videos upload and publish automatically without even touching your PC. This feature has been around for ages now, however, for some reason, a lot of people still refuse making the most of it. Going through some simple steps will allow you to have regular releases on your channel, which is exactly what YouTube wants you to have.
The only difference in comparison with a regular video upload is that you need to go for the Scheduled option.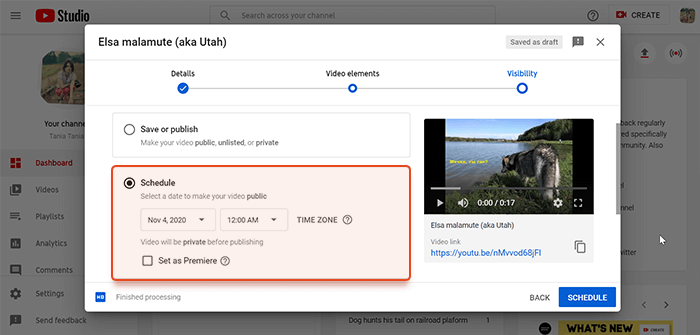 So you just fill in all the necessary metadata, set the day and time, and click on Schedule. If you have a sequence of videos to go on your YouTube channel one by one, just go through the same steps picking the time you want each video to go live and forget about it for good.
Create playlists
Think of combining YouTube videos of similar topics into a playlist. This will make your videos pop up when someone has watched even a single video from the series. Compiling a good playlist also requires some proper optimization. Apply the rule of the first video: you can combine any video into a playlist, but the first video should be yours. And optimize the title and the description of your playlist, that's clear why.
Over to you
Well, that's it for YouTube optimization best practices for today. Remember that you're going to get as much out of the YouTube SEO process as you put into it. Hope you enjoyed the article. Please feel free to share your YouTube SEO experience and ask any questions in the comments below. Stay tuned for our next articles! And may the force of SEO be with you.