7 SEO Trends for 2016 from Industry Experts
Lots of changes have affected search in 2015 and now, as 2016 is fast approaching, all eyes are on the newly emerging trends and the updates that Google has in stock for us.
"Evolve or decay" — that's what many call the future of SEO. And if you find it hard to keep track of all the changes you must adjust to and evolve with… No worries! Just back from the two largest and most trusted SEO conferences in the USA — SMX East and Pubcon — we've carefully documented all the most important takeaways!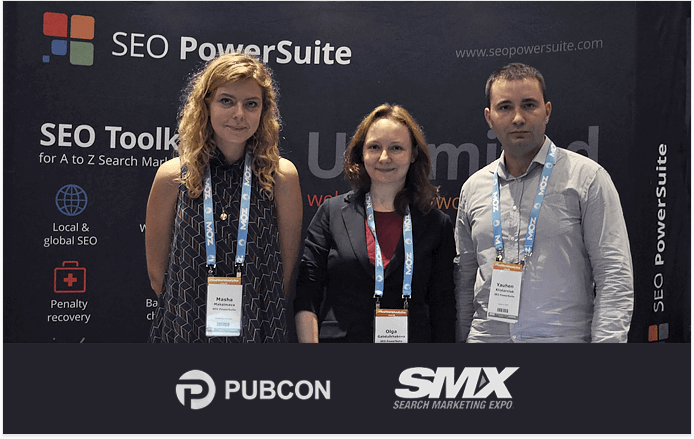 We've been all eyes and ears for you, and here's what we brought back — the top 7 SEO trends for 2016 as seen by the SEO PowerSuite team:
---
1. Higher Google ranks no longer mean more organic clicks
Are you still assuming the #1 Google ranking guarantees you the most organic clicks?
Well, here comes the bad news… While the click-through rate (the percentage of searchers that click on a site's listing when they see it in search results) is surely still correlated with positions, lots of other factors can influence your organic clicks in Google of 2016.
Paid ads, local packs, carousel results, knowledge graphs and rich snippets — all these attention-grabbing SERP elements can drain away the clicks from your #1 ranking website.
The latest study by Mediative (that was tracking searchers' eye movement and eventual clicks across different SERPs) showed that the way searchers interact with the SERP varies a great deal from query to query.
Here's, for example, how the views and clicks are distributed on a SERP with a local pack, a paid ads pack and a carousel:

For search marketers, this change means two things:
1) Keyword search volume itself is no longer a reliable metric to predict how much organic traffic this keyword is able to generate for your website. Before investing effort into optimizing your site for a keyword, take a look at the search result page. See if there are many SERP elements that may be stealing clicks from your organic listing to get a better idea of the traffic potential of this word.
2) Besides trying to get higher search rankings, you need to pay attention to the extra click opportunities that the SERPs give. Can you squeeze into the local pack results? Can you utilize structured data to get a rich snippet listing? Shouldn't you launch a Google AdWords campaign for this particular query?
---
2. Rich answers are on the increase — that's both a threat and an opportunity
Another huge tendency in search is the increase of Google's rich answers. According to a study by Stone Temple Consulting, Google returns rich answers to 35% of search queries these days. This is a 38% increase over the past 6 months, and we are clearly in for some further growth.
Quite often, rich answers are built based on public data (like "President of the USA") or the data licensed to Google (like song lyrics). So, if your SEO strategy was built on public domain data… you better change direction right now, because getting search traffic from Google will only be getting harder for you.
But what if you have high-quality, unique, proprietary content that can help Google answer common searchers' questions? Well, rich answers are an opportunity for you. According to Eric Enge of Stone Temple Consulting, for 75% of rich answers Google uses external data and includes a link to its source.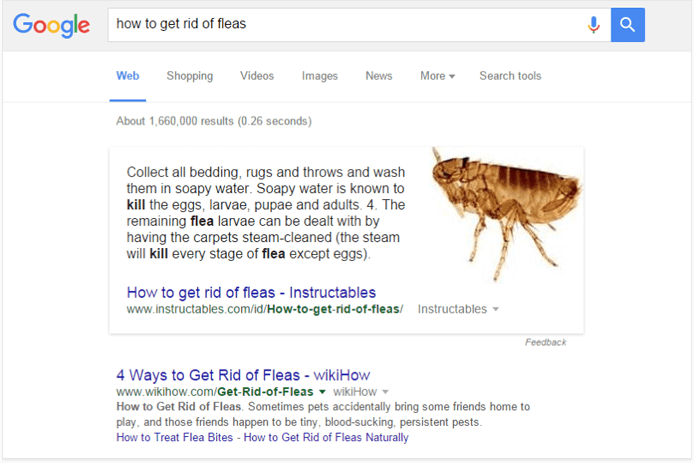 Getting your page featured in a rich answer can give you a massive traffic boost — CTR for clickable rich answers is ~2X better than that for the #1 ranking page on a SERP with no rich answer. And the best thing is, getting featured in rich answers is absolutely possible even if your site's authority is not very high yet.
So, how about pushing your site to direct answers and thus making it rank higher than Her Highness Wikipedia? :)
1. Start with long tail keyword research — you need to identify the commonly searched questions in your niche.
2. Create a piece of content that directly answers these questions. Make sure to include the question itself, and a direct answer to it — keep in mind that for rich answers, the structure of your answer is more important than your site's relevance and authority.
3. Make sure your article is truly helpful and provides additional information on the matter. This will not only increase your chances of getting featured as a rich answer, but will help you entice more clicks.
4. Make your content easy to find for people and search engines (make sure it's available to Google bots and easily accessible through your site's navigation; share links to it on your social accounts; submit them via Google search console, etc.)
---
3. Page speed is utterly important — optimize it today, don't put it off till tomorrow
First things first: page speed is a ranking factor. All other things being equal, the site that loads quicker will outrank a competing site, hands down.
Second, slow-loading pages waste your site's crawl budget (yeah, Google has allocated a specific time for crawling your website, and Google''s bot won't stay on your website longer than that specific period). For a bigger website this means that the slower your pages load, the fewer of them get indexed by Google.
And last but not least — page speed gets ever more important for user experience and conversions:
40% of your visitors will abandon a site if loading takes longer than 3 seconds;
Half of your visitors expect a site to load in 2 seconds or less;
1 second in loading time decreases conversion by 7%.
And this means that just a 1 second load delay makes you lose your revenue every day!
So why let your money slip through your hands? Optimizing your page load speed is the time investment that is definitely worth your while.
---
If you're staring in despair at your Google Analytics traffic report, unable to figure out where all this direct traffic is coming from… Your problem is "Dark traffic".
According to Marshall Simmonds, when Google Analytics is unable to identify where your site's visits are coming from, the visits are recorded as direct traffic. And as in the modern Web these un-identifiable visits keep growing in numbers, your Google Analytics reports get less precise: they report a direct traffic growth – while in reality you're growing your organic, social and mobile traffic.
This makes tracking your marketing activities even more complicated.
So, first of all, you need to be aware of the cases when your traffic goes dark. According to Marshall, the common cases are:
Traffic from a secure site to non-secure;
Traffic from image search;
Traffic via links in applications;
A big portion of traffic from Facebook, SnapChat, WhatsApp;
Traffic from the Android search app.
Second, though checking the precise amounts of dark traffic is impossible, you can at least get a better idea of how it affects your site. To do that, Marshall recommends to:
Create a direct traffic report in Google Analytics
And then filter out the traffic to pages that are naturally visited "directly" — like your homepage or the front pages of important content sections which users are likely to bookmark.
---
5. Keywords are neither dead nor dying — they are still the basis of your SEO campaign
Keywords and keyword targeting are the most basic and longest-running concepts in SEO. And if you're in search for quite some time, you may remember the days when SEO meant just having the right words in your meta keywords tag.
Sure, these times have passed and will never come back: search engines now use much more complicated algorithms to determine webpages' quality and relevancy. But does this mean keywords are dead? Experts agree — keywords and keyword research should still be the basis of your SEO and content marketing campaigns. However, Google's Hummingbird update shifts our focus from researching separate keywords to researching groups of related terms and synonyms.
Now that Google is able to recognize the meaning behind a search query, it gives a common answer to a number of "different-in-keywords" but "same-in-meaning" queries. So if you want to grab yourself a place in the Post-Hummingbird search results, you need your pages to be relevant not only to the core term, but for a whole group of its synonyms and related terms.
The aim of your keyword research is now in identifying not individual keywords, but the groups of thematically connected terms your pages will target.
---
6. Link penalties are no joke, but all penalties are removable
Link penalties turned into a real SEO nightmare over the past few years. But as time goes by and the industry gets enough experience in link cleanup, all SEO experts agree — getting a link penalty removed is 1) hard, but 2) absolutely possible.
This means that, first and foremost, you need to protect your site from getting penalized. The only way to do that is by regular link audits and cleanups.
However, if it's too late and your site has already been penalized, it doesn't mean you have to start all over again on a completely new domain — you can recover from your penalty by running a thorough link cleanup.
The thing to remember here is — in penalty removal, there's no place for half-measures. As all of the experts agree, trying to get rid of "just some of the harmful links" won't work. In most cases you won't be able to trick Google and will need to get rid of all your bad links – but after losing time on re-submitting your reconsideration requests or waiting for another Penguin refresh.
---
7. Even if user behavior isn't a ranking factor yet, it will surely be one soon
Whether or not user behavior factors affect rankings is a controversial topic: Google denies it, while many experiments prove the opposite.
Anyhow, even if user signals are not influencing your rankings right now, common sense and logic say they are the ranking factors of tomorrow, so it may be wise to get ready today.
Rand Fishkin presented his 2-algorithm concept of SEO, suggesting search marketers to combine classic Google-oriented and the new searcher-oriented SEO.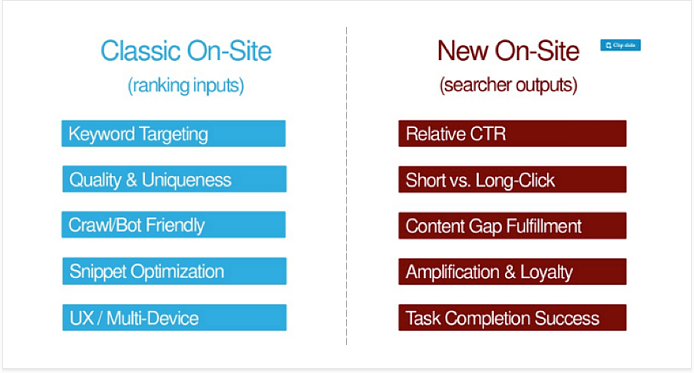 In a two-algorithm world, we need to focus on 5 new elements of SEO — the so-called searcher outputs.
1. Click-through rates. With behavior factors in play, your CTR will be one of the things that determine how you rank — so revising your titles and descriptions one more time could pay off in even more ways than before.
2. Engagement. Do the searchers find on your page what they are looking for, or do they go back to click other search results? Do the searchers stay on your page, proceed to other pages, or do they bounce in just a second or two? The way users engage with your content is likely to influence your rankings, so Rand suggests a list of things to attend to for better engagement:
Content that fulfills the searcher's conscious and unconscious needs;
Speed, speed, and more speed;
Delivering the best UX on every browser;
Compelling visitors to go deeper into your site;
Avoiding features that annoy or dissuade visitors.
3. Information that fills gaps in searchers' knowledge. With the purpose of delivering a rewarding search experience, Google's machine learning models could look at search results that people eventually land on when they search for keyword X to identify what those have in common. For example, the presence of certain words could predict more successful searches. Watching users searching for "New York", Google could conclude that a page about New York that doesn't mention Brooklyn or Long Island is not offering the information searchers are looking for (and hence should not rank very high).
4. Shares, links, and loyalty per visit. Though social signals aren't officially a ranking factor (while backlinks are), experiments show that pages with lots of social activity and few links outperform ones with more links and fewer shares — even for insanely competitive keywords.
But it's not just the bare numbers that count – Google may also be looking at how social activity grows over time, and whether or not social engagement results in loyalty and returning visits.
5. Fulfilling the searcher's task (not just their query). Google wants searchers to complete their tasks quickly, so it's quite possible that the ranking results will differ depending on the user intent (for instance, purchase) that Google associates with a particular query.
There is a lot more to share about the SMX conference, but we'll have to get far beyond a single-page recap. If you want to get up to date with the latest Internet marketing trends, consider visiting one of the upcoming events:
And if you find the guide useful, do share it with friends and colleagues using the social buttons on the left!
Have some thoughts to share? Please shoot us a message in the comments.