The Ultimate Guide to Backlink Types

Where to Get SEO-Boosting Backlinks
There is a million recipes for optimizing sites for better rankings. I'm pretty sure most SEOs would agree that link-building is a core component in every single one of them. Why so? High-quality backlinks continue to be one of the strongest ranking factors for search engines.
However, backlinks can be of various kinds. I bet you've had this argument at least once in your life about what are good backlinks or what is a backlink value to ranking this or that page. To sort matters out, we've made this brief overview of different types of backlinks and how to use them to the benefit of your website SEO.
What are backlinks?
Backlinks, otherwise called incoming links or inbound links, are links to your pages from other websites that serve to Google as a signal of relevance and quality. Backlinks are a ranking factor to Google: the more backlinks a page has, the more chances it has to show up on the first page in search results.
What are dofollow backlinks
However, things are not that straightforward as they could have been, thanks to the PageRank algorithm which calculates the value of each link. The more the better doesn't work for PageRank: it's the quality of the backlinking sites that is important.
Normally, backlinks pass forward this SEO equity which is informally called link juice. This SEO value is passed on through dofollow backlinks (those are regular links not attributed with tags like nofollow, UGC, etc).
How many types of backlinks exist in SEO
I believe it's impossible to give a definite number about how many types of backlinks are there at all. One can distinguish different types of backlinks according to many criteria, for example:
Ways of link acquisition: self-built, naturally-acquired, SEO attack;
Link-building tactics: awesome content, social media, guest posts, paid posts, etc.;
Quality of the backlinking sites: authority, traffic, relevance, unrelated, spam;
By link location: main content, navigation, site-wide links (in footers, sidebar), in badges, etc.;
Backlinks by attribute: dofollow, nofollow, user-generated content (UGC), sponsored.
Ultimately, though, the most important factor for link-building is how much SEO value a link will bring to your site. That's why I offer you a short classification of backlink types where we will examine links by their SEO weight.
Backlink types beneficial to SEO
These types of backlinks are the most advantageous for SEO: they flow a full glass of link juice to the site, with no penalty risk attached.
1. Editorial backlinks
Of course, a source of any quality can link to your awesome content and pass different amount of link juice. But here, we will talk about links from relevant, authoritative sources as they are of the highest SEO value.
As a rule, such types of backlinks are the hardest to get. They often occur organically when people link to you because your content, products, or services are relevant to them. Just imagine this situation. By linking to you, someone offers their own visitors an opportunity to leave the linking site and check out yours! It's a perfect illustration of why link-building is both hard and rewarding.
To get such backlinks, you do not need to make any specific moves besides creating content, but you have to create link-worthy content. I know you are tired of this advice, but we all know, it's a superb recipe for success. For example, this study by Stone Temple shows how much weight backlinks have in SEO, being a very important ranking factor. But even they can't cause low-relevance content to rank.
Unfortunately, not all content types get wide public appreciation. To get a good number of real backlinks beneficial to SEO, try to include these two types of content into your strategy and give them a push by creating awareness about them:
Evergreen content: the one that stays relevant for a long time without any updates;
Unique data: infographics, case studies, interviews, expert roundups, industry experiments, webinars, success stories, free tools, etc.
2. Backlinks from guest blogs
No, guest blogging is not dead. Yes, Google frowns upon distributing guest content at scale with the main intent to build more links back to your site. At the same time,

"We do not discourage these types of articles [guest posts] in the cases when they inform users, educate another site's audience or bring awareness to your cause or company."
Guest blogging is actually one of the best ways to acquire a link from an authoritative site of your own choice. You get a full glass of link juice when you post on sites that:
Have a strong link profile;
Are in a related niche;
Post only high-quality content;
Give you more than just a bio backlink (with a dofollow status);
Have nice engagement stats (real comments, substantial social media following).
Of course, getting publications on well-established sources is not a quick process. You need to start from smaller or less popular sites building up your reputation and credibility.
Quick tip: How to get dofollow backlinks from guest posting websites?
Use SEO SpyGlass to look at the backlink profile of those competitors who are heavily engaged into guest blogging. If you have a few in mind, use the Link Intersection feature. It shows common links between backlink profiles. Check out whether those are your guest blogging opportunities.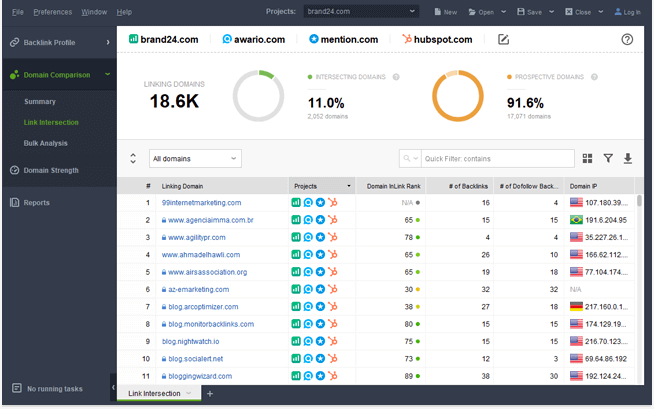 Download SEO SpyGlass
3. Acknowledgment backlinks
When you speak at an industry event, sponsor such an event, or make a donation, you usually earn some acknowledgment from the organizer and participants in the form of:
Links from the organizer's site;
Social media posts mentioning your brand and linking to you.
If your niche gives you this kind of opportunity, try to find the most important events in your industry. Track local events and activities. Think about whether you can deliver a speech at such an event or make a contribution to it. This way you not only acquire safe relevant backlinks but also spread the word about your brand and build ties with your industry peers.
4. Backlinks from niche or local directories
Niche or local directories are a really valuable SEO source. First, they bring lots of traffic. You surely use quality directories when seeking reviews: Yelp, Foursquare, Yellow Pages, All Business Now, 411.com, etc. Second, backlinks in a number of directories are still dofollow, and it means a full glass of link juice for your site.
At the same time, you might've heard that according to Google, links in directories don't generally help with SEO. How come?
It seems that by giving such vague statements, Google doesn't really preach against directories as backlinking sites. It just wants to prevent people from mass submissions to general directories, once and for all.
So, if you are in two minds about how to use backlinks for SEO in business listings and local directories, it's more than safe to go for high-quality curated ones that will bring value to your customers.
Quick tip: How to get high-quality niche-related backlinks?
Use Link-Assistant with its comprehensive prospecting module to find local directories and sites relevant to your niche. You can not merely apply the research method to find the backlinking sites you need. Also, set a quality threshold to find only good ones.
Types of backlinks beneficial to brand awareness
There are many types of backlinks around that can bring you lots of traffic and visibility, but no link juice as they come with a nofollow attribute attached. However, it's not a waste to build such links. If people end up on your site, isn't that what you really want?
5. Links in social media posts
Facebook and Twitter posts are treated like regular web pages by Google. This way, when there is a reference to your site in a Facebook post or a tweet, it should be treated like a regular link.
But here is the catch. Most backlinks within social media posts have a nofollow status. What's more, Google does not have the resources to crawl all the social media pages. For you to understand the impossibility of the task: any post reshare, link share, status update is a separate page for Google's crawler.
So the search giant needs to be confidently selective when it comes to social media, with some social media posts to be indexed and some left out.
Good news is, mostly those catches don't even matter. The more traction your content gets on social media, the more shares you get, which results in users seeing your great content and linking to it.
6. Links in business profiles
When you create business profiles for your brand on social media, review sites, or industry directories, there's always an opportunity to leave a link (or a few) to your site. Again, most of these backlinks will be nofollow, but certainly will help you with brand building.
Pay attention to Google My Business listings. Google is vigorously updating them to make its local search even more precise. And this is a nice place to leave a link to your site — Google My Business listings occupy a third of above-the-fold Google SERPs.
7. Links in comments
Comment sections are a valuable source of information. People leave comments to point to some inaccuracies, provide more info on the subject matter, or start discussions on controversial statements. It's safe and useful to post relevant comments and include a link to your site to prove your point.
However, comments are generally more useful for brand building than for building backlinks for SEO as most links in them are nofollow. Actually, comments are the very reason the nofollow attribute came into being. To curb unlimited comment spam that compromised PageRank scores, Google introduced this attribute in 2005. Today, the attribute is used by every major CMS and commenting platform.
Alternatively, in 2019 Google offered the user-generated content tag (UGC) for comments specifically. From then on, nofollow tags, as well as UGC and sponsored tags have been used as "hints".
In fact, user-generated content means any content type, such as video, text, images, reviews, created by individuals, not brands. If handled rightly, UGC can turn into a strong weapon to fuel up your marketing strategy, increase brand awareness, and build up customers' trust.
8. Links in bio
Sometimes the only link you can get from a guest post is the one in the author's bio, and it will be nofollow. The same goes for bios in most social media accounts.
In any case, there are at least two serious reasons to make the most of this backlink type. The first reason is the traffic you get from social media referrals. The second reason is that social media are so influential right now that having profiles in major social media channels is crucial for online visibility. For example, have a look at how the Twitter box feature appears on Google SERPs for news and authors.
By being on social media together with most of your active and potential audience, you can provide better customer service, develop trust, and grow your network. All these things will organically lead to traffic and more naturally-built links to your site.
9. Links in press releases
People used to share their product updates via press releases that generated topns of backlinks for them. However, Google quickly understood that most press releases were unnatural and published just to get links, so they started to ignore this type of backlinks automatically.
How does Google understand it's a press release? The devil is usually in the format. It's not hard to identify sites dedicated to press releases where users can manually add their own content.
At the same time, when you publish a press release at an authoritative media source, Google will treat it as a regular page. You just need to avoid using bulk-submitted press releases as a part of your link-building strategy.
Linkless mentions for SEO
The internet of today is way more than only links and pages. To estimate your site's expert authority, Google looks both at your backlink profile and your brand mentions and reputation around them. What's more, Google uses online brand mentions in the search algo.
However, we need to be clear here. It's true, unlinked mentions are viewed as the future of the web where relationships between pages will be expressed not only by backlinks but also by brand mentions and the sentiment around them. That said, online mentions are not currently equal to links. According to Gary Illyes, Google will pick up a mention of your brand on another site, but it won't pass any PageRank.
So, unlinked mentions are becoming a thing, but they pass a completely different kind of juice.
Nevertheless, there's a lot to expect. Compared to backlinks, brand mentions are much easier to grow. If you already have a link-building strategy, you can continue using it for earning brand mentions without worrying about nofollow statuses. Just make sure to monitor your brand mentions and engage with people who are talking about you on the web.
Quick tip: How to find unlinked mentions and use them for SEO?
A social media monitoring tool is the easiest way to find all your brand mentions. Use Awario to get access to such first-hand data. The tool uses its own crawlers to fetch all mentions not only from social media, but from the whole web. By using a Boolean search in Awario, find linkless mentions. Then, reach out to some of the sites and convince them to hit you with a backlink. Why not, they are already talking of you!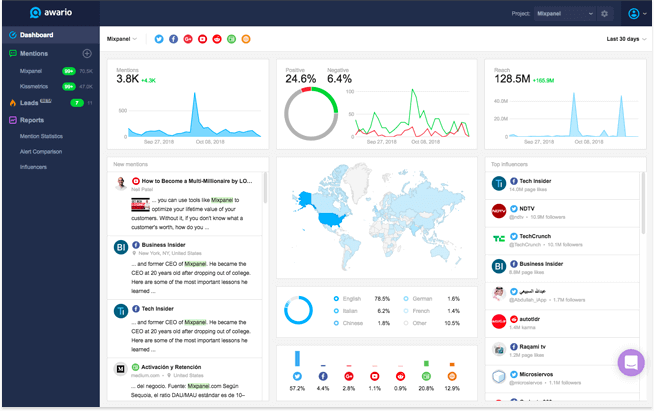 Dangerous types of backlinks
A link-building process takes time. That's why many people have a temptation to speed it up somehow, usually with black hat techniques. Though Google is quite good at detecting and punishing such practices and is never tired of warning against them, black to grey types of link-building in SEO have not ceased to exist.
1. Paid links
No business admits to buying links. The truth is, many do buy them. According to this study, the most popular ways to acquire backlinks are:
It's more than okay to pay for a post in a niche authority blog that comes out with the Sponsored label. It's not okay though to pay for posts in disguised private blog networks (PBNs) or, what's worse, pay a third party for including a post at the sites of their clients. This is an outdated link-building tactic that used to be actionable before the full rollout of the Penguin algorithm.
Sometimes SEOs working on sites may be unaware that this or that link-building tactic had been used once to blow their link profile. So it's a good idea to check a site's profile for backlinks coming from low-quality PBNs (by the way, the same rule applies to SEOs acquiring an expired or dropped domain). If you've found such types of backlinks in your site's link profile, get rid of them.
It's one of the most convenient options when someone decides to buy backlinks. And it's not always a monetary exchange. Link builders often offer their products or services for free in exchange for a link. When it comes to genuine-looking reviews and the like, Google finds it hard to detect a violation. That's why, I guess, this business is quite robust right now.
While the idea of buying a link can seem rather attractive, the consequences can be frustrating:
You will pay a significant amount of money per link;
Cheap backlinks will most probably end up in a very suspicious neighborhood;
You will spend lots of time and effort to find a great neighborhood to plant your link;
There is a strong possibility Google will find out about your link schemes and penalize your site.
2. Links in low-quality directories or forums
If you create multiple profiles and entries in unrelated and untrustworthy directories or forums, such types of backlinks will certainly be viewed as spam and manipulation.
3. Links on irrelevant sites
Even if you post a quality piece of content but on a site that's completely irrelevant to your niche, it will bring you no SEO value. And if the site is low-quality, you can be punished for manipulative tactics.
However, a lack of relevance is not always a downgrading factor. When it comes to local SEO, backlinks from sites from the same area as the searcher's location bring more SEO value than backlinks from more topically relevant sites but from a different city or region.
4. Links from negative SEO attacks
The world seems more or less decent right till the moment when someone performs an SEO attack on your site to ruin its rankings. When it comes to harmful types of backlinks, bad guys can use the following negative SEO techniques:
Bombing a target URL with backlinks acquired from a network of bad neighborhood sites. Most of these links use exact match anchors with niche keywords to make it look like the site owner tries to manipulate the site's link profile.
Leaving spam comments with links to a target URL. It's true that most comment backlinks are nofollow, particularly those left through plugins. Many websites add the nofollow tag to comments automatically to prevent comment spam or disallow links in comments. However, there are certainly a couple of sites where links in comments can be dofollow. Unfortunately, this opportunity can be heavily misused.
It's not possible to predict an SEO attack, but there are ways to mitigate the consequences by regularly monitoring your link profile growth.
Quick tip:
Run SEO SpyGlass and analyze progress graphs with the number of backlinks in your profile and the number of referring domains. In case you see a spike in the graph, immediately look at the backlinks your profile acquired in that period. If any of those backlinks look suspicious, disavow them right in the tool.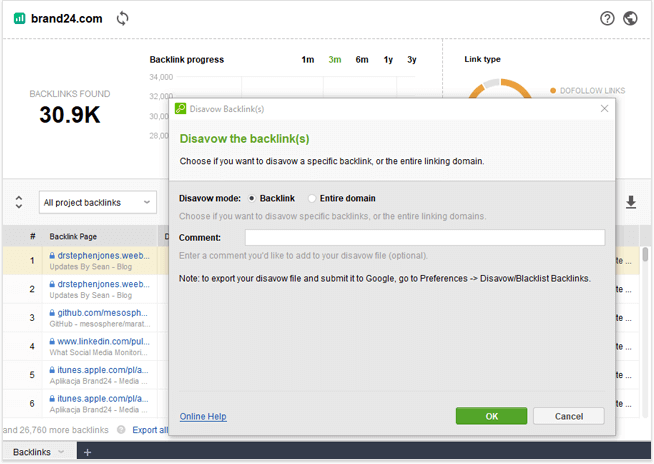 Download SEO SpyGlass
What types of links in SEO you've found valuable?
Now you know where each link path can lead your SEO campaign. While it's quite difficult to keep to the ideal formula of a good backlink (a dofollow in-content link from an authority niche-related site), it's crucial to keep away from dangerous types of backlinks.
Do you have any more benign backlink types that worked for your link-building process? Have any of those backlinks backfired? Let's discuss it in the comments!
Article stats:
| | |
| --- | --- |
| Linking websites | N/A |
| Backlinks | N/A |
| InLink Rank | N/A |