Top 9 Takeaways from BrightonSEO 2018

Article stats:
| | |
| --- | --- |
| Linking websites | N/A |
| Backlinks | N/A |
| InLink Rank | N/A |
Top 9 Takeaways from BrightonSEO 2018
Last month, our team went to BrightonSEO and I have no words to describe how busy and engaging the event was — it really gets bigger and bigger each time (kudos to the organizers, speakers, and visitors).
I know that many of you don't have an opportunity to take a few days off and travel to Brighton to listen to all the talks, attend parties, and dive into the unique atmosphere of this event. That's why, after getting back home, I decided to sum up the most interesting presentations, slides, and quotes to get you covered on what's hot in SEO at the end of 2018.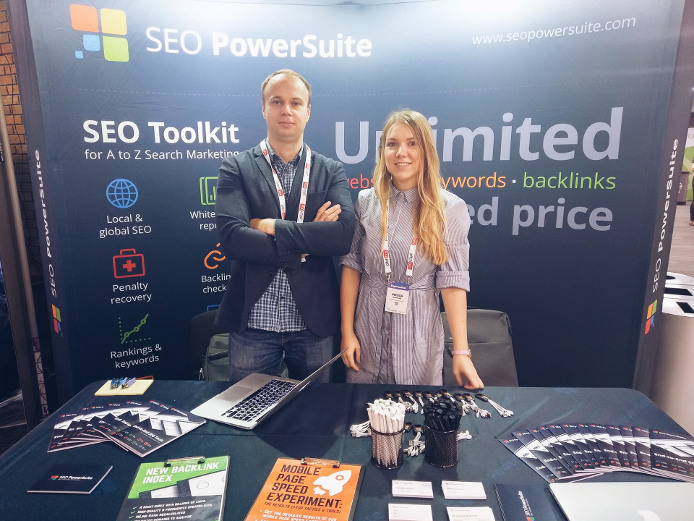 Okay, here's what you'll learn from this post:
For your convenience, I've also added links to the presentation slides, Twitter profiles of the speakers, as well as some handy videos and screenshots. Enjoy!
1. Winning featured snippets for your website
As you know, featured snippets are highlighted search results that are placed on top of а SERP, right below the ads box.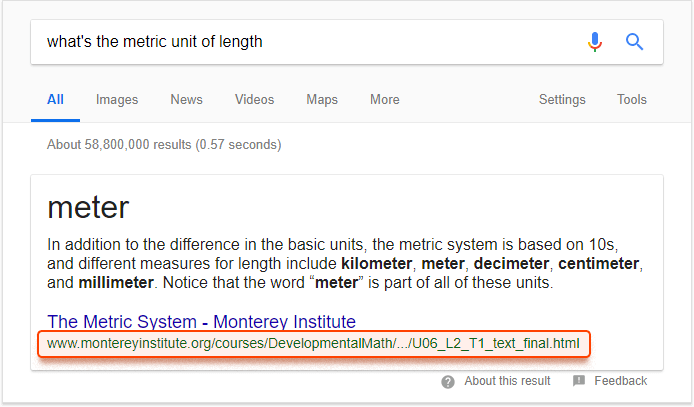 Obviously, this type of search results can bring more traffic, conversions, and brand awareness due to its highly visible format. But how can we optimize our pages to make them rank on top of the SERP?
Here's what Izzy Smith, SEO Manager for SixtUK and SixtUSA, recommends us to do.

"If you are creating featured snippets, you have a chance to easily outrank stronger and older domains."
First off, you have to get an overall idea of keywords, questions, and your current rankings, that's why you'll need to:
Identify the right queries and analyze your site's rankings.
Talk to your customer support and sales managers to get a list of frequently asked questions and issues.
Analyze the query intent and focus on informational transactional keywords. That's a hybrid type that includes 2 kinds of intent — informational (which will trigger a featured snippet) and transactional (either implicit or explicit).
Browse forums and "People Also Ask" boxes, as they are also good sources for inspiration.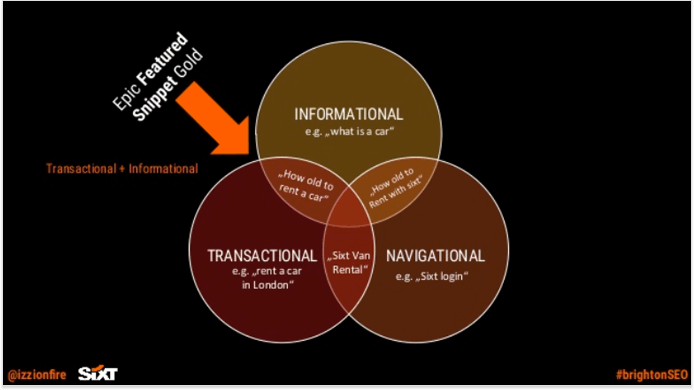 And when you're done with this part, you'll be armed with enough data to create optimized content and get more featured snippet results for your site:
Find and enhance the content that's more likely to get a featured snippet — support your ideas with facts, survey findings, studies, etc.
Structure your content — build 40-60-word paragraphs, use lists, add clear headers, place links to trusted sources, etc.
Additionally, you can optimize images — make them relevant to your topic, smaller than 600px, and compressed.
To sum it up, if you want to achieve more featured snippets, you should analyze potential placements and create well-structured answer content.
View the presentation slides
Follow Izzy on Twitter
SEO PowerSuite user tip to track featured snippets
You can find out which keywords trigger featured snippets right in your Rank Tracker project. Right-click the working area and make sure that the SERP Features column's added.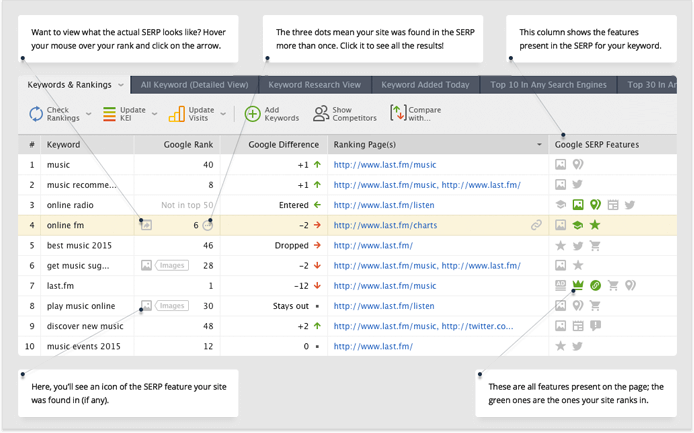 If you see this icon in the column and it's grey, that means there's a featured snippet opportunity here and you don't own it yet. If it's green — well done, your website's occupied the top spot!
You can also use Rank Tracker's Keyword Research module to find the question queries related to your topic (navigate to the Related Questions tab):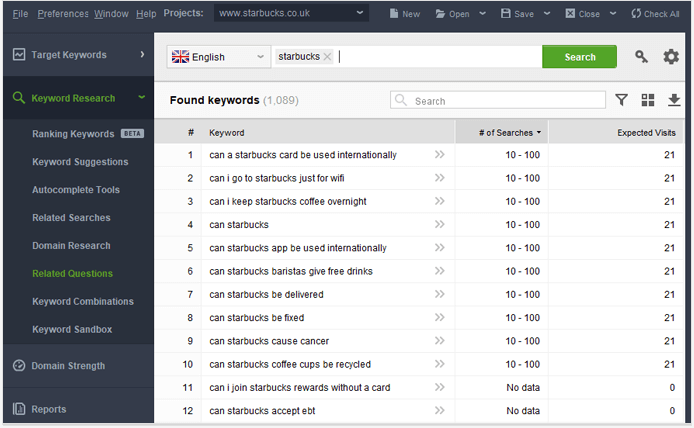 2. Optimizing for voice search in 2018
Voice search has been the big thing in SEO for a few years already, so it's no wonder the topic's been hugely discussed at a number of 2018 SEO events, including this one in Brighton.
Stuart Shaw, with Zazzle Media, used some unique findings in his presentation and dove into the details of voice search, covering the present and the future of the technology, and explaining why it's going to be very important for brands.

"Google & Bing are fast becoming answer engines and featured snippets are everywhere. They've changed the way we search for, and market products, reducing organic clicks by 37%. This is naturally a killer for attribution – how can you show ROI for awareness?"
Why is Voice important?
First of all, using voice search, users can interact with your websites, products, information in a more "intimate" way, without any barriers. It's a 100% natural way to perceive information.
Secondly, optimizing for voice search often results in snippets that drive more organic traffic, which is especially true for mobile devices.
Ease of use and technology development make voice search more and more popular — an average human is able to talk at 130 words per minute against typing at 40 words per minute. So, why waste time typing and making autocorrect edits?
Focus on the 3 C's
Stuart considers there are 3 main types of voice queries to focus on — commands, conversations and C-questions. Stuart noted that he had to name these 3 types as CCQ, but then realized that 3 C's sounds much more catchy :). Here's how we get a closer look at those conversational queries often used in voice search:
Work with your customer support team.
Look through the Google Search Console stats.
Look at the SERP.
Optimizing content for voice search, remember to:
Use Headings for questions.

Wrap your content into lists.

Split texts into shorter paragraphs.

Provide answers "in a nutshell" (be succinct and answer in 40-55 words).

Implement the right schema.

Use anchor links to the different sections of your page to promote a better experience for users and an even better sense of hierarchy for search engines.
Speed is important
It's noteworthy that voice loves sites which load quickly, typically a voice result will have a TTFB (time to first byte) 4 times faster than the webpage average according to Backlinko's research.
And if you don't believe voice search will only keep growing, just watch this video where Google's AI is actually making a haircut reservation with a real beauty salon:
View the presentation slides
Follow Stuart on LinkedIn
3. Winning with mobile page speed
Okay, we stopped at the importance of page speed for voice search, but as you know fast loading websites tend to have higher organic rankings for all types of search results — both desktop and mobile.

"For SEO it's more important to have a high Optimization Score rather than a really high Speed Score."
Our team decided to run a pretty interesting experiment to check how different speed metrics can actually impact the SERP, especially after Google rolled out its Speed Update. And that's what Aleh Barysevich, our CMO and Founder, talked about in his presentation "Winning with mobile page speed."
How PageSpeed Insights changed in 2018
A few months back, PageSpeed Insights provided site's grade based on clear technical criteria — redirects, compression, minification, etc.
PageSpeed Insights then gave basic page stats and a checklist of suggested optimizations you could follow to improve your score.
Now, PageSpeed Insights has two separate categories.
"Optimization" is a new name applied to the old familiar 100-point score.
"Speed", however, is something new, and it can be confusing — especially if your site receives a "good" optimization score at the same time as a "slow" speed score.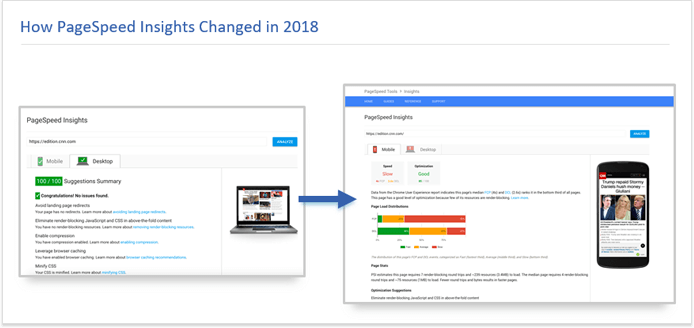 How Google determines your speed score
It's important to understand how exactly Google determines site's speed score.
PageSpeed Insights measures page speed based on the median value of your First Contentful Paint (FCP) and DOM Content Loaded (DCL).
In a nutshell, these metrics measure when users first see a visual response from your page and the time it takes for your HTML to be loaded and parsed.
In other words, Google now uses Real User Measurements (RUMs) to score page speed. These metrics are taken directly from the Chrome User Experience Report (CrUX), aggregated from millions of real-world users using the Chrome browser to visit your website.
The findings of our experiment
Our team has been running a unique experiment for about half a year to see how page speed and optimization metrics influence rankings.
In short, before and after the update, there was little-to-no correlation between ranking position and FCP/DCL metrics.
However, there was a strong correlation (0.97) between the average pages' Optimization Score and their positions in SERPs.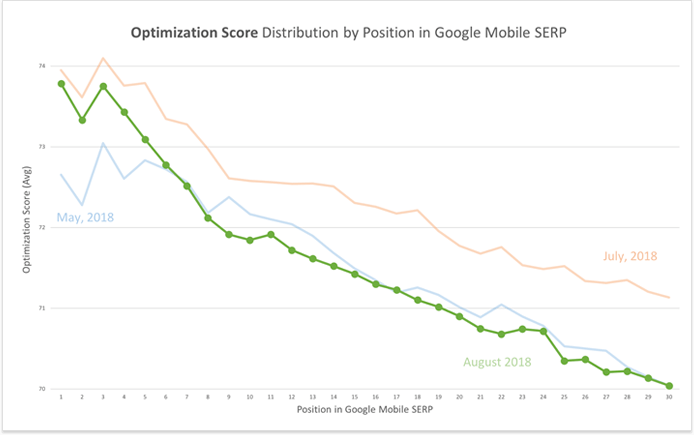 Not only was that correlation consistent across the three months it took to conduct this study, but there was actually a marked increase in the overall quality of the websites occupying positions 1 through 30 in search.
The average Optimization Score of positions 1 to 30 in mobile search increased by 0.83 points, which suggests that technical optimization is more important than ever. Want to have a closer look at our findings? Check out this guide with a detailed description, graphs, and practical recommendations.
View the presentation slides
Follow Aleh on Twitter
4. The future of visual search
For some reason, SEOs and digital marketers often forget about the huge traffic they can get from visual search results. Gianluca Fiorelli even called visual search "the ugly duckling of search marketing" during his speech, since no one seems to pay any attention to it.
In his presentation, Gianluca talked about the latest advancements in visual search and reminded us of the good old (but barely used) optimization techniques.

"Remember, Visual Search is growing at the same pace as Voice Search, if not even more: because we use image search when we don't know how to write/tell something."
Top visual search optimization techniques
During the presentation, Gianluca emphasized it's really important to:
Use a descriptive image file name.
Optimize ALT tags for site's images.
Add image captions.
Optimize image descriptions.
Create and upload an XML image sitemap, especially if your site is developed in any JavaScript framework.
Make use of contextual information surrounding images on a page.
Use structured data to mark up products, videos.
Use high-quality images (apply compression!), as low quality can badly impact recognition algorithms.
Pay attention to image details to enable Object Search with Google Lens.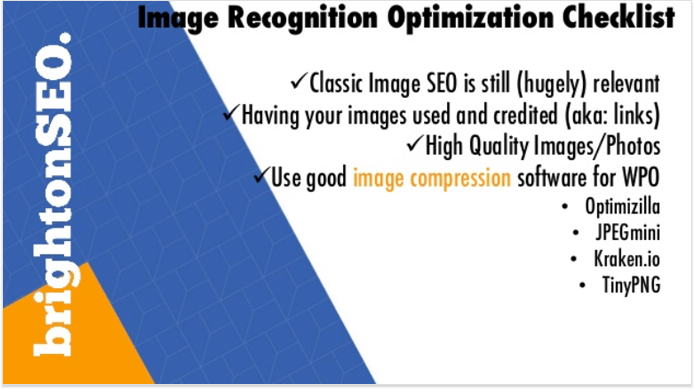 Optimize for Bing Image Search
Did you know that Bing has an Image Knowledge Graph (which powers Bing Image Search)? If you want to optimize for Bing Images, you should keep in mind that this platform is built with the following elements:
1. Best representative query (BRQ)
That's basically a set of terms that help identify the key concept of an image. Bing looks at the web page context where images are hosted, so it's important to make sure images and content are related to the same topic.
2. Captions
According to Bing, the ideal image captions should
Help with understanding the image
Be interesting enough to stimulate curiosity
Identify key concepts within the image
Be grammatically correct
If the the search engine bot finds the information on your page that satisfies the above listed criteria, it will most likely use it in its search results. When there's no text at all, Bing may take captions from similar pages.
3. Shopping Sources
Bing indexes shopping pages across the web to help users quickly find and purchase the desired products. If you want Bing to classify your pages as shopping pages, make sure to use structured tags based on OpenGraph, Schema.org, RDFa and Microdata/Microformats.
Other elements of Bing's recognition algo include Related Collections and More sizes.
Optimize for Pinterest
Pinterest keeps getting massive traffic worldwide and it's also well presented in Google search results, so let's consider it as one more potential traffic source for your site's images.
When optimizing for Pinterest, Gianluca suggested that you should:
Organize your boards with a consistent taxonomy.
Think of Pinterest as of a Visual translation of your website, where Boards are topical hubs.
When planning the architecture of your boards, don't forget to take a look at how Pinterest tags your main topics (from head to long tail).
Edit your description using both natural language and well-executed microcopy.
Choose the correct category.
The board titles can be up to 100 characters long, but only 26 are readable.
View the presentation slides
Follow Gianluca on Twitter
SEO PowerSuite user tip for image SEO
To get a comprehensive idea of how well your site's visual content is optimized, check out the Site Structure module in WebSite Auditor. Under the Site Audit tab, you'll find the list of all site's images that are broken and which are missing ALT attributes.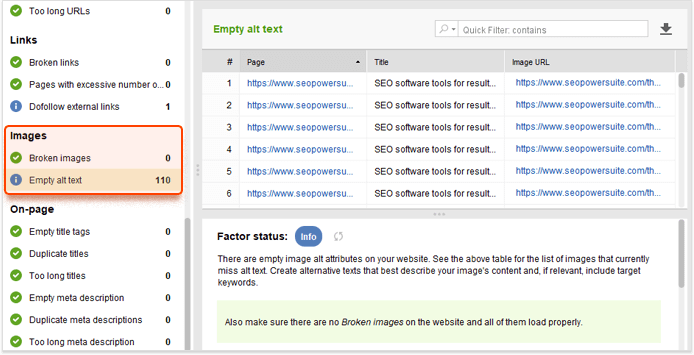 And under the All Resources tab, you can look through all site's images and videos and analyze their HTTP status codes, Robots Instructions, Size, and other factors.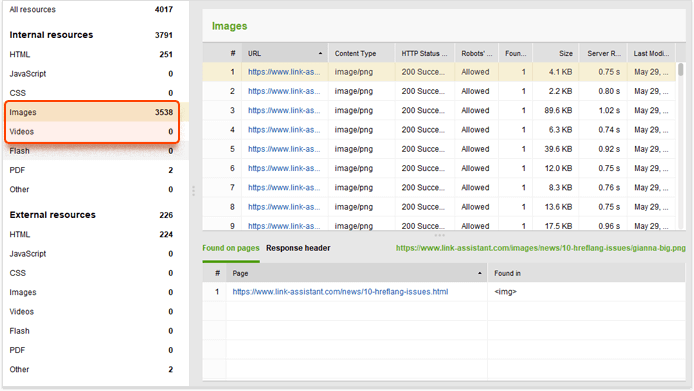 5. Top Video ranking factors in 2018
What kind of content could be more engaging than images? Videos are gaining tremendous success each year, and if you haven't tried video marketing yet, it's high time to get started. But the important thing is that creating videos (similarly to websites) is not enough, we also need to optimize them first to see good ranking results.
Luke Sherran from Falcon Digital explained which ranking factors should be considered when optimizing videos, and how to get the most of YouTube traffic.

"You need to have your strategies clearly defined actually before filming even begins. That strategy will ultimately influence not only the content of your video, but how you structure it as well."
First of all, let's recollect all sources of traffic your YouTube video can get; there are 5 of them:
When you upload and publish a new video, about 15% of your subscribers will receive a push notification, which will bring traffic to your new video.
When you (or anybody else) share a video on social media or embed into a blog, you get external traffic, also known as seeding.
Around 20-40% of your YouTube traffic will be generated by organic search.
When optimized the right way, your video may show up as related for bigger and more established channels.
Finally, you can get huge spikes of traffic if your videos get featured in the "Trending" section.
Luke also mentioned that metadata doesn't play such a big role in ranking, since the algos are largely influenced by machine learning and viewer satisfaction. Still, that's something we can work with:
If viewer satisfaction is critical, we should work a lot on video quality.
Social signals — the more shares and likes your videos get, the better.
Watch time — this metric is closely related to video quality, and it's difficult to "optimize" for it.
View velocity — the number of views your video gets within the first 24 hours after publishing (the more, the better, of course).
Session starts: Starting a new session is a positive metric and ending a session is a negative one.
Finally, Luke shared his essential YouTube optimization checklist:
Always optimize titles — they must be catchy and should include your target keywords.
Add target keywords to video descriptions.
Add relevant video tags related to your keywords.
Proofread the automatic captions (to avoid inaccurate phrases) or upload them manually.
Optimize playlists — write relevant titles and descriptions, as it may also impact the ranking of your videos.
Choose the best publish time — at certain periods, your subscribers can engage more with new videos, which will result in a ranking boost.
View the slides
Follow Luke on Twitter and YouTube
SEO PowerSuite user tip for YouTube optimization
With Rank Tracker, you can monitor the progress of your YouTube videos, you just need to create a project with URLs of your videos and your target keywords and specify YouTube as a search engine.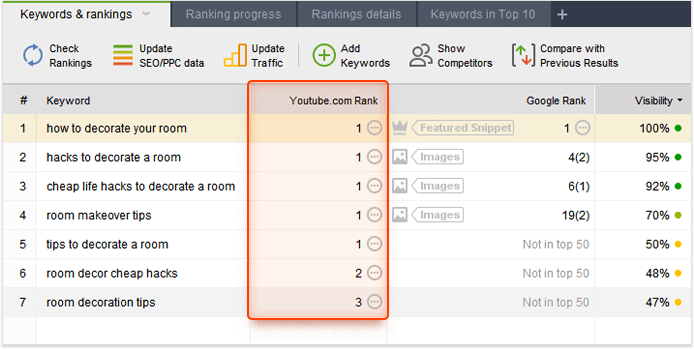 Additionally, you can look through YouTube Autocomplete keywords under Keyword Research > Autocomplete Tools — this will give you some food for thought when optimizing the meta data of your videos.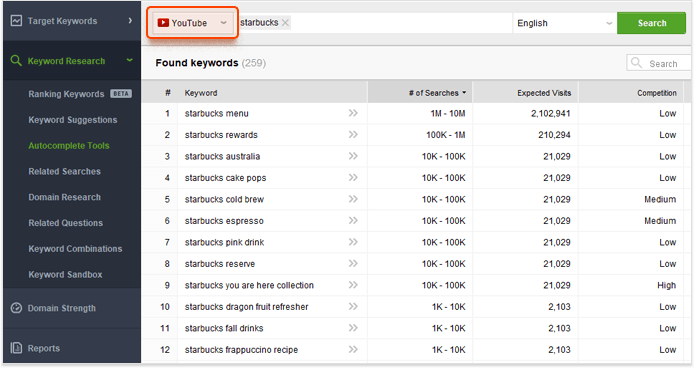 6. Link building tips and tactics
It's hard to imagine an SEO event without discussions of backlink strategies. So, here's what I've learned from a few presentations I've attended:

Laura Hogan — use competitors for free links
Laura Hogan, Account Director with Ricemedia agency, explained that lots of backlink opportunities are actually right here, in front of us — all we need to do is take a better look at our competition. She recommended SEOs these 3 strategies to build new links:
Broken link building: find competitors' 404 inlinks, react out to the site and suggest they link to your content instead.
Reverse image search: download a competitor's graphic that did well and drag and drop it into Google images to see which sites covered it. After that, contact these sites and ask them to feature your material.
Build on research: make the research first and update it. Once you've created an up-to-date version, outreach to those that covered the original.
And don't overlook the basic backlink analysis process.
View the presentation slides
Follow Laura on Twitter

Stacey McNaught — secure your links before you've produced content
Stacey McNaught, an SEO and content marketing consultant, emphasized during her presentation it's crucial to secure backlinks before you've produced your content piece. You can do that by:
Getting a list of well-researched media and journalists who could be interested in your story
Studying media kits to learn more about the audience of the selected media
Pitching the most relevant department of the publication.
View the presentation slides
Follow Stacey on Twitter

Ross Tavendale — data journalism: a practical guide to winning big links
Ross Tavendale, Managing Director at Type A Media, showed us how we can use data journalism as a tactic to win links — from pulling data, to creating content and pitching it to journalists. He also mentioned the RAPtor methodology used by his team.
RAP stands for Research, Angles, Pitches
A RAP sheet helps to summarise all of the data that will be pulled in (Research), how many stories can be built (Angles), and who will care about it (Pitches).
To create data-led campaigns, make use of Google Data search tool to quickly look for the related studies and stats.
View the presentation slides
Follow Ross on Twitter
SEO PowerSuite user tip for backlink analysis
You can discover new backlink opportunities based on your competition in SEO SpyGlass. To do this, go to the Link Intersection submodule (under the Domain Comparison module) to see the domains that link to two or more of your competitors but not to you.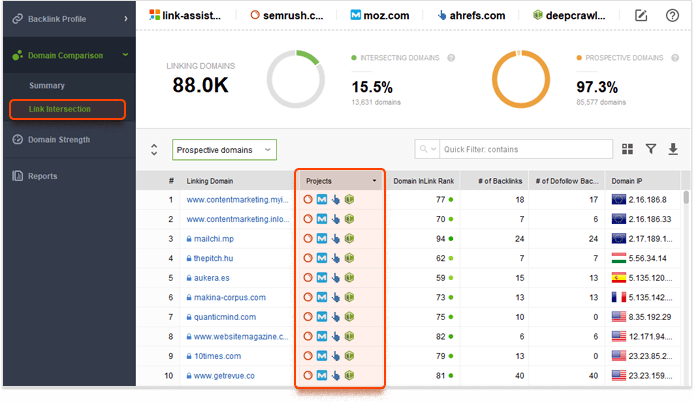 7. The future of SEO is on the SERP
Rand Fishkin, founder at SparkToro and former CEO at Moz, spoke a lot about the current format of Google SERP and how we, website owners and SEOs, have to deal with more challenging algos, fewer clicks and traffic.

"Google gets to crawl our sites for free, and use our bandwidth for free, and they get to scrape our content without any trademark or copyright issues, and they get to rely on us to optimize for their standards."
According to Rand, what we see is that Google's trying to answer more and more search queries right on a results page — so users don't have to click and leave the search engine. Google Maps, Videos, Flights, Hotels — these are just a few examples when Google tries to keep all traffic to itself. And the remarkable thing is that we see this happening more often for popular high search volume queries.
And this results in 2 conflicting statements:
"It's never been harder to earn organic traffic from the web's major players"
And
"It's never been more important to make your website (and email list) the center of your campaigns"
So how do we respond to this?
Generally, it's important to keep optimizing our websites, despite the decreased opportunity in organic search. Rand gave the following advice to SEOs:
Make your website well-optimized and user-friendly to make the most of every scrap of organic traffic we're still getting.
When researching keywords, focus on their CTR to pick the phrases that are actually clicked and are sending traffic to websites.
Try not to focus on the keywords Google may cannibalize, so look for longer tail keywords that trigger fewer SERP features.
Make your content more interactive, so there's a high demand for it.
Google may take all of your branded search queries, so make sure your website ranks for a variety of keywords, not only branded terms.
Work hard on brand reputation management — you can control and shape how your brand appears in SERP.
Whether we like it or not, we have to do some on-SERP and in-SERP SEO, because we still have to compete with other websites and brands.
Try enticing clicks when optimizing for featured snippets — make sure users are interested enough to click to keep on reading content on your site.
Build and optimize content for Google-owned properties (Images, Maps, YouTube, etc.), cause it's very likely we'll have to do much more of this in the future.
Make use of "barnacle" SEO to attach your website to big brands that rank where you're unable to (this can be done through guest posting, for instance).
Rand feels rather pessimistic regarding the short-term opportunity with organic search (since it's harder than ever to get organic traffic from Google), but he's still optimistic about the future of the industry.
View the presentation slides
Follow Rand on Twitter
We were glad to meet you in person!
BrightonSEO 2018 was a great opportunity for us to see a lot of friends and meet new ones. Thanks to all of you for taking a moment to stop by the SEO PowerSuite booth to say "Hi!"
---

By: Inessa Bokhan