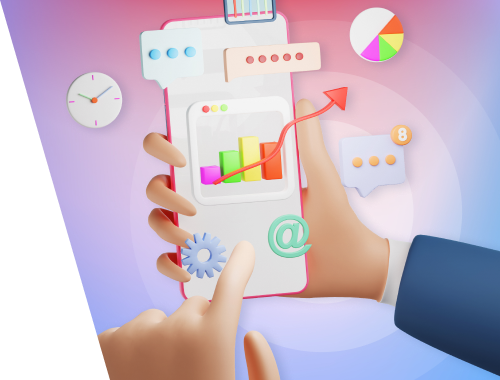 Top 20 List of Digital Marketing Tools in 2022
What are digital marketing tools?
We refer to digital marketing tools as those that accompany business operations. As long as your online business grows, management of all marketing channels may become overwhelming. Ordering products online and receiving online payments is only the tip of the iceberg. Presenting your brand, finding hot leads, clients onboarding, customer care, issues resolution are only a few tasks to mention. And each task requires its own knowledge, skills, and tools.
We've analyzed dozens of digital marketing tools to make a list of those that will let you build a smooth business workflow, from launch to growth. The list includes digital marketing tools to apply at various stages of managing products or services, from choosing the right marketing strategy to delivering post-purchase customer care.
SEO Software
1. Search Console for SEO performance on Google
Good for: checking website technical health; finding top-performing SEO keywords; checking link profile.
Technical SEO is the first pillar of the right SEO marketing strategy. An error-free website from a technical point of view is crucial to online marketing. And Google Search Console is the first free marketing tool to track your website performance.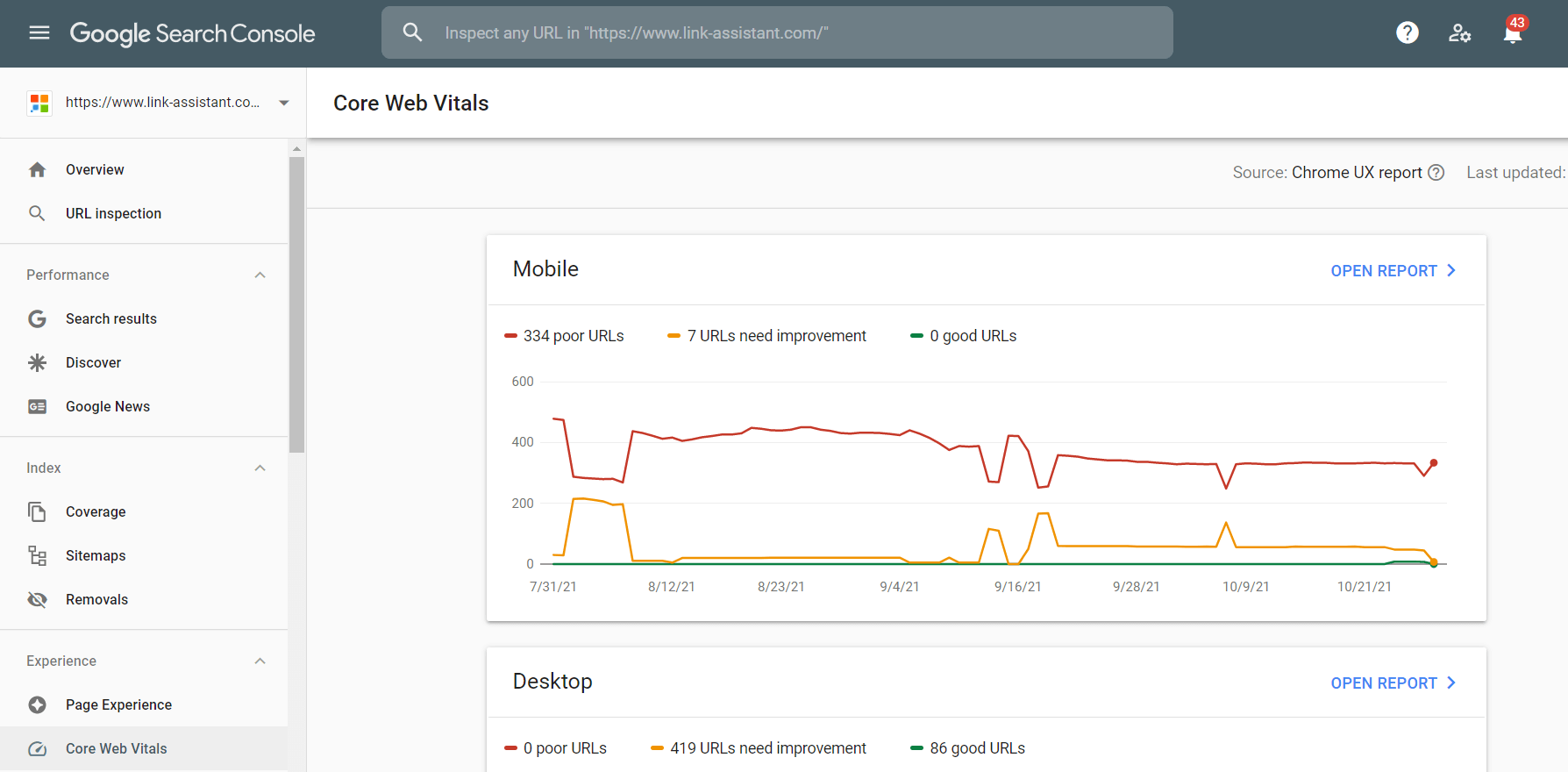 In Search Console, you can find all your crawling and indexing issues.

Search Console shows if your site meets the criteria for mobile-friendliness and Core Web Vitals.

There you will also find what keywords your website is already ranking for, and also what backlinks it has.

Search Console alerts once errors appear in your site coding. Webmasters can review incorrect schema implementation, security flaws.

Or check if the website has been subject to manual actions from Google.

Search Console Insights provide analysis of top-performing queries. This is a valuable tool for editors to see which content performs better and how to optimize pages for more organic traffic from Google.
Pricing: free.
2. Rank Tracker for competitive research
Good for: tracking organic ranks; finding best SEO keywords; checking the organic competition.
For a marketer starting a business, it is crucial to see the true competitive landscape. It's great to formulate a vision of your online business before kicking it off. And Rank Tracker is a great marketing tool that will help you plan the right marketing strategy. Organic search is one of the most effective marketing channels. You simply optimize your website for target keywords so that it will be number one in the search results.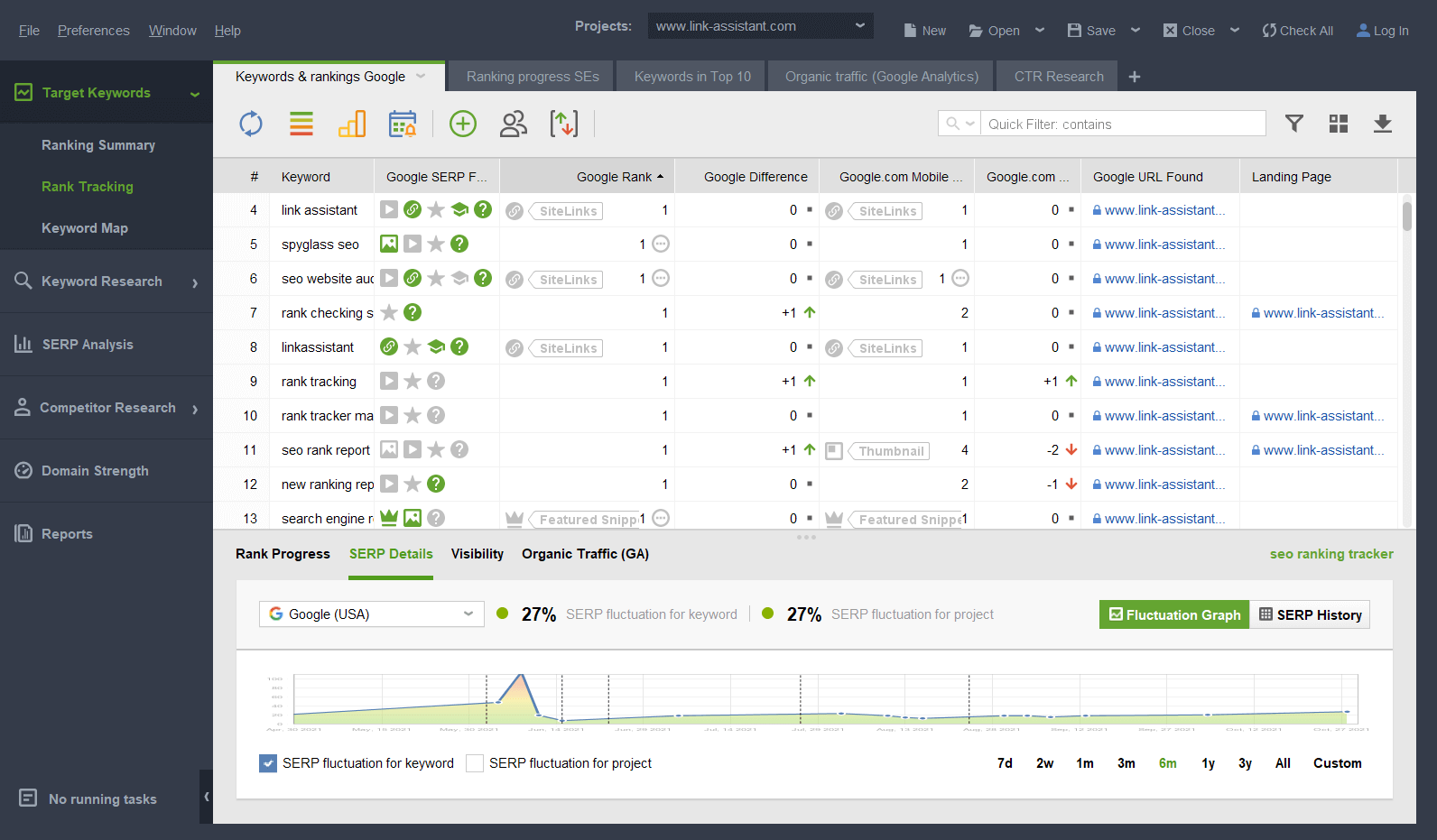 By doing competitor research, you will be able to identify your position in the market.

Rank Tracker keeps organic rankings history and records SERPs.

It also tracks SERP features available for your keywords, such as featured snippets, FAQs, People Also Ask boxes, over 15 of them.

There is a powerful keyword research module with 24 keyword methods available.

Currently, the tool allows tracking rankings in 597 search engines all over the world, which makes it a beast of all tools for local SEO.
Pricing: Free, Pro $149/year, Enterprise $349/year.
3. WebSite Auditor for technical SEO
Good for: website audit; on-page optimization; Webmaster tools.
WebSite Auditor is a must-have on the list of digital marketing tools for its diverse functionality. It allows doing a complete website audit to check for common SEO errors.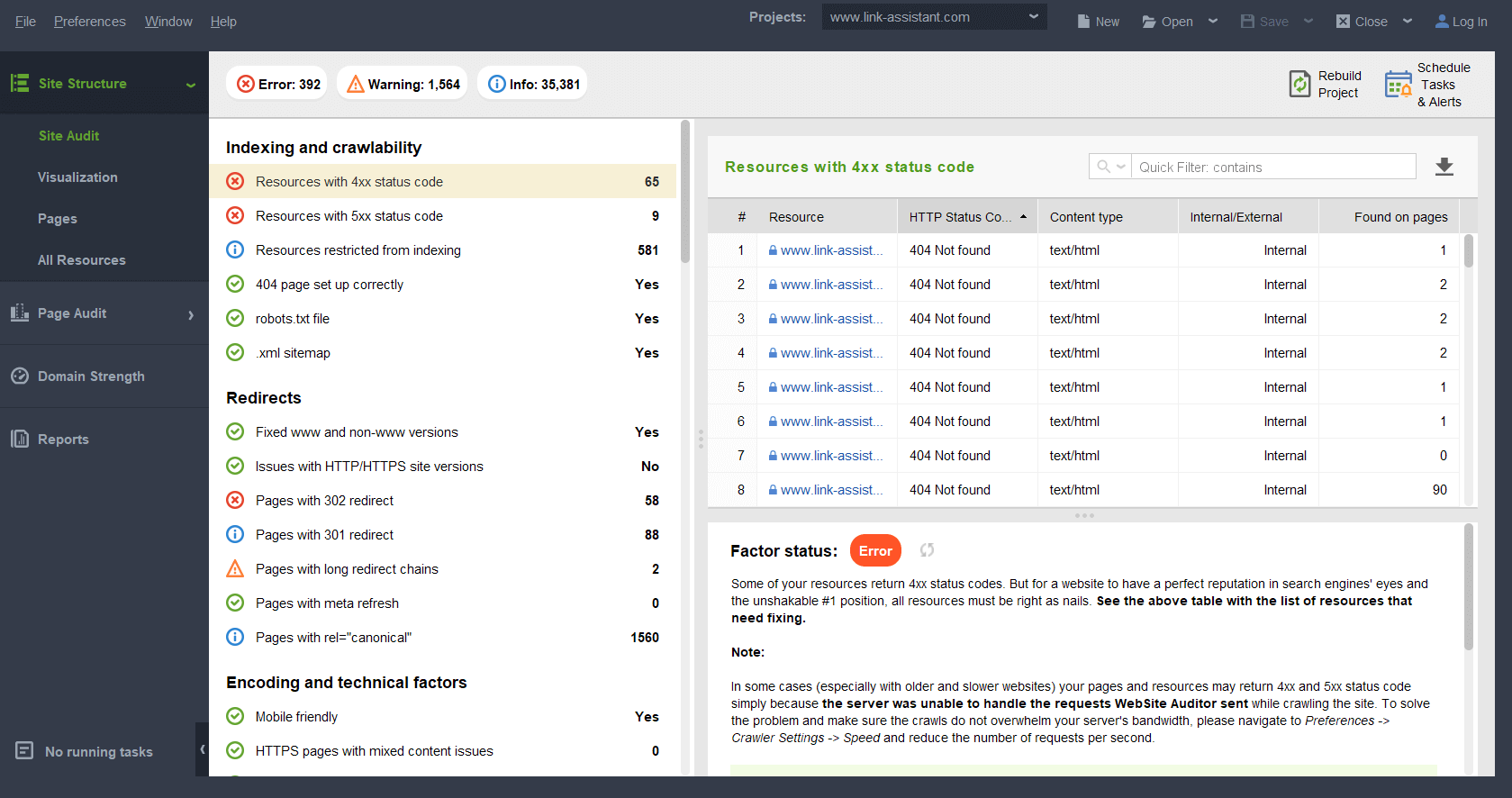 WebSite Auditor finds missing titles, duplicate headlines, broken images, bad URLs, slow page speed, etc.

You can do a page-by-page audit of articles, see their optimization score, get on-page optimization tips, and even edit articles in-app.

There are a bunch of additional webmaster tools. There is a free tool to write robot.txt instructions. You can implement hreflang tags for various language versions of your website.

You can create sitemaps, including visual ones. The tool allows seeing all your pages and internal links as well as rebuilding the website structure in an interactive visualized sitemap.

Advanced settings in WebSite Auditor let website developers do in-depth technical SEO audits. You can set the tools to crawl your site as a specific user agent. You can find if there are any issues with Java scripts, page speed, file sizes, and much more.
Pricing: free version, Professional at $125/year, and Enterprise at $299/year, 7-day trial available. WA is part of SEO PowerSuite tools.
4. SEO SpyGlass for competitor research
Good for: backlink checks; competitor research; link penalty checks.
Website authority and backlinks are a strong ranking signal to Google. That's why most businesses are up to building high-quality links to their sites. SEO SpyGlass is another marketing tool from SEO PowerSuite that does thorough backlink research. The backlink tool can be used in digital marketing in a variety of ways.
SEO Spyglass helps analyze and pick the best domain name.

Whenever link-building is done, it should be carried out wisely, and SEO SpyGlass ensures that. It analyzes the website's backlink profile. The tool discovers low-quality backlinks and signals when there is a risk of the Penguin algorithm penalty.

You can inspect competitors' backlinks and find backlink gaps. The tool helps find plenty of ideas for building fresh backlinks and for marketing partnerships in general.
In the Backlink History Index, you can review when you gained the most of your backlinks and measure the impact of marketing campaigns.
5. Google My Business for local SEO
Good for: local SEO competition.
Google My Business is another free marketing tool from Google with immense potential for local growth. It is especially valuable for online marketers starting a new business with a physical location. Here, you can indicate the location, fill out the profile, and optimize it for local SEO. This tool is a must-have for all small businesses who want to uplevel their digital marketing strategy.
With the profile in Google My Business, you have great chances to get listed in the local 3-pack and on Google Maps. The tool gives you more online visibility and boosts your organic traffic.

Through Google My Business tools, you can better involve customers in your business activities. Good reviews and ratings on Google will increase sales drastically.
GMB helps be better accessible for potential visitors. In the profile, you provide working hours, products availability, and even popular hours for better time planning.
Sales and customer support software
6. Hubspot CRM for nurturing leads
Good for: customer relations management.
Starting a new business, a digital marketer has to envision how fast it might grow and whether it will be possible to scale the operations easily. This issue is super important for the delivery of goods or services and customer support. HubSpot CRM is one of the most popular digital marketing tools to keep all contacts and customer relations history in one database. The tool lets you view all the sales history in a clean pipeline.
The top features of HubSpot CRM include deal tracking, task management, email tracks, and engagement notifications.

For sales managers, the CRM allows creating quotes in a few clicks.
You can schedule a meeting or switch to a live chat, and share documents.
The tool supports a basic chatbot as well.
You will have detailed reports on individual performance and team productivity.
The beauty of HubSpot CRM is that it is absolutely free, with no limits on users or contacts added. However, you will likely want to try something else. Their marketing automation software ranges from SEO technical tasks in a CMS to Marketing Hub, Service Hub, Sales Hub, and more. The pricing is flexible and varies on the type of hub or bundle you choose.
Pricing: HubSpot CRM is free, other HubSpot tools start from $45/mo.
7. Drip for email marketing campaigns
Good for: sending email newsletters.
From starting a business to expanding in the market, a business should care about the ways to do effective outreach. Drip is a tool designed for email and SMS marketing. It is a good one to be added to your digital marketing tools because Drip has been designed specifically for e-commerce.
It integrates with popular eCommerce platforms, such as Shopify, Magento, and WooCommerce. Once you integrate them, the app pulls in information about your customers and even suggests key customer segments to focus on.

Drip smartly segments the audience based on purchase history, product ratings, and lifetime value.

There are several pre-designed email templates for you to create your own design with your unique branding. Colors and fonts are pulled automatically once you enter the website URL. The editor is pretty intuitive, with drag-and-drop and preview functionalities.

The tool allows A/B testing of your subject lines, email templates, and more.
Drip does list pruning, removing unresponsive contacts. And it tracks user clicks and engagement, to unleash the power of your customer behavior data.
There are over 40 pre-built workflows for automated drip campaigns, such as reminders for abandoned carts, product recommendations, post-purchase series, cleaning unsubscriber lists, and more.
Pricing: 14-days free trial, pricing per number of contacts starting from $19 per 500 contacts.
8. Zendesk for customer support
Good for: handling customer issues.
Companies rely greatly on digital marketing tools to receive feedback from customers. Zendesk is a SaaS platform that builds support, sales, and customer care. It enhances customer engagement and reduces churn. The tool meets the needs of any company type, from startups to growing enterprises.
The marketing tool integrates all support channels, including emails, chat, and phone.

Zendesk lets companies keep their knowledge base and automate self-service. It ensures that the right ticket gets to the right company agent.
Viewing, responding, and classifying tickets is quick and easy. There is a powerful search functionality by IDs or key terms.
Pricing: plans for everyone Suite Team $49/mo/agent, Suite Growth $79/mo/agent, Suite Professional $99/mo/agent, free trial available.
Social media management tools
9. Manychat for text chatbots and Facebook broadcast ads
Good for: textbot for messengers.
As most user communication has moved to social media, setting up a chatbox is almost a must-have. Chatbots, if used wisely, let companies effectively engage users in the channels where they hang out.
Manychat is one of the fastest-growing digital marketing tools that offer quite a large number of features at an affordable price. This is a SaaS that lets you build a Messenger textbot without any coding.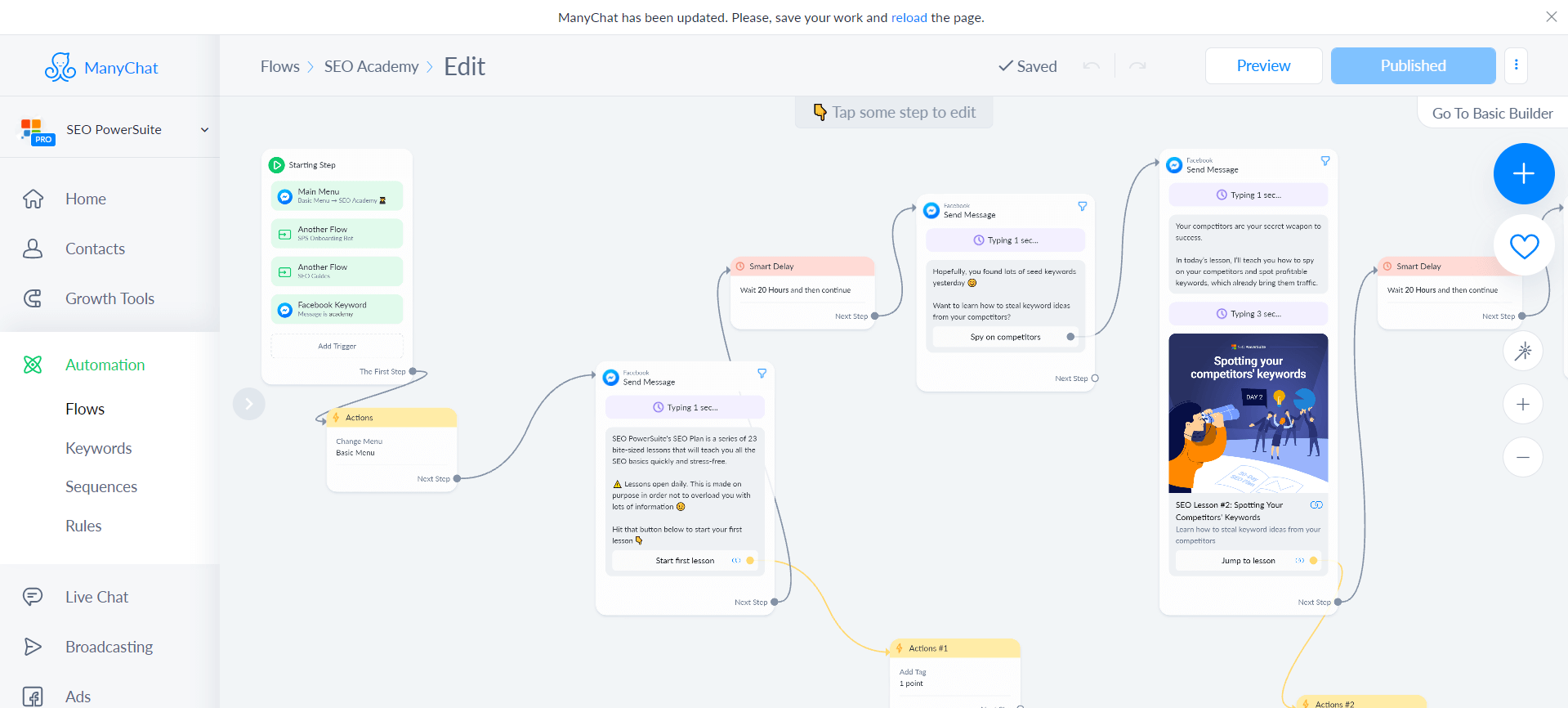 It has a user-friendly interface and lots of training materials, so you'll be able to deploy and start using your chat within a month or so.

Manychat allows for integration with a wide number of social messengers, like Facebook Messenger, Instagram, WhatsApp, as well as with email marketing tools and SMS service. Manychat integrates with Shopify, PayPal, Zapier, and hundreds of other popular apps.

You can create your chat flow, drawing block schemes with the visual drag-and-drop bot builder.

You can do A/B testing, build sales funnels, guide your customer through the complete sales funnel, and analyze data.

The Broadcasts tool in Manychat assists in sending broadcast ads compliant with Facebook policies (because Facebook is quite strict about how many and how often promotional messengers you can send to users).

There is a Livechat tool for human takeover to reply in a real-time live conversation.

The User panel gathers all information about your contacts, you can analyze them, subscribe or unsubscribe them from sequences.
Pricing: get started for free with limited features, Pro Plan $15/mo, scales with the number of contacts.
10. Engati for text and voice chatbots
Good for: chats in messengers; voice chat.
Engati is another marketing tool to deliver comprehensive customer care and automated sales via chatbot.
The tool provides omnichannel support across 14+ channels, connecting to Facebook Messenger, WhatsApp, Skype, Teams, Slack, and more.

You can build your chatbot with bot templates and the Visual Flow Builder.

You will have all your channel communications laid available at any device, mobile included.

There is proprietary natural language processing (NLP) available to train the voice chatbox. You can upload your own knowledge base for machine learning via DocuSense, FAQs, or Entities. Based on NLP technologies, chatbots interpret human language into simple questions and provide quick answers.

You can set up multilingual chatbots in more than 50 languages built their own libraries.

You can create broadcasting campaigns and send them in sequences, or to a segment of users.
The analytics dashboard provides stats about the number of interactions, average interaction per user, and more.
Separately, you can overview the questions that the chatbot failed to reply to and improve them.
Engati integrates with Google Sheets, Google Calendar, Zapier, etc. The platform is extensible to other marketing tools, including Salesforce, Shopify, Zendesk, turning it into a powerful e-commerce tool.
In all, it's a great marketing tool to go from conversational automation to tailoring customer journeys. But to use its biggest potential, you'll need to go pro.
Pricing plans: free plan allows up to 1K interactions, 2 bots; Professional starts at $79/mo; Business is $249/mo; Enterprise upon request.
11. Awario for brand monitoring
Good for: brand mention monitoring; influencer research.
Awario is one of the top digital marketing tools designed for social media listening and brand monitoring. For a time-strapped digital marketer, Awario is a great solution to build brand awareness and manage reputation on popular media channels.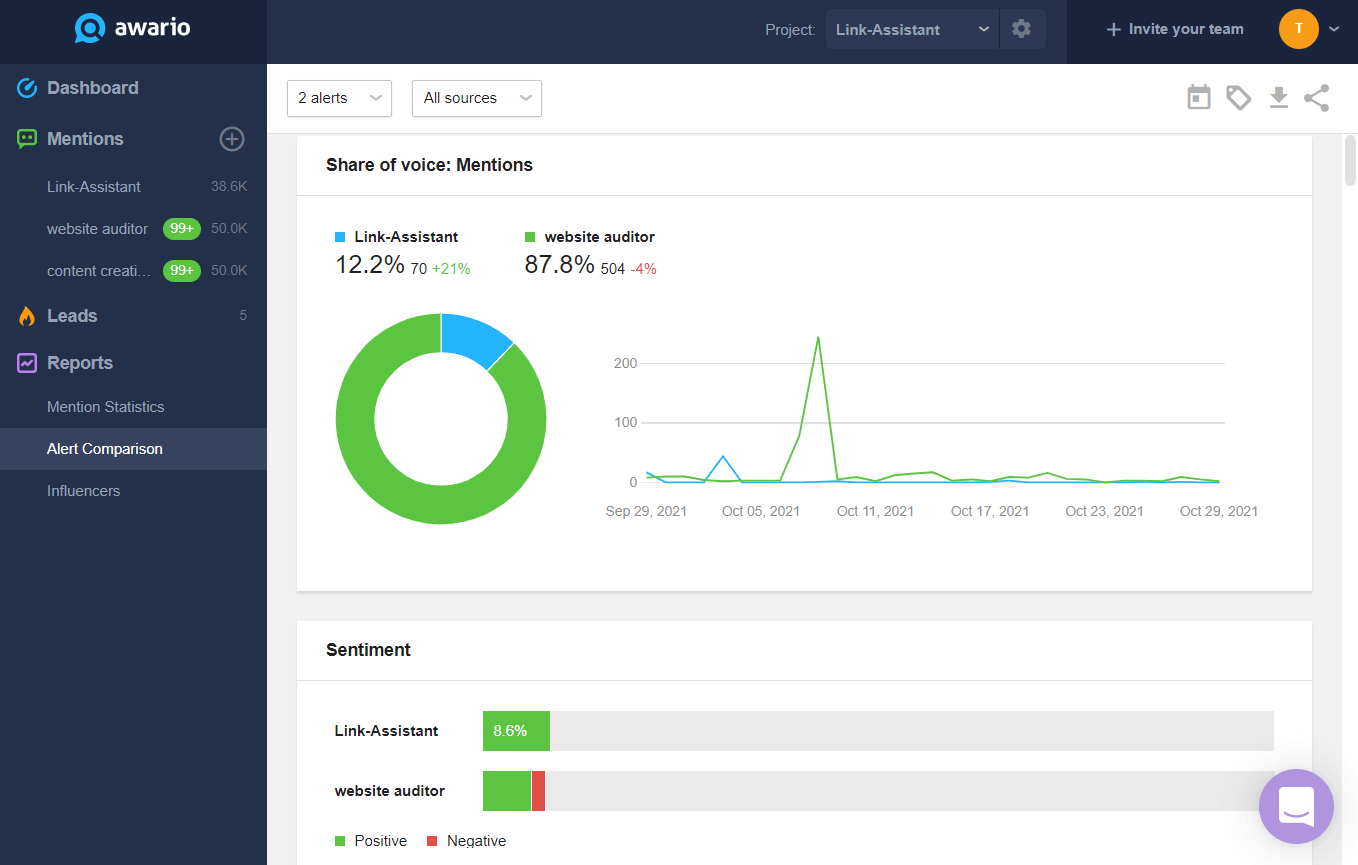 The tool lets you monitor mentions of your brand (or any keyword you choose) on the web, on major social media channels like Facebook, Twitter, Reddit, YouTube, and in blogs.

There is an in-built Boolean search tool to customize queries and search results you want to have.

The marketing tool shows all new mentions listed, from which you can view the mention, the profile of the influencer, check their authority, and even get contacts if they are provided in the social channel.
Another helpful feature is the analytics dashboard that shows you a demographic breakdown by country, gender, age, and other.
There is a sentiment analysis tool that shows the brand reputation with quantitative stats and graphs.
A special Leads feature singles out those mentions that manifest purchase intent for your key terms.
Pricing plans: Starter $24/mo, Pro $74/mo, Enterprise $249/mo if billed annually, free trial available.
14. Buffer for social media scheduling
Good for: social media scheduling.
Buffer is one of the most popular digital marketing tools thanks to its feature-rich functionality and affordable pricing plans. It allows planning, collaboration, and automated publishing for brand growth on social media.
Buffer lets you track engagement and performance in Instagram, Facebook, Twitter, and LinkedIn, and create reports in an intuitive analytics dashboard.

There is a pipeline for draft saving, approval, and notifications when it's time to publish a post or a story.

You can compare how your organic reach performs versus paid reach.

Also, you'll have a demographic breakdown of your audiences and target the most relevant of them.

The tool lets you find the best time to publish a story or a post. There is a free landing page builder that helps you create landing pages that convert well and are optimized for mobiles.

You can measure the impact of individual posts or keywords by hashtags.
Pricing: get started for free, Essential plan $5/mo/social channel, $10/mo/channel, 14-day free trial available.
Content creation tools
15. Content Editor for content optimization
Good for: creating SEO content.
Content Editor is a marketing tool especially helpful for SEO agencies and content marketers. The SEO content editor tool gives on-page tips on how to better improve your every piece of content. Implementing these recommendations should improve the average optimization rate of your pages.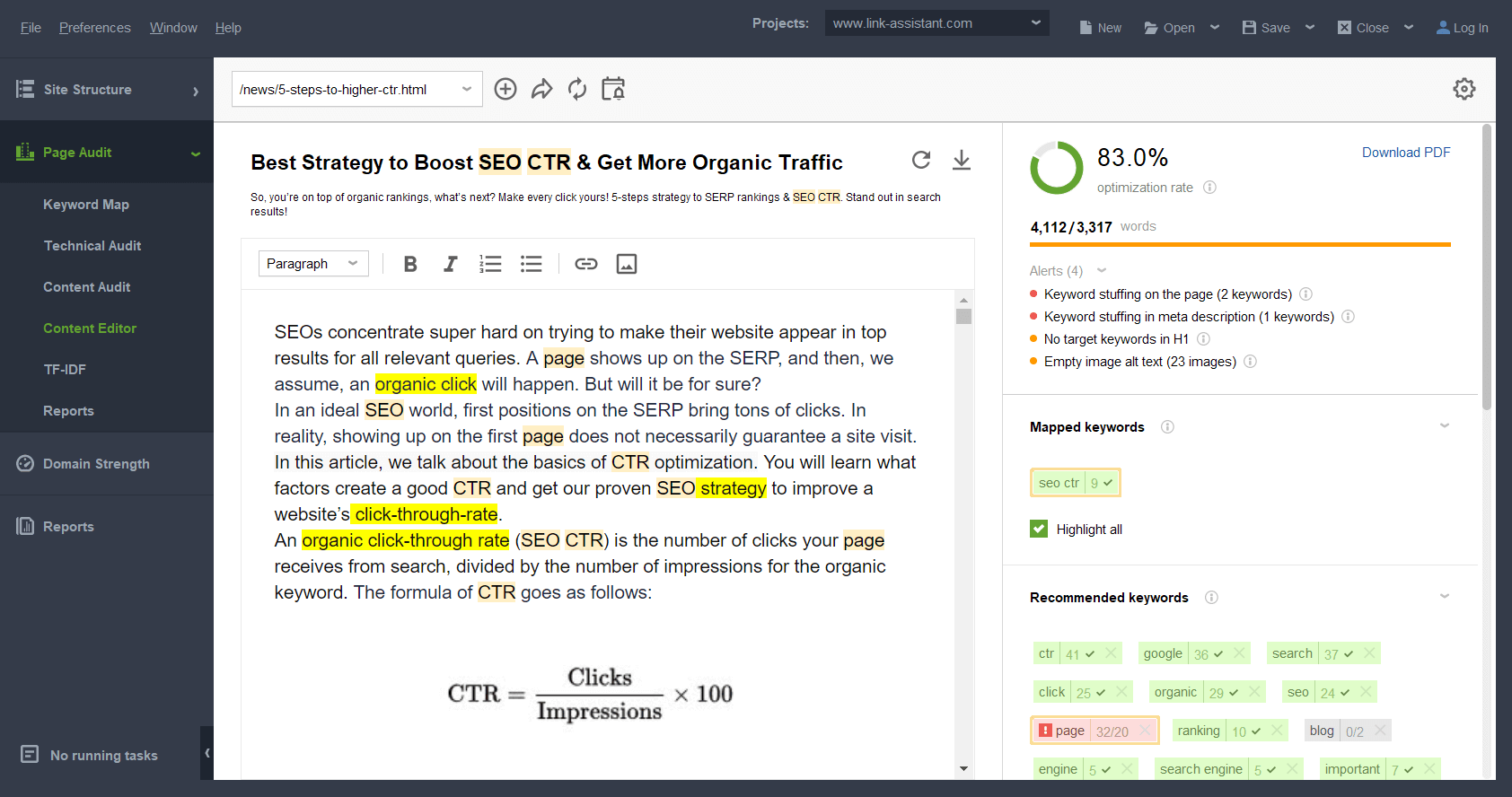 Content Editor analyzes the top ten competitors for the keyword on the search results page and summarizes average keyword stats.

The special TF-IDF tool gives detailed stats in keyword density in your content and all your competitor pages.

There is a special optimization rate, improve your on-page elements and see how the score changes.

You can optimize the pages in-app, test meta descriptions on the fly.

Alternatively, the tool allows extracting copywriting tasks in a PDF format (the feature is available in the Enterprise version of WebSite Auditor).
Pricing: Content Auditor is part of the WebSite Auditor that goes in three versions, free, Professional at $125/year, and Enterprise at $299/year, 7-day trial available. WA is part of SEO PowerSuite tools.
16. Canva for visual media creation
Good for: creating visuals for social media, posters, media kits, branded production.
Canva is a graphic design platform that stands out from a bunch of similar online marketing tools for ease of use and universality. Moreover, a myriad of features can be used absolutely free. Online marketers use it daily to create beautiful visuals: posters, presentations, marketing kits, and other visual content.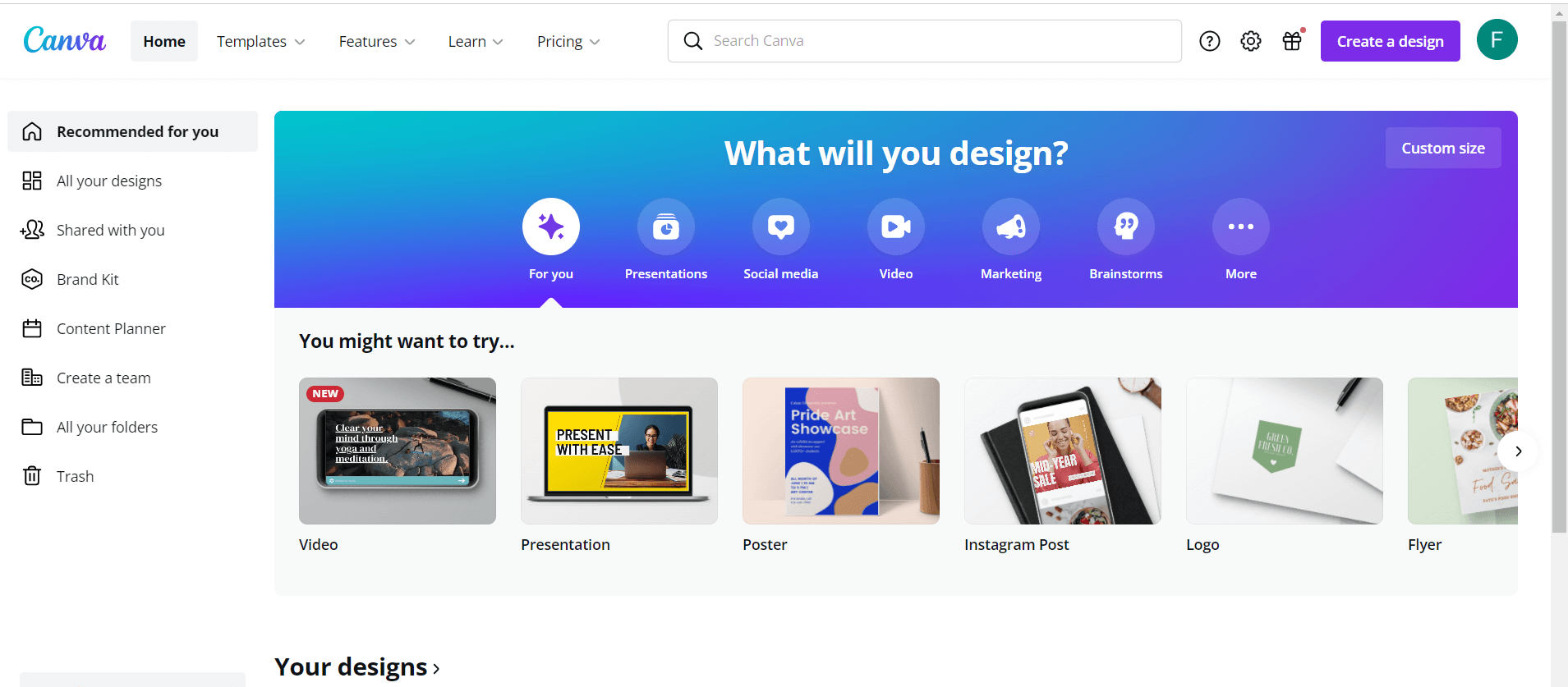 The tool has an intuitive interface and is easy to start using.

Canva offers thousands of templates that let you unleash creativity and customize with your unique styling.

While for a marketing team, there are some premium features to boost team productivity. You can invite team members, save your brand logos and color schemes, and apply them to all your marketing materials.

Canva offers additional designing tools, such as image resizing or background removal. ​​​

In the paid version, you can have additional cloud storage.
Besides, you can schedule social media content to 8 popular platforms which makes the tool highly valued for social media managers.
Pricing: Free, Pro $199.99/mo/up to 5 users, Enterprise upon request, 30-day free trial.
Project and time management software
17. Trello for team planning and project management
Good for: creating team boards and calendars.
Trello boards are an easy digital marketing tool to start organizing work with the help of lists and cards. Fast setup and intuitive interface have made Trello one of the most frequently mentioned of all digital marketing tools.
There is a calendar for time management and a timeline view for project planning.

Typically, Trello users create Kanban-style boards with task stages, such as To Do, In Progress, Done. Although there are a variety of ways to organize your personal and business tasks, such as shown in these free public boards.

It is really easy to manage teamwork, with task assignments, drag-and-drop features, file uploads, automation, and more. ​​​​​​

Trello integrates with plenty of other tools like Confluence, Slack, Google Drive, Dropbox, etc.
Pricing: Free start, Standard $5/mo, Premium $10/mo, Enterprise $17.50/mo if billed annually.
18. Timely for team scheduling
Good for: assigning tasks and scheduling events.
Timely is another one of the popular online marketing tools for measuring team productivity.
The tool offers an intuitive calendar-looking interface where you track the progress of your team and every user.

The project tracker tool helps estimate and visualize project budgets.

Automated time tracker tool allows measuring work hours, workload, and overtime. This is crucial in remote work to optimize employees' efficiency and prevent burnouts.

An advanced planning add-on in Timely helps teams assign, schedule, and track project progress.

Timely lets you create branded reports of timesheets, performance reviews, payroll, and send client updates (or share them via live URL).

The marketing tool connects to over 4K native apps with Zapier integration, with automated import and export of data.
Pricing: Starter $10/mo, Premium $18/mo, Unlimited $26/mo, 20% discount if paid yearly, 14-day free trial available to get familiarized with the tool.
19. Scoro for team performance evaluation
Good for: time assessment; performance assessment.
Do you need an all-in-one marketing software for performance evaluation? Scoro is here to handle all the tasks from planning a project to the assessment of the marketing strategy. Scoro is a multipurpose cloud-based marketing platform that combines project management tools, time tracking, CRM, tracking bills, and reporting all in one place.
The scope of work varies from task assignment, calendar handling, to calculating net income and risk assessment.

You can collaborate with your coworkers and manage schedules, add notes and documents.

The tool has a user-friendly interface, with a single control panel, filters, and adjustments to see all the stats conveniently in one dashboard.

Scoro integrates with a variety of external digital marketing tools from Google Forms, Trello, and Dropbox to Xero accounting program, Freshdesk customer support, and PayPal.
Pricing: Essential $26/mo/user, min 5 users to Sales Hub $37/mo/user to Ultimate (request pricing).
Analytics and reporting software
20. Google Analytics for tracking SEO KPIs
Good for: tracking conversions; analyzing audiences.
Google Analytics is the basic free website analytics tool that is a must-have for any digital marketer. GA is the first place to track the traffic on your site and to validate your marketing strategy against your SEO KPIs.
First, from Google Analytics you'll know the landing pages through which your web visitors enter your website.

Setting up goals on your landing pages, you will find out which of them converts better.

The Behavior module will give you a clue about how visitors interact with the pages.

And the Audience analysis will give a deeper understanding of your audience demographic and needs.

Moreover, by linking Google Analytics to Search Console, you will have more insights into your organic traffic and which key terms bring you the most profit.

Powering data to the Google Data Studio, you will be able to create beautiful reports of SEO progress. Altogether, Google provides awesome free marketing tools giving powerful insights into your company performance.
Pricing: free, large companies are offered a paid solution Google Analytics 360 as part of the Google Marketing platform suitable for large enterprises.
21. CrazyEgg for customer experience optimization
Good for: optimizing customer journey on the website.
The most helpful digital marketing tools for website owners are those that optimize the whole customer journey, just like CrazyEgg does it. The tool offers everything an enterprise needs to optimize the site for better customer experiences. With this analytics platform, you will be able to see how your visitors navigate the site.
CrazyEgg analyzes visitors, digging deep into referral traffic, clicks, and user behavior.

It analyzes on-page engagement, showing scroll maps and heatmaps.

It allows A/B testing for UX/UI audits for website launches or redesign.

E-commerce platforms will benefit from the tools as they advise on shopping experiences, enhance lead generation, and integrate with Magento and Shopify.

Tracking all these metrics, you'll be able to convert your visitors better and increase ROI.
Pricing: from $24/mo to $249/mo, custom solutions, free 30-day trial available.
22. Google Data Studio
Good for: marketing visualization dashboard.
One of our favorite digital marketing tools for SEO reporting is Google Data Studio. It's a great tool to enhance reports with all its flexibility to blend sources and interact with your data.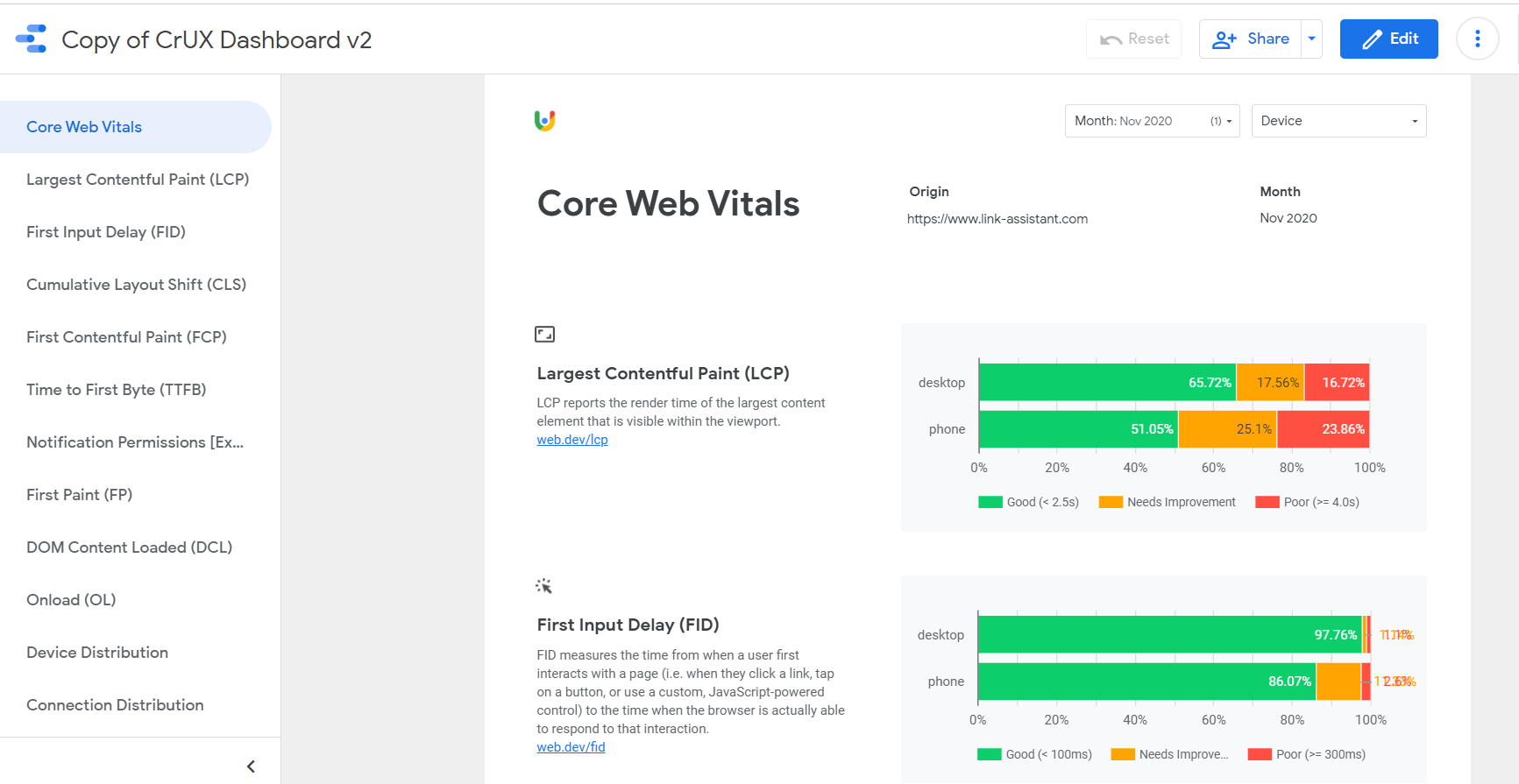 Using native Google tools in Google Data Studio is free for all users, although, in quality, the tool equals numerous paid dashboarding solutions.

You can connect to BigQuery tables and Google Cloud SQL to create custom queries. You can combine multiple data sources like Google Search Console, Google Analytics, Google Ads, Facebook Ads, Instagram Ads, Bing Ads, etc. ​​​​

The main benefit of Google Data Studio is that you automate reporting on your SEO and PPC campaigns in a single dashboard.

KPI monitoring becomes a breeze with easy-to-understand graphs and visualization. For example, take a look at our four ways to use Google Data Studio for SEO reporting. ​​​​​

You can as well try our GDS template of SEO reporting on Core Web Vitals indicators with WebSite Auditor.
Pricing: free for native integrations, using third-party connectors is paid, price varies depending on the tool.
23. Klipfolio
Good for: marketing visualization dashboard; analytics and reporting visualization.
From BI digital marketing tools, Klipfolio is praised for being a powerful platform at its value to help business leaders make well-informed decisions. With Klipfolio, you no longer need manual monitoring of your business performance.
The tool offers easy to set up and visually appealing dashboards.

It connects to numerous data apps like Hubspot, Google Analytics, Salesforce, Zapier, Xero, and more. As an alternative, you can pull data from your own spreadsheets with SQL queries.

The metrics refresh every day and you're viewing real-time business data. Moreover, Klipfolio stores all your data history to compare time ranges, something that adds more value as compared to static spreadsheets.
Pricing: free, Plus $40/mo, $125/mo if billed yearly.
Wrapping up
This list includes some of the best digital marketing tools that companies might want to have for a seamless workflow. Tools enable the automation of marketing campaigns and let you have all analytics at your fingertips. With the right Internet marketing software in your stack, you'll be able to refine the marketing strategy and grow as a business in the long run.
What good free software have you found recently to back your marketing endeavors? We'll be happy to learn something new, welcome to comment!