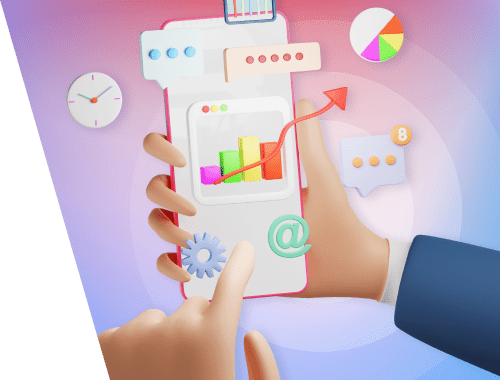 20+ List of the Best Digital Marketing Tools in 2023

We refer to digital marketing tools as those that accompany business operations. As long as your online business grows, management of all marketing channels may become overwhelming. Ordering products online and receiving online payments is only the tip of the iceberg. Presenting your brand, finding hot leads, clients onboarding, customer care, issues resolution are only a few tasks to mention. And each task requires its own knowledge, skills, and tools.
We've analyzed dozens of digital marketing tools to make a list of those that will let you build a smooth business workflow, from launch to growth. The list includes digital marketing tools to apply at various stages of managing products or services, from choosing the right marketing strategy to delivering post-purchase customer care.
SEO Software
1. Search Console for SEO performance on Google
Good for: checking website technical health; finding top-performing SEO keywords; checking link profile.
Technical SEO is the first pillar of the right SEO marketing strategy. An error-free website from a technical point of view is crucial to online marketing. And Google Search Console is the first free marketing tool to track your website performance.
Pricing: free.
2. Rank Tracker for competitive research
Good for: tracking organic ranks; finding best SEO keywords; checking the organic competition.
For a marketer starting a business, it is crucial to see the true competitive landscape. It's great to formulate a vision of your online business before kicking it off. And Rank Tracker is a great marketing tool that will help you plan the right marketing strategy. Organic search is one of the most effective marketing channels. You simply optimize your website for target keywords so that it will be number one in the search results.
Pricing: Free, Pro $149/year, Enterprise $349/year.
Good for: website audit; on-page optimization; Webmaster tools.
WebSite Auditor is a must-have on the list of digital marketing tools for its diverse functionality. It allows doing a complete website audit to check for common SEO errors.
Pricing: free version, Professional at $125/year, and Enterprise at $299/year, 7-day trial available. WA is part of SEO PowerSuite tools.
4. SEO SpyGlass for competitor research
Good for: backlink checks; competitor research; link penalty checks.
Website authority and backlinks are a strong ranking signal to Google. That's why most businesses are up to building high-quality links to their sites. SEO SpyGlass is another marketing tool from SEO PowerSuite that does thorough backlink research. The backlink tool can be used in digital marketing in a variety of ways.
5. Google My Business for local SEO
Good for: local SEO competition.
Google My Business is another free marketing tool from Google with immense potential for local growth. It is especially valuable for online marketers starting a new business with a physical location. Here, you can indicate the location, fill out the profile, and optimize it for local SEO. This tool is a must-have for all small businesses who want to uplevel their digital marketing strategy.
Sales and customer support software
6. Hubspot CRM for nurturing leads
Good for: customer relations management.
Starting a new business, a digital marketer has to envision how fast it might grow and whether it will be possible to scale the operations easily. This issue is super important for the delivery of goods or services and customer support. HubSpot CRM is one of the most popular digital marketing tools to keep all contacts and customer relations history in one database. The tool lets you view all the sales history in a clean pipeline.
The beauty of HubSpot CRM is that it is absolutely free, with no limits on users or contacts added. However, you will likely want to try something else. Their marketing automation software ranges from SEO technical tasks in a CMS to Marketing Hub, Service Hub, Sales Hub, and more. The pricing is flexible and varies on the type of hub or bundle you choose.
Pricing: HubSpot CRM is free, other HubSpot tools start from $45/mo.
7. Drip for email marketing campaigns
Good for: sending email newsletters.
From starting a business to expanding in the market, a business should care about the ways to do effective outreach. Drip is a tool designed for email and SMS marketing. It is a good one to be added to your digital marketing tools because Drip has been designed specifically for e-commerce.
Pricing: 14-days free trial, pricing per number of contacts starting from $19 per 500 contacts.
8. Metrics Watch for email-based marketing reports
Good for: sending marketing reports to clients and colleagues directly to their inbox.
Metrics Watch offers a unique automated solution for sending marketing reports. Unlike other reporting tools that require recipients to download PDF attachments or log in to dashboards to view data, Metrics Watch displays reports in the body of the email itself.
Pricing: Plans start at $29/mo, free two-week trial available.
9. Zendesk for customer support
Good for: handling customer issues.
Companies rely greatly on digital marketing tools to receive feedback from customers. Zendesk is a SaaS platform that builds support, sales, and customer care. It enhances customer engagement and reduces churn. The tool meets the needs of any company type, from startups to growing enterprises.
Pricing: plans for everyone Suite Team $49/mo/agent, Suite Growth $79/mo/agent, Suite Professional $99/mo/agent, free trial available.
Social media management tools
10. Manychat for text chatbots and Facebook broadcast ads
Good for: textbot for messengers.
As most user communication has moved to social media, setting up a chatbox is almost a must-have. Chatbots, if used wisely, let companies effectively engage users in the channels where they hang out.
Manychat is one of the fastest-growing digital marketing tools that offer quite a large number of features at an affordable price. This is a SaaS that lets you build a Messenger textbot without any coding.
Pricing: get started for free with limited features, Pro Plan $15/mo, scales with the number of contacts.
11. Engati for text and voice chatbots
Good for: chats in messengers; voice chat.
Engati is another marketing tool to deliver comprehensive customer care and automated sales via chatbot.
Pricing plans: free plan allows up to 1K interactions, 2 bots; Professional starts at $79/mo; Business is $249/mo; Enterprise upon request.
12. Awario for brand monitoring
Good for: brand mention monitoring; influencer research.
Awario is one of the top digital marketing tools designed for social media listening and brand monitoring. For a time-strapped digital marketer, Awario is a great solution to build brand awareness and manage reputation on popular media channels.
Pricing plans: Starter $24/mo, Pro $74/mo, Enterprise $249/mo if billed annually, free trial available.
13. Buffer for social media scheduling
Good for: social media scheduling.
Buffer is one of the most popular digital marketing tools thanks to its feature-rich functionality and affordable pricing plans. It allows planning, collaboration, and automated publishing for brand growth on social media.
Pricing: get started for free, Essential plan $5/mo/social channel, $10/mo/channel, 14-day free trial available.
Content creation tools
14. Content Editor for content optimization
Good for: creating SEO content.
Content Editor is a marketing tool especially helpful for SEO agencies and content marketers. The SEO content editor tool gives on-page tips on how to better improve your every piece of content. Implementing these recommendations should improve the average optimization rate of your pages.
Pricing: Content Auditor is part of the WebSite Auditor that goes in three versions, free, Professional at $125/year, and Enterprise at $299/year, 7-day trial available. WA is part of SEO PowerSuite tools.
15. Canva for visual media creation
Good for: creating visuals for social media, posters, media kits, branded production.
Canva is a graphic design platform that stands out from a bunch of similar online marketing tools for ease of use and universality. Moreover, a myriad of features can be used absolutely free. Online marketers use it daily to create beautiful visuals: posters, presentations, marketing kits, and other visual content.
Pricing: Free, Pro $199.99/mo/up to 5 users, Enterprise upon request, 30-day free trial.
Project and time management software
16. Trello for team planning and project management
Good for: creating team boards and calendars.
Trello boards are an easy digital marketing tool to start organizing work with the help of lists and cards. Fast setup and intuitive interface have made Trello one of the most frequently mentioned of all digital marketing tools.
Pricing: Free start, Standard $5/mo, Premium $10/mo, Enterprise $17.50/mo if billed annually.
17. Timely for team scheduling
Good for: assigning tasks and scheduling events.
Timely is another one of the popular online marketing tools for measuring team productivity.
Pricing: Starter $10/mo, Premium $18/mo, Unlimited $26/mo, 20% discount if paid yearly, 14-day free trial available to get familiarized with the tool.
18. Scoro for team performance evaluation
Good for: time assessment; performance assessment.
Do you need an all-in-one marketing software for performance evaluation? Scoro is here to handle all the tasks from planning a project to the assessment of the marketing strategy. Scoro is a multipurpose cloud-based marketing platform that combines project management tools, time tracking, CRM, tracking bills, and reporting all in one place.
Pricing: Essential $26/mo/user, min 5 users to Sales Hub $37/mo/user to Ultimate (request pricing).
Analytics and reporting software
19. Google Analytics for tracking SEO KPIs
Good for: tracking conversions; analyzing audiences.
Google Analytics is the basic free website analytics tool that is a must-have for any digital marketer. GA is the first place to track the traffic on your site and to validate your marketing strategy against your SEO KPIs.
Pricing: free, large companies are offered a paid solution Google Analytics 360 as part of the Google Marketing platform suitable for large enterprises.
20. CrazyEgg for customer experience optimization
Good for: optimizing customer journey on the website.
The most helpful digital marketing tools for website owners are those that optimize the whole customer journey, just like CrazyEgg does it. The tool offers everything an enterprise needs to optimize the site for better customer experiences. With this analytics platform, you will be able to see how your visitors navigate the site.
Pricing: from $24/mo to $249/mo, custom solutions, free 30-day trial available.
21. Google Data Studio
Good for: marketing visualization dashboard.
One of our favorite digital marketing tools for SEO reporting is Google Data Studio. It's a great tool to enhance reports with all its flexibility to blend sources and interact with your data.
Pricing: free for native integrations, using third-party connectors is paid, price varies depending on the tool.
22. Klipfolio
Good for: marketing visualization dashboard; analytics and reporting visualization.
From BI digital marketing tools, Klipfolio is praised for being a powerful platform at its value to help business leaders make well-informed decisions. With Klipfolio, you no longer need manual monitoring of your business performance.
Pricing: free, Plus $40/mo, $125/mo if billed yearly.
What digital marketing tools would you recommend?
This list includes some of the best digital marketing tools that companies might want to have for a seamless workflow. Tools enable the automation of marketing campaigns and let you have all analytics at your fingertips. With the right Internet marketing software in your stack, you'll be able to refine the marketing strategy and grow as a business in the long run.
What good free software have you found recently to back your marketing endeavors? We'll be happy to learn something new, welcome to comment!
Article stats:
| | |
| --- | --- |
| Linking websites | N/A |
| Backlinks | N/A |
| InLink Rank | N/A |