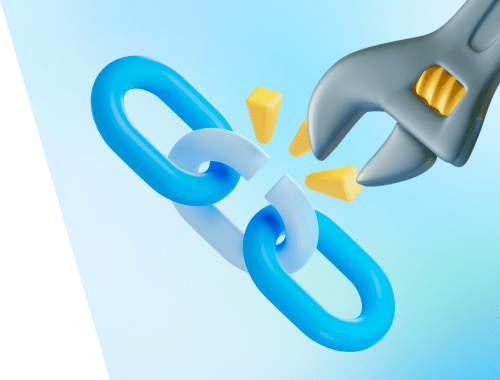 How to Find and Fix Broken Links on Your Website

A broken link (404 not found) is a link to a page that does not work or exist. Broken links negatively affect your site's user experience, conversion rate, and SEO. So it's crucial to find broken links and fix them to prevent traffic loss and in general have your site performance smooth and successful.
In this guide, I'll share how to find broken links and give some tips on fixing them.
Let's go.
Watch a video on how to find broken links on your site with WebSite Auditor.
Download WebSite Auditor
Broken link definition
A broken link is a link to a page that does not work. When you (or Googlebot) follow a broken link, you see an error message or a 404 not found hover instead of content. Broken links can also be referred to as dead links. The phenomenon of broken links appearance is called link rot.
Why broken links appear
Broken links appear for different reasons. The most common ones are as follows:
Mistakes or typos in a URL address;
A page moved to a new address and no redirect was applied;
A page or a whole site is not available or timed out;
Mistakes or typos in a URL address;
A link points to the content (a PDF, video, Google Docs file, etc.) that is no longer available;
A page has restricted access (password protection, firewall, etc.)
Broken link examples
The most common example of a broken link is 404 not found pages. But, of course, this is not the only status code that means that a URL is broken. Here are more examples:
400 (bad request). The host server doesn't understand the URL on a page.
401 (unauthorized). A page is only available for authorized access.
410 (gone). A page has been removed and deindexed.
This site can't be reached. A site took too long to respond. In addition to server errors, this status may also signalize the typo in the domain name.
502 (bad gateway). A server received an invalid response because it was crushed.
Reset. A server dropped connections because it was misconfigured or too busy.
Why broken links harm your SEO
Broken links are bad for your website for many reasons
First, broken links destroy PageRank. Because if a link is broken, it doesn't pass any link juice at all. So, all your linking effort may become useless if a destination URL turns out to be broken and remains unfixed.
Then, broken links harm your site's user experience and increase bounce rate. Like, if users click a SERP snippet and see a 404 not found instead of the page's content, they will just bounce off and go to some other website.
Besides, broken links drain your site's crawl budget. Any time Googlebot hits a broken URL, an amount of crawl budget is still wasted, but nothing is indexed. As a result, you may run out of crawl budget and don't manage to get your important pages indexed — because Google will consider your site a not working one and start crawling it less often. I.e. give you less crawl budget.
How to find broken links on your website
So, it's clear that broken links need to be found and fixed. And the best way to identify 404s on your website is by using tools for site audit.
Google Search Console
Google Search Console (GSC) is a basic SEO tool to analyze your website's organic performance and indexing issues.
It's interesting that Google says that broken links themselves do not harm your site performance unless the page is not submitted for indexation. The problem is when a broken URL is a submitted page. This is what you need to focus on.
So, all you need to find broken links on your site with GSC is to switch to the Indexing > Pages report and choose All submitted pages from the dropdown menu: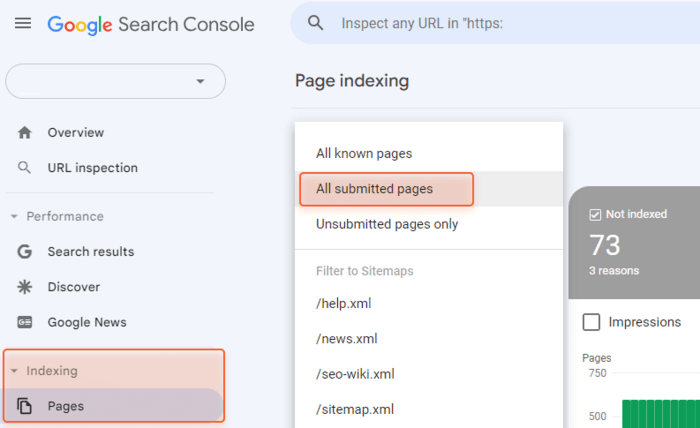 Then scroll to the list of reasons why pages are not indexed and here you are: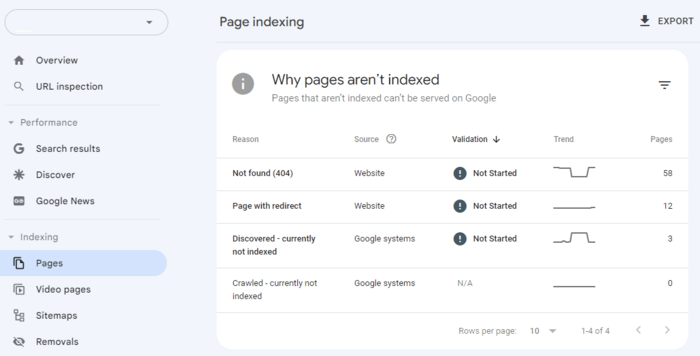 Google Search Console is a nice way to find broken links. Still, while GSC shows a list of your broken URLs, it doesn't provide the information on where the broken page is linked from and offers no fixing advice. This is where more advanced SEO audit tools come in handy.
WebSite Auditor
WebSite Auditor lets you examine your site's SEO health in detail and, sure thing, get a detailed report on broken links on your website. In addition to the list of broken links themselves, WebSite Auditor will classify the links by error type, so you will know exactly what type of fix is needed.
Here's how to find broken links in WebSite Auditor. Launch the tool and create a project for your website. Then, go to Site Structure > Site Audit module and scroll to the Links section. Click Broken links, and here you are: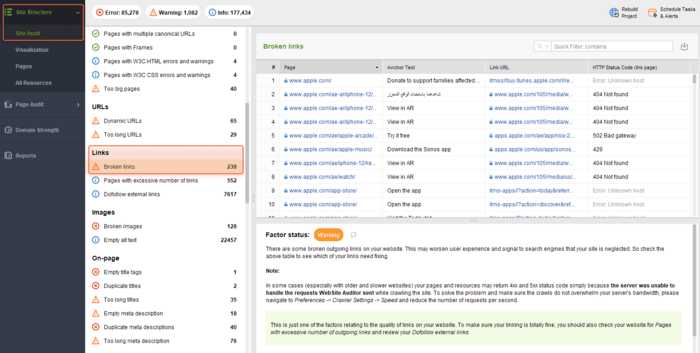 As you can see, WebSite Auditor not only lets you find broken links but also shows the pages where the broken pages are linked from. Besides, the tool explains the meaning of broken links for SEO and suggests fixing options.
Bonus: Finding competitors' broken backlinks with SEO SpyGlass
Finding and fixing broken links on your website is important. But finding broken links, or, better say, backlinks, on competitors' sites is also useful. Broken backlinks of your competitors may become a part of your link-building strategy — you can simply reach out to backlink providers and ask to replace someone's broken link with your working one.
You can spot competitors' broken backlinks with SEO SpyGlass. Launch the tool and create a project for your competitor's website. Then go to Backlink Profile > Backlinks. In the drop-down menu, select Dofollow links, and filter the Linked Page Status Code column to feature only 404s. Voila: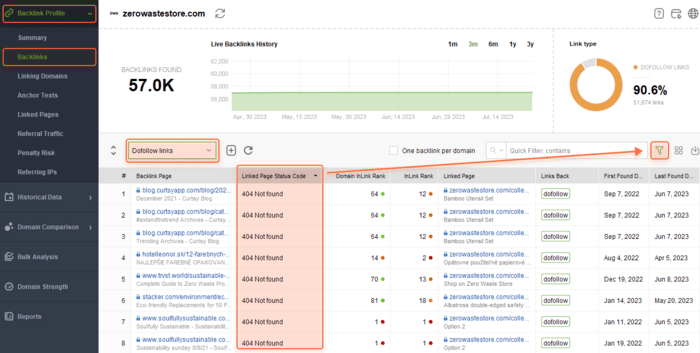 Before you start reaching out to your potential backlinkers, consider domain characteristics such as Domain InLink Rank, Penalty Pisk, etc. Also, make sure the page you suggest as a replacement is topically relevant.
How to fix broken links on your site
Part one done — you've found all the broken links on your website. Once found, broken links need to be fixed. Here are the ways to do this.
Replace the broken link with a new working and relevant one.
Set up the appropriate redirect in addition to link replacement.
Remove broken URLs from the sitemap, so Google will stop trying to index them.
Do not block broken URLs with the robots.txt file — this will only confuse crawlers.
Create a custom 404 page with navigation options for the cases like users' typos in URLs or when a deleted page has no replacement. Doing so will help you prevent a bounce rate increase, as users may find some useful information on your custom 404 page.
Carefully revise your work after you do the fixing. Update your website project in WebSite Auditor to make sure you got rid of the broken links successfully. In the perfect scenario, your Links section in Site Audit will start looking like this:

To sum it up
Now you know how to find and fix broken links on your website and, most important, why you should bother fixing them.
By the way, how do you usually deal with broken links? How often do you face this problem in your SEO routine? Share your experience in our Facebook community.
Article stats:
| | |
| --- | --- |
| Linking websites | N/A |
| Backlinks | N/A |
| InLink Rank | N/A |