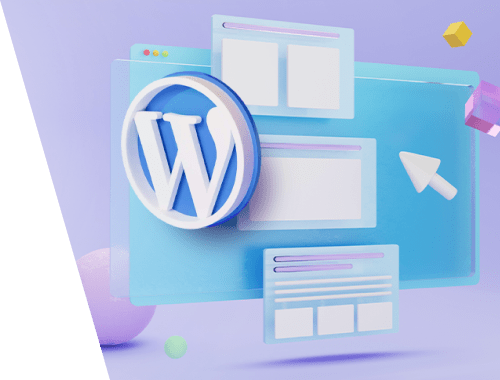 How to Choose a WordPress Theme: Ultimate Guide + Our List of Top Themes

Pressed for time building a brand-new website? In all probability, you will go for WordPress. This is one of the most famous content management systems for websites, thanks to its affordability and ease of use.
According to W3Tech stats, around 43% of all websites are currently built on WordPress. Popular websites like Facebook newsroom, Tripadvisor, Yelp and Flickr blogs, Angry Birds and the Walt Disney Company, Techcrunch and TED blog are powered by Wordpress.
And the fact is, the market of WordPress themes is so competitive that one can be overwhelmed when choosing a theme that suits them best. So, we asked bloggers and website owners if they would recommend a pre-built WordPress theme and what pros and cons to consider. Here is our round-up and a few good tips.
What is a theme in WordPress?
WordPress is a free and open-source website builder and content management system which means that anyone can use it, copy, modify and redistribute without any restrictions. A WordPress theme is a collection of files, such as PHP codes, CSS style sheets, and graphics that define the appearance of your website.
With a theme, you control what your website looks like: the layout, the size of images, fonts and colors, hyperlinks, etc. Every WordPress website requires at least one theme to be activated.
There are two options for how to design your site's appearance: using a pre-built theme or designing your custom theme from a basic one. Which way to go largely depends on the requirements and your available resources.
I feel the only reason to build a custom theme from scratch (or better, a supported framework or barebones/skeleton/starter theme) is if you want to learn how to do that and make your personal blog a place for experimentation and learning.
Basically, there are two types of WordPress themes: niche themes and multipurpose ones. Besides, themes can be free and premium. Usually, free themes offer limited functionality and support. With premium themes, you not only have enhanced functionality but also updates and developer help when needed.
Where can I get a WordPress theme?
The first place to look for a free WP theme is the official WordPress theme directory which has almost 10,000 free themes.
Note
There might be confusion about two versions of WordPress, self-hosted WordPress.org CMS and WordPress.com. The former is an open-source platform, whereas the latter is a blogging platform and WordPress hosting service run by Automattic. It is created by Matt Mullenweg, the co-founder of WordPress open-source software. These two platforms are not the same.
WordPress.com is a custom hosting solution mainly for blogging, built on top of WordPress software. Here, you won't need to worry about backups. But you cannot install custom extensions or themes unless you upgrade to their business version.
It's good to know that a team of reviewers manually checks new themes to ensure that they meet the quality criteria before being published in the WordPress theme directory. So, the themes there are more or less safe and stable.
Alternatively, you can buy a WordPress theme directly from developers. For example, you can find them in creator marketplaces selling premium theme solutions, such as Themeforest.
Pre-built WordPress themes: pros & cons
Affordability
If you are a beginner and only starting your first website, you have a variety of templates to test absolutely free of charge. Next, you can switch a template or upgrade to a pro theme once you think you're ready to roll. A premium theme still won't cost you a fortune. You can find good ones within the $50 - $100 range.
Pre-designed WordPress themes are well suitable for startup sites that have no to low budget.
Time-saver
A ready-made WordPress theme will spare many efforts from the beginning. It won't take a lot of time to activate it and train the team on how to use it. Be sure you'll have a working solution practically overnight.
Using a theme makes perfect sense for smaller businesses, bloggers, or those without much time or coding knowledge…. For me, it really comes down to time management. I would rather spend it on content marketing, plugin development for our business, knocking out various Trello tasks, etc.
Ease of use
The slight learning curve makes WordPress easy to use even for a beginner.
A theme can be integrated with page builders, which are a program, a tool, or a plugin that allows you to create websites without editing any code. It usually involves a drag-and-drop function. The most popular page builders for WordPress are Bluehost, Divi, WP Bakery, and Elementor.
Besides, WordPress has done several significant improvements recently with the introduction of Full Site Editing features and Gutenberg editor.
Note
Full Site Editing (FSE) is a collection of interrelated features that allows you to edit the entire site using blocks.
Within FSE solutions, there is a new post editor in WordPress called Gutenberg editor. This is an entirely new editing experience and a significant change in how content is created. It replaces the classic WordPress editor which is built on TinyMCE HTML editor.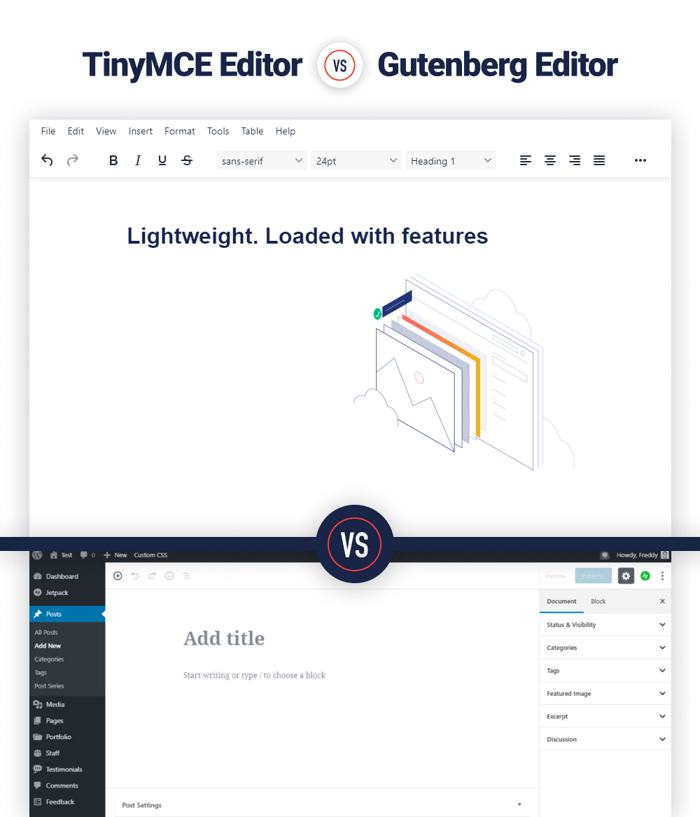 With Gutenberg, you can add multiple media types and arrange the layout within the editor using blocks. So you simply drag and drop files anywhere on the screen, and it will automatically create a block for you.
Starting from the WordPress 5.9 version, released on January 25, 2022, the FSE editor can be enabled in the beta version in the admin panel. FSE is not yet part of WordPress Core, and you will need to add the Gutenberg plugin to make it work.
One thing you should be aware of is that some themes are compatible with Gutenberg or page builders, others may be not. To take full advantage of FSE features in WordPress version 5.9, you will need to activate a full-site-editing theme, for example, Twenty Twenty-Two, the first default FSE-enabled theme.
Since WordPress now has Full Site Editing and Gutenberg built-in, it will be handy to choose a theme that supports Gutenberg blocks and FSE ready themes. Although, FSE is very new to the market, and there are comparatively very few themes supporting FSE.
So, you need to think if it makes a point for you to have an easy visual page builder inside your admin panel, or maybe you prefer the classic editor.
Lack of personalization
Sometimes, when you visit a website on WordPress, it becomes obvious that it's built with a plain free theme. As a rule, free ready-made themes are very basic and do not allow to create a unique branded look. The result is a bland experience that will only bore your visitors.
Lack of scalability
Over time, you may need a totally different solution to meet new demands. For example, your website audience will increase multifold, or you will want to sell products from your online store. So, you will need to add login functionality and enhance the security of the website. Such activities as website migration or adding a CRM may become an additional burden.
Usually, when choosing a WordPress template, you make a trade-off between features and speed. Dependence on extensions may become a drawback, as too many plugins may slow down your site's load speed. So, you need to foresee what features you may need and whether it will be easy to customize or switch themes in future.
Lack of updates and live support
Last, but not least, free templates may be buggy, and developers may not feel obliged or find it possible to help and fix issues.
On the cons side, prebuilt themes are sometimes bloated with all the features that may never be used. If they are not updated and supported properly by the theme authors, they quickly get outdated and get prone to hacking.
That's not a strict rule because there is a huge number of free themes of good quality. But if you run a serious business, you should better opt for premium WordPress themes. It's better to be safe than hastily repair downtime and breaches.
Of course, it's wise to start with a free template and upgrade to a pro one if the experience is satisfying.
How to install a WordPress theme on your website
To activate a theme on your website, first, you will need to download the installation zip file from the shop or directory. Then you will need to log into your WordPress account. Proceed to Appearance > Themes > Add New, and upload theme installation files. After that, click Install.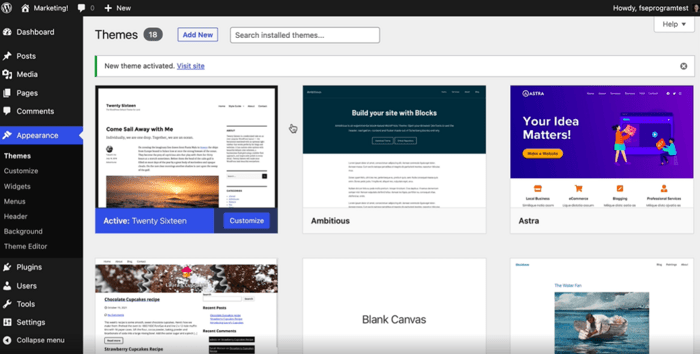 After the installation is over, click Activate. That's it, the WordPress theme will be live on your website. Sounds simple!
Note
Themes from the WordPress directory are also accessible right from your account dashboard in the Appearance section, through the Add button.
Before using a WordPress theme, there is often an option to watch its demo. Besides, you can use WordPress in-built live customizer to preview how your content will look on the layouts on various devices before you activate the theme.
How to choose a WordPress theme — a checklist
Easy as it may look, you will find thousands of WordPress themes in the directory. So, how do you know which one is best for you? Here, you need to focus on your business needs, time, and available resources. So, when choosing a WordPress theme, answer the following questions:
1. Is the theme popular?
If you are unsure what WordPress theme to choose, use the ones tried and tested over time. Look through reviews and feedback from other users. The number of downloads will speak for itself — the best free WordPress themes will boast a bigger number of downloads. Besides, a popular theme will have a large community around it and will be supported by a larger number of developers.
The downside is that perhaps it will be difficult to customize popular themes to stand out from the crowd.
2. Does the theme come from a trustworthy developer?
Give preference to WordPress themes published by credible sources. A famous developer is an additional guarantee that the theme is long-lasting and you will get adequate support, bug fixes, and template updates.
Renowned authors in the market tend to have better-optimized code and provide better support if any issue arises.
3. Can the theme be easily customized?
The availability of features is the next important criterion you should consider. Some website owners prefer to use a basic theme and build something on top with coding or page builders.
A ready-made WP theme is kind of a middle ground, where you choose the theme that is not bulky, that's well coded and that will allow you to build something on top of it. In that case, you're free to disable some things that you don't need.
If you pick a premium theme with too many features, probably, they will stay unused and just bloat the code.
I would recommend a "less is more approach" and avoid commercial themes that tout long lists of features, especially if they add functional capabilities that could and should be done via plugins and blocks.
4. Is the theme scalable?
The advantage of WP themes is that they are mostly compatible with myriads of third-party integrations. So this is another important point.
Look at not only design but whether it's a future-facing block theme possibly with FSE support plus any other requirements you may have, like WooCommerce support, etc.
If you prefer to switch themes because you want to add a shopping cart or email signup, you may face the issue that some other functionalities in the new theme are missing. Finally, with the switch, you will need to add more third-party plugins or coding.
Mind that there are child-and-parent relations between themes. This is when a child theme inherits some functionalities and features from the parent. Development teams often create child themes as a side-off from several parent basic templates, and the child themes become the main product for distribution.
If you want to do a few customizations or more extensive changes, you can always do this with a child theme. Then the "parent" theme can be updated reliably without breaking your changes.
5. Is the theme lightweight and mobile-friendly?
However, keep in mind that too many plugins will slow down your website. If the theme relies a lot on custom functionality, like widgets, shortcodes, and special plugins, you may face performance issues.
You need to build a lightweight website that will be fast to load and responsive to all types of screens. This is a must-have for modern-day web requirements when more than half of searches come from mobile devices. In this regard, WordPress themes come in very handy because the majority of modern themes are made responsive, AMP-friendly, and compliant with Core Web Vitals. But you need to cross-check if the functionality you need is ready-made within the theme or you will need to install some third-party plugins.
6. Is the theme SEO-friendly?
Last but not least, SEO-friendliness is a feature that any website owner would like to have. As for SEO, WordPress CMS is a good solution because it has some in-built features in its templates, for example, finding broken links, building SEO-friendly URLs, etc.
Besides, there are plugins like YoastSEO that will make it easy to manage your technical SEO and content by yourself.
By the way, you can check your website's SEO with WebSite Auditor. As it is desktop software, it will not affect the performance of your website like plugins often do. The tool allows auditing all possible sitewide and on-page issues, such as crawl errors, HTML tags, duplicates, broken links, page speed, and tons more. Jump here to learn how to do a technical SEO audit.
Download Website Auditor for free
We'll send you one email a week, jam-packed with the latest SEO news, guides, amazing offers, and all kinds of Digital Marketing goodness.
So, you are picking your perfect theme for a WordPress website, where to start from? Here is a nice tip:
The best way is to list features and functionalities one needs and choose a theme based on the requirements."
What you do is draw up a round-up of all features that you might need. First, think what kind of website you are making, if it is a theme for
Blog

News

Education

E-commerce

Photo gallery

Entertainment

Food and drinks

Holiday and travel

Professional portfolio

etc.
Besides, make a list of advanced features you will need for end-users, such as:
Comments

Registration

Purchase options

Translation

Accessibility features

etc.
Next, think about what user features you will need for your team, such as:
Managing access level, like Editor/Writer

SEO features for the publishing editor

Possibilities to auto-post articles

Possibilities to upload and edit images

Moderation of comments

Anti-spam and enhanced security

etc.
Finally, think of the design and flexibility you may need, for example, if there is a possibility to:
Rearrange the layout

Add your brand logo, change the background, etc.

Switch styles, customize the color scheme

Edit header/footer

Display ads banners

etc.
Having these points in mind, you will narrow down your search and focus on what you need most.
Best free and freemium WordPress themes
Here is a handpicked list of the best WordPress themes, including both free and freemium ones. These themes get the most downloads and the best user ratings. It would be imprudent to choose a theme judging by its appearance only. So, here we mention the main benefits and notable features of each one.
1. Ocean WP multipurpose theme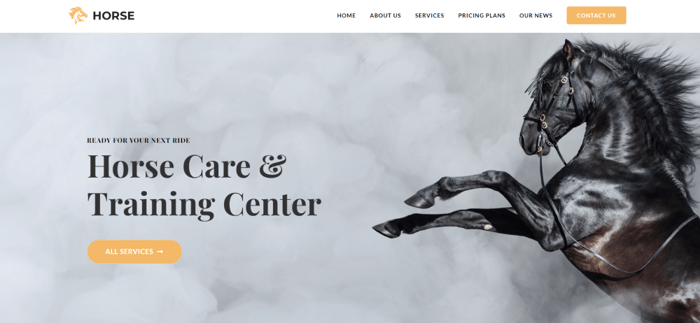 Ocean WP is one of the fastest-growing WordPress themes with the majority of 5-star ratings. This freemium theme is perfect for an online store, portfolio website, art, lifestyle, entertainment, corporate sites, and all kinds of landing pages. It has hundreds of pre-built templates to choose from. Templates can be imported in one click so that even beginners can set them up easily.
The theme boasts lightning-fast loading time and responsive design. Ocean WP is compatible with Elementor page builder and WooCommerce plugin and has some unique features to increase conversions. Besides, it offers accessibility and translation features.
2. Sydney for businesses, agencies, and freelancers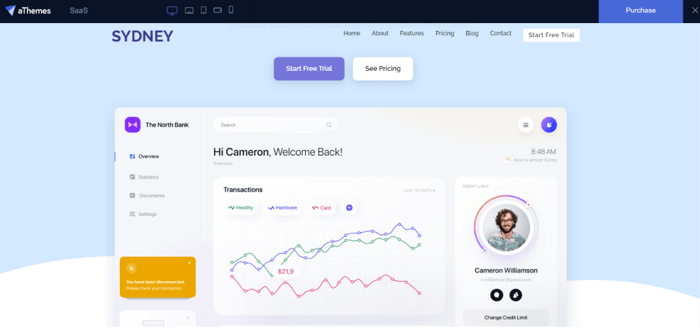 Sydney is one of the top free WordPress themes with over 100,000 downloads. This freemium theme is simple and good-looking while at the same time being fast and responsive. You have plenty of customization options like access to 600 Google Fonts, full color control, layout options, etc. The theme also has social media icons and access to extra widgets.
The theme uses custom Elementor page builder blocks, templates, and single-page layouts. There is a parallax background effect while scrolling down the pages. Sydney works seamlessly with WooCommerce to create online stores with a pro version.
3. Newspaper multipurpose theme for news, blogs, and shops
Newspaper is a best-seller multipurpose premium theme which, despite its name, perfectly suits all varieties of websites, from blogging to e-commerce and shops. The design is highly customizable with a visual page builder. The team offers hundreds of pre-built websites and templates. There are more than 70 demos to preview and see what your website may look like.
The theme supports smart pop-ups and interactions. It is responsive and supports AMP and YouTube videos. Certainly, the theme is SEO-friendly, although additional plugins may be needed to handle optimization more in-depth. Besides, it is GDPR compliant, it also offers RTL & multi-language support. In all, the theme is clean-coded, well-documented, and provides great support.
4. Divi multipurpose theme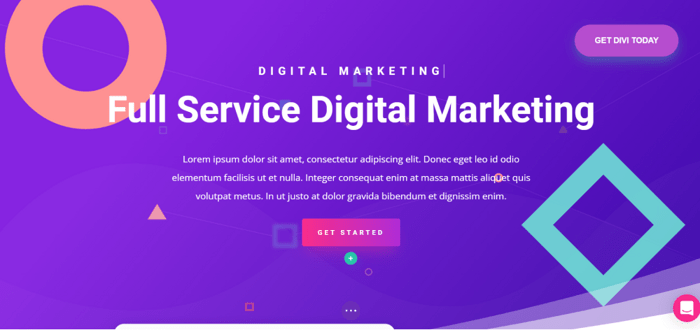 Divi is a premium multipurpose theme that currently tops the list of the most popular technologies for WordPress among a million popular WP websites. It is created by Elegant Themes, one of the leading WordPress theme shops in the world. Mind that Divi isn't only a WordPress theme, it is a complete design framework to build websites easily. So, there are some other Divi products, like a visual page builder, extensions, layouts, and more.
Divi comes with a built-in drag & drop builder to create unique layouts. You can try the visual builder straightaway in a demo — it's very simple even for beginners. You also get 800 ready-made Divi layouts and 100+ website packs that you can use to jump-start your new project. Divi allows you to save your custom layouts in the Divi library, so you can re-use them later as needed.
5. GeneratePress theme for business and e-commerce sites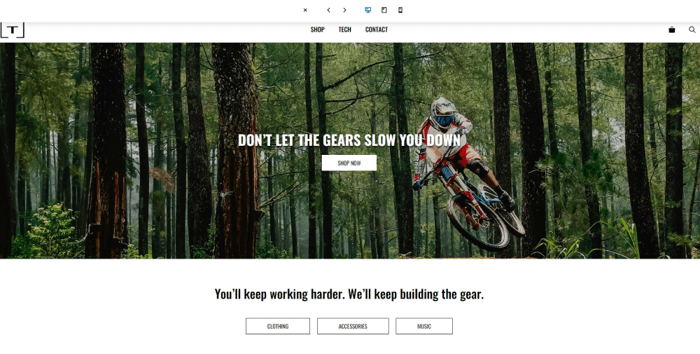 GeneratePress is a fast, lightweight, and clean-coded freemium theme built with a focus on speed and performance. It's simple and sleek, with simple installation and easy customization thanks to drag-and-drop editors, such as Elementor. The premium version includes all advanced options imaginable: a great variety of fonts, WooCommerce support, sections to advanced menus, and so forth.
I highly recommend a combination of the GeneratePress WordPress theme and the GenerateBlocks plugin. This gives you the flexibility and speed without the overall weight that many page builders have. It also takes full advantage of the new block ecosystem that WordPress is using. It will also help future-proof your site for any Google Core Web Vitals changes."
The theme can be translated into 25 languages, so it is nice for multilingual websites. It features 9 widget areas, 5 menu navigation options, drop-down menus, and 5 sidebar layouts. It's compatible with a wide array of WordPress plugins, including caching plugins, to make your website even faster.
6. Altitude Pro theme for business sites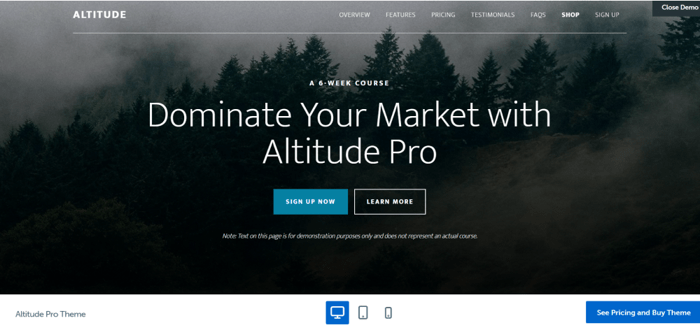 Themes from StudioPress are special in the way that they are based on Genesis Framework. It's been built for WordPress to easily create websites with great performance. The framework makes WP websites responsive and SEO-friendly, with up-to-date and uncluttered design. You get all the basics of a modern solution, including HTML5 formatting, mobile-friendliness, speed, security, and automatic updates.
There are many great child themes based on the Genesis Framework. For example, the Altitude Pro with its background image on the scroll is ambient and vibrant. It has 7 widget areas and a Gutenberg editor to customize the website. The price may look a bit high, but there are options to get it free with a hosting solution.
StudioPress aims to make its themes clean-coded, lightweight, and mobile-friendly. The cons are that the free themes may be rather basic as compared to other popular multipurpose themes. So, you may need to further customize and use additional plugins.
7. Rife theme for creative portfolio and photography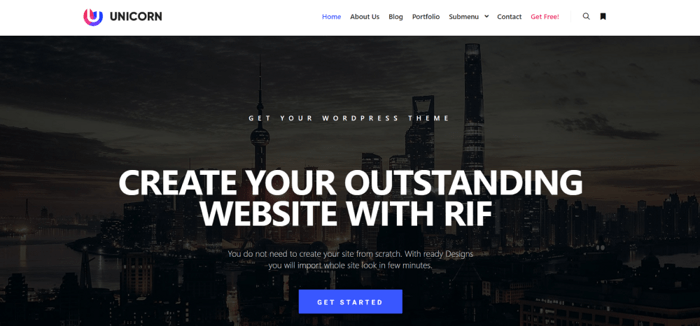 The Rife WordPress theme is a great choice for portfolio websites, especially those with a focus on photography. This theme includes 7 demo layouts. Additionally, the Customizer gives you control over 450 different theme options. This theme also contains a one-page mode, includes an image and video slider, mega menu support, and a post grid.
The theme has a writing effect for featured phrases. It also has Bricks Gallery to make the process of showcasing your best photography even easier. The theme is mobile-friendly, translation-ready, RTL-ready, so it is suitable for multilingual websites. It is also SEO-friendly and integrates with Schema to make your website more visible in Google image results.
8. Vantage theme for small businesses & startups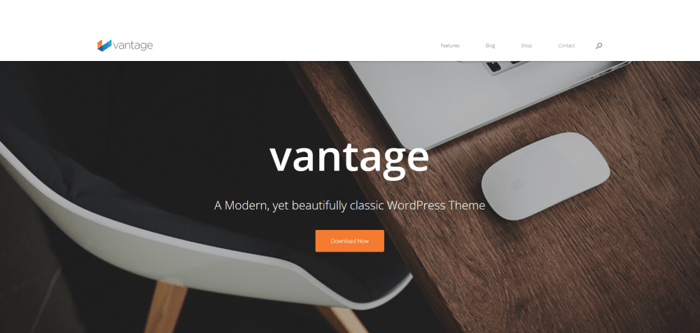 Vantage looks great for any type of business. It boasts quite a large number of downloads and high ratings, not to mention that it's completely free.
Vantage comes with custom templates, such as homepage, WooCommerce shop templates, and contact pages. The theme provides a responsive layout. It can be integrated with popular WordPress plugins such as PageBuilder and WooCommerce. In addition, the theme supports over 50 custom widgets, including hero sliders, headlines, and an accordion menu.
Many people use the free theme to build a portfolio since Vantage supports high-resolution images. It allows adding a filterable grid with thumbnails and links to showcase your works. Threaded comments help to get feedback and engage with your community.
9. Zakra theme for business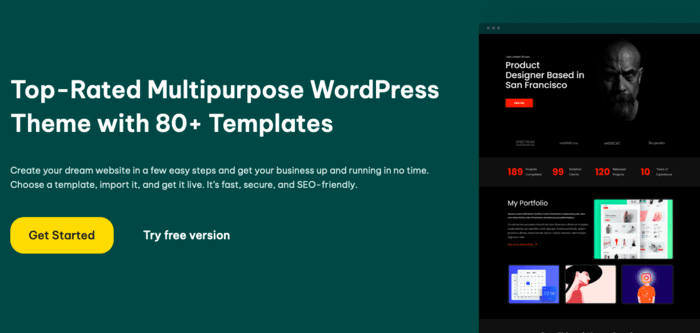 Zakra is a versatile and modern WordPress theme designed for businesses, bloggers, and creative professionals. With its sleek design and customization options, it's a great choice for anyone looking to create a professional-looking website quickly and easily. The theme includes over 50 starter templates, multiple header and footer layouts, a filterable portfolio, and a slider to showcase your products and services.
One of the best features of Zakra is its drag-and-drop page builder, which allows you to create a visually stunning site without any coding knowledge. You can also personalize your site with custom colors, fonts, and your own logo with just a few clicks. Zakra integrates with WooCommerce, allowing you to create an online store and sell your products directly from your website.
Zakra also includes premium features such as white-label customization options for the About page and a customizable services section. You can add custom widgets, including social media integration, Instagram feed, and pricing tables, to make your site stand out. Overall, Zakra is an excellent choice for businesses looking for a professional and modern website that can be customized to their specific needs.
10. Responsive for business, education, or auctions
Responsive is a multipurpose fast-loading WordPress theme. It provides over 15 website templates that cover businesses, law firms, healthcare, and blogs. The theme is SEO-friendly and offers in-built Schema microdata to enhance your pages in search results.
The layout is fully customizable with the help of drag-and-drop from Elementor and the Gutenberg editor. You can also add a custom logo for the mobile website, an on-hover menu, a stacked mobile menu, sidebars, scrolls to the top, custom fonts, and styles.
This free theme integrates with the WP Auction plugin to host auctions on your WordPress site. And it is also compatible with LearnDash add-on to create a learning management system (LMS) and offer quizzes or learning courses. However, third-party plugins do not go in the theme bundle, so you'll need to additionally purchase them.
11. Shapely for business sites and landing pages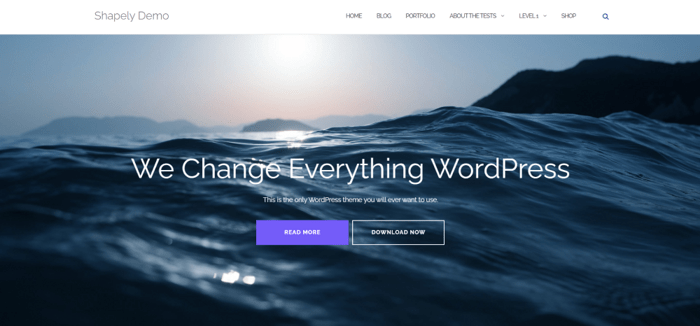 Shapely is a most advanced free WordPress theme with plenty of customization options. Its design suits business sites and landing pages, but you can tweak it to suit personal websites, blogs, and magazines. Besides, the theme is translation-ready and compatible with WooCommerce to create multilingual websites and e-commerce stores.
This free WordPress theme is mobile-friendly and retina-ready to provide vibrant HD graphics. It also comes with built-in Font Awesome vector icons that can be used anywhere on the website, in any size or color. The theme supports several custom widgets that let you add sections like testimonials, portfolios, parallax sections, or product information on the homepage. The theme is SEO-friendly and compatible with most of WP's popular plugins.
12. Bard for bloggers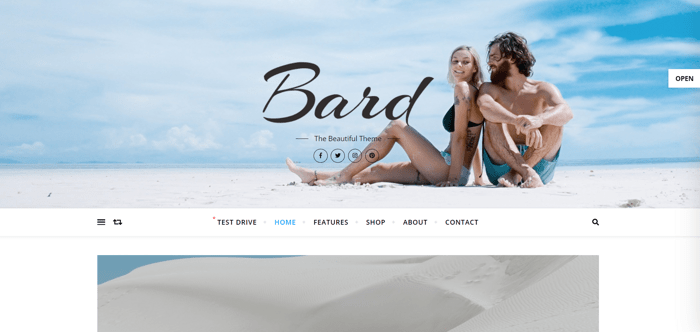 Bard is a free WordPress theme for personal and multi-author blogs. Bard comes with an Instagram post slider and an in-built featured slider to highlight up to five recent blog posts in the header area.
This blog theme supports WooCommerce, so it's also possible to start selling items and monetize your blog. Its promo boxes display up to 3 linked images to promote products or place ads on the header. The theme is light, fast, and mobile-responsive.
Before implementing your WordPress theme
Note that in good old link-building days, free WordPress themes often came with footer or sidebar links from their authors. This was a credit to the author and also passed some link juice to the creator profile as a thank you. However, with time, such links started to be an evil rather than a benefit to website SEO, so it's better to avoid sitewide links from free WordPress templates.
Besides, you should observe best practices for creating websites. For example, a WordPress website may have duplicate issues if implemented with an improper website structure. In particular, you will need to double-check how you use your tags and categories.
So, before launch, we suggest reading our Complete Guide to SEO for WordPress.
Do you own a WordPress website? What theme do you use? Which of the WordPress themes would you like to try? Share your opinion and experience in our Facebook group!
Article stats:
| | |
| --- | --- |
| Linking websites | N/A |
| Backlinks | N/A |
| InLink Rank | N/A |