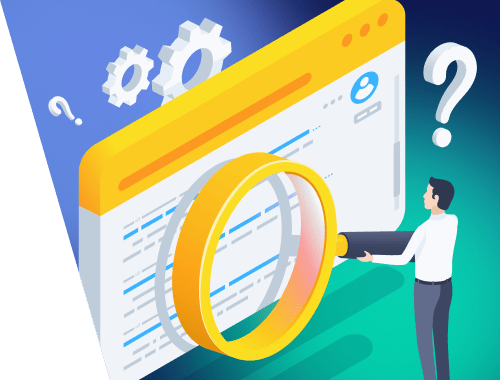 How to Learn SEO as a Complete Beginner

SEO is not a difficult skill to have, but it may be difficult to learn. The problem is the sheer amount of confusing information you encounter when trying to find the truth in SEO. Hence this guide, where we share reliable sources of SEO knowledge, the order in which to learn different branches of SEO, and a few other helpful tips.
Get a website to practice SEO
If you want to learn SEO to optimize your own website — problem solved, take your website and practice away. If you don't have a website and want to learn SEO to work as an SEO professional, it's advisable to launch a practice website. Make it a blog on a topic you are knowledgeable or passionate about, preferably both. Take it one step further and join an affiliate program — see if you can actually get visitors to convert.
It's not advisable to study SEO theory without putting it into practice as you go. A lot of what is taught in SEO courses is either outdated or won't work in the exact same way on your website. The only reliable way to learn SEO is by actually practicing SEO.
Once you optimize your website and get a few pages ranking, the website will serve as your resume. You'll be able to send it to potential employees and have factual proof of your SEO skills — that's how SEOs get a job.
Free SEO Course for Beginners
Get your site in Google's Top 3 with our 10-module SEO course by Joseph Kahn.
Find a good source of SEO information
The problem with SEO is not the lack of information. On the contrary, there is actually too much information on every aspect of SEO and it may be hard for a beginner to tell the good kind from the bad. It's important to distinguish between the two before you begin putting anyone's advice into action.
Understand why there is conflicting information
If you spend even a day learning SEO, you'll notice that there is a lot of contradictory advice out there. Some say content should be 2000 words long, others say content length does not matter. Some say user behavior is a ranking factor, others say user behavior is too noisy to be taken into account. Whom do you trust?
Well, the main thing to understand here is that there are mainly two sources of SEO information. One is Google itself — it is a source of official SEO guidelines and it produces a ton of content explaining how search works. And the other source is people trying to hack the system and get an unfair advantage in search.
The problem with Google is that it is biased. Google relies on being able to find quality content and it says it will punish anyone trying to fool its algorithm. Thing is, Google is not as good at catching cheaters as it claims. There are plenty of old-timey spam tactics that still work in SEO, despite being outlawed by Google. So there is a general feeling of distrust between Google and practicing SEO professionals.
The problem with the other sources of SEO information is that none of them have access to Google's search algorithm. So they don't really know how search works. They can observe, they can run experiments, compile some data, and make certain assumptions. But they can never be 100% certain whether something is a ranking factor or not.
Listen to Google before anyone else
Yes, Google exaggerates its ability to catch shady tactics, but not by much. There is usually a gap between a practice is outlawed and Google is able to actually catch it. But, over the years, Google has come through on most of its threats.
If you want to gain an unfair advantage in search, you can try and exploit these temporary tactics. It will probably work, but your success is going to be very short-lived. And, as Google's algorithm improves, you are risking severe penalties, to the point of your website never appearing in search again.
But, if you want to design a sustainable SEO strategy, it's best to follow Google's official guidelines. They might not be entirely truthful, but there is no bad advice in there.
Get a second opinion from reputable sources
Even though Google covers pretty much every aspect of SEO, at times its instructions may be a bit generic. After reading a piece of advice by Google, you are often left asking yourself how do I actually do this? In an instance like this, you can turn to industry experts for implementation advice, best practices, and case studies.
SEO software providers are among the best sources of SEO information. What sets them apart from regular SEO experts is that they have access to large sets of SEO data. By analyzing this data, they can see which optimization tactics are more likely to succeed. Most notable SEO blogs include the ones from Moz, Ahrefs, Semrush, SearchPilot, and, of course, our own blog at SEO PowerSuite.
SEO bloggers and SEO publications can be good sources of information, but only if you pick the right ones. There is a lot of bullshit advice out there, even among some of the more popular SEO influencers, so always check whether the claims made by SEO bloggers are supported by evidence. Of the reliable sources, I'd like to highlight Search Engine Journal (news), Search Engine Land (news), Backlinko (strategy), and SEO by the sea (search patents).
For more sources of SEO goodness make sure to check out this curated list of articles on every SEO topic imaginable. If you're a startup, you will find some truly insightful SEO guidance here that will answer your questions crisp and clear.
Join an SEO community for further support
If you can't seem to find an answer to your particular SEO question, you can always turn to one of the SEO communities. There is a lot of semi-friendly, highly opinionated folk out there and they are generally happy to help out. On Reddit, there is r/SEO and r/bigseo, while on Facebook I recommend one of the private SEO groups, like SEO Signals Lab, Affiliate SEO Mastermind, The Proper SEO Group, White Hat SEO, or our own SEO PowerSuite User Group.
Follow an optimization plan
Search optimization is usually done in stages, and these stages are arranged in a particular order. There is some debate as to how many distinct stages there are in SEO, but the logic is always the same: prep your website, create search-friendly content, promote the content.
Tip: We have recently launched our own SEO Academy that walks you through all stages of SEO with small daily tasks. The workload is about 30 minutes a day and it takes a month to fully optimize your website.
Technical SEO
Technical SEO usually refers to site-wide optimization and includes things like site structure, URL structure, indexing, crawling, security, and mobile optimization, among others. Many of the decisions related to technical SEO have to be made before you even launch a website. So, if you don't yet have a website, or you have a website but it's not yet live, here is a handy pre-launch SEO checklist to consult.
If your website is already live, it's advisable to run a complete technical audit before you proceed with further SEO stages. Technical optimization is the base upon which all the other SEO is built, so you have to make sure your website's got good bones. Here's a step-by-step guide to auditing and optimizing the technical side of a live website.
Keyword research
Once the technical side of your website is in order, it's time to fill it with content. This is the part where we research keywords to find the topics that are popular in Google search. The goal is to find keywords that have high search volume, have low competition from other websites, and are relevant to your niche and your location. Once you've picked a couple of dozen keywords to start with, it's time to create the pages around them.
There are many different approaches to keyword research and it can get quite nuanced, but, the good news is that most of these approaches are automated. You can find plenty of tools, paid or free, that will deliver the right keywords at the push of a button. Here is a detailed guide to get you started with keyword research.
On-page optimization
Once you are ready to publish the content on your website, it's time to learn about on-page optimization. It's not the best idea to just dump your copy on the page — very specific formatting is required for your page to become eligible for search results, especially if you want to compete for top positions.
The best place to start learning about on-page optimization is our guide to a perfectly optimized landing page. It takes you through the entire page, top to bottom, and talks you through each on-page element. Two other guides I would recommend are on SEO writing and on HTML tags — those are two of the larger sub-sections of on-page optimization.
Off-page optimization
Your content is only one thing Google looks at when deciding how to rank your pages. The other big thing is your representation around the web. Do other websites link to you, do they mention your brand, do you have a wiki page, do you have social media profiles, is your information entered into key business directories? When done right, all these things will contribute to your website's authority in search.
So, once you've published a sufficient amount of content on your website, it's time to take a break and switch to off-page SEO. Don't worry, most of it is pretty straightforward stuff and can be taken care of within a day. Here is our off-page SEO guide to get you started.
Link building
Link building is technically a part of off-page SEO, but it's such a big part that it deserves a section of its own. Whenever other websites link to your content, Google sees it as a vote in your favor. And the more of these votes you got the higher your content ranks. There is some nuance, like backlinks can be of varying quality and strength, but that's beyond the scope of this article.
I would recommend using the following three guides when working on backlinks. First, learn how to audit your backlink profile and get rid of toxic links — that's for existing websites. Second, learn how to build new links — this guide is especially useful if you are on a budget. Finally, learn how to reach out to backlink prospects — it's a big part of link building and there is a whole science to it.
Advanced SEO
The things we've discussed so far are pretty much all of SEO. But, if you've got the energy to do more, perhaps I can interest you in a few extracurricular activities. There are some parts of SEO that are speculative in nature. They take a lot of effort in optimization, but the results are not guaranteed. Some of the concepts to check out include entities, EAT, QRG, patents, and structured data.
Tip: We have recently launched our own SEO Academy that walks you through all stages of SEO with small daily tasks. The workload is about 30 minutes a day and it takes a month to fully optimize your website.
Make use of SEO tools
Technically, most SEO activities can be done by hand, but it's just not worth the effort. There are plenty of free and paid tools out there that can save you hours upon hours of work. And I'm not just talking about the automation of manual tasks. SEO tools also have access to the types of data that you can't access as a regular user — keyword search volume stats, ranking stats, backlink indexes, and tons of location-specific metrics.
To get a sense of what you can achieve with SEO tools, you can try free versions of the tools in our SEO pack: Website Auditor (technical SEO), Rank Tracker (keyword research), SEO SpyGlass (link building), and LinkAssistant (lead management and outreach). Free versions do have some limitations, but you are not likely to notice them unless you have a huge website or you are an SEO agency.
Track your results
SEO is relative. What works for one website is not guaranteed to work for another one. For example, structured data is absolutely essential for product pages and recipe pages, but it's not that important for blog pages. Author information is absolutely essential for medical blogs, but not that important for hobbyist blogs. Basically, each website is its own special case that might need a tailored approach.
To navigate the ever-changing landscape of SEO, you need to rely on factual data, you need to monitor the way Google reacts to the changes on your website. You can use two tools to track these reactions: Google Search Console and Google Analytics. Google Search Console is more about technical SEO, but it's got a few search-specific performance reports as well. Google Analytics is more about traffic and user behavior.
Final thoughts
Learning SEO is fairly straightforward if you know where to look. Hopefully, this guide will spare you the time you would have wasted reading through dubious SEO advice. Feel free to share other great resources for learning SEO in the comments below — we'll make sure to add them to the article.
Article stats:
| | |
| --- | --- |
| Linking websites | N/A |
| Backlinks | N/A |
| InLink Rank | N/A |