5 SEO Trends For 2017 From SMX East
Howdy SEOers! Doesn't time fly?
It feels like only yesterday we were making our bets on what was awaiting SEO in 2016. Then boom, and it's almost 2017 — the time for planning, budgeting, and strategizing for your SEO success in 2017 has come. And if you need some inspiration or some help setting up the priorities, I've got a handful of useful tips to share!
Just back from one of the largest (and most trusted) SEO events in USA, the SMX East conference, I've carefully documented the most important takeaways for you. Some of them are quite logical and expected, but others are true game changers!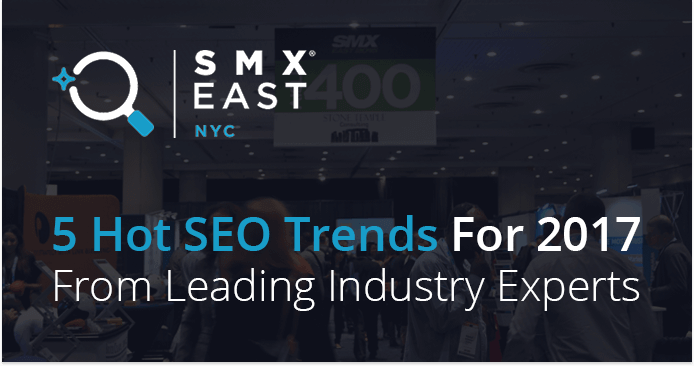 I've been all eyes and ears for you, and here's what I brought back — the top 5 SEO trends for 2017 as seen by me and the SEO PowerSuite team:
---
1. Google's AMP- just another fad or the future of mobile?
Accelerated Mobile Pages project (AMP for short) is a new Google initiative to build a better, more user friendly mobile Web by introducing a new "standard" for building web content for mobile devices. Basically, this new standard is a set of rules that form a simple, lighter version of HTML. And pages built in compliance with AMP are sure to load super-quick on all mobile devices.
Ever since its launch in search results in February 2016, AMP has been in the SEO news. However, despite all the buzz around the project, SEOs and webmasters keep treating it quite warily. Is AMP yet another Google fad to come and go within a few months like many of them did before? Or is the project here to stay and form the future of mobile?
When faced with this very question, Google's Adam Greenberg stressed AMP is a really big thing for Google:
Sure, you wouldn't expect someone who's just built a new product to say it's not gonna last long. However there's a number of other reasons why you might want to consider using AMP in your strategy:
1. Ultimate user experience
It's no secret that speed matters. Multiple research has shown slower-loading webpages are associated with higher bounce rates, and up to 40% of visitors are likely to abandon your site if it loads longer than 3 seconds.
Will AMP pages really solve the speed problem? You bet!
Thanks to the "lighter" HTML and CSS they use, and the fact that AMP content is cached in the cloud and delivered not from your server, but from the Google-hosted cached version, AMP pages load 30 times faster (the median load time is 0.7 seconds for AMP and 22 seconds for non-AMP pages).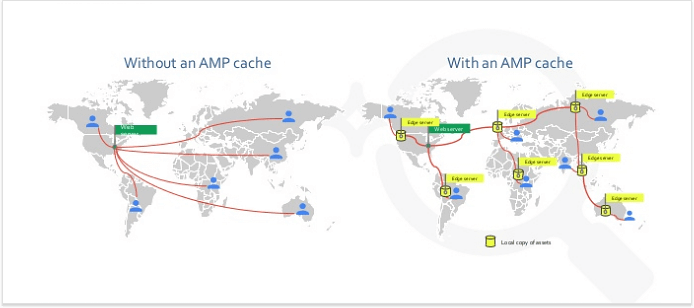 This gives your users a truly enjoyable reading experience.
2. Positive effect on rankings and CTR
According to Condé Nast's John Shehata, AMP pages tend to perform better in search both in terms of rankings and CTRs:

And even though this improvement is not going to bring your floods of traffic straight away (we have to understand that the majority of mobile search traffic still comes from non-AMP search results), it's quite likely that getting AMPed will pay off soon — AMP already dominates fresh content and its share will only grow.
2. 301 redirects can prevent your pages from passing topical relevance
If you are in SEO for quite some time, you definitely remember the golden rule: don't overdo with redirects — they are a PageRank leak.
However two months ago Google turned the SEO world upside down, announcing that redirects no longer result in losing PageRank and you are free to use any type of 3xx redirection without the fear to lose your rankings.
Well, I hope you haven't got accustomed to this idea over the past two months, because according to Christoph C. Cemper of LinkResearchTools, 301 redirects might actually harm your SEO by intervening in how pages pass their topical relevance via anchor texts.
The experiment:
For his tests, Christoph:
1. Picked a number of test pages that were:
- Each located on an authoritative domain with a strong link profile;
- Each being a target page for either a 301, 302 or 307 redirect from another page of the same domain and not powered by any other links (like in case of a site migration or an HTTP switch).
2. On each of these test pages, Christoph put an outgoing link to another domain with a non-existent keyword as its anchor text (a "non-existent" keyword in this case meant that Google had zero documents in its index matching that word, and thus there was no SERP competition for it).
3. By looking whether the linked-to page was ranking in Google for the keyword or not, Christoph was able to tell whether the linking page is passing any topical relevance to the target page or not.
(Please note that Christoph is planning to publish the full test report and the details on its methodology on the LinkResearchTools blog very soon, and you can subscribe to get notified when the report is out).
The results:
The surprising takeaway of the tests was that 301 turned to prevent the linking page from passing any anchor text relevance via its outgoing links. On the graph below, it is only the short period of time in orange over which the page was passing anchor text relevance to the linked page: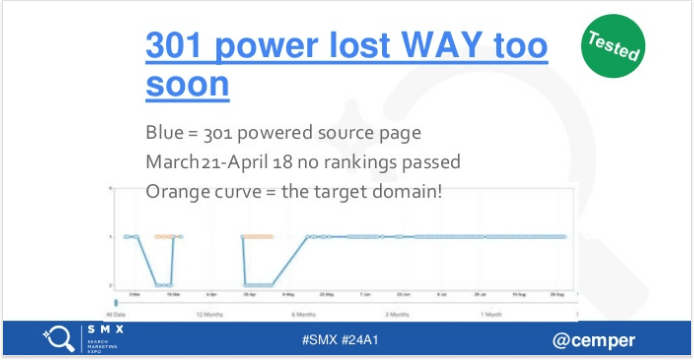 And, no less surprisingly, it is the "temporary" 302 redirect that showed the most stable results: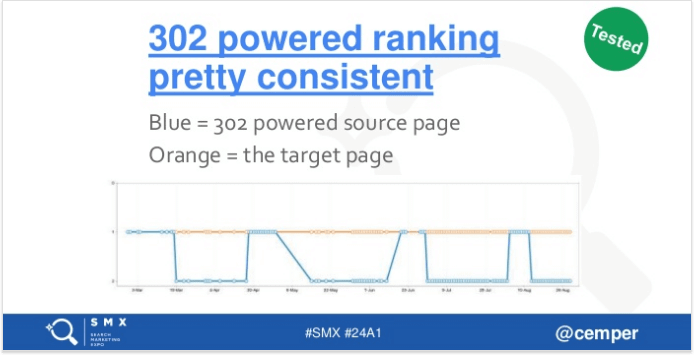 What does it mean for your website? For instance, if you migrate your website to HTTPS using 301 redirects, the redirects might pass PageRank to the target pages, as Google keeps constantly saying. But after that, the passed PageRank might turn out to be in the dead end, as the target page of the redirect won't be able to pass any anchor text relevance to any other pages it links to.
3. HTTPS is eating up your referral data. Any ways to fix that?
It's been two years since Google started its active campaign for Web security and announced HTTP to be a ranking factor in its algos. The Web blew up with the idea of switching to HTTPS to improve rankings.
Could we still hope to see a ranking boost thanks to the switch? Nope. Truth be told, it's highly unlikely that HTTPS can help you up with Google rankings. On the contrary, there are countless examples of how the switch can go terribly wrong: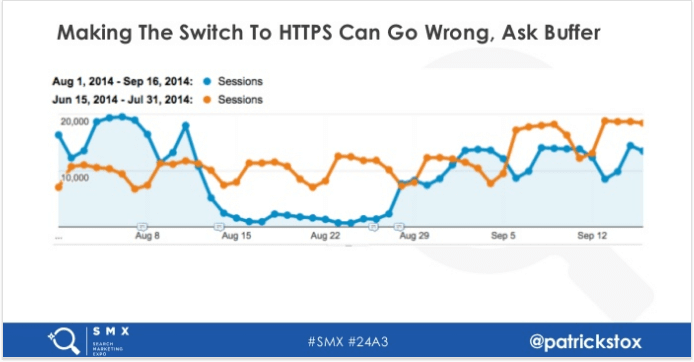 So, if not for rankings and security, why on earth would you run through this tedious process? Quite likely your marketing team already has a good reason for switching to HTTPS — your referral traffic:
However the funny thing is… referral traffic is also a reason not to switch to HTTPS. Because if your website is making money by sending referral traffic to other sites (think affiliate, directories, niche magazines), you need referral data to prove your value.
4. Still building citations for your local business? It might be just the time to stop!
It turns out citation building might be the most overestimated factor for local SEO. A recent study from Andrew Shotland & Dan Leibson of Local SEO Guide showed that the strength and volume of local citations don't seem to matter much for local rankings.
Looking at ~3000 local searches, the Local SEO Guide team analyzed what factors correlate with higher rankings in Google's local packs. And the surprising finding of the study was that citations showed much less correlation than other factors, while the unquestionable leaders are backlinks: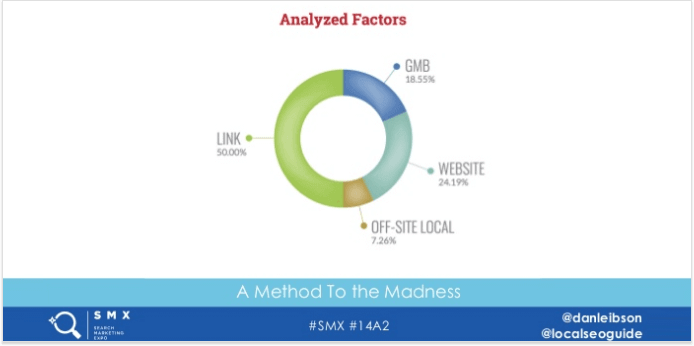 "How come we've been told for so long that citations are the new backlinks?" you might ask. Well, the thing is that most of the previous local SEO knowledge was based on expert surveys rather than an empirical look. And while empirical correlation (which this study is built upon) is still not causation, it might give us some solid clues for setting up our local SEO priorities.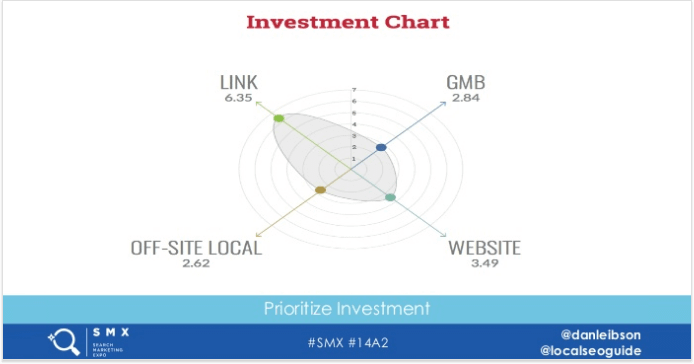 5. Optimizing for voice search — your chase for featured answers
A featured snippet — also known as a "rich answer" or "direct answer" — is a summary answer to a searcher's question that Google shows in a special block at the top of its SERP: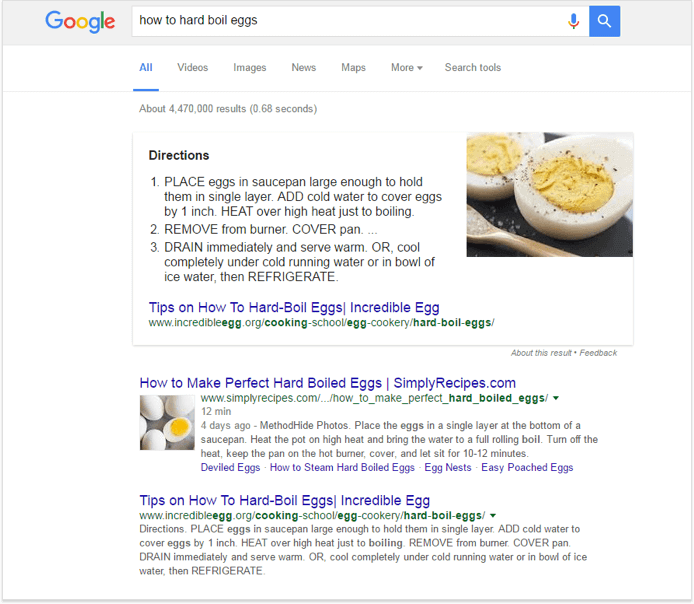 As you can see from the screenshot above, a featured snippet usually includes a link to the page from where the data was taken. And thus it has a great traffic-attracting potential you can utilize.
Could you possibly need any other reason to target featured snippets in your campaign?
Well, it turns our featured snippet listings have even greater potential for voice search — even more rich answers are returned for voice queries (43.3% vs 40.6% for text queries), but more importantly:
In other words, every time a searcher makes a voice search for a keyword where your website ranks in a featured snippet… Google specifically references your brand, giving you a huge extra branding opportunity.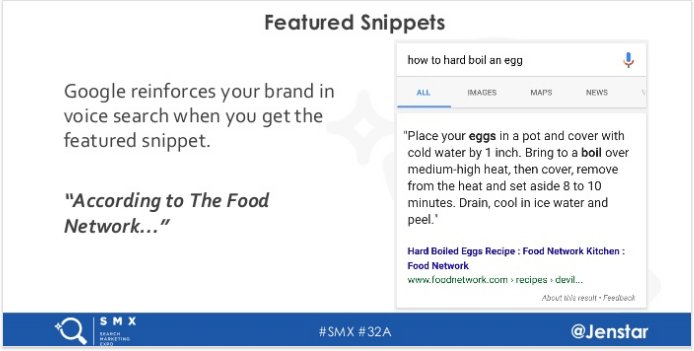 And given the fact that voice search keeps growing at a supersonic speed (over half of US teens & 41% of US adults use voice search on a daily basis), this extra branding opportunity might be just the right push you needed to add to your 2017 SEO plan.
---
There is a lot more to share about the SMX conference, but I'd have to get far beyond a single-page recap. If you want to get up to date with the latest Internet marketing trends, consider visiting one of the upcoming SMX events: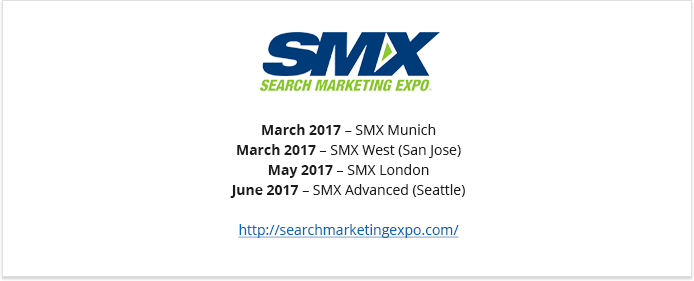 Apart from the amazing speakers we heard at SMX East, the event was a great opportunity for the SEO PowerSuite team to see a lot of old friends and meet new ones. Thanks to all of you for taking a moment to stop by our booth to say hi!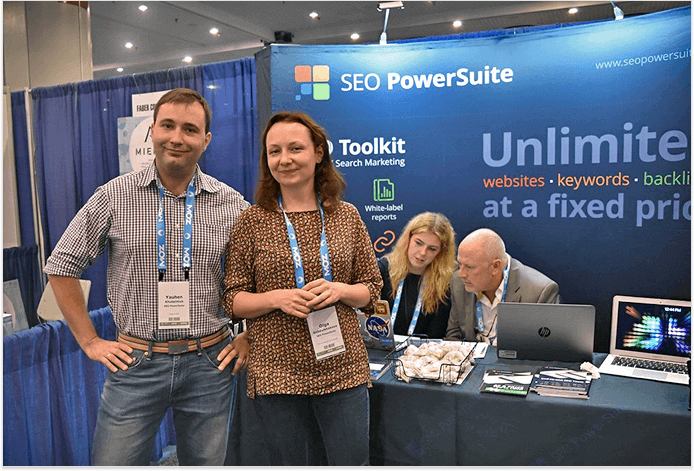 Have some thoughts to share? Please shoot me a message in the comments!
And if you find the guide useful, do share it with friends and colleagues using the social buttons on the left!