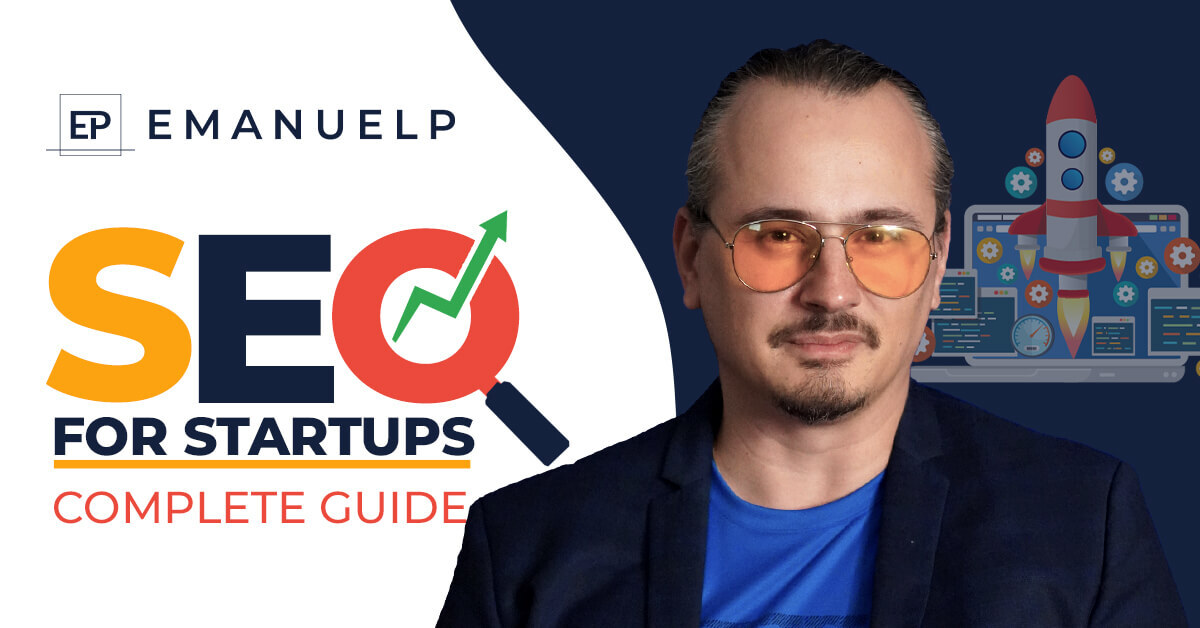 SEO For Startups – Complete Guide

SEO is a long-term game, and it's a shame most startups think they don't have to deal with that until later in their journey, as marketing is not at the top of their priority list. Having SEO in mind from the very start will give you a competitive advantage that will pay off BIG in a couple of years without neglecting some short-term wins that can mean the sustainability of your business.
Startups often get funded after a year, two or even more, so setting the stage early for SEO will help in the long run. If you bootstrap, you might see some revenue resulting from the organic traffic.
At the end of the day, a startup is created when a problem needs to be solved or if there's a new, faster (and potentially cheaper), and easier solution. Many people search for a solution to that problem that the new company is trying to solve.
Other channels can bring faster results – PPC (Pay Per Click advertising), social advertising, email marketing, online and offline channels and a strong PR campaign.
But organic traffic is healthy traffic.
Do you know who else is becoming more conscious and aware of the impact of a strong SEO foundation?
Investors.
Include a slide deck in your pitch where you say you have built your online presence with SEO in mind since the start – it could become a deal maker, as angels know the effort it takes.
A common misconception is that SEO is free; even if you're doing it yourself, it still requires the most critical resource – time. It can get expensive in terms of money or if you make the wrong hire (consultant, agency, etc.), but organic traffic is healthy traffic!
It confirms your business is on the right track.
Realistically now, SEO can be expensive, but you should consider investing in SEO for your startup, so allocate some money from the existing budget from the beginning.
In this article, we're going to look at why you should consider SEO from the inception of a startup. And we'll consider some best practices and help you get into the right mindset with SEO.
What exactly is SEO?
Long story short, SEO is the process of optimizing your website (and your web assets presence, to be more accurate) for search engines so that it ranks higher in SERPs (search engine results pages) for specific queries. That's one way of viewing it; one might say it's the process of optimizing your website to create a better user experience, and Google will reward you by showing your site as the results. Always go for the second one.
When I say search engines, I refer to Google (when's the last time you searched something on Yahoo! for example?)
The higher your website ranks, the more traffic you'll get.
(And not just having your site as the first result, because a good description and some Schema features could potentially bring more traffic than #1).
Simple, right?
If you are the founder or someone in charge of marketing at your startup, you don't need to become an SEO expert, but you need to have some knowledge of how search engines work and how they determine which websites rank higher than others.
We'll see later in this article why.
Why do startups need SEO?
As a startup founder, you need to be thinking about everything from the ground up, small and big, and put on so many hats you didn't even know existed.
The SEO hat is not exactly the first one you had in mind but in our day and age, this can give you a competitive advantage. One of the most important things you can do is optimize your website for search engines.
SEO can help startups to save money on advertising. By ranking highly in search results, startups can get free (more on this free later on) exposure and traffic to their website.
This can help them to reduce their marketing costs and get more bang for their buck in the long run.
Starting early is important as many factors will prevent your site from showing up even if you did everything right.
Google Sandbox, for example, is (supposedly) an algorithm that prevents newly created websites (domains, to be more specific) from showing up within the first pages of the search engines as results, even if they do everything right (of course, domains associated with bigger brands such as Amazon or Walmart, for example, are subject to a different roadmap since they operate under an already established brand).
Here it's important to state that Google officials deny that Google Sandbox exists; from my own experience, I have seen newly purchased domains rank for important queries within the first months of putting some content out there.
On the other hand, there are many stories that say otherwise about Google Sandbox.
I once saw a tweet saying this illustrates how the Google Sandbox feels like. And to be honest, that's why I choose to even mention the sandbox thing – just to display this meme GIF.
And speaking of domains, you could consider getting an expired domain name that already has some authority that you could benefit from. Any seasoned SEO will probably give you this tip, if you decide to consult with one BEFORE starting your online journey (the main frustration for SEO professionals is that they are brought in AFTER the project is done/launched, aka AFTER the damage is done – some more severe than others – missed opportunities would be a better expression).
But long story short, when you decide to buy a domain and want to consider SEO, think about your choice and its TLD (Top Level Domain).
And most importantly, if it's not an entirely new name, and you end up purchasing a domain name that used to be a website a long time ago, ensure it's not creating more damage. I heard of instances when new companies purchased domains that were manually penalized years ago, with lots of bad backlinks. Ouch. Talking about a competitive advantage…
This is where an SEO consultant can help or at least explain the why before you invest more effort and money.
Can SEO help startups?
Yes.
This is probably a good time to state that I always recommend working with a professional.
Do you do your taxes or do you have an accountant? Why building your website, managing your SEO campaign and overall your digital marketing should be any different?
SEO solutions for startups
Since we talked about recommendations, let's see what options we have.
Hire an SEO agency for your startup
Depending on the industry that you operate in, this might be the right solution. It could potentially cost you more than a consultant would. There are some dedicated agencies that focus exclusively on serving that industry. Often, industry professionals turned SEOs or agency owners. They know the industry inside out and could help you a lot.
The downside is hiring the wrong agency, and there are plenty of "experts" out there – you probably got emails and LinkedIn messages from them already that offer SEO for 30$/month.
Do your research and due diligence, and consider having an agency as a "partner" to outsource your marketing from the beginning. Although many SEO elements apply to all industries, each has its specificities, and what works in one might not work in another.
There might be a deal to make since your funding is limited – why not negotiate? Some might be willing to accept later payments or some equity (same as freelancers or juniors – see below). There are also dedicated agencies that only do SEO for startups.
Here's a great resource for hiring the right SEO consultant.
Hire a freelance SEO consultant for your startup
There's a plethora of talented freelance consultants willing to help. Do your due diligence and research, ask around, check for referrals, trust your gut, etc. Again, hiring the wrong person can delay and even potentially harm the success of your business.
And I'm not referring here to hiring someone not knowledgeable, but there's a difference between someone who helped businesses such as locksmiths and plumbers compared to someone who needs to help with a blockchain project or a new cybersecurity software solution.
There's also the possibility of hiring someone for a specific task – just for the launch or to do some initial setup, a rebranding, etc. It all depends on your needs and, given the SEO game is played in the long run, it's recommended to have someone to be there all the time.
If you can't tap into your network for your referral, places like Upwork could be a place to start (Fiverr as well, but you'll have a higher chance of getting the wrong hire from there).
Spend the time to do your research. It can help a lot.
Get a volunteer to help with your startup's SEO
"Hire" a volunteer who is at the beginning of the road in their career – like you – and is willing to do this for free or take compensation later. You will need to assess the individual (being a founder/entrepreneur implies you will need to assess and trust many individuals) so you might pick up the lucky card from the start.
Employees doing startup SEO
It's not uncommon for someone from the company (not the founder) to take on this role. Actually, many successful digital marketers and SEOs have discovered their passion like this and, although they were not successful with that business, they became successful in their new career.
Assuming that person doesn't know anything and there's a learning curve, this is probably better than nothing, but it wouldn't be my first option.
Learning and doing SEO by yourself
There's a reason why this is the last item on my list, and I've debated if I should mention it or not. I don't think this is a good idea. Many tools, courses and websites in our industry talk about how you, the founder and the business owner, can learn to do SEO.
Although some basic, important concepts can be learned easily, doing it right requires some experience that's only gained by working in the industry. Also, as a startup founder, you need to focus on many other things; you're at the center of this new infant system that needs to stay alive at first, then grow, and grow, and grow.
That said, here are some things you need to be aware of in Search Engine Optimization for your company.
A Guide to Improve your Startup SEO
SEO is the process of optimizing your online presence – not just your website – to rank higher in search engine results pages, and it's a key part of any digital marketing strategy.
The higher in the search results you show up, the more likely people are to find you when they're searching for products or services like yours (duh!).
And when I say your online presence, it means it's not just your website – I refer to the holistic approach because for some industries, ensuring you're listed on a specific directory that will always rank higher than any other website, is a must.
Additionally, check out this video from some experienced SEOs growth-hacking startup SEO tips.
Research keywords for your startup
One of the first steps in any SEO strategy is keyword research – identifying the words and phrases that potential customers are using to search for businesses like yours.
A good place to start is the search engine itself. Spend some time googling your products, and you'll see what exactly it is that people are looking for and what the search engines show as results.
Besides, there's a plethora of tools out there, some even for free, that will give you different alternatives and a keyword research module. You start with a seed keyword and see what the results are.
Do solid keyword research to understand everything about your business. This is the foundation, and even if at first you go for the long tail and easy-to-win/niche keywords/position, knowing the intent is essential.
Speaking of search intent, try to understand it: what's the reasoning behind those keywords, and of course, learn to prioritize, aka what to focus on at the beginning – it's a mix determined by your KPIs, resources, time, etc. (the work you did before).
It's a good idea, as a founder, to have a clear mission (more revenue, sell your startup) and know what you want to achieve (revolutionize space technology, with the ultimate goal of enabling people to live on other planets, that sort of thing).
Based on that, define your KPIs (Key Performance Indicators – you probably determined or have them for your business) because, in the keyword research phase, you can end up with hundreds or thousands of keywords as results.
Another place where you could start (by could I mean should) is your competitors. You think you already know them inside out, but you'll be surprised to discover market competitors that you weren't even aware of operating in your industry. Simply browse your target keywords or check with tools, and you will be able to determine competitors and reverse-engineer their SEO strategies.
Choose the right keywords based on what you want to achieve and what's doable within the next six months to 1 year, and work from there. Don't worry about the variations (it job vs. it jobs) and all such details.
Focus on getting the message right and ensure to include LSI (semantically related) keywords. The message you're sending in your content is toward humans.
Since I used such fancy terms like LSI, it's worth mentioning this article which states that "Google does not use LSI to rank results." That said, it's not a bad practice to mention words such as "networks" and "modems" when talking about "cybersecurity", for example.
All in all, keyword research is an important step, and having access to some paid tools can help. Check this article for a beginner's keyword research guide.
Choose a good domain name
Doing the research is important. In the past, SEOs would recommend including a keyword in that domain as it used to influence the search results. Used.
As for the name, it's said it should be easy to pronounce or spell and not mean something else in some other language.
SparkToro is a great name that comes to mind when I give an example.
That said, I'm still not sure if I spell Volkswagen correctly. And there are some billion-dollar companies that you might not have heard of and don't know how to pronounce (or it's just me).
Optimize pages on your startup website
First and foremost, write descriptive and keyword-rich titles, meta descriptions, headings, and subheadings. This will help your pages rank higher in SERPs. Get creative and try to include the keywords when possible (don't overdo it, though).
When linking to other pages on your website, use keyword-rich anchor text. For example, if you're linking to your "crypto savings" product page from your home page, you might use the anchor text "Crypto Savings" as opposed to something too broad as "learn more." Small tweaks like that give Google the proper signals.
Include keywords in your image file names and an alt description for the images. This will help your images rank higher in Google Image Search, that in itself represents around 19% of the searches. With a knowledge base section on your website, you have an opportunity to create the content, including screenshots, and ensure you're optimizing them.
Build up your local presence with a Google Business Profile
Depending on the type of business and whether you have a physical location, it might be a good idea to claim and optimize your GBP listing. This will help you show up in local search results. Each industry or location has its own set of directories and websites.
Focus on having a profile on the most important ones – again, mentioning each industry has its own listings. The local chamber of commerce could or the Better Business Bureau could be a place to start.
Ensure you have an industry directory presence
Clutch.co or Apollo are websites where investors are looking/checking. Regardless of the stage of your business, remember – your profile there will potentially rank higher than your website for the branded search. I will even pay for some directories that require that, just to ensure your visibility. Again, it depends on the industry.
Have a product-led SEO approach
This concept is popularized by Eli Schwartz in his Product-Led SEO book. Some concepts are not what you might call traditional approaches, but if you work with a consultant, this definitely can make you stand out (in a positive way) in a more popular/competitive industry.
The Three Pillars of SEO
Some key aspects to consider and need to know as a startup founder. Again, you're not doing SEO yourself, but you need to be aware of certain elements when you're talking to your marketing people.
I often describe SEO as being a three-legged stool (I didn't come up with this description) – backlinks, site architecture (I include technical and user experience here) and content. As you will see, not all legs are equal tho.
Build backlinks
Backlinks are links from other websites to yours, this is at the core of Google's algorithm for site rankings. Of course, not all backlinks are equal. A backlink for an authoritative website within your industry will weigh more than a backlink from a small blog or a social profile.
This is where a seasoned SEO manager can help more than you could learn yourself on the subject. Anyway, there are several ways to build backlinks you must be aware of:
A good place to start is by creating high-quality content and promoting it (sic). If your content is good, people will naturally want to link to it.
You can also reach out to other website owners and ask them to link to your website. Preferably, relevant websites in your business. Start with the quick wins – ensure you have accounts on all major platforms, some general, some industry specifics. Examples: Crunchbase, Apollo, Startup Tracker, Google Business Profile, social media platforms, etc.
Get listed in niche directories for your industry; at first your website won't rank, so even if you search your brand name it might not show up, but those profiles will.
Get yourself out there – do interviews and write articles. If you're in crypto, you might friend yourself writing for Cointelegraph or Coindesk (this can be expensive).
Pitch guest posts and (ideally, you will get a do-follow link) and although guest blog links don't weigh as much as they used to, they can still be beneficial in many other ways.
Having a media company as a (silent) partner will be beneficial. Nurture those relationships.
Monitor your brand's name on the web and, whenever it is mentioned (the more successful, the more mentions you will get) try to get a do-follow backlink. There are several tools to help you with that, Google Alerts being the most accessible, and also Awario social listening tool to help you find unlinked mentions.
Sometimes you might just ask Can you please link back to my website from your article? There are SEO agencies that only provide link-building services – this is how much a good backlink can move the needle in your favor.
Create a neat website architecture and UX
This is a complex subject, but the idea is to make it easily usable for the user and the search crawler will figure that out. On the technical SEO aspect, you might need a consultant by your side to navigate everything. Even if you have someone internal, it's good to have "expertise" help. Quite often (more on that later), a preferred by the developer framework can keep the search crawler away.
There's also a priority in terms of technical errors you will have. Some are not worth pursuing at the moment; an experienced SEO technician will decide that. Trust him.
I wouldn't move to the next section before mentioning a solid internal linking structure/roadmap. I can't stress enough how important internal linking is, as it helps the crawlers understand the context better.
As for the UX – this is an article by itself and it wouldn't do any justice to expand here. Just a couple of notes: don't hide stuff for your user, make it as simple as possible, and don't forget about accessibility.
Publish high-quality content
Content is king! and posting high-quality content regularly will most likely have the strongest impact on how and for what you show up in the SERPs.
Having a content marketing strategy for your startup is important. This content can take the form of:
Blog posts: addressing the long tail keywords – usually the question type queries people put in the search in regards to some products or services – How much money do I need to retire at 62? – if you're in finance, you might want to create some content around that query.
Videos, tutorials and how-tos: use your tool, etc. include the keywords and be everywhere. Ensure you include the keywords you're targeting and try to be present in as many places as possible. For example, if you do a video that's published on your YouTube channel, why not push it on LinkedIn or Facebook?
Social media: TikTok (it is reported that Tiktok videos are gaining momentum), Insta reels, YouTube shorts, etc. – repurpose the content, take slices from the how-tos, the podcasts, etc. and publish stuff there.
Podcasts, or webcasts: call it how you want it, but have a show where you interview industry experts, employees, and other relevant people that will help you solidify your brand and your expertise. Besides, it's an extraordinary way to connect. You know many other successful entrepreneurs do that, right? Tim Ferris and Gary Vee just to name a few are among them. One might argue something like this won't apply to all industries – if it hasn't been done it doesn't mean there's not a market for it.
Webinars: contrary to some popular beliefs, having regular webinars help with onboarding new clients, and even the current ones might attend just to ensure they are using your product/service/tool at its full potential.
Case studies and success stories: why not harness the power of what you already have and works? When prospects see, they say I have the same problem!
Education: teach them about the industry (how Moz did for the SEO industry – now all tools do this) and how by using your tool/product they have an advantage – show the value.
Help users understand your product: use screenshots and add descriptive name and alt tag (ex - screenshot from the Dashboard of XYZ tool) – image SEO is estimated to be around 20% of the traffic.
Answer the questions: use tools such as Answer the public, Google PAA (People Also Asked) or any SEO tool that will give you something in that sense.
Infographics: explain data with original visualizations and promote them, encourage people to share, etc. Do an industry study with a graphic representation and reach out to industry news outlets and websites – you might get some backlinks from there, too.
When creating content, be sure to keep your target keywords in mind; it goes without saying you shouldn't overdo it (a common practice back in the day).
Focus on creating helpful, informative, and engaging content that will appeal to your target audience. At the end of the day, your goal through creating content is to create awareness about your brand and build credibility, loyalty and retention.
Build up brand recognition and audience loyalty
Defining the target audience is part of the SEO campaign, but as a new growing company, this was probably one of the first items on your list – you should be creating content for them, and even more importantly, for each stage on where they're at in their journey – you know, the product marketing funnel.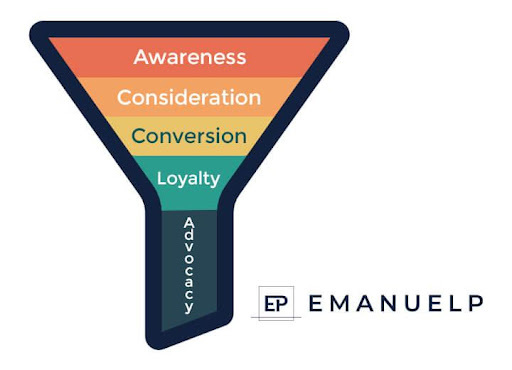 Don't disregard the negative sentiment.
Quora and Reddit are places where you can find what people are talking about your brand or the problems you're solving in your industry (each industry has its own forums and Discord channels also). You can address them right there and also create content around those topics.
Of course, you offer a solution – your product or service. This is also a great opportunity to engage with the user. They appreciate that, especially when they see the founder active. You can delegate this task if there's someone you can trust but this is a good exercise for yourself, as a founder, to keep yourself grounded in the user's reality.
This will probably be a good time to mention reviews: if you have any, you can construct some content from that.
Consider going vertical.
For example, AirBnB started creating content around things to do in… that someone sees (and shows up in the SERPs) when they are booking their next stay.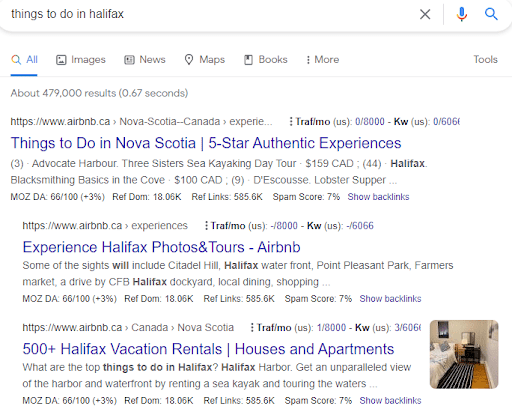 Repurpose the content.
From a blog post you can create at least 3 to 5 social media posts. From a podcast, you can take the transcript to have words (that include the keywords) on your site, extract quotes, show notes, action checklists and use those to promote on social media, etc.
If you are writing impactful content related to your niche, your chances of recognition in the search engines and appearing at the top of the search results increase drastically.
This could also mean creating a solid knowledge base for your industry and how your solution helps with solving the issues.
FAQs, etc. Also, be everywhere.
People do search (I do) on YouTube (the second largest search engine, also operated by Google, or to be more accurate, Alphabet Inc.) for how-tos, skipping Google…
One startup founder may say
Hey, all this means I need to turn into a media outlet. This is not my business.
Make it so, I would say to that.
Monitor your SEO progress
Once you've implemented the above SEO strategies, it's essential to monitor your progress and make sure your efforts are paying off. Above all, tracking your progress will help you identify areas for improvements.
There are SEO tools you can use to track your SEO progress, but an excellent place to start is Google Analytics and Google Search Console. These free tools let you track your website's traffic, including where your traffic is coming from (e.g., organic search, direct, referrals, etc.), what keywords and queries are driving traffic to your website or if there are any issues with your website in relation to the search engine, and many more.
Here, I would also mention Microsoft Clarity which is essentially the free version of Hotjar. It's a website analytics tool that also records a user's session, so you can actually see where and what they click. Spend some time watching those videos, as comparing the browsing sessions (desktop vs. mobile) can bring up a lot of useful information.
Be careful to update your privacy policy.
Determine the KPIs at the beginning of the campaign, but be flexible. Mind, however, in SEO, take everything with a grain of salt.
Set up some automatic reports to get monthly or quarterly reports on your campaigns. These reports automatically include some form of keyword rankings. Highly debatable, but if done right, you will see progress.
Get yourself familiar earlier on with the jargon as you will need to make some decisions based on – wait for it…..
…based on data.
Who would have thought of making decisions based on data?
Common SEO problems on startup websites
Here are some common issues. By reading these right now, you'll become aware, and you can potentially avoid them.
Subdomain or Subdirectory? Structuring site for SEO
It's not uncommon for a website to have multiple platforms, domains, and subdomains.
For example, your website, domain.com, is built with a new framework (more on that in the next paragraph), and you want to launch a blog.
Because of the limitation of the platform or simply not knowing about the best practices, you launch your blog at the following URL:
blog.domain.com
That is a new entity, and although Google knows it's related to your business and your brand, at the end of the day the search engine treats it as a separate website. The Klout and the backlinks that you build for blog.domain.com are not the same for domain.com, so the best practice is to have your blog as a subfolder:
domain.com/blog
Some may say the platform does not allow it, or you can't get access to post blogs there if you are a consultant or an agency.
But through something called "reverse proxy" the blog sits at blog.domain.com while the URL is domain.com/blog – advanced stuff even for some SEOs but relatively easy to implement by an experienced backend developer with guidance from your SEO consultant (canonicals represents an important factor here).
That blog.domain.com could be a WordPress installation, for example.
Now, there are ways you can take advantage of a subdomain and harness its powers, but in the beginning, you should focus on building the authority for the (main) domain.
Website platform or framework?
Many startup founders are developers themselves. Others need to hire developers because the services they offer require skills that not everyone has. So they build the platform on a specific framework that works well with the smartphone app, connects to the database (in a secure way hopefully), etc.
This has nothing to do with SEO and many times, more often than one would want, that framework is not SEO friendly at all. It heavily relies on JavaScript – the website is fast, but it's not crawlable – it's restricting the crawlers from accessing the information on the website, hence it won't show up in the search results.
Botpresso has a nice matrix to choose your startup website platform. Answer those simple questions and move on.
A note here that I always recommend WordPress and if required Woocommerce as an ecom solution – but this depends on so many factors…
You must love SEO already!!!
The help of an SEO professional is detrimental here. Because these are the types of factors that push you to make other decisions that will only give you more work down the road (having the blog as a subdomain being one of them, of course).
Unexpected results from badly planned fixes
Many times, a website redesign or a new function implementation completely removes the old content, with no redirection, creating broken links, and many pages that were indexed in Google don't exist anymore (huh?).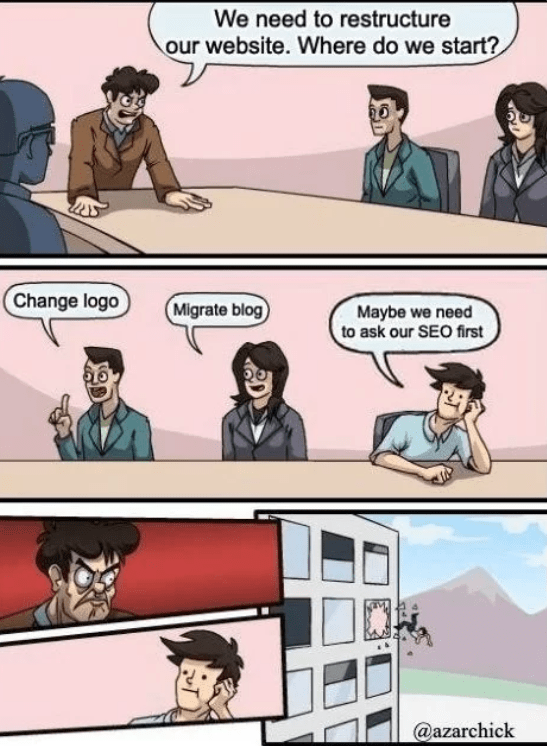 Companies (including startups) do a redesign, and launch, and after a couple of days they say – what happened to all the organic traffic? That represented X% of our revenue!!!
This is where your SEO consultant/agency comes into play (again, ideally, bring them on board BEFORE the redesign happens).
Startup SEO Best Practices – Ultimate Checklist
The best SEO practices are the ones that help you get the most out of your website. Whether you're looking to improve your brand recognition or increase sales, here are ten tenets or SEO practices to help you take your business to the next level.
Clearly define who you are and what you do
Investors like that and so do search engines because users do so in the first place. Also, define your SEO goals – what you want to achieve in the campaign and what are those SEO KPIs you should monitor. Focus. Here, the help of a consultant is essential.
Get good hosting
Many pay 50$/year and expect great results; good hosting starts at around 25$/month and up + the additional costs to run your service (if you're a SaaS, AWS - Amazon Web Services - and the likes - Microsoft Azure, etc.). I have seen instances where after migrating to a better server, 80% to 90% of all the errors they were getting, magically disappeared.
More details about choosing a good hosting are covered in here.
Get your technicals in order
Keep up with best practices for the structure and URLs, and improve your site speed by optimizing images, CSS, and JavaScript files.
Build a strong foundation for content on your site.
And in particular, your blog. Creating high-quality content that is relevant to your audience and engaging, so people will want to return.
Get your basic on-page elements in order
Utilize SEO best practices in the way that you write content on your site, including the length of the articles (highly debatable and… it depends), how many links you put into them, etc.
Mind your titles, meta descriptions, URL structure, headings and subheadings containing keywords and semantically related keywords.
And have a content calendar for the blog post – the most basic stuff that can push the needle the most, yet so many disregard these. Have them in an intuitive way – if most websites have the contact tab as the last item in their navigation menu, why should yours be somewhere else?
Work to improve the site's authority
All articles/blogs should have an author (why not you, the founder?) as it helps with E-E-A-T (Expertise, Experience, Authoritativeness and Trustworthiness, which is highly crucial for some categories such as medical or financial): if Emanuel is writing about SEO you might want to take his advice; if Emanuel is writing an article about investing in mutual funds, where is his expertise in this field?
Enhance the About us page – certifications, memberships, case studies, reviews and (video) testimonials, you know, all the good stuff.
Show how you are different from competitors
You can create pages such as your brand vs. xyz brand and use keywords such as "alternative to" to let the world know you're out there and you're doing what X is doing only better, faster, cheaper.
Automate some of the processes
Have templates and use them. Not everything can be automated or should be, but after a while, you get a sense of what's working or not.
Consider partnering up with another brand in your industry that offers something else – for example, an SEO agency partnering up with a hosting platform.
Is SEO for a startup different from SEO for other companies?
As with everything else in SEO, it depends.
Yes, probably up to 75% to 85% is the same as for any other business – domain name, creating relevant content with targeted keywords, having a fast and intuitive website, building backlinks, etc.
But, as we know, we're after the fine-tuning, the one that will put us just one place, on top or above our direct competitor – because that's what we want.
One aspect to consider is that startups usually don't have a budget – hence the terms like growth hacker or growth marketer appeared, which essentially means – make it work with no budget. Same case for thinking outside the box.
How much does SEO for a startup cost?
The cost of SEO – you guessed it – it depends; mostly on the size and scope of the project. That said, the average hourly rate in North America can start from 35$ and can go up to 250$ (Canadian or U.S.) – for freelance consulting and in some cases, even for agencies.
But we know that agencies work mostly on a monthly retainer.
If you're going the agency route, those would charge anywhere between $500 (not doing much for that but it is better than nothing) to $15,000 depending on the scope of work, as mentioned earlier.
On the other hand, an in-house person comes on a fixed salary that is approximately $60,000 per year and up, give or take (here, one might be interested in some equity).
Usually, companies do hire an accountant to keep bookkeeping, do their taxes and all the finances.
If you are not doing the accounting on your own, then why would you learn SEO from scratch and try to achieve the results you wish for?
The best and optimal solution is to go for an experienced SEO consultant.
Note here that there are a couple of steps – the initial setup, the ongoing stuff, some special one-off events like launching a new product or changing the name – quite common, after acquisition – and you can take advantage of the SEO work you've built if you have the right person to consult you.
Additionally, for some types of projects, the consultant might not (and should not) do the entire work alone, so you might need to pay for extra tasks – hire an agency that can flawlessly transfer the content between CMSs, for example.
Conclusions about SEO for startups
SEO can be a complex and time-consuming process, but it's important to remember that it's a long-term strategy. The sooner you start, the better your chances of ranking higher in SERPs and driving more traffic (and sales) to your website.
Understanding SEO and its benefits and doing SEO are two different, separate, categories. As a founder, you should not learn how to do SEO yourself, but you should be aware of the metrics, how it works, and what pushes the envelope.
I call organic traffic healthy traffic because, at the end of the day, Google wants to show its users, the people who are performing the queries, the best possible results.
While reading that, read: "we want to make Google ads as relevant as organic results", as someone from Google said.
If we're there, it means we're doing everything right. It can take a while to get there, but SEO is a long-term game, and it doesn't have an On/Off switch as paid advertising does.
If you're there, you're there.
Article stats:
| | |
| --- | --- |
| Linking websites | N/A |
| Backlinks | N/A |
| InLink Rank | N/A |