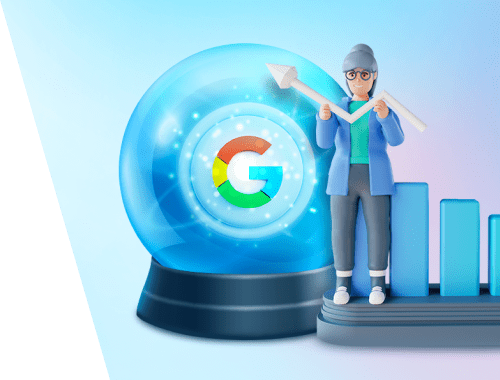 SEO in 2023: 8 Trends and Predictions

2023 is soon to come, so I decided to find some SEO trends for 2023 and beyond. While SEO is still much of "it depends" when it comes to predictions, it's nice to know what to expect from Google and what to get ready for to keep rankings safe.
Well, I started my SEO research but was surprised that most of "SEO 2023" posts turned out to be reused from previous years. The only new event covered was Google Spam Update.
So, in order not to repeat what was said many times, I've carried out my own research on the upcoming 2023 SEO trends. And (yeah!) I've managed to find some interesting things and get expert opinions to share with you in this very post. So here you are — enjoy.
Trend 1. Google Ads gives in to organic search
If you look at recent Google Search ad revenue reports, you'll see a clear descending trend. The report published in October 2022 says that Google Ads revenue was up only by 4.25%.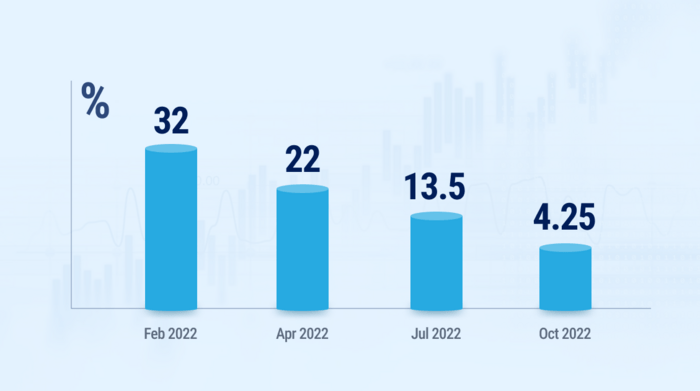 Microsoft Bing ad revenues are doing slightly better, but do not show steady growth either: the report of October 2022 shows only a 16% increase.
In addition to declining ad revenues among search moguls, many marketing agencies report that the average costs of many bids have decreased. To make sure that this is not mere rumors, we've checked on our own ad campaigns. We did see a bid price decline of up to 50% in comparison to the same period in previous years. The only unaffected region was the US.
The economic forecast of the IMF is also far from optimistic: finance experts say that 2023 is likely to become the year of the great recession. Judging by previous years, paid promotion is the first thing businesses cut down on when a financial crisis is soon to come and affect profits.
Besides pessimistic economic forecasts, you should keep the human factor in mind. People are less willing to click on snippets that are explicitly marked as Ad. This happens because most users consider paid ads less valuable than organic results (paid = less trustworthy). By the way, this could be one of the reasons why Google is planning to change the Ad label to Sponsored, which sounds less deliberate.
The decreasing popularity of paid ads can only signal one thing — businesses will put more effort to succeed in organic search. In other words, SEO remains a must-have.
What to do
If you feel like your business has to cut down on paid promotion, then you have no other choice but better optimize for organic search.
Don't know where to start your optimization from? We can help — we're having a big sale soon, where you can buy the SEO PowerSuite pack for a very affordable price. Subscribe here not to miss the opportunity. Our tools will let you analyze your site and identify all the problematic issues to fix.
On the contrary, if you want to overcome the recession by investing more in your advertising, carefully revise your ad campaigns. As bid prices have declined in some niches and regions, you may find new advertising opportunities that were too expensive for you before.
Trend 2. Featured snippets and zero-click results
While paid promotion steps aside, SEO keeps evolving. And companies will have to catch up with the latest SERP trends to stay afloat in organic search. No matter how challenging this may be. Plus, do not forget about unexpected Google updates.
Today and further, featured snippets and zero-click results seem to rule the SERPs. In many cases, these are the same things — search results that appear at the top of the SERP to feature the information a user is looking for.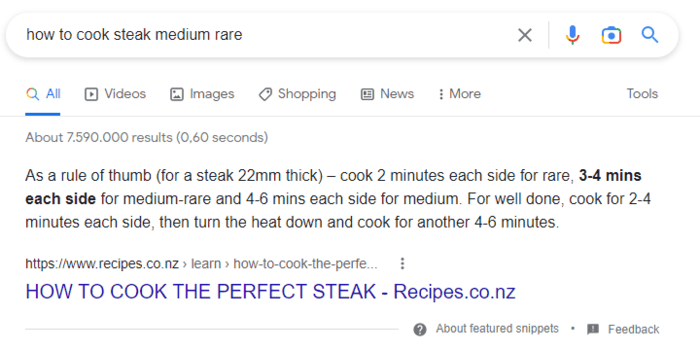 Honestly, SEOs are still in two minds on how to treat zero-click results. On the one hand, they steal clicks and traffic from other search snippets as users get what they need on the spot. On the other hand, studies are showing that Google users click on featured snippets more often.
It's necessary to point out that different studies report different outcomes depending on the research methodology. But anyway, the trend is still clear — zero-click results do take a lion's share of clicks. They are really eye-catching and are placed at the top of the SERP, so the probability of a user clicking on them to get additional information is pretty high.
What to do
Google often uses structured data to pull information from your site to zero-click results. So the first thing you should do is to apply schema markup, such as FAQ markup, everywhere it is relevant across your site.
Besides, you can explore what keywords trigger SERP features more often than others and update your site's content to win more snippets. In Rank Tracker, create a project for your site and go to Target Keywords > Rank Tracking.

Download Rank Tracker
Pay attention to what keywords trigger Google SERP features. If those keywords have the potential to bring you a lot of clicks and your pages do not rank for them yet, then you have room for improvement.
Trend 3. E-A-T remains important
Expertise, Authoritativeness, and Trustworthiness is an evergreen trend that remains up-to-date year after year. And 2023 is not going to become an exception. Especially if paid promotion becomes less popular, and everyone will shift their focus to organic search. What's more, Google has recently confirmed that E-A-T is applied to every single query.
There are many factors that contribute to E-A-T signals: authors' expertise, backlinks from credible sources like Wikipedia and relevant niche websites, etc. Mentions by niche experts and opinion leaders also greatly benefit your site's E-A-T. For example, if you write about cooking and restaurants, then mentions from restaurants, food bloggers, and cooks (both local and world-famous) will do.
The desire to get higher on SERPs with the help of E-A-T signals will eventually lead to SEO services price increase because:
Articles by expert authors will become more expensive;

Link-building services like outreach will cost more;

Authoritative media will increase the price of paid posts placement;

SEO agencies will charge more.
SEO experts also agree that content quality and expertise will matter more than ever. Here's what Olga Zarr, an SEO Consultant at SEOSLY, says:
With the recent Google Helpful Content Update, Spam Updates, and Product Reviews Updates, Google has given us clear signs of what they are looking for in content. They want the content to help users answer their questions and to satisfy their needs. They want more than just rephrasing what everyone is already talking about. They want originality and your insights. I believe only with stellar content you can get there.
What to do
You should be more attentive and conscious when building and developing personal brands. The new reality makes it crucial not only to build your professional expertise but also to make people and search engines know about it. Be active in public events in your niche and participate in conferences, interviews, podcasts, and so on — all of that will help you and your brand be famous. This is also true about the personal brands of your content authors.
Growing a personal brand takes time. A lot of time, actually. If you don't feel like you're willing to invest much time and effort in
brand management
, outsourcing the creation of expert content is a way to go, too. Don't hesitate though — outsourcing content creation will certainly become more costly than it is now.
Trend 4. AI content overuse
As good authors will become more expensive, SEOs will try to save as much as possible on content creation. That's why AI content-generating tools will become more popular, as they're less costly than real authors (some AI writers are even free). Although AI content writers are becoming better every day, they're still incapable of totally replacing humans.
Yes, breathe out.
Lazy SEOs that rely on AI content too much are likely to get into the trap of Google's helpful content update, which is aimed to downrank low-quality and spammy content.
Here's what Lukasz Zelezny, an SEO expert at SEO London, thinks of AI content in SEO:
AI opportunities to generate content and the helpful content update are like two no-go zones to remember about.

First of all, there is a considerably high risk that AI will be overused. These days, access to tools like https://jasper.ai is very affordable. And these tools are fantastic as an additional thing, but not as a replacement for human content creators.

And here is where the helpful content update sits: an algo update attempts to clear that low-quality content from the top rankings of SERPs.
What to do
While AI content writers cannot replace humans, they can help us greatly. So, denying the future and ignoring AI is not the best idea — the future is already here. Make AI content creators work for you, but be careful not to get your site penalized by Google.
I am not trying to say AI is bad. I say AI gives the ability to generate a huge amount of unique yet low-quality content, [...which] is nothing but "grammatically correct fluff". Content that doesn't bring any added value.
For example, you can generate some pieces of content with AI to edit manually — add the missing information or delete the pieces that are obviously nonsense. Thus, you bring added value and avoid the risk of getting struck by the helpful content update.
AI tools can also be used for the machine localization of web pages. Note that machine translations require manual editing, too, so uploading tons of raw machine translations to your site is not the best idea.
Trend 5. Entities take over keywords
It looks like Google has turned towards pages that are optimized for entities. So entity-based optimization approach is becoming more effective than traditional keyword SEO. I think the reason for that lies in the Knowledge Panel development, and here is why.
Google understands content with the help of its NLP algorithms. For example, the NLP API analyzes a piece of text, identifies the most meaningful terms (entities), and defines what the text is about. The information retrieved this way is then added to all other pieces of data Google already holds on this or that entity. When there's enough information, Google is able to connect all dots and may grant a knowledge panel to an entity: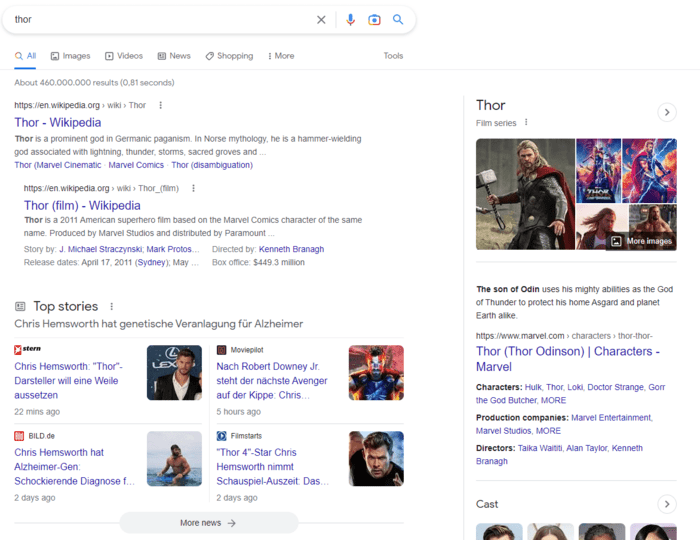 Google's BERT and MUM algorithms are also trained on NLP, that's why it becomes easier for Google to understand the context and form SERPs based on this knowledge.
Entity-based SEO is especially important for local queries. In local search, Google evaluates how relevant a query (entity) is to a certain location, and this is one of the crucial factors in how local SERPs are formed.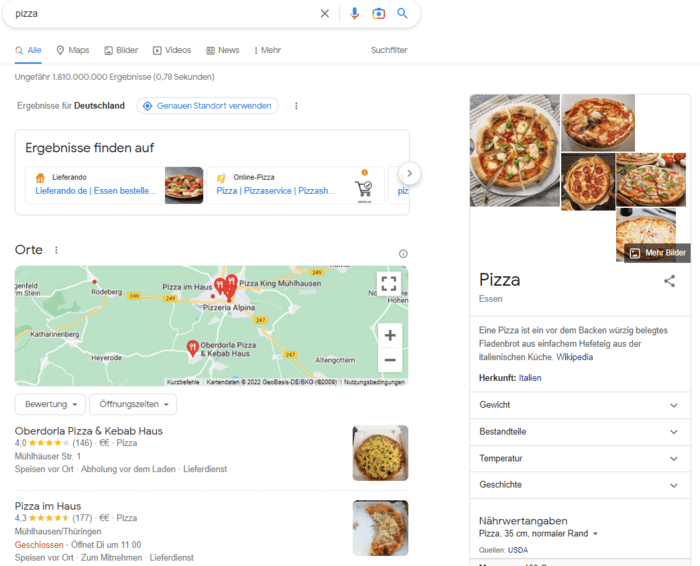 What to do
You need to make Google understand your entity the way you need, so make your entity as meaningful as you can. And here are a few steps to help you make your entity more prominent:
Enrich your site's content with other entities related to the target one, so that Google has enough surrounding context. For example, this is how our user upscaled his local business search performance using entity association. You can find some general SEO tips there, too, even if your business is not local.

Create and grow your Google Business Profile (for local businesses). Make use of any feature it has, as the more data you give Google, the more it knows about you.

Build backlinks. This is a signal of connection between your entity and other relevant entities. If you have a local business, build local backlinks.

Encourage users to review your business.

Try offline marketing to create more buzz around your entity. Offline events are often discussed in social media, which is also appreciated by Google.
Tip
You can check what Google already knows about your entity by clicking on the three dots near your search snippet: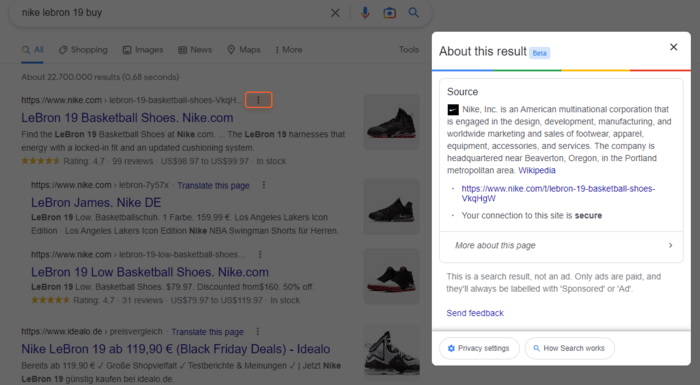 Then, click More about this page: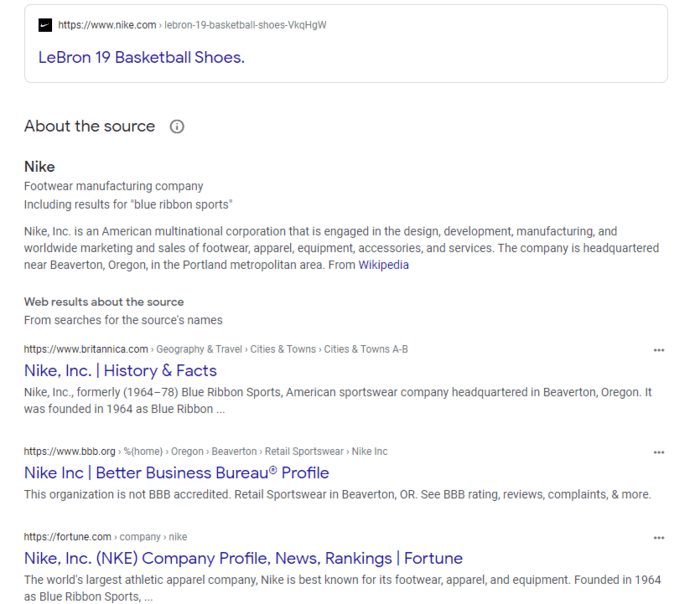 If the information is not sufficient, update your site's content (especially pay attention to the About us, Our history pages, etc.).
You can also scan your content with Google's NLP API to see how Google understands the text and what entities it finds: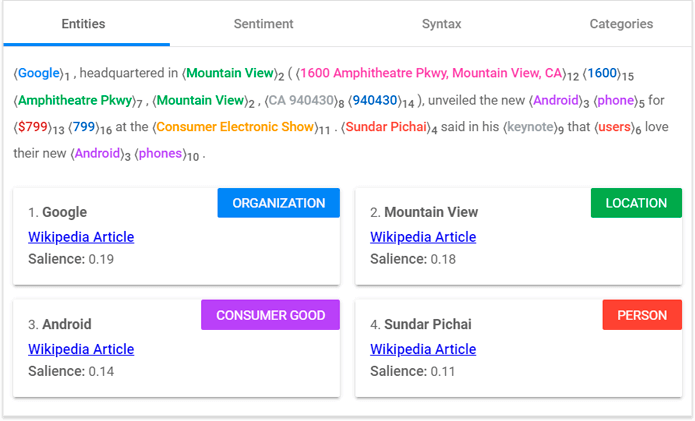 Trend 6. Google Shopping expanding
While there's an increase in offline shopping as people are finally free from COVID-19 restrictions, Google is uniting ecommerce facilities into one space and actively developing and upscaling shopping features like Merchant Center, Products, Google Shopping, etc.
Google is now more than a search engine — it's an ecommerce aggregator featuring goods, descriptions, and reviews. The only thing it doesn't do is selling goods directly; instead, it has a where to buy section where sellers' websites are shown.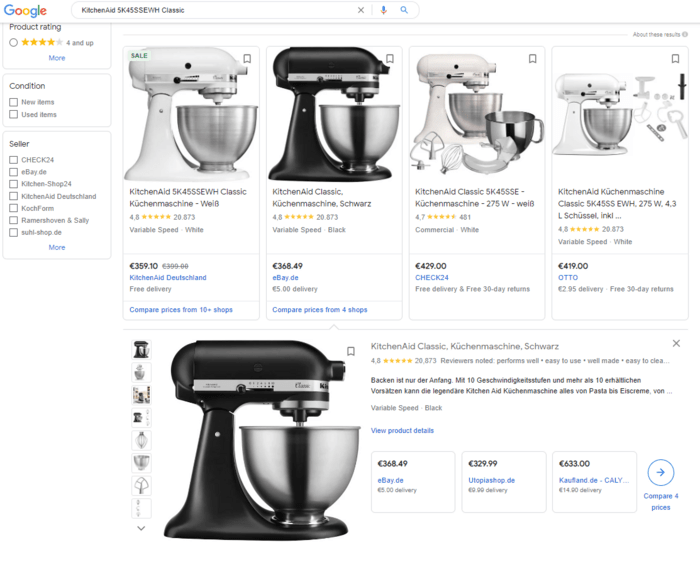 This trend is a hint for ecommerce sites to start adding services like Google Shopping. So shops will get featured in where to buy.
The nice thing here is that you can now easily compare your pricing strategy with that of your competitors and adapt to stay reasonable.
The not-really nice thing is that Google Shopping will definitely grab a lion's share of clicks from ecommerce sites and break marketing funnels down. Before that, users would click on a site snippet, jump to the site itself and continue their customer journey there. With Google Shopping, users will only land on a specific product's page if they decide to buy an item from that very site. Still, this is the new reality for ecommerce.
What to do
If you're running an ecommerce site, then you have no other choice but to add Google Shopping features to it. Some types of SERPs feature Google Shopping snippets, and these snippets work just like featured snippets I wrote above, i.e. grab clicks from organic results. So, if you add Google Shopping, you can win back the clicks you'd probably lose in organic. Otherwise, your organic clicks could go to your competitors.
Trend 7. Visual search becomes widely used
Have you heard of Google Lens? It looks like the hype around this feature has slowed down recently, but it is just the calm before the storm. Most likely, this "calm" is related to the refinement of the MUM artificial intelligence, as Google wants the new feature to be near-to-perfect.
I should say that Google Lens visual search now works much better than, say, a couple of months ago, and there's still room for progress. After that, Google will finally launch its multimodal search to actually let the MUM algorithm do what it was developed for.
Google needs to clearly "see" images (and maybe videos soon) to understand what's on them and find similar objects across the web. So, to make Google see the object in detail, the visuals on your site should be of high quality.
Still, there's a problem that may cost you rankings. High-quality visuals are super-heavy, which means bad Core Web Vitals and poor PageSpeed metrics. As you know, this will 100% harm your site's UX and may also affect your rankings.
Well… Can we expect that Google will become less demanding for CWV and shift benchmarks somehow? This is the question that doesn't have an answer yet.
What to do
Make images a part of your SEO strategy — top results in Google Images never harm anyone. Take care of the quality of your visuals and develop a brand style to stand out from your competitors. Design your own images instead of using stock ones and make sure they're properly sized to fit device dimensions properly.
Remember that you need to keep up with Google's CWV benchmarks. A good idea is to set up a CDN to lower the server load. Lazy loading will also benefit loading times.
Adding schema markup to your pages will let Google better understand what's on the image (a dish, a photo of a person, etc.). In our blog, we have a detailed post on how to properly set up structured data, so you can learn something from there. Besides, do not forget about writing proper alt texts for your images.
Trend 8. AI-generated images get popular
I think there was no official statement on AI-generated images, but I did find out some interesting things on the matter.
First, AI image generators like Midjourney have become hyped up recently. Folks on the internet talk a lot about them and try to create images on any topic possible.
Second, AI tools are capable of creating really nice images provided that you give them a detailed prompt. The more details you give, the better the image is.
Finally, I've tested a couple of AI-generated images with Google's Cloud Vision API. The results turned out quite curious, as Google managed to recognize the objects quite successfully. What's more, it found even those items that were not originally specified in the prompt.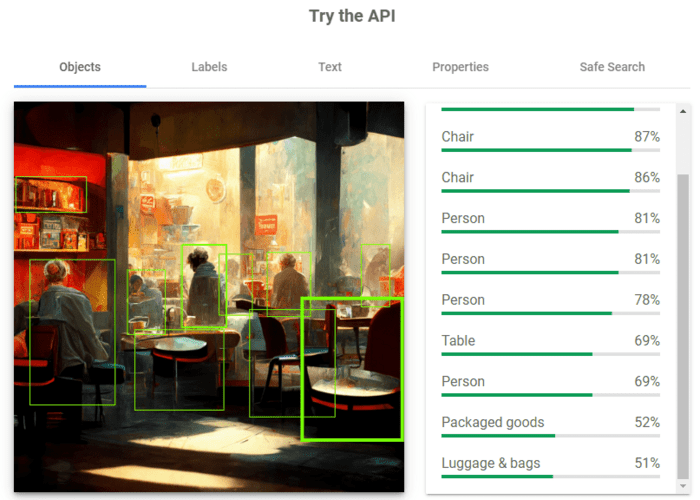 The prompt I gave Midjourney was coffee shop. Then, I searched for coffee shop in Google Images, and scanned a real photo of a coffee shop with the API. Here's what I've got: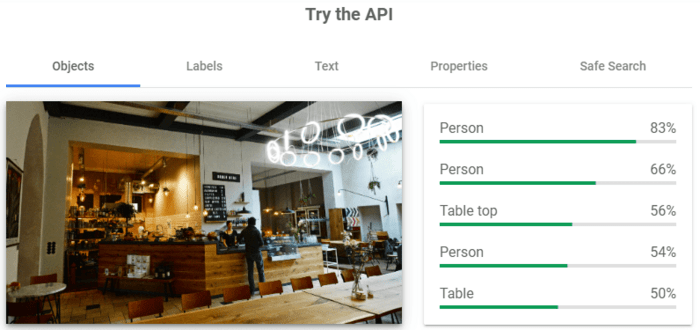 As you can see, Google recognized the same objects in an artificial image and in a real photo. So, AI-generated images are detailed enough to get featured in image SERPs if the query is relevant. To me, it looks like AI-generated images will be used more often than they are now.
What to do
Actually, there's nothing to do but watch here. Of course, you can try AI tools for your site, but I'd suggest not overusing them. Not yet at least, as Google is not sure how to treat AI images and how they would impact SEO.
To sum it up
When it comes to Google and SEO trends for the coming year, it's hard to be sure how things are going to develop. The only thing that is 100% clear is that quality is going to prevail over quantity. So, do not neglect your SEO and put enough resources into it. Remember that, unlike paid ads, SEO is a long-term play with the results that last longer.
What do you think of SEO in 2023? Share your opinions in our Facebook community.
Article stats:
| | |
| --- | --- |
| Linking websites | N/A |
| Backlinks | N/A |
| InLink Rank | N/A |