Awesome Content Creation Tools for SEO Team
The right tools help content creators in a variety of ways, from researching new content ideas to streamlining the creation process in a team. Here is our brainstormed and lovingly polished list of content creation tools. Enjoy!
Content creation tools by purpose:
Content Research
Finding good content ideas makes half of your articles' success. These content research tools will help you discover what your audience is interested in and even lay out great titles for you.
Soovle
This is a quick search tool to find content ideas from top related searches across top search engines like Google, Yahoo, YouTube, Amazon, plus Wikipedia and Answers. The tool may help you pick the right content marketing channel for this or that product.
Answer The Public
This is a web-based content research tool that pulls its data from live Google autocomplete suggestions, tied to your seed keyword. The free version allows 5 searches per day. The results are presented in a visual diagram or a compact table that can be downloaded as well.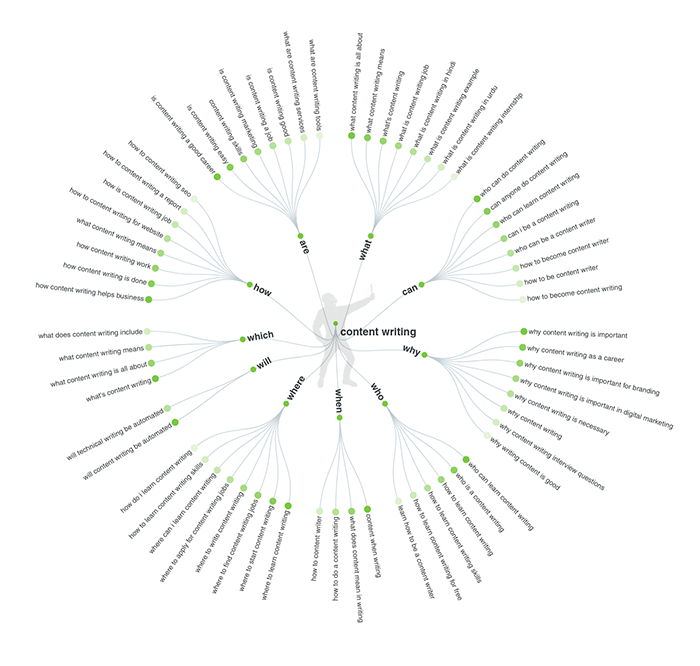 Rank Tracker
Applying keywords to SEO content can be pretty much like guesswork unless you have a content research tool that will bring in some science into your inspiration. Rank Tracker will give you the top suggestions for keywords that you enter, which could leave you with over 200 new content ideas. The keyword tool combines 23 research methods to pipe ideas from a variety of sources, from localized search engines to video hosting and selling platforms.
One by one, run autocomplete suggestion tools, look through related searches, keyword tools for YouTube, Amazon, the TF-IDF keyword tool, and generate keyword combinations with the phrase mixer. The tool analyzes your domain competitors and finds keyword gaps by major keywords. In the end, you have hundreds of ideas that will serve not only as the subject but also as keywords to optimize your content with.
Buzzsumo
The quick tool to check high-performing headlines is Buzzsumo. Just enter a keyword and instantly find the most successful stories, they will help you generate fresh ideas and create better content. You can analyze trends over the past day, the past month, or the past year. An upgraded version of the tool lets you monitor performance and provides powerful content insights. Besides, it allows identifying influencers that you can use for content marketing.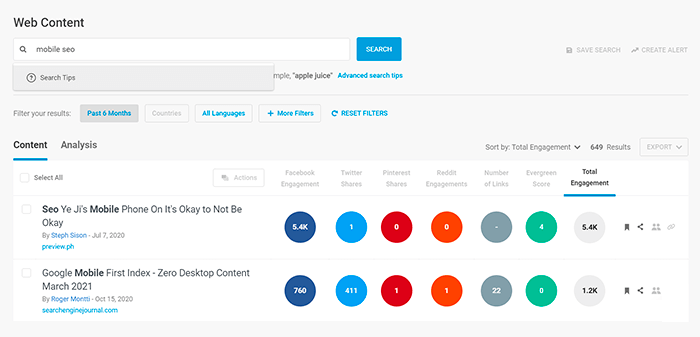 Trending Topics
Try researching Google Trends and Trending Searches (daily or real-time) to see what's been making the news in your industry/topic. Another inspirational source for content creation are discussions on Quora and Reddit. Simply find what people are talking about the most and develop it into a post.
Trending on Social Media
Talking about social media, the easy way to mine content ideas is to go through key terms and hashtags on Instagram and Facebook. As for Twitter, it provides Trends for you tailored to your interests, plus it has an extensive Advanced search filter to find anything by keyword, time, and even by the scope of engagement. By embedding social posts, you automatically give credit to the source. If you include an embedded post from your social networks, you can encourage even more discussion about the topic on your own platform.
Awario
When you need to process lots of queries on social media, or you just want to not miss a thing, try social listening tools that automate the research. For example, the Awario brand monitoring tool will make a good company in your content marketing stack.
The tool lets you research blogs and influencer posts, set an alert to track mentions by your topic keywords, have them stored and sorted in your feed. The analytics dashboard contains sentiment analysis and lead generation (still in beta). Overall, it makes a powerful brand reputation management tool.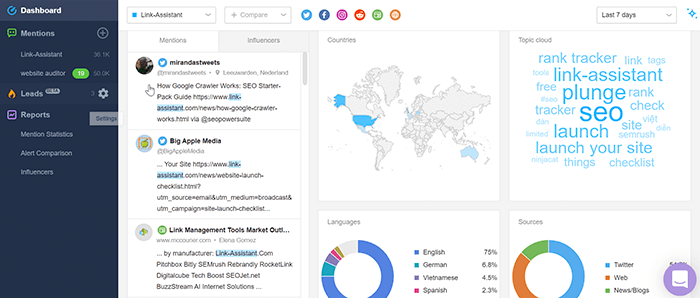 Hubspot Blog Topic Generator
A free tool for lazy writers to generate numerous content topics based on your focus keyword. It generates over 200 topic ideas that can be downloaded in a spreadsheet. From that page on, you will be guided to getting expert tips on effective SEO strategies.
Portent's Title Maker
Want title ideas plus fun quips and tips? Try Portent's Idea Generator. You supply the keyword, and it supplies some witty titles to go with it (plus some basic writing hints to guide your title creation).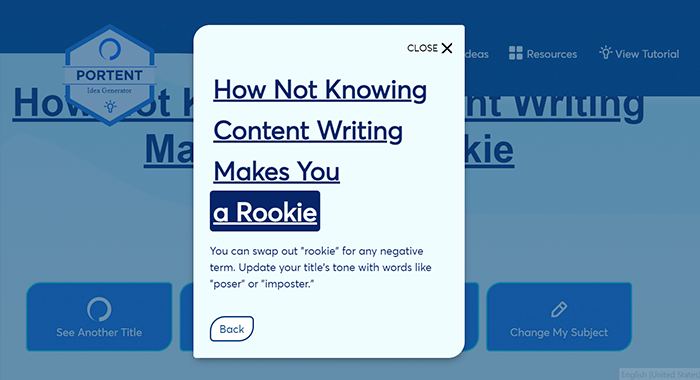 Advanced Marketing Institute Headline Analyzer
The Headline Analyzer is a free tool to test headlines for intellectual appeal, emotional appeal, or empathy. The creators of the tool believe in the relation between emotional marketing value and performance. Probably, there is not much practical use in it for generating content ideas. But for sure, it can be a good starting point to meditate about your website's buyer persona, and invent the best call to action.
Content Optimization
Creating content that works is not only about rich vocabulary and perfect grammar. SEO content includes signals for a search engine to find it and rank as relative to certain queries. A page ranks due to multiple content optimization factors: keywords in titles and headings, meta tags and descriptions, technical SEO factors like page speed, structured data, accessibility to crawlers, etc. And since it works almost like an exact science, there are tools for SEO content creation that can be used as guidance for anyone in a writing team.
Yoast SEO
This is the #1 plugin for optimizing content on WordPress sites that make people SEO-literate practically overnight. The plugin checks the text's optimization level, and you can improve it on the fly straight in the CMS. The tool provides tips on how to optimize headings and subheadings with your focus keywords. It recommends revising long sentences and splitting text into paragraphs to enhance readability. Besides SEO content optimization tips, there are a bunch of technical features like checking structured data, finding broken links, and much more.
WebSite Auditor
WebSite Auditor does a general SEO audit of your site and allows content recreation with Content Editor. When you start the tool and create a project, it first goes to find optimization errors like broken links, unoptimized titles, headings, issues with structured data, etc. Then you can switch to Page Audit and do page-by-page optimization.
The Content Editor submodule lets you optimize content on existing pages. The tool analyzes a page's optimization rate for the target keywords. It checks top competitors ranking high on the SERPs and provides keyword optimization tips to improve the page's SEO score. You can edit the page on the fly in browser mode or plain-text mode, and see the preview snippet of what it would look like in search results.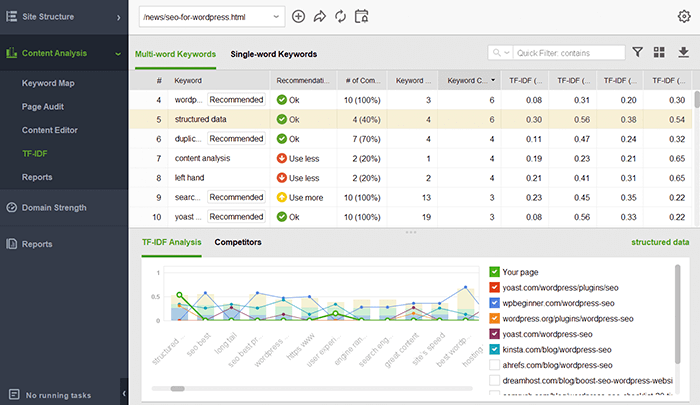 You can produce content from scratch as well: create a new page, add your target seed keywords, and the software will collect the SERP stats and supply key ideas around which to create content.
A convenient functionality of the Content Editor is creating SEO tasks and downloading them as a PDF for your copywriters' team.
Online Keyword Density Checker
This is only one of 75 SEO tools offered by the team at PrePostSEO. Keyword density is the metric to calculate how many times a keyword is used on a web page compared to the total content on this page. In terms of SEO, it determines whether the web page is relevant to the specified topic. The tool allows checking SEO content both by URLs and text copy-paste (and by file upload, by the way). It allows free checks with ads enabled (and premium plans otherwise).
The point is to check the page for relevance to a keyword and to avoid keyword stuffing. If the keyword density is higher than 3, you are offered as well to use text rewriting tools to find synonyms to the focus words.
Note
The idea is that sometimes editors collect a DIY kit of content creation tools that fit their SEO strategy and measure some specific metrics they consider important. For example, an SEO task may set requirements for the number of keywords, word count, the percentage of stop words, uniqueness, etc. It can be disputable what metrics are the most important, and in fact, they may vary depending on the language, types of content people create, etc. For instance, should we care for the number of stop words (mostly functional parts of speech) when most search engines do effective phrase search, so stop words are part of meaningful phrases?
Anyway, such software is a great helping hand to outsource writers who need some tools for a quick self-check. For example, there are dozens of simpler text analytics tools, like Online Utility for English readability, SEO Scout text analyzer, read time calculator, and so on.
CopyScape Plagiarism Checker
Copyscape instantly searches the web for duplicates of your content. The free version allows searching by URL. The advanced version goes deeper and breaks down the text to look for partial duplication, checks offline documents for plagiarism, including PDF, and much more.
Meanwhile, uniqueness and originality for the web and for an academic paper are pretty different concepts. Sometimes, content duplication may prevent pages from ranking high or even showing up in search results at all. On the other hand, quite often duplicated or partially duplicated pages outrank their source because these pirated copies are better optimized in terms of speed, audience response, or other signals that affect ranking. Needless to say that stealing content is not always legal.
Content Editing and Proofreading
Now a few words about basic things that you do throughout the whole process of your content creation — correcting the form. These are tools that will help you proofread your content, and preserve the clarity and style of your SEO writing.
Hemingway Editor
Hemingway content editor is a free web app (with a paid desktop application) checking the readability of your text. It goes after Hemingway's iceberg theory that a good text is concise and precise. The app corrects common errors and assigns the readability grade: it analyzes the content for long sentences, difficult syntactic structures, and the use of passive voice. There are basic text statistics, clues on what to improve in the content, and basic HTML editing of the text, which you then copy and paste to another text editor.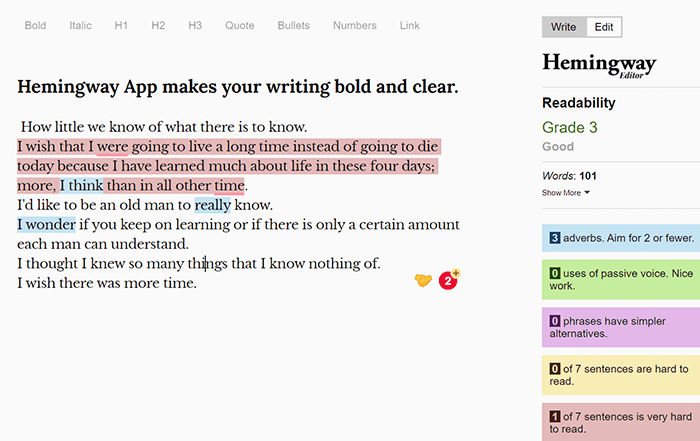 Grammarly
Grammarly plugin checks your spelling, punctuation, and style just like a meticulous teacher would do. It offers free to premium pricing plans and makes your text superb. The free version corrects basic grammar and punctuation mistakes, whereas the premium version will improve your style, tone, and eloquence.
Language Tool
There are dozens of spell-checker alternatives to Grammarly, though. For example, check out the Language Tool writing assistant. Simply copy and paste your text into the dashboard on the website, or install a Chrome extension to check your Google documents or the websites you're visiting. If it hinders your reading, you can always toggle it off.
One Look Dictionary Search
This tool provides lightning-fast dictionary search to look up word usage across all possible dictionaries and sources. You can search either definitions or related terms, and check out usage examples in the context. A great tool for style editors.
Image Creation
Great images are vital for an effective SEO content strategy: they make your articles stand out from the crowd on social nets when shared by others. Images can help you get traffic from both Google web and image search, they turn dull presentations into captivating ones, and so much more. High-quality images are crucial for ranking in Google Discover, Instagram, Pinterest, Bing, and other image-oriented platforms. So, here are several visual content creation tools that make image creation simple.
Quozio
The quick quote maker offers a variety of templates to create a quote. Just enter the phrase, the author who said it, and the tool will create your quote, with a changeable background.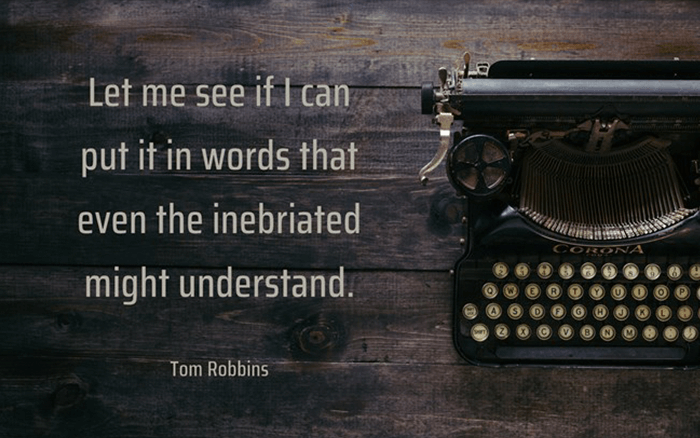 Search Trends Chart Generator
This is a free tool for SEOs to visualize search volumes on Google Trends. Simply type in your keyword, set the time range, edit the style of your columns, customize the play settings, and here you go. The tool generates visual race charts for search volumes powered from Google Trends which you can embed into your story.
Tip: Miscellaneous stuff for image processing to create better content: use Giphy to create gifs, a free tool to quickly remove background from images, find images on free photo stocks like Unsplash.
Canva
Canva is a visual content creation tool to edit images for different purposes, including social media graphics, content marketing kits, visual storytelling. While there is a specific category of templates for blog images, you can look up other categories to find different sizes, designs, and text options. Editing your content is simple thanks to intuitive UI, drag-&-drop editor, etc. This is a great visual tool for design newbies who find Photoshop quite challenging.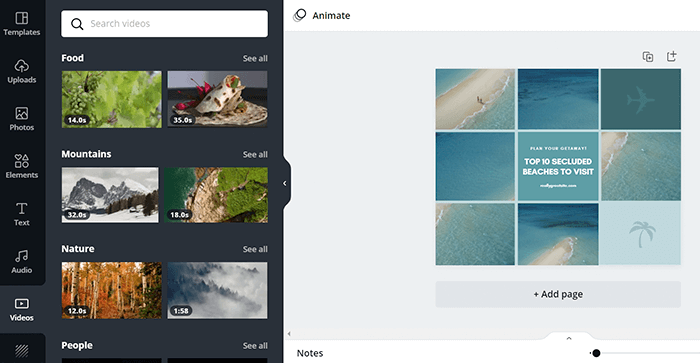 Piktochart
Another great visual content creation platform is Piktochart with a focus on creating infographics. It boasts robust chart builders and interactive maps for creating content around complex data, such as presentations and reports. Upgraded versions include a wider variety of templates and tools, plus the platform is praised for easy customization features.
Colorcinch
Colorcinch is a photo editing and graphic design tool that lets you create stunning digital content. Thanks to its intuitive UI and drag and drop functionality, you can start designing your creatives on the fly. The tool includes a vast collection of stock photos, vector graphics & icons, masks, and overlays that you can play around with to customize your visuals. It also comes with a freehand drawing tool and a text editor. With hundreds of AI-powered effects and filters available, you can transform your photos into cartoons, drawings, paintings, and more.
ImageMagick
ImageMagick is an open-source image processing app with a wide array of functionalities, from converting to animation. The tool can convert, resize, transform images for search optimization. There are a bunch of creative functionalities and special effects, like drawing texts or curves, adding shapes, reducing noises, recognizing shapes in images, etc.
Screencasting Tools
Remote work demanded from us to diverge pretty fast for various formats of virtual catch-up. Online meetings, remote interviews, demos, and tutorials have become an everyday necessity. All of these can serve as additional sources of content marketing through video and screen recordings.
Video content itself brings undeniable marketing benefits. It increases on-page hours and engagement with users. It is more appealing to teenagers (just recently I heard a schoolgirl in a bookstore begging for a book recommended by a TikToker). Video thumbnails increase the click-through rate in email marketing. That is why video content has a great outreach potential, and here are some video content creation tools to edit videos easily.
Zoom Meetings
Zoom is today's star of video calls and distant interviews with a generous free plan. Currently, it provides free conferencing for up to 40 people over 40 minutes.
It is pretty stable and simple to use, letting users join by clicking on the meeting ID. The tool allows for video live talk and chat, screen sharing, and recording to MP4.
Camtasia
Camtasia is screen recording and editing software that is great for collaborating with content creators, for both Mac and Windows users. The tool is perfect to create how-tos, presentations, instructional videos, and lessons.
It contains built-in templates for video editing, allows adding annotations, interactive quizzes, and tests. It even has a feature for imposing yourself within the video with a green screen effect and adjusting audio to remove background noise. The trial version is limited to 30-days and includes a watermark image on produced videos.
Screenflow
Screenflow is a Mac-based software for screen recording and editing. It has an intuitive user interface, powerful video editing tools to create high-quality video demos, tutorials, training, and presentations.
You can connect Screenflow to content hosting sites like Imgur, Wistia, Facebook, YouTube, and to clouds like Google Drive, Dropbox, other platforms for faster sharing and publishing. Premium packs include a built-in stock media library.
Livestorm
This browser-based video communication software has been outstanding for its quality and ease of use. The tool combines all the basic features needed to register and conduct a webinar, provide easy access and collect feedback, and store the recording (like for the below playlist of SEO PowerSuite webinars).
Webinars Ninja
If your focus is rather on education and training, try specialized webinar software that takes into account receiving feedback from attendees and powering analytics. For example, WebinarNinja is focused solely on webinars, has an easy webinar set-up, and will be good even for non-tech-savvy people.
The tool is said to be user-friendliest, provides marketing analytics into how many users registered, attended, clicked, or purchased. The platform offers live webcasts in combination with automated pre-recorded video. Besides, it enables easy sharing of polls, giving handouts, and many more useful features. On top of that, they have a webinar finder search engine that lets other people find your webinar and sign up.
Speech Recognition Software
Translating speech to text is a really tiring task when done manually. Luckily modern AI understands spoken language accurately. Enabling closed captions for YouTube videos shows how good the AI recognizes speech — better for RP English, a little worse for dialects, but I believe it's a matter of time.
You can dictate your masterpieces in Dale Cooper's manner as if to your personal writing assistant. Among tools that will help you turn spoken language into written are Speech-To-Text, Speechnotes, or Izzitext. Each of the speech recognition tools provides free versions and premium plans.
Survey Tools
Surveys should be considered with all seriousness in your SEO content strategy. You can use them to crowdsource expert tips, customer insights, and much more, for creating amazing content around the first-hand experience from users of your products. Here are a couple of tools you can use to collect and analyze survey data.
Survey Monkey
SurveyMonkey is a popular survey tool that allows you to collect responses for a survey, analyze the data, and export it in PDF format for easy sharing amongst other content creators on your team.
Google Forms
If you prefer a free survey solution, Google Forms are the answer. You can create a Google Form with different formats of questions, and Google will automatically create a spreadsheet to collect the answers. While there is no automatic analysis or easy PDF export of the responses, it is easy enough to copy and paste the answers out of the Google Spreadsheet into a document or download responses as .csv files.
Content Planning and Collaboration
Whether you are a freelance writer or a digital marketer in a company, you'll need to manage your content creation as one workflow. These are proven tools for a team of copywriters and editors to streamline the pitch, submission, and editing processes.
Team Communication
It looks like remote work is here to stay for ages, which makes project management tools an absolute must-have.
Note
For the sake of mention: in extensive projects (e.g. software development), companies integrate various tools from wiki-based platforms (e.g. Confluence) to project management apps (e.g. Asana) to create an effective knowledge base and coordinate teamwork.
For content creation in small teams, there are simpler collaboration tools. I like the Trello board for quick access and sharing of our content plan. This project management tool is great as an editorial calendar for content. You can create a board for your blog, multiple lists that represent different stages of the editorial process (idea pitches, article submission, editing, publishing, promoting, etc.).
For nearly the same stuff, you can use Basecamp as an alternative. Practically any of such platforms let you incorporate your calendar, implement file sharing, and edit all in one tool.
Google Docs
Just a few words about Google Docs because it's a cannot-do-without on my list of tools for creating content. It's easy and quick to access files and elaborate on them in a team: save images to Google Keep, write notes and comments, check them resolved, apply styles and formats. And do more complicated tasks with the help of add-ons, for example, add pieces of codes, diagrams, and charts — create practically whatever SEO content you want.
Evernote
Evernote is a tool for notes taking and managing them cross-platform. In essence, Evernote shares similar features to Google Keep, which is more about basic notes taking and sending reminders. The app has a limit of 60 MB of notes per month, allows synchronizing between devices, which means your notes will be placed in order, easily accessible and updated on the fly, and will not get lost like a paper label would do.
The free version allows you to organize and quickly find your notes in a virtual notebook, and apply rich formatting. The business plan includes chats and team management, access to notes offline, and many more.
Content Analytics
The finishing stroke on your SEO content is measuring how the audience interacted with it. We need to know how people read through our stories to create better content in the future. That's why editors tap into content analytics tools almost daily.
Google Analytics
Google Analytics is the top tool providing such metrics as sources of traffic, stay-on-page minutes, bounce rate, event tracking, etc. By creating events on any valuable action on the page (such as subscribe or download), you can put the effectiveness of your SEO content into numbers. Knowing what your audience wants, you will be able to create content that meets user intent and, ultimately, improve the SEO KPI of your pages.
Webvisor
An interesting insight comes from Yandex. Metrica's Webvisor that records user actions on your site and plays them back as a video. The tool tracks mouse movements, scrolls, clicks, form completions — pretty useful stuff about users' behavior. By improving the design and optimizing the pages, you will enhance your pages' performance and conversion rate.

If you've been having a tough time with the content creation process, I hope these tools will help you get things organized, discover new ideas, and create content that really works. Have you got some favorite tools for SEO writing? I'd love to learn a few words about them in the comments!