5 Smart Uses of Social Media for SEO and Brand Awareness

Article stats:
| | |
| --- | --- |
| Linking websites | N/A |
| Backlinks | N/A |
| InLink Rank | N/A |
5 Easy Ways to Use Social Media to Improve Your Rankings, Conversions, and Brand Awareness

For you as a marketer, social media is a source of client prospects unlike any other. Whatever your product or service, people are out there looking for it, asking questions, and discussing related topics.
(While you were reading the two sentences above, over 3 million messages were sent on Facebook and around 35,000 tweets were posted.)
But in itself, the non-stop stream of information in front of you is more overwhelming than useful. That's why you need to know how to filter it and how to use it.
This guide includes 5 powerful tips that'll help you easily dig through the endless social media buzz, spot valuable data, and make good use of it to power up your SEO and online marketing. You'll also learn which social media tools will help you automate and speed up the process.
---
1. Learn your audience's language
Discover the keywords people use and how they use them
No SEO campaign starts without keyword research. Remember the Hummingbird update that focused on conversational keywords? With semantic search in play, you can't afford to simply pick target keywords based on their search volume — you need to identify the context your potential customers use them in. There's no better place to see how people talk about these keywords in real life than social media sites.
If you've got time to spare, you can scrape social sites for mentions of your keywords manually; there are also several useful tools that'll help you automate the process.
Running a simple search on Twitter ("SEO strategy" in our case) can tell you a lot about how people are using your keywords.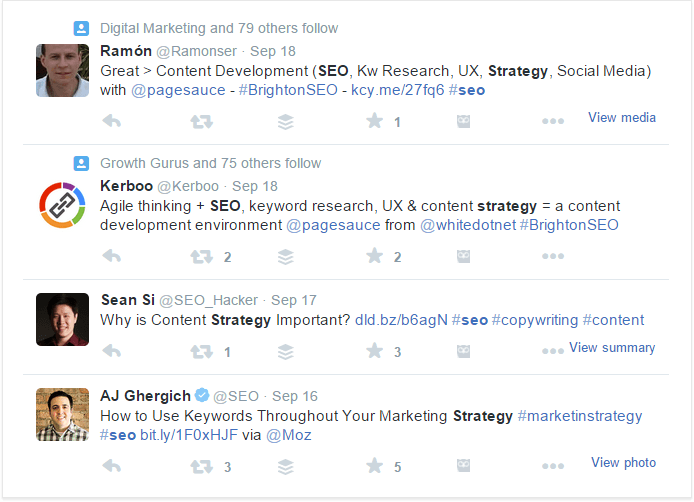 Now you can see that people talking about an SEO strategy also mention user experience, copywriting, content marketing, keyword research, and other related concepts. All these phrases can build up the context cloud for our keyword.
Run similar searches on other social media platforms and Q&A sites to build up a keyword context cloud. Look for:
synonyms
co-occurring terms
acronyms
abbreviations
related product and brand names
Manual search is okay, but the more you do it, the more confusing it can get, with dozens of tabs opened in your browser. Besides, you will have to spend quite a lot of time on this task. Luckily, there are some great (and free!) tools out there to help you automate it and save lots of time.
BuzzBundle
BuzzBundle lets you discover keyword mentions across the web — in social networks, forums, blogs, and Q&A sites. You can see how (and in which context) your keywords are used by real people.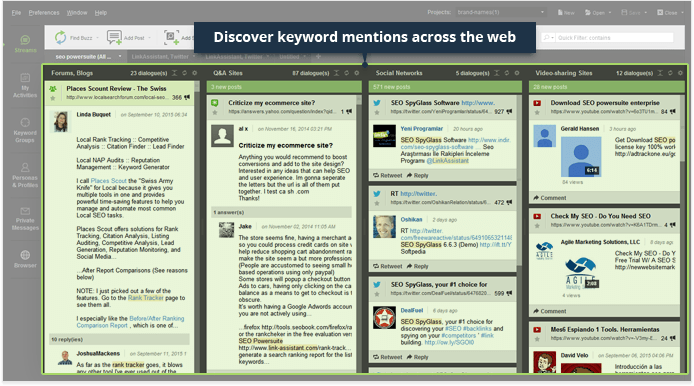 Topsy
Topsy is a powerful search tool. You can use a wide range of search operators and also search for tweets from a particular person, mentioning a particular person, containing links to a site, or even find conversations between two people.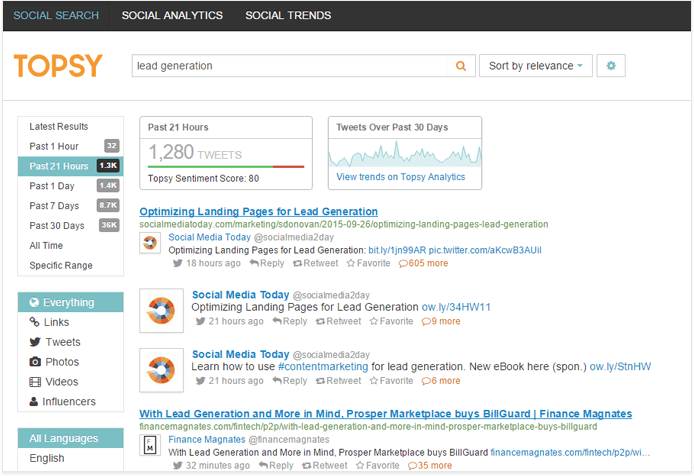 Foller.me
With Foller.me, you can input your company's and competitors' Twitter usernames and get a list of "Twitter Topics" that are prevalent in your niche. It's a good idea to cover these topics on your site, using the same language your audience uses.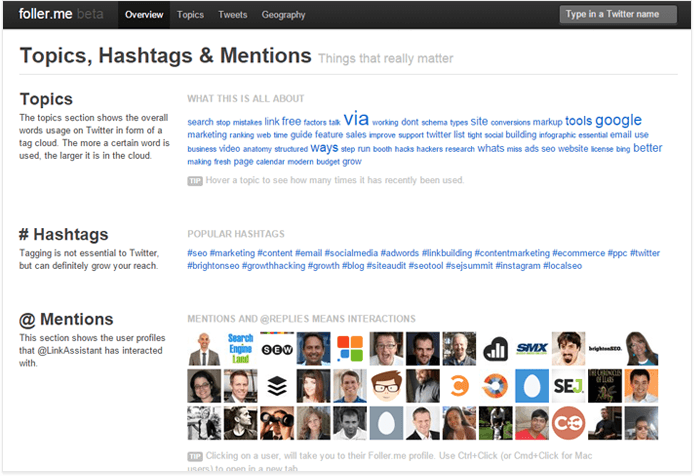 With these tools, you'll get a good picture of conversational keywords used by people on social media in less than an hour.
---
2. Boost your search listing's CTR
Optimize titles and meta tags using social media experiments
In a sense, your page's title and description are the two elements that can make or break your SEO efforts. These are the two elements a searcher sees when they spot your listing in Google results; and for many, these two determine whether or not they'll click on your listing.
But how do you know which title works best, or which description attracts enough clicks? Social media is a great place to get that insight.
After running a keyword search on Twitter, scroll through the tweets for content with the highest engagement — likes and retweets. Analyze the copy and see if you can use similar catchy wording and effective calls-to-action.
With BuzzBundle, you can sort posts by Reach, a metric that indicates engagement. Look at the most important posts and note their headlines — they can offer priceless ideas for your page's title tag. For meta description ideas, look at the first paragraphs in pieces of content. Tweets are great sources of ideas, too: a tweet (140 characters) is close in its length to a meta description (about 160 characters).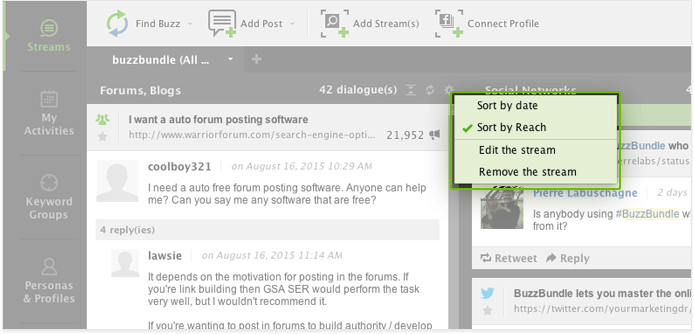 To test your tags before they go live, post tweets with variations of titles and descriptions you are considering, and see which of them gain more clicks and retweets. Use the winner for your page's title and meta tags, and enjoy higher click-through rates.
---
3. Create content people will love
Scrape social media sites for content that works best
If you're not looking for copy ideas on social, you must be lagging behind with your content marketing strategy. Social media sites offer invaluable insight on what users want from businesses like yours.
Smart use of search operators in Google can tell you a lot about your audience's preferences and needs. Say, you own a small cafe and are working on content for its website's home page. Go to Google and type in:
"amazing cafe" site:yelp.com
You'll find thousands of reviews by users, describing the best cafe they have ever visited — and why they loved it. Now all you need to do is to read through the reviews and use those happy customers' words in your copy.
Launch BuzzBundle, type in your keyword, and start the search for discussions — you'll get plenty of ideas for your content in a matter of minutes: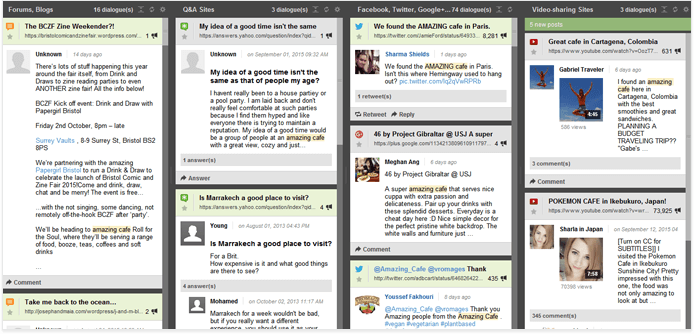 ---
4. Get quality backlinks
Use social media for link building
As you know, link building remains a number 1 strategy for boosting your site's authority in search engines' eyes (and hence your rankings). Social media is a priceless source of link building opportunities — not to mention it's quick and free, too.
As usual, search for your keywords in Twitter (you can do this either in your browser, or use BuzzBundle to save time). Find people tweeting most often about these keywords and organize them in Twitter lists. Later on, you'll be able to interact with them to build relationships.
Next time you publish a new post, share it with your Twitter list. The good old "I see you mentioned [keyword], so you might like [link]" can work pretty well.
Also, you can send a direct message to a niche influencer if you believe the content you're sharing can be interesting to them. If you mention or quote an influencer in the copy, remember to shoot them a tweet as well, saying that you featured them in the post. Chances are they'll be eager to share the post further with their audience.
Check out the Find People functionality of Google+ — it can be really helpful for link prospecting. This feature helps you locate people based on their employer, education, or location. For example, you can find all bloggers contributing to Mashable or TechCrunch and contact them.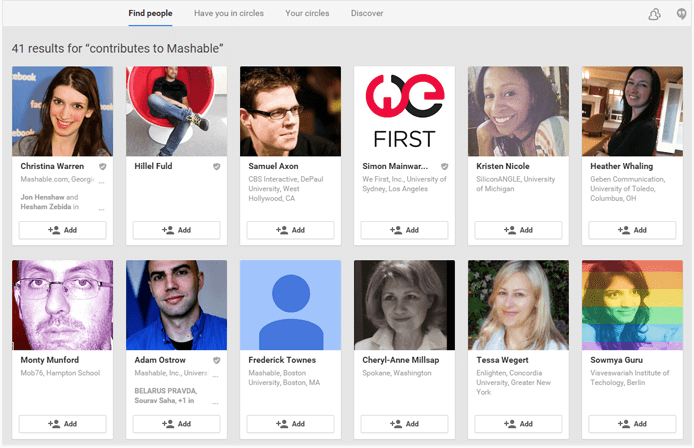 Or you can use search operators in Google to find people actively talking about your keywords:
SEO strategy site:plus.google.com inurl:about "contributor to"
That's how you can find high-quality prospects who will definitely show interest in the content you plan to write.
---
5. Engage and win leads
Start conversations to turn prospects into customers
If social media websites are full of your potential customers, why not reach out to them and start a conversation? If you do it right, your traffic and sales will grow, and you'll improve brand awareness in the meantime. Respond to questions related to your product, comment on trending topics in your niche, and remember to be entertaining, newsy, and culturally relevant.
Doing this manually is next to impossible as you need to interact with prospects in real time — the questions they are asking may no longer be relevant tomorrow. For your client takeover on social media to be effective, you'll need to use some kind of software.
In BuzzBundle, create a Persona and link your Facebook, Twitter, G+, Yahoo Answers, etc. accounts to it. This will let you post replies to people straight from the program.
Create a keyword group for keywords you want BuzzBundle to search for. In a minute, the app will find mentions of your keywords across blogs, forums, and social sites, and sort them by date. Join these conversations, help people with their questions, and mention your product and brand when relevant.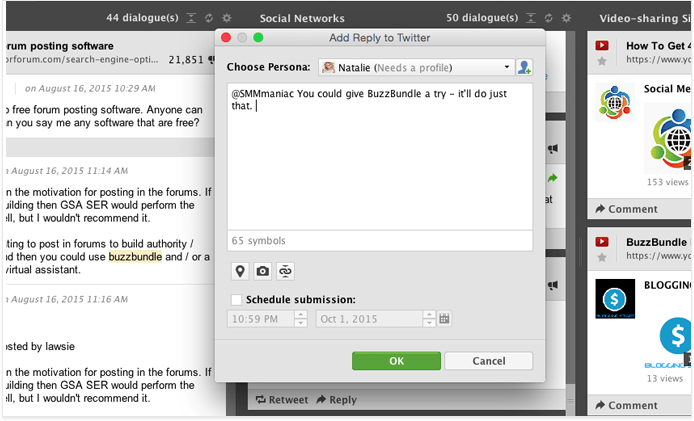 ---
A few extra tips before we go...
Here are some bonus tips to help you make the most of your social media campaign.
Search for reviews of your product — both positive and negative comments need your attention. Thank users in any case in your reply. Suggest solutions and offer help to people who are having a bad experience with your product.
Search for people looking for discounts on your (or even competitors') product and offer them a good price.
Search for competitors' brand names. Pay attention to negative reviews and politely recommend to try out your product. Don't overdo this though — no one likes pushy advertising.
SEO and Social don't have to live on separate planets — you can make them work together for your online marketing. While everyone's debating if Social has an impact on rankings, try not to focus on that. Remember that social is a huge channel that can provide you with priceless data for smarter marketing!
---