8 Little-Known SEO PowerSuite Features
Article stats:
| | |
| --- | --- |
| Linking websites | 5 |
| Backlinks | 5 |
| InLink Rank | 20.0 |
8 Little-Known But Highly Useful Features In SEO PowerSuite!
How about pressing some extra juice from your SEO software?
Going through loads of requests our support team gets every day, we've noticed that some folks aren't using the full power of their SEO tools, with many helpful features going unnoticed or underestimated. To make sure you get a full grip on the vast powers of your SEO software, we decided to create an actionable list of SEO PowerSuite's features that you might be missing out on:

Rank Tracker:
Go beyond search volume in identifying your best SEO keywords
Without manually sifting through countless Google SERPs

WebSite Auditor:
Find any broken functionality or content issues before the website goes live
The smallest change can dramatically improve your performance in SERP

SEO SpyGlass:
Stop chasing backlinks for the purpose of SEO alone; they are a traffic goldmine!
And distribute link juice wisely to give your SEO landing pages a ranking boost

LinkAssistant:
And an easy way to target a particular geo-location and improve local ranks
Not only on a particular page, but across the whole site
Ready to start?
---

Analyze your keywords' profit-generating potential before launching a full-blown SEO campaign.
Not all keywords are created equal. Some may seem appealing when you look at their search volume, but here's the twist: most of the frequently-searched-for terms are purely informational. While ranking for these will surely attract visitors to your site, they are unlikely to bring you the sales you're after.
The trick is, you need to concentrate on keywords that sell. But how do you identify those keywords? This is where you can make use of Rank Tracker's PPC data.
In Rank Tracker's Keyword Research module, switch to the PPC Analysis tab and take a look at the Cost Per Click column to find which of your keywords will convert better than others. If you need to update these values, simply select your keywords and click the

button.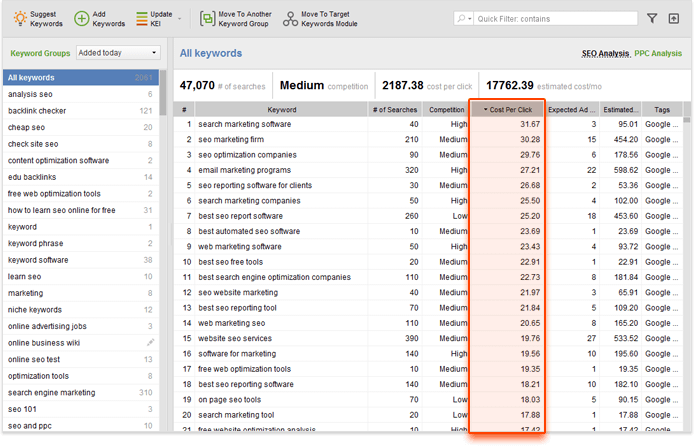 Google AdWords' Cost Per Click gives you a pretty solid idea of how well a term converts — basically, the higher the cost, the better it'll sell. It's pretty intuitive — the more an AdWords advertiser is paying per click, the more valuable that traffic must be for them. Click on the header of the CPC column to sort your keywords by their Cost Per Click — and their potential conversion rate.
Available in SEO PowerSuite
---

Quickly identify your top SEO competitors in any niche
Most probably, you already have an idea of who the big players in your niche are. But your main business rivals are not necessarily your SEO competitors (they could be targeting other channels than organic search). When it comes to SEO, your only competitors are the ones who rank in the first search result pages for your top keywords.
Checking Google results for all your keywords manually and compiling a list of sites that come up a lot is incredibly time-consuming. However, the Rank Tracker's automatic competitor suggester makes this task quick and easy for you.
In your Rank Tracker project, go to Preferences -> Competitors, and hit

.

Then, in the window that pops up, enter your main SEO keywords and choose the search engines you're interested in: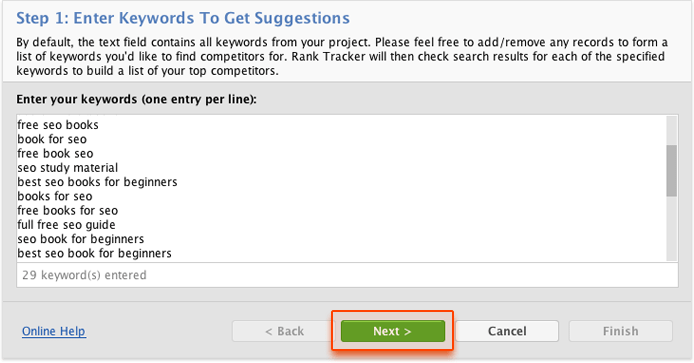 Rank Tracker will now look through the results in your target search engine and identify your biggest SEO competitors — domains that show up most frequently in top 30. Choose the competitors you'd like to add to the project, and hit Finish.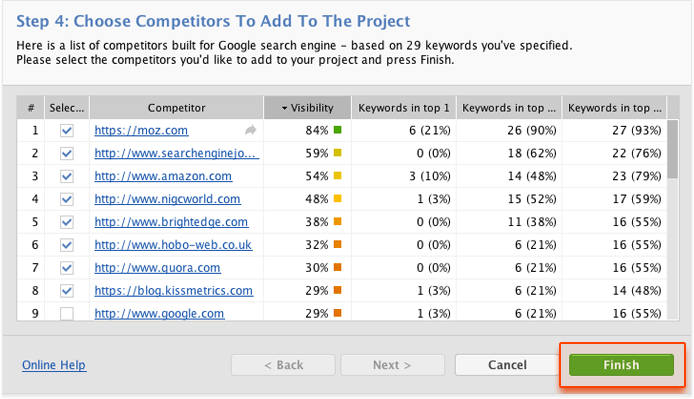 That's it — you've added your top SEO competitors to your Rank Tracker project. From now on, every time you check rankings, competitors' ranks will be updated along with your site's positions. This will let you quickly spot any changes in competitors' visibility and see how your website is performing in comparison.
Available in SEO PowerSuite
---

Optimize your website BEFORE uploading it to the Web
Once Google has already indexed your site and detected all its SEO issues, fixing them becomes way more time-consuming — you need not only to fix the issues themselves, but also remove the traces of them from Google's index. So, quite obviously, it's much better to run a complete SEO audit of your new or redesigned website before it goes live and find any broken functionality or content issues before the launch.
And this is where WebSite Auditor's option to run an SEO audit for a locally stored website comes in handy. However we've noticed that right now this extremely useful feature, though a total no-brainer, gets a good use only with pro SEOs.
Let's see how it can streamline you SEO process, letting you take your website live only when it's perfectly optimized in terms of structure and content.
All you have to do is create a project in WebSite Auditor for your locally-stored website.
In case you have a local server set up, you can use the site's local address (e.g. http://127.0.0.1/YourSiteName/)
And in case you simply have the HTML website structure stored on your computer, enter the path to the site's home page (e.g. c://YouSiteFolder/index.html )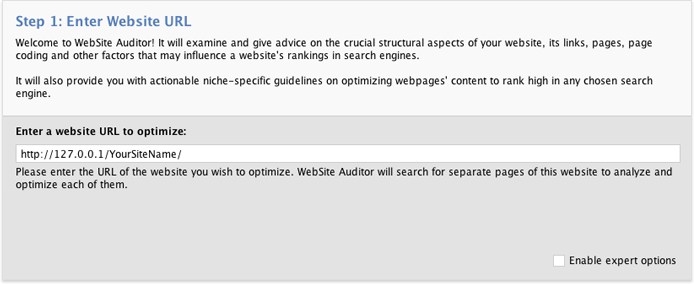 WebSite Auditor will crawl you website as usual, letting you detect any technical or content issues it might have.

Available in SEO PowerSuite
---

Optimize your Google snippets for higher CTR & more organic traffic
A lot of people in search marketing concentrate hard on the cores of SEO — getting quality backlinks, optimizing pages, and keeping up with the algorithm changes — all with the purpose of ranking higher. SEO is no easy job, and sometimes we get so caught in the work that we forget why we're chasing top rankings in the first place.
Well, here's a little reminder: your ultimate goal is not rankings, but the visits and sales that these rankings bring. And there's another important, frequently overlooked component that determines how many organic visits you get — your SERP snippet CTR, or, in other words, the number of searchers that click on your link out of the total searchers that see it on the SERP.
Quite obviously, the CTR depends on how compelling and click-attractive your site looks in Google search results. And sometimes even the slightest change — a word capitalized, a numeral added, etc. — can dramatically increase the SEO traffic you get. So why not review your page snippets and see if you can squeeze a little more clicks from each of them?
Here's an easy way to play around with your snippet without any coding skills required — you can edit your pages' title and meta description tags in WebSite Auditor's Content Editor module, testing different wording and checking how the snippet will look in Google's SERPs:
When you're done optimizing the snippet, hit Save page to save the upload-ready HTML file to your hard drive.
Available in SEO PowerSuite
---

Check how much traffic each backlink brings to your site
Chasing backlinks for the purpose of SEO, we quite often tend to forget that they can also play an important role in traffic generation.
So, besides looking at your links with a view of their potential to pass link juice, sometimes you need to analyze how many visitors and potential clients each of them refers to your site. And identify which websites work best for you in terms of the amount of relevant traffic they send your way.
To view your website's visits data, all you have to do is enter your Google Analytics login information in Preferences -> Google Analytics Account and choose the account and website profile to be used.

In the Backlink Profile - > Backlinks module, switch to the Backlink Traffic tab. Select your backlinks and click on the

button to let the tool collect data from your Google Analytics account. Once the process is completed, you will see the number of visits that came through each of your links over the past 30 days.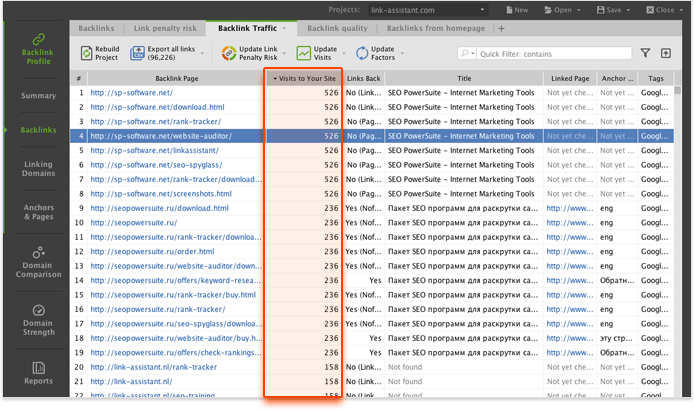 To see the visits coming from each of your linking domains, switch to Backlink Profile - > Linking Domains, and go to the Traffic coming through backlinks tab.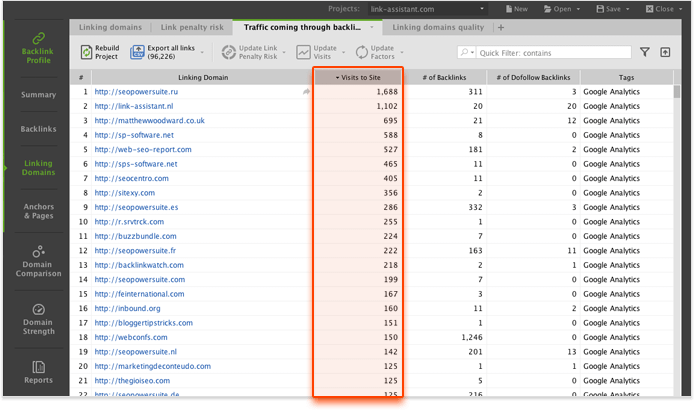 Available in SEO PowerSuite
---

Check the most linked-to pages of your site and the exact backlinks that point to each of them
While it's true that Google is getting more and more sophisticated in evaluating site quality, link juice (and hence PageRank) is still the core element in the algorithm, having a huge impact on your rankings. And that's exactly why you're striving hard to earn those precious links.
However, once you did the job of attracting some link juice to your pages, your next step is to distribute it wisely among your site's main pages. Just think of it, a single internal link from your high PR page can boost the rankings of the page you need to push up in the search results.
So, the question is: what are your most linked-to, authoritative pages that can pass some valuable link juice to other pages of your site?
In SEO SpyGlass, you can view the list of your top-linked pages, as well as the exact list of links that point to each of them.
Just go to Backlink Profile -> Anchors & Pages, and switch to the Linked Pages tab.

This is a quick way to spot your most authoritative pages at the moment, and see if your link-building strategy is going in the right direction.
Available in SEO PowerSuite
---

Finding link prospects for your local business' website
It's no secret that for local link building the location your links come from is much more important than their authority. For your local Springfield-based business, it's crucial to get links from websites in about the same area, even if those are small and young websites that have little SEO authority.
Thus, your link prospecting campaign should be a bit different too, focusing on location-specific backlink opportunities. And LinkAssistant can help you out with this task.
In LinkAssistant, click

to access the tool's link prospecting functionality. And pick the link prospecting method you're most interested in: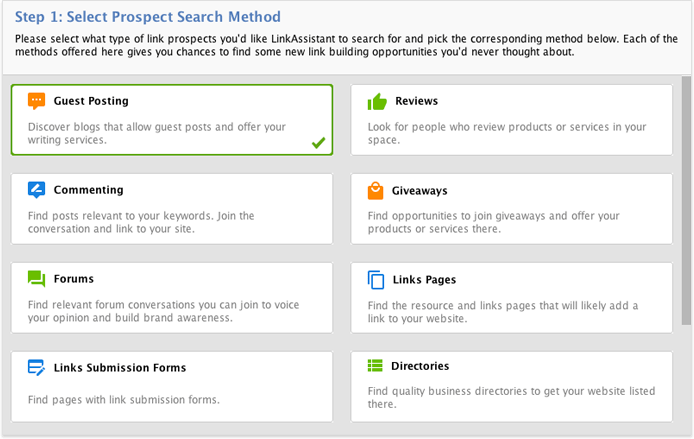 At the next step, you'll need to type in your keywords as usual, however with a small tweak — click on the three dots button, and in the drop down menu choose the Manage Search Engines option: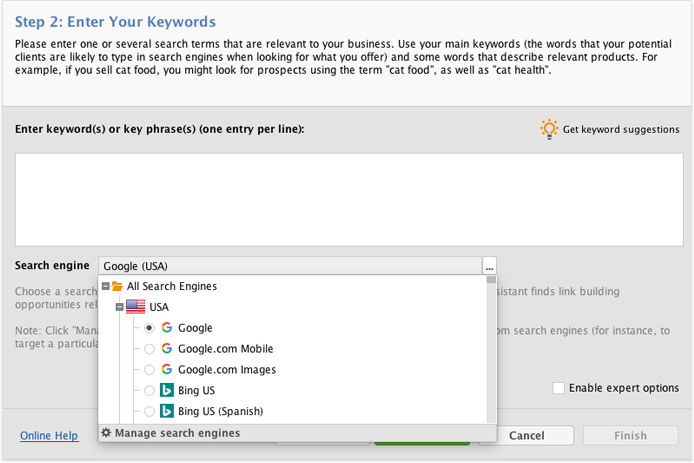 This will take you to the list of LinkAssistant's default search engines. And here, by clicking the Add custom link you can create a search engine for ANY specific location worldwide that you target.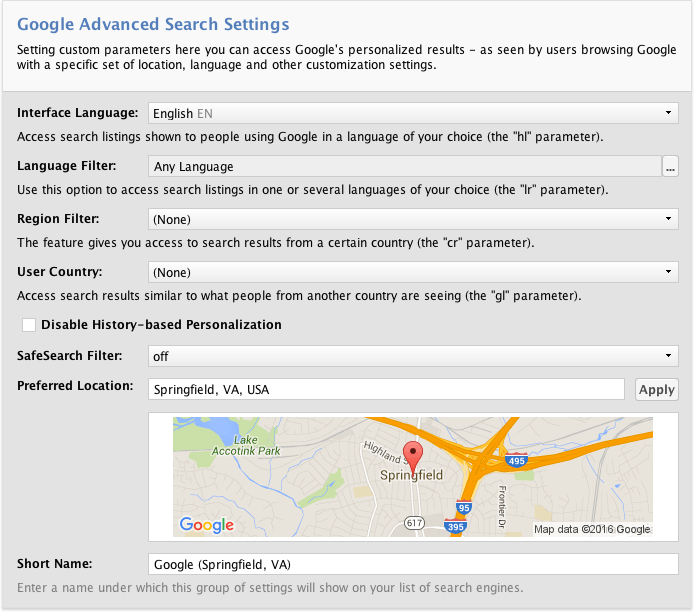 Once you've created the custom search engine, it will be automatically added to the list of your preferred search engines and you'll be able to pick it for link prospecting, so that LinkAssistant would only look for relevant websites that rank in your particular area and can raise your site's local relevancy.

Available in SEO PowerSuite
---

See if a website has any links to your site anywhere on it's pages
Another great way to use LinkAssistant's capabilities is to automatically check if any given website has a link to your site anywhere across its pages.
Just imagine, checking the entire website in search of a link manually would take ages. Luckily, LinkAssistant can do the job for you!
Open or create your project in LinkAssistant, and add the site you wish to check for links to your own website using the

button.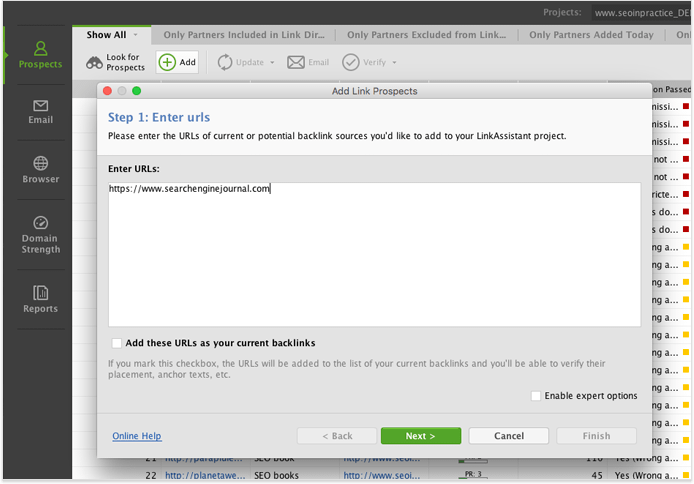 When the site is added, press the
button:

Choose No scan depth limits and press Next to start the scan (please, note that the scan may take some time, depending on the size of the website.)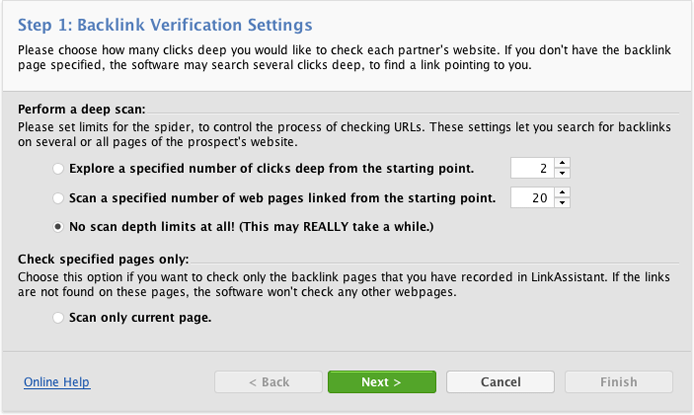 This is it — once LinkAssistant has finished scanning the site, it tells you whether there is a link to your website on any of its pages.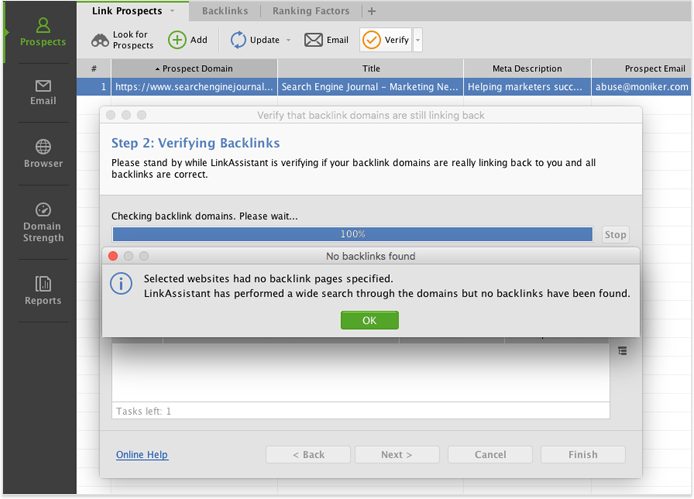 Available in SEO PowerSuite
---
Now you know what'll help you get even more productive with your website promotion. So why not take action on what you've learnt? Get your SEO PowerSuite license if you don't have one yet and take advantage of SEO PowerSuite's hidden features just unveiled.
P.S. What are your favorite "little-known features" in SEO PowerSuite? Please share your thoughts in the comments!