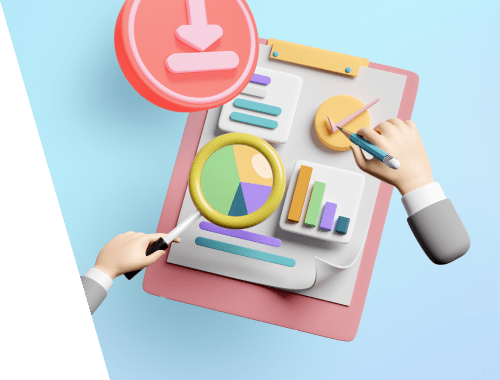 On-Page SEO Guide: from Ranking Factors to Content Optimization

On-page SEO (also referred to as on-site SEO) is more than just writing content for SEO. It takes thoughtful research and ongoing work of designers, developers, and the editorial team as a whole. From this on-page SEO guide, you will learn how to optimize your content effectively, and what tools will amplify the result.
Before we get down to specific on-page techniques, let's brush up a bit on SEO basics.
What is On-Page SEO?
On-page SEO is the practice of optimizing content for ranking higher in search results.
On-page SEO is associated with adding keywords into text, but it's not as simple as that. Nowadays, Google is highly focused on search intent. Besides, it uses dozens of user experience metrics to identify what value a page gives to the searcher. That's why on-page SEO cannot work miracles without all other website foundations working well together.
On-Page SEO Ranking Factors
Somewhat in 2009, Google told us there'd been 200+ factors that the search engine uses to arrange its organic listings. Since then, we've seen a lot of interpretation and myth-busting about ranking factors. But the truth is, Google is constantly updating its algorithms, so hardly anyone can show you an exhaustive list of ranking signals carved in stone.
According to John Mueller, Google wants to move away from this 200 number and warns against sorting out the factors by priority.
"I don't like to rank ranking signals... We've kind of moved away from the over 200 ranking signals number, because it feels like even having a number like that is kind of misleading in the sense that, Oh Google has a spreadsheet with all of the ranking signals and they can just sort them by importance and tell me which ones they are. And that's definitely not the case."
Anyway, for a self-check, here is a checklist of confirmed on-page SEO factors that influence rankings to a certain extent:
Keyword used in the title tag;
Keyword closer to the beginning of the title tag;
Keyword in meta description tag;
Keyword used in the H1 tag;
Keyword is used frequently in body text;
Keyword is present in image alt tags;
SEO-friendly URLs;
Anchor texts on links;
High-quality content;
Uniqueness and absence of duplication;
Freshness of content;
Page experience (Core Web Vitals);
Mobile-friendliness.
So let's go through these factors step-by-step and see which tools can save your time and effort in the on-page optimization process.

1. Add keywords in the title tag
Title tags are probably the most important on-page SEO element. They define whether a user will notice your URL on the SERP and click on it. In some cases, titles may be truncated and replaced by H1.
Our research into the recent title tag update showed that Google replaced all titles that are longer than 60 characters or shorter than 55 characters with H1. For some posts, it created a title of its own, coining the major keyword from H1 and the brand name. This might bear a massive impact on the organic click-through rate of a title. That is why title tags require particular attention.
Tips to optimize the title tag:
Keep titles around 55-60 characters long;
Put the major keyword closer to the beginning of the title tag;
Use strong verbs in the title with a call to action;
Use emotionally colored and superlative adjectives in titles;
Avoid click-baiting titles.
SEO PowerSuite how-to:
To check all your title tags sitewide, create a project in WebSite Auditor, and wait a while until the tool completes auditing the site. In the Site Audit module, scroll down to the On-page section. There you will be notified about too-long titles and empty title tags.
In the same section, you will see warnings about another important component of the organic snippet — the meta description.
2. Write unique and enticing meta descriptions
These are the short descriptions of around 145 characters that the searcher sees under the title. Google may create snippets automatically if the meta tags are empty or if they seem inadequate. Meta description influences the organic click-through rate of the snippet, so put a little more effort to use descriptions to your advantage.
Tips to optimize meta descriptions:
Keep meta descriptions approximately within 150 characters range;
Make your meta descriptions keyword-rich;
Do not retell what you have inside the article, rather add some emotional appeal and a call to click through to the article.
3. Chunk your content with proper formatting
Using semantically structured content helps Google understand pages better. This is the case for users as well. A clear article structure helps them navigate through your content and stay involved.
Research shows that online searchers read abruptly, catching around 28% of words per average visit. Another UX study shows that if content flows in one massive text, users tend to read in F-pattern. This is detrimental to both users and businesses because readers might skip important information.
A good layout and formatting ensure better content accessibility for users — and for search engines as well. And there are formatting techniques that prevent skipping patterns.
Tips to organize SEO content structure:
Split your content with headings and subheadings;
Make sure that you have only one title tag and H1 in your HTML;
Use headings H2 - H6 logically arranged;
Keyword-optimize your headings and subheadings, place them closer to the beginning of the heading;
Use numbered lists and bullet points;
Create the contents menu with internal hyperlinks;
Highlight key phrases with italics or bold type.
Note
The advice to have only one H1 tag is pretty common. However, some SEOs argue that multiple H1 tags on a page are not forbidden. They even become commonplace in some cases (for example, on single-page websites).
In fact, Google doesn't mind having multiple H1 tags per page: "Our systems don't have a problem when it comes to multiple h1 headings on a page… think about your users. If you have ways of making your content accessible to them, be it by using multiple H1 headings or other standard HTML constructs, then that's not going to get in the way of your SEO efforts."
I'd still recommend using this SEO practice because headings help Google understand the context. Besides, currently, Google may use H1 tags to replace title tags.
SEO Powersuite how-to:
To optimize all essential HTML components on an individual page, use the Page Audit module. Choose the Content Audit module and see if all your header tags, title tag, and meta description are optimized.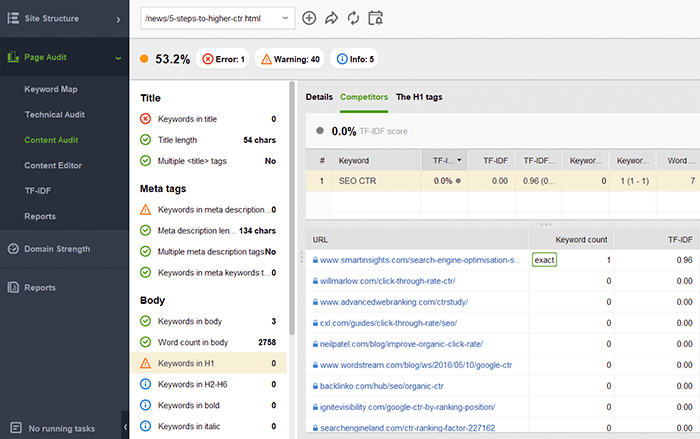 You will see the word count in the blog post and the keyword count for your mapped keywords. Besides, you will have a quick analysis of your competitors' title tags and H. It will give you an understanding of how to better optimize the organic snippet. The tool also estimates the average optimization score for the page.
4. Observe keyword density
Although keyword density is not mentioned as an on-page SEO ranking factor, this is how the search engine recognizes a word's prominence in the text. Keyword placement on a page also counts. People usually start reading from the top left, and that's where Googlebot starts scanning the page as well.
Tips to optimize keyword density:
Avoid long introductions, use the first few sentences to set the problem and go straight to the point;
Use your target keywords in the first 150 words of an article;
Have important keywords scattered all over your SEO content;
Avoid keyword stuffing because keyword density may turn into a negative SEO ranking signal.
SEO PowerSuite how-to:
After you are done with all necessary SEO audits, switch to Content Editor and start optimizing the article on the fly. There you will see how the optimization score improves while you're adding changes to the content. You can edit content and then download HTML. Alternatively, you can download an SEO task for copywriters in a PDF.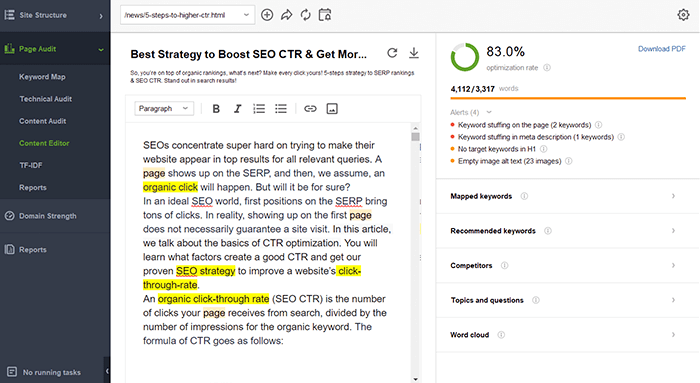 The SEO content editing tool includes functionalities to:
Map the seed keyword and calculate the optimization rate of the page;
Find recommended keywords based on the SERP analysis;
Review top competitors, get their URLs, traffic, and TF-IDF score to each keyword they use in the article;
Find additional topics and questions to cover in the blog post;
See the visualized word cloud and detect the most prominent keyword (for which the article is likely to rank);
Prevent keyword stuffing.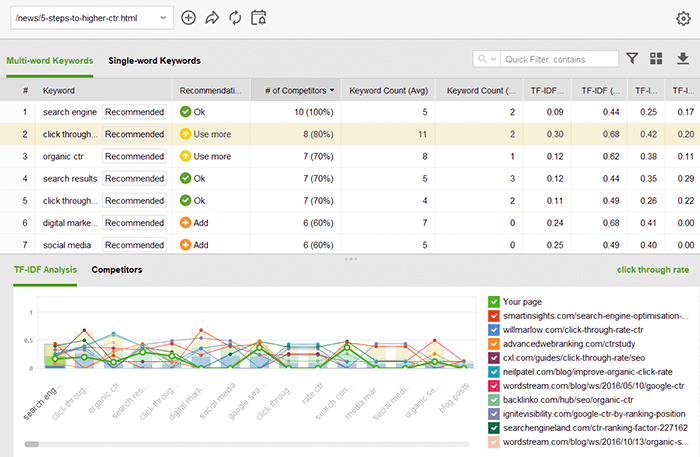 5. Rank your content in featured snippets
Hardly anyone doubts the power of rich results. Featured snippets may turn into a nice source of traffic. Likewise, a new rich feature appearing on the SERP may steal traffic from all other organic positions.
Chances to get a featured snippet are higher for content that already appears in some top page results. You've got to create in-depth content, covering the topic from different angles. Make sure you implement the above on-page SEO tips. And you can add some boosting signals to earn the desired position 0.
Tips to optimize your content for featured snippets:
Create SEO-friendly how-to guides, rating lists, comparison reviews, and title them accordingly;
Create longer lists to increase organic CTR from the featured snippet;
Answer multiple questions related to the topic;
Use FAQ schema;
Implement structured data for some types of content (recipes, products, etc.);
Add emotionally colored words and modifiers to title tags (best something);
Add the current year to the title to underline its freshness.
6. Create valuable content
Google has shared the E-A-T Guidelines for content creation. While E-A-T is not a ranking factor as such, it represents a bunch of factors that altogether impact the way an individual page and the whole site will perform in organic search.
Not only copywriters should create SEO-friendly content that is original and high-quality at the same time. The website team should stick to a common SEO strategy to build up the overall site's trustworthiness and expertise.
Improve your content readability and style with content writing tools;
Avoid duplicate content and check it for plagiarism;
Quote high-quality resources external (no, outbound links won't dilute your PageRank);
Ask for backlinks from high-quality sites in your niche;
Encourage activity in social media;
Add research data and infographics;
Add author profiles, the date of publication.
7. Choose the right type of content
Google has been pretty explicit that content is the key to ranking. But how do you know which type of content will rank best? Have a quick review of the SERP and see which types of articles are ranking first. The SERP analysis will give you a clue what kind of articles prevail on the SERP for this particular query.
Types of website pages:
Home page
Category page
Blog posts
Product pages / Service pages
Landing pages
About us, Policy pages
etc.
First of all, the page type of ranking competitors is important. If the ranking page is a homepage, it will be hard to outrank it because the page is likely to have much more page strength signals. Blog posts are more likely to have informational or investigational search intent, whereas landing pages are optimized for transactional queries.
Content formats to create:
Listicles
How-to guides
Interviews
Reviews
Long-reads
Videos
etc.
Content formats differ by their comprehensiveness, rich features they can obtain in Google, and even the types of queries they rank for.
SEO PowerSuite how-to:
Use the SERP Analysis feature in Rank Tracker. Paste the target keyword, and the tool will pull out the top 50 URLs from the SERP.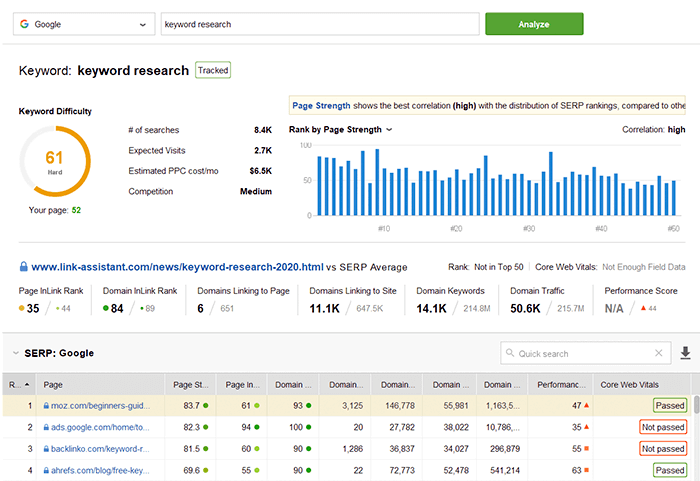 You can quickly preview the posts and get a bunch of useful SEO stats telling what page factors correlate with a page's ranking power. Based on this, you will see what type of page you need to create and where to apply your maximum optimization efforts, either keywords or backlinks or something else.
8. Investigate search intent
Google is particularly keen on search intent because this is what spares users' time and attention. Over the decade, keyword research has evolved as much as AI behind the search. No surprise Google understands synonyms, corrects spelling mistakes, and interprets whole sentences.
Classifications of search intent may have slight nuances, but generally, the types are as follows:
Informational search intent: search term for general awareness, often short-tail key phrases;
Investigational search intent: narrower search term, answering specialized questions like how-to, what, where, when; answers often contained in reviews, listicles, etc;
Transactional search intent: query indicating some purpose and action, like buy, discount, sale;
Navigational search intent: relates to finding something on the web, like login, cart, contact.
Tips on modern keyword research:
Use long-tail SEO;
Optimize your content for local keywords and specific search engines;
Optimize for voice search (in other words, explore spoken questions users ask over voice search, and write answers for them);
Track rankings for mobile devices separately and implement mobile SEO;
Use keyword mapping to track your optimization efforts.
SEO PowerSuite how-to:
Free Rank Tracker gives access to 24 keyword research methods, including Autocomplete Tools, Related Questions, TF-IDF Explorer, etc. You can integrate Search Console and Keyword Planner to find and test queries you're already ranking for. The tool allows specifying the settings for any geo-location and search engine. You can research search volumes and track rankings for mobile devices separately.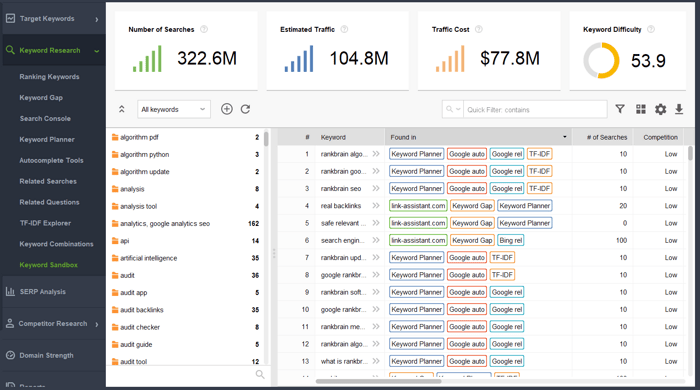 Instead of listing all keywords and landing pages in spreadsheets, use the Keyword Map module to assign a keyword to a page. Track how the organic ranking changes after you implemented all your on-page optimization tactics.
9. Mind content length
Word count is not an on-page SEO factor, although studies try to find some ranking correlation.
"Word count is not a ranking factor. Save yourself the trouble."
Then why bother how many words the copywriter has written for a writing assignment? Will anyone ever reach the bottom of a 4000+ article, you may wonder.
Some studies aim to prove that long content ranks better. Why so? A comprehensive article is likely to rank for a larger number of keywords. It's by far more compelling because it will have more facts and data. It takes much work, resources and ideas to create a great story. That's why long-reads are likely to be quoted, shared more willingly, and gather more backlinks.
(Omit red-carpet gossip, the news is a totally different story; although the long-read format has proved its value in the news industry as well).
On the other end of the scale, there lies thin content. Too much thin content sitewide puts your rankings at risk of the Panda penalty. On a marketing site with poor product descriptions, optimize your content by adding a few more words about them, describe distinctive features of the products, and you will surely see a slight ranking improvement.
How to deal with it? Have a look at the word count average for top-ranking websites, and decide which content length you need.
SEO PowerSuite how-to:
WebSite Auditor calculates the average word count, and you can see the existing length minimums and maximums in the Content Audit > Body tab, switching to Competitors analysis. Just remember it's a recommendation, not a mandatory task.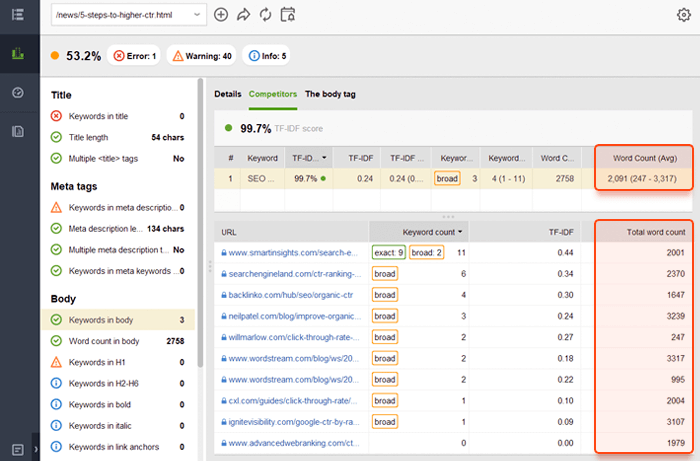 10. Optimize URLs for SEO
Google confirms that URL is "a very-very lightweight" ranking factor in the sense that this is the first thing the Googlebot sees in a new page. But when SEO content comes into play, URLs tend to be less important.
However, it may be embarrassing for people to share clumsy URLs with too many symbols. So it's just a good SEO practice to publish on SEO-friendly URLs.
Tips to optimize URLs:
Create descriptive URLs with keywords in them;
Create short URLs or use URL shorteners for sharing;
Avoid special symbols in URLs that make them look clumsy.
SEO PowerSuite how-to:
In WebSite Auditor, check the URLs section in Site Audit. There you will find too long URLs and dynamic URLs.

Another helpful feature is to check the click depth of all pages and see which of them are buried deep in your site structure. Make sure that all your important pages can be easily accessed within 3 - 5 clicks maximum from the homepage.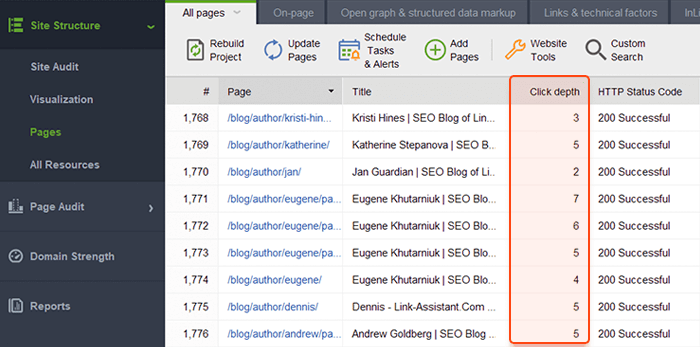 11. Optimize your content with internal linking
Internal links are crucial for on-page SEO because they help organize content in clusters. Pages are structured into silos where one prominent page is backed by narrower, more in-depth subtopics.
The pillar-page structure is pretty common, although the SEO tactic for internal linking might be a different one depending on the purpose.
Sometimes search results even include so-called sitelinks on the Google SERP. This cannot be influenced, Google shows them only if the site structure helps identify the pages as important; in other words, the search engine deems them useful for users.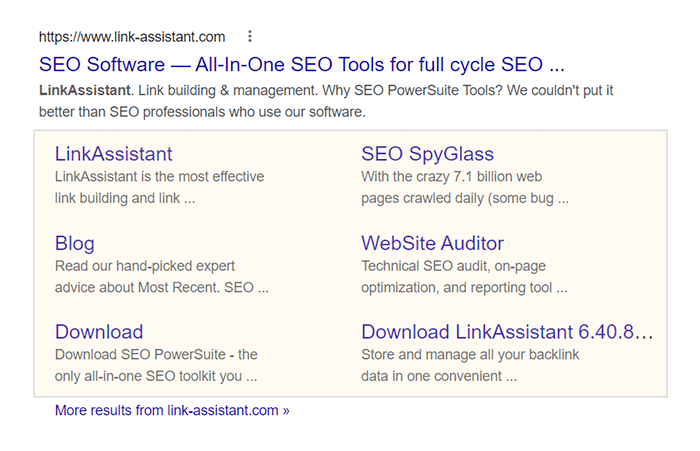 Besides site structure, text anchors serve as an additional SEO factor that helps identify a page's topic, relevance, and value.
Tips to optimize internal links:
Remove orphan pages by linking them to some other pages;
Remove broken links and too long redirects;
Add keywords into anchor texts;
Diversify anchors.
SEO PowerSuite how-to:
For a quick check of the site structure, use the interactive Visualization map in the Site Audit module.
It enables website editors to:
Remove or add new pages and links;
Identify broken papes, unlinked pages;
Review click depth, pages' PageRank, and pageviews, to estimate the page prominence.
12. Ensure great page experience
Strictly speaking, this part relates to technical but overlaps with on-page SEO. Page loading and UX may have a serious impact on ranking, especially after the Core Web Vitals update rolled out entirely in summer 2021. Pages should load as fast as possible, and users should be able to access its content easily.
There is the Gutenberg rule principle showing how users interact with a web page.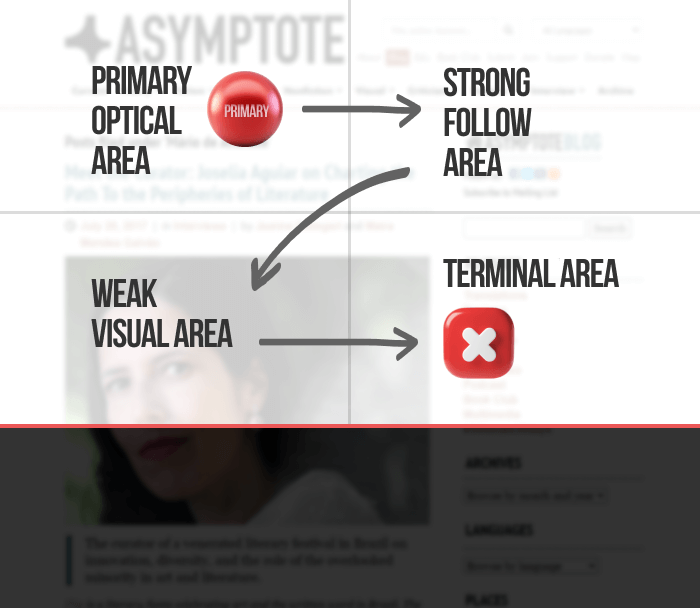 In the terminal area, the user decides whether to scroll down or exit. If the user does not interact with a page or leaves it only a few seconds after the page loads, it's a bounce. It means that reaching this user in the organic search was meaningless.
Tips to optimize on-page UX signals:
Boost your page speed;
Push important content above the fold;
Remove intrusive pop-ups;
Use a user-friendly layout;
Run the free mobile-friendly test to check responsiveness.
SEO PowerSuite how-to:
You can use the Website Auditor to check your Core Web Vitals score for all pages in bulk (using Google PageSpeed API, you will be offered to add the key once you create the project, or you can do it at any step later). In Site Audit, scroll to Page Speed factors and inspect those marked as errors or warnings.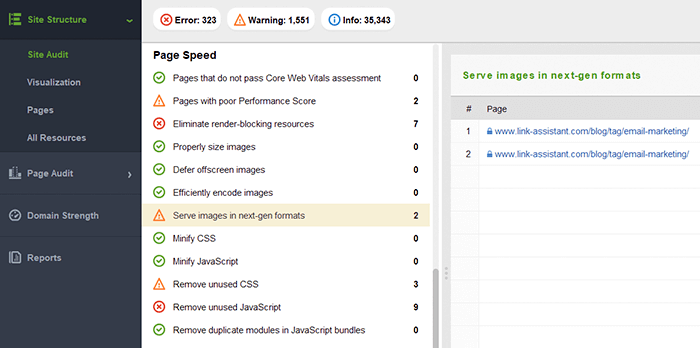 In the Pages module, you can switch to the Page Speed tab and update the page speed scores for individual pages. The tool will deliver stats if they are available from Google API (some field data may still be insufficient).
13. Optimize images for SEO
Images boost on-page SEO in a variety of ways. Images draw attention, show up on image-based search engines, increase dwell time, boost social sharing. However, large heavy images may spoil the page load time. It is a must to conduct and set standard requirements for image use for content creators.
Tips for on-site image optimization:
Use images in next-gen format;
Add keywords to file names and image URLs;
Add keyword-optimized alt texts to images;
Fix broken images.
SEO PowerSuite how-to:
In the Site Audit module, find the basic information about broken images and missing alt texts.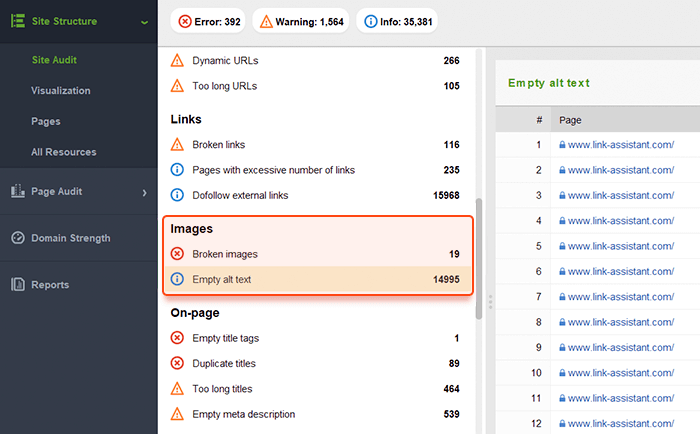 Another place to check images is in the All Resources tab. There you can review all the resources, including images, for their size, server response time, and robot's txt instructions.
14. Create deeper user engagement on your site
I guess everyone knows how much user behavior matters to SEO and sales alike. The click-through rate, bounces, dwell time, page views per session — all these fall under the most thorough scrutiny while optimizing customer journey down the conversion funnel.
Tips to optimize for better user engagement:
Enable user comments to boost dwell time on page;
Add social media sharing buttons;
Set up site search to know what users are looking for;
Suggest related articles;
Implement breadcrumbs.
Breadcrumbs show the path you need to click to find the current page from the homepage. Breadcrumbs are shown above the title on search results and this way indicates the page's importance and hierarchy. They improve navigation sitewide and bring benefits to both users and SEO.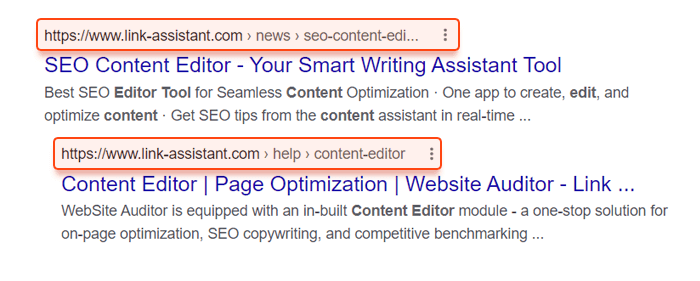 15. Some more guides for on-page SEO
On-page SEO, together with off-page SEO and technical SEO, are the three pillars of search optimization. Each component is equally important for success and should be optimized to the best level possible.
Go through SEO basics in our comprehensive SEO guides:
And as a bonus, here is our on-page SEO checklist to use for a self-check when improving your pages. No credit card required, not even an email. Just download it and get to work!
Download On-Page SEO Checklist

Article stats:
| | |
| --- | --- |
| Linking websites | N/A |
| Backlinks | N/A |
| InLink Rank | N/A |