Powerful Google rank checker
Adjust your SEO strategy and be #1 in Google search results
Free Google rank checker to see rankings instantly
Wondering how to check Google rankings for hundreds of keywords? Let Rank Tracker reveal them for you with a click of a button.
Just paste your site URL, and the SEO ranking checker tool will quickly find it out. Discover how well your pages ranked in Google, their positions, search volumes, traffic, and more.
Compare Google rankings on desktop and mobile
With mobile-first indexing in full action, losses of traffic can be caused by mobile incompatibility. So, checking rankings on desktops and mobiles can be a good idea.
Add Mobilebot as a separate search engine and compare your keyword rankings on desktop and mobile devices.
Check Google SERP features
Wondering how your pages stand out from other competitors with Google's rich results? The rank checker will deliver to you a complete picture of Google's SERP results:
and other real time results
Local Google rank checker
It's no secret Google rankings for the same keyword vary greatly from one location to another. But with accurate non-personalized rank data, the tool will help you leverage your international SEO efforts or a local SEO strategy.
Rank Tracker supports 597 international and local search engines, with all localized versions of Google.
The tool will provide you with the most accurate localized Google keyword rankings as if from different countries and even check rankings on Google maps.
SEO ranking checker with Google tools integration
Find your Search Console and Google Analytics data right inside Rank Tracker!
Along with keyword rankings, search volume, competition, and difficulty for each keyword, compare the bounce rates and the number of actual visitors brought by each keyword to your website.
Google Rank Tracker with all metrics
crucial to an effective SEO strategy planning:
Search volume
The number of searches in Google over the past month
Competition
How tough your competitors are in Google search
Keyword Difficulty
How hard it will be for your page to rank fo each keyword on Google
Expected visits
Number of expected monthly visitors if the page ranks #1
KEI
Keyword Efficiency Index, the ratio of the number of searches to competition
Cost Per Click
Estimated cost per click as per Google Ads
Google rank checker for competitive intelligence
Add up to 5 competitors' websites to your Rank Tracker project (40 for Enterprise Edition) and quickly check keyword rankings for them all.
Track how Google SEO ranking changes, tweak competitors' strategies, and stay on top of the SERPs.
Google Rank Tracker with easy data sharing
Rank Tracker lets you copy and paste all your data to an Excel sheet.
Besides, the tool allows exporting into CSV, XML, and other formats with just a couple of clicks.
And its in-built reports provide a concise overview of your ranking progress. For Enterprise users, there is a possibility to send the reports to an email or share them in the cloud.
Google position checker with SEO task automation
Automate your Google position checker. Set up an automated task, and Rank Tracker tool will update your Google keyword rankings on autopilot.
Moreover, the rank checker will deliver the report in your preferred way: save to your desktop, store in cloud with a shareable URL, or automatically send to your or your clients' email boxes.
Custom keyword ranking reports
The Rank Checker lets you create your custom Google rankings reports based on 8 pre-made reporting templates.
Edit your color scheme to match your company design, add the contact information and brand logo, add and remove data blocks – the rank tracking tool lets you create informative ranking reports that will look fabulous both on desktop and mobile devices.
And with a white-label feature on SEO reports, this Google website rank checker is a great find for freelancers and SEO agencies.
All reports contain sample data that does not represent real websites' analysis
Sample keyword rankings reports
Ranking Summary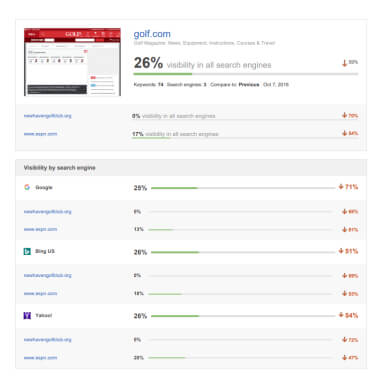 Sample keyword rankings reports
Keyword Rankings and Visibility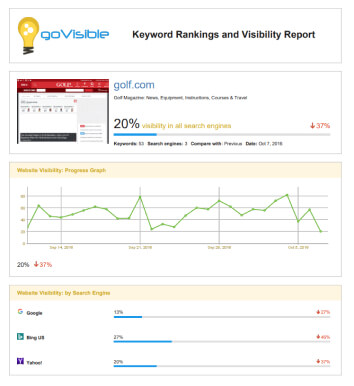 Sample keyword rankings reports
Competition Rankings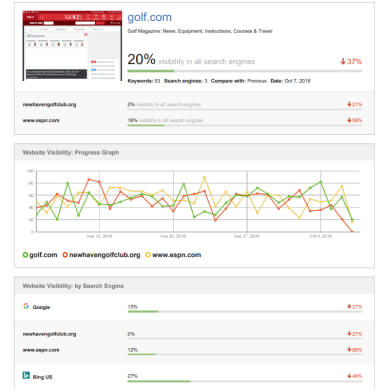 Sample keyword rankings reports
Keyword Research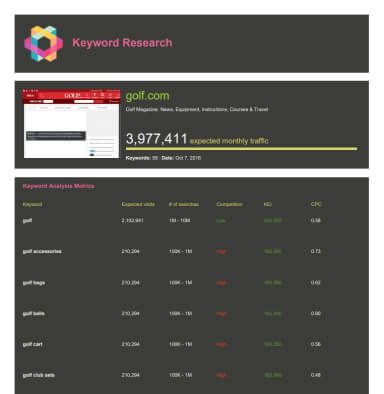 Advanced ranking checker tool opens doors to time-saving SEO insights:
Track your keyword rank history and visibility in Google organic results
Take notice of SERP fluctuations and Google algorithm updates
Tracks multiple results for a keyword on Google make the most of your rankings
Checks if the right landing page ranks for your keywords and fix keyword cannibalization
Research keywords with Google suggestions and 20+ in-built keyword tools
Group keywords automatically and prioritize them for SEO and PPC campaigns
Check Google rankings with Rank Tracker
Loved by SEO professionals for being fast and reliable. Not yet sure? Try yourself:
Frequently Asked Questions
What is Google Rank Tracker?
Google Rank checker is a tool that finds a site's Google rank in organic results for a search query.
Is Google Rank Tracker free?
This free Google rank checker allows checking keyword rankings for an unlimited number of keywords absolutely free of charge, without saving the ranking history, though.
How do I check my Google ranking?
To check your Google ranks manually, you need to search every keyword in the incognito mode with all browser cleared cookies. Instead, to check rankings faster and secure from personalization bubbles, you can use Rank Tracker. Paste the URL of your website to create a project, add your target keyword or keywords in the workspace, hit Next. In a few moments, the Google website rank checker will instantly show your pages' positions in organic search.
What does it mean to rank on Google?
To rank on Google means to optimize your pages for your target keyword so that it appears in the first search results page (SERP) on Google and brings you organic traffic.
How much does Google Rank Tracker cost?
Our Google Rank Tracker comes in three versions: Free, Professional costing $149/year, and Enterprise costing $349/year for a standalone SEO ranking tool. Purchasing the whole SEO PowerSuite bundle, you will get four SEO tools, saving twice as much if they were purchased separately.
How much does it cost to rank #1 on Google?
Even with our free Google rank checker, it will be easy to rank #1 on Google. Basically, it will take only your ranking checks, keyword research, and a little optimization effort, which means it may cost you nothing. However, for large-scale SEO campaigns, you will surely need professional versions of the rank checker.