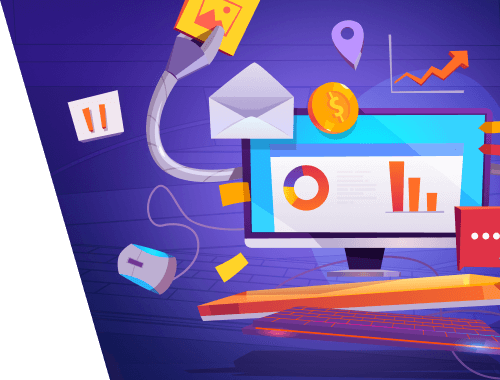 Choose Your Best SEO Automation Software to Run SEO Tasks on Autopilot
SEO is not something that can be fully automated. Search optimization is a long-term activity that takes months to start bringing tangible results. People change, languages change, web technologies change over time. SEO is constantly changing too because it is based on people's behavior and interests. The only way to stay up-to-date is to track SEO metrics, do research and adapt to new trends. There are a bunch of SEO automation tools that pull data for SEO analysis. Here, we've made a list of automation tools for marketers, each of them addressing some specific aspect of search engine optimization.
Where to use SEO automation software?
There are always a bunch of tasks in search engine optimization to set up manually from the start: check the site's online visibility, how much traffic it has, what keywords it ranks for, and audit for technical errors.
Once you research and fix all the issues, you need to figure out if it's been worthwhile. Has your site improved its position? Have you gained more organic visitors? Finally, do users find what they need, do they convert into paying customers?
To answer the questions, SEOs track the progress, analyze reports, and develop their SEO strategies. That's where SEO automation for repeated tasks saves a lot of time and effort. Rankings check-ups, monitoring technical SEO and on-page SEO, tracking backlink profiles ‒ these tasks can be and should be automated.
SEO PowerSuite
SEO PowerSuite is a set of desktop SEO software containing four tools: Rank Tracker for position tracking, WebSite Auditor for site optimization, SEO SpyGlass for backlink checkups, and LinkAssistant for link building and outreach management. All four parts in SEO PowerSuite's enterprise versions include SEO automation tools to do automated checkups, send alerts, and manage SEO reports on autopilot.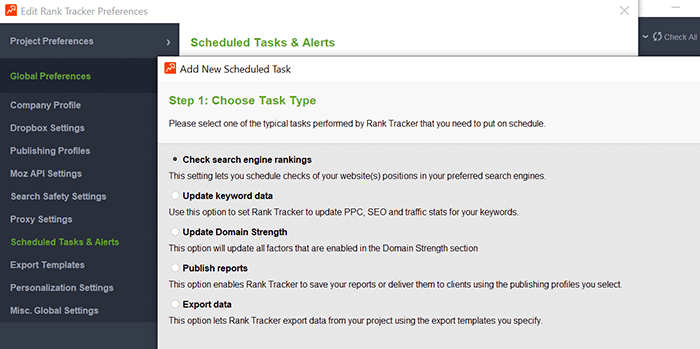 For any report, you can schedule to export data automatically and pick the information that you need in the report. The predefined reporting templates are easily customizable with the drag-and-drop editor. Users can add necessary widgets, change color schemes, and add a company logo for creating a unique brand appearance for the SEO reports.
Rank Tracker is a powerful keyword tracking tool that performs automated keyword research, checks SERP features, records SERP history, and conducts thorough competitive research. The tool does automated position tracking to see how rankings and visibility change over time after you optimize your pages.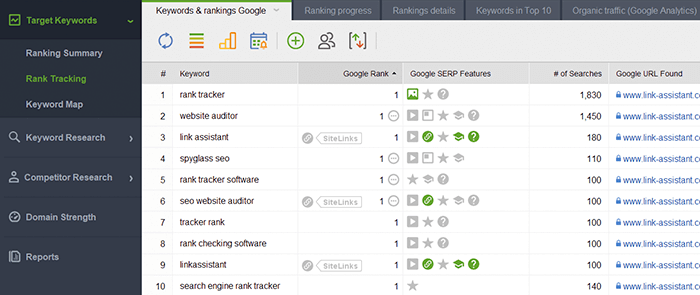 You can schedule a task to update keyword rankings, keyword data, or overall domain strength. You can assign tags to certain groups of keywords and set the automated task to update information for keywords with the assigned tag only.
WebSite Auditor performs automated site crawls to ensure that you have no on-site and on-page issues. It checks indexation, redirects, sitemaps, hreflang tags, and other technical factors that may escape your attention if checked manually.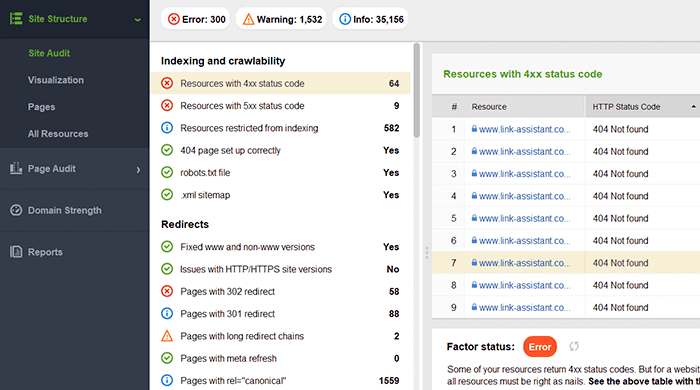 Besides, the WebSite Auditor checks page speed and does a bulk SEO analysis of Core Web Vitals metrics across your pages. Set an automated check-up and get an alert when errors appear.
SEO Spyglass supports backlink profile checkups to monitor the flow of inbound and outbound links. With backlink monitoring enabled, you can get an alert whenever your site suddenly loses lots of links or gets hit by spam backlinks.
And LinkAssistant, being initially a link-building tool, does automated checks to verify that your backlinks are all live and dofollow. Another useful feature of LinkAssistant is the in-built automation tool for email scraping.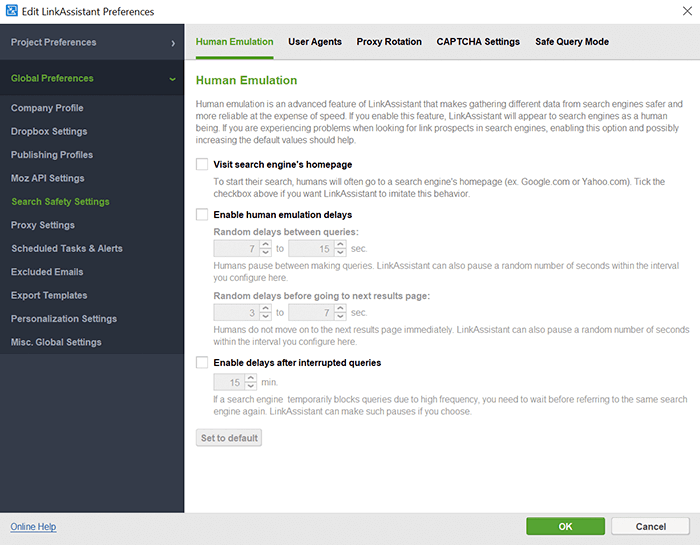 Advanced safe search allows switching user agents, proxy servers, and resolving CAPTCHA automatically when looking for contact information on web pages.
SEO PowerSuite allows sharing reports with clients automatically via the selected publishing profile. All four SEO automation tools let you send reports by email, store them in-cloud and access them with a shareable link. Alternatively, the reports can be stored on the hard drive or uploaded to your website via FTP.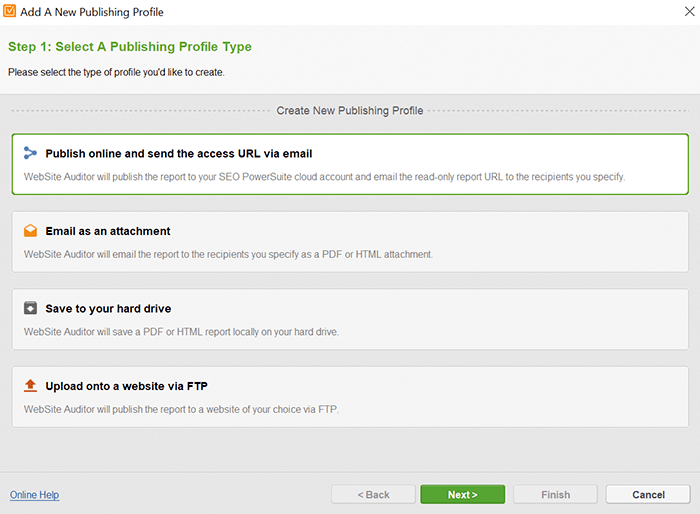 You can set up the automated task in Project Preferences, and the tools will run them in stand-by mode. Pick the schedule for the recurring tasks: the checkups will be conducted daily, weekly, or monthly.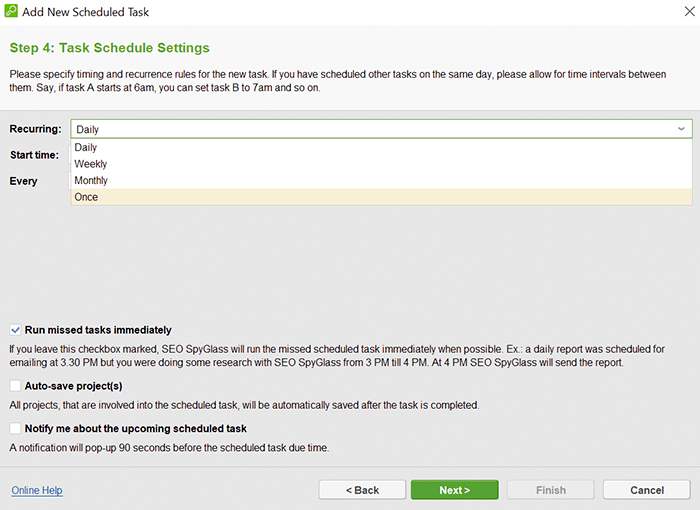 The SEO software is perfect for small businesses with in-house SEO. The White Label feature makes the suite also convenient for SEO agencies alike.
Download SeoPowerSuite for free
We'll send you one email a week, jam-packed with the latest SEO news, guides, amazing offers, and all kinds of Digital Marketing goodness.
SE Ranking
SE Ranking is a cloud-based platform that lets you plan and implement a complete strategy from beginning to end. SE Ranking contains all the important SEO automation tools to make search optimization professional: keyword rankings monitoring, backlink check, website audit. A special feature is a marketing plan with a to-do list covering all stages of an SEO campaign, from site checks and content optimization to social media strategy and outreach.
SE Ranking has earned positive reviews for its intuitive interface and user-friendly dashboards. There is a reporting feature with a drag-and-drop editor that lets you compile your custom white-label reports. The reports are professional-looking and easy to understand. This makes them convenient for smaller agencies to explain site audits to their customers. There is a scheduler option to send reports to clients on autopilot.

SE Ranking integrates with Google Analytics and Search Console and allows making SEO vs PPC estimation. Besides, it integrates with Facebook and Twitter and enables auto-posting. Like many other marketing automation tools, SE Ranking perfectly suits small businesses and online advertising professionals.
SEMrush
SEMrush includes all SEO automation tools for a complete optimization workflow. SEMrush position tracking tool enables automated keyword research and tracks organic search positions. SEMrush site audit tool checks over 130 technical factors. SEMrush brand monitoring tool performs link profile checks and detects brand mentions for link-building opportunities. This is a powerful tool that will satisfy the needs of large SEO agencies.
For working with clients, SEMrush report builder allows creating custom reports. To build a report, select relevant widgets and customize the settings. The report builder automatically updates the information every time you generate a new report. You can use them as templates for future reports. There is a scheduler to deliver reports to the customer inbox after the automated task is over.
Screaming Frog
Screaming Frog appears on our list of SEO automation tools for an interesting automation hack. This is a desktop SEO spider that crawls websites for all possible kinds of site errors: broken links, redirect chains, duplication, and tons of other features relating to technical SEO. The automation tool, with its original looks and workflow, is valued for quick and simple check-ups. The licensed version enables crawl scheduling.
If you want to have an automated SEO analysis from your scheduled crawls, here is an idea to export data to Google Sheets (to collect data from successive checks, there is an Archive Data add-on) and use them for reports in Data Studio. These tools for SEO let you build awesome reports on a really low budget.
Little Warden
Little Warden is an automation tool with a focus on the security and correct technical functioning of a website. Little Warden lets you set up regular checkups of over 30 technical SEO factors for basic performance: SSL certificates and domain expiration, robots.txt file indexability, redirects from HTTP to HTTPS, 404 errors, validates sitemap, tracking codes from Google Analytics, and checks malware detection.
The tool synchronizes and imports data from Google Search Console and lets you patrol hundreds of URLs. You can get a daily report of what has changed on the patrolled URLs, as well as monthly renewal reports that alert about certificate expiration.
Traffic Booster
The next on the list of automation tools for marketers is Traffic Booster by StoreYa which helps e-commerce companies handle their PPC ads. Traffic Booster's AI algorithms use over 300 parameters for SEO analysis to increase sales at the lowest costs. The tool provides cross-platform dashboards showing visitors, orders, and revenue per channel.
Traffic Booster defines a brand's target audience, spots keywords suitable for PPC campaigns. Then it helps you pick the most effective tactics and channels to serve ads. Traffic Booster's marketing experts create personalized ad campaigns and make them automatically optimized for relevant platforms, such as Google Search & Shopping, YouTube, Remarketing, Smart Display, Facebook & Instagram acquisition, and Retargeting ads.
RIO SEO
RIO SEO is a local marketing automation platform helping businesses grow on the web. Their Open Local Platform powers marketing solutions for multi-location brands. The suite is great for large e-commerce enterprises.
The platform helps companies to appear in local business listings, claim Google My Business listings, and earn reviews to improve local ratings. RIO SEO contains a search optimizer automation tool for optimizing web pages on a multi-location basis. It also draws local mobile web traffic through an enhanced mobile user experience.
With data-driven web analytics, RIO SEO ensures that enterprises will have better customer engagement and more conversions. The platform is a featured GMB partner, and it integrates with Facebook, Yelp, Foursquare, Apple Maps, etc.
Awario
Awario is a social listening tool that tracks mentions across social media and measures online brand reputation. All you need to do is set up an alert to track the brand name or any major keyword. You will receive regular notifications in your inbox where they have been mentioned on the web, in news, blogs, and social media like Facebook, Twitter, Instagram, Reddit, etc.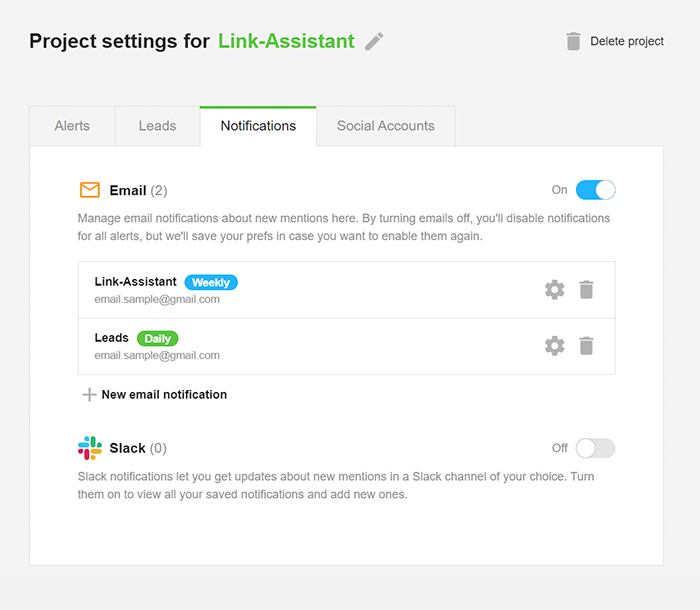 The automation tool detects sentiment analysis of comments. This enables digital marketers to tackle brand reputation issues and deliver better customer satisfaction. A special lead generation feature in Awario finds posts that are highly likely to bring convertible users. The Boolean search feature lets you find linkless mentions and ask the people to add links, boosting your site's link profile (and traffic too).
Buffer
Buffer is a social media management tool that SMM publishers love for easy use and insightful dashboards. It has a fairly limited free account, but the paid version is quite affordable and powers clear analytics on your posts. That's a handy tool for publishers to schedule a post and publish it from one tool across multiple channels. Buffer allows you to engage with the audience and reply to your social media comments from the desktop.
In the paid versions of the scheduler, you will get all the analytics in one simple dashboard. The tool is great for bloggers and small businesses to develop their social media strategy.
Cyfe
Cyfe is an all-in-one business dashboard that lets you connect data and track different types of information, including SEO and SEM metrics. The tool is able to pull in data from several sources into one dashboard so that you won't need to switch dashboards, log in to several marketing tools. The platform has custom widgets and integrates with multiple data sources like Google Ads, Facebook, YouTube, Mailchimp, Jira, iTunes, and tons more.
The data are visualized in the dashboards for all types of reporting, including marketing, sales, finances, project management, etc. The white-labeled reports are automatically shared via emails and public links.
For example, you can add a pre-built Moz widget to monitor a site's authority in search without the need for a paid Moz account. Site performance can be tracked by adding a widget for Google Search Console. With a competitor tracking dashboard and RSS feeds, you can monitor your competitor's content, email, and social media strategies at a glance. Once you configure your dashboard widgets, set up rule-based SMS alerts. You'll get a push notification on mobile if anomalies happen that require special attention.
DeepCrawl
DeepCrawl is a powerful automation tool for tech-savvy SEO experts. It is great for search engine optimization on large e-commerce sites, especially to improve technical SEO. The tool stands out by its automated SEO testing that helps to ensure that the code is SEO-friendly before it's released on the site. The SEO software integrates with business intelligence tools like PowerBI, connects data with data lakes such as Azure, automatically sends data to data science tools like Python Pandas and Jupyter, and visualizes SEO success in Google Data Studio.
Sistrix
Sistrix is an automation platform for all aspects of SEO and digital marketing with a focus on sellers on marketplaces. The tool does all the same for a complete SEO audit and optimization. Plus it spots top-performing sellers on Amazon, and most popular influencers on YouTube, Instagram, and TikTok. White-labeled reporting makes the services attractive for large SEO agencies alike.
Python for SEO
And last but not least on our list of SEO automation tools is using a bit of programming in Python. This will better suit computer geeks who love spreadsheets and scripts, although it's not that complicated. With the help of free coding and free analytics tools, you will be able to solve many SEO tasks, saving on free automation.
Take a look at this 7-chapter guide on Python for SEO. This is a beginner to expert guide with step-by-step tutorials: how to detect keyword cannibalization, calculate keyword density, calculate BERT score on your pages; how to scrape URLs and HTML information like meta tags, titles, and broken links; how to create an XML sitemap, extract robots.txt, send scheduled emails, and many other beautiful things to automate SEO.
---
That's all about our list of SEO automation tools. I've tried to pick the best tools that specialize in a slightly different aspect of automating SEO.
Please tell us about your experience. Do you often need to automate SEO tasks? What SEO automation platforms or tools do you prefer to run your SEO routine on autopilot?
Have you tried automation features in SEO PowerSuite? As always, we'll be happy to hear your feedback in the comments!