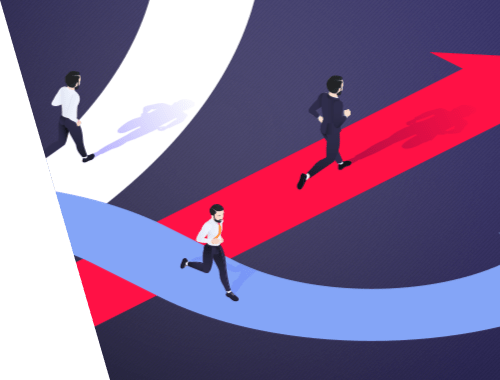 When to choose SEO PowerSuite over SEMrush and Ahrefs?

When to choose SEO PowerSuite over SEMrush and Ahrefs?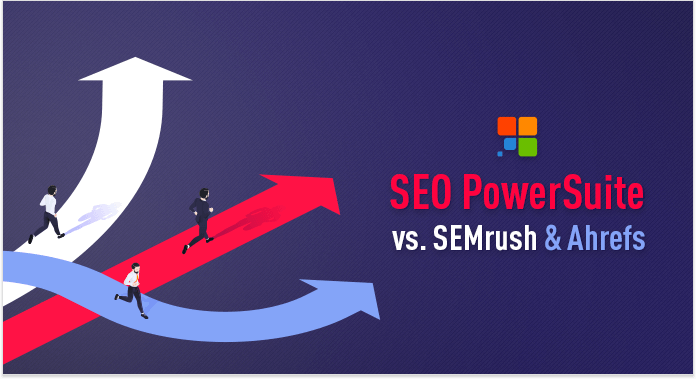 Every now and then I'm being asked — how is SEO PowerSuite different from other SEO tools? When should you choose SEO PowerSuite over its web-based alternatives like Ahrefs and SEMRush?
That's a fair question and I thought you might find my take useful. The only problem is...
Disclaimer. It's hard being objective about yourself. You either tend to overestimate or underestimate. So I encourage you to read this with a grain of salt :) And definitely share your own opinion in the comments.
So, when SHOULD you choose SEO PowerSuite?
1. When you're a small business, looking for an affordable SEO solution.
I've heard SEOs from big corporations go "Budget is not a problem". But this is rarely the case for us, "mere mortals" :)
For a smaller business, every penny counts.
And if you're looking for the best value for money, SEO PowerSuite is the go-to choice. Because being desktop software, SEO PowerSuite stores most of the data on your PC, and you aren't being charged a huge stack of cash for cloud data storage and processing.
What sums are we talking about? It's a 3-fold difference even among the cheapest plans:
But isn't there a catch? Isn't the lowest-priced SEO PowerSuite plan stripped of features and volumes? The short answer is "no".
Projects
Crawled pages
Supported engines
Tracked keywords
Update frequency
Locations per website

Number of locations from which you can track your keyword rankings.
Keyword analysis
Competitor analysis

Ahrefs
Lite
5
10K/mo
10 (including Google, YouTube, Amazon, Bing, Yahoo, Yandex, and others)
500
Every 7 days
1
25 reports/day
25 domains/day

SEMrush
Pro
5
100K/mo
Only Google
500
Daily
1
A total of 10K views of different analytical dashboards
A total of 10K views of different analytical dashboards

SEO PowerSuite
Professional
Unlimited
Unlimited
28 (including Google, YouTube, Amazon, Bing, Yahoo, Yandex, Ask, and others)
Unlimited
Daily
Unlimited
Unlimited
Unlimited
The only thing you won't find in SEO PowerSuite Professional is client reporting. But since the plan is designed for small businesses, this seems only logical.
2. When you're a freelancer/SEO agency, looking to maximize your profit per client.
Another unbeatable advantage SEO PowerSuite has to offer is its unlimited data at a fixed price.
And while that's hardly a matter to consider for a small business, for client SEO it means you don't have to pay extra for every new client you sign.
Here are the plans you'll probably have to fork out for when working with several SEO clients:
Sure, the data volumes you need depend on your business specifics, so you can check out all the Ahrefs and SEMrush pricing options yourself. Here's just a quick overview:
Projects
Crawled pages
Supported engines
Tracked keywords
Update frequency
Locations per website

Number of locations from which you can track your keyword rankings.
Geo-targeting level

Maximum geo-targeting level to which you can narrow your rank tracking.
Scheduled reports
White-label reports
Export

Ahrefs
Standard
10
500K/mo
10 (including Google, YouTube, Amazon, Bing, Yahoo, Yandex, and others)
1,500
Every 5 days
5
Country/State/City
No
No
Yes, limited

SEMrush
Guru
50
300K/mo
Only Google
1,500
Daily
10
Country/State/City
Yes, 20
No
Yes, limited

SEO PowerSuite
Enterprise
Unlimited
Unlimited
28 (including Google, YouTube, Amazon, Bing, Yahoo, Yandex, Ask, and others)
Unlimited
Daily
Unlimited
Country/State/City/Street Address
Yes, unlimited
Yes
Unlimited
With SEO PowerSuite, you won't be charged for more campaigns, or more exports and reports. You can scale your business without inflating software spending.
3. When you need to track accurate geo-specific rankings.
What users see on Google can differ a lot depending on their location. That's obvious, and that is why every SEO tool has some local position tracking options.
In most cases, this option is to specify the city to check your rankings from.
I guess this might be enough for tracking the 10 blue links (which aren't likely to fluctuate much within one city). But when it comes to local pack or Google Maps results, the slightest location change can influence the SERPs.
Sometimes a business will show up in the local pack throughout its whole service area, and sometimes it will only rank for searches performed just a few blocks from their doorstep.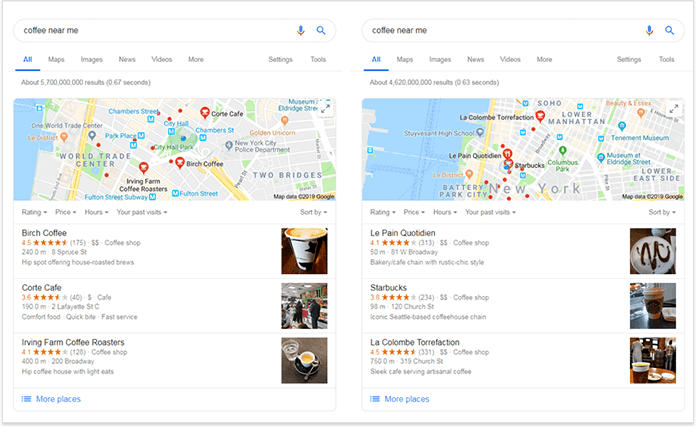 This means that tracking city-level results won't do. And you need to be able to localize the SERPs on a street level in order to:
See the visibility of your business in different parts of the city/town.
See how far from the physical location the business appears in the local pack and monitor how your ranking coverage area expands over the SEO campaign.
This is why in SEO PowerSuite, you have an option to specify the exact street address for rank monitoring, and seamlessly track your ranking progress in any number of geo-locations.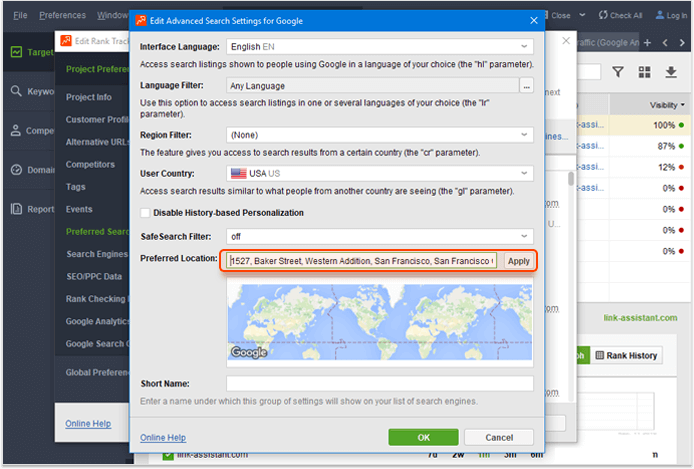 This is the option you won't find in Ahrefs, SEMrush or any other solution I've seen so far.
4. When you want the widest range of keyword tools at your disposal.
Whatever the size of your keyword database, there's no way for it to include all the possible keyword variations.
That is why even after launching our own keyword research database, we kept all of the multiple keyword research tools at SEO PowerSuite users' disposal.
Google Ads Keyword Planner, Google Autocomplete, Google Related Searches, and People Also Ask. Suggestion tools for YouTube, Bing, Amazon, and Yandex.
Currently, SEO PowerSuite lists over 20 keyword research tools. Thus you not only find the most popular keywords that all of your competitors are well aware of, but you may find some hidden opportunities not listed on Ahrefs, SEMrush or SEO PowerSuite proprietary databases.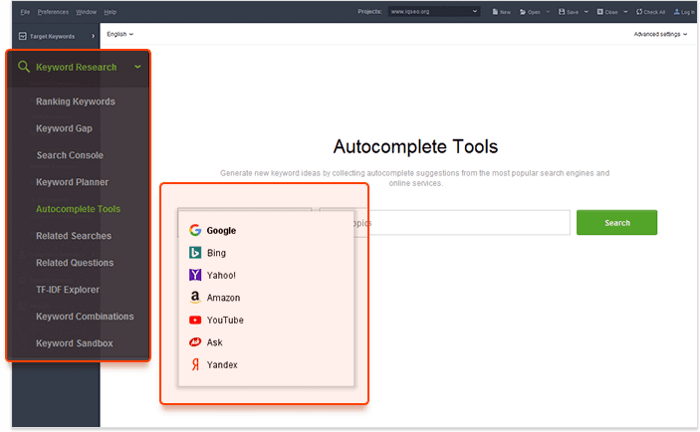 5. When you love having access to all the cutting-edge SEO features.
Sure, every tool has its own standout features we love.
Say, I'm a big fan of SEMrush's PPC research features. Or I love examining Ahrefs' backlink data visualizations — all the graphs and heatmaps are truly impressive.
But whatever other tools there are in my toolbox, I would surely add SEO PowerSuite to them for its site structure visualizations (which you will find neither in Ahrefs nor SEMRush):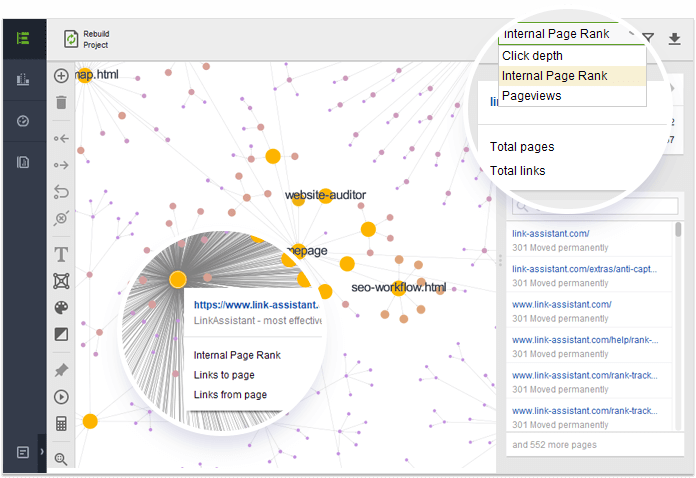 Not only is it the easiest way to understand all the architectural issues a website has, but how impressive it looks to SEO clients!
---
Another SEO PowerSuite's "specialty" is Topic Competitors, which lists the top-performing pages across the whole keyword topic.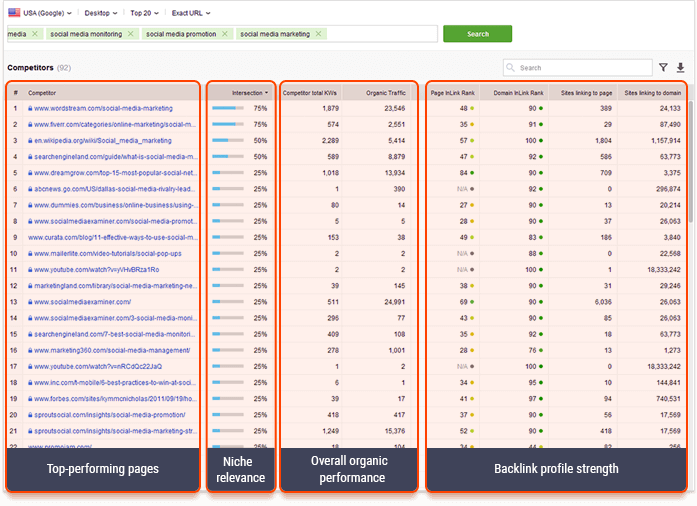 This feature is the absolute favorite not only on our SEO team but in marketing as well. All you have to do is feed the tool with a few keywords that you're interested in, so you:
See which pages rank for most of these queries (to be able to analyze the best-performing content within the whole topic, as opposed to looking at some individual queries).
See how much relevant organic traffic the pages enjoy (and that's a killer for picking the right places for advertising).
---
Or have you tried SEO PowerSuite's TF-IDF keyword optimization module?
This is the easiest way to enrich your content with more topically relevant keywords that you might be missing. And more to that, it actually brings SEO results!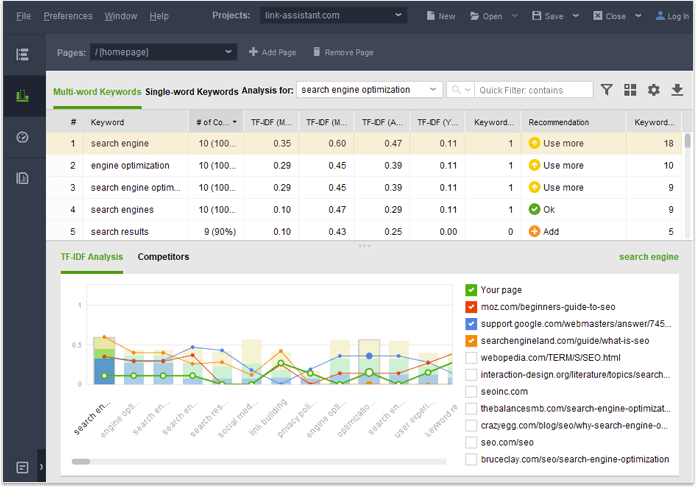 6. When you want data from multiple sources integrated.
Probably, this is due to the desktop nature of the software, which initially had no backend data supplied and was more of an aggregator. However, even now, already having our own cloud databases, we still find it uber-important to give you multiple sources to gather SEO data. And integrate it into one place.
For instance, along with our own backlink index, SEO PowerSuite pulls links directly from Google Analytics and Google Search Console (an integration that no other backlink tool can boast of).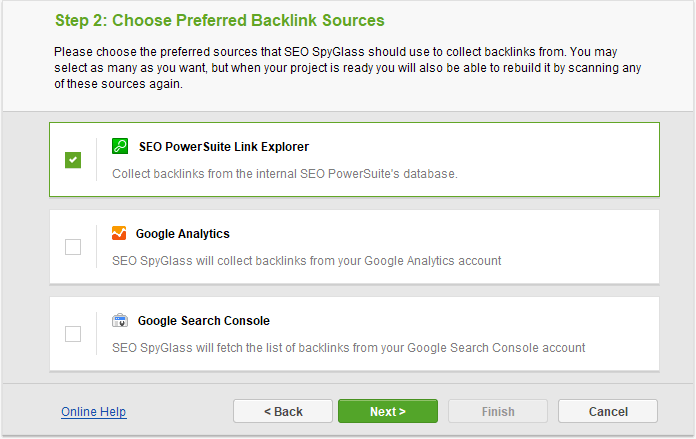 Or you can always choose which data-source to use to analyze your keywords — be it Google Ads Forecast data in our cloud database, our your own Google Ads account.
7. When you are wary of storing your data in the cloud.
I know we live in the age of cloud data, however, I also know that for many of our users the security of storing data on your PC is still the decisive factor.
More to that, I know of many large organizations that simply prohibit their employees to use any cloud services.
If this is the case for you, SEO PowerSuite is the right option.
8. When you want to work with your SEO software offline.
If you don't always have Internet access but want to be able to work with your SEO data offline — this is perfectly possible with SEO PowerSuite.
Sure, you need the Internet connection to collect new data, but you can work with it (look through, analyze, filter, group, and so on) whenever needed.
When not to choose SEO PowerSuite?
Now, there's always a fly in the ointment.
And there are some cases in which I definitely wouldn't recommend using SEO PowerSuite.
I'll try to be objective here as well.
1. When you need to access the software on MANY devices
There's no problem installing SEO PowerSuite on as many computers as you need.
But if your lifestyle or job specifics force you to constantly be on the road, probably it's much easier to have your software in the cloud.
If you don't have your laptop with you, it is easier to access the data in a browser, rather than install the software on somebody else's machine.
2. When you need advanced collaboration options (with multiple roles and permissions for multiple users)
Whenever you need to share your SEO data with someone on your team, you can do that via SEO PowerSuite Cloud — our special online storage space.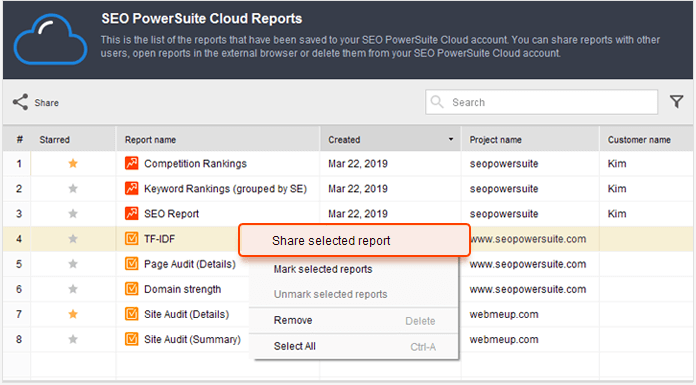 However, if your team collaboration process is a more elaborate (with different user roles and the need to simultaneously make changes to one and the same project), you'll definitely find it more convenient to use an online service.
3. When your computer power is seriously limited
Having the benefit of processing all the data on your personal PC also has its drawbacks — you need a computer capable to process it :)
This won't bother you for example, if you're working with a mid-sized website on a modern computer.
But if you need to crawl a huge website, or if you don't have enough RAM, it might be best for you to pick a web-based option (or think of installing SEO PowerSuite onto a server, as some of our users do).
4. When you want your software to help you not only with SEO but with PPC and social media campaigns as well.
PPC has never been our focus here at SEO PowerSuite, so we don't have the PPC research data you might find in SEMrush or SpyFu.
I guess this comes from our firm belief you cannot build a tool for everything. You have to pick one area and focus on it solely. To us, this is the only road to excellence.
Probably this is why even though we're building our own social media tool here, it will always be separate from SEO PowerSuite (and with a separate team sweating over it day and night).
5. If you need historical backlink data to analyze.
If you need to analyze the way a website's backlink profile was developing over time (with all the backlinks it has lost by now, backlink quality, etc.), you won't find the data in SEO PowerSuite.
The good news is — only until December.
Since this was one of the features you've been asking us about, by early December our our backlink API will start reporting not only on all the live backlinks a website has, but all the ones it's lost (surely, in a separate report).
---
Ok, this is probably it.
I hope I've been somewhat helpful in case you were in two minds on whether SEO PowerSuite is right for you. Or if you simply missed out on some of the features mentioned.
And… If for some reason you haven't had a chance to try SEO PowerSuite yet, I do encourage you to give it a try :)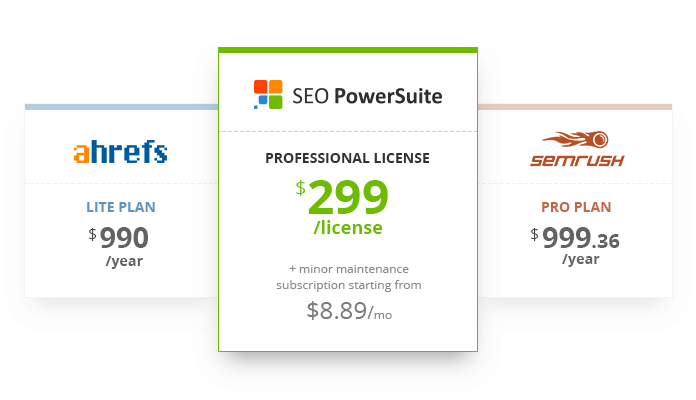 Article stats:
| | |
| --- | --- |
| Linking websites | N/A |
| Backlinks | N/A |
| InLink Rank | N/A |