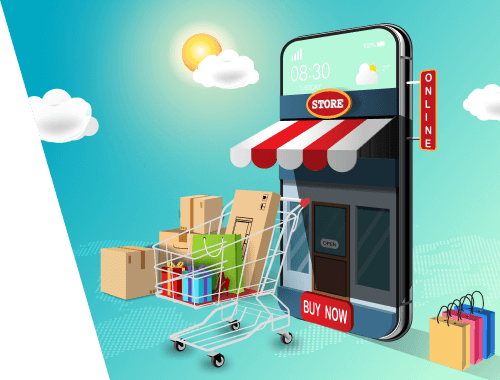 E-commerce SEO: How to Drive Sales With Organic Traffic
A quarter of all online sales comes from organic traffic. So there is just no way an e-commerce website can afford to ignore search optimization. Problem is, online stores are typically large-scale and complicated — so trivial on-page optimization tasks can turn into a never-ending nightmare. Moreover, e-commerce SEO is not exactly the same as regular SEO and some additional considerations have to be made.
In this guide, you'll find a set of content and technical issues anyone doing e-commerce SEO will face, and actionable advice on how to solve them.
Step 0. Cover the basics of SEO
In this guide, I will be talking about the things that are unique to e-commerce SEO and product pages in particular. I'm excluding most aspects of regular SEO, but they still apply and should be considered in your SEO strategy. If you are very new to SEO, I would recommend these guides on technical optimization, creating landing pages, and off-page SEO.
Step 1. Find commercial and transactional keywords
When people search for something online, they usually have one of the four types of intent: informational, navigational, commercial, or transactional.
With the first two types of intent, people are just looking for information. They use keywords like what is bitcoin or weather today or nasa website. They might also be looking for information about certain types of products, like how to choose a bike, but they are still a long way from making a purchase.
With the last two types of intent, people are either looking for product categories or specific products. Like if someone is googling nasa merch or official nasa t-shirts, they are clearly looking to browse a product catalog. Or if someone is googling buy new balance 574 dark, they are clearly ready to pull the trigger on a particular product model.
With this in mind, commercial and transactional keywords are best suited for e-commerce purposes.
Keyword research for a new store
If you are just launching an online store, you can use keyword research to decide what kind of product categories to create on your website or even what kind of products to stock.
One of the best ways to do that is to launch Rank Tracker, go to Keyword Research > Autocomplete Tools, and choose Amazon. There, you can enter a few of your seed keywords and see autocomplete suggestions from the largest online store in the world:
In the example above, I've used a few bike-related seed words and got over a thousand autocomplete suggestions. I've sorted the list by search volume and there were a few surprising discoveries. I did not expect bikes racks and bike shorts to be so high up on the list — if I owned an online bike store I should have probably made these two into separate categories or subcategories.
Another way to kickstart your keyword collection is to see which keywords are used by your immediate competitors. To do this, switch to either the Ranking Keywords or the Keyword Gap tabs in Rank Tracker and see which keywords your competitors rank for: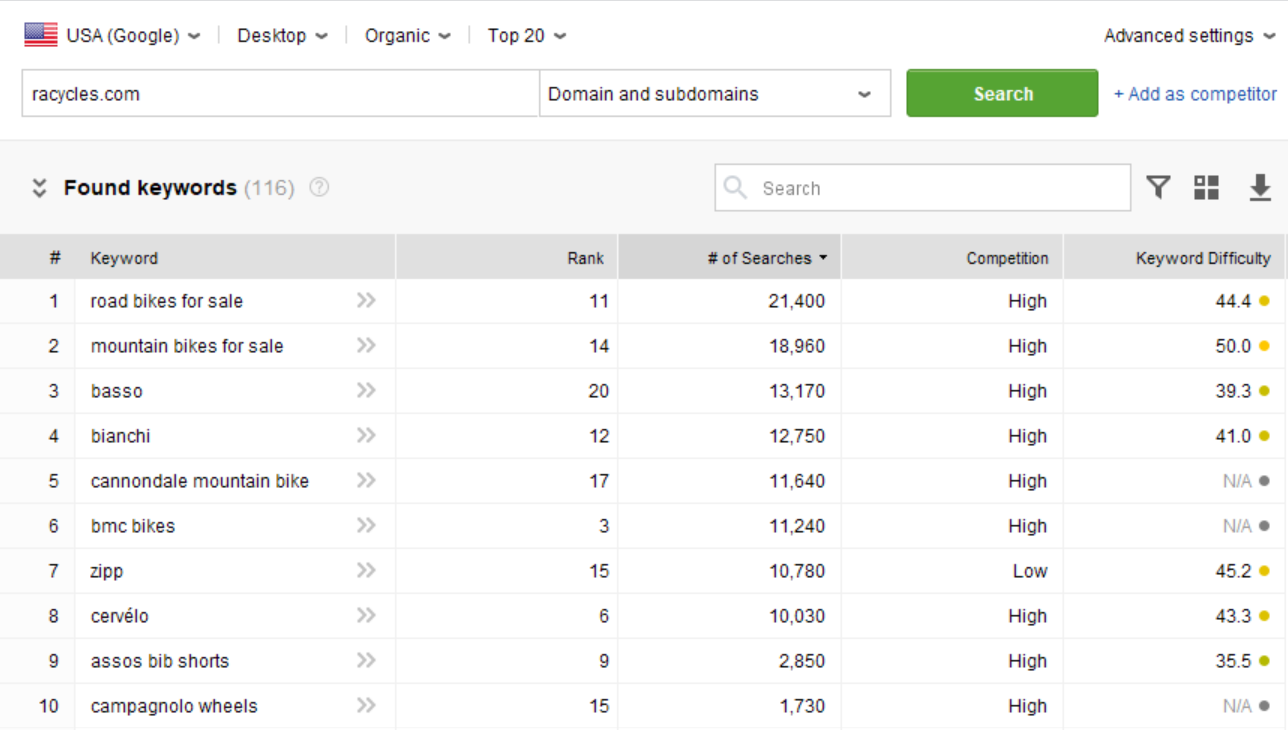 Once you are out of seed word ideas and out of competitors, switch to the Sandbox tab, where all of the keywords discovered in the previous step are now stored: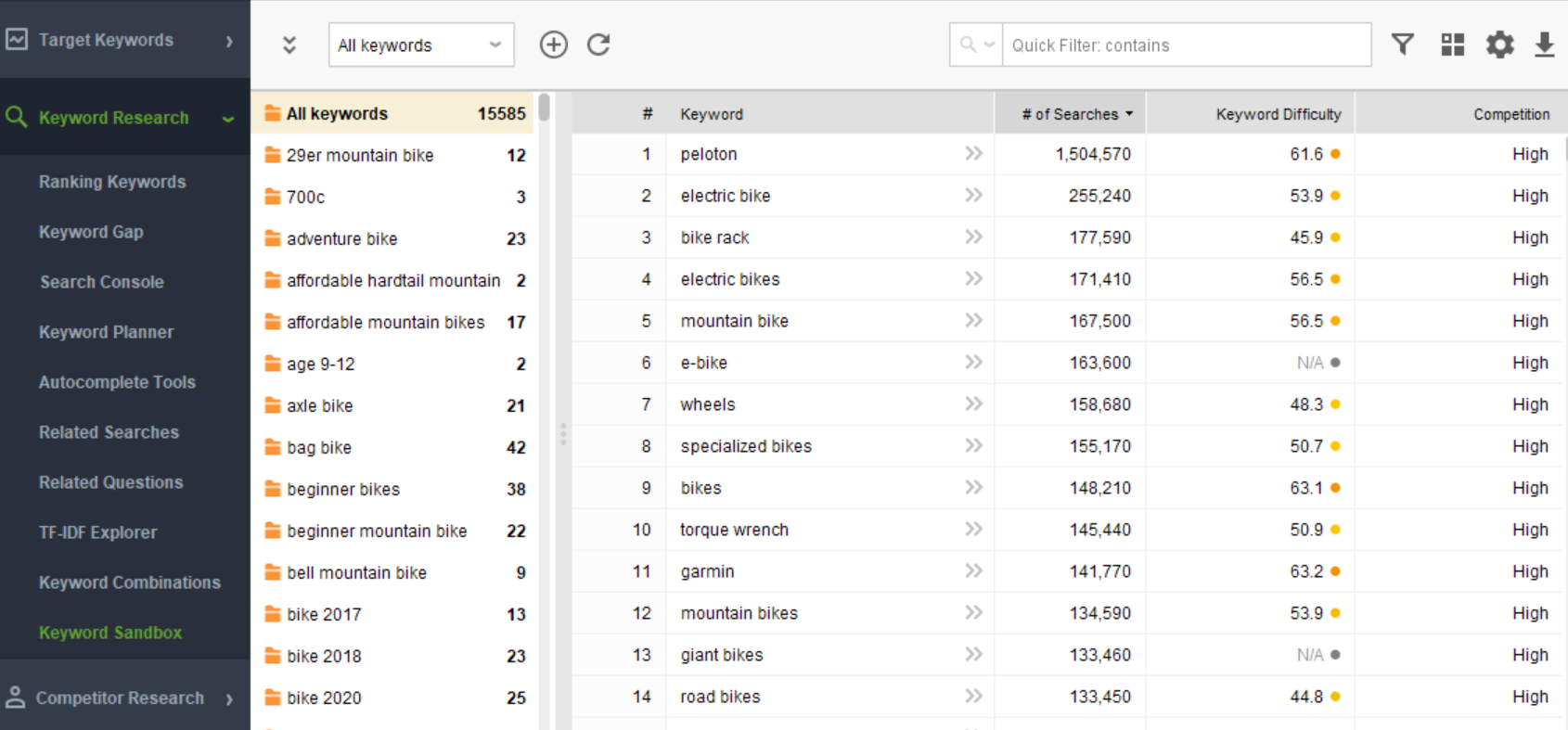 As you can see in my example, I was able to discover over 15,000 keyword ideas. Now I can sort them by search volume or use other filters to choose keywords with the best ranking potential, i.e. the most searched products on the market.
Keyword research for an existing store
If you already have an established online store, then all you have to do is make sure that your existing pages are optimized using keywords with proper intent.
To do that, create three lists of words:
Transactional and commercial intent words like buy, purchase, price, sale, review, compare.
Brands available on your website, like Campagnolo, Trek, Bianchi.
Categories, products, and product properties like bike, frame, road, mountain bike, carbon bike, steel bike.
Now launch Rank Tracker and go to Keyword Research > Keyword Combinations > Word Combination and enter each list into a separate field:

Click Search and the tool will mix your word together, delivering a full list of shopping intent keywords to be used on your website: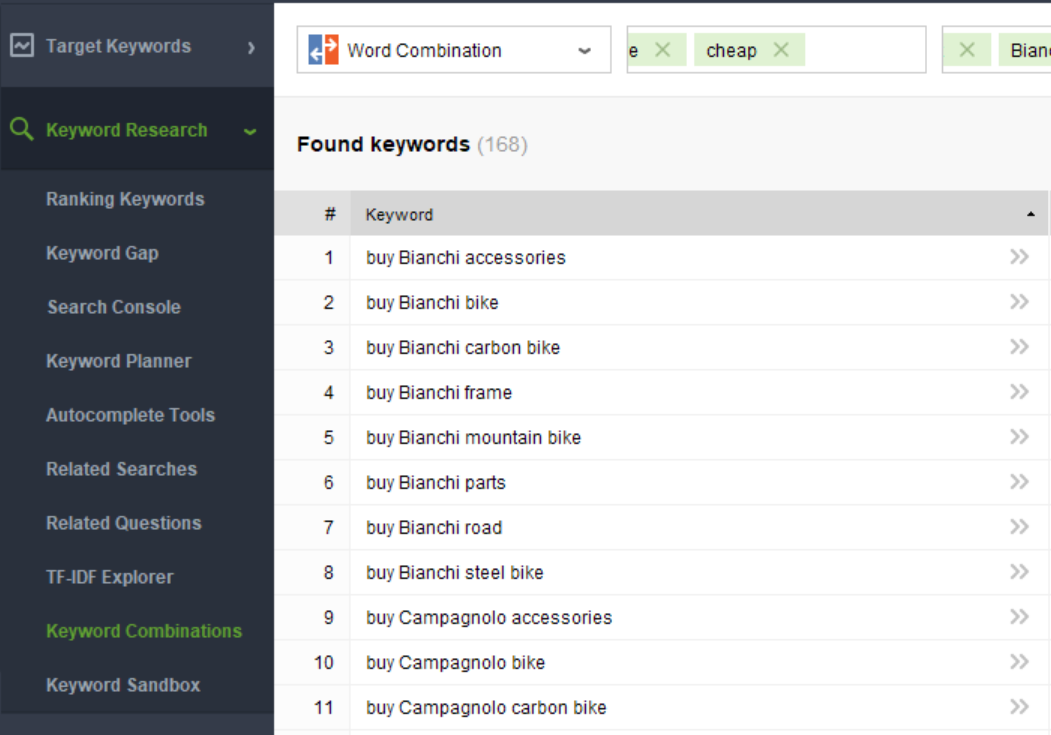 Now you can select those keywords that are relevant to your website, map them onto your pages, and optimize pages for the keywords.
Step 2. Optimize your pages in bulk
An e-commerce website typically has a limited set of category pages and thousands of product pages. Everything is more or less clear with category pages — they are usually subject to the traditional on-page SEO approach.
Things get trickier when it comes to product pages. You'll hardly have the time and resources to create unique titles, H1 tags, and descriptions for each product page.
To automate the process, create title, meta description, and H1 templates for your product pages. For example, you may use this template for the title tag:
Buy [ProductName] online | Your store name
[ProductName] is a variable that changes for every page depending on the product. If your CMS does not support variables, ask your development team for help.
Do the same for your H1s and descriptions — and remember that titles and meta descriptions are displayed in your listing's snippet in SERPs, so make sure to use a strong call-to-action to entice clicks from search results.
If you need detailed information on how to create perfectly polished SEO-friendly pages, do not miss this comprehensive guide on landing page optimization.
Step 3. Add Schema markup to product pages
Schema markup is a collection of special HTML tags that help Google understand what's what on your pages. Google can then use this information to better represent your pages in search. For example, if you use product and review Schema on your product pages, then your regular search snippets will be enhanced with additional features: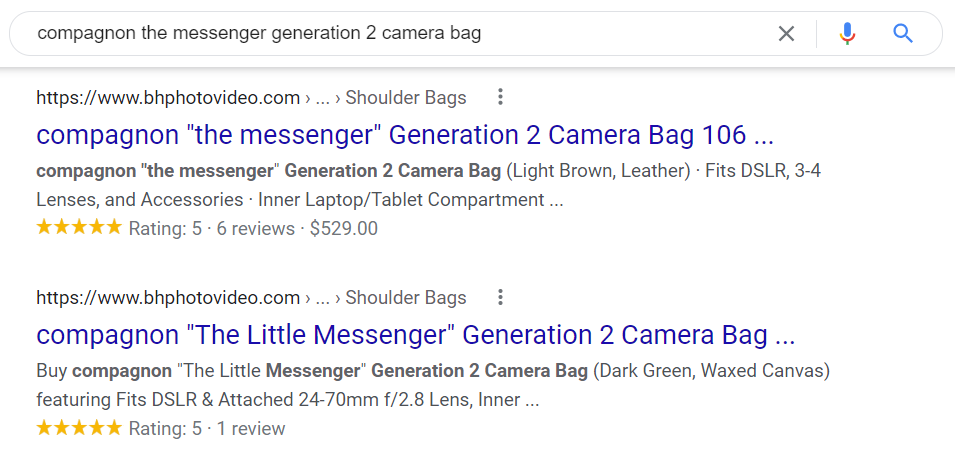 Unlike regular snippets, rich product snippets can feature reviews, prices, and other product details, depending on the product type.
If you've built your online store using a CMS, there is a great chance that the CMS implements product Schema by default and all of your products are already tagged. Or, if not, you can probably install a plugin that will do the job for you in a matter of seconds. The only thing left for you to do is go to Google Search Console > Enhancements and make sure that Google recognizes your Schema and that it's implemented without issues: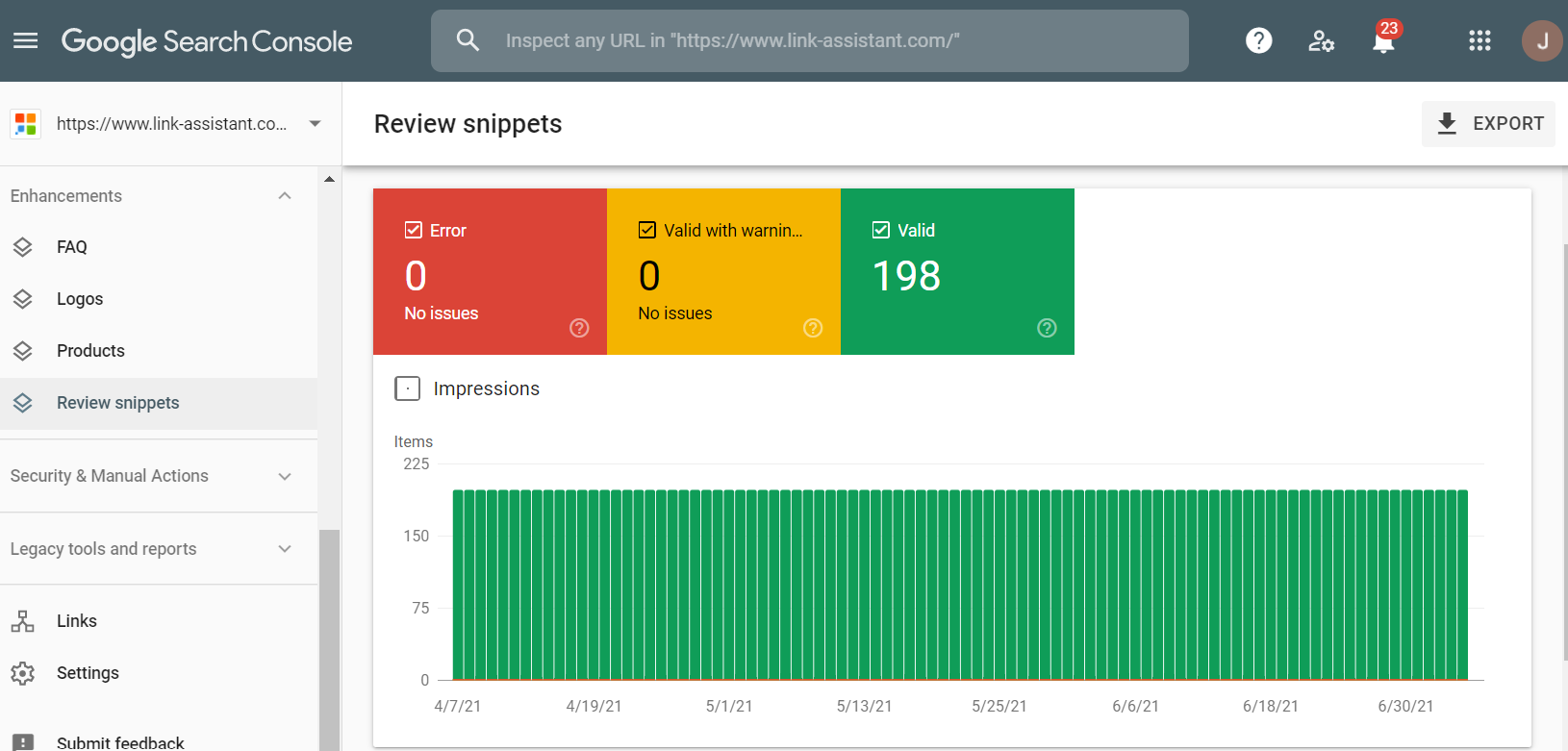 If your website is custom-built, it's likely you will need to implement Schema manually or ask your developers to automate the process.
As the last resort, if you have a manageable number of products or if you want to use Schema on only the most important product pages, you can use Structured Data Markup Helper. It's a Google tool where you can choose the type of markup you want to apply and enter your URL: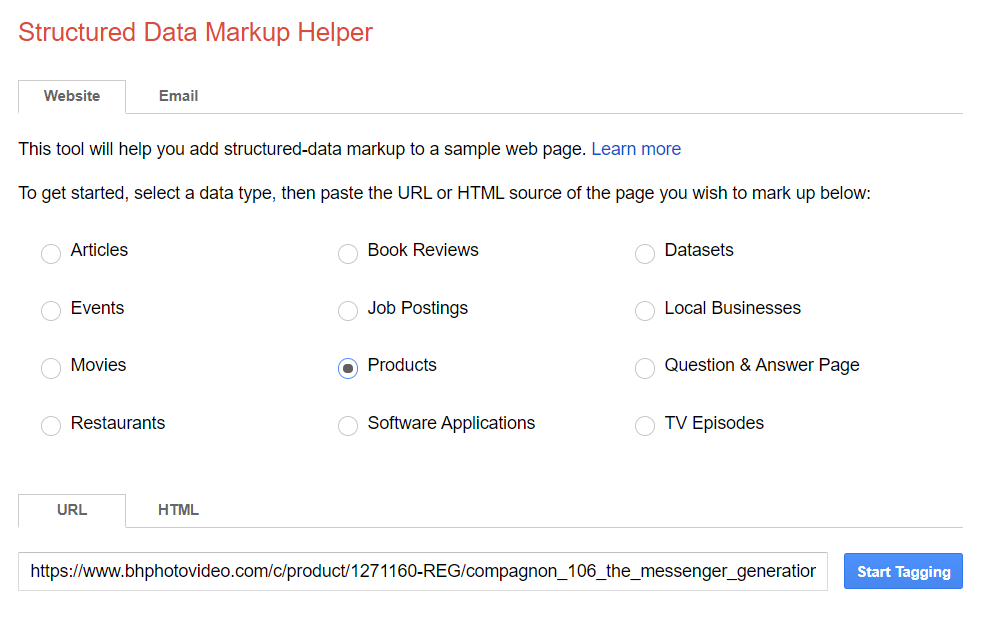 And then simply go through the page, highlight product details, and choose what they are: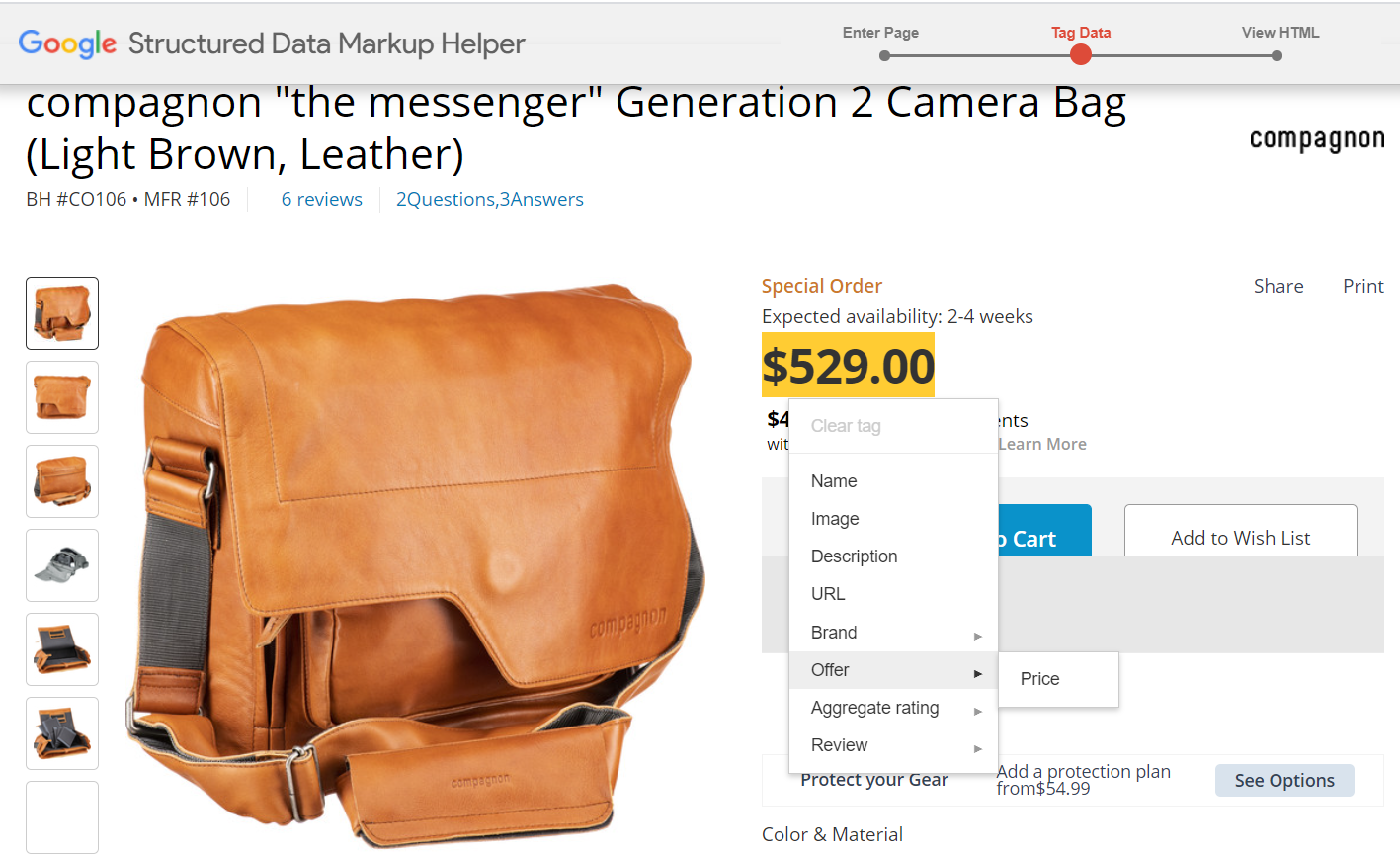 Once you are done tagging your product, download the piece of Schema code, and add it to the code on your website.
You can verify your Schema with a testing tool or, as before, check with your Google Search Console dashboard.
Step 4. Fix duplication issues
Make sure every page on your site is unique. Duplicate content issues for e-commerce sites fall into two categories:
Off-site — the content appears on many websites across the web.
On-site — many pages of the website feature the same content.
Here is how you can fix each one.
Fix off-site duplication
Off-site duplication is natural for e-commerce. Online stores often use product descriptions, images, and specifications provided by the manufacturers. This is logical since you cannot invent new specs for the latest iPhone. However, there are a number of solutions to the problem:
Write unique descriptions for each item. If you have a team of copywriters to get the entire inventory covered — go for it. Just keep in mind that as the inventory scales up, you'll need to keep up with the copy as well.
Leverage user-generated content. Create incentives for visitors to write reviews of the items they purchased. Send follow-up emails and ask for a review nicely, or offer discounts or bonuses to customers who leave a review.
Add a Q&A section for each product. You can make your product descriptions unique by adding a FAQ section with questions customers often have about the product. As a side note, if you do this, you can take advantage of the Q&A Schema markup and further enhance your page in the eyes of Google.
Fix on-site duplication
On-site duplication is a frequent problem across the pages of online stores. It can be caused by the e-commerce content management system or an illogical website structure. There are two typical scenarios.
First, a product may belong to several categories, e.g. the same Samsung TV set could be found in Home, TVs, and Samsung. The CMS may generate different URLs for the very same product depending on the path a user takes in the product catalog. For example:
http://mystore.com/tv-sets/samsung-un65hu9000-65-inch.html
http://mystore.com/samsung/samsung-un65hu9000-65-inch.html
Second, the CMS could generate a separate URL for each variation of one product (e.g. size, color, or other specifications). For example:
http://mystore.com/women-hoodies/juicy-couture-velour-hoodie-white.html
http://mystore.com/women-hoodies/juicy-couture-velour-hoodie-black.html
The best way to resolve on-site duplication is through canonical URLs. Luckily, most CMS platforms that tend to create duplicate pages also tend to set the canonicals automatically. If your canonicals are not set automatically, then see Google's canonicalization guide for detailed info on implementing them yourself.
Step 5. Handle out-of-stock product pages
Create search-friendly pages for unavailable products. There are times when your store runs out of a certain product — or even discontinues an item completely. These two cases should be handled differently.
Create smart pages for temporarily unavailable products
If an item is temporarily unavailable, removing the page is not an option — it will drop out of search and you'll have to re-rank it when the item is back in stock. The page should clearly state that the product is out of stock, and provide all the relevant information the visitor may need to either wait until the item arrives or order an alternative from you.
Include the item's planned arrival date. This will help the visitors decide whether they're ready to wait until the item is available, or if they should look for alternatives.
Offer a notification for when the item arrives. Even if you don't know when the item is going to be available, it's a good idea to give your visitors an option to get notified via email when it's back in stock.
Give visitors a preorder option. If you're positive the item is going to be available soon, let users preorder it. This will assure your customers that when the product is in stock, they will be the first to receive it.
Add a list of similar products. Whenever you can, offer visitors alternative options to make sure they purchase from you and don't go to competitors instead.
Handle permanently discontinued products
If the item is permanently removed from sale, you have several options to deal with its product page.
Return a 404 page. A 404 page is a natural way to remove pages from the search engine index; the overall rankings of the website will not be affected. Make sure to remove 404 pages from your site's XML sitemap — this will send a strong signal to the search engines that the page should be removed from the index. This approach is suitable for pages that don't have a lot of backlinks and don't serve as an entrance point to the website. If the page ranks well for some queries though, consider other options.
Create a 301 redirect to a similar item or relevant product category. The redirect will help you save link juice; on the downside, 301 redirects can increase load time and confuse the visitor.
Keep the product page, but state that the item is discontinued and offer an alternative. This way you will preserve the link juice and the page's rankings. However, this option is not recommended if the online store's inventory changes often — you don't want to end up with thousands of ghost products wasting your crawl budget.
Final thoughts
Remember, the things mentioned above go on top of your regular SEO activities, which should include technical optimization (speed, security, responsiveness), content optimization (if content marketing is a part of your strategy), and off-page SEO (backlinks, citations, and GMB).
Do you know of any other e-commerce aspects that are tricky for SEO? Let us know in the comments below and we will make sure to answer them in our article