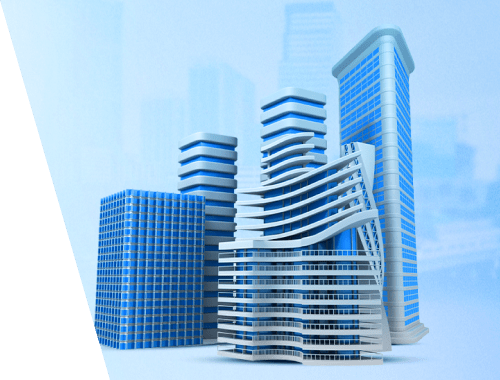 Enterprise SEO: Top 11 Challenges to Deal With

Enterprise SEO doesn't have a strict definition. It is a bunch of traditional SEO and marketing activities multiplied by the scale of one's organization and website, topped with some risk & reputation management.
If you're about to enter the enterprise SEO niche, or currently working with big clients and facing all the difficulties of doing SEO for a corporation, then this guide is for you. I'll take a closer look at what enterprise SEO is and how you can overcome the top challenges you may encounter.
What is enterprise SEO?
The definitions of enterprise SEO vary depending on what is considered more important — the scale of the organization or the size of its website. The real state of things is actually somewhere in between, as both aspects are equally important.
Enterprise SEO differs from traditional SEO when it comes to goals. Traditional SEO is more about "how to get traffic with the allocated budget and efforts", while enterprise SEO is aimed at "growing market share, reducing costs, and maintaining the reputation".
The technical side of the search optimization itself in enterprise SEO is actually the same as in ordinary SEO: no matter how big a website is, it still needs keywords, technical soundness, flawless indexing, good content, and so on. The key difference is the scale and, consequently, the challenges you're going to deal with.
So, let's have a look at the challenges you may come across in enterprise SEO.
Challenge 1. Lack of scalability
The scalability in enterprise SEO is not about website structure. Or, better say, not just about it. Sure thing, a website structure should be as simple and scalable as possible — managing hundreds of thousands of pages is much easier if these pages are well-structured and organized.
The scalability I'm going to talk about is related to enterprise SEO teams and how they arrange their work.
In traditional SEO, one or two SEOs can take care of all the aspects of search optimization, from indexing to link building. In enterprise SEO, everything is different, as the amount of work to be done is impossible for one or two people to handle successfully. So each aspect of search optimization requires a dedicated team.
What should this team look like? Steve Wiideman, an SEO Consultant, Multi-Location Search Expert, and President at Wiideman Consulting Group, says a perfect enterprise SEO team should have the following structure: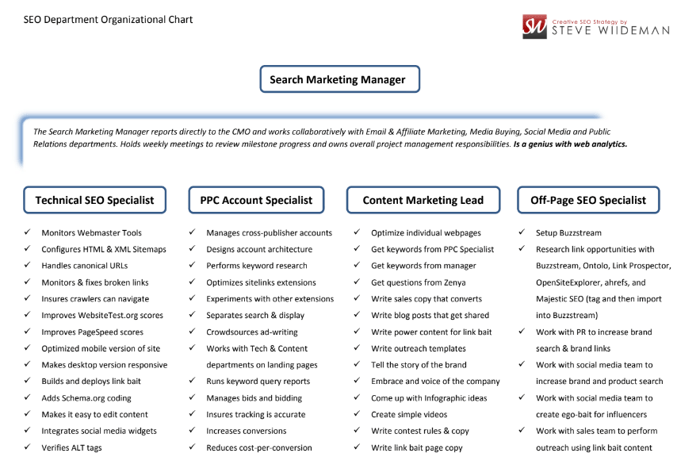 If a corporation has several websites localized for different regions (like BMW, Toyota, Nissan, etc.), then each website requires a dedicated SEO team, too.
Sure thing, each team — on-page SEO, technical SEO, link-building, content, etc. (depends on a corporation's peculiarities) — needs a team lead to coordinate processes and split the tasks. While the team leads, in turn, should be managed by a head of SEO — a person responsible for general SEO strategy development.
"I think that the optimal structure of an SEO team within a large enterprise should contain dedicated leads (and if necessary supporting teams under those leads), for each of the major SEO tactic "umbrellas", let's call them. You'll want a head of SEO strategy that is dedicated to consistently monitoring updates in: the Algorithm and how it impacted websites, general changes in what others in the SEO community are suggesting with respect to best practices, new opportunities, etc. Then you'll want to have supporting team leads that are dedicated to using their craft to support the SEO strategy. These would be a Content lead(s), Link Building Lead(s), and Technical Lead(s)."
Also, the problems of managing and upscaling a big SEO team arise when it comes to onboarding new people and sharing knowledge with them. The solution in this case includes creating a vast knowledge base and corporate guidelines you can share with new team members. Doing so will help you speed up onboarding and save time on mentoring. Sure thing, you'll have to answer the questions of newcomers anyway, but the general time spent on this will reduce greatly.
Challenge 2. Lack of automation
In enterprise SEO, specialists have to handle tons of processes. Doing them all manually usually takes a lot of time, so it's wise to automate as many operations as possible. Plus, the bigger the enterprise SEO team is, the more important timesaving becomes — saving even 10 minutes a day for each person from a team of 10 SEOs will result in 30 spare hours per month.
Here are some examples of processes that can be automated:
Weekly site positions reporting to stakeholders so that your C-level managers see how site performance changes;
Critical alerts sent across your team so that you can timely react to anything that goes beyond expectations, e.g. sudden site position drops, Google updates, etc.
So it's wise of you to take advantage of automation tools; luckily there are a lot to choose from based on your SEO and business needs. For example, all SEO PowerSuite tools have task and alert automation features. What you need to do is to set up the task, state how often a tool should perform it, and provide emails where reports will be sent to.
Here's how to set up alerts in Rank Tracker. Go to Preferences > Scheduled Tasks & Alerts, click Add, and choose the type of task you need: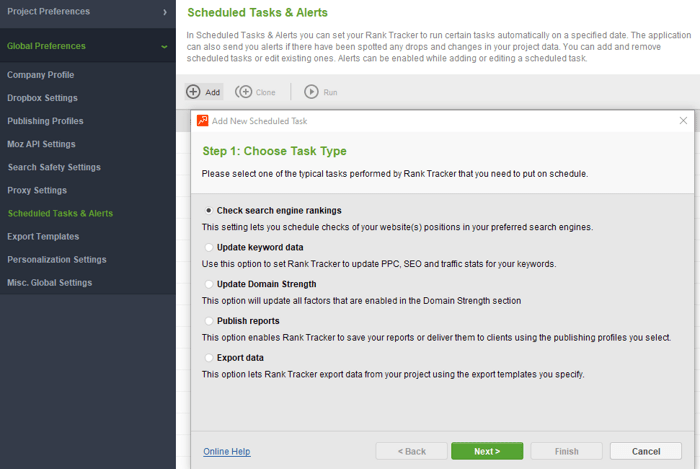 Then choose the websites you're going to monitor and specify how often a task should be performed. Specify the critical points when you want the tool to notify you and your team (say, a site's lost positions or visibility, fallen out of the top 10 of SERP, etc.) and state the emails for notifications: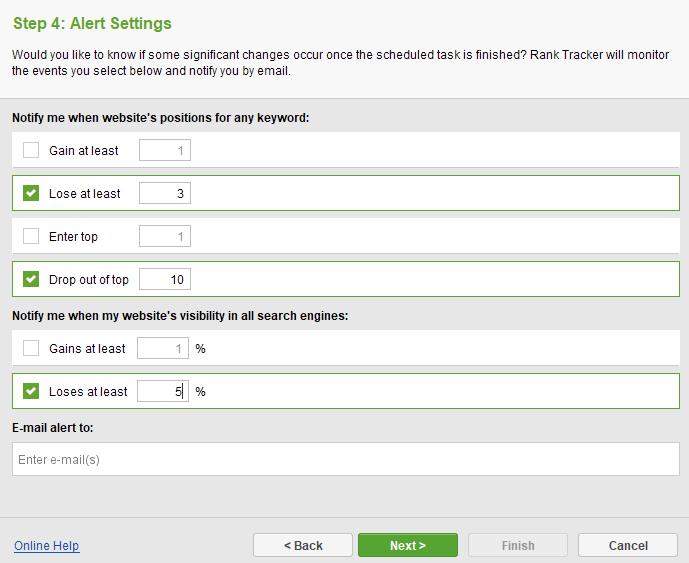 By doing so enterprise SEO teams will be able to focus on more important tasks that do require attention instead of wasting time manually setting up any checks or copying site performance charts into reports.
Speaking of reports, enterprise SEOs need them as comprehensive as possible to be aware of each and every aspect of a site's optimization and performance. That's why specialists retrieve the data from different APIs and bring it together in their custom dashboards (DataStudio, DashThis, etc.). And the richer the API is, the better, as more data can then be fetched directly to SEO reports. SEO PowerSuites Backlink API may help you greatly here.
Challenge 3. Communication issues
In enterprise SEO, communication matters a lot. It's not only about the communication within an SEO team but the communication within departments as well. As in enterprise SEO, the success of search optimization efforts depends on how all the teams — WebDev, marketing, IT, design, etc. — understand the value of SEO and work together towards a common goal.
Here's what Marcus Pentzek, Chief SEO Consultant at Searchmetrics says on the matter:
"…One of the reasons, why communication is an essential part of the enterprise SEO. One needs to get friends with managers of all departments, and help them to understand the role of SEO and how SEO can help their department become a more effective part of the company. The SEO needs to educate people of many different departments about how SEO could become a part of their own work and how this can make an impact. Some lucky enterprise SEOs have already achieved not being part of IT or marketing but rather "having their hands" in both departments, being contacted by those to understand how SEO could be involved whenever they are planning something new."
To achieve the necessary level of communication between all the departments, an enterprise SEO team needs to form strict SEO guidelines to share with all the involved people. These guidelines have to educate your colleagues and C-level managers about the importance of SEO and explain why some things are to be done this way and not another. Back your guidelines with real-life examples. Make SEO tests a part of WebDev workflow, so that the WebDev team see how their activities affect the site performance and plan their work accordingly.
"But the truth is, enterprise-level SEO is about building a unified search strategy that integrates marketing across online and offline channels to create richer customer experiences. Enterprise SEO informs high-level marketing decisions, supports broader company initiatives, and amplifies other marketing channels to drive greater business value than just traffic and conversions."
Enterprise SEO is all about constant communication and working toward common goals but not the competition between the teams. So the right communication strategy will save you a lot of trouble. Finding the solutions that suit everyone is often difficult even for SMEs where the scale of operations is much lower. As the company scale grows, the difficulties grow, too.
Challenge 4. Maintain page speed
Page speed maintenance can become a pain in the neck even for smaller sites. As for enterprise SEO, page speed is even more difficult to control, as enterprise websites are extremely big.
What's more, enterprise sites are often assembled from parts of sites that were once independent. This can result in tons of unnecessary legacy pieces of code present across the pages, which only slow the site down. As page speed directly affects Core Web Vitals, a slow website can drastically drag your positions down in SERPs — here's our own example of how we fixed Core Web Vitals and how this resulted in our site's organic performance.
In enterprise SEO, it's important to have dedicated tools to check page speed in bulk — manually investigating each page in PageSpeed insights hardly seems possible when you have to check hundreds of thousands of pages.
For example, you can make use of the Page Speed module in WebSite Auditor. The check may take time, up to a couple of hours, still, it's anyway faster than if you'd do that manually page by page. Once the check is done, WebSite Auditor will welcome you with a comprehensive report covering all page speed issues of your website.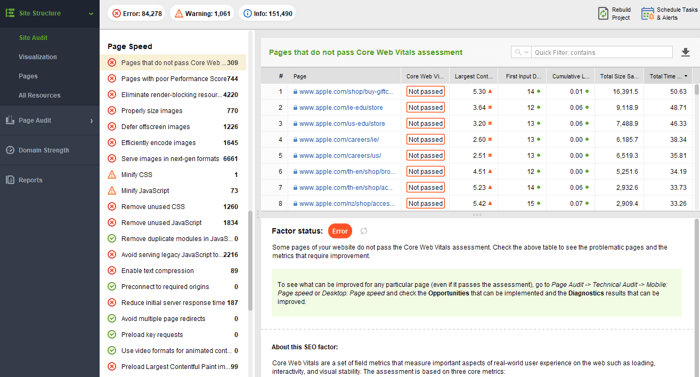 The tool also provides useful recommendations on how to fix any problematic URL.
Also, do not neglect the Experience reports in Google Search Console.
Challenge 5. Quality content creation at scale
Content has always been important for Google, and, considering content quality updates Google regularly rolls out, this factor is hardly going to lose importance. So you need to focus on content quality more than ever these days.
As for the content creation routine in enterprise SEO, the key problem is — guess what — the scale. You have to write a lot of content in order to make use of all the types of keywords and cover all the users' search intents throughout their customer journeys.
So, how do you organize content production at scale? Many enterprise SEO departments try outsourcing content creation. This method will, for sure, save your team time on writing, but you'll have to carefully choose contractors based on the quality of their work. What's more, freelance copywriters barely have a deep understanding of your product and topic, so you'll have to prepare detailed brand guidelines and lists of keywords to be included in a piece of content you're asking for. In our blog, we have a detailed guide on how to form a technical task for freelance copywriters. Feel free to consult it if needed.
Of course, you can try handling content creation in-house. In this case, be ready to structure your content team properly. Make sure you have enough copywriters to produce the amount of content you need. Then, you'll need a person (or even several ones) who will evaluate the importance of topics, prioritize the tasks, and form technical tasks considering clearly-formed SEO guidelines. Editing and proofreading are also important parts of content production. And you'd better have your content proofread by several colleagues: a senior copywriter (to eliminate typos and grammar mistakes) and an SEO specialist (to make sure the writer followed all the necessary SEO instructions).
Challenge 6. Technical SEO
In enterprise SEO, most troubles with technical optimization appear because of a website's size and because many people worked on it at different times. In most cases, these issues are related to site structure, crawling, and indexation. For example:
Robots.txt instructions
Long redirect chains
Broken pages that nevertheless return 200 status codes (soft 404 errors)
Canonicals
Hreflang specification
So to keep your site on the safe side, it is important to do regular website checks to spot any possible issues and timely fix them. For example, you can set up automatic regular site recrawling in WebSite Auditor, paying attention to crucial site sections.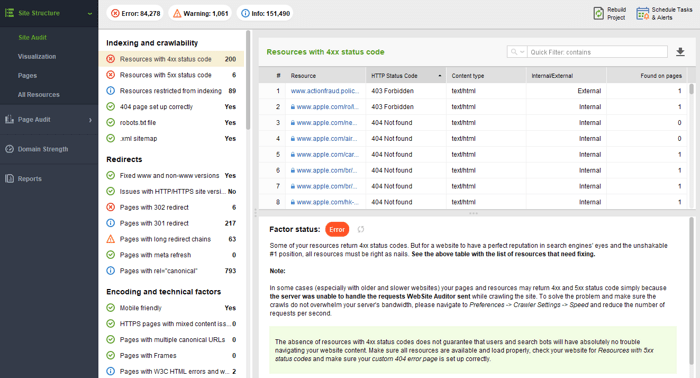 Also, make use of the Visualization section — it will help you easily spot the problems with site structure, such as redirect chains, orphan pages, etc.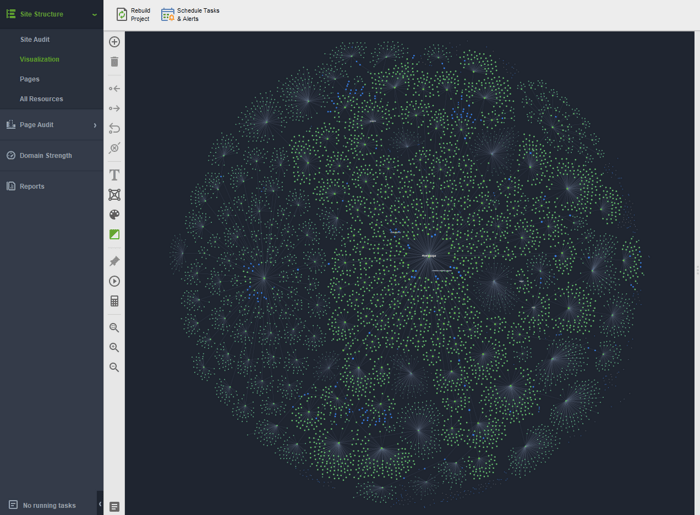 Make sure you have a dedicated person who will ensure that the issues are being fixed and a person who will monitor the improvements.
Besides, take some safety measures to prevent technical issues in the future. For example, let the SEO team approve any changes before they are released on the site. Or even make SEO testing a part of the WebDev and design workflows.
Challenge 7. Refreshing old content without losing link authority and backlinks
Old content needs regular updates to stay evergreen and up-to-date. The key challenge here is to save the backlinks and PageRank that bring your site domain authority.
So to make your content update efforts valuable, make sure your content department understands the SEO part of the process. This includes carefully written redirect guidelines to be shared with WebDev and marketing teams. The process of deleting pages should also be agreed upon with the SEO team.
Still, as enterprise websites are big, some pages may miss the SEO validation process and be removed without the SEO team's concern. To timely find these pages and fix redirects, set up regular backlink profile monitoring (for example, with the help of SEO SpyGlass):
Assign a responsible SEO person who will make sure all the broken pages are fixed or redirected, and link authority doesn't go nowhere.
Challenge 8. Link building at Fortune 100 level
In enterprise SEO, link-building methods of traditional SEO like guest posting or reviews will hardly be helpful, as the competitors you have to outperform are very powerful.
The truth is that your organization is also big, famous, and powerful, so you can take advantage of your status and search for backlink prospects among other moguls of the industry. For example, your backlink opportunities are:
Partnerships. Big companies have a lot of business collaborations with other corporations, and these business opportunities may help with SEO. Example: Puma has collaborations with the Formula 1 racing teams. So these teams mention Puma on their sites. One more way how partnerships help get backlinks is through news mentions, as every cooperation between two tangible business entities is always a news buzz.
Credible news hubs and individual publishers. Pieces of news written by highly-authoritative sources (CNN, BBC, etc.) are likely to bring you link juice in high volumes.
Influencers and opinion leaders. Big companies often make partnerships with celebrities, so that famous influencers promote brands across their fan base.
Challenge 9. Legacy issues
Big and old websites (99% of enterprise sites) are notorious for having legacy issues. These issues often appear due to the fact that some pieces of code were written long ago and changes were not properly documented. Thus, understanding and optimizing these older pieces of code may become a major challenge for enterprise SEOs.
In traditional SEO, it is comparatively easy to find the roots of legacy issues and fix everything. On enterprise sites, figuring out the necessity of some elements and fixing them may take years. And the truth is that if one cannot find any clues as to why some unordinary piece of code exists, and everything works pretty fine, it's better to leave it as it is. Sure thing, more obvious issues require fixing.
To make future enterprise SEOs happier, it is wise of your team to document every change they introduce in detail. So that new people will not have to guess why you have implemented this or that solution.
Challenge 10. Lack of prioritization
Once an enterprise SEO team starts working on a new project, it's hard to understand what to start with — enterprise sites are extremely big and often lack grooming.
"One of the biggest challenges I see is clients being overwhelmed and not knowing what to do first. A lot of the time these clients have had previous SEO companies that maybe didn't follow best practices and did more hard than good. These clients then start to learn about what SEO best practices are and get overwhelmed by the plethora of information out there."
Your task here is not to fall prey to panic and plan your actions carefully. Look through the project, mark the most problematic areas, make a plan, and get down to work.
"Take things one page/category/product/service at a time, select one keyword at a time, and work through your checklist."
Panic has never been good for anything, and enterprise SEO is not an exception.
Challenge 11. Reputation risks
Reputation is a burning issue nowadays, and SEOs in big corporations have to treat this aspect with great care. One awkward word or a silly joke may cost a corporation a fortune and make all SEO efforts worth zero. It is not necessarily that Google will drop your rankings, on the contrary, you may start ranking even higher, but the context of SERP results will hardly satisfy you. Negative headlines are definitely not the best way to drive traffic and conversions. What's more, publicly traded corporations often experience great losses when their reputation gets stained.
So it's crucial to own your brand SERP to prevent the situation described above. Make sure you have enough publications and other search results (reviews, videos, images, news, etc.) that positively promote your brand and rank high to wipe any bad results out of your brand SERPs.
Also, follow the world's news to always keep up with what's happening around and carefully check what people from your company say in public and on social media. Tools for social media mentions monitoring like Awario may help you here.
What's more, carefully watch your influencers' reputation. The scandals they get involved in will most probably affect your company's reputation, too.
To sum it up
Enterprise SEO is not actually about the SEO we're all used to. It is about common goals of the entire company, cooperation, and communication between all the teams, aimed at improving marketing efforts, SEO, investments, and other business processes. Do it wisely, communicate, and the success at Fortune 100 level will not take long.
Have you managed to do SEO on the enterprise level? Share your experience in our Facebook group.
Article stats:
| | |
| --- | --- |
| Linking websites | N/A |
| Backlinks | N/A |
| InLink Rank | N/A |