Link-Assistant.Com | Posted in category
Google
Search Engine Optimization
Officially confirmed - new Google's Panda 4.0 update is here.
But what is more - the alarming rumors are that the new version of Penguin update is next to come.
And this means that even if you haven't noticed any significant changes yet, it's just the time to make sure your site is on the safe side and get ready for Google's new updates.
To help you clear the thing, we've compiled the guide with actionable advice on protecting your site from negative effect of the algo changes.
PRACTICAL GUIDE TO SURVIVING NEW GOOGLE UPDATES 
That is everything you need to know, but have had no time to look into - an easy-to-follow "cheat sheet" for adapting to Google's algo changes: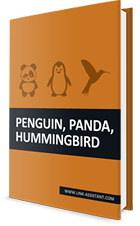 What are the 5 easy steps to an effective content strategy in post-updates Google?
What are the 5 key strategies for safe and effective link building
And adapt your site to Google's recent algorithm changes!
back to SEO blog