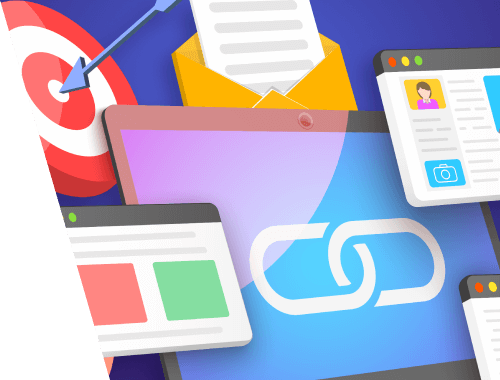 Best Link Building Tools for Seamless Workflow
Links stay a ranking factor to Google, indicating that the linked pages offer great content. You need to have a consistent link building strategy to maintain your site's authority. This guide covers a few white-hat link building tactics for SEOs to use without fear of Google penalties. It also highlights several link-building tools that help us automate the process.
What is link building? The basics
Link building is the process of acquiring backlinks to your content to increase the site's authority. Backlinks are a ranking signal to Google. Apart from that, it works like a snowball: the more backlinks you get, the more traffic comes. The page's authority rises in the eyes of Google, and it gets more online visibility (as well as the site in general).
There are at least two Google algorithms to consider for link-building: PageRank and Penguin. PageRank shows how authoritative a page is, by measuring the number of inbound and outbound links to the page, as well as their quality.
Penguin was designed to deter spammy link-building tactics. The algorithm started to demote sites that benefited from artificial links. Pretty often, such unnatural links were published with automatic link building tools, for example, in forum spam or in paid blog networks (PBNs).
Nearly the same time, the Panda algorithm devalued low-content articles, with low word count, duplication, and no value to users.
Google distinguishes between several types of links, with the main types being dofollow and nofollow links.
Some sites, for example Wikipedia, have default settings to nofollow all outbound links. Otherwise, the user-generated platform would be abused for the artificial manipulation of PageRank. The same applies to numerous comments and blogs. Although, there is another frequent tag for user-generated content (UGC), that serves the same purpose as nofollow tags.
Only dofollow links clearly pass an endorsement to another article for ranking algorithms. That's why SEO link-building puts more effort into building dofollow backlinks.
It doesn't mean that nofollow backlinks are useless. Natural backlink profiles are usually varied. The fact that you contribute to expert sites increases your E-A-T (Expertise-Authoritativeness-Trustworthiness). Besides, nofollowed links may also bring you tons of traffic.
Related article: 7 Link Building Mistakes to Avoid
Google discourages SEOs from link schemes, i.e., building links that are intended to manipulate PageRank or a site's ranking in search results. The recommendation is to write high-quality content that will gain links naturally. You ought to build links not merely for SEO and rankings, but for audiences and added value.
However, the truth is somewhere in the middle. No matter how good your content is, it's not enough just to publish it and leave it as it is. You've got to promote your content.
Related Article: SEO Link-Building Myths
So, the question is: how to earn legitimate backlinks?
Regardless of the link building strategies you stick to, the process unfolds in these three general steps:
Finding high-quality link-building prospects (using link building software)
Finding contacts for link building proposal (using email lookup services)
Reaching out to prospects (using email management tools)
Let's go through these steps and pick the best link building tools for each. And I will show how to create a seamless link-building workflow, using SEO PowerSuite tools.
Finding quality link-building prospects
When the scale of your link building campaigns is small, free link prospecting tools are quite enough. For example, when you want to discover how popular the company is on the web. It's also fine for brand monitoring when online mentions of the company are not frequent.
Google Alerts
The simple method is to set Google Alerts to track mentions of your key topics on the web. Once the keyword is mentioned on the web, you will be alerted by an email, as often as you define it in the settings.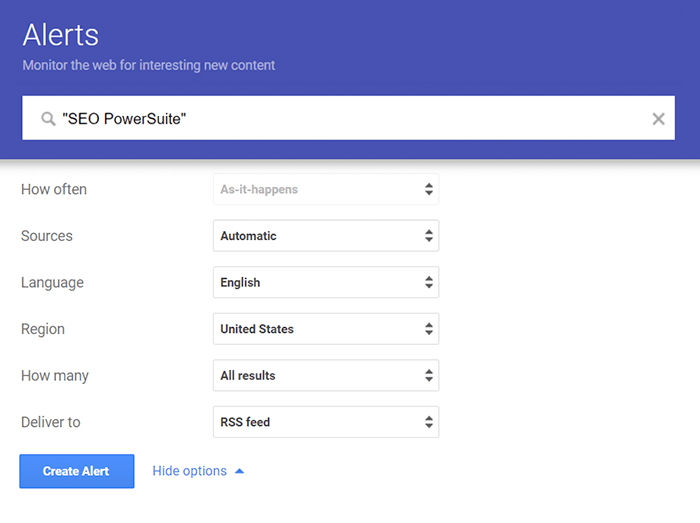 Advanced Google search operators
One more method is to find mentions on Google with advanced search operators. They limit search results according to your search definition, for example:
intitle: "keyword" - returns all pages containing the query in the title;
intext: keyword -site: your competitor's site - excludes the site of your competitor from the SERP;
Inurl:.extension - returns the results from the country matching the extension;
Keyword 1 OR keyword 2 - returns any of the keywords;
Keyword 1 AND (keyword 2 AND keyword 3) - returns all keywords prioritizing those in parentheses.
etc.
Google Search Console
The last on our list of free link prospecting tools is Google Search Console. It contains Links module that shows top linked pages, external links and internal links, top linking domains, and anchor texts.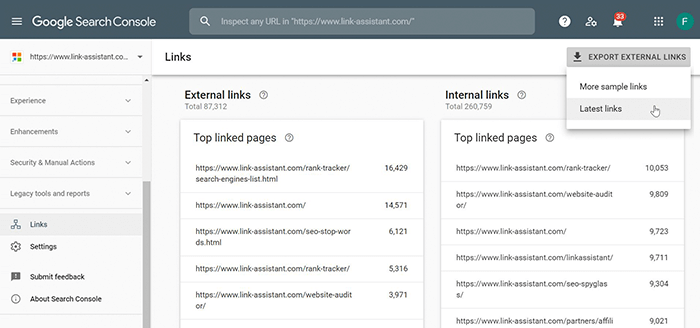 The tool is good, but with a limitation on the number of backlinks that can be exported at a time. This is rather a basic link analysis tool to understand your current domain link profile.
Brand monitoring tools
The popular link-building method is to find linkless mentions and reclaim your links. You can do this by using social listening tools, for example, Awario or Buzzsumo.
Awario is a web-based application that collects mentions across the web, forums, news, and social media. You can apply the Boolean filter to collect linkless mentions only. The extended search settings let you enter your target keyword plus the search operators AND NOT + link to find linkless mentions.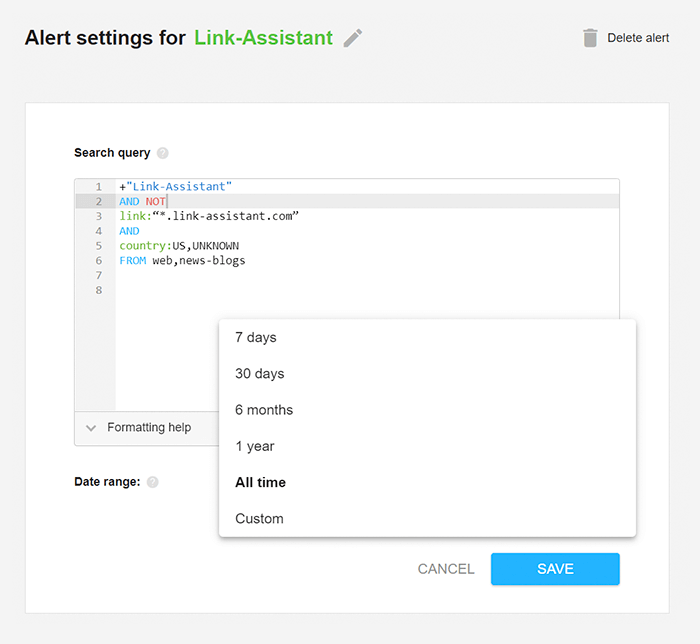 After that, you will be able to reach out to the authors of the mentions by email or on social media. It will be easy to convince them to insert a backlink because they have already written something about you.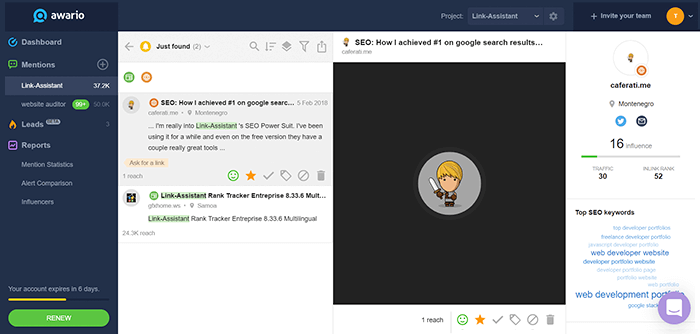 Backlink checkers
SEO SpyGlass is desktop software designed specially to check a website's link profile. It lets you check your competitors, and discover backlink opportunities.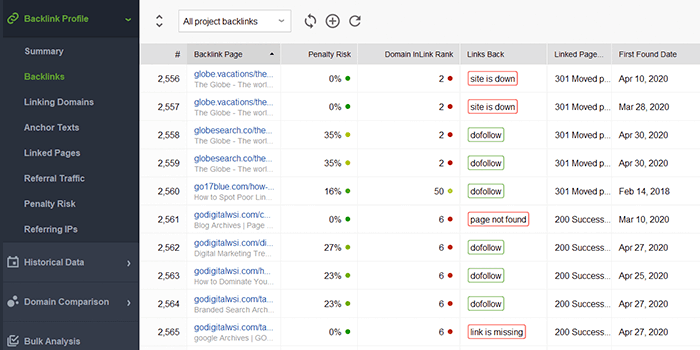 Alternatively, try the online backlink checker from SEO PowerSuite. To analyze the link profile of any page, just enter the URL, and the tool will quickly show all the referring domains.
Other link research SEO tools: Scrapebox, Moz, Majestic, Hrefs, Semrush
Outreach tools
LinkAssistant is link building software designed specifically for meaningful outreach. Currently, it combines a bunch of link prospecting tools, including:
keyword research and link analysis features;
a powerful backlink checker;
an email management tool that integrates with external email clients;
a backlink tracker to verify that all backlinks are in place.
First, download LinkAssistant and install (this will take only a couple of minutes). Launch the tool, paste the URL of your site to create a project, and you will be sent to the main dashboard. Choose to Start a new search with several predefined link prospecting methods.
The tool includes all popular methods for link building campaigns. You can find your prospects by various search methods, such as guest post sites, forums, blogs, directories relevant to your niche, etc.


Other outreach tools: Buzzstream, NinjaOutreach, Pitchbox
Before we dive deep into different tactics, let's look through the SEO metrics that will help us identify the quality of the link building prospect.
Link analysis
A successful link-building campaign relies on proper link analysis. There are two criteria that will help you identify your best backlink opportunities: topical relevance and the authority of the prospect.
All link prospecting tools contain quality filters. They let you sort the discovered prospects by various metrics and sieve away irrelevant domains. Below are a few factors that we consider in our link analysis to find the best link building opportunities.
Topical relevance
The best link prospects are located according to topical relevance, i.e., your target prospects are pages covering the same niche as yours.
How to find your best picks for inserting high-quality links? Do keyword research with a Rank Tracker tool and match the right keywords to the right pages. Then use the researched keywords in link prospecting tools to find the right prospects.
LinkAssistant contains the keyword feature available from the Expert Mode. When setting up your research in a niche, add your target keywords. Then hit Suggest keywords, and the outreach tool will populate the workspace with the closest keywords for the given topic.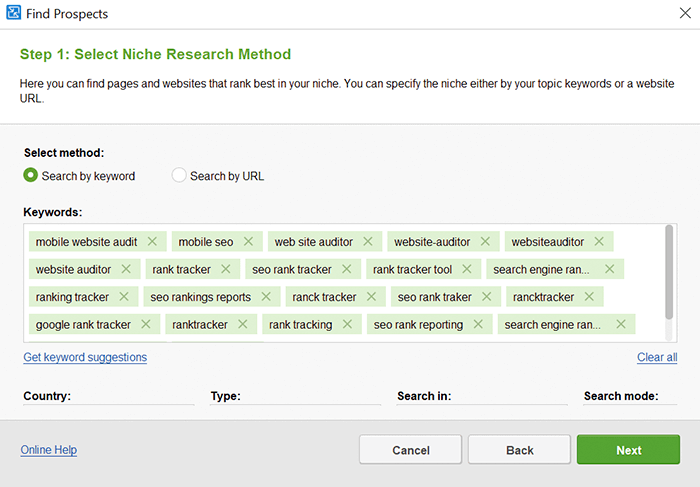 The tool will then look for your best link building opportunities based on the discovered keywords.
Domain Strength
Being a backlink analysis tool, SEO SpyGlass provides a number of metrics to estimate the quality of backlinks and the domain strength overall. This is desktop sofware, so you will need to download and install it first, but the setup is simple just like in LinkAssistant.
Add the URL of your site to create a project. Add the competitor's site you want to check, and switch to the Domain Comparison module. Here the tool shows the backlink profile of your site as well as your competitors'.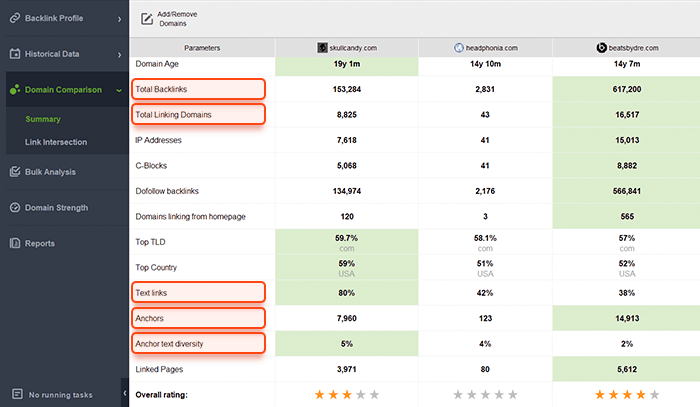 Note: The Domain Strength in SEO SpyGlass is calculated for your own project domain and the sites that you added to track as your competitors (up to 10 per project in paid versions). For link prospecting, the backlink checker has the Bulk Analysis module. There you can check basic stats of your potential link-building prospects altogether, up to 200, one per line (such as InLink Rank, domain IP, traffic, indexing, etc).
InLink Rank
SEO PowerSuite includes a bunch of link analysis metrics that help figure out how valuable a link from a domain can be. InLink Rank is a metric to estimate the ranking power of pages and domains. The score is calculated similarly to PageRank based on the number and quality of incoming links to the page (both external and internal).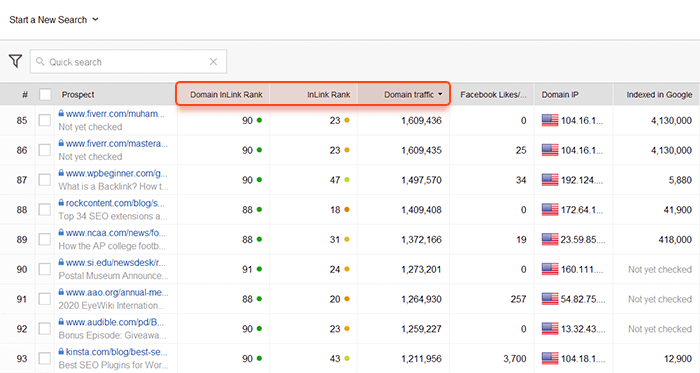 We conducted a study and found a positive correlation between Domain InLink Rank and rankings in search engine results. The metrics are available in both SEO SpyGlass and LinkAssistant.
Traffic and social media activity
SEO PowerSuite's backlink checkers provide data about domain traffic. While traffic is not the only quality criteria, it is crucial to have it. Besides, SEO SpyGlass can show the number of pages indexed in Google, and activity on Facebook, if any.
Page Authority and Domain Authority
Page Authority and Domain Authority from Moz API are comparative metrics from Moz for prediction on how the domain (or a separate page) is going to rank in search results. The value spans from 0 to 100, though it's not an absolute value. This is just a clue, so aiming for the highest DA should not be mandatory. LinkAssistant integrates with the Moz API (2500 rows for free check per month).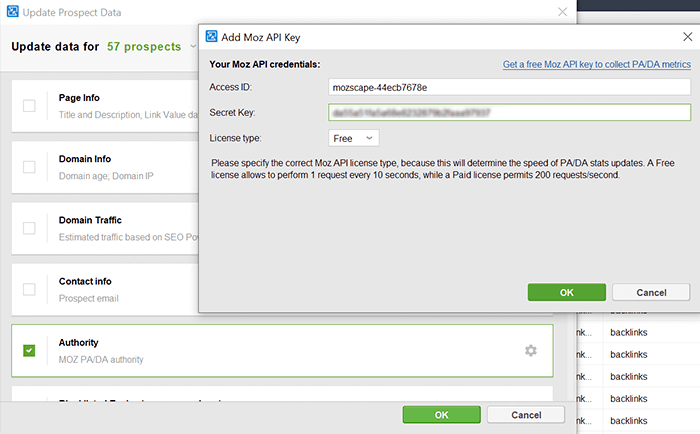 Anchor Diversity
Anchor text, which is the clickable text in a hyperlink, may help pages appear higher in search results. The anchor text cloud in SEO SpyGlass shows the major keywords around which the links are built. It is recommended to use your target keywords as the anchor text. However, they should fit into the context and shouldn't be exact-match keywords only.
Placement on the page
High-quality links are those that are editorially placed within a context. Anchor words appear in the text, surrounded by same-topic keywords and phrases that create this context. Besides, it is better to have backlinks higher up on a page. On the other hand, links in footers, templates, and other service sections of the website, especially when appearing in abundance, may look unnatural and classified as spammy links.
Domain Rank and Domain Trust from Hrefs
Domain Rating (DR) is the proprietary metric from Hrefs link analysis tool that shows the strength of a site's backlink profile compared to the others in their database on a 100-point scale. The metric is commonly shared by link builders when pitching guest posts.
Penalty Risk
Penalty Risk is a special score calculated by SEO SpyGlass based on the spamminess of the linking domain. A high penalty score indicates that such backlinks may lead to an algorithmic penalty, so these are not your backlink opportunities.
In case you find a lot of risky backlinks in your own backlink profile, you ought to contact the webmasters of the referring domains and request to take the links down. If you cannot do so, there is the disavow tool to instruct Google the links do not count.
Related article: How to use Google disavow tool
Keep in mind that for valid link analysis, you can hardly use any of these metrics alone to evaluate a domain's ranking power. These are only an indication of a page's authority and should be considered as a bunch.
Proven link building tactics (with the use of SEO PowerSuite tools)
LinkAssistant is an outreach tool with a focus on link building. It contains all the features needed for a seamless link-building workflow:
Link research ⇒ Evaluating prospects ⇒ Contacts research ⇒ Email outreach ⇒ Setting up links ⇒ Verifying links
I will explain our link-building tactics mainly with the help of LinkAssistant (since this is the main tool we use on a daily basis). For some specific cases and link-building campaigns, you will need other link research tools to complement LinkAssistant (for example, to do broken link building).
Once you created your new project in LinkAssistant, hit to Start a new search in the first module.

You can either select the predefined popular link-building methods, or set your custom search from the Expert Mode.
Guest Posting
Though guest posting was condemned to death years ago, it's very much alive and thriving. There is no way to do without guest posts, because how else are you going to spread the word and create connections? In fact, with link-building tools, you'll be able to find hundreds of websites openly accepting guest posts.
Just keep in mind that guest posts fall under the regular ranking algorithms. It does not make sense to produce abundant low-quality spammy or spun articles because, in the end, they'll ruin your site's authority.
Related articles: Tiered Link Building
The easy way to find guest post opportunities is to search the web with the keywords "guest posts", "write for us", etc.
Another way, LinkAssistant's guest post tracker will do this much faster. Go to Start a New Search > Guest Posting, add your keywords, and specify the search engine. By default, the guest post tracker will find the top 100 blogs matching the settings. Check the sites, make sure you understand their guidelines for guest post submission, and go ahead.
Product reviews
Reviews are another great source of mentions and backlinks, let alone the fact that reviews are crucial for brand reputation. Reviews can be done in two ways: by users on review platforms or by bloggers who have grown the target audience for your product in their blog.
A recent Google update targeted reviews specifically, dragging down superficial reviews. A good product review has to be in-depth, covering major features, showing both pros and cons. The idea is that reviewing a product should help readers make an informed choice. So, no cheating with link-building through reviews, reviewers will need to work hard.
You can find reviewing platforms and reviewer blogs with a simple search request on Google. Or use the default search method in LinkAssistant as well.
Skyscraper link building: win links from top-ranking pages
By searching Top-Ranking Pages in LinkAssistant, you will discover popular sites that are not necessarily your competitors at the moment, but who rank for the keywords you are interested in. These pages get the most organic traffic, and most likely, they have tons of backlinks. In the search settings, define to find pages by exact URL, and you will find a good source for the skyscraper link-building technique.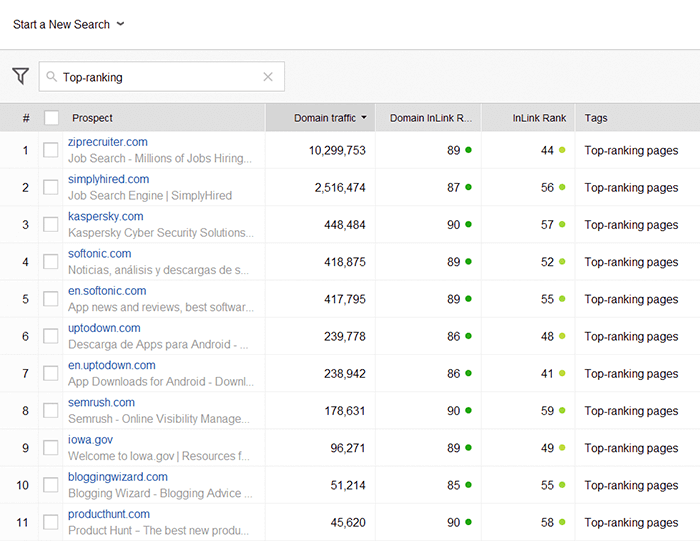 A slightly different search method is finding Similar Websites. The method lets you find competitors operating in the same business niche. Use it when you know the page you would like to put up in searches. Enter your URL, and LinkAssistant will find other pages that rank for the same keywords.
Related article: Skyscraper Link-Building
After you've found similar websites, analyze their backlink profiles with a backlink checker SEO SpyGlass. You will be able to look through the competitors and reverse-engineer their optimization strategies. Put a little effort to create something better, and reach out to the referring sites to steal a few backlinks from the competitor sites.
Note
How do you create linkable SEO content?
Try Website Auditor's Content Editor to support you with SEO writing.
The tool will search the web for top pages in search results matching your major queries. The Content Editor will devise an SEO writing plan to create an optimized page. The tips are based on semantic analysis like TF-IDF to offer an optimal keyword density. A bunch of technical SEO tips will improve the SEO score of the given page.
This way you will be able to align content creation with content optimization, killing two birds with one stone. Better optimized content backed by a rich link-building campaign multiplies the page's chances to appear in top results on Google.
Link-intersection tools: find backlink gaps with your competitors
Quite recently LinkAssistant has been upgraded with a backlink checker from SEO LinkExplorer, to provide a seamless link prospecting workflow.
Now you can conduct link building by backlink check methods, such as discovering backlink gaps, competitors' intersecting backlinks, or discovering fresh backlinks over a defined time term. This way LinkAssistant ensures that your link building becomes better targeted.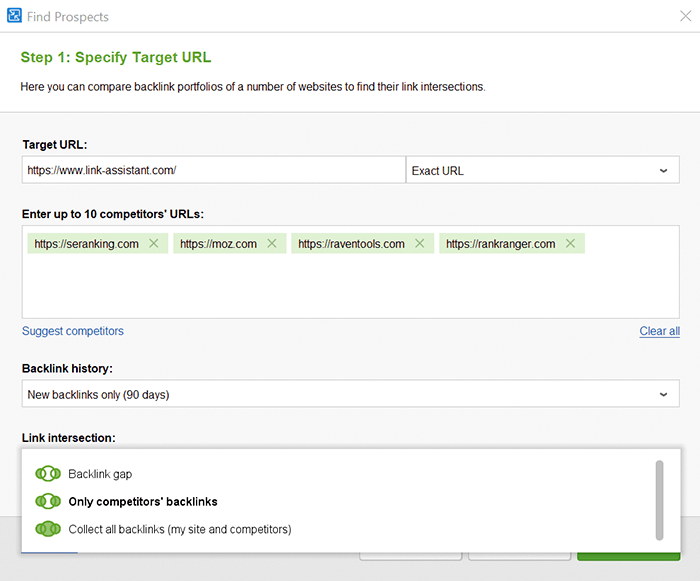 Note: The Backlink Gap method is used automatically each time you create a new project in LinkAssistant. Once you're in the tool workspace for the first time, you already have it populated with your competitors' backlinks. In the Note in the down right corner (when you are in a Feed View), you will see which competitor this backlink points to: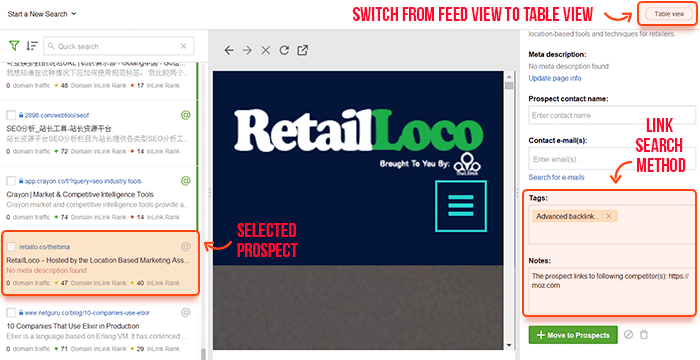 The Backlink Gap shows your competitors' intersecting links, but not your own. So, if some site links to all of your competitors, it is definitely relevant to your niche and will more willingly respond to your backlink request.
Find fresh backlinks of your competitors (steal links)
There is another option to analyze backlink profiles with the Advanced Backlink Analysis tool in LinkAssistant (also available from the Expert Mode). Why are Competitors' New Backlinks important? The fresh backlinks that appeared within the recent 9 months indicate the sites are still supported and operating live, so you're more likely to get positive feedback.
Sometimes, the freshness of a page is insignificant (depending on the kind of query), so you will find pretty old pages ranking in Google's top. They have rich backlink profiles, but many of those backlinks might be broken, or the referring sites' authority has changed. Analyzing only fresh backlinks, you spare yourself from outdated stuff.
Local link building: find niche partners
You can discover sites ranking in your niche and invite them to partner: affiliate marketing, content marketing, sales, and discounts not only generate links but also make a great marketing opportunity when your audiences overlap. For this purpose, use Expert Mode > Advanced Niche Research in Link-Assistant to exploit your niche: find the relevant sites according to location, type of device, desktop or mobile, search by keywords, or by an exact URL.
For extended local link-building, you can use Advanced Google Search with predefined search methods for finding traditional link-building sources, like:
Business directories
Blogs
Forums
Comments
Giveaways
Review platforms
Select the search method (or create your custom query), and hit next. Set quality thresholds for Domain InLink Rank, Alexa Rank, etc. Select the location where you want to find the link prospects, and run the task.
Related article: Link-Building for Local SEO
For example, the very first place for a startup online company to get mentioned is in local business directories. The point is that you have to pick quality directories that are curated and regularly updated. Some directories may close all their outbound links with nofollow. However, you will have more exposure and chances for a story pitch to highlight your products in the news. And just for the sake of mentioning a good example: the Startup Ranking Booster is providing services to place your mention for you in relevant directories.
Broken Link Building
Chrome extensions like Check My Links or Broken Link Checker analyze the web pages for broken links only (404 error responses). These are handy tools to check web pages with numerous outbound links on them for dead link error responses.
To find 404 errors sitewide, you can use backlink checkers like SEO SpyGlass, or website crawlers like WebSite Auditor or Screaming Frog.
In SEO Spyglass, enter the URL of the site where you want to find broken links, and let the tool analyze your site. Switch to the Backlinks module, and look for Backlink pages with the dofollow status to Linked Pages with 404 responses.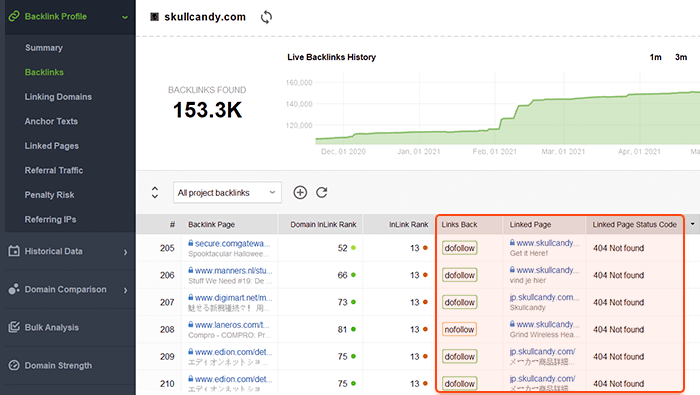 Click on the column header to filter the rows by values, and select owners of those do-following pages indicating they have a broken link, and you know how to fix it.
Related article: Broken Link Building
Finding contacts for your link building campaign
Outreach marketers worry a lot about the best open hours, optimize emails for a better click-through rate. Meanwhile, the effectiveness of an email campaign is not only about writing a hit subject line. What matters most is that you send your deal to the right person in the company.
Finding the right contacts sometimes becomes a brain-racking task. Link-building tools help to solve this task to a certain extent, but usually, it takes a combination of tools to find contacts.
LinkAssistant email scraper
Being an outreach tool, LinkAssistant by default scrapes contact information from the pages you are researching. You may as well add your prospects manually from another backlink checker, select the rows, and hit Update contact info. The email scraper software will collect emails from the pages.
Email lookup plugins
For those contacts that failed to get scraped, try email lookup services, most of which operate as a look-up website or as a Chrome extension. For example, the most valid addresses for prospects are provided by the RocketReach plugin or FindThatLead. The outreach tool Hunter.io is also accurate with contacts, plus it verifies email addresses before sending your letter.
Social listening tools
When you plan a campaign jointly with an influencer, a social listening tool like Awario or Buzzsumo will help you leverage influencers via social media platforms. Cold email outreach is fine, but if you want to establish contact with a valuable resource for a long-term partnership, reach out to them via social media. In fact, pretty often, you will not find any email but an invitation to send a message on Twitter or LinkedIn.
PR outreach services
One more means of promotion through content marketing is via PR outreach services. PR platforms vary in terms of services they provide: from custom tools to present good-quality PR reports for your breaking news to providing access to journalists' databases. For content marketers, PR outreach platforms like MuckRack become a spot to highlight their profile.
While Google claimed in the past that links from press releases do not count for passing rank value, PR platforms can be a good place to showcase your products and reach the media to pitch a great story in the news.
Note
Link building agencies
When you do not have an in-house SEO link builder, there are guys that can do all the link-building stuff for you, like the link building agency here (purely white-hat mention). Since they do exist and have successful use cases on their profile, it proves all those activities are absolutely white-hat and legitimate. Link building campaigns vary from finding platforms for link insertion to preparing and submitting guest posts and content promotion.
Reaching out to prospects
LinkAssistant contains an outreach tool that allows sending bulk emails to prospects right from the in-built email assistant. First, you need to enter the credentials of the email client you use, the mailboxes will be synchronized.
Then select all the domains that you picked for your link-building campaign and move them to prospects. The domains will be located from the Search prospects into the Prospects module, from which you will be able to manage them altogether.
Tip
Use Tags and Notes for filtering and managing your prospects in LinkAssistant. Select the prospects, right-click and press Add a tag from the context menu. You can also add tags when adding prospects in LinkAssistant. It is convenient to filter prospects and backlinks in a single workspace by tags and notes. Another useful application of tags is sending automatic alerts. You can set tasks covering groups of prospects, sorted by tags. For example, verify prospects' ranking factors or track backlinks from a segment of referring domains.
Select the prospects for your link-building campaign, right-click, and hit Send email to selected partners.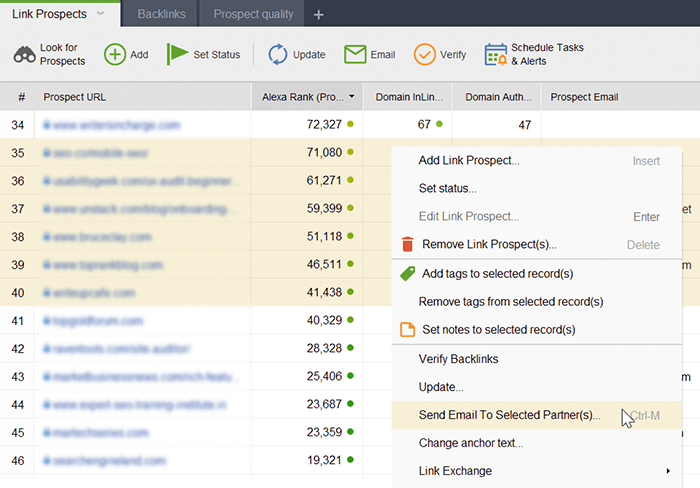 Pick the template
You will need to send bulk emails because for link building it is the scale that counts. Sometimes you'll send hundreds of emails to get only a dozen replies (it differs from case to case, of course). So, bulk emails based on templates let you scale your link-building outreach while staying personal. LinkAssistant contains several ready-made templates that you can customize according to your needs.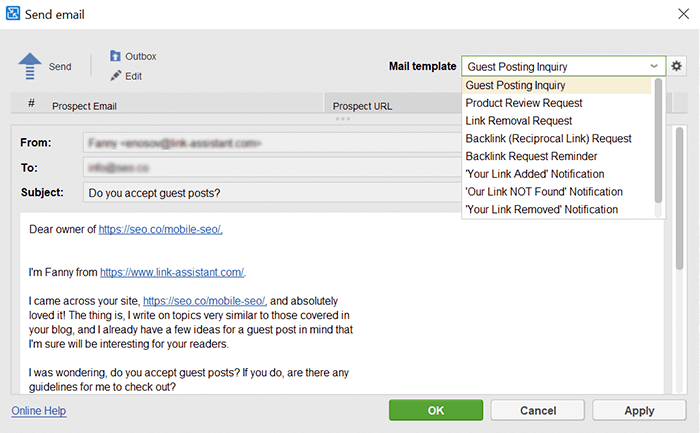 Personalize your outreach email
You can define the templates and design your own from scratch, by editing the text and custom fields. It is advisable to address the person by name in your letter, and to add as much individual context as possible. To personalize your bulk sending, fill in custom fields like the contact name or target domain. The fields will be automatically filled into the email script.
Introduce yourself
It's a good practice to give several words about yourself at the very beginning. Say why you are reaching out to the addressee: usually, it's because you operate in the same field, you run a blog with impressive traffic, and the like.
Describe your marketing proposal
Explain your offer in several plain words. You've got to be clear about the deal you are offering (a link exchange, a broken link fix, or offering a guest post). Then, you can add why this activity will be beneficial to you both: speaking about the audience, the traffic, and the ranking flow that the link activity will bring.
Note: Another approach is to send the first warming-up email inviting to partner, without mentioning the link-building interest. The idea is to engage your addressee in talking (because this is not always easy: when somebody receives dozens of link requests per day, it's likely the letters go to the spam folder without consideration).
Send follow-ups
Keep in mind that people you're writing to might be receiving tons of such emails a day. Sending follow-ups slightly increases the open rate and response rate. LinkAssistant has the special Status field to track your correspondence: Send link request; 1st email sent, 2nd email sent, and the Website Links Back. Usually, it doesn't make sense to spam a lot with your link-building requests, two reminders are pretty enough.
How to create linkable content?
The survey of SEO experts that we conducted quite recently proves that successful link building strategies rely on valuable content and trustful long-term relations.
Another survey we conducted back in 2017 brought some key findings that surely stay up-to-date until now. Among the 5 most efficient link-building methods, the survey highlights:
Interviews
Videos
Social sharing
Legitimate paid methods
Data/research
While pitching a link-building deal, you need to offer linkable assets, i.e. something that looks outstanding and makes people want to quote you. The highly promising content includes something that adds value and novelty to the information, such as:
Great visuals
Infographics
Original research data
Case studies
Key Takeaways
Link building in 2021 is all about quality: by default, you've got to ensure perfect technical SEO and great content on your site. With these premises, getting new link building opportunities will not make it a big deal.
Link building should be part of a broader content strategy, aimed to create stronger connections and reach your potential target audience.
Link building tools simplify link analysis, automate outreach, and ensure that your site has a strong backlink profile, which is important for web rankings.
Do you implement any link building strategy for your site? What link building software would you include in your personal list of outreach tools? I'll appreciate your feedback in the comments below!