Penguin, Panda, Hummingbird in 2014 SEO
PANDA, PENGUIN, HUMMINGBIRD:
Google changes its algos again — so you'd better get your site ready!
---
A few weeks ago, new Panda 4.0 update was rolled out (officially confirmed by Matt Cutts on Twitter):

But more to that, in many niches Google rankings keep very unstable ever since, giving rise to the rumor of new Penguin update coming (or even tested on certain queries at this very moment!)
Even if you haven't noticed any significant changes, it's better to be on the safe side and check if your site complies with the major guidelines of all updates. No panic, as we've got something to share:
First, a fantastic new module for "interactive" site audit (a convenient environment to check your site for all on-page issues and instantly get clear instructions on fixing each of them). It's a safeguard from any on-site issues that can trigger Panda or Penguin penalty — and it will be added to WebSite Auditor in just a few weeks!
And second, we've got a top-useful guide to share: a clear and concise updates explanation to help you get along with the Google zoo and make sure your site will stay afloat.
So, who's who?

Panda

Penguin

Hummingbird
First Launched
24 Feb 2011
(last updated in May 2014)
24 April 2012
(new updated is expected soon)
August 2013
Also known as
Farmer update
Web spam penalty
Semantic search update
Nature
Penalty,
based on low quality
Penalty,
based on low quality
A change of the entire
ranking algorithm
(no penalties issued
for separate sites)
Goal
To target sites with low-quality content and display them lower in search results.
To target web spam, i.e. sites not following Google guidelines and manipulating Google rankings.
To make Google respond not simply to keywords in a query, but to users' actual search intent behind these keywords.
How these 3 updates change your SEO?
Sure thing, having their specific nature and goals, each of these updates affects Google SERPS in a specific way and requires specific content and link-building tactics for you to follow.
Still sounds like a task too tough to tackle? Then here is a quick "cheat sheet" to make sure your SEO stays on the right track (effective and absolutely safe) whatever new updates Google rolls out.
5 steps to effective content strategy
Site content is something that gets increasingly more important with every new Google's update rolled out. The name of the game is relevance and your content needs to be deep and rich, rather than just fluff stuffed with keywords.
To get a better idea of how to adapt your content marketing strategy to the changes, you need to understand which mechanisms Google uses to determine relevance and quality and how each of them affects your site.

Adapting to Panda
Avoiding low-quality and duplicate content
Created in order to tackle the increasing problem of Content Farms (these are sites that churn out tons of low quality content in order to rank well in search results), Panda uses multiple factors to identify your site's quality. And two of them believed to be especially important are:
Content duplicates
Very short content pieces
This means there are 2 main things to focus on to make sure your content stays Panda-friendly.
1. Avoid duplicate content within your site and stay away from low-quality scraped content:
Focus on producing your own, high-quality unique and fresh content
Make sure all of your pages have unique titles and meta descriptions (rewrite any duplicates you find), and use robots.txt file to hide from Google's eyes any types of duplicate pages (such as your www and non-www page variants, paginated pages and so on)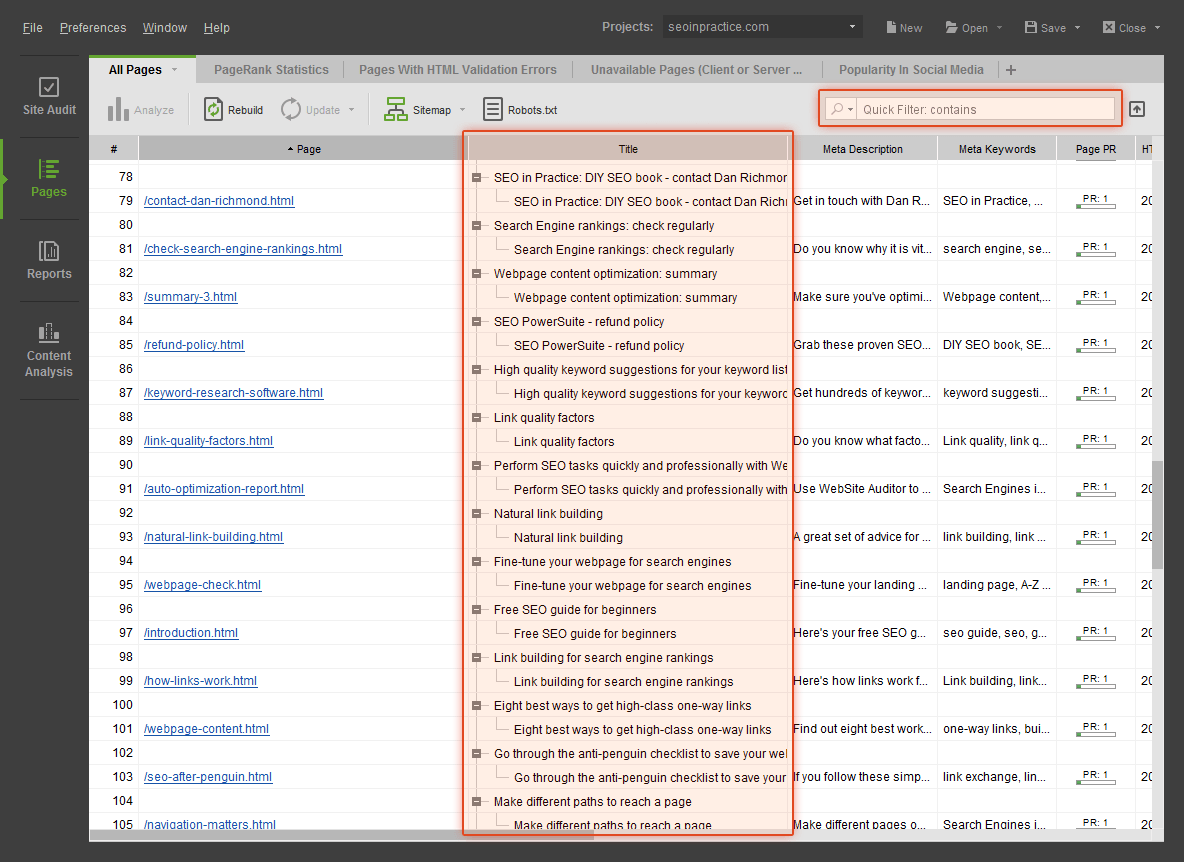 SEO PowerSuite tip:
Identifying duplicate content can be quite tricky, especially for big websites with hundreds and thousands of pages.
To do that quickly and accurately, use WebSite Auditor's structure module.
The tool will collect all the pages of your website and check if any of them have duplicate content found.
2. Make sure your website includes enough textual content
Keep the articles you create long and detailed, intended to be valuable for the readers.
Make sure even the interaction-aimed pages are not left content-less.
Create rich media content (like videos, images, etc.), and make sure your non-textual content is formatted in a way search engines can see it.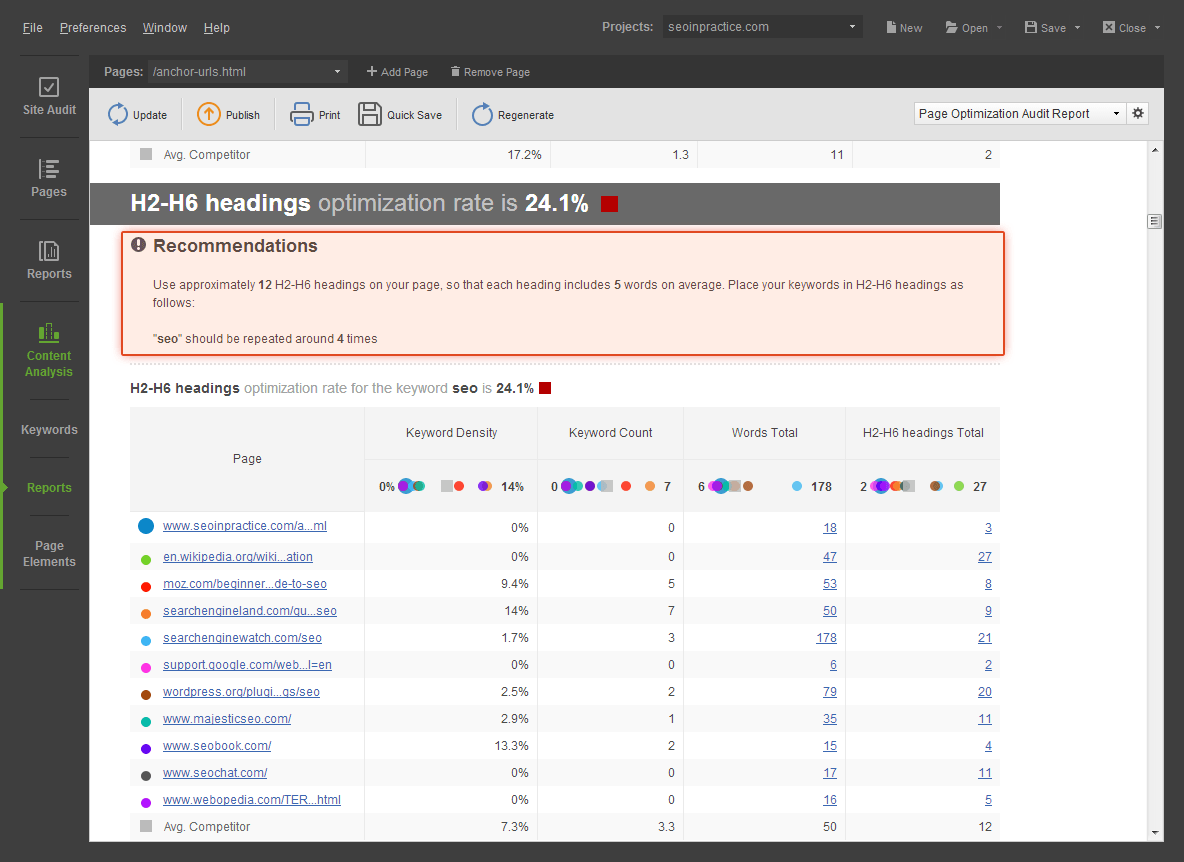 SEO PowerSuite tip:
But how much content is enough?
The easiest way to see that is by analyzing your niche competition with WebSite Auditor.
Check how long each of your webpages is with WebSite Auditor. You'll also be able to see the length of the average competitor's page to learn whether your content is substantial enough (compared to that of your rivals)
Adapting to Penguin
Avoiding keyword-stuffing
One of the issues Penguin targets regarding your site's content is keyword stuffing. Thus, creating Penguin-friendly site content actually means to:
3. Avoid keyword stuffing issues and stick to reasonable keyword density
Avoid putting a mere list of keywords in the page title (instead of making it descriptive or using your brand name.)
Avoid jamming keywords into the Meta Description instead of making it a call-to-action.
Avoid over optimizing H1. Fit keywords into these tags if it makes sense, but don't waste time trying to get them into every single page or especially every single subtitle.
Avoid alone-standing keywords in the alt tags of images. Use a descriptive alt tag or none at all.
SEO PowerSuite tip:
Use WebSite Auditor to calculate keyword density used by your currently top-ranking competitors.
You can safely repeat this strategy on your own website, as this is what Google sees as relevant and non-spammy content.

Adapting to Hummingbird
Adjusting to conversational search + striving for theme relevancy
The first challenge Google's Hummingbird update deals with is interpreting conversational phrases people use to search the Web today. Interpreting these longer phrases, Google can no longer rely on keywords only and provide different results for each of them. But rather bring numerous conversational requests to a shorter "general term", based on the type of searchers' intent:
Informational (user wants general information)
Navigational (user wants to find a certain site on the Web)
Transactional (user intends to run a certain transaction)
And the key option for you here is to:
4. Make sure your content covers each of the 3 types (informational, navigational and transactional)
Create different types of content for different query types
Try determining all conversational phrases people are likely to use when searching for your services and try using them when possible.
For all the rest of conversational terms, use their shorter equivalents.
---
Another step towards relevant search results is determining what a page is about using not only individual keywords, but their synonyms and co-occurring terms.
Practically this means that Google shows search results not only for the exact phrase the user typed in, but for other theme-related terms.
To make your content look really theme-relevant, the best idea for your site is:
5. Expand your keyword research, focusing on synonyms and co-occurring terms to diversify your content.
To see which search terms Google considers synonymous, pay attention to related keywords, acronyms or spelling variants of your keywords highlighted in search results.


Expand your synonyms list with the keywords that already bring traffic to your website (check your site's Google Webmaster Tools and Google Analytics).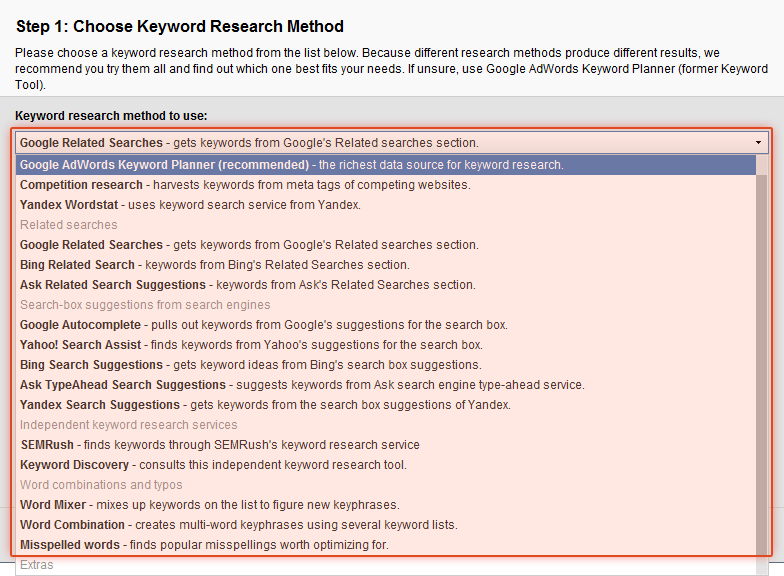 SEO PowerSuite tip:
With Rank Tracker's keyword research module, you can get new keyword ideas via 18 powerful keyword research methods (including Google suggest as well), without any need to switch to other tools and sources.
5 steps to safe link-building
2013 changed the nature of link building like never before. Numerous older methods just don't work any longer, while others can even ruin your rankings.
We hear the "end of link building" preached every here and there, but upon a deeper look we just see that, once again, we simply have to adapt and revise the notion of safe and effective link building.

Adapting to Panda
Focusing on quality
In its strive for highest-quality Web content, Panda, in some way, effects your link building too. And, not surprisingly, it shifts your link building focus to quality — the quality of sites that you get backlinks from and the quality of your own content:
1. Make sure your link-building efforts are focused on high quality link sources (because building links from Content Farms already de-ranked by Panda is at least useless).
Forget article spinning and comments and guest posting on low quality blogs. These techniques will no longer bring you any good.
2. Produce highest quality content, that will by itself attract natural links and social signals
Create useful pieces of content and other authors are likely to mention them, giving you a natural way to build relevant and quality links.
Adapting to Penguin
Keeping backlink profile natural and double-checking for negative SEO
Penguin update, in its turn, combats spammy backlinks and unnatural link building techniques, meaning 2 main aspects for you:
3. Make your backlink-profile look natural and high-quality
Analyze your site's backlinks, identifying any potentially spammy links and getting rid of them without regret. The basic rule here is to avoid backlinks that:

Come from sites built exclusively for the purpose of SEO.

Use overly-optimized anchor text.

Come from adult or other "bad neighborhood" websites.

Come from sites that are irrelevant to your own.
Make sure your future link building is in line — build links from high-quality, theme-relevant sources and keep your anchor-texts diverse and natural.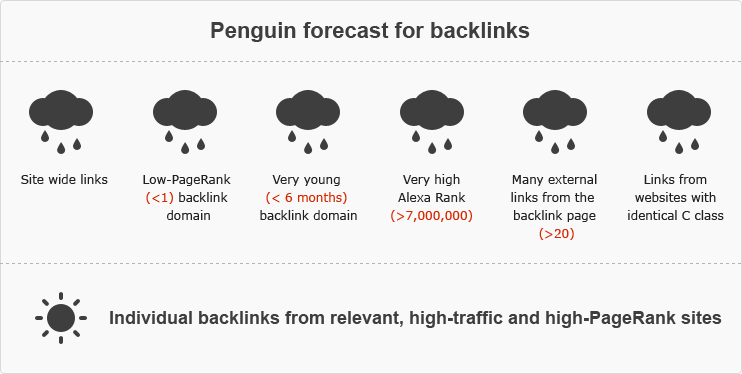 4. Beware of competitors' negative SEO
It's no secret that Penguin update gave rise to a wave of negative SEO (black-hats point spammy links to their competitor sites to push them down the SERPs).
If previously a spammy link pointing to your site could be silently discounted by Google, today it's more likely to incur a manual or an algorithmic penalty, so you have to keep a close eye on all new backlinks your website gets to be able to react immediately, if any negative SEO efforts are aimed at your site.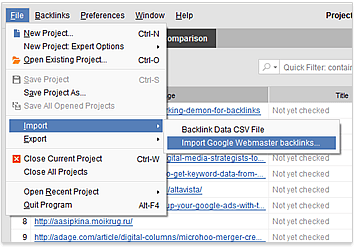 SEO PowerSuite tip:
Use SEO SpyGlass regularly to see freshly added links to your site.
---
The tool lets you import backlinks from Google Webmaster Tools by pressing File -> Import -> Import Google Webmaster backlinks.
If you wish to import only the freshest links from Google Webmaster Tools, choose Download latest links in GWT, then import the list into SEO SpyGlass through File -> Import -> Backlink Data CSV File.

Adapting to Hummingbird
Striving for co-citation
One of the easy ways for Google to identify what your website or your business deals with is co-citation.
In simple language, this mechanism means that each time your brand (or a link to your site) is mentioned alongside with your competitors or similar web resources, this serves as a hint to Google that your firm and those other companies are related. And if the competitors are already authoritative in your business niche, your site for Google now also seems a weighty niche representative.
Ex. If your website (1) is mentioned on websites A, B and C together with your competitors (2, 3 and 4), for Google the 4 websites become associated (see the scheme):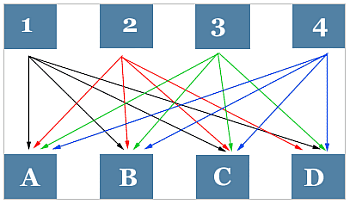 How can you use co-citation effectively?
5. Identify your top competitors (the leading niche representatives trusted by Google) and make sure your brand gets mentioned alongside with them.
Perform a Google search for "Top 10 [the generic term for your biz]…", "Best [the generic term for your product] of 2013", etc. If your business isn't there, reach out to the publisher and ask them to put you on the list.
Search for other competing brands ranking high for your keywords, to find more citation opportunities.
Reverse-engineer competitors' backlink profiles to see which niche resources they have links from.
SEO PowerSuite tip:
SEO SpyGlass will let you easily reverse-engineer your competitors links and spot the best sources for "co-citation link building".
More to that, you can compare link profiles of several competitors at once, to see which sites link to several competitors at once.
Is your SEO strategy all set for the Google of 2014?
Ok, it's time to look at your website keeping Panda, Penguin and Hummingbird in your mind — hope this guide helps you make a better sense of what the updates are and how to keep your site matching Google's new relevancy standards.
Tools you may find useful: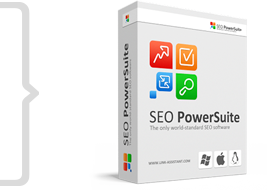 Rank Tracker
(historical rankings & keyword research)

WebSite Auditor
(in-depth on-page audit)

SEO SpyGlass
(competitive backlink analysis)
LinkAssistant
(smart link prospecting)
---

Google Webmaster Tools
(webmaster notifications)
Google Analytics
(site traffic statistics)
---