Possum & Penguin 4.0: Google's New Updates Explained

Article stats:
| | |
| --- | --- |
| Linking websites | N/A |
| Backlinks | N/A |
| InLink Rank | N/A |
Possum & Penguin 4.0: Has Your Site Been Hit By The New Google Updates?

By: Inessa Bokhan
October 4th, 2016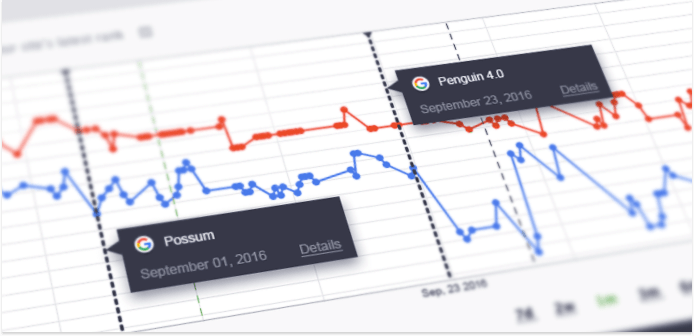 With Google rolling out change after change this September, the month was pretty busy for SEO folks. First, many SEOs saw major shifts around September 1st — this has been dubbed the Possum Update, and reports are that both organic results and local pack URLs moved substantially.
Secondly, Google has officially confirmed on the Google webmaster blog that they've begun rolling out the Penguin 4.0 real-time algorithm.
But if you think that your website might have been hit by one (or both?) of these updates, how do you figure out which one that was? Do you need to revise your backlink profile or look through the local packs? No need to panic — in this post, I'll explain what each of these changes are meant to do and help you figure out how and when they impacted your websites.
What's the "Possum" update all about?
Possum is an unofficial name for a number of big changes in Google's local ranking filter that took place on September 1st, 2016.
First of all, you should understand that this update doesn't penalize your site's pages, but rather filters some listings that used to show up previously. In other words, Google has applied new tweaks to the local ranking algo. Let's review some of the major changes that have occurred after "Possum" rolled out.
1. The physical location of the searcher (the IP location) becomes more important for defining the ranking
It seems Google became much more confident in the user information they collect. This explains why the exact physical location of a searcher becomes even more important for delivering search engine results.
So, if you get a call from a distressed client of yours who saw their listing disappear from a local pack, make sure they're setting a specific geolocation for rank monitoring (for instance, using localized rank monitoring in Rank Tracker).
How-to
If you've been checking site's positions in SEO PowerSuite's Rank Tracker, you know that the app lets you track rankings both in the 3-pack block and the Map results. It also lets you specify custom locations to check rankings from (you can make it as exact as a street address, and create as many custom locations as you need).
To get started, create a project for your site, and press Add search engines at Step 4. Find the Google Maps search engine in the list and click Add Custom. Pick the Interface language, User country, and specify the Preferred location (city, address or zip code):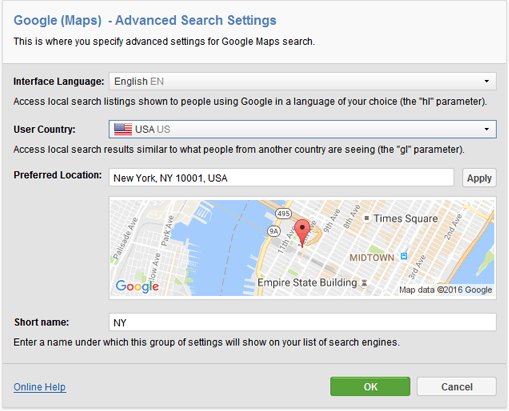 Additionally, you can select more search engines from the list and customize them to your needs: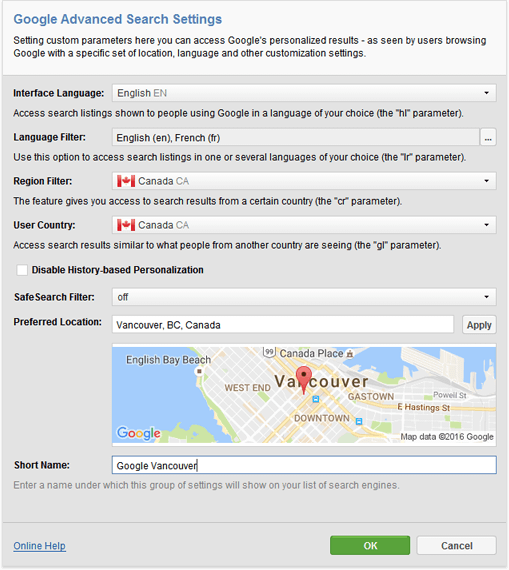 You can always modify the list of the local search engines you're using for rank checking in Preferences > Preferred Search Engines.

Download SEO PowerSuite
2. Businesses that are outside the physical city area got a boost in ranking
If you've already checked your site's local positions and noticed a big spike (congrats!), that's due to the fact that businesses located outside the physical city limits are now treated as the ones within the city.
Previously, if your business wasn't physically located in the city you targeted (but pretty close to it), it was hard for you to compete with the listings with a more central location. Not anymore. If that's the case with your local listing, that's really good news for you.
3. Sharing the same address with similar local businesses can make you less visible in the search results
Google has been filtering listings that share the same phone number or domain for quite some time already, but now they may also filter businesses sharing the same physical address.
Say, your company offers printing services and shares the physical address with a similar service provider. The bad news — one of the listings can be filtered out. You know Google's obsessed with eliminating duplicate content in its search results, and it looks like they've taken this approach further in local search.
What should you do to convince Google your listing is valuable and unique enough to be included in the top results?
Make your business listing information as unique and accurate as possible.
Check that your business is listed on all possible local resources and directories.
Verify your business descriptions and proofread them from beginning to end.
Add high-quality images and videos to your listings.
Inspire your customers to leave Google reviews.
Yup, just like you're working on making your site's content unique and catchy, you should be doing the same with your local listing.
4. Local results differ more depending on the specific search queries
If you haven't expanded your keyword list with localized queries (especially the long-tail ones), now is the right time to do that, since long-tails seem to provide more variation in local search results. For example, users searching for "san diego computer store" and "san diego computer store california" may now get slightly different results: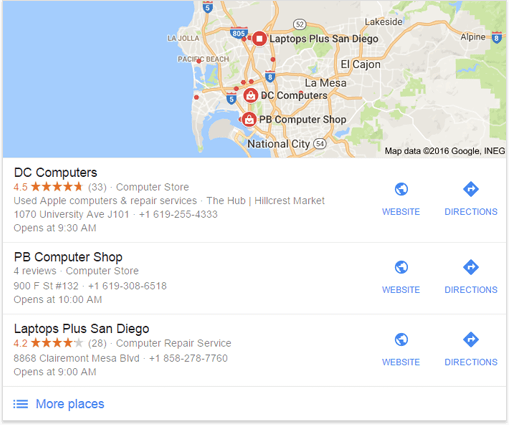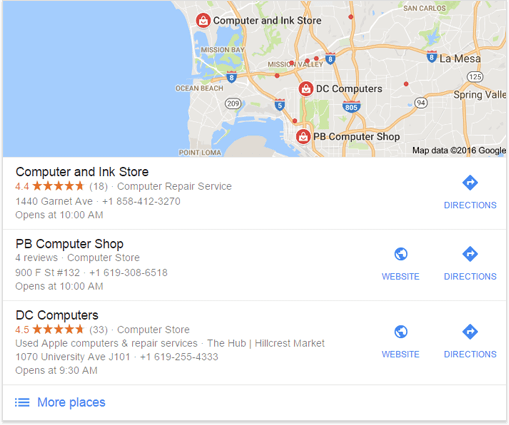 Do you need to do anything about this? If your local listing kept its positions in the results, you should only keep watching for any fluctuations. But if you spotted that the result was filtered, try localizing it a bit more — add the full city name, state name or state abbreviation, postal code (if it's missing), etc.
All you should know about Google Penguin 4.0
Okay, now let's turn to the official Google update, Penguin 4.0, which relates to all websites without exception. We'll discuss how the new update is different, what the penalty risk factors are, and how you can recover if your site got penalized.
Did Penguin 4.0 fully roll out?
After Google officially announced the launch of the new Penguin, the most discussed topic on SEO forums was "Did Penguin fully roll out?" And the answer is… nobody knows!
According to Google, it is never really done rolling out because the update is real-time, which means that the signals are constantly being updated. As Googlebot crawls and indexes the Web, Penguin gets applied here and there, bit by bit. It's not even clear if the first iteration of this huge rollout is fully complete: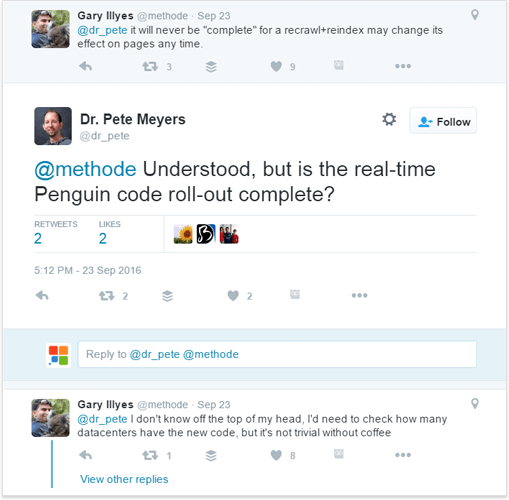 That's why if you haven't spotted any changes in Rank Tracker, let the things settle down a bit and repeat the checks on a regular basis.
How's the new Penguin different?
The top important thing you should understand is that it'll be possible to recover from the penalty much faster. As I already mentioned, the new Penguin is a real-time algorithm, so if your or your client's site gets penalized for unnatural links, you won't have to wait for ages till Google launches the refresh:
"Once a webmaster considerably improved their site and its presence on the internet, many of Google's algorithms would take that into consideration very fast, but others, like Penguin, needed to be refreshed. With this change, Penguin's data is refreshed in real-time, so changes will be visible much faster, typically taking effect shortly after we recrawl and reindex a page. It also means we're not going to comment on future refreshes." — Gary Illyes, Google Webmaster Central Blog.
Penguin is not a sitewide negative ranking factor anymore
Yup, you got it right — no more sitewide penalties, Penguin has shifted to a more granular factor. So, if some of your pages get penalized, the rest of the website may still keep its rankings unchanged.
This also proves negative SEO exists and shows how Google decided to knock it out.
Penguin hazards remain the same
I have no updates on any new Penguin-related backlink factors, so let's recollect what we already know about them. Penguin is looking for sites with one or several of the following types of links in their profiles:
Links coming from poor quality, "spammy" sites;
Links coming from sites created purely for SEO link building (PBNs);
Links coming from topically irrelevant sites;
Paid links;
Links with overly optimized anchor text.
Check if you were hit by Penguin 4.0
Sudden drops in organic traffic can be indicative of a Penguin penalty. To run an anti-Penguin check, you'll need SEO PowerSuite's Rank Tracker — the tool will match the dates of Penguin releases to your Google traffic changes, so you can see if you were hit by Penguin right away (and if you were, which update it was).
How-to
1. Launch Rank Tracker and open or create a project for your site.
2. Click Update visits in the top menu, and enter your Google Analytics credentials to sync your account with Rank Tracker.
3. In the lower part of your Rank Tracker dashboard, switch to Organic Traffic.
Now, look at your organic traffic graph overlaid with a calendar of major Google updates, and spot drops in visits that correlate with the dotted lines. Hover your mouse over any line to see which update it was, and click Details for a description of the algo change.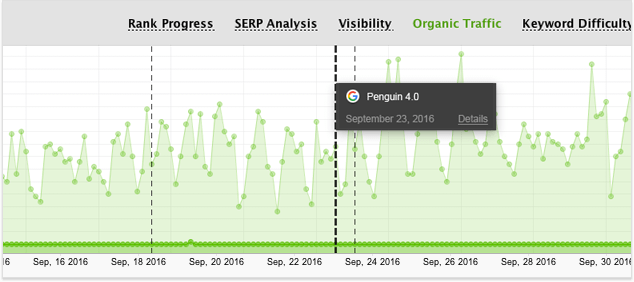 Download SEO PowerSuite
Run a Penguin audit
Penguin uses a bunch of factors to identify spammy link profiles. Based on what Google has said on the issue and post-Penguin feedback from webmasters, SEOs now have a pretty solid idea of what these factors are.
1. Check for penalty risks.
The stats that Penguin likely looks at are incorporated into SEO PowerSuite's SEO SpyGlass and its Penalty Risk formula, so instead of looking at each individual factor separately, you can weigh them as a whole, pretty much like Google does. If you use the tool's free version, you'll get to analyze up to 1,000 links; if you're looking to audit more links, you'll need a Professional or Enterprise license.
How-to
1. Launch SEO SpyGlass and create or open a project for your site. In a sec, you'll get a list of your site's backlinks from the tools' own backlink index, as well as from your Google Analytics and Google Search Console accounts.
2. Navigate to the Link Penalty Risk tab, select the links in your project, and click Update Link Penalty Risk (I recommend that you do this for 1,000 links at a time if you've got a big link profile). Give SEO SpyGlass a minute to evaluate all kinds of quality stats for each of your links.
3. When the check is complete, examine the Penalty Risk column.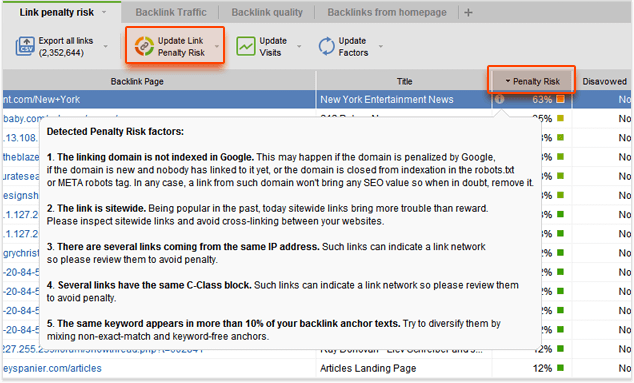 On average, a link with a risk of 60% and upwards requires your immediate attention and most likely poses a penalty threat. Links with a penalty risk between 30 and 60% can be potentially dangerous, so it's recommended that you manually examine those and take action if needed. A penalty risk of up to 30% generally indicates that the link is safe. If you hover the mouse over the number, you'll also see the list of penalty risk factors, as well as some tips on how to fix the issues.

Download SEO PowerSuite
2. Get rid of harmful links.
Ideally, you should try to request removal of the spammy links in your profile by contacting the webmasters of the linking sites. But if you have a lot of harmful links to get rid of, or if you don't hear back from the webmasters, it's a good idea to disavow the links using Google Disavow tool, telling Google to ignore those links when evaluating your link profile. Disavow files can be tricky in terms of syntax and encoding, but SEO SpyGlass can automatically generate them for you in the right format.
How-to
1. In your SEO SpyGlass project, select the links you're about to disavow, right-click the selection, and hit Disavow backlinks.
2. Select the disavow mode for your links (as a rule of thumb, you'd want to disavow entire domains rather than individual URLs).
3. Once you've done that for all harmful links in your project, go to Preferences -> Blacklist/Disavow backlinks, review your list, and hit Export to save the file to your hard drive.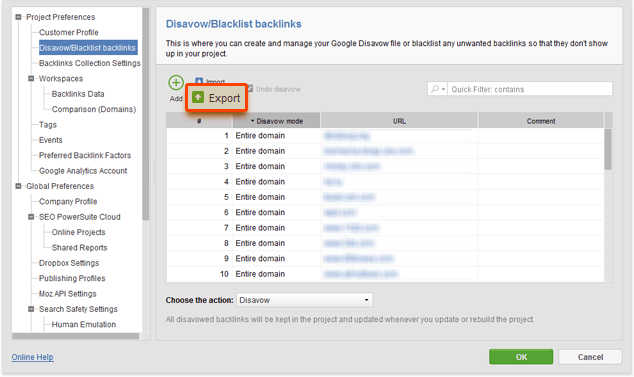 4. Now, simply upload the disavow file to Google Search Console.

Download SEO PowerSuite
That's it! The best part is that if you were impacted by Penguin in the past and have made changes, those changes have been rewarded (or soon will be — you won't have to wait another 2 years). On the flip side, we should keep our eyes on possible penalties all the time, as Penguin may strike any moment. And as the update iteration is not over yet, I'll be looking for more data in the coming days.
---
As always, I'm interested in what you're seeing on your end! Did you see any changes in your local rankings? Or maybe your website has just recovered from a Penguin penalty? Please share your thoughts and findings with us in the comments below!

By: Inessa Bokhan