Website www.rpgshop.com (Minion Development Corp.)
Increased Web traffic from 7,500 to 15,000 within 4 weeks
recovery from 2008 crisis traffic & sales loss
#1 for more than 20 competitive keywords
effective onpage optimization of an ecommerce website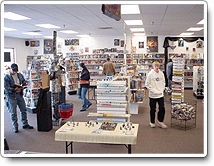 Business description:
Minion Development Corp. — A USA company selling paper & pen pole-playing games, dice, miniatures and board games.
Websites:
www.rpgshop.com — the main ecommerce online store
http://www.game-universe.com — the offline store website
www.rpgshop.com and http://www.game-universe.com — other ecommerce sites promoted with the help of SEO PowerSuite
Objectives:
stop the traffic decrease
restore the pre-crisis weekly traffic
boost online sales due to search engine optimization
Problems:
Difficulty of selling board games online because of big amount of offline discounters; heavy competition in the paper RPG market.
Switch to the new ecommerce platform software — modification difficulties and time-consuming tuning.
Immense drop of traffic and sales in May/June 2008 due to the industry fluctuations and economic crisis.
Details:
The year of 2008 appeared to be marked by board game industry fluctuations and thus became challenging for www.rpgshop.com. Dungeons & Dragons, the largest board game manufacturer, announced a release of a new product which dropped the sales of existing versions. Once the new product came out it met disappointment of the broad public which hurt the sales even more. In addition to that number of releases of 3d party products dropped due to expiration of D&D open license.
As a result of the industry fluctuations and general panic caused by the starting financial crisis almost 75% of all online sales and 50% of instore sales were lost by summer 2008.
James Mathe, the Minion Development Corp. owner, started to take action to increase sales in June 2008. The first step was a long-planned introduction of a more convenient ecommerce platform to make shopping easier for an online customer.
By the end of summer 2008 James noticed a considerable reduction of organic search engine traffic for www.rpgshop.com. The traffic drop was caused by the switch to a new ecommerce platform and negligence in terms of website promotion. Decrease of organic traffic became a serious threat, as it was primarily concealed by the generally bad situation both in the niche and in the USA economy. When James discovered it with the help of Google Analytics, the visits had already dropped from 15-20K weekly to 5K.
In order to stop the traffic losses James decided to concentrate on the SEO of www.rpgshop.com now that it had an improved shopping cart mechanism. He analyzed his budget and possibilities and after considerate SEO Tool market research bought 3 tools from SEO PowerSuite — Rank Tracker, SEO SpyGlass and WebSite Auditor.
Going through the pages of his online store James decides on the keyword density and introduces H1 tags that add prominence to keywords where necessary. WebSite Auditor is used for keyword density suggestion and H1 heading optimization, becoming a unique tool in terms of ecommerce website optimization. Another application of WebSite Auditor is managing duplicate content issue of an ecommerce site, where the text on different product pages has to be of optimal keyword density and at the same time original.
SEO SpyGlass helps James watch his competitors' backlink strategy. The tool finds all the backlinks leading to a competitor's website, calculates the number of outbound links on a backlink page as well as other page ranking factors and presents James with a backlink value. The bigger the backlink value the better place for a backlink the page is, be it an advertising page or a blog article. The way data is presented in SEO SpyGlass helps James make a timely and accurate decision on whether to repeat the best backlink moves of his competitor. Below is a screenshot of SEO SpyGlass' backlink analysis of one of the competitors of www.rpgshop.com:
While "spying" on his competitor James sees not only the backlink page, but the anchor text used to link to competitor's website, link age and status, backlink page PR and a calculated link value on the right.
Constant ranking measurement with Rank Tracker became an integral part of James' SEO activity. The tool becomes useful to determine keywords' profitability before spending money on PPC advertisement. Also, the history kept in Rank Tracker's project helps James evaluate the advertisement effects on every keyword, thus preventing any excessive expenses. The screenshot illustrates ranking dynamics for a keyword "role playing dice bags" for the period November 2008 — February 2009:
As one can see above, the keyword "role playing dice bags" rose from its' 2008 rank of #113 to the top position of #1 since November 2008.
As a result of all the activities mentioned above James is slowly but steadily back to the traffic numbers that his website used to have before the disastrous summer of 2008. His Google analytics dashboard illustrates the steady traffic increase since the SEO activities he started in September to bring his traffic up:
Using three SEO PowerSuite tools out on www.rpgshop.com James managed to get his weekly traffic back to pre-crisis numbers. The tools helped him take both onpage optimization of his ecommerce website and backlink & pay per click strategy under full control. As a result James is currently has his websites steadily moving to top positions in Google.com for pretty competitive RPG keywords, making up for the previous disastrous promotion neglection.
---
Try SEO PowerSuite tools and see how they will work for your own site! Download SEO PowerSuite here or Order Now.