Webmaster Simon Burgess
Got top 10 positions for high-competition keywords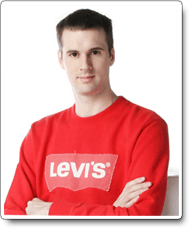 # 1 for a keyword with 2,170,000 competition
Up to 2K of unique daily visitors.
Top ranks for dozens of major proxy surfing and salvage cars keywords
1000x traffic increase since early 2008
Business description — websites:
http://www.myspaceproxyace.com — dedicated to proxies and site bypass, anonymous surfing.
http://www.esalvagecars.com/ — collecting information about the currently running Salvage title cars, project cars and other repairables listed in auction all over the USA.
Objectives:
http://www.esalvagecars.com/
:
High ranking for 'salvage cars for sale' — a high traffic and highly convertible keyword.
http://www.myspaceproxyace.com
:
High rank for the most sought after proxy keyword: 'myspace proxy'. A seemingly unreal goal for a starting webmaster challenging a 2.2 mln competition keyword.
Problems:
Extermely tough competition for keywords on proxies and anonymous surfing — several millions competitors.
Barely any experience as a webmaster — Simon started administering websites 6 months prior to launching http://www.myspaceproxyace.com
Limited promotion budget.
Details:
Simon launched http://www.esalvagecars.com/: in April 2008. After leaving it without any optimization for several months (while it was in Google's 'sandbox') Simon started his routine optimization activities. Similarly, http://www.myspaceproxyace.com was launched in October 2007 but no optimization was done until early 2008.
Usually Simon's SEO activities consist of reciprocal linking, directory submission, social bookmarking and other free activities. Occasionally he buys advertisement placement on a website proved to be worth it with SEO SpyGlass.

In the beginning of the optimization course Simon uses Rank Tracker keyword research capacity to find the best keywords to promote his website for. Simultaneously he uses Rank Tracker to do a detailed research on his competitors' ranking.
Once the keywords and competitors are determined, Simon runs SEO SpyGlass to extensively research the backlink strategy of the main competitors. SEO SpyGlass helps him analyze the quality of his competitors' backlinks and such factors as link popularity, anchor texts of the backlinks, the relative value of the 'link juice' passed on, the duration of link's existence and so on. Knowing the SEO value of links obtained in a certain location Simon shapes his own backlink strategy. Specifically — he decides on both where to obtain backlinks and a way to do that — either by free submission or by bying advertisement space.
Regular rank checking with Rank Tracker is an integral part of Simon's optimization activities and helps him stay updated on his own progress. Knowing the ranks some time after any SEO activity such as another directory submission or reciprocal linking helps Simon find out if that activity is fruitful and worth repeating. That is useful to avoid mistakes and not to persist with activities that bring little progress, and thus to ensure a steady and controlled rankings growth.
Here is a screenshot of his workspace in Rank Tracker:
The ranking history in the bottom left shows that at some points the keyword "project cars for sale" was dropping in rank. When rankings slightly drop or do not go up as fast as desired Simon concludes that the keyword needs another ranking boost and designs a new backlink building step with SEO SpyGlass.
Checking his competitors' detailed rankings for all the major keywords with Rank Tracker combined with backlink analysis done by SEO SpyGlass helps Simon get the full picture of his competition's backlink strategy. That helps him shape his own backlink building strategy.
As a result, http://www.esalvagecars.com/ gets thousands of unique visiotors per day according to Google Analytics:
Simon Burgess achieved impressive results by having the knowledge of what needs to be done to rank high. Competitor analysis helps repeat what brought his competitors success and at the same time avoid the mistakes they have made. In terms of advertisement placement, knowing what to do means being secured from wasting money on inefficient ad space. SEO SpyGlass and Rank Tracker, being only half of SEO Power Suite, together make a powerful tool set that allows both monitoring of any competitor SEO activity and own rank tracking to keep even a slightest change under control.
---
Try SEO PowerSuite tools and see how they will work for your own site! Download SEO PowerSuite here or Order Now.