Website owner Laus Sørensen
Uses optimized content to achieve Google PR and rankings boost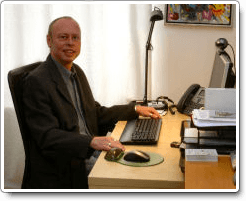 Google PR growth from 2 to 4 after 7 months of using SEO PowerSuite tools
Discovery of sales-oriented keywords
Keyword-targeted content on every landing page
Steady growth in Google, Bing and Yahoo!
Business description and website:
Website offering Prague accommodation, transport and sightseeing for tourists.
Objectives:
use low-budget strategies to increase website traffic and sales
discover sales-generating keywords in a highly competitive niche
manage online directory submission and backlink anchor texts
increase Google PR
optimize every lading page of the website for a specific keyword
effectively evaluate SEO activities by thorough and regular rank checking.
Problems:
Tough competition in the Prague tourism niche
Limited budget
Drastic time-consumption of directory submission
Laus Sørensen is the webmaster of www.praha-expert.eu, a website dedicated to cheap Prague accommodation, transportation and sightseeing.
Laus uses three tools from SEO PowerSuite: LinkAssistant, Rank Tracker and WebSite Auditor.
At the first stage of optimization Laus uses Rank Tracker as a tool to find relevant keywords, using the various built-in keyword research mechanisms (including Google AdWords keyword tool). As soon as he decides to expand the list of the keywords he promotes his site for, he checks the keyword's potential with Rank Tracker. Keyword research is a continuous process that helps Laus always discover unique and profitable keywords.
Knowing what keywords to choose Laus starts working on landing pages. Using WebSite Auditor Lars writes unique content for every page and works on the keyword density in all page elements. Performing onpage optimization on the pages of his site right after launching them online lets Laus secure a stable in-top-100 position of the fresh pages. The goal is to have a landing page for every single keyword, optimized to its' best, so that the pages do not compete with each other.
Regular ranking checks in Rank Tracker help Laus get a clear picture on how his site is doing in search engines per landing page. Rank Tracker picks up the landing page from the domain www.praha-expert.eu ranking highest for the keyword and Laus can watch the specific page's progress. Combined with WebSite Auditor's onpage optimization advice landing page rank tracking gives Laus an opportunity to see the practical effect of onpage optimization and figure out the best strategies.
Here is a screenshot of his Rank Tracker's workspace — the section below shows what landing page is ranking highest for the selected keyword and whether there has been any ranking advance since the last check:
Weekly rank checking is crucial for evaluation of any SEO activity that Laus undertakes.
Recently Laus started using LinkAssistant to create a link directory on his site. Having a directory and exchanging links with other webmasters brings higher ranks and mutual profit.
Apart from reciprocal linking, Laus finds the tool really convenient for another activity — directory submission. Submitting a site to online directories is a way of one-way link acquisition, and the more backlinks a site has the higher Google PR it will have and the higher it will rank for its' keywords. The link verification mechanism built into LinkAssistant allows Laus to see whether the link to his site has been added to a directory and whether the anchor text is right. Keeping track of all the anchor texts he uses is also made easy with LinkAssistant:
"One of the things which makes it useful while manually entering my site in web directories is the list of Anchor settings which I cut and paste from — even when I just work from my browser, it saves a lot of time" — says Laus. Each anchor text that Laus uses contains the main keywords he is promoting his site for. Varying slightly different anchor texts is crucial for Laus, because this makes his link-building look absolutely natural to the search engines and adds authority to his website.
After Laus started optimizing www.praha-expert.eu the site's Google PageRank went from 2 to 4. The PR of 4 (out of 10 possible) is a pretty high PageRank and a big advantage for any website. Now other webmasters are more eager to exchange links with Laus which made his link building much easier — instead of searching for link partners himself all he does is reply to link requests from other webmasters.
Right now, as Laus is steadily moving upwards in Google's search result pages for the keywords he found, the next objective is getting a higher rank for more competitive keywords, such as "Prague Accommodation", "Prague Apartment" etc.
Effective content optimization and organized directory submission ensure steady growth of Laus' website's rank for convertible long-tail keywords. He tracks ranking advance of his landing pages in all major search engines using Rank Tracker:
On the screenshot we can see that since the last check the page http://www.praha-expert.eu/prague-self-catering-apartments/ is in top 10 on Google.com, has gained 22 positions and is now #14 in Bing.com and has moved one position up to be #16 in Yahoo!. These results are really good for a recently launched website and Laus is steadily moving towards first-page ranks in the most popular search engines.
---
Try SEO PowerSuite tools and see how they will work for your own site! Download SEO PowerSuite here or Order Now.