How to start promoting SEO PowerSuite
SEO PowerSuite Affiliate Program is managed by Avangate Affiliate Network.
Already an Avangate network affiliate? Follow this dedicated link to join SEO PowerSuite Affiliate Program and proceed to Step 2.
New to Avangate Affiliate Network? Start with Step 1:
Step 1 — Get an Avangate affiliate network account

Begin with filling out this registration form to be put through the approval process. In up to 48 hours, you should receive a reply from Avangate Affiliate Network on your approval status.

If your registration has been approved, please proceed to Step 2.

If you get a message that your application for Avangate Affiliate network doesn't meet the approval criteria, please contact us at affiliates@link-assistant.com. We'll see if we can help have that sorted out!
---
Step 2 — Get confirmation that your partnership with SEO PowerSuite has been approved
If you've applied with one of the dedicated links above, you'll be automatically signed to the SEO PowerSuite affiliate program.
You should receive an email from Avangate Affiliate Network that your partnership request with SEO PowerSuite has been approved.
---
Step 3 — Generate affiliate links

Access SEO PowerSuite Affiliate Dashboard.

On the left, you'll see the list of 12 available products. Choose a product, select the link type, and generate your affiliate link: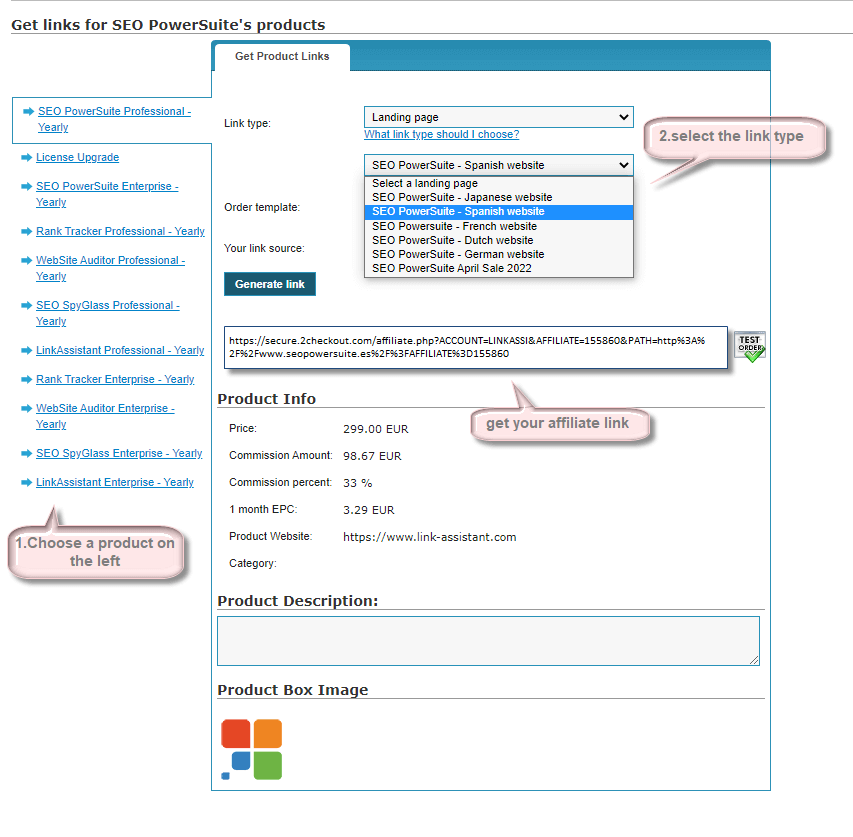 Avangate affiliate dashboard provides affiliate links for www.link-assistant.com only.
To get links for www.seopowersuite.de, www.seopowersuite.es, www.seopowersuite.nl, www.seopowersuite.fr, www.seopowersuite.ru and www.seopowersuite.com, use this form.
---
Step 4 — Make use of promo materials
Check the ready-to-use promo materials — product descriptions, logos, banners, and links — in your affiliate dashboard.
Choose the product, the link type, click 'Generate link' to get the list of the available materials: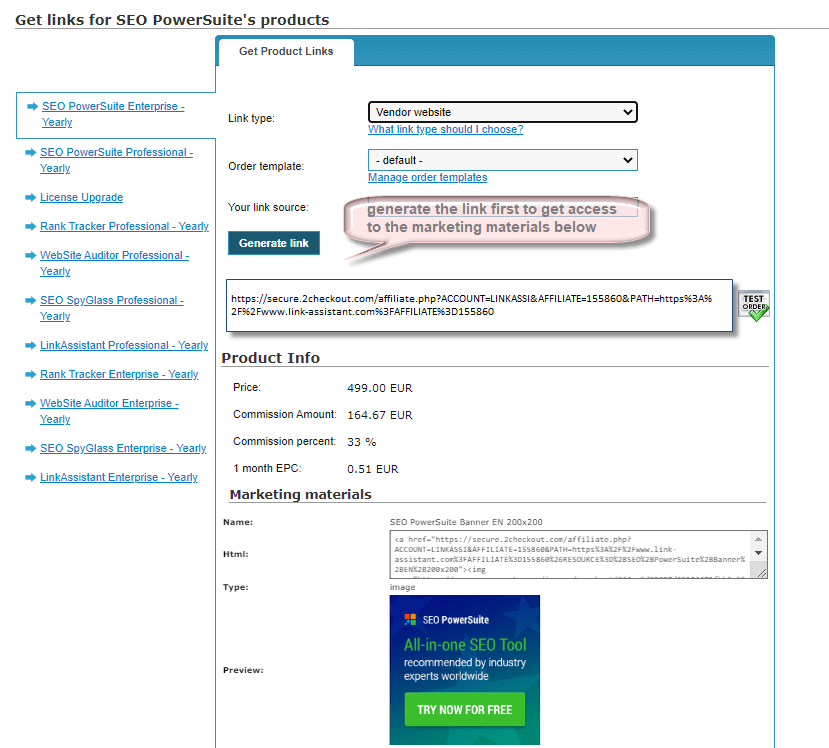 Banners in .psd for localized websites are available here.
Want to go an extra mile? Get sample product reviews, forum signatures and other sales instruments.
---
Step 5 — Add affiliate links to your site/blog
To start selling SEO PowerSuite, simply add promo materials and affiliate links to your website (blog, email newsletter, etc.) and turn your traffic into a steady source of passive income.
---
Step 6 — Add affiliate links to local websites
We have localized websites in Spanish, Russian, Dutch, German, French and Japanese. You can generate affiliate links that point to any page on these sites. It can be a page for SEO PowerSuite, or separate products.
Use the instructions below to generate your affiliate links for the regional versions of our websites.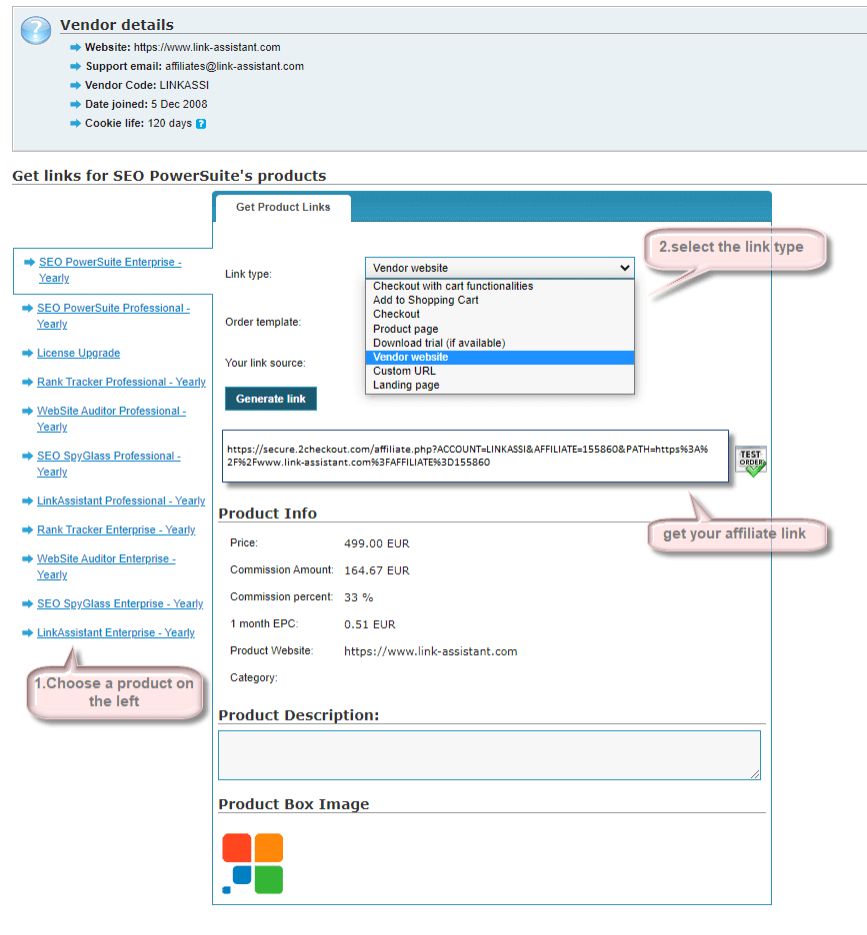 Note: To create your trackable links, you need to make sure you're registered with our affiliate program. You can find all the information here.
---
Join SEO PowerSuite affiliate program!
Note: you shall not run Google AdWords ad campaigns for any keywords (brand or non-brand without exception) to advertise your webpage or other pages that are purposed for promoting SEO PowerSuite products and contain your affiliate link(s), as well as any pages that are purposed to re-direct visitors to pages that promote SEO PowerSuite products and contain your affiliate links, unless you've requested and received permission from SEO PowerSuite staff. Get to know the detailed terms and conditions for SEO PowerSuite affiliates.

Back to top
Questions?
Get in touch with our affiliate program manager at
affiliates

link-assistant.com