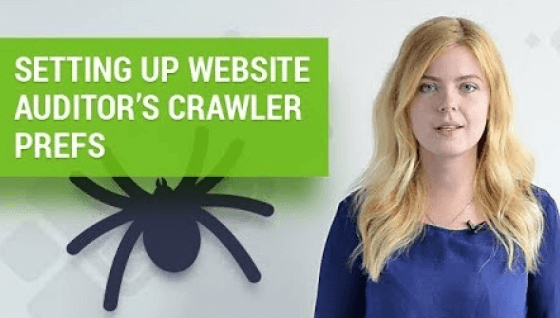 3.
Advanced crawl settings walkthrough
Learn how to set up WebSite Auditor's crawler preferences to make sure your site audit is set up exactly as you want it.
View this video
View video transcript
Hello and welcome to another SEO PowerSuite training video. In this video, you'll learn how to set up WebSite Auditor's crawler preferences to make sure your site audit is set up exactly as you want it. This video will be useful if your site uses JavaScript to generate its content, or if you have specific requirements to the crawl with respect to robots.txt instructions, excluding some of your pages from the project, crawling subdomains and password-protected pages, and so on.
First, you'll need to either rebuild your current WebSite Auditor project or create a new one. If you already have a project for your site, open it and click the Rebuild Project button. If you don't, click New to create a project from scratch, enter your site's URL, and check the Enable expert options box.
At this step, you'll see a bunch of options you can tweak. Let's look at those one by one.
The first setting determines whether you'd like WebSite Auditor to respect your site's robots.txt instructions during the crawl. By default, it's enabled and set to SEO PowerSuite bot - this means that WebSite Auditor will follow robots.txt instructions that apply to all bots when crawling your site. In the drop-down menu, you can pick Googlebot, Googlebot Mobile, Bingbot, etc. if you want the tool to only crawl the pages a certain search engine bot is allowed on. Finally, you can uncheck this box altogether if you'd like WebSite Auditor to crawl all of your site's pages, regardless of robots.txt.
The next option is the user agent string. If you'd like to crawl your site using a specific user agent, check this box and select a user agent from the drop-down menu. You can also manually type in any user agent that's not on the list.
Next is the Limit scan depth option. This will let you specify the maximum number of clicks you want WebSite Auditor to do before it stops the crawl. By default, this is unlimited; but this option can be useful if you have a large site and are looking to do a quick site audit of your most important pages.
Finally, Search for orphan pages will make the tool scan search engines' indexes and your sitemap to find the pages on your site that aren't linked to internally, but do exist.
In the Filtering tab, you can choose to collect only the pages with certain symbols in the URL, or exclude certain pages from the crawl. This can be handy if you only want to crawl certain parts of your site - say your blog or forum. The option below lets you do the opposite - specify which URLs you don't want to be crawled. Under the same tab, you can also select the kind of resources you want WebSite Auditor to add to your project.
The Speed tab lets you decrease the number of requests WebSite Auditor makes when crawling your site. This can be handy if your site is hosted on an older server, and you're worried that it may not handle the load.
Under URL Parameters, you can choose whether or not you want WebSite Auditor to treat URLs that only differ in dynamically generated parameters as the same page. If you don't, feel free to uncheck this box. If you do, check it and select either "all parameters" or "custom parameters" if you'd like to ignore some but respect others. You can modify the list of custom parameters and specify your own, if you need to.
Finally, under Advanced options, there're a few more customizations you can tweak. Use the first box if you'd like to crawl the site's subdomains along with the main domain. The Execute JavaScript option is handy if your site is AJAX-based, or if some of your site's content is dynamically generated with the help of JavaScript. If that's the case, make sure to enable this option to make sure all your content is rendered and crawled.
Lastly, there's an option that lets you crawl websites that require authentication. If your site (or a part of it) requires a login and password AND you leave this box unchecked, the password-protected pages will not be crawled. If you'd like to crawl the password-protected content though, simply check the box and specify the login details.
That's it! When you're done setting up the crawler prefs, click Next and proceed with the site crawl - it will be done exactly as you just set it up.
Remember that you can always access these crawler prefs through Preferences > Crawler Settings. Mind that these settings are project-specific, which means that for every new project you create, the default prefs will be used.
That's it, thanks for watching. In our next video you will learn how to do on-page SEO analysis of your landing pages and edit your content in-app with WebSite Auditor.