Why it would have paid you to get
SEO SpyGlass Enterprise 12 minutes ago
This is a story about
How SEO Software can bring pot of gold after THREE mouseclicks.
Sounds incredible, doesn't it? But yes, this is pure truth now that you have SEO SpyGlass Enterprise at your disposal. Firstly, this excellent software will automate your work to the uttermost — and never degrade its quality. Secondly, it is not the usual automation what is awaiting you this time.
Let us guess. What's the exact thing SEO consultants charge for? If you're in this trade, you must know 100 sure. Clients are paying for exclusive up-to-the-point advice that will help them skyrocket to the top of Google — and multiply your paychecks respectively.
Or aren't you in SEO consulting business yet? Then it's high time to join. This advisory service is going strong, and if you don't get down to it immediately, you'll hate yourself in the nearest future.
It's a shame for you not to make pretty penny — when others do it so easily.
You absolutely must utilize SEO SpyGlass to catapult your takings right now. Why? Because
What SEO SpyGlass is doing for you is merely fantastic!
Meet: an SEO Success Blueprint Report — a ready-made professional advice sheet — or a step-by-step tutorial to site optimization.
That's what makes SEO SpyGlass Enterprise so advantageous a tool in its niche. And — this is what makes this great SEO software pay back for itself within 12 minutes. Besides being great backlink analysis software, it is a unique tool for SEO consulting.
In brief, here's what SEO SpyGlass Enterprise does: off like a shot, it will search and analyze backlinks — and stun you in a matter of minutes by arranging a vast variety of ranking factors into professional, superbly-designed, highly informative reports customers are paying for — and all this just upon 3 wonder-clicks with your mouse.
At an average, SEO companies charge up to $2,500 per web site for this kind of reports. This implies that you or most likely not even you alone have to sit chair bound, eyes glued to screen — working hard to devise such analytical materials. What we offer is a program that will only cost you — and without fail, it will pay its own way in a matter of minutes.
SEO SpyGlass is one of the four tools in the SEO PowerSuite toolkit. You can save big-time if you order the complete SEO toolkit at once.
Now, how does it work? Let us say, you need to work out an SEO strategy for your client's site www.somesite.com.
In this case most SEOs analyze the main competitor's site, say, www.competitor.com (which SEO SpyGlass can also easily find for you) and create guidelines to outrank it.
So you enter an URL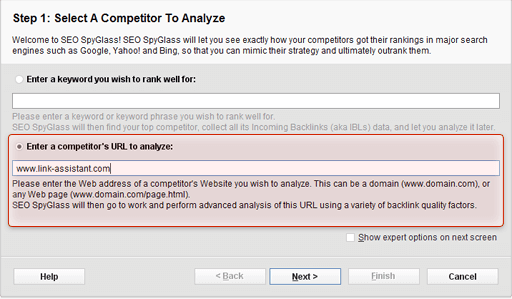 and make Click #1 to proceed. And...
STOP!..
It is SEO Spyglass Enterprise who's working hard. In the meanwhile, all you have to do is think
What am I gonna do
with the money it's producing?
But remember you don't have too much time to speculate. SEO SpyGlass will get the work done in next to no time, and you'll get busy again — spending your crispy bills ;)
...in a matter of minutes, the program will gather links pointing to www.competitor.com and analyze them for a great list of factors.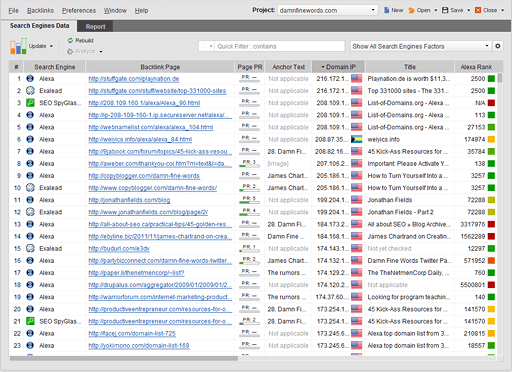 What Exactly SEO SpyGlass Does?
SEO SpyGlass Enterprise is an ace-high tool for web site analysis. What is meant under it?
Mass of precious information, all well-structured, all up-to-date and up-to the-point. In no time, it will give you numbers of facts that are not in the least easy to get! To name but a few, this is
The total number of backlinks the site has;
The exact URL of each and every backlinks;
The Alexa Rank of the backlink domain;
The total number of PageRank 0 to PageRank 10 backlinks the site has;
The exact IP address of every backlink;
The total number of backlinks coming from the same IP addresses, allowing you to easily identify site-wide links;
The exact anchor texts the site owners are using;
The exact anchor URLs of the site's backlinks;
Whether or not the backlinks still point to the site;
How many of the backlinks come from forums and blogs;
How many of the backlinks come from homepages of other sites, rather than internal pages;
The total number of outbound links on the Webpage backlink resides on;
The total number of links on the Webpage backlink resides on;
Whether or not the site has backlinks from the Yahoo! Directory;
Whether or not the site has backlinks from DMOZ Directory;
The exact link value of every backlink the site has;
The exact age of every Website linking back to the given site;
And much, much more!..
But this is only a mere part of what it really does. After you make Click #2, you will see what it's actually worth.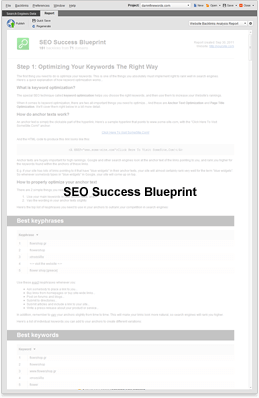 Click here to view a real-life sample
Based on all analytical data SEO SpyGlass has carefully gathered and sorted out, it will generate an SEO Success Blueprint Report — or a complete idiot's guide to search engine optimization. What does it mean? This report is like taking your client by the hand and guiding him through the process of optimizing his site www.somesite.com, step by step.
This great customer guide has been devised by professional SEOs and designers, with every word polished to perfection through years of practice so that your customers get trustworthy high-quality recommendations that never fail.
What you do is just click to generate the report. You won't have to create guidelines for each customer. They ARE already there!
Here's the point: SEO SpyGlass has already done plenty of work for you and is worth its weight in gold!
Now Comes Another Irresistible Proof
Click #3 makes reports available outside the program.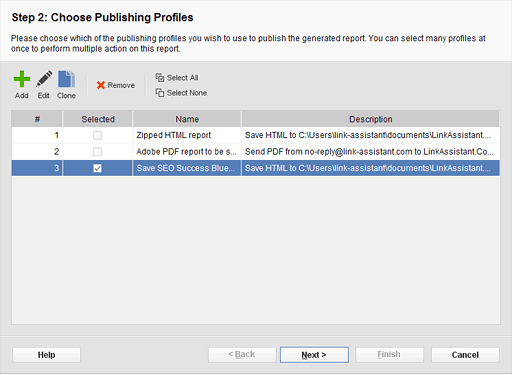 For yours and your clients' convenience, the report can be exported to Adobe PDF for printing, or to HTML for Web publishing. SEO SpyGlass can also automatically send reports via email, or upload them via FTP onto a web site to be accessible online. Which means:
Now you can do whatever you may need
to pass the results of your work to your clients —
and get your paychecks —
all for a couple of mouse clicks!
The quality of your Blueprints will be first-class, as if they were done manually. And without doubt, the reports will by all means stand to the point.
So the procedure is simple: you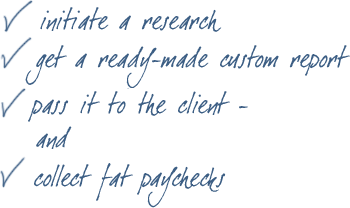 Now It's Time To Be More Particular About Figures
Consider the following example: Say, you perform website analysis manually or even use some software, and Yahoo! finds 1,000 backlinks for the site. To find out titles and anchor texts, Page Ranks, Alexa Ranks, IP addresses, link value and other ranking factors you will have to make at least 5 different queries per web page. Assuming you need an average of 30 seconds to make one query and put a note in a spreadsheet, this task will cost you 41,7 hours of your, or somebody else's time, which is more than 5 business days, or 1 business week! With SEO SpyGlass this will take a maximum of 12 minutes, which is 187 times faster.
After that, to make a report, you will need some 15 hours more in order to simply arrange the data and put each figure in the right place. SEO SpyGlass does this within 20 seconds! Add another 2 seconds to save or publish the report and that's it.
What price does your time carry? If you're paying an outsourcer 15 per hour, SEO SpyGlass Enterprise will pay back for itself within the first 12 minutes, and after that it's pure profit for you!
The only way this software could be more helpful is if it were printing banknotes!
The most special thing about SEO SpyGlass Enterprise
No doubt, reporting to clients plays a great part of your routine. Or not yet? Anyway, just think how big a fortune you're losing every day if you don't make analytical reports with this tremendous software.
With SEO SpyGlass, client reporting's become hundreds of times easier to do — and not even by a fraction less profitable than earlier. So you'd better get a move on, before your competitors haven't broken the bank with it.
Now you can produce reports your clients are paying you for and be sure they contain everything your customer needs to know.
Moreover, though fully automated, these stunning reports are highly customizable!
You can tailor-make pretty much everything in your report: brand it with your company logo and colors, choose which report sections and search engines data to include, edit introductory text etc.
But not only can you decide on the look and feel of your reports to match your company style. Now you have a perfect chance to choose between two options you jolly well are going to appreciate. These are:
A full-sized SEO Success Blueprint Report — A detailed custom report specially designed to help your customer outrank a specific competitor. The Blueprint is written

for absolute beginners

. It reveals things professional search engine optimizers have to let their customers know, but it is easy-to-understand even for a rooky.
It is like giving your client a personal consultation with an SEO pro, who tells her in detail how to get a #1 placement and one-up the competition.

A laser-targeted WebSite Backlinks Analysis Report and WebSite Backlinks Report — business-like, no-nonsense, up to-the-point reports without a single unnecessary word in them. Sure, you and your colleagues do not need detailed explanations and deep insights into SEO basics. For your convenience, this report has been made as laconic as possible.
These reports are ideal for use inside an SEO company. You'll definitely appreciate being able to get illustrative representation of research results and to pass those to a person responsible for the next step of SEO process.
Once you've created your SEO Success Blueprint within the software, SEO SpyGlass Enterprise nicely allows you to choose between a series of actions to be done with your report.
You can save reports in the industry-standard Adobe PDF format for easy printing. You can also e-mail the PDF to your clients without worrying if they use a Mac or a PC — PDF documents will look great on any operating system.
Moreover, you can save SEO Success Blueprint into valid HTML — ideal for Web publishing — or instantly publish the report to the Web by uploading it via FTP to your website to make it available online.
Just think that SEO SpyGlass Enterprise
makes these great features yours for only $199/year —
and you'll win the sum back
after 12 minutes!
5 things for your business you'll obtain together with SEO SpyGlass Enterprise
Get this stunning software and you surely will:
Profit by gaining efficiency
Doing research manually inevitably means hours and hours spent on rummaging through the Web analyzing keywords, checking backlinks, viewing PageRanks and what not — and then sorting out what you've got and putting it to the right places. Just think how much data can be missing, lost or misinterpreted! Now every single bit of precious information will be carefully collected and saved.
Cut costs by saving lots of time
No matter if you are doing everything yourself or have employees to do all the routine, SEO SpyGlass will save you work. Automate your work as much as possible — and look how you will immediately need less time for the same tasks!
Benefit when you Free-up resources
Reduce workload, and see how much much more can be done with the resources you've got. While SEO SpyGlass is working hard, think what other tasks people can do — and
Get advantage of Attending to more customers
Now that you have more resources, you can plan greater volumes of job to be done. Get more customers and be sure to have enough time to meet all their needs!
Take the bulge on your competitors by Getting customer loyalty
No matter if you perform keyword research or carry out the whole bundle of optimization tasks for your clients, they will be entirely satisfied by the results! We can guarantee your perfect performance if you use SpyGlass software!
As you can see, there are numbers of reasons why you definitely want SEO SpyGlass Enterprise. And there is none why not.
Convinced? Go ahead, just grab it!