Cornerstone Content
What is cornerstone content?
Cornerstone content is the piece of content that plays an important role on your site. As a rule, it's top-of-funnel content whose aim is to increase brand awareness and bring a lot of traffic.
You may know this term under other names: hub content or pillar content.
What distinguishes cornerstone content?
First of all, cornerstone content should cover a broad topic in-depth and at the same time overarch other more specific topics. That means your cornerstone content should be diligently interlinked with all the other pieces of content related to it.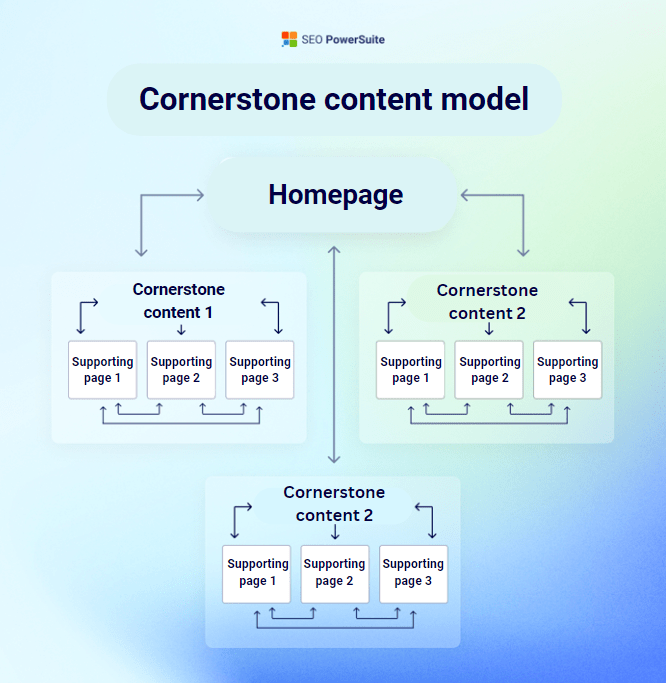 Second, cornerstone content is supposed to be evergreen content – never lose its relevance and value. So when choosing this path in your content strategy, be sure to keep your cornerstone content updated.
What role does cornerstone content play in SEO?
Cornerstone content attracts traffic. It targets broad short-tail keywords with high search volume. That means it draws a lot of traffic to your site. This, however, is possible given you are capable of competing with already well-established sites.
Besides, cornerstone content helps build topical authority. The more in-depth you go while covering a certain topic, the more authoritative you are in the eyes of netizens.
And finally, internal links that support cornerstone content send relevance signals to search engines making your site ranking even higher[1].
Cornerstone content strategy
Do keyword research and single out your future cornerstone pieces of content. Collect all the relevant keywords and then group them with topics, search intent, and keyword difficulty in mind. Your cornerstone content will be on a broad topic and target mostly high-difficulty keywords
Make up a content plan. There should be several cornerstone pieces of content per site.
Think of interlinking in advance. Your cornerstone content should be supported by content on more specific topics. Thus, all the pieces of content within one cornerstone group should be interlinked. Besides, your cornerstone content should be linked from your site's homage so that it's easy to find.
Write the most exhaustive content. The more detailed your content is, the more keywords you will naturally include, therefore the better your content will rank.
Optimize your content for search engines and regularly update. You should keep your content fresh, interesting, and helpful.
Related articles
Topic Clustering Guide to Give Full Play to Your Content Strategy
Create an SEO Content Plan to Help Your Business (+ Free Templates)
References