WebSite Auditor: SEO's #1 choice tool to optimize any website for permanent top 10 search engine rankings
WebSite Auditor is your effortless way to stand out from other SEO companies and deliver SEO services of exclusive quality and efficiency.
You will run a complete SEO site audit, create business-specific optimization strategies for site's structure and content, push up as many websites as you need, and communicate with your clients using the means they choose.
WebSite Auditor lets you use the new transformed approach to on-page SEO
It looks at a website as a multi-tied structure where a minor change in one element can amplify every SEO effort done on your site. So you not only create ideal content for individual pages, but also optimize the site as a system.
While brushing up keywords in the content, WebSite Auditor will also make sure that every word, HTML tag or link on one page is contributing to the success of all important pages of a site. That's how you side-step mistakes on minor pages that were unnoticeably dragging down most important landing pages. And this know-how works like clock and accelerates the progress of any page you're pushing up to Google's top 10.
This is a game-changing piece of software
It will not just make your life easier, running on-page SEO in a more efficient, simple and easy-to-maintain way. Thanks to the yet-unique two-layer optimization formula you can totally transform your clients' idea of what a really good SEO service is.
WebSite Auditor is one of the four tools in the SEO PowerSuite toolkit. You can save big-time if you order the complete SEO toolkit at once.
How does it work?
First it runs the full-range SEO audit of the entire site. You just feed a website URL to the software — and within a few minutes it pulls all websites' pages into one project, reveals the site's structure and analyzes it for a wealth of SEO factors.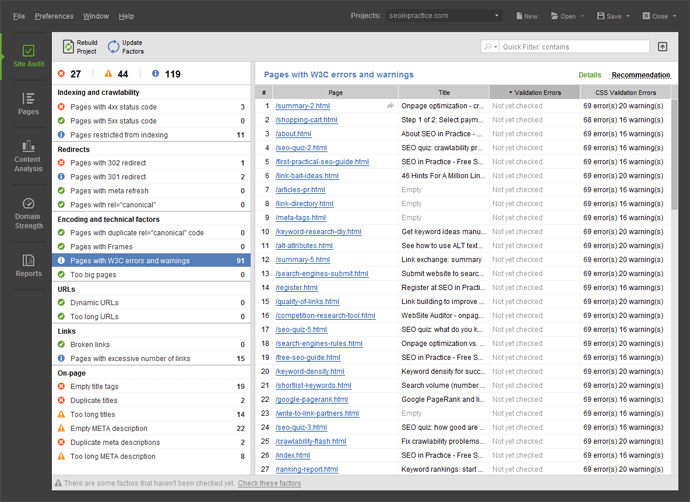 Briefly, WebSite Auditor runs the complete site diagnostics and makes all data immediately actionable, so that you can:
Evaluate and improve the site's link structure to take full advantage of internal linking
Avoid technical problems that cause search engines stumble (ex. HTML coding errors, broken links, bad server response codes like 404 etc.)
Monitor domain's performance in major search engines and in social media and more.
Second, it assists you in optimizing the content of every important page for any keyword and search engine. You just select pages one by one, enter your keywords — and WebSite Auditor runs an in-depth analysis of the 10 most successful websites in the chosen niche. This lets you find the exact ingredients of a page's content necessary to rank high in Google, Yahoo!, Bing or any other search engine you choose.
Besides you've got reports with precise recommendations for website tune-up and writing powerful webpages. Altogether WebSite Auditor is a genuine shortcut that lets you skip the trouble spots and delivers the most reliable, easiest and fastest path to a traffic and sales-generating top Google position.
This SEO software gives a full outline of each winnable on-page optimization step, from techniques that pay back within weeks to quick revisions that transform a website's sales literally in the same day.
WebSite Auditor works equally great for SEO pros and for beginners
Professionals will have plenty of facts for their SEO challenges. Here is only a brief overview of the huge wealth of vital search engine data you pull out with WebSite Auditor.
Crucial facts for optimizing the entire site's structure include:
Most linked-to and linked-from pages on your site
Internal to external link ratio for each page
Error 404 and other server response codes
W3C validation report for HTML code of each page
Broken links and nofollow links used across your site
Domain's and pages' performance in social media
Duplicate, empty or too long titles and meta descriptions
Date when each page was last indexed and cached in Google, Yahoo! and Bing
Pages that were not indexed in the major search engines
How many pages from the domain were indexed in Google, Yahoo! and Bing
Website's traffic according to Compete and Alexa ranks, etc.
And here're the details for writing and polishing up each page's content:
Keyword density and prominence among top 10 search engine leaders
Analysis of keyword density for each element of a webpage's code
Keyword prominence in HTML elements
Most popular keywords and key phrases used by your site and top 10 competing sites
Code elements using your keywords or key phrases
Highlighting important areas in your page's source code
Summary of keyword and key phrase distribution
and more!
And you can have a no-brainer advice sheet to use all these data, if you like!
That's right! In spite of the mass of useful facts WebSite Auditor provides, a complete beginner is on the safe ground here too: WebSite Auditor Enterprise generates reports that work like a one-on-one SEO consultation and a simple manual for optimizing any website. These reports are completely customizable, and are therefore great both to get SEO guidance, and to pass your results to customers.
Powerful reporting facility gives you advice, estimates required work in advance and lets you keep your clients posted
Whenever clients want to know where their money is going, reports from WebSite Auditor come in handy: this is the most clear and convincing means to illustrate your SEO activities to the clients, as frequently as they ask, and using the delivery method they choose.
The reporting tools of WebSite Auditor let you:
Estimate the required work in advance, and visually represent these estimates
Reveal across-the-board analysis of the entire site's structural issues
Provide detailed plain-text advice on effective content writing for any page
Demonstrate your work and achievements to customers or colleagues
Explain the reasoning behind your recommendations and revisions to the clients' site.
Customize reports to match yours or your client's brand.
Deliver reports in print, by email, or make them available online right from the software.
Schedule report delivery on set days and hours.
More to that, you can conveniently use these clear and concise reports to share your work with colleagues and keep the boss posted — ideal for office use.
Go to download WebSite Auditor and check its goodies right now!
Why WebSite Auditor lets you guarantee your clients the desired #1 Google position (with incomparable confidence)?
Here's what makes WebSite Auditor so reliable:
easy way to estimate the amounts of required work, and therefore, costs
Know the situation before you commit: you'll run a full site audit within minutes, and will easily see how good or bad a site is at the moment, how much effort and time you'll have to put in — and how big a charge you can request.
objective, systematic approach to the entire site tune-up
Look at the sites from a purely technical point which lets you avoid any misinterpretations. Get totally unambiguous data and act on it to optimize the site's architecture and coding.
proven content optimization methods adjusted for a specific niche
The principle of top 10 competition research works one hundred percent: you'll operate the facts true for the niche where your client competes and use battle-tested techniques for quick promotion of their site.
only legal white-hat optimization techniques
No risk of violating search engines rules: WebSite Auditor was designed to work in full accordance with directions and requirements of Google and other search engines.
complete instructions for website optimization
You get detailed well-structured advice on optimizing a website as a whole and each page in particular.
easy and fast reporting
You've got eight different kinds of reports for clients and for in-house use, all ideal for printout, emailing or FTP upload to a website — and this can be done right from the software.
fail-safe work at an unlimited number of websites
WebSite Auditor is empowered with security features (human emulation, rotation of proxies, standard Google, Yahoo! and Bing APIs) that speed up your work and guarantee secure work in line with search engine algorithms.
powerful functionality updates
We keep in close touch with our community, listen to users' suggestions, carry out non-stop SEO research and quickly implement every new profit-generating feature.
baby-simple use
WebSite Auditor was developed after demands of real users and was designed so that a skilled Internet marketer and a complete newbie feel equally at ease operating it.
autopilot work, if you wish
You can only make a couple of simple settings in the task Scheduler once, and then WebSite Auditor will do the entire job without any interference on your part! All you do is look at the results on your computer screen.
Go over this page to find details, or download WebSite Auditor and see how quickly you get a grip on it!
WebSite Auditor Enterprise gives even more advantages to your SEO firm
Cut your costs
WebSite Audito enables anyone to do in-depth website analysis, competitive research and onpage optimization without any special preparations. This job requires time and resources, unless you have WebSite Auditor. Now you can do any optimization task fast and can even choose to outsource all or part of your work. Cut your time — and cut your costs!
Win a greater share of a market
When looking for an SEO service, website owners can be tight with their expenses. WebSite Auditor pays back fast and gives you a perfect chance to keep your pricing affordable and hook up clients who were earlier unwilling to pay.
Gain global reach
WebSite Auditor has users in 112 countries worldwide, supports 597 search engines and works for optimization of sites in any language, which lets you provide services irrespective of a client's country.
Show knowledge and authority
You are sure to work in line with a best practices approach to SEO: inside the software, you're getting guidance verified by SEO specialists and based on battle-tested techniques of successful online entrepreneurs. Plus, you've got free assistance: website promotion experts and programmers from our strong support team give you a hand.
WebSite Auditor Enterprise makes your SEO firm the most qualified to handle clients' unique search engine optimization projects and provide customers with long-term results they are paying for.