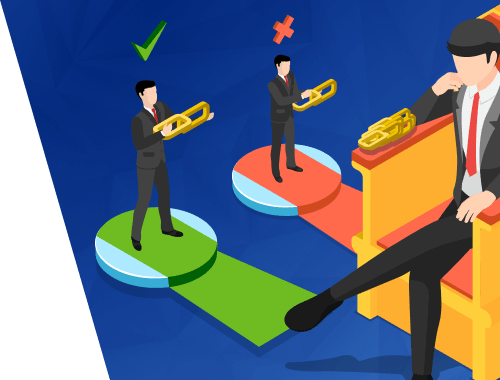 8 Step Guide to Auditing Your Backlink Profile
Article stats:
| | |
| --- | --- |
| Linking websites | 3 |
| Backlinks | 3 |
| InLink Rank | 21.0 |
Backlinks are not created equal. Some are good, some are bad, and most are just neutral. The bad news is that you can't always control what kind of links you are getting. The good news is that there are some tools that can help you manage your backlink profile and improve its overall health. In this article we will talk about auditing your backlinks, spotting risks, and exploiting growth opportunities.
Do I need a backlink audit?
Backlink audit should be performed in case:
you're an SEO agency, and you need to audit your customers' sites for toxic links;

you've bought a domain and want to make sure there are no reputation-damaging links left by previous owners;

you think of buying a new domain and want to check the health of its backlink profile;

you delegated your website's SEO to an agency and want to make sure they don't buy low-quality links;

you want to stay safe from negative SEO attacks;

you are an owner of a website and want to check and eliminate bad backlinks that may have appeared organically.
1. Retrieve the full list of your backlinks
The first thing to do with a backlink audit is to find all the backlinks that your website has. To do this through SEO SpyGlass, launch the tool and enter your domain.
SEO SpyGlass uses its own index to find backlinks. Although it's big and constantly growing, no index in the world can give you a full list of backlinks. Adding the data from Google Analytics and Google Search Console will give you a more comprehensive list of backlinks, thus a clearer picture of your backlink profile. If you want to add your Google Search Console and Google Analytics accounts to SEO SpyGlass, put a tick in front of the Enable expert options line, and click Next.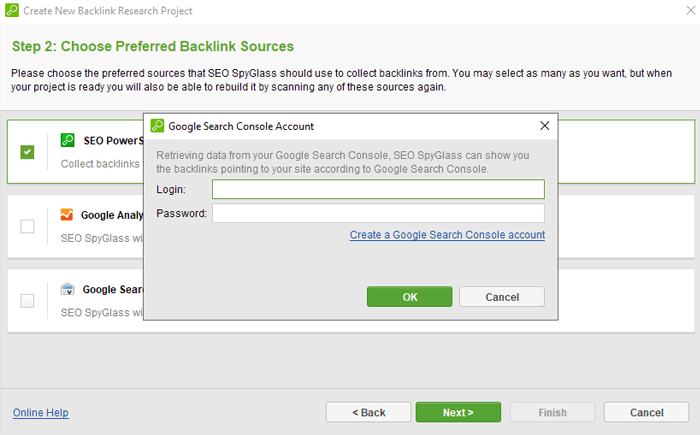 Note: If it's not the first time you're running a backlink audit with SEO SpyGlass, but you haven't connected GA and GSC for some reason, you can turn them on any time in the Preferences drop-down menu.

Now let the tool collect the backlinks for you. Depending on the scale of your project, the process may take some time.
2. Identify potentially harmful backlinks
Once the tool collects the list of backlinks, you can analyze it in detail to see if any backlinks can harm your website's SEO.
Today, Google is likely to ignore rather than penalize bad links. Still, if Google finds an overwhelming quantity of suspicious links, it may decide that you are trying to manipulate search results. This will result in a Manual Actions penalty and inevitably drop your rankings. Manual Actions penalty does not happen that often, as Google algorithms understand that you cannot control all of the websites that link to you. Still, it's better to prevent the consequences that harmful links may bring.
How to check if a backlink is harmful? In SEO SpyGlass, go to Backlink Profile > Penalty Risk section. The page will show you the estimated penalty risk for all the backlink domains, as well as for the individual pages.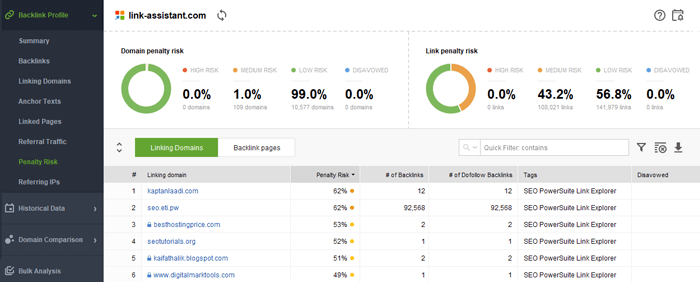 The Penalty Risk parameter is calculated based on domain rank, InLink rank (the number of backlinks the page has), anchor text diversity, backlink context, IP address diversity, and many other quality markers. The higher the percentage, the more risky the domain.
High-risk domains are those that have a penalty risk of over 70%. They are marked red and require your attention first. Backlinks from these domains should be removed from your profile, especially if the domain name and content look suspicious. Visit the pages to see if they have bad UX, many interstitials, too many ads, and thin content — all the red flags of spammy websites.
Medium risk domains have a penalty risk between 30% and 70%. They are marked from yellow to orange and can be potentially harmful, especially if most of your backlinks come from such domains. Consider eliminating some of these backlinks if they make up more than half of your profile. Start with those close to 70%.
To decide whether to remove the domain, you can click the info icon in the tool. The information window will show you why the domain is considered risky.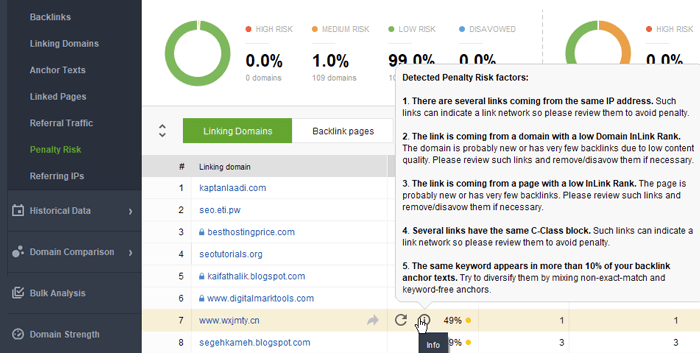 Keep in mind that higher than average penalty risk is not necessarily the marker of a bad website. To make sure that a backlink is worth getting rid of, check domain rank and whether a link is dofollow.
Go to Backlink Profile > Backlinks, and add the Penalty Risk column to the workplace. Then filter the results to make the tool show the backlink pages with the risk level you consider too high.

As you can see, the riskiest domains turned out to have a high domain rank and provide you with valuable dofollow links. Only consider discarding the link if, together with high penalty risk, it has a low domain rank.
For your convenience, you can mark all of the backlinks you decide to get rid of with a special tag. Select the backlinks, and right-click on them, and choose Add Tags. Then, type Delete (or any other name you prefer) in a tag name field.

3. Eliminate toxic backlinks
After you've identified the reputation-damaging links to be removed, you may now start cleaning up your backlink profile.
To remove spammy links, you have two options to consider: you can either contact the webmasters of the website and ask them to remove all the links to your website, or just disavow the harmful links.
Contact webmasters to remove links
Manually contacting the owners of the websites is a good choice if you don't have a lot of backlinks to remove. This method is also more reliable than using the disavow tool since the link is actually removed rather than simply ignored.
On the downside, contacting webmasters is time-consuming and will not result in a 100% success rate. Consider this if you are planning to remove hundreds or even thousands of backlinks.
If you decide to proceed with this route, you'll need some contact information of the people you're going to reach out to. In SEO SpyGlass go to Backlink Profile > Backlinks and add a Contact Info column to your workspace.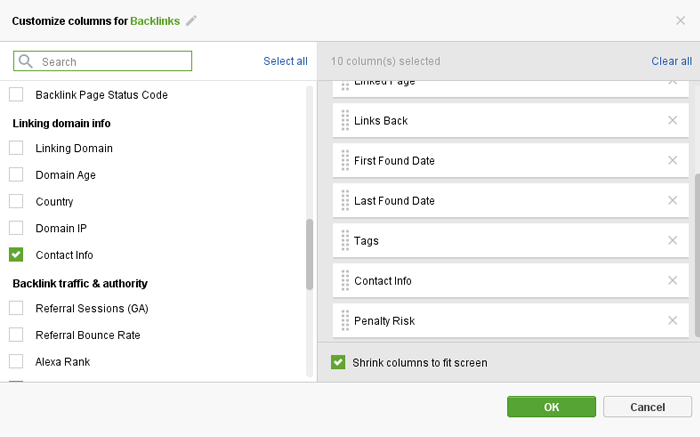 Update the Contact Info column for the websites you want to discard. The tool will provide you with the website owners' emails if found.

Note: Sometimes the retrieved emails may look like abuse@domain.com — this is the sign of an automated email spam reporting address created with the help of Network Abuse Clearinghouse. These email addresses help website owners stay away from email spam attacks, as the messages sent to such an address will be automatically reported as spam. If you see this type of address, you should visit the website and check the contact information manually.
Once you have the emails, you can contact the webmasters and ask them to remove all the links to your website.
Disavow spammy links
If you don't hear back from website owners, have too many spammy links to contact each, or experienced a negative SEO attack, which resulted in tonnes of low-quality websites linking to your website, you can disavow those toxic links with the help of Google Disavow tool. It's the way of telling Google what backlinks to ignore when assessing your site.
To disavow bad backlinks, you need to collect them into a disavow file and submit this file to the Google Disavow tool.
In SEO SpyGlass, choose the backlinks you want to get rid of, right-click them, and select the Disavow backlinks option.

Decide whether you're going to disavow a certain backlink or the whole domain. Consider the latter option if there are a lot of bad links coming from the domain, or the domain looks fishy. Disavowing the whole domain will keep you safe from all of the links coming from that domain in future.
You can see and check your disavow list in Preferences > Disavow/Blacklist Backlinks, and decide on whether to just disavow them or to backlist from all the further reports.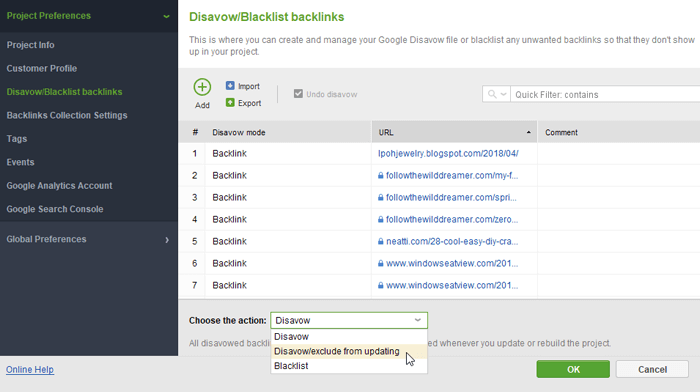 Note: The action type will not affect the way Google will read the file. This feature serves for your convenience to let you eliminate the useless lines from the report.
Export the file and submit it to the Disavow tool. This will not have an immediate effect on your backlink profile, but there is a good chance Google will start ignoring these links sometime in the future.
4. Convert nofollow links to dofollow
Nofollow links have no SEO weight. They are not counted by search engines and don't pass any link juice to your website. However, you can try to make some of those nofollow links into dofollow. Consider this for the nofollow links that come from high authority websites, as this can significantly benefit your rankings.
To decide if a nofollow link is worth your efforts, go to Backlink Profile > Backlinks, and sort your backlinks by Domain InLink Rank, InLink Rank (both in descending order), and a nofollow tag.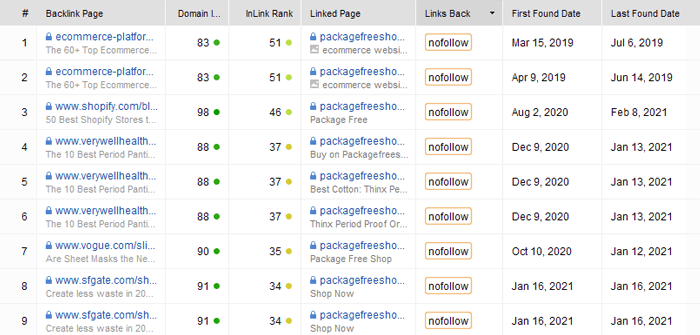 Pay attention to the top lines of the result page, and visit each page to check if it still exists and to see the context of your backlink. The links that are located in the page's body and are surrounded by relevant content are the most valuable, so you'd better try changing them first.
To change the nofollow link to dofollow, you'll need to contact the owner of the website or page. Choose the links you'll be working on, and update the Contact Info column for them.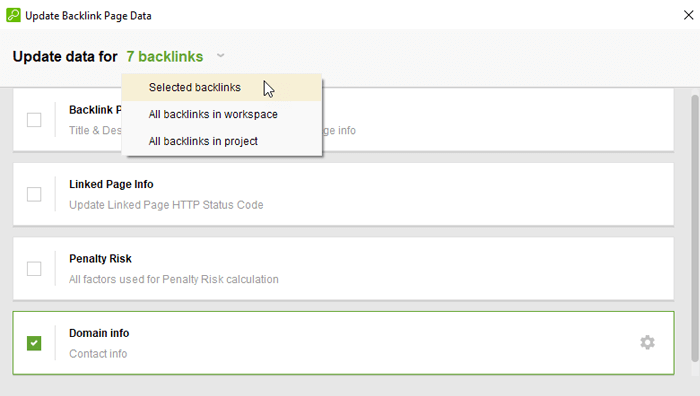 Now you can get in touch with the website owners, and ask them to make your links dofollow.
5. Try to return missing backlinks
As time goes by, backlinks may get lost. This may happen for technical reasons, the links may be removed by website owners, or the links may be replaced by those of your competitors. Anyway, you'll need to investigate the issue and try to return the backlink if it was good. What links are good? In terms of SEO, these are the dofollow links from a high-authority domain.
But before we start looking for lost links, it's best to limit the scope of our research to just those links that are worth the effort. It's easier on the software this way and the process will go much faster. So, go to Backlink Profile > Backlinks, and filter the results to see the backlinks with high domain rank. We'll proceed with those higher than 60.

Then, update the Backlink Page Info for the selected pages.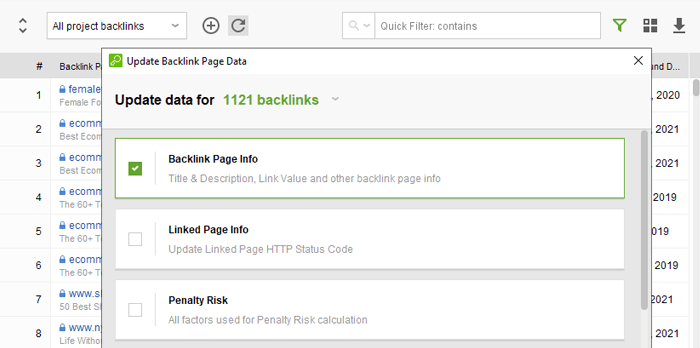 The tool will recrawl all of the pages you chose, and tell you if any links got lost. Now you can analyze the lost links in more detail.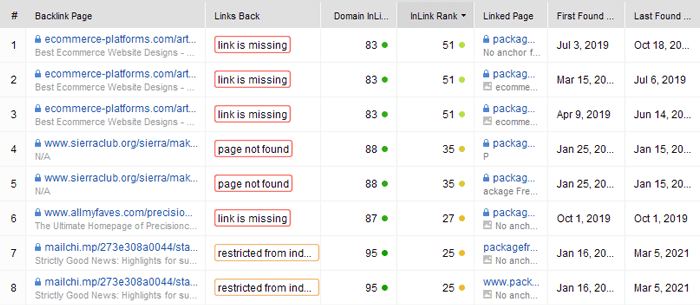 There are many reasons why your backlinks may disappear:
Link is missing means this link has been removed or replaced by the site owner;

Page not found signals that the backlink page doesn't exist anymore (404 Page Not Found status code);

Site is down means that the backlink page is ok but cannot be reached as the site it belongs to is down at the moment;

Restricted from indexing means the backlink page is restricted by a noindex tag or robots.txt file.
In most of these cases, you'll need to manually visit each backlink page you want to restore, investigate, and decide on your next steps. Check if a page has any other links to your page in addition to those missing, look at the type of the backlink page, and, in case of error 404, check if the whole domain is still up.
After you figured out the issue, you can choose the links and update their Contact Info column to get in touch with the webmasters and ask them to restore your backlinks or place them on new pages instead of those marked 404.
6. Fix broken linked pages
All of the linked pages on your website must be accessible to bring you traffic and value. If the page is down, it's a dead end for the link and no link juice passes onto your website. What's more, your backlink providers will notice those dead links sooner or later, and delete your links or replace them with the links of your competitors.
To make sure all of your pages work properly, go to Backlink Profile > Linked Pages, and update the Linked Page Status Code column.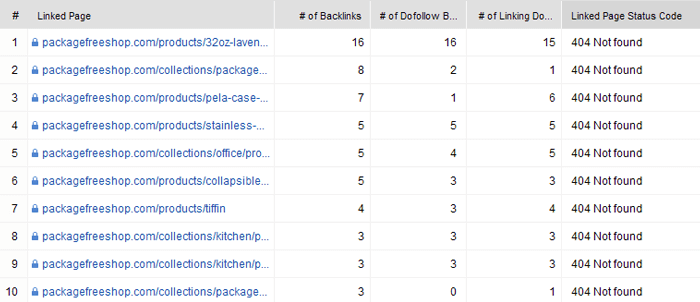 Your goal is to find and fix all the pages that have the 404 Not found status. Go to your website admin, and check why a page has the 404 status. Remove the noindex tag if you want the page to index properly, or set up a redirect to a similar page, or to the homepage of your website for the broken pages that cannot be restored. Check if you moved a page to a new location and forgot to set up a 301 redirect.
7. Find new backlink prospects
Performing a backlink audit is a good opportunity to see if there are any new backlink prospects in your niche that can boost your SEO. There are many ways to build new links for your website, and competitor research is the most powerful of them. Moreover, it's readily available in SEO SpyGlass.
Go to Domain Comparison > Link Intersection and enter up to five of your search competitors:
The tool will now collect all the information about the backlink providers you have in common, as well as show you the websites that link to your competitors but not yet to you. To see them, filter the results by Prospective domains. These are the main sources of your new backlink opportunities, as the websites that offer backlinks to more than one of your competitors will be more willing to provide them to you as well.

What backlink prospects should you consider first? Pay attention to those with high domain rank, and those that offer dofollow links. Sort the results by Domain InLink Rank and Prospects to find the most promising opportunities.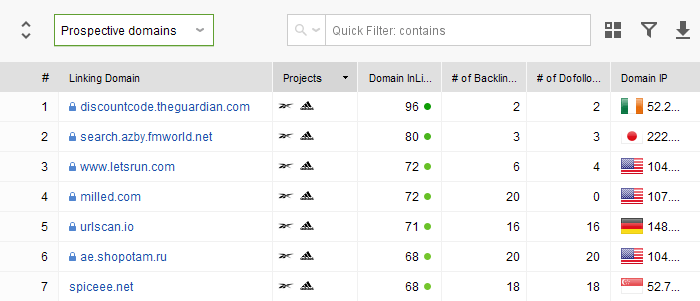 Once you made up your mind on who will be your new backlinkers, you can start an outreach campaign.
Note: To make your outreach campaign more effective, you can segment your prospects into categories depending on what the website type is, and where you want your backlink to be located. This segmentation will let you choose the most suitable communication template for each type of prospect.
8. Monitor your backlink profile health
Performing a comprehensive backlink audit must become your habit if you want to defend and grow your search presence. Still, it's clear that auditing your website every day will take a lot of time and effort. Luckily, there are ways to monitor the health of your backlink profile quickly, and timely notice and investigate any issue that may occur with your backlinks.
Check profile summary
The Backlink profile summary section of SEO SpyGlass will give you a bird's eye view of your website's strengths and weaknesses, help you monitor how they change, and notice any unusual backlink behavior patterns.
Go to Backlink Profile > Summary to assess the report.
To estimate the quantity and the origin of all of your backlinks look at the Backlinks and Domains diagrams.

These diagrams show how many backlinks you have, how many domains they all come from, and the percentage of dofollow links.
What should you pay attention to?
Domains ratio. Multiple links coming from a single domain do have less value than if they would have come from different ones. Thus the more domains you have, the better. Ideally, the domain ratio should be as close as possible to the backlinks ratio. If the ratio gap seems too big, consider updating your backlink strategy and find some new prospects.

Dofollow/nofollow backlinks correlation. In terms of SEO, nofollow links don't bring any use, but they can bring you organic traffic. Moreover, having dofollow backlinks only is not natural, and may make Google suspicious. To make your backlink profile appear natural and healthy, make sure it's a mixture of both dofollow and nofollow links with the prevalence of dofollow ones.
Live backlinks history and Live linking domains history graphs show you how your number of backlinks changes as time goes.

What should you pay attention to?
Sudden rises/falls. The number of backlinks and domains changes according to your efforts (ad campaigns, new prospects, etc.). But any sudden changes may signal that your website suffered a negative SEO attack, got a penalty from Google, or something may have happened to your backlink providers. Anyway, unprecedented spikes and falls require your attention as soon as possible.
New/Lost backlinks history and New/Lost linking domains history bar graphs track and visualize the number of new and lost backlinks/domains in real-time.
What should you pay attention to?
Sharp falls and/or drops. It's ok to lose some backlinks from time to time, but big losses may be a signal of some issues that may negatively result in your website's SEO performance. At the same time, too many new backlinks, especially if you haven't run any backlink campaigns, may signalize a negative SEO attack. To further investigate what exactly has happened to your links and take measures, just click on the fishy bar. The tool will redirect you to the Historical Data section.
Anchor texts summary diagram shows you how diverse your backlink anchors are, and what anchors are used most of all by your backlink providers.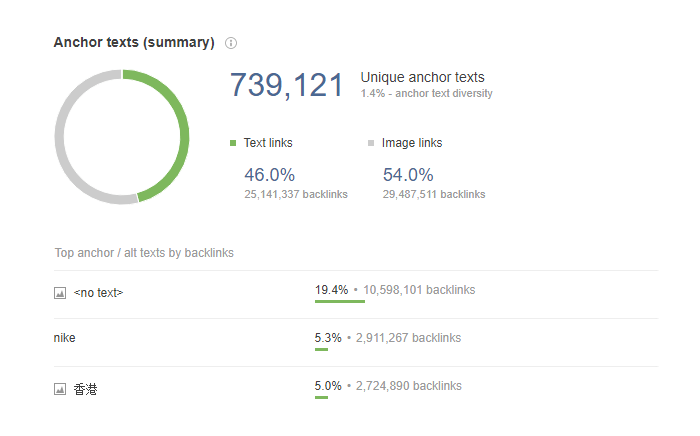 What should you pay attention to?
Low anchor text diversity. It's natural to have a lot of anchor texts that represent the name of your brand or website. But if you have unique-looking anchor texts that repeat on many pages, Google will spot them as unnatural and spammy, and drop your rankings.

Misleading anchors. Although super-optimized anchors are treated by Google as spam, misleading and odd anchors don't benefit your SEO, too. It may be impossible to find and correct all of the anchor texts, especially if you have thousands of backlinks, but discuss this point when reaching out to your new backlink prospects. If your backlink anchors are images, make sure they are properly named.
Automate notifications
SEO SpyGlass has one option that can make your website audits even more efficient. This feature is called SEO SpyGlass Scheduler — an automated notification tool with customizable settings that will notify you every time something noteworthy happens to your backlink profile.
On your Backlink Profile > Summary page, click the Scheduler icon to set up the conditions for notifications.

Choose Rebuild Project to get notified when new backlinks are found. Choose the website you want to get notifications for and specify the notification details such as time and frequency.
Finally, set up automated email notifications whenever new backlinks are found, or new domains start referring to you. The option lets you stay informed on the changes without any manual labor.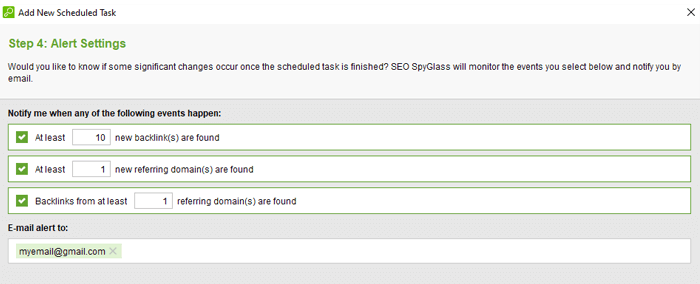 Choose the issues you want to receive notifications for, set up their parameters, and add an email or several emails you want to get these notifications to.
The Alert option lets you know if a negative SEO attack is happening to your website, and quickly catch the domain the attack occurs from and add it to your disavow file. Don't forget to check the quality of the links first.
Final thoughts
Backlink audit may seem more complicated than it actually is. May this guide help you, and don't forget to treat your backlink SEO just the same way you treat your content SEO — your ranking positions will only say thank you.
What do you check when you audit your backlinks? Share your ideas in the comments below.