Use social listening to boost SEO
(with the help of Awario)
It's more or less established that social media signals have an indirect impact on search results. This is the result of Google striving to become more objective in its rankings and see content as people do. And people care a lot about what social media says. Imagine looking up and finding out it has tons of negative feedback on social networks. Would you go with it? This is why Google is looking at both volume and sentiment of brand mentions online, and SEOs strive to take care of both.
Having said that, link building hasn't gone anywhere — it is still at the core of any SEO strategy. And it makes sense to use the ever-expanding social media simply to get more links.
Let's see how social listening can help make your SEO strategy truly comprehensive.

Step 1: Keep an eye on your brand's reputation
Since Google uses sentiment analysis of mentions and reviews to prevent negative advertising, it's necessary to take care of how your brand is perceived online. Also, it's important to prevent your brand from getting into social media crises, as it can cause not only reputation problem, but also a sudden ranking drop.
How-to: 1. Find all mentions of your brand keywords. Open Awario and type in your brand name to create an alert. Feel free to add several keywords: your company's Twitter handle, hashtags, and alternate versions of the brand name.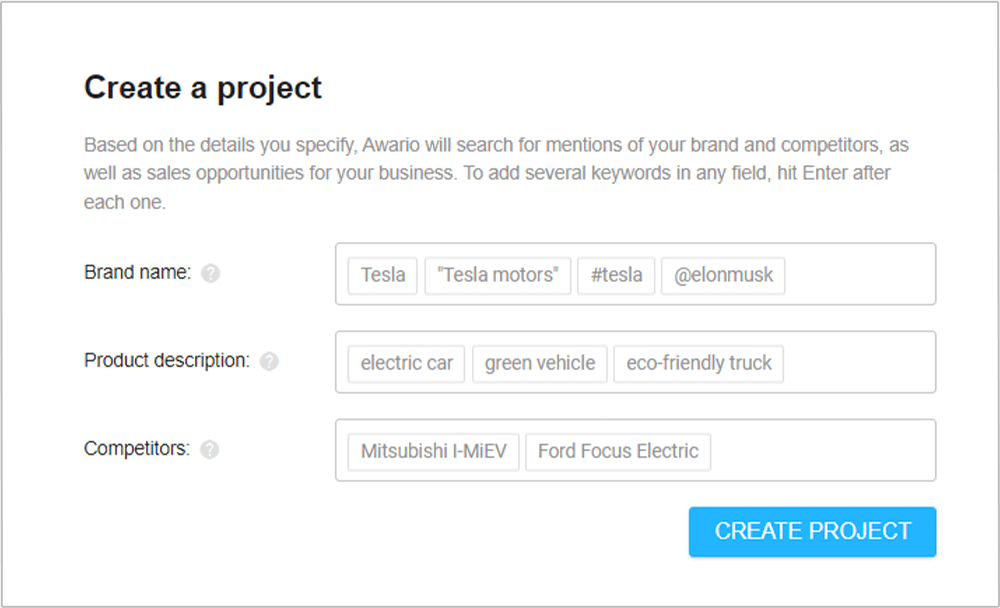 Once you create an alert, Awario will gather mentions of your brand in real time from all major social networks (Facebook, Twitter, Instagram, YouTube, Reddit, etc.), blogs, forums, news sites, and the Web.
2. Look at the sentiment of your brand. Go to the Dashboard to see the Sentiment analysis along with all the other main information on your mentions.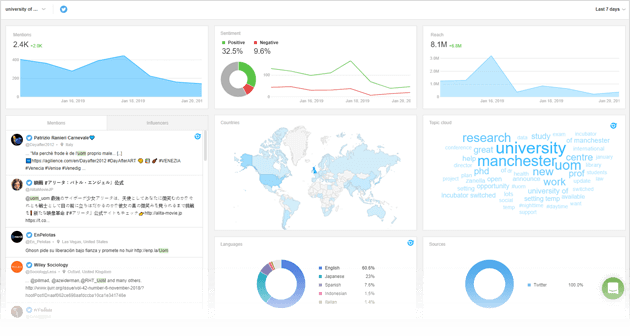 You can check the sentiment analysis at any time. If at some point you notice a spike in negative mentions, then you might be at risk of a social media crisis. Just click on the negative mentions in the chart, and you'll be taken straight to your Mentions Feed so you can see what's going on in real time.
Step 2: Grow brand mentions
There's enough evidence to suggest that "implied links" or "linkless mentions" already play a role in rankings and will play a much bigger one in the future. To grow brand mentions, you've got to know where your existing mentions come from.
How-to: 1. Look at your mentions' stats. Go to the Dashboard and see which sources your mentions come from and what the languages and locations of your mentions are: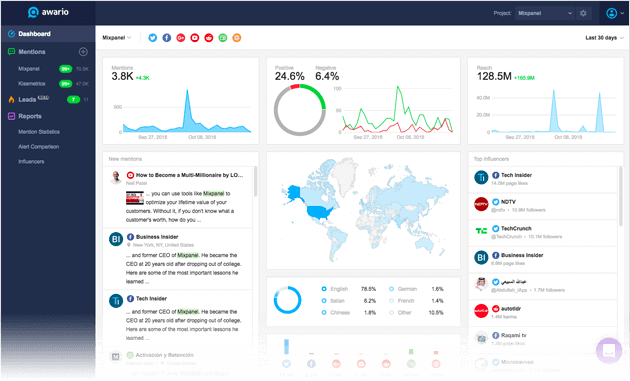 2. Find your social media influencers. Go to the Influencers report to see the list of people who've already mentioned your brand sorted by their number of followers.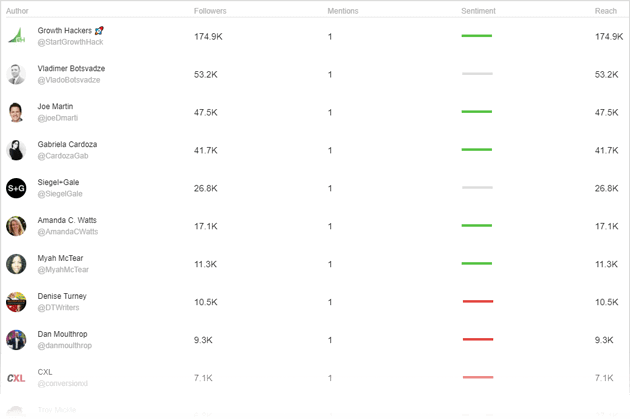 3. Find new social media influencers in your niche. Click

next to the Mentions module in the sidebar to create an alert for your industry. Insert keywords that best describe your field of work.
And go to Influencers to see the list of influencers in the niche.
4. Engage with influencers. Influencer marketing is based on building a relationship with your influencers. This comes down to engaging with chosen influencers on social media ("liking"/sharing their posts), mentioning them and linking to them in your posts, and commenting on their blog. You can do that straight in the app: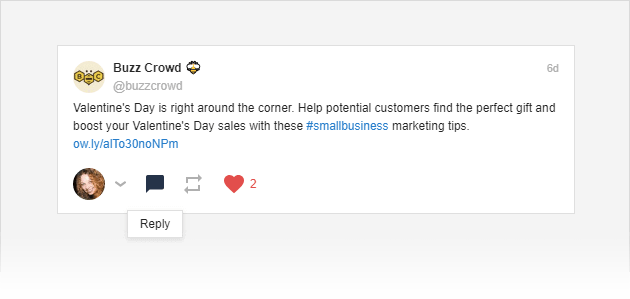 Keep in mind that it's usually more fruitful to target micro-influences — people with a couple of thousands of dedicated followers.
5. Reach out to influencers. Give the influencers a short explanation of who you are and what your brand is (hopefully, they'll recall you from your interactions), what you would like the influencer to do, and what's in it for them. In some cases, after you've engaged enough, you can just ask for a mention of your brand. In others, influencers won't do that without a monetary reward. But in most cases, it's about some mutual favors, like an extended software trial.
Step 3: Find unlinked mentions and turn them into links
Link building is still at the core of every SEO strategy, meaning that it's important to use every opportunity for getting a backlink. One of the apparent ones is taking unlinked mentions on blogs, forums, and news sites, and asking the webmasters and authors to turn them into links. The problem is, SEO tools don't look for linkless brand mentions. But a social media monitoring tool does.
How-to: 1. Find unlinked mentions only. Click on

. Then choose Boolean in the Choose Alert Mode window. Boolean search is an advanced way to work with almost all search engines. It allows users to combine keywords with Boolean operators (AND, OR, AND NOT and etc.) and find exactly what you're looking for.
Write down an alert name, chose Web and news-blogs as the only sources, and write down a query that looks like this: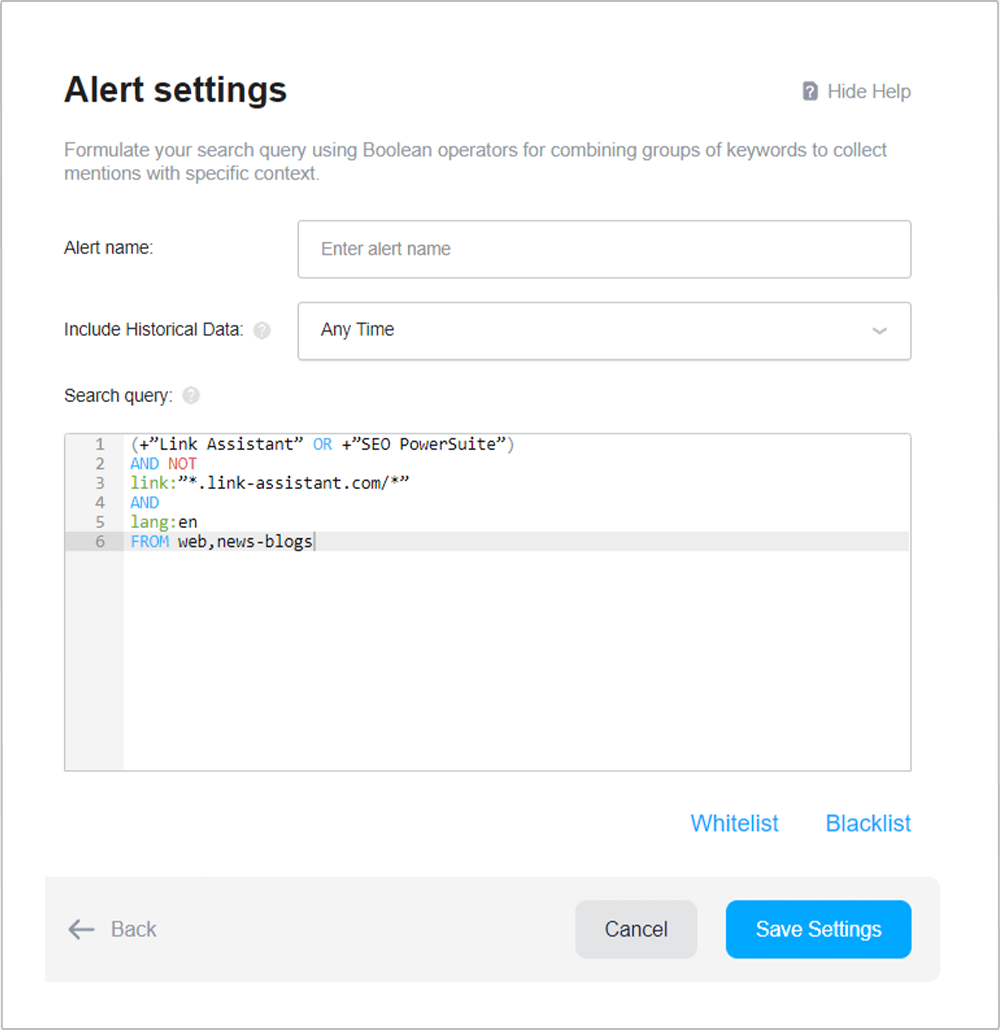 In text:
(+"LinkAssistant" OR +"SEO PowerSuite")
AND NOT
link:"*.link-assistant.com/*"
AND
lang:en
FROM web,news-blogs
If you write one exactly like this, you'll find all mentions of LinkAssistant or SEO PowerSuite that don't link to our website www.link-assistant.com. We're only interested in mentions in English that come from news/blogs and other websites (excluding social media).
2. Reach out to the mention's author and ask about the link. Thank the author for mentioning your brand and ask to link to your site. In most cases, it's not a problem for the author, and they'll gladly add the link.
Step 4: Find guest blogging opportunities.
Guest blogging is an SEO technique that essentially never dies. However, it's not as easy of a task as it seems: popular blogs are easy to find and hard to get published on; smaller blogs are hard to find because they don't pop up in your Google search. Social listening helps you find blogs that are less popular but equally relevant.
How-to: 1. Find relevant blogs. Click on

. Then choose Standard. Fill out the form using keywords that best describe your niche and other fields if relevant, and choose News/Blogs in the sources.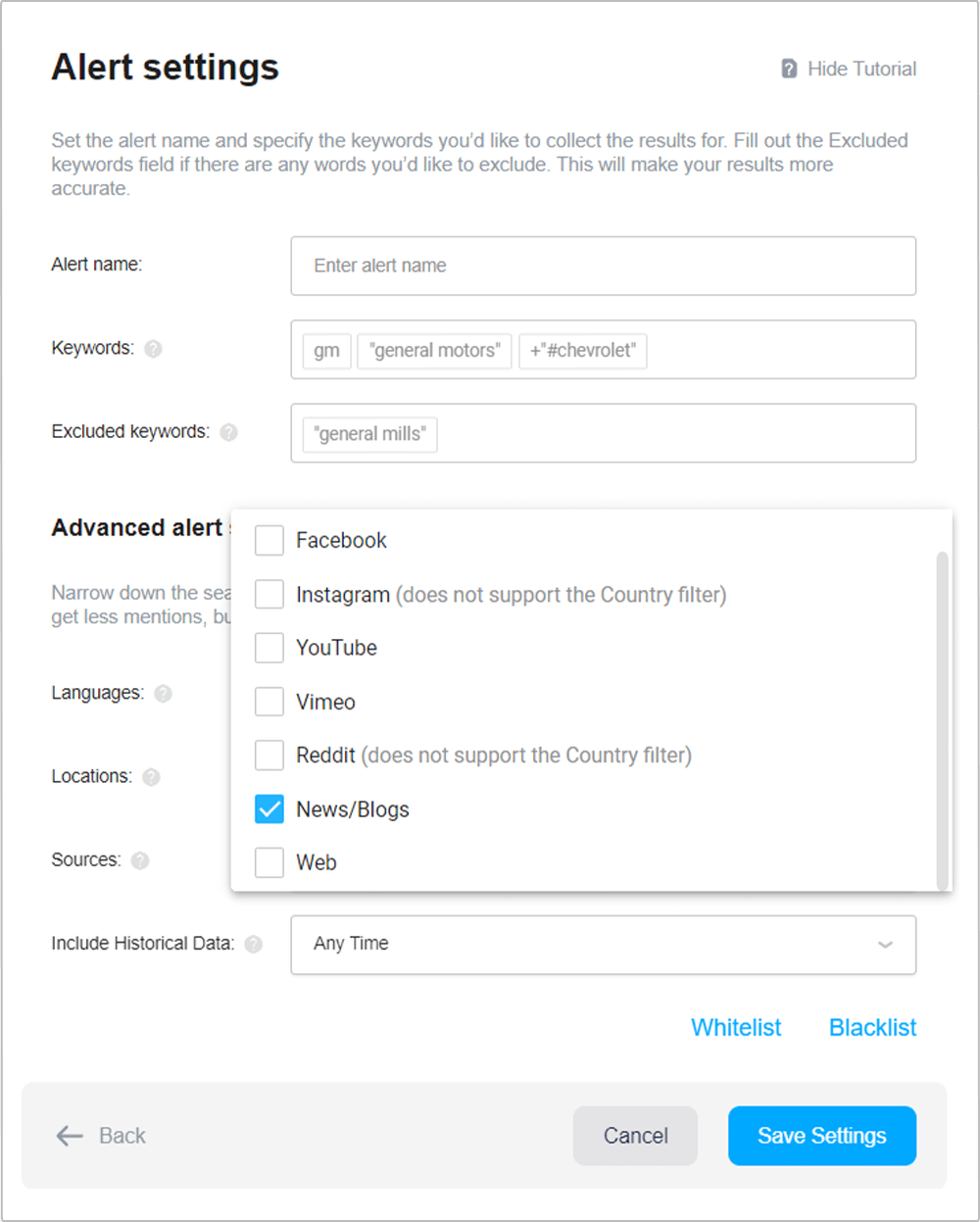 Then click

. While social media accounts are monitored in Awario in real time, it may take longer for websites. It's better to let the search run for a couple of days, so that it finds you more news sites and blogs to contact.
Once you have enough results to work with, you can sort your feed by Reach to see the most popular blogs first.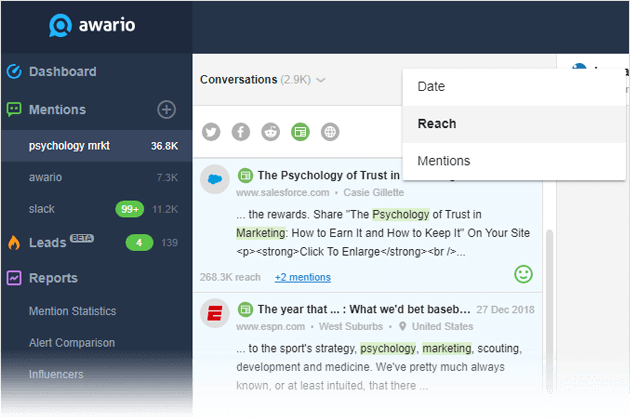 2. Find social media influencers in your industry. Jump to How-to: 2. Find your social media influencers.
3. Choose individual users, click on their account, and look at their bio. In the bio, you'll very often see a link to the user's niche blog.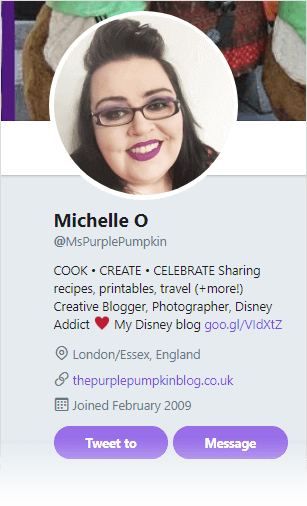 4. Reach out to the blogger. Follow the link to see if the blog is relevant, and reach out to the influencer asking for a guest post.
Step 5: Learn from your competitors.
In SEO, competitor research is an undoubtedly an important aspect. It's the same when it comes to the intersection of SEO and social media marketing. You've got to know where your competitors guest post, what influencers they work with, what's their growth strategy. For that, you've got to create an alert for your competitor(s).
How-to: Create an alert for your competitor(s). Click on

and specify the brand name of your competitor. Go to Alert Comparison to see how you compare in terms of mentions' volume, sentiment, locations, sources, influencers, etc.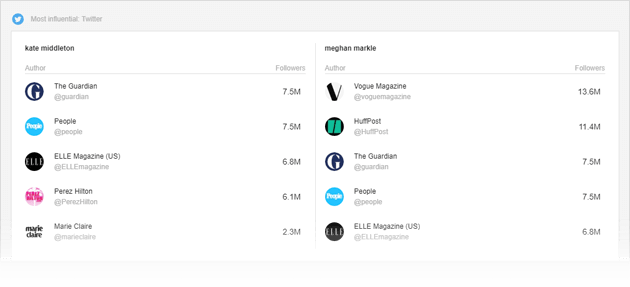 Do not neglect Social Media, and it will work for you.
Social listening is the easiest way to know the impact social media has on your brand and to control this impact in the way that helps your rankings.
---
Power up your SEO with Social Media with Awario:
Find mentions of your brand on social media and grow more
Get more backlinks by turning unlinked mentions into links
Find guest posting opportunities to build even more links
Learn from your competitors' social media and SEO strategies
---