Build backlinks in Social Media
(with the help of BuzzBundle)
Build quality links on forums, blogs, and social networks
While SEO professionals are still unsure whether SEO is directly impacted by social signals (like the number of Facebook likes or Tweets your page has), one thing about Social Media and SEO is no longer a question. Social Media is a valid and efficient source of links.
According to Google's Matt Cutts, Facebook, Twitter, and Google+ pages are indexed and displayed just like any other pages on the Internet — and can therefore be considered valid links.
Besides, Social Media attract links by helping your content reach a bigger audience and delivering it to more people who are likely to link. So the more posts about you there are on Facebook, and the more likes and shares they get, the bigger your chances of getting links outside Facebook.
All of this makes Social Media Marketing an integral part of SEO — and the BuzzBundle tool is made to help you with it. Let's check the steps.

Step 1: Spot social mentions with link opportunities
Let's see how easily you can spot hot link building opportunities. Basically, you need to find where people are already talking about you, and then make sure to add a link to yourself.
How-to: Find all mentions of your brand keywords. Open BuzzBundle and click

. Enter your brand name and other keywords that are strongly associated with your brand, one per line.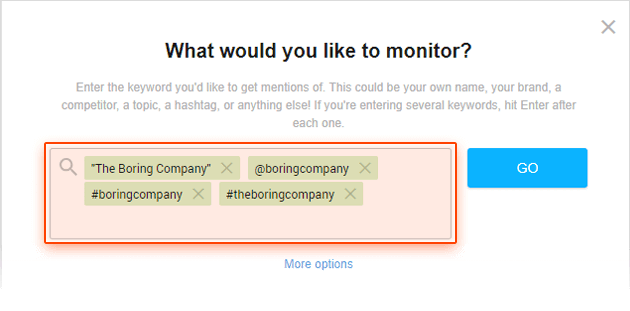 All the keywords you enter in the field will belong to one keyword group, so make sure you only enter related keywords here. If you're working on several unrelated or remotely related projects, create separate BuzzBundle projects or separate keyword groups for each. Click to view examples
Bad:
Project: "Work"
Keyword group: "My clients"
Keywords:
Mr. Clean
Mr. Clean Spray
P&G cleaning products
DeWALT
DeWALT screwdriver
DeWALT promo
Lenor
Lenor softener
Good:
Project 1: P&G home products
Project 2: "DeWALT"
Group 1: "Mr.Clean"
Group 2: "Lenor"
Group 1: "DeWALT"
Keywords:
Mr. Clean
Mr. Clean Spray
P&G cleaning products
Keywords:
Lenor
Lenor softener
Keywords:
DeWALT
DeWALT screwdriver
DeWALT promo
There is also an option to enter a URL to search for mentions of a certain web page. This is useful when you look for social links that you already have. But as long as you're looking for places you don't have links from (yet), leave the URL field blank.
Click OK, and BuzzBundle will start looking for mentions of your keywords on forums, blogs, Q&A sites, Facebook, Twitter, Google+, LinkedIn, YouTube etc. The streams will start populating fast, but it may take several minutes to complete the search in all networks.
For your convenience, you have separate streams for different types of social media. This helps you structure your work: you can first address blogs, or Facebook — depending on what kind of social sites are more important in your niche.
Step 2: Check which opportunities are worth chasing
BuzzBundle offers a metric called Reach — it takes into account the page's and post's popularity and engagement levels. A low Reach value indicates the page in question is most likely low-traffic and low-ranking — and probably not worth your time and effort.
How-to: Sort mentions by Reach.

To view the most important conversations first, click

in the top right corner of a stream, and choose Sort by Reach. (By default, all mentions are sorted by date, the most recent ones being at the top.)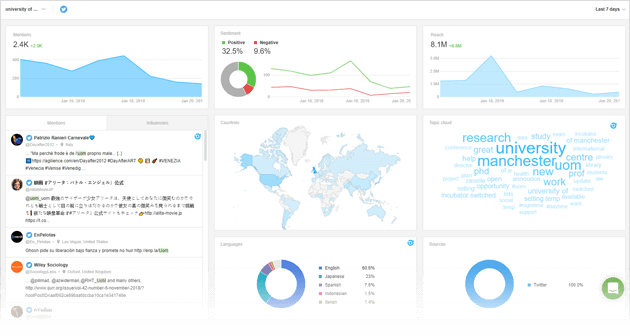 Step 3: Prepare social profiles for link outreach
In BuzzBundle's hierarchy of social accounts, there are Personas and Profiles. A Persona is a record for a person who will post or comment on social sites — it could be yourself, your company's CEO, etc. One Persona can have a Profile in each of the supported networks: Twitter, Facebook, Google+, LinkedIn YouTube, accounts on forum and blogging platforms, etc.
How-to: 1. Create a Persona. Go to Personas & Profiles and click

. Choose a name and upload the userpic for the Persona (this name and picture will be used if you register new accounts for this Persona on social sites through BuzzBundle; if you sync a Persona with existing Facebook or Twitter accounts, these accounts will not change their profile pictures or user names). Click Next to continue.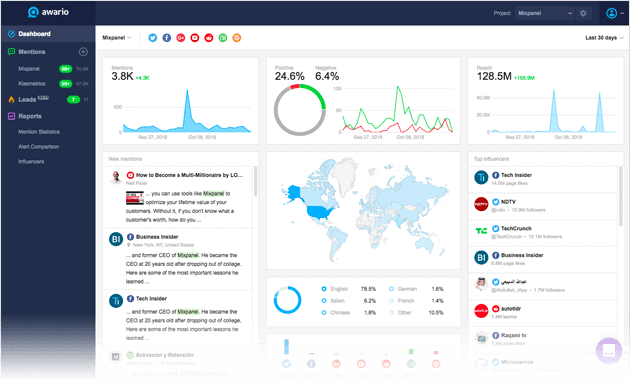 At Steps 2, 3, and 4 of creating a Persona, you can fill out registration details for the Persona. These steps are optional, but if you do provide this info, BuzzBundle will be able to instantly register new accounts for you whenever needed (this is especially useful for blogs and forums — there are so many of them you simply can't be registered in each one).
2. Add your social accounts. Click

to sync your existing social accounts with the Persona you created. Select the social network, click Use existing (or Register new if you'd like to create an account from scratch), specify the login and password for the account, and click Finish.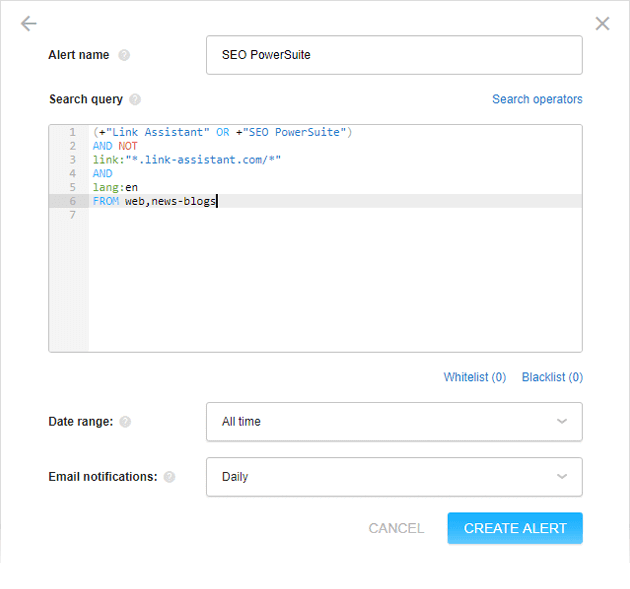 Repeat the process for all social accounts you'd like to sync with the Persona.
Step 4: Get the links
Now that you've sorted mentions by Reach so that the most popular ones are shown first, time to start working on actually getting the links. The possible options are listed below, with instructions.
How-to: 1. Leave comments on blog and forum posts that mention you. You have a separate stream for forums and blogs. If your keyword is mentioned on a blog page, you will see the icon on the left which looks like this: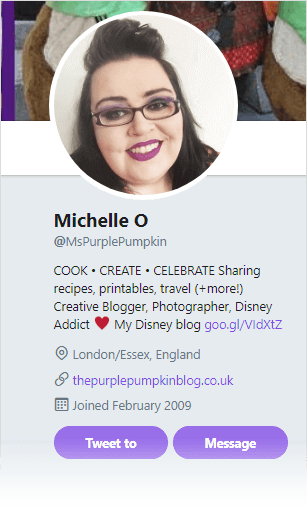 If you have a mention on a forum, the corresponding icon appears: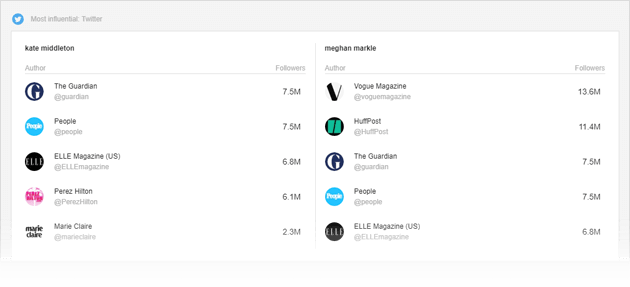 Often, these posts offer a great opportunity to place a link to your site in the comments.
Hit

. If you already have a registered account on this blog or forum, BuzzBundle will let you post a reply right away. If you don't have an account, BuzzBundle will ask whether you want to start one.
As you are writing your comment, make sure it adds value to the post (eg. try adding important details on the topic, or expressing your thoughts on the subject). At all times, remember that the link you place in the comment should look natural and be extremely relevant to what the post is about.
If you are seeing

under a forum or blog post instead of the Comment button, this means that there is no way to leave comments on the page (eg. comments have been locked by the moderator). This doesn't mean your findings are useless though. Read on to see how to do link building with the help of the mentions that don't have a commenting option.
2. Reach out to the blogger and ask about a link. If your brand name is mentioned in a blog post itself but there's no link, you can write to the blog author to thank them for mentioning you, and ask to replace the plain-text mention with a linked one. In most cases, this is easy and the blogger will readily agree.
If your brand name is not mentioned in the blog post (eg. it's only mentioned in the comments), but the topic is relevant to your product, you may also write to the article author and ask whether they would like to update the article with more info and include your product in it.
The challenge is, a lot of blogs don't offer a way to PM the author directly. But in most cases, you'll easily find a way to contact the blogger somewhere on the page (blogs often have separate About the author or Contact us sections). (Click to read more)
In BuzzBundle, click on the URL under the title of the blog post.

This will open the page with the post in BuzzBundle's internal browser. Scroll down to the bottom of the page or look for options to contact the author in the page's menu.

The author of this post, for example, includes a link to his Google+ account under the post itself. All you need to do is click the link and shoot the blogger a message!
3. Offer your expertise on Q&A sites. You have a separate stream for Q&A sites where people are already talking about your product or brand. Besides being a free way to get real-world, unbiased feedback from your clients, Q&A sites are an excellent source of backlinks. Enter discussions to offer your expert advice on the subject, and link to relevant pages on your site where the reader can get more info.
In the Q&A stream, click Answer under the snippet of a question, and compose your reply.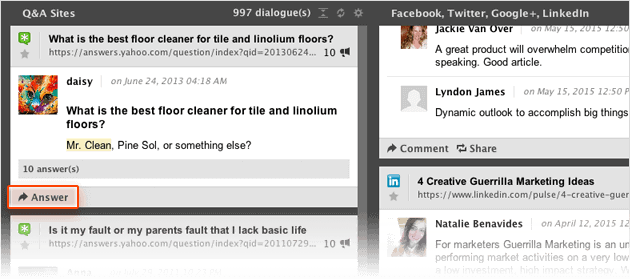 If you already have a registered profile on Yahoo! Answers, BuzzBundle will connect and let you post a reply. If you don't have an account, BuzzBundle will offer you to register one.
4. Express appreciation to those who mentioned you on Twitter, Facebook, Google+ etc. Social media offers a powerful way to build links indirectly. Expressing appreciation to people who've mentioned your product or brand is a good way to start relationships that could not only bring you valuable links in the future, but develop into long-term collaborations.
You don't have to step in and just thank. But you can join discussions and offer more info on the subject. Be careful not to hijack the conversation though.
If there isn't anything to add to the talk, you can still retweet (with a thank-you) what a popular account said about your product: you might end up more noticed and start an online acquaintance that may earn you more links in the future. The same way, you can share Facebook posts that talk positively about your brand, or join the conversation to add valuable input and a link to more info somewhere on your site.
Use these buttons for those actions:




Tips: 1. Add conversations to favorites using the

button. This way, you will easily find a discussion in your streams if you need to come back to it and check further replies.
To see starred discussions only, click the

button and select Edit the stream.

Then click Add filter and set up a filter to display starred records only.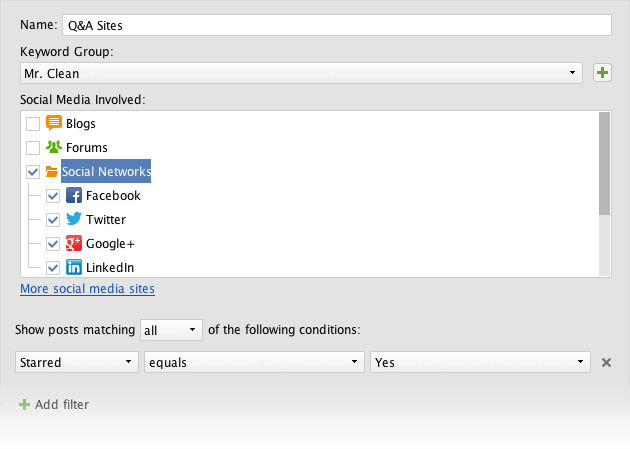 2. Find link opportunities using competitors' brand names. Just like you looked for conversations that mention your brand, you can find conversations that mention a competitor. Quite often there is a way to arrange a link in the same blog article, or offer your product in the comments as an alternative. The workflow is the same, but remember to create a separate keyword group for competitors.
The workflow is the same, but remember to create a separate keyword group for competitors.
Step 5: Distribute your own content
Think whether you have any valuable content that people would be interested to share and link to. If you have the kind of content that may work as link bait, BuzzBundle will help you quickly distribute it across social sites and put it in front of all those people in just a few clicks.
How-to: Post your news to social sites quickly. Go to the Streams tab and click on

. Enter any note you would like to post. Insert the link to your content in the text field.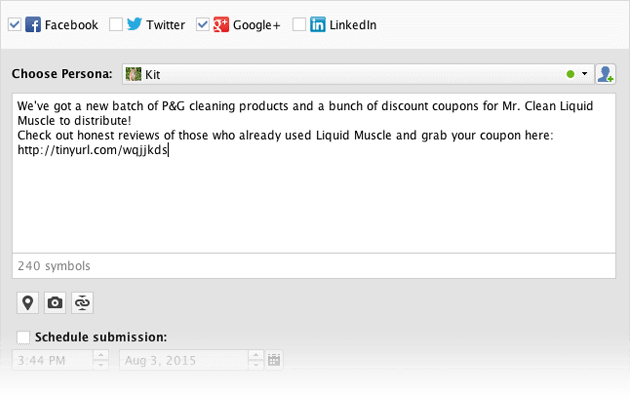 To shorten the link (eg. for Twitter), click

.
---
Make Social Media a steady stream of links!
For many brands, new conversations happen every day, so if you're working in a busy niche, remember to come back often and refresh your streams to see what new mentions you've got and whether you could turn them into backlinks with SEO value.
If you are distributing your own content, make sure you're sharing only the kind of stories people find interesting. If no one is giving you Likes or +1's for what you post, stop posting this stuff, think what you're doing wrong and offer other types of content.
Overall, the combination of social mentions and your own distributed content can become a steady stream of SEO-friendly links to any website. But because this is not an obvious way to build links, you're among the few who will easily master it with BuzzBundle. Now that you know what to do, the only thing left is to install the software and follow the steps in this guide.
---
Power up your SEO with Social Media with BuzzBundle:
Find mentions of your brand in social media
Identify hot link building opportunities
Engage in conversations to build links
Keep your social profiles and manage all your SMM activity in one tool
---