Create and manage your site's Robots.txt file with new WebSite Auditor 3.0.7!
Being in full control of what content of your site falls under search engines eyes is what any of us SEOs is striving for. And with a fantastic new feature add-on in WebSite Auditor this task turns nothing more than a cakewalk!
From now on you can easily create and manage your site's robots.txt file right from WebSite Auditor!
And this means that now WebSite Auditor not only:
Fine-tunes your website's structure and HTML-coding
Creates compelling, search engine friendly content for your pages
Builds a comprehensive XML Sitemap for your site
But also quickly and easily creates a smart robots.txt file for your website, so that you can always control the way search engines crawl your site and tell them which areas they are allowed to visit and index.
What's robots.txt file and why your site needs it?
Most webmasters have an idea of what a robots.txt file is and why it's crucial for any website, but let's summarize the main points.
Robots.txt file is a way for you to tell search engines which areas of your site they should or should not visit and index.
So, a robots.txt file lets you keep certain pages of your site away from search engines' eyes and thus:
Eliminate any duplicate content issues
Keep your private data out of search listings
Hide any outdated and no longer relevant content
Cover up your site's technical nuts-and-bolts that may not seem friendly to search engines
Speed up the way your site gets crawled and indexed
Making a robots.txt has never been so easy
Select search engines whose robots you want to prevent from visiting some of your pages
Select your site's directories and pages that you don't want to be indexed
Let WebSite Auditor compile a robots.txt and instantly upload it onto a website or save it on your computer.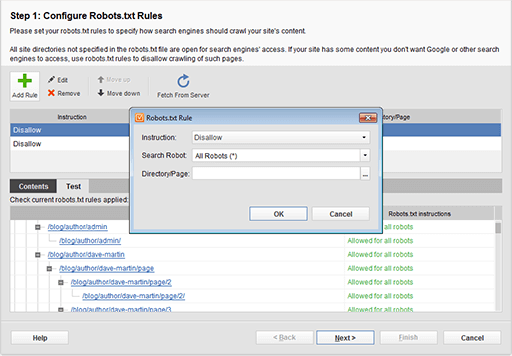 To try out Robots.txt Generator in WebSite Auditor, just restart your tool for auto-update or download the freshest version from the website.
Easily control your website's indexing with robots.txt — straight from WebSite Auditor 3.0.7!
Create unlimited number of robots.txt files for multiple websites with unique settings for each of them.
Keep track of all the changes on your website and modify your robots.txt files in an instant.
Test your robots.txt file before uploading it into onto a website, to make sure it work just as you want it to.
Keep your robots.txt 100% compatible with Google, Yahoo, Bing and other search engines.
In a single mouse-click, load your current robots.txt into WebSite Auditor right from the server to test or edit it further on.
Automatically upload your robots.txt file onto a website via FTP without switching to any other tools.
Apply easy-to-use desktop software, instead of installing complicated robots.txt generating tools on your server.
Now try out new WebSite Auditor 3.0.7 with Robots.txt Generator.
---