Windows instructions
1. Download an installation file for Windows.
You can request your download link here:
You can install the applications all together or selectively. Say, if you've chosen Rank Tracker, SEO SpyGlass and BuzzBundle, download just one of these tools and include the others into installation.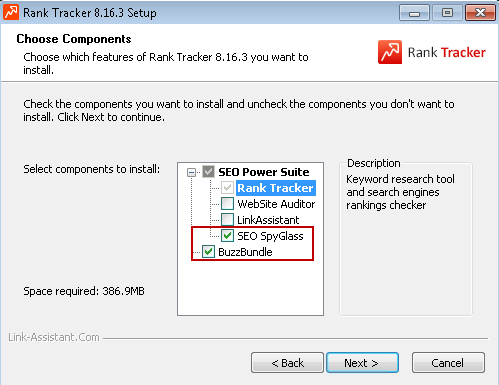 2. Unpack the archive you've downloaded
On most computers it can be done with a double-click. Alternatively, you can right-click on the archive and select 'Extract here' from the context menu.
3. Run the installation (.exe) file you find inside and follow the wizard.
On Windows 7, you may get a system warning saying that the software might have been installed incorrectly. Please be assured that SEO PowerSuite and BuzzBundle are fully compatible with Windows 7. Choose the Program installed correctly option, and the installation will be completed.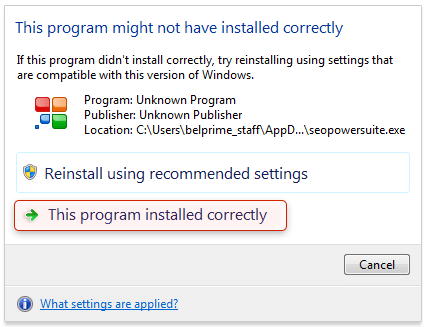 The SEO PowerSuite tools and BuzzBundle are built using the latest Java technology. You would need a recent version of Oracle Java for the tools to run properly. So please take a moment to download the latest version of 64-bit Offline Java here and install it on your PC along with SEO PowerSuite.
4. To start a tool after the installation, double-click on its icon on your desktop.
You can also choose its name from the Windows Start Menu (Programs > Link-AssistantCom or Programs > BuzzBundle).
System requirements
1. Hardware requirements
Requirement
Minimum
Recommended
Processor
Intel/AMD single-core
Intel/AMD dual-core or better
CPU clock speed
1 GHz
2 GHz or more
Computer memory (RAM)
1024 MB
2048 MB or more
Hard disk space
100 MB per application (500 MB for the full SEO PowerSuite package & BuzzBundle)
Video adapter and monitor
Suver VGA (1366 x 768)
1366 x 768
1440 x 900
1920 x 1080 or higher
Internet connection
56 Kbps dial-up
Broadband
2. Software requirements
Requirement
Minimum
Recommended
Operating system
Windows 2008 R2 or Higher
Windows 7
Windows 8
Windows 10
Windows 7
Windows 10
Oracle JRE/JDK
32/64-bit, version 1.8 or newer
The latest 64-bit version
User account type
Administrator (more info)
---
Next steps: