You're in good company. Over 2 million users grew their business with Rank Tracker.

Why Rank Tracker?
Do you still think keyword research is a hard, dull, and time-consuming activity only a professional SEO can do? Nope, not with Rank Tracker! The software's 23 keyword tools and 7 methods of keyword research, numerous SEO metrics for keyword analysis, handy tags and filters, and a wealth of other killer features bring keyword research to a completely different level.
Steal your competitors' keywords
Dying to reveal your competitors' keyword tactics? We know you are. With the help of the Ranking keywords search method, you can not only identify keywords that already bring you organic traffic but also reveal your competitors' top-performing keyword gems.
Just enter the desired URL and in a couple of seconds, a list of your competitor's most popular keywords will be at your complete disposal. What's more, you have an opportunity to search for keywords either by page or entire domain in desktop or mobile search results — whatever works for you.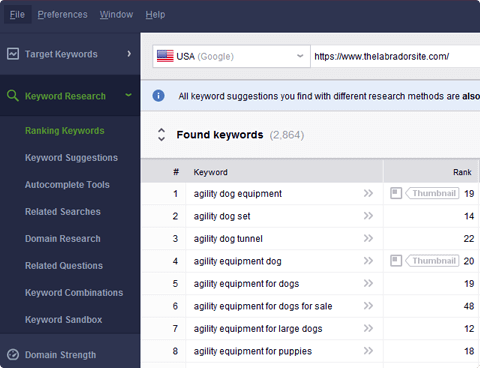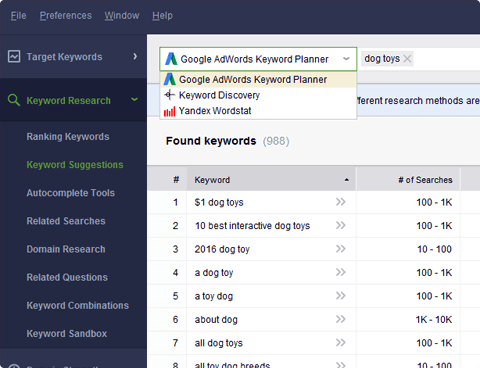 Get the best keyword suggestions
By utilizing the Keyword Suggestions search method, you can find related keywords and expand your list with tons of brand new keyword ideas from the most popular online keyword tools and databases such as Google Keyword Planner Tool, Keyword Discovery, and Yandex WordStat.
Collect long-tail keywords
The key to compiling a perfect selection of keywords (both long-tail and short-tail) is using multiple search suggestion tools. Luckily, Rank Tracker offers plenty of them — Google Autocomplete, Related Searches, Related Questions, etc.
By using a combination of these keyword suggestion tools, you'll collect tons of super-relevant long-tail keywords as well as understand search trends in your niche. What's more, Rank Tracker's Google Autocomplete search method now supports 65 languages, and the number is constantly growing.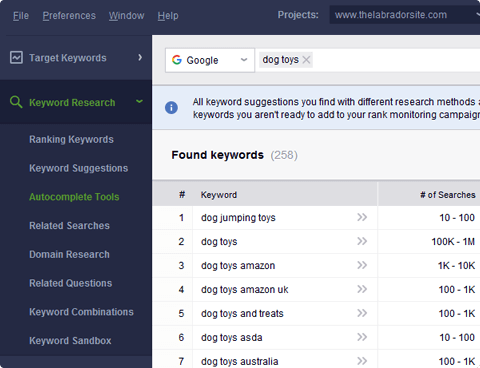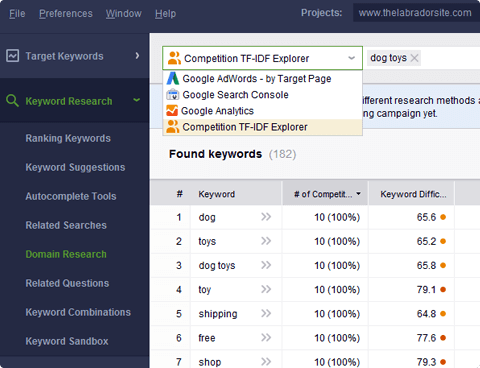 Implement TF-IDF analysis
Rank Tracker's Competition TF-IDF Explorer is a brilliant tool for taking a closer look at your competitors high-ranking content and stealing their best-performing keywords.
The algorithm behind it is the following: the tool analyses 10 of your top competitors and collects the most popular keywords that they have in common for you to optimize your own content for. The cherry on top is Rank Tracker's integration with Keyword Planner, Google Search Console, and Google Analytics.
Try various keyword combinations
Do you know how many people use the same search queries while searching for one and the same product? Too few. As a rule, searchers use different word combinations and quite often make spelling mistakes. Therefore, it's important to spot, analyze, and target such search queries as well.
Luckily, Rank Tracker's Keyword Combinations feature can do all the dirty job for you. It will nicely supply you with all possible keyword permutations, word combinations, and misspelled variants of your target keywords. The feature is especially useful for long-tail keywords with many possible word combinations.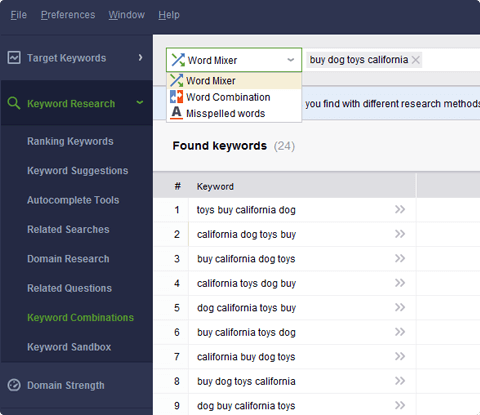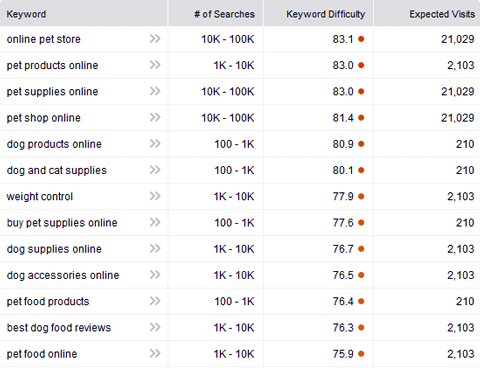 Perform smart keyword analysis
Collecting as many keywords as possible is cool, but it's only half a job. To make sure you only collect top-flight keyword phrases, you need to analyze them according to the most important SEO indicators. And again, it's dead easy to do with Rank Tracker on your side.
The tool will provide you with accurate search volume data (monthly exact match searches), an idea of how difficult it will be to rank for a particular keyword (with the help of Rank Tracker's own Keyword Difficulty metric), cost per click, competition, etc.
Do the filtering
For you not to drown in tons of keywords you've collected with different research tools and from different search engines, there's a nice opportunity to create custom filtering conditions.
For instance, you can filter keywords in bulk based on monthly searches and Keyword Difficulty or make the tool show you only long-tail keywords by setting the Keyword Length filtering condition.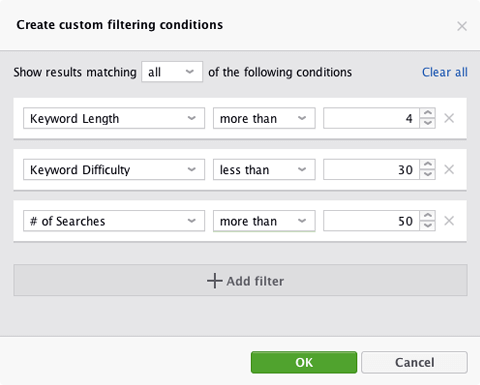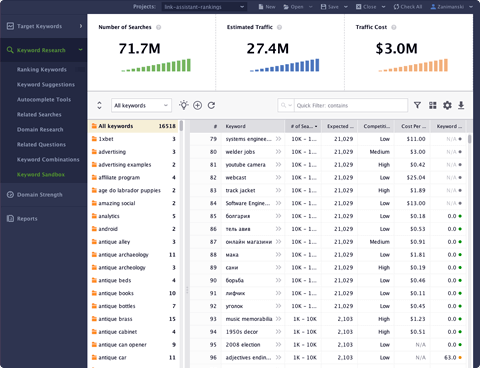 Store all the keywords
in one place
Keyword Sandbox is your personal keyword playground where you can comfortably store all your keyword findings, group them by theme (or let the tool do it for you), filter them (by search volume or keyword length), tag your keywords, group them by semantic similarity, etc.
Once you've decided on the best keywords that are worth being included in your campaign, just move them to Rank Tracking and proceed with checking rankings.
Professional SEO isn't just for the pros
Besides being the best keyword finder, Rank Tracker is also a brilliant keyword tracking software and mighty keyword analysis tool. In other words, arming yourself with Rank Tracker is a decision you will never regret. Here is what you'll get after downloading the SEO software:
23 free keyword research tools in one tool
The most popular keyword terms from your top competitors
Precise keyword data (monthly searches, Keyword Difficulty, cost per click, competition, etc.)
Accurate keyword rankings in a vast variety of search engines
Comfortable keyword storage
Unlimited number of keywords to collect and check
rankings for
Awesome customer support
What our customers say about us
We couldn't put it better than our users:

I've been using Rank Tracker for 4 years now. I started by downloading the free version of the software and fell in love with this keyword tool ever since. I'm not exaggerating when I say it's one of the best free keyword tools I've ever used. I also like that it's integrated with Google Search Console, Keyword Planner, YouTube Autocomplete, and various keyword suggestion tools. I also love that now I can keep all my keyword ideas in Keyword Sandbox without fear of losing them. What's more, Rank Tracker's ability to check rankings for different locations make it a perfect local keyword tool. And of course, the variety of search engines to check rankings in is just awesome.

Marcus Wilson,
Owner of Blue Media

I guess every website owner or SEO knows the pain of trying to find a perfect keyword tool. I must say that I've used SO many free keyword tools and none of them satisfied all my requirements until I came across Rank Tracker. Firstly, it combines more than 20 keyword research tools (from Google search suggestions to Competition TF-IDF Explorer), so I'm always sure that no keyword can ever slip away from my sight. Secondly, Rank Tracker supports all Google domains, languages and countries. It's an extremely accurate research tool that provides you with precise search volume, cost-per-click, and competition data — in other words, all parameters you need to pick the best-performing keywords ever.

Peter Perez,
SEO specialist, webmaster at Grey Stone
Go ahead, find new awesome keywords with Rank Tracker!