Why Rank Tracker?
With about 60% of web traffic coming from mobile devices, you need a means of tracking mobile rankings to control SEO success. Check your positions in mobile search for as many keywords as you need with Rank Tracker. See your competitors' keyword rankings, set up highly localized rank tracking, and use a plethora of super handy features to make the most of mobile search!
Unbounded mobile rank tracking
Rank Tracker allows for limitless mobile keyword rank tracking in the world's most popular search engines, such as Google, Bing, and Yahoo. You can choose either to track organic results only or to include SERP features results (featured snippets, images, videos, local packs, and more). This fully customizable SEO tool helps you track your ranking progress, analyze mobile SERPs for your target keywords, and provides you with a significant amount of keyword data — such as keyword competition level, keyword difficulty, etc. — that you can examine and use to tweak your mobile SEO strategy.
Mobile keyword rankings for any location
Being able to view your mobile rankings as seen by users at different places is vitally important especially for local and international SEO. Mobile search is extremely location-centric, and search results may vary greatly depending on a user's location at the moment of search. With Rank Tracker, you can check your mobile rankings for any country, state, city, street, or even an exact address. The number of locations to check is unlimited, so you can change your settings as many times as you need.
Mobile SERP competitive landscape analysis
To win on mobile search, you need to know who's rocking there, get ideas about their SEO tactics, and find out how you can outrank them. With Rank Tracker, you can easily analyze the competitive landscape. This free mobile SERP tracker helps you find your domain and topic competitors for mobile SERP, get useful intel on their overall keyword rankings, top-ranking pages, and best-performing search terms. Examine competitors' best content to understand what fits best for mobile search ranking and improve your SEO content strategy accordingly.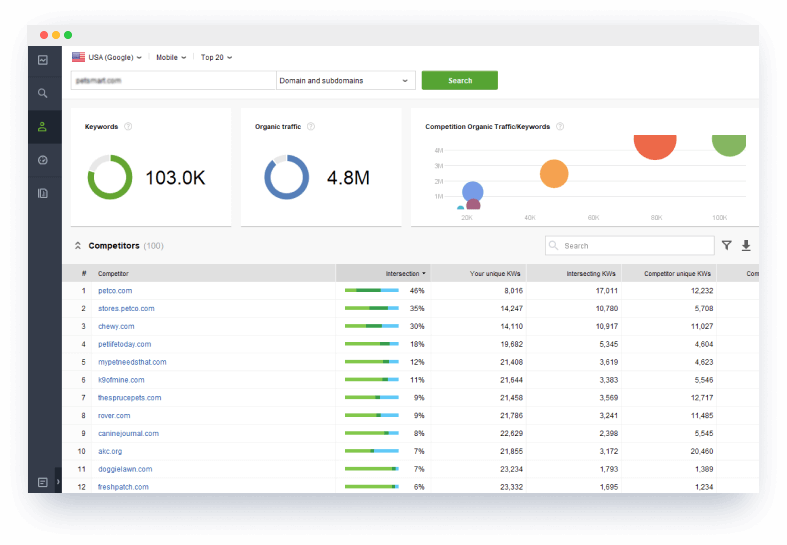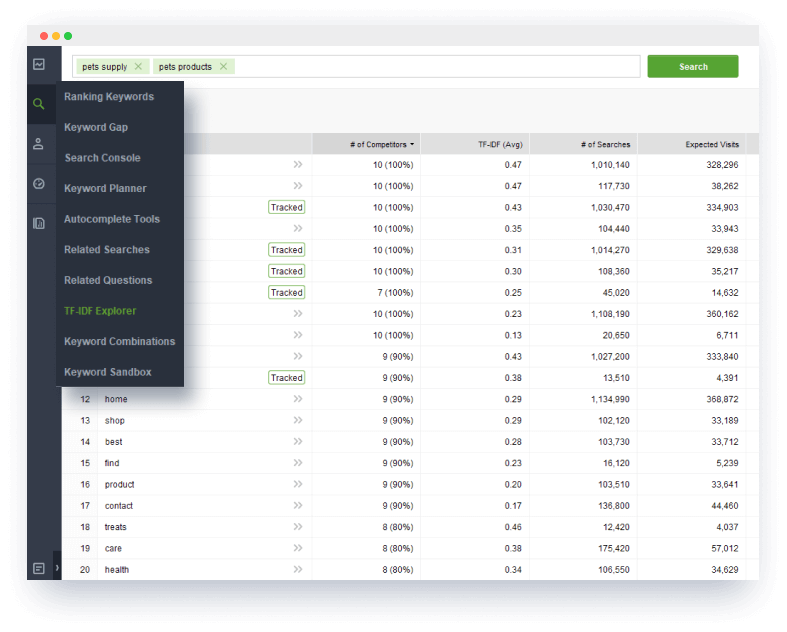 Comprehensive keyword research and analysis
Doing SEO, you can't go without keyword research. This keyword rank checker features multiple keyword research tools that allow you to gather a substantial amount of relevant keywords. They include Google Search Console, Google's Keyword Planner, several search engines' autocomplete tools, related searches, and related questions. You can also profit from TF-IDF Explorer to find the most meaningful and frequently used keywords of your top-ranking competitors. And the Keyword Gap tool will enrich your keyword list with the keywords that your competitors rank for, and you don't. All the keywords that you gather come along with useful SEO data that helps you evaluate your likelihood to rank for them in mobile or desktop SERPs — from the number of expected visits to keyword difficulty to cost per click, and many more.
Fully customizable SEO reports
Reporting is an important part of SEO that helps you track the ranking progress, find weak points to improve, and see the whole picture of your website's performance in search. A possibility to easily create an SEO report and share it with clients is of vast importance for SEO professionals. Current keyword ranks, mobile keyword ranking history, or other necessary SEO data — Rank Tracker allows you to create fully customizable reports for every stage of your SEO project. Upload your reports to the cloud to share them with your clients anytime. Moreover, you can schedule reports to be sent to your clients automatically.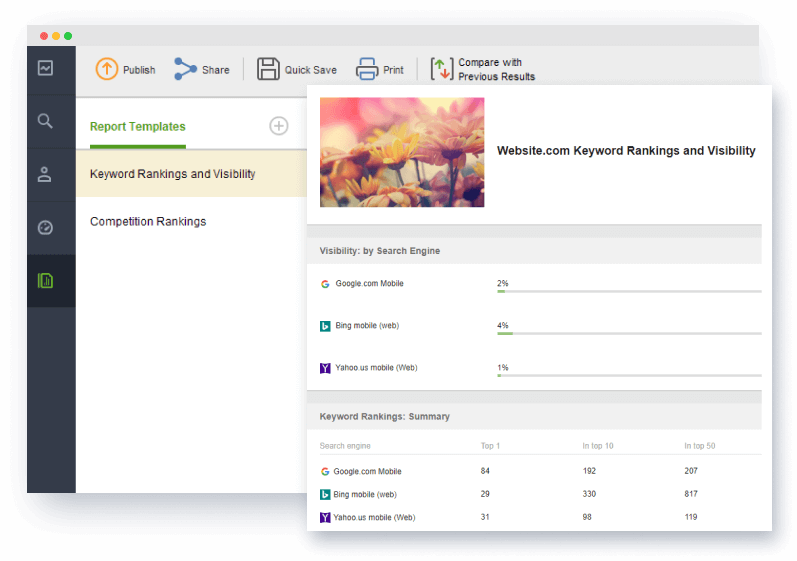 Power your SEO with unlimited mobile rank tracking and other useful features of this mobile SERP tracker
Limitless keyword rank tracking
Global and local search engines
In-depth competitive analysis
Precise geo-specific rankings
Numerous keyword research tools
Here's what users say about RankTracker:

No other free rank checker provides the same accurate ranking information and SERP intelligence as Rank Tracker. It's definitely the best keyword rank checker tool I've ever seen. The reports are clean and very easy to customize, so I can include only the data that's relevant to each client.

Melissa Cahill
Owner
Panoptic Online Marketing

Rank Tracker program is FAST! It's one of the fastest (if not THE fastest) rank checkers I've ever used. When I run a rank check for the 200+ keywords I target, it spits out the ranking results for Google, Bing and Yahoo in under a minute. After using this keyword SERP tracker and keyword position checker for the past few weeks, I'm hooked.

Ken Lyons
Co-Founder
MeasuredSEM

Rank Tracker platform has been my number one keyword rank checker for keeping track of keyword positions in SERPs for a long time, but it wasn't until recently that I realized its full potential for keyword research. The tool has every feature you can ask for of a keyword tool. With its 20 different keywords sources, it's not to be beat when it comes to long-tail keyword ideas.

Nate Freedman
Online Business Consultant
SEO N' Stuff
Go ahead and start tracking mobile rankings with Rank Tracker today!
Download a free copy of this mobile rank checker and give it an unlimited number of tries.