Why Yahoo Rank Tracker?
Yahoo is the world's third most popular search engine, with just under half a billion unique monthly visitors. Despite the impressive traffic, SEO experts tend to forgo Yahoo optimization in favor of larger search engines. Which makes Yahoo search result positions a little easier to achieve. And with a tool like Yahoo Position Checker, you can research the most promising keywords, track your website position, check up on your competitors, and demonstrate the results of your Yahoo SEO effort via customizable, easy-to-share reports.
Check Yahoo positions
Accurate rank tracking in Yahoo search results is an essential part of any search optimization project. Whatever audit you perform, whatever website optimization you apply, whatever keywords you target, you'll have no idea whether any of it is working if you don't monitor your rankings. With Yahoo Rank Checker, you can select a set of keywords to monitor, and get accurate ranking data in your dashboard. The dashboard is updated automatically, but it keeps ranking history and it highlights recent changes, allowing you to assess the results of your search optimization effort at a glance.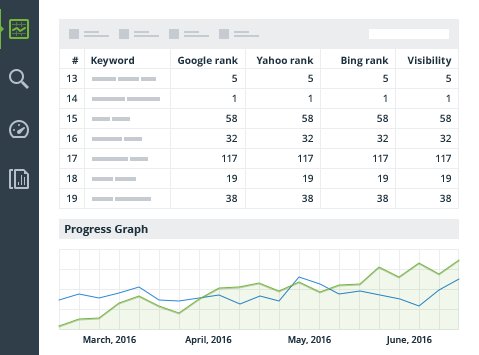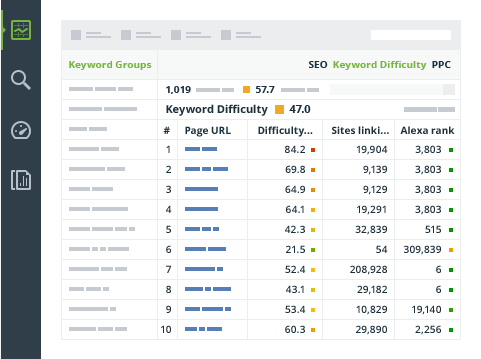 Research keyword ideas
Discover those keywords that you rank for already as well as the new keywords to target when creating content. Keyword Rank Checker is equipped with nine different keyword research methods and more than twenty keyword research tools. You can find all the keywords any given page or an entire website ranks for, identify the keyword gap between you and your competitors, as well as discover long-tail keywords through autocomplete, related questions, and related searches.
Select the best keywords
By the time you are done playing with keyword research tools, you are likely to end up with thousands, perhaps even tens of thousands of keywords to choose from. To accommodate this process, all of the keywords you have discovered during your research are automatically added to a dedicated sandbox. There, keywords can be grouped semantically, as well as filtered and sorted according to a number of keyword parameters. For example, you can use filtering to get rid of keywords with low search volumes and high competition, and then narrow the selection even further by applying cost per click ranges and stating negative keywords.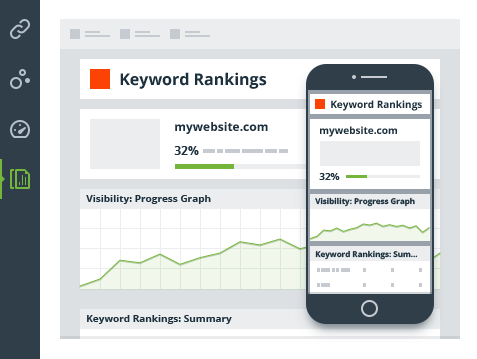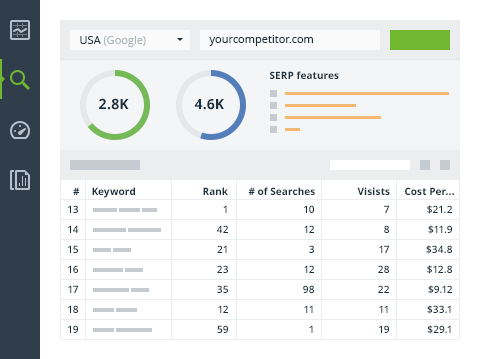 Spy on your competitors
Achieving and holding a good Yahoo keyword position is all about beating your competition. You have to watch which of their keywords appear in Yahoo search results, what kind of pages they create to rank for these keywords, and how do they change those pages over time. With Yahoo Rank Checker, you can define your competitors and monitor their stats the same way you monitor yours. You'll be able to use Yahoo Rank Checker to discover your competitors' top ranking keywords, view corresponding pages, and figure out their keyword strategy. And whenever your competitors make a move on you, you'll be able to catch them in the act by monitoring the changes in their Yahoo positions.
Create custom reports
Reporting on the progress of your work is an essential, albeit annoying, part of search optimization. Not to worry, Yahoo Rank Checker has enough features to accommodate the process of reporting in its entirety. You can create reports either from scratch or from one of the default templates. Furthermore, reports are white-label and completely customizable, giving you the freedom to choose which elements of search optimization to highlight. And once your report is ready, share it via a link or schedule it to be delivered automatically once a week, month, or whatever.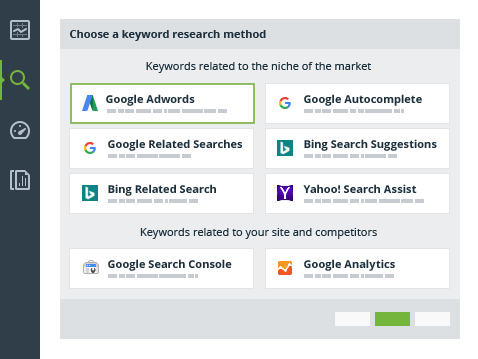 Get your website to the top of SERP with Yahoo Rank Checker:
Tracking Yahoo positions
Collecting keyword ideas
Identifying best keywords
Watching your competitors
Delivering custom reports
Crafting a ranking strategy
Here's why our users love Yahoo Position Checker:

No other free rank checker provides the same accurate ranking information and SERP intelligence as Rank Tracker. It's definitely the best keyword rank checker tool I've ever seen. The reports are clean and very easy to customize, so I can include only the data that's relevant to each client.

Melissa Cahill
Owner
Panoptic Online Marketing

Rank Tracker program is FAST! It's one of the fastest (if not THE fastest) rank checkers I've ever used. When I run a rank check for the 200+ keywords I target, it spits out the ranking results for Google, Bing and Yahoo in under a minute. After using this keyword SERP tracker and keyword position checker for the past few weeks, I'm hooked.

Ken Lyons
Co-Founder
MeasuredSEM

Rank Tracker platform has been my number one keyword rank checker for keeping track of keyword positions in SERPs for a long time, but it wasn't until recently that I realized its full potential for keyword research. The tool has every feature you can ask for of a keyword tool. With its 20 different keywords sources, it's not to be beat when it comes to long-tail keyword ideas.

Nate Freedman
Online Business Consultant
SEO N' Stuff
Guide your SEO strategy with reliable Yahoo! Rank tracking!
Download a free copy of this Yahoo Rank Checker and give it an unlimited number of tries.