Why Yandex Rank Tracker?
Yandex is the main competitor to Google in Russia, occupying around a half of the Russian search engine market. Besides, Yandex holds a decent search share in other countries where the Russian language is still popular, like Kazakhstan, Tajikistan, Belarus and Ukraine, and Turkey (with localization in Turkish). Being primarily a Russian search engine, Yandex developed its own algorithms specially for the Russian language, which is grammatically pretty different from English.
Unlike Google, Yandex does not focus so much on links and PageRank of site pages. Meanwhile, just like all other competitors, Yandex wants to bring search results that are relevant to user intent in a query. Similarly to Google, Yandex is more than just a search engine service: on top of that, the company operates as a news portal, promotes its mail, analytics tools, cloud storage, and even a taxi (jointly with Uber). That is why you will find all familiar technologies to implement for Yandex SEO: search suggestions, voice search, Yandex maps and local SEO, mobile keyword rankings, etc.
If you are looking to take this piece of cake and promote your website to top positions on Yandex SERPs, here is a great keyword rank tracking tool to optimize your pages for Yandex search. With Yandex Rank Tracker, you can research the most promising keywords, check up on your competitors, track keyword rankings over time, and much more.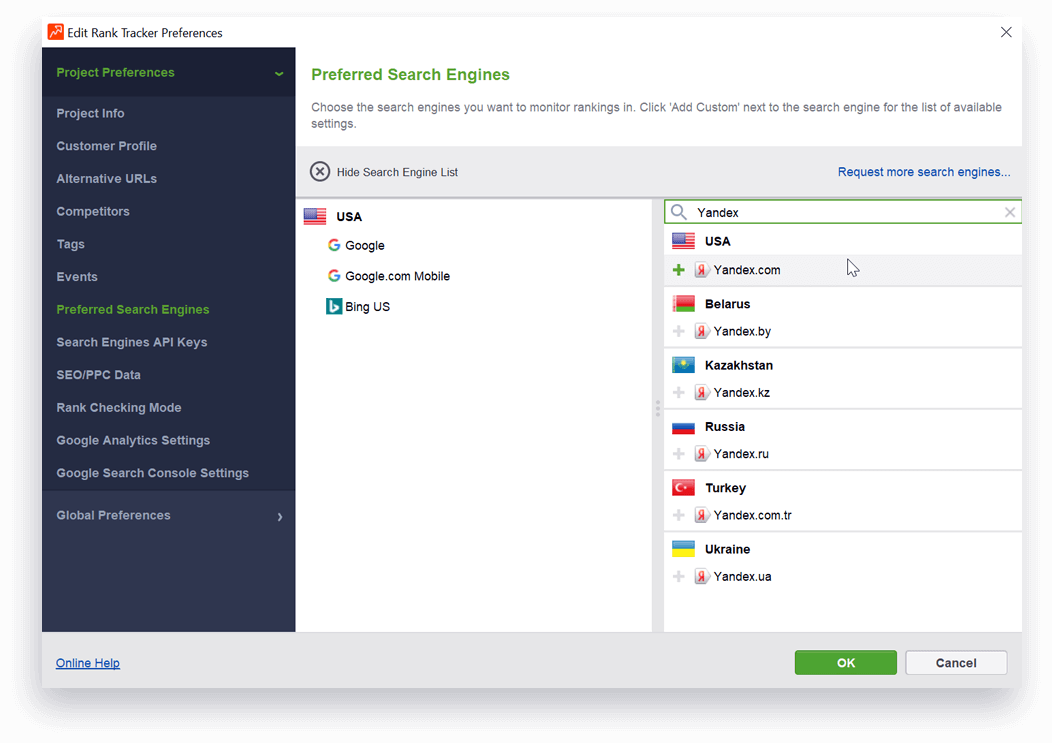 Simply add Yandex as your preferred search engine, select to track ranks either on desktops or on mobile devices. Additionally, you can define the country and the city for tracking your keywords in a specific location. The Yandex rank checker keeps your website ranking history, records SERP stats and shows the difference to recent position changes.
How to check Yandex SERP positions?
Accurate rank tracking of your keywords on Yandex search results page is part and parcel of any search optimization process. You'll have no idea whether your SEO is working if you don't track your keyword rankings. You can check SERP positions with Yandex.XML technology by sending a request to Yandex and receiving it also in XML format. However, such free checks have limits on the number of XML requests per day. With Yandex Rank Tracker, you can select a limitless set of keywords to monitor, and get regular rankings data in your dashboard.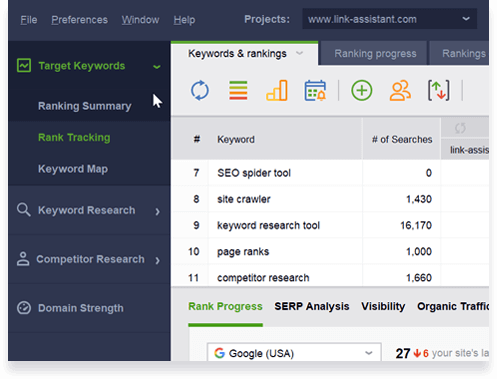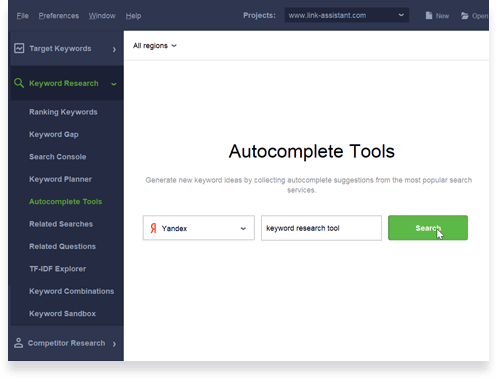 Research keyword ideas for Yandex rankings
By using Yandex Rank Tracker, you can check keyword rankings for Yandex to get new keywords to target when creating content. The free keyword research tool is equipped with nine different keyword research methods, including Yandex search suggestions and Yandex Wordstat (when you grant access to your account). You can find all the keywords any individual page or an entire website ranks for, as well as identify the keyword gap between you and your competitors.
How to choose your best Yandex keywords?
The keyword research tool will return thousands of keywords, so how do you know which of them are best suited for your site to rank in Yandex keywords rankings? For your convenience, all discovered keywords are automatically added to the Keyword Sandbox and grouped semantically. There you can filter and sort them out by keyword parameters, for example, by search volume and competition level.
By analyzing these data, you can make a well-grounded decision whether to include the keywords into your Yandex rank tracking project. Then, you can use the Keyword Map to assign your selected keywords to relevant landing pages and observe how your SEO efforts help your pages rank.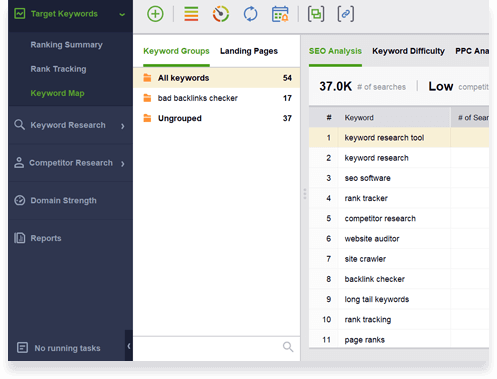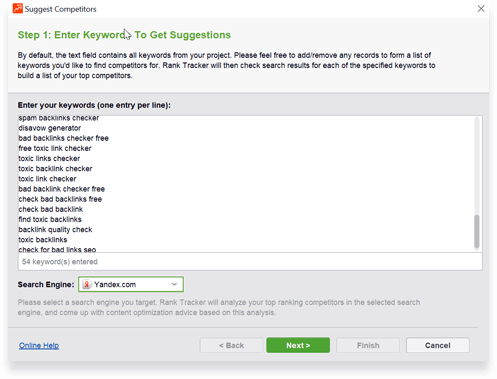 Spy on your competitors
With the website ranking tool, you can discover your top competitor domains in Yandex search results and monitor their stats the same way you monitor yours. You'll be able to use Yandex Rank Tracker to discover your competitors' top ranking keywords, see what types of landing pages they create to rank for these keywords, and figure out their keyword strategy. And whenever your competitors make a move on you, you'll be able to catch up with them by monitoring the changes in their Yandex positions.
Create custom reports
Reporting on the progress of your Yandex SEO efforts is an essential, albeit annoying, part of search optimization. No worries, Yandex Rank Tracker gives you a nice opportunity to demonstrate the results of your work via customizable, easy-to-share reports. You can make reports using default templates or compile a report from scratch. Create your own design and add white-label, giving a unique branded look to SEO reports. And once your report is ready, share it via a link or schedule to be delivered automatically to email once a week, a month, or any time span you set.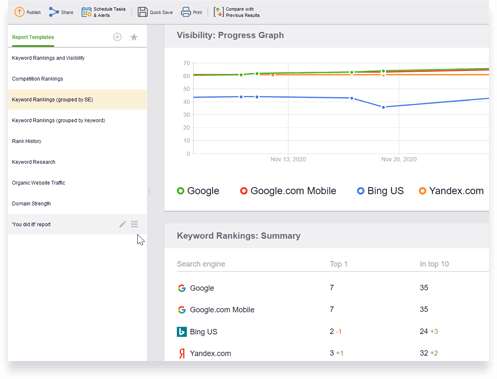 Get your website to the top of SERP with Yandex Rank Checker:
Yandex rank checking
Collecting keyword ideas
Watching your competitors
Identifying the best ranking strategy
Automatized reports for SEO professionals
Pricing: Free, Professional and Enterprise versions
Guide your SEO strategy with reliable Yandex Rank tracking!
Download a free version of this Yandex tracking tool and give it an unlimited number of tries.