LinkAssistant features
Link building is a sure-fire way to drive your website to the cherished Google top. Yet link building can turn a challenging SEO job when it comes to finding first-rate link partners and managing them, not to mention it's extremely time-consuming.
LinkAssistant SEO Tool is loaded with a wealth of features to entirely transform your link building experience, making it many times faster and child-easy.
Look through the comparison table to see the differences between two LinkAssistant's editions: Professional and Enterprise, or read on about killer features LinkAssistant is loaded with.
So here's what LinkAssistant does for you exactly:
Finds loads of valuable link partners
How would you go about finding relevant link exchange partners if you did it by hand? Search in Google, scan the results, wash, rinse, and repeat — until your hands are blistered.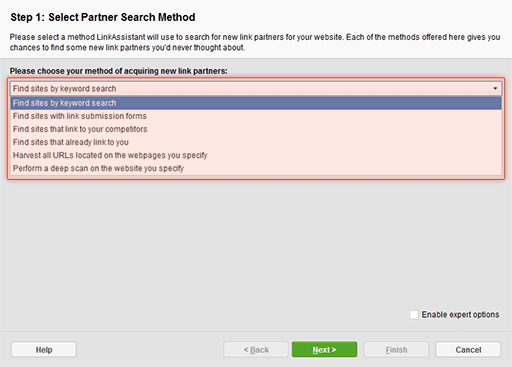 Click the image for a bigger screenshot
LinkAssistant SEO Tool saves you countless hours by helping find high quality link exchange partners in six different ways, and even more are coming! Here's what LinkAssistant SEO tool does about partner search:
Finds link partners with link submission forms

If you wish to harness the potential of link development networks, we have good news: LinkAssistant SEO Tool can find

relevant link

exchange partners that use link submission forms, and fill in these forms for you automatically. With this feature you can get literally hundreds of link exchange partners very fast — perfect to launch a new Website!

Finds sites using your keywords, in 597 search engines

Keyword search is the primary way to find relevant link exchange partners for your site. Just enter your niche's keywords and let LinkAssistant do the rest — find link exchange partners related to your site's theme on Google, Yahoo!, Bing and other regional and local search engines. Here's where you can

check the full list

.

If you don't have a big keyword list to search for, you'll get new keyword ideas right inside the tool. LinkAssistant will give you suggestions of keywords and key phrases related to your terms, so that you find more topically related websites.

Searches for sites linking to your online competitors

LinkAssistant SEO Tool will scan your competitors and allow you to see who's linking to them. After all, if they link to your competition, why wouldn't they link to you, right?

Detects sites that already link to you

LinkAssistant will find each and every site that's pointing to you. Good to know who's already given you the link — to avoid bad neighborhoods and to make sure not a single link is overlooked.

Harvests URLs from a specific webpage

You specify a webpage — it can be your own page or one from any other website — and LinkAssistant SEO tool will pinpoint every URL that can be found there. A good way to find where a webpage's links point.

Makes a deep scan and digs up all links from a Website

With this feature, you can point LinkAssistant to a specific URL, and let it get all links from there. This could be your competitor's link directory, or simply your local link partner's catalog that you need to import into our SEO tool.
Easily qualifies your link partners
Once you've found tons of potential link exchange partners you've only won half the battle. Remember, it's not just the quantity, it's the quality of your link partnerships that matters when it comes to search engine rankings.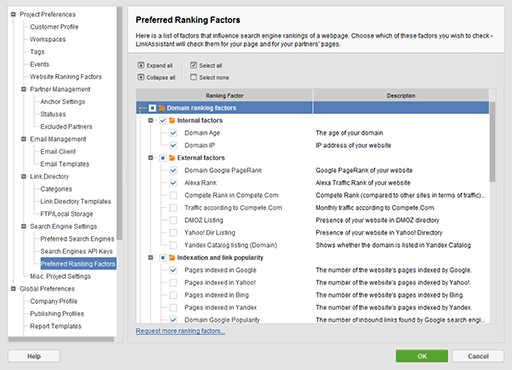 Click the image for a bigger screenshot
Checks ranking factors to determine quality of each link partnership
Again, LinkAssistant comes in handy by helping you qualify your potential link exchange partners and filter out those that are a waste of time. This SEO tool does so by making it easy for you to see your link partners' link popularity, Google PageRank, Alexa traffic rank and other factors. Check the list here — you can request more ranking factors to be added. We listen to every client!
Armed with this knowledge you can narrow down the list and only review valuable partners that are really worth your while!
Remember, LinkAssistant will always let you see the search engine value of your link exchange partners — both current and prospective ones. This way you can continually monitor the value your link partnerships add to your Website's link popularity and take appropriate action.
Takes complete control over your email
Unlike most other SEO tools around, LinkAssistant puts you in complete control over your email. Forget about having to switch to your email software to write a personalized message to hundreds of link exchange partners, or read new mail.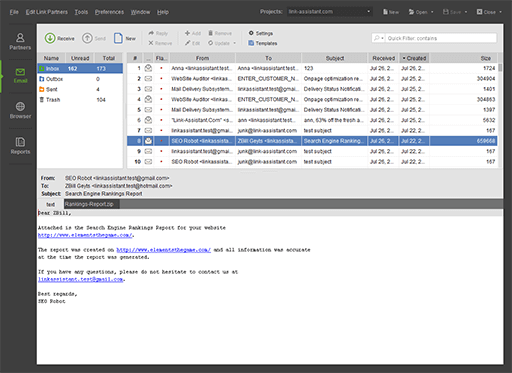 Click the image for a bigger screenshot
Finds contact info of potential link partners

When LinkAssistant searches for potential link exchange partners, it will also obtain their emails, so you can immediately get in touch with them. Apart from a standard whois search, you can configure LinkAssistant to make several "educated guesses" to reliably retrieve your partners' emails.

Allows emailing multiple link partners

When contact addresses are available, you can email each and every one of your link exchange partners individually or send bulk messages to several hundred partners — with just a few clicks.

Makes each email sound personal

Be sure to try LinkAssistant's fully customizable pre-built templates that make writing personalized emails easy and fun. You address each partner by the name, talk a bit about their particular website etc. Email templates let you be personal with hundreds of website owners and be quick.

Makes you secure when sending multiple emails

Also, LinkAssistant supports secure connections, meaning if you want maximum security for your mail — you can have it.

Leaves no trace of itself in the emails

You can send emails with absolutely no trace of LinkAssistant software in them.

Receives all incoming mail

LinkAssistant is the only link building tool that lets you keep all correspondence with link partners inside the software. You not only send messages but also receive all incoming mail right into LinkAssistant.

Passes info from emails to the partners database

As soon as you got a link request or a reply from a partner, you can add this partner or edit the partner's info conveniently, right from LinkAssistant's email client.
Makes link directories fitting your site like a glove
How about creating a professional-looking link directory that perfectly matches your website's design? Looks like a great way to impress your link partners. And you don't have to purchase and learn expensive Website design software to do that — all the tools you need are accessible from within LinkAssistant. Check how LinkAssistant helps.

Click the image for a bigger screenshot
Creates a link directory that matches your site's design

LinkAssistant lets you choose the typical webpage of your website and specify the layout of your directory in the same design. This makes sure your links pages match the rest of your site's design nicely.

Lets you customize the layout of your link directory

You can make a plain-list directory or create a tree-like structure. Organize your directory, make it look professional and give more value to your site's visitors. Dozens of custom variables are available for advanced users to configure just about every aspect of your links pages.

Organizes your link partners into categories

Put your link partners into an unlimited number of categories and subcategories. You can create a multi-layer tree-like structure for your link directory, that will look impressive and will be easy to browse.

Uploads the link directory to your website

After your directory was generated, you can instantly upload it to the website via FTP and make it available online — in literally a few clicks.

Re-uploads link directory pages that changed

As soon as you make any changes to your link directory (add or remove link partners, rearrange categories, modify links' anchors etc.), you can re-upload the pages to your server. LinkAssistant will intelligently decide which pages have been changed, and upload only those that have — saving you time, traffic and money.
Monitors your backlinks over time to make sure they're as effective as before
With this software it'll take you mere seconds to keep track of each and every backlink you have and make sure your links are as effective as before.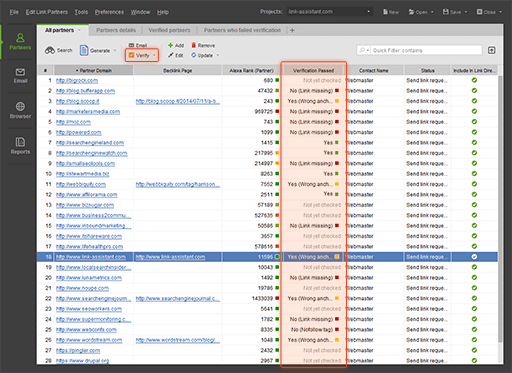 Click the image for a bigger screenshot
Checks if your link partners are still linking back

With LinkAssistant you don't have to go to each partner's Website and manually search for a link to yours. Let LinkAssistant do this job.

Alarms you if a partner is using black-hat techniques

LinkAssistant will detect link partners that are using black-hat SEO techniques and whose links won't be useful for your website. You won't be cheated by link partners who use JavaScripts, frames, redirects, robots.txt files or "nofollow" attributes for links.

Lets you easily remove links from your directory

If the partner isn't linking back you may want to remove your link to them from your site. In LinkAssistant you can do it within seconds. Just a couple of mouseclicks, and your new links directory doesn't contain the link to a specific partner.

Controls importance of your link partners

You can also continuously monitor the importance of your link partners search engine-wise. This includes their ever-changing link popularities in Google and Yahoo!, Google PageRank and Alexa Traffic Rank.
Lets you conveniently manage link partners — by the hundred, if you need it
If you have hundreds or even thousands of link partners, you're going to love this unique feature of LinkAssistant. Like most link building tools around, LinkAssistant will allow you to easily copy, paste and update info on your link exchange partners. But wait... more is coming!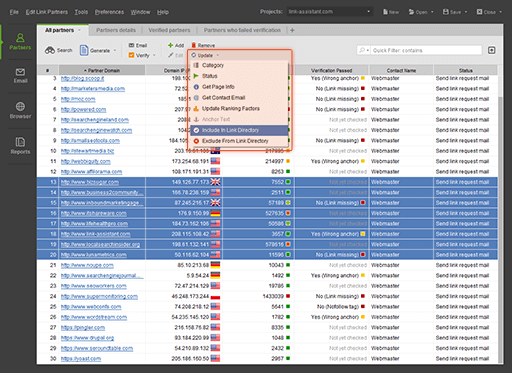 Click the image for a bigger screenshot
Lets you assign statuses to link partners

Unlike other tools, LinkAssistant lets assign your link partners special statuses based on various events. Example: With LinkAssistant you can email 50 link exchange partners, assign them a special "Waiting For Reply" status, and email another 50 the next day. Without this feature, how will you know you're not addressing the same people twice?

Updates info on many or all partners

Best of all, with LinkAssistant you can update info on as many link exchange partners at once as you need — saving you HOURS of work compared to any other SEO tool. You can update virtually any info related to multiple partners at once — powerful, isn't it?

Helps establish 3- and 4-way link partnerships

LinkAssistant is so flexible that it will let you organize not only reciprocal linking, but also 3-, 4-way and even more tricked out patterns.
Gives you access to the fully-functional integrated web browser
The integrated web browser in LinkAssistant works great for any web surfing. You can check your link partners' sites, preview your link directory pages, fill out link exchange forms using LinkAssistant's auto-filler function and whatever else you may need — and you always have a choice between the built-in browser, or an external one.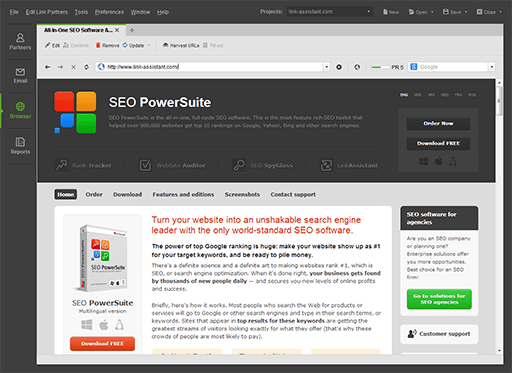 Click the image for a bigger screenshot
Generates impressive link building reports
LinkAssistant provides the user with multi-purpose link building reports. These reports will give you a better idea of link building and contain tips for successful website promotion. And they work great to demonstrate link building progress to your clients, if you're providing SEO services.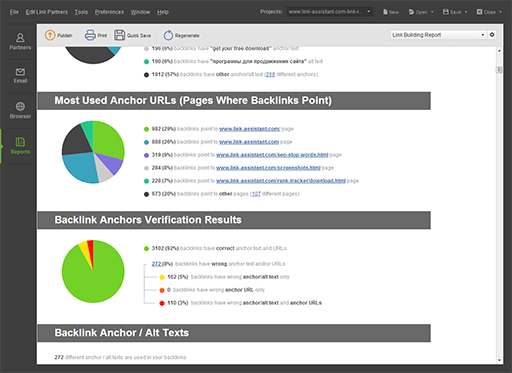 Click the image for a bigger screenshot
Instantly creates a Link Building Report

Just a mouseclick — and LinkAssistant arranges all data into a

link building report

with graphs and charts that demonstrate your progress over time and give a clear overview of all link building activities in a convenient format.

Allows customizing reports

LinkAssistant reports can be custom-tailored to include the data you need. Besides, you can customize your reports with your company logo, choose the color scheme and make it fully match the brand.

Lets you choose between different kinds of reports

You've got different kinds of reports to choose from. These reports work great to analyze your link building progress, keep your clients updated if you're an SEO service, demonstrate results to the boss in a convenient form or share your work in an SEO office.

Enables you to print out reports

(available in Professional and Enterprise versions only)

LinkAssistant Professional and Enterprise users can print out SEO reports straight from the software. Just click the "Print" button to send the report you are viewing to your printer.

Printed versions of LinkAssistant Professional reports contain a watermark, while Enterprise-level reports can be branded with one's logo, color scheme and other information.

Lets you save reports, e-mail them or publish to the web

(available in Enterprise version only)

Perhaps the greatest thing about reports: you can use it further for your needs. Save reports in the industry-standard Adobe PDF format for easy printing and automatically create a well-organized folder structure based on current date, customer's name and web site. E-mail the PDF to your clients without worrying if they use a Mac or a PC — PDF documents will look great on any operating system. Or export your reports into valid HTML — ideal for Web publishing. You can even instantly upload the report via FTP to your website to make it available online.
Seamlessly works with hundreds of search engines
LinkAssistant supports a huge list of 597 regional and local search engines — and more coming! View the list of supported search engines and request your favorite search engine if it's not there yet!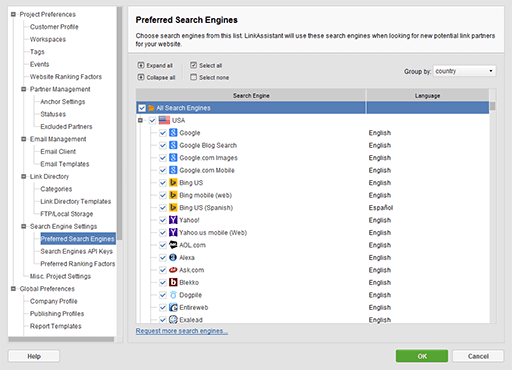 Click the image for a bigger screenshot
Ensures you stay 100% search engine safe and friendly
LinkAssistant includes a number of features to guarantee absolute search engine safety. Human emulation and user agents rotation features let the software appear to search engines as a living breathing human being who's surfing through webpages in a browser. Plus, LinkAssistant supports Google, Yahoo! and Bing API keys to help you query the search engines safely, and make sure you never violate their usage policy.
Leaves no footprint
Unlike other link building software, LinkAssistant leaves no trace of its activity in the link directory and emails. Search engines and humans will not discover you're using SEO techniques to promote your website.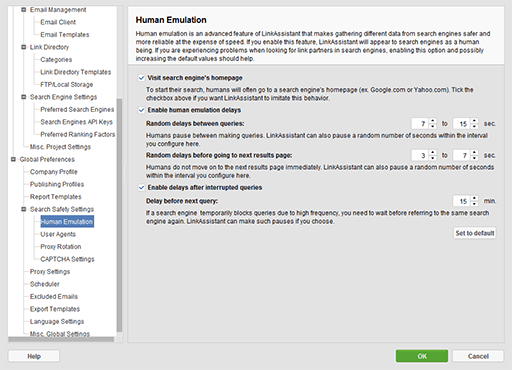 Click the image for a bigger screenshot
Supports working from behind a proxy
You can work with LinkAssistant from behind a proxy — just configure your settings in the Preferences.
Besides you can use the advanced proxy rotation feature — the software will be finding free proxies and rotating them, making you absolutely safe when you're doing huge volumes of work.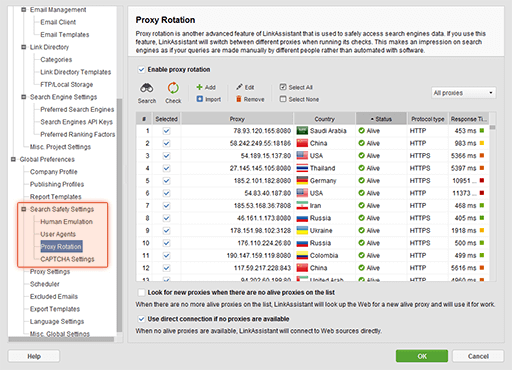 Click the image for a bigger screenshot
Lets you organize your worspace the most convenient way
LinkAssistant is infinitely customizable. This includes your entire workspace. With this feature, you can easily define what information is available on the screen — to find things faster.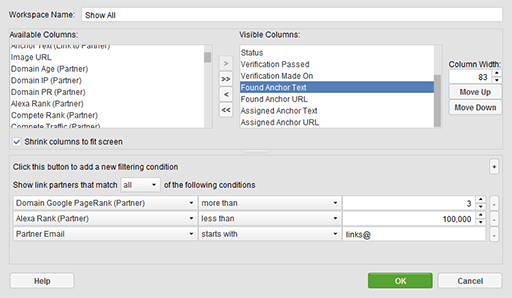 Click the image for a bigger screenshot
Includes customizable Workspace filters
Customize your workspaces using LinkAssistant's flexible filters. View quality link exchange partners only and hide all the rest — according to criteria you define. Show Google's popularity of a specific site and hide all stuff related to Bing — well, you get the idea.
Provides a quick search facility
LinkAssistant's quick search feature lets you quickly find necessary records among hundreds of link partners, using numbers of parameters.
Allows you to import and export your link partners
Although LinkAssistant alone is absolutely enough to quickly do any link management task, it does not limit you to only work inside the program, if you wish. Quick import and export features let you get more flexible with your data.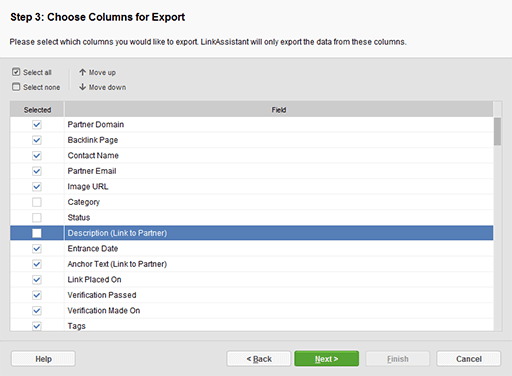 Click the image for a bigger screenshot
Makes export of link partners (available in Enterprise version only)
LinkAssistant includes a powerful export feature. With it, you can export your link exchange partners to plain text, HTML, SQL and XML. These are all open formats, so if you need your data anywhere else, it's easy to do that.
Imports link partners
LinkAssistant includes an importing feature that lets you import links from another LinkAssistant project, from a plain-text list, as well as from an IBP (Internet Business Promoter) link building tool. So if you need to migrate from IBP — again, it's easy.
Estimates results of your link building campaigns
LinkAssistant will check your website for numbers of factors that influence your positions in search engines and often directly depend on the effectiveness of your link building campaign.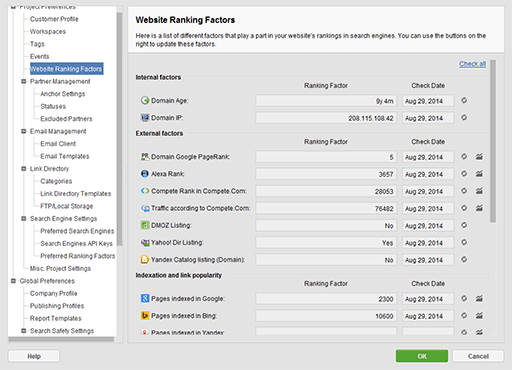 Click the image for a bigger screenshot
Works on any operating systems
LinkAssistant software is cross-platform and works equally well on Windows, Mac OS X and Linux.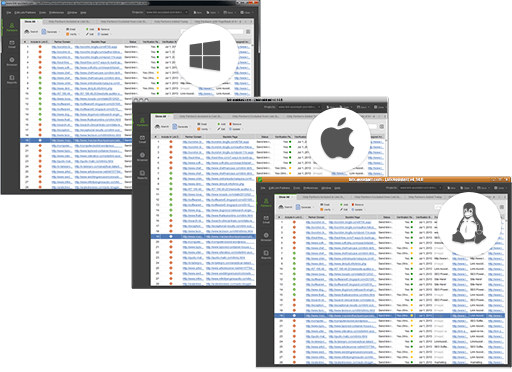 Click the image for a bigger screenshot
Multilingual
This SEO software not only optimizes sites in any language and for any country's search engines. It speaks several languages!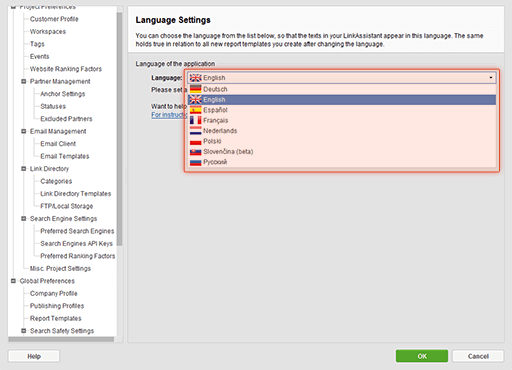 Click the image for a bigger screenshot