15 Quick SEO Fixes for Better Rankings for Any Site
Just Tweak It!

By: Valerie Niechai
December 19th, 2017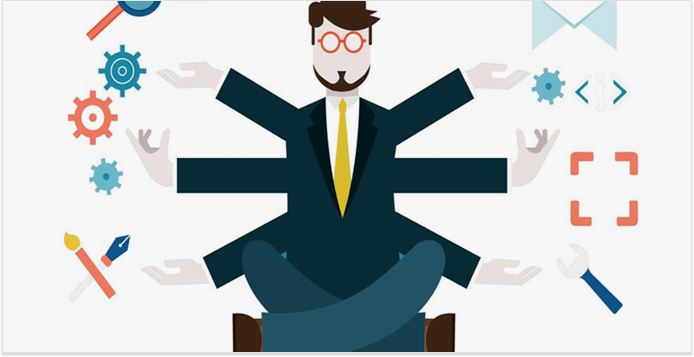 Whether you are an SEO guru or amateur, you will definitely benefit from regular checks of your website. To make this procedure quick and comprehensive, I've put up a list of steps that will help you brush up your website and make it even more appealing to search engines. Of course, providing that the colossuses of your SEO campaign feel well — keyword research is done, backlinks are of quality, and content is unique.
Cycle 1. Technical SEO.
1. Check on your sitemap.
A sitemap is a crucial component of your website, as it acts as a guide for search engines telling them about your site structure and its important pages that should be crawled and indexed for further ranking. So, when it comes to your sitemap, first of all, make sure it:
If for some reason you don't have a sitemap, you should set everything aside and create one right now. You can do it in WebSite Auditor by simply starting a project for your site, jumping to the Pages dashboard, and hitting the Sitemap button.
Once you are positive that it exists, make sure it is:
Registered in Google Search Console.
This simple action notifies Google about your sitemap. It is possible to either submit it to Google Search Console yourself or specify its location anywhere in your robots.txt file in the following way:
Sitemap: http://yourdomain.com/sitemaplocation.xml
If you do not want your sitemap to be ignored by search engines, keep it free from errors, redirects, and links blocked from indexing. You can check your site with the help of Google Search Console. Log in to your account, go to Crawl > Sitemaps > Add/Test Sitemaps. Paste the URL of your site and click Test. Once the test is done, you can click View test result that will reveal any errors found.

Update your sitemap once new content is added to your site (or removed from it). This will allow search engines discover updates faster.
For example, Google won't go for indexing sites with more than 50,000 URLs. Thus, you'd better keep it much shorter to ensure that your most important pages are crawled much more frequently.
For more on sitemaps, check with Google's guide.
2. Check your robots.txt.
If you think that your robots.txt file is iron-made and nothing will ever go wrong with that, then one day you can find that you were wrong. Everything has a tendency to act funny at the most inconvenient moments.
One of such unfortunate scenarios for robots.txt may be when the site's JavaScript and CSS get blocked from search engine bots. If that happens, search engines won't be able to access and load your CSS; for responsively designed sites, that means they won't be able to figure out that the website is mobile friendly, and consequently, rank you lower (if at all) in mobile search.
To avoid such an unpleasant situation, once in a while you have to review your robots instructions. I would like to recommend WebSite Auditor to do just that. Open the app and create a project for your site (or open an existing one). Then go to Site Structure > Site Audit, in the Indexing and crawlability section click on Resources restricted from indexing. In the Robots Instruction column you will see all the details on the restricted sources. Obviously, not all of them require your interference. Check for those links that are not supposed to be in this column.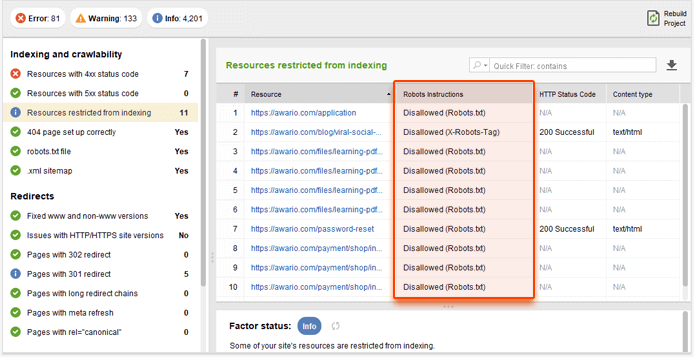 When you find out that some of your key HTML pages are blocked, you need to go and add an allow rule for them. In case some of your CSS and JavaScript are disallowed, one of the simplest solutions is just three lines in your robots.txt file:
User-Agent: Googlebot
Allow: .js
Allow: .css
This addition will allow Google to crawl your pages and protect your website from similar issues in the future.
As an alternative, you can add these rules manually by editing your file yourself, or just use WebSite Auditor's robots.txt editor to do the same: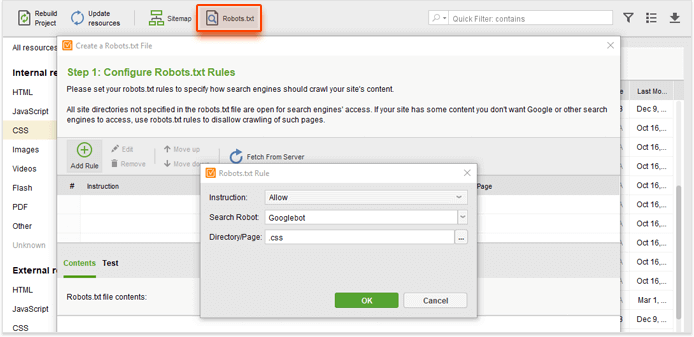 I realize that quick technical SEO sounds like an oxymoron, but in case you prioritize, it is possible to fix the most urgent problems and gradually proceed to less pressing issues thus laying the path to a perfectly optimized site.
WebSite Auditor is a great tool for such prioritization. Once you have your project, follow the thread Site Structure > Site Audit, and you will see that there are 4 categories of marks:
Red Error sign — critical SEO problems you have to deal with right away;
Yellow Warning sign — the next thing to fix after killing all the critical errors;
Blue Info sign — does not necessarily mean the need to fix, though you have to be aware of these factors;
Green Correct sign — means that you did a great job.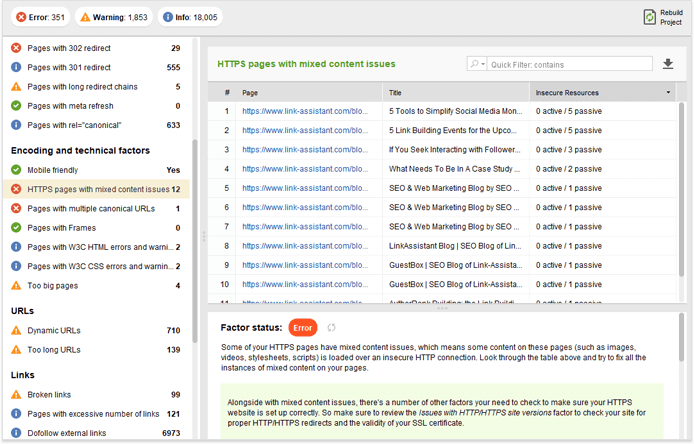 So, you must have guessed — the first thing is to fix those with red error marks, they call for your immediate attention and interference.
4. Test and improve your page speed.
Page speed being a ranking signal and all, is also an important UX factor, as a few seconds of delay in page loading lead to higher bounce rates and lower conversion rates.
In spite of this importance, page speed is really easy to check and optimize. For example, with WebSite Auditor. Create a project for your site or open an existing one, go to Content Analysis and select a page you need to analyze. Proceed to Page Audit > Technical factors, and scroll to the Page speed (Desktop) section to see whether any problems have been detected. It is also possible to make this check for a particular page by clicking the Add page button on the top.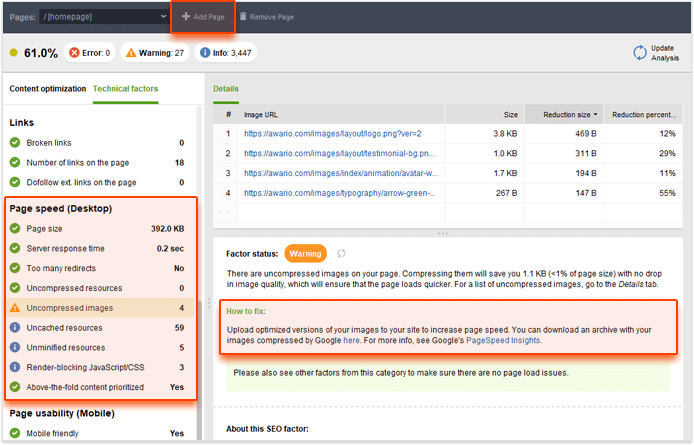 The factors in this section will tell you all about those things (if any) that make your page too heavy and slow. Usually, the main reason for loading delays are uncompressed images and resources. You can deal with this problem right in the app. In the Factor status field with how-to-fix recommendations, you will find a direct download link with your compressed and optimized images.
5. Make your site mobile-friendly.
Google is continuing its shift to mobile-first indexing that will most probably be complete in mid-2018. It means that Google will primarily be crawling a mobile version of a site's content to learn how it should be indexed in search. Thus, it does not only mean that to be mobile-friendly is a must, it also means that both your desktop and mobile versions should be identically optimized and optimized in a way that is efficient for a user.
It is not just Google that is shifting to mobile, users actively utilize their smartphones to search for everything. In 2016 more than 50% of search queries came from mobile devices. The predictions for 2017 is 75%, with 60% of global internet advertising dollars coming from mobile advertising in 2018.
Can you feel now how critical mobile-friendliness is? Use the following list to get prepared for the Mobile "Advent":
Use Google Search Console to add and verify the mobile version of your site.
Test your pages for mobile-friendliness. Before you go for a check, remember that mobile friendliness is assessed on a page basis, which means that you have to check each landing page for this factor, one at a time. You can do that speedily with WebSite Auditor — Google's test just for this particular factor is incorporated into the tool. Create a project for your site or open an existing one, go to Content Analysis > Page Audit, add a page you want to analyze and enter your target keywords. When the check is done, switch to Technical factors and scroll to the Page usability (Mobile) section to see if there are any problems detected.


Do an in-depth mobile audit. In your WebSite Auditor project go to Preferences > Crawler Settings, make sure the Follow robots.txt instructions box is checked; in the drop-down menu next to it choose Googlebot-Mobile. Right below, check the Crawl as a specific user agent box. In the drop-down menu to the right, pick the second user agent on the list:



That's the user agent Google uses when crawling mobile versions of pages. Press OK and click the Rebuild Project button. In a moment, the tool will conduct a full audit of your mobile website.
N.B. For a full guide to mobile SEO, jump to this post.
6. Ask search engines for a re-crawl.
When you apply some changes to your website, without any hesitation, ask search engines to re-crawl your pages to notify them that they are there. With Google it works like that:
Log in to Google Search Console.
Expand the "Crawl" menu and click "Fetch as Google."


Put in your page address and click "Fetch" :


It will be added to the table. Click "Request Indexing" :


You can submit either the exact URL to be re-crawled (up to 500 URLs per week), or the URL and all pages linked from it (up to 10 per month). If you choose the latter, Google will use this URL as a starting point for indexing your site content and will follow internal links to crawl the rest of the pages. Google doesn't guarantee to index all of your site's pages, but if the site is fairly small, it most probably will.
7. Visualize your site's structure.
Subtle and efficient visualizations of a site's structure help to examine in-depth both the whole website and specific pages and reveal all the weak spots with almost zero effort. It is especially handy for bigger websites. Luckily, our team has been happy to launch a new visualization feature for WebSite Auditor.
In your project go to Site Structure > Visualization and see what happens: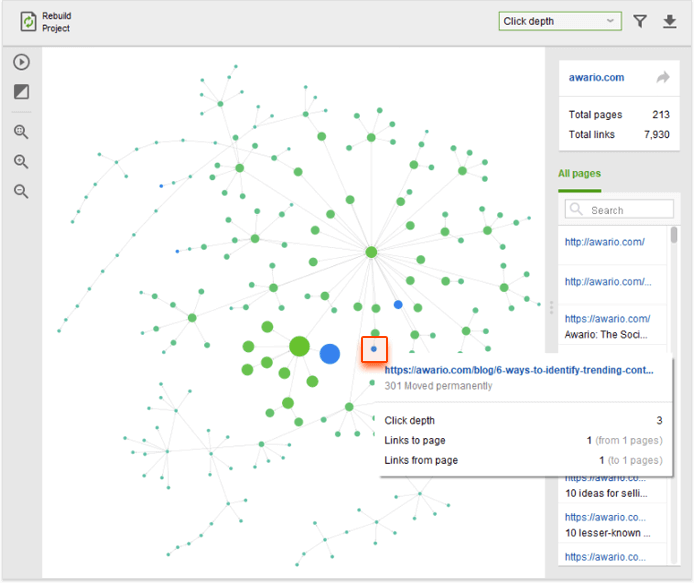 What does it all mean? You can immediately see orphan pages (shown in grey), isolated parts of your site (chains of successive nodes), redirects (shown in blue), broken links (shown in red), and other problems in your site's architecture — all at a glance.
Thus, when you identify the sensitive spots in your site structure, you can go on fixing them. To make sure that the internal link juice is efficiently distributed, switch to Internal Page Rank on the top panel:

For a full guide to making the most out of internal linking, see this post.
Cycle 2. On-page SEO.
1. Check for duplicate content.
Duplicate content may lead to a penalty for your site from Google. Luckily, this issue is easy to spot and fix.
In your WebSite Auditor project go to Site Structure > Site Audit and examine the On-page section for duplicate titles and meta descriptions. If there are any, click on this factor to see where the duplication occurs.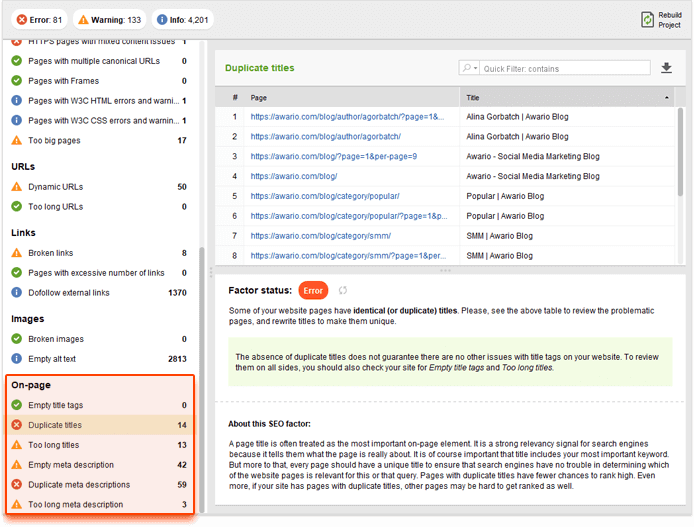 While checking the pages with duplicate content, you have to pay attention to the following. If you see that only the titles are duplicated, then you just need to rewrite them. You can do this right in WebSite Auditor, by going to Content Analysis > Content Editor and switching to the Title & Meta tags tab.
However, if the page's content is also duplicated, you need to apply a different approach. As a rule, you should set up a 301 redirect or use rel=canonical to tell Google which page is more important.
2. Optimize titles and meta descriptions for clicks.
Titles and Google snippets are those that call for clicks most of all. Thus, subtle optimization of those can lead to a very effective CTR boost.
There are different ways to optimize your meta description to make it attractive for users. For example, you can mention your main advantages, like competitive prices, a wide range of products, or whichever reason that sets your brand apart from others.
It is also useful to analyze the search results for your competitors' brands for the keywords they use. Then think of your own keywords that will make your site visible to search engines and attractive to users.
It is easy to rewrite your titles and snippets right in WebSite Auditor's Content Editor of the Content Analysis module. Switch to Title & Meta tags, and make changes to your title and description. As you compose, you will be able to preview your Google snippet. Note that now Google snippets got longer, which means you can build more detailed descriptions and calls-to-action.
When everything is chic, hit Save page to save the upload-ready HTML file.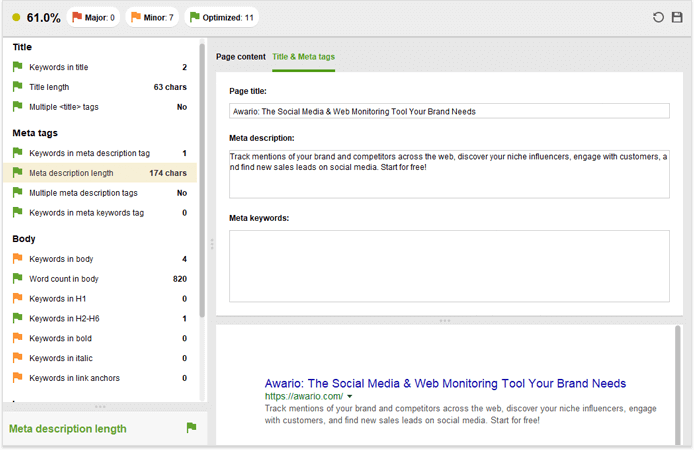 3. Seek for the content inspiration on the outside.
People usually come up with new and seemingly unique ideas after getting inspired by the things that already exist and are well-known. You can make your content more unique the same way by taking a sneak peek at what your competitors do.
You can monitor your competitors yourself or you can make use of some Web monitoring tools, like Awario. The app has a free trial, and it is possible to sign up with just your email address. After a signup, create alerts for the brands of your competitors and look at the feed of all the mentions of those brand names from every corner of the Web. Sort this feed by the number of people that are exposed to each (namely, by Reach). This way, you'll see what kind of their content was a success and get inspired for greater things for your own website.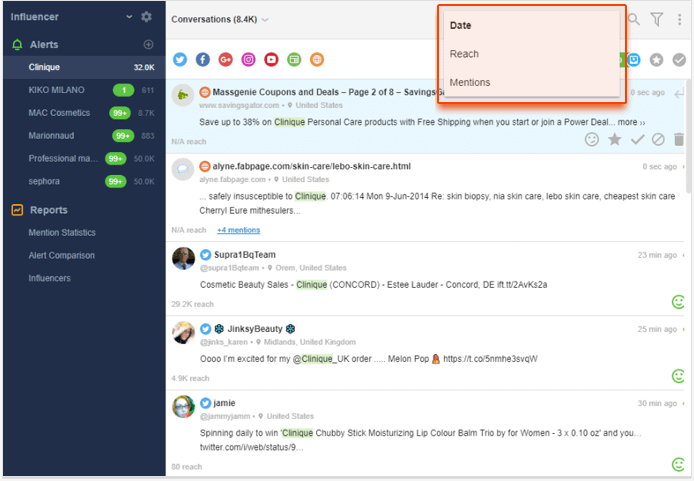 4. Improve the semantic relevance of your pages.
Search engines now use sophisticated mechanisms that help them understand the connection between words, notions, and web pages. Of course, they do not think like humans do, but they analyze a number of various factors that have made the semantic search a reality, and it is essential to take this factor into consideration.
All in all, to rank better you do not have to use a few keywords over and over again. You have to build a cloud of associations related to your main topic and deliberately use the words and concepts from this cloud all over your content.
WebSite Auditor, using the TF-IDF formula (term frequency-inverse document frequency formula that aims to define the importance of a keyword or a phrase within a document or a web page), finds the needed terms and notions that will improve the relevance and rankings of your web page.
Here's how the TF-IDF tool works:
In your WebSite Auditor's project click on Content Analysis > TF-IDF, select a page you want to optimize, and enter your target keywords. The app will calculate the TF-IDF value for each term usage on the basis of the content analysis of your top 10 ranking competitors for your keywords.

After that you will see a table of terms that form your association cloud.

Check the Recommendation column that will advise you on the usage of each term that may be found on the pages of 5 or more of your competitors. You can implement this advice for your page right in the app's Content Editor.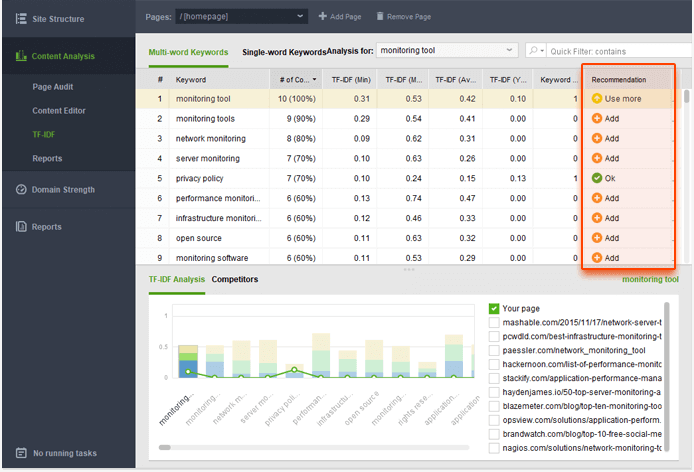 5. Find ranking opportunities outside of the 10 blue links.
Now, Google search for something relatively popular produces visual and informational delight — ads, carousels of images, information boxes, social media results, videos, you name it. It is clear that such results are much more attractive and drive lots of traffic in case you've got this SERP space. Bad or good, but things go the way when more and more space of search results will get occupied by these augmented search listings.
Well, what to do in this situation? First of all, you can check whether you have already got any of the rich results in the SERPs. It takes a few minutes with Rank Tracker.
In Rank Tracker create a project for your website if you do not have one, or open an existing project, and by going to Preferences > Rank Checking Mode, make sure that the Track organic results only box is unchecked, and the Track multiple results for keyword box is checked. Once you've done this, SERP features will be tracked along with the regular organic results every time you check rankings.
Once you have refreshed your rankings by selecting some keywords and clicking Check Rankings, in the Google SERP Features column you will see different kinds of icons that stand for various SERP features (if any):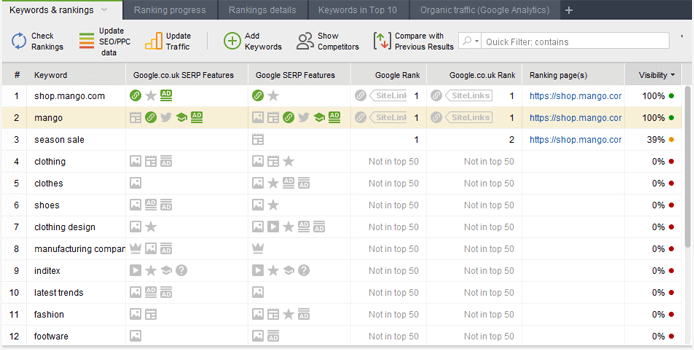 When an icon is grey, it means that there is a search result for this SERP type on this page for your keyword, but the result is not yours. But when it is green — you've got it.
The same way you can monitor different kinds of results of your competitors, see what they do to get there, and apply their methods to gain more visibility for your website.
If you are interested in exploring this multifaceted opportunity for additional visibility, there is a meticulous guide for the most popular SERP types as well as the recipes of how to get there.
Bonus: You cannot consider your optimization complete without thorough keyword research. Its concept is also changing in view of semantic search. I understand that keyword research cannot be a quick fix by definition, but in case you have some time to spare, welcome to read this post.
Cycle 3. Off-page SEO.
1. Check for penalty-prone backlinks.
A quick link audit won't be comprehensive, but it will allow you to spot the links that pose an increased penalty risk to your website. Just make sure to come back for a more thorough examination (this post to your help).
You can do both the quick and thorough audit in SEO SpyGlass. Create a project for your site, and when the app collects your backlinks, switch to Backlink Profile > Linking Domains and go to the Link penalty risk tab. Select all domains in your workspace and hit the Update Penalty Risk button to calculate how risky the links from each referring domain are.
Once the domains are evaluated, click on the header of the Penalty Risk column to sort the domains by their riskiness. For details on why any of the domains are considered risky, click the i button next to the domain's Penalty Risk value. This will reveal a list of factors that make this link potentially dangerous.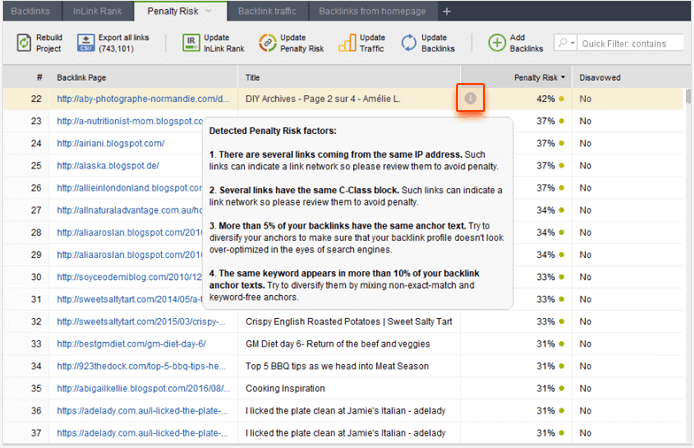 In case you find potentially dangerous links, you can consider disavowing them. To do that, select those risky linking domains, right-click them, and hit Disavow Backlinks in the context menu. In most cases it is better to choose Entire domain under Disavow mode.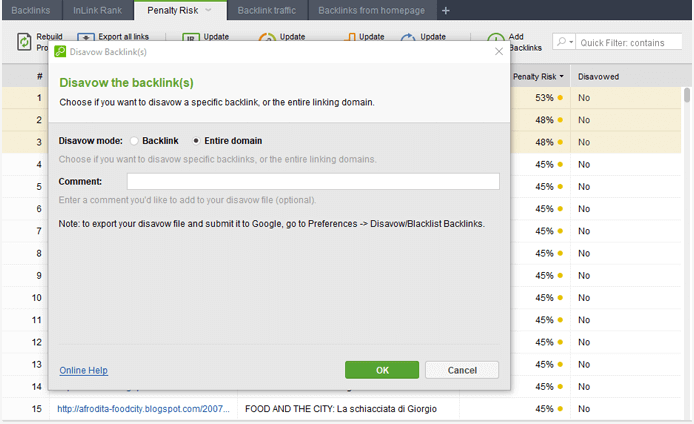 After that go to Preferences > Disavow/Blacklist backlinks. Review this list, and if everything is in place, click Export.
2. Verify your backlinks.
Your built links can get taken down, switched to nofollow, or have the wrong anchors. To keep an eye on them, you have to run regular checks. Try to do this procedure with LinkAssistant.
Create a project in LinkAssistant (or open an existing one), import your backlinks from your project in SEO SpyGlass, select the links you would like to check, and hit the Verify button. Select Scan only current page and click OK.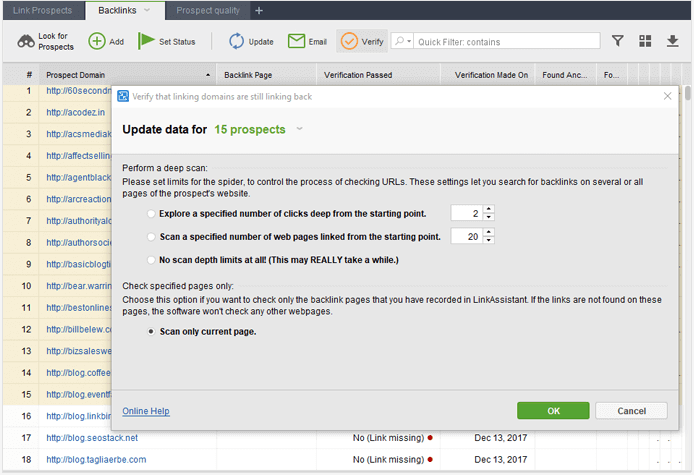 In the Verification Passed column (you can add it to your workspace by right-clicking the header of any column and selecting Verification Passed from the list), examine the status of each link. Pay attention to those that go under the No status (these links are no longer on the backlink page), check the Tags column for Nofollow tags, and the Found Anchor Text for wrong anchors.
When necessary, contact your backlink partners with the request to examine your problem. You can do it right from the app. Select the partner in your workspace and hit the Email button. You can use our templates fit for the various issues or you can compose an email yourself.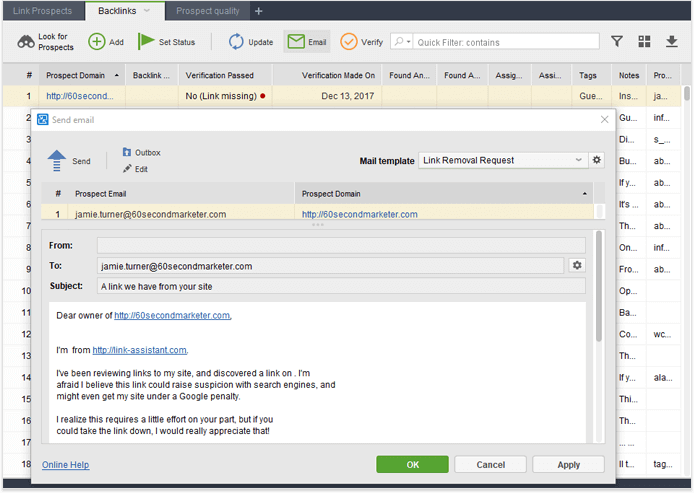 3. Try flash link building.
Link building usually presupposes lots of effort, and cannot be done in a short period of time. Google expects that links are built with time as a result of natural development of your business. However, you can try one tactic that may allow you to get those links quickly.
Sign up for a free trial of a web monitoring tool Awario (it requires just your email address), create an alert for your own brand and product names as keywords (do not include your website's URL anywhere). You will see your dashboard populating with the mentions for your brand and keywords. Spot those that do not have a link to your site, and contact those people for a link request. As they are already mentioning you, they should not mind your request.
---
That's it! Amazing, huh? Go through these 3 cycles and make a difference to your site's rankings. Providing your long-term SEO efforts (like keyword research and link building) already work for you, with these quick SEO fixes your site will shine with brand new visibility and opportunities for driving more traffic.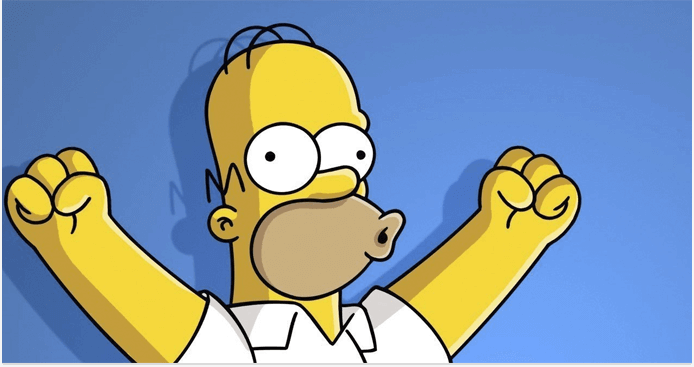 By: Valerie Niechai