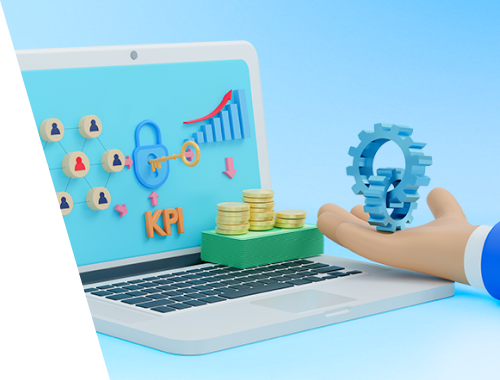 How to Track SEO Results: Main KPIs for Measuring Your SEO Performance

On-page optimization, proper link building, content marketing — there are so many big and small daily tasks to notch up your SEO success! But how do you measure results to know where to concentrate your efforts? It's only by tracking performance for each SEO metric separately and measuring SEO progress altogether that you find it out.
So, I've put together this list of vital metrics that will help measure your SEO performance and see what's truly effective for your business. But here comes the first question everybody wants to know at the start of every SEO project…
How long will it take to get SEO results?
It is hard to say how long it will take to see SEO results because it depends on a 200-something bunch of ranking factors.
According to Google, SEOs need four months to a year to first implement improvements and then see a potential benefit. This is because SEO is a long way to go, from search audit to tracking the impact of your fixes.
And there are numerous factors you should take into account when planning SEO activities, such as:
Search market
First of all, you need to investigate how competitive the niche is and how strong the online competitors are. It includes research on:
Besides, SEO takes into account the local specifics of the market. It may come as a surprise that online competitors will differ from those competing offline. Also, you will deal with different search engines and locations that may require different approaches to search optimization.
Website's SEO health
Everything counts here: the domain age, the backlinks, and whether your website is technically clean. It depends on the platform that the website is built on, whether it's WordPress, Wix, Shopify, or anything else. Even how often it's been updated matters because it affects how soon new pages will get indexed.
So, you will need to audit the website for technical issues and work out a plan of improvements.
Time and work
First, it takes some time to get implementations picked up by search engines. The page has to be crawled and indexed, and social signals and fresh backlinks will appear over time.
Second, it takes a while to observe the impact. You will always want to make sure that the rise in traffic is going to last, to exclude an occasional impact of an algorithmic update, a seasonal trend, etc.
And third, Google is particularly keen on quality these days, which means there is no more black-hat SEO. It is time-consuming for a website to build E-A-T signals (Expertise, Authority, and Trust). E-A-T are especially important for YMYL (Your Money Your Life) websites (those that "could potentially impact a person's future happiness, health, financial stability, or safety").
To put a long story short, here is an illustration of the expected scope of work. So, you fill in the dates yourselves.
18 metrics to track SEO performance and measure results
So, it's the end of a month, quarter, or any significant period you've been running your SEO campaign over. Which SEO metrics will help you figure out if you're moving in the right direction?
1. Indexed pages
It is good to know for a start that your website functions properly, and all the pages that need to be visible are indexed by Google. So, take the number of indexed pages as a metric to check each month.
The most important source of information about your indexed pages is located in the Coverage report in Google Search Console. Here you will find the total number of pages crawled by Google that are either valid or have some issues. For example, some of the URLs may be submitted but blocked by robots.txt. Beware of the URLs with Page Not Found result (404 error).
2. Page experience
This metric should not be overlooked, since Google long ago updated its search algorithms with page speed as a ranking factor and introduced Core Web Vitals. Those cover all aspects of page usability metrics that somehow affect user experience on a page.
In Search Console, check the Page Experience report, and below there find also Core Web Vitals and Mobile Usability reports. Just check that you have all URLs in green color. Finding bad URLs, go for a detailed SEO audit and see how to get things fixed.
3. Keyword rankings
Your organic rankings are a high-level indicator showing whether your SEO strategy is actually working. With the help of a SERP checker, you can easily spot where competitors are kicking you out of the SERPs, or when organic rankings dropped because of another Google update. We'll show how to steer your SEO strategy in the right direction with the help of SEO PowerSuite tools.
So, in SEO PowerSuite's Rank Tracker, use the Rank Tracking module and the SERP History in the lower dashboard for this purpose.
1. Create a project for your website and check your Ranking Keywords.
2. In the lower dashboard, in SERP Details, turn on the Record SERP history button (mind that you will need a Professional or Enterprise license of Rank Tracker).
Download Rank Tracker
After a few weeks, you will have the ranking history for all keywords assigned for rank tracking.
Local SEO rankings
Mind that local search results are very much different from global results. So, if your business is local, make sure to set up geo-specific tracking in Rank Tracker.
1. Create or open an existing project and go to Preferences > Preferred Search Engines.
2. Hover over the search engine you want to modify and select Add custom.
3. Define the geo settings for your preferred location, click Apply, and OK.
Download Rank Tracker
Google Maps rankings
In the same way, you can track rankings in Google Maps. You surely know how important they are for local brick-and-mortar businesses.
Just like you've done above, simply add Google Maps as a separate search engine in Rank Tracker, and check rankings there.
Download Rank Tracker
Branded vs non-branded keywords
During the initial search audit, you discover the main keywords for which the website is ranking number one. Usually, branded keywords are among those top keywords as a marker of brand awareness. If the website isn't in organic rankings and the local pack by its name, it's the primary SEO task to fix it and get the branded traffic in.
4. Impressions
The Impressions metric shows how many times your pages appear in organic search in response to users' queries. This is an early indicator of your SEO campaign's success. To check Impressions, go to Search Console and see Search results > Queries.
Add a comparison with another period to check the impact of your SEO fixes. There is a quick filter to compare impressions with a previous period or to get a YoY comparison. For me, it is more convenient to review the ups and downs in impressions over three months.
However, solely impressions are a blind metric without the average position and the click-through rate.
5. Organic CTR changes
The click-through rate shows the percentage of searchers who click on your search snippet. It reveals how much your SERP snippet is appealing to viewers. Basically, it involves the optimization of the title and meta description (here is our in-depth post about optimizing organic click-through rates).
Pay attention to the pages with a high CTR and try to understand what makes them successful. Likewise, spot pages with lowering CTR and make sure to investigate serious drops.
The rule of thumb is the higher the ranking position is, the more clicks you get. Things get complicated, however, with a page ranking at the top. For example, the number of impressions is growing alongside the average position, but the number of clicks is not. Anomaly? Maybe. On closer inspection, you may find different SERP features affecting your CTR.
6. Rich features in search results
It's a good idea to monitor how well your website performs in Vertical search — Videos, Images, Places, Reviews, etc. Featured snippets, FAQs, featured images and videos affect the average click-through rate dramatically. There's a great opportunity to increase impressions and click rates with the help of featured snippets and other types of rich results.
Rank Tracker lets you track SERP features alongside the SEO performance of all your tracked keywords.
1. Go to Rank Tracker's Preferences > Rank Checking Mode.
2. Make sure that the box Track organic results only is unchecked and Track multiple results for keyword is checked.
Download Rank Tracker
With the next check-up, you will be able to see if there are any rich features for your target keyword phrases. If your page is ranking for the keyword with a rich feature, the rich feature icon is highlighted in green color. For example, CTRs change either when you drop from a featured snippet or a new featured competitor starts ranking above your result.
Download Rank Tracker
Another interesting feature is the knowledge panel. You can get one if your company is large enough to be considered an entity in Google's Knowledge Graph. A knowledge panel may become a nice business card for your company, let alone it may also bring tons of additional traffic. So, it's useful to go and check it once in a while. If you are not an entity yet, read this detailed guide on how to optimize for a knowledge panel.
7. Number of ranking pages
The more pages rank in the top 10 to top 50, the better it is for your SEO. You can review your ranking pages in Search Console. Also, you can track your optimization efforts in the Keyword Map of Rank Tracker. Make sure that the right pages rank for your keywords and take measures when a wrong page shows up in search results instead of your intended landing page:
1. Go to the Keyword Map module and right-click on a keyword (several keywords).
2. Select Map to Landing Page that should rank for particular keywords and enter the URL.
Download Rank Tracker
You will get notified with the warning sign in your rankings data once a wrong page appears ranking in search results.
You will also receive alerts once some of your important keywords enter the top 10 or top 50 results. These are your low-hanging fruit: you can bring them to the first place in the SERP and get more traffic with actually less effort.
8. Organic traffic growth
The next metric you should monitor is the number of unique visitors who get to your site from search engines. Clicks in Search Console are the equivalent of the organic traffic in Google Analytics. To examine your website traffic in Google Analytics, go to Acquisition > All traffic > Channels. Hit the Plus button to add a segment and select the Organic traffic metric. Now you've got the comparison chart of all your site traffic vs the organic.
In the top right, select the time range to see the change in traffic over the time span of your interest.
9. Top traffic keywords
The numbers are too plain, so you'd want to track the traffic volume on a keyword level. Unfortunately, the traffic keyword data is hidden under the Not provided label in Google Analytics. So, you will need a few tricks to collect the data in one place.
To analyze the traffic from your top keywords, connect the Console to your Analytics account. Then, go to Acquisition > Search Console > Queries. Here you will see the keywords bringing the most of your organic traffic. Compare which of them gets the most impressions and highest average position. Analyze the click-through rate for top keywords as well.
10. Search visibility
The key metric from Rank Tracker to measure the success of your SEO campaigns is search engine visibility. This metric shows how well your website ranks in the top results for all the keywords you're tracking.
Search engine visibility illustrates the potential of your pages to generate clicks from organic search. The more visibility you have, the better your chances are of bringing new visitors to your website.
Find the Visibility graph in the lower dashboard of the Rank Tracking module.
Download Rank Tracker
11. Domain strength
Domain authority is an important factor to estimate the ranking potential of a website. As a rule, if the website has just been launched, it will be harder to compete with older domains that have solid backlink profiles. Sometimes a new website may even get into the so-called Google sandbox, and it will take months to start ranking.
You can check the authority of a website using the Domain Strength score in SEO PowerSuite's backlink checker.
1. Start SEO SpyGlass and enter the URL of your site for quick backlink analysis. Wait a little while the tool collects information about the site's backlink profile.
2. Switch to the Domain Strength module and review your website's main characteristics.
The Domain Strength covers all important information: the domain age, indexed pages, the number and quality of backlinks, traffic to the website, social signals, etc.
Download SEO SpyGlass
Besides, you can compare the domain strength of your competitors' websites. For this purpose, there is the Domain Comparison module in SEO SpyGlass. Add several top-performing sites in your niche to comparison, and you will get a great benchmark for your domain authority.
Download SEO SpyGlass
First, the module lets you discover link-building opportunities. And second, you can quickly understand which of your competitors are stronger by domain or which of them are investing more in backlinks.
12. Backlinks
If your site's growing, it's natural to have an increasing number of backlinks. Remember that search engines consider backlinks as users' votes for good and useful content.
You can monitor your backlink profile growth using SEO SpyGlass. Go to Historical Data > Backlinks and see the graphs showing new and lost backlinks.
Download SEO SpyGlass
As backlinks are a ranking factor and they are not all equal, you have to put extra effort to secure only good-quality link-building results. I'd recommend tracking several aspects in the backlink analysis:
Since some backlinks may put your rankings at risk of Google penalty, make sure to monitor the quality of each link and its Penalty Risk.
Go to the Backlinks module, sort your backlinks by the Penalty Risk metric, and review those marked with the red label. Hover over the i-icon on the penalty risk of any backlink, and you will get the details telling what the issue is about. Here you can learn more about the Anti-Penalty Link Audit feature.
Download SEO SpyGlass
13. Referral traffic
That's what we create backlinks for in the ideal world — more traffic. Backlinks as purely a PageRank factor is Okay for SEO, but those that bring us real visitors are a blessing.
Referring links can bring tons of traffic, so take notice of your best referral sources. Go to Google Analytics > Source > Referral traffic and review the top pages. Or add credentials of your GA account to SEO SpyGlass and quickly check the referral traffic there.
Download SEO SpyGlass
If you see a drastic drop in the referral traffic, examine which of the linking websites is the reason. Probably, the page bringing you tons of referral traffic suddenly dropped in the SERPs. Or, maybe, the site removed the backlink or endured some technical issues, which can be fixed.
14. Social signals
Social media is one of the safest ways of risk-free, natural link building. Facebook likes and shares, tweets, retweets, and bookmarks — all bring visitors to a web page and improve its user signals. That is why monitoring the growth of social signals for your domain is part of tracking your campaign's success.
You can use WebSite Auditor to track the number of social signals for each page on your website. If the columns for social media stats are not visible, right-click anywhere on the column headers to enter the editing mode and enable them (here, I created a separate workspace for convenience).
Download WebSite Auditor
For a more in-depth analysis of social signals, use social listening tools, for example, Awario. Enter the URL and top keywords (for finding your linked mentions, the domain name is your main keyword to monitor) and set up an alert to find mentions across the web, Twitter, YouTube, Instagram, and more.
15. Audience and user behavior
Visibility, rankings, and backlinks speak volumes about your brand notability and wider awareness. The below few metrics show whether you're able to grasp the user interest inside your content. These are major quality metrics describing your audience and user behavior:
These stats will give you clues where you need to put more effort to engage better with your audience. In the meantime, there is no universal benchmark saying which metric indicator is good or bad. Everything depends.
All these metrics can be found in your GA account in the Audience (for demography) and Behavior modules.
Exploring a drop in traffic, check it by device type and location. Probably, the mobile rankings have suffered. Or maybe, some hreflang tags have been implemented wrongly, and your pages don't show up in some countries.
Low engagement time may indicate problems with page design and usability. And this, in turn, will impact your conversions badly.
An unnaturally high bounce rate on important landing pages may point to misleading titles and meta descriptions. That's very bad because even if you've done SEO right, all your efforts are wasted.
So, user behavior metrics give you clues about where a problem rests. Upon each SEO improvement, it is wise to forecast which part of your website is going to win and pin it on your SEO planning dashboard.
16. Goals completion
The traffic alone means little without tracking metrics relevant to the goals of your pages. Those can be purchases, trial signups, form completions, newsletter signups, white-paper downloads, registrations for an event, or anything else you'd like to track as a valuable action.
First, you can review how many goal completions are obtained through the organic overall. Go to Conversions > Goals > Overview and hit Source > Medium to display the breakdown of the channels.
Next, examine your goal conversion rate for organic traffic. This is the number of visitors from search engines who have completed a certain goal. These are your organic leads measured against all other online marketing efforts you may be running. To check the goal conversion rate, go to Acquisition > All Traffic>Channels.
In the Conversions tab, select All Goals. The number of conversions from organic traffic will let you know if the traffic is turning into actions.
The percentage of organic leads shows how well your SEO efforts generate leads compared to other channels. Watch out for rises and drops in this metric compared to the goal conversion rates from other channels. Certainly, you'd want to see an increase in organic leads percentage, since it's a great indicator that your SEO efforts pay off.
You can also go into more detail and examine the goal competition by landing pages. Click on the Organic Search, and in the primary dimension, select the Landing Page.
17. Transactions
The e-commerce conversion rate shows the percentage of organic sessions that resulted in transactions that you've defined in your Goals settings. This is where you can calculate all the transactions' value and revenue.
Go to Acquisition > All Traffic > Channels > Organic Search. In the Conversions drop-down menu, choose eCommerce, and get the revenue generated from your organic traffic.
18. Return on investment, or ROI
The most important metric to measure your SEO results is, surely, the return on investment, or ROI. As no ranking or conversion growth is beneficial to your business if your SEO revenue falls short, go behind the actual SEO spends.
The formula for SEO ROI is calculated from the organic search revenue minus all SEO expenses, then divided by SEO expenses (and multiplied by 100% to get the percentage).
The difficulty in estimating the financial efficiency of your SEO strategy is that there is no strict cost for every click, like in PPC campaigns. Your estimates will rely on your custom Goals settings and conversions tracked.
Things are not less complicated with SEO costs because you will need to include the costs that partially overlap with other marketing channels (and not only). Those can include, to name a few:
So, be ready to devote enough time inside the marketing team to planning your budget effectively.
Reasons for overspending on SEO
Poor keyword research
Targeting the wrong keywords and competing in the niches that are too hard to squeeze into can inflate your SEO spending without bringing expected results.
The issues around keyword research can be spotted in the conversion of your traffic. For example, you are not seeing more conversions with the additional traffic. It could be an indicator that either you are ranking for irrelevant keywords or there are conversion-related issues on your site.
Another case is when the organic goal conversion rate is lower compared to other channels. It may indicate that you're not targeting enough keywords with commercial intent. In that case, you need to reexamine your SEO strategy to find more keywords feeding the bottom of your digital marketing funnel.
Study our keyword research guide to refine the key phrases you target. Guess the user intent behind your top queries, find more keyword opportunities, and target them on the right landing pages — that's the brief recipe for your SEO success.
Meantime, if your goal conversion rate drops for all channels, probably, you've made some changes in the overall user experience that hurt the conversion rate.
Technical SEO issues on the website
Bad hosting, long loading time on mobile devices, code errors, URLs closed from indexing — lots of issues may put your SEO efforts down the drain. Rule number one here should be fixing the technical SEO of your website, from site structure to coding-related issues, before investing in other SEO activities. Running regular site audits can help avoid the frustration of wasted resources.
In WebSite Auditor, you can run a custom site crawl to check indexing issues. Such a website audit helps you quickly discover all possible technical SEO issues, for example, broken URLs, redirect loops, orphan pages, etc. By fixing them, you will optimize your crawl budget and improve your website's indexing and accessibility.
Download WebSite Auditor
So, what do you check in the first place? Here is a list of our guides that cover the most sensitive areas of technical SEO:
Manual SEO
The more tasks you or your SEO team runs manually, the bigger your man-hour spends and budget. In fact, SEO teams are versatile and often involve the work of technical specialists, analysts, content marketers, and other staff. So, automate the workflow whenever possible. That's where SEO tools come in very handy to automate the tracking process.
All SEO PowerSuite tools boast a uniform module to compile an SEO report of your choice for tracking the above SEO metrics. You can set up email alerts to get timely updates in your website's SEO.
For example, you can receive an email alert in case your ranking keyword changes a position on the SERP, enters or drops out from top results, or in case your website traffic drops seriously. These reports are great for interim reporting inside SEO teams.
Download Rank Tracker
Always track the SEO performance of your website
When you start a new SEO activity and try out a hot technique, you test the water first. You make small steps, measure, analyze, and decide if the endeavor is worth your while.
That is why, quite often, you should be tracking the SEO effectiveness of small separate changes:
1. When you publish new content and want to see how it affects your rankings.
2. When you get fresh backlinks and want to make sure it won't put your rankings at risk of a penalty.
3. When you fix some technical SEO issues on your site and need to see if it boosts your URL indexation and ranks.
4. When you launch a viral social campaign and want to see if the efforts pay off.
5. When another Google algo update happens and you need to ensure that your rankings stay unaffected.
Few SEO PowerSuite users know that they can conveniently track the impact of any SEO event. Just like adding annotations in Google Analytics, you can add such points of no return using built-in Events in all SEO PowerSuite tools. This will let you have more context for your SEO analysis on the go.
The tracking of Events shows the flow of your SEO campaign and how significant each event has been. Events appear as milestones on various graphs, so it's easy to track their influence on the rankings, organic traffic flow, backlink count, etc. Moreover, the events are all stored on a chart so you don't need to keep them in mind.
It takes just a couple of clicks to create and manage your events in Preferences > Events (found in all SEO PowerSuite tools).
Download Rank Tracker
Besides, in Rank Tracker, you can access them directly from ranking and traffic graphs. In the lower dashboard of the Rank Tracking module, go to Rank Progress > Progress Graph. Right-click on the progress graph and Add event from the context menu.
Download Rank Tracker
How are your SEO results now?
Hope you liked my list of basic metrics to track SEO results. And SEO PowerSuite tools are here with every feature you need to effectively track your performance and make informed decisions for SEO planning.
How do you track your SEO performance? Have you ever encountered unexpected metrics that prove your SEO strategy is done right? Join our user group on Facebook and Twitter to discuss!
Article stats:
| | |
| --- | --- |
| Linking websites | N/A |
| Backlinks | N/A |
| InLink Rank | N/A |