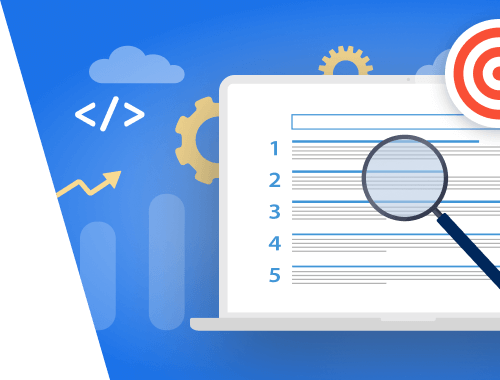 Tracking SEO Results: Tips and Tools for Measuring SEO Efforts
On-page optimization, link building, content marketing, adapting to Google algo changes — there are so many big and small daily tasks to notch up your SEO success! But how to measure your results to know where to concentrate your efforts? It's only by tracking performance for each SEO metric separately and measuring SEO progress altogether that we find it out.
To help you see what's truly effective for your business, today we've put together these key effectiveness metrics in SEO performance. We hope to show you how SEO PowerSuite helps you measure them and channel your SEO strategy in the right direction.
TRACK YOUR SEO RESULTS
Measure what's working and what's not in your SEO strategy!
7 recommended SEO metrics
1 fascinating SEO PowerSuite feature
Step-by-step instructions
Download the tool and get started!
Track your SEO success in the long run.
So, it's the end of a month, quarter or any significant period you've been running your SEO campaign over. Which SEO metrics will help you strike the balance, measuring SEO results to figure out if you're moving in the right direction?
1. Keyword performance and rankings
Obviously, this is the first place to start. Monitoring your rankings will give you a high level indicator if your SEO strategies are working. Here are a few important details to keep in mind:
Implement a local SEO strategy.
Local results are very much different from global results, so if your business is local, setup geolocations tracking in Rank Tracker:
1. Create or open an existing project and go to Preferences > Preferred Search Engines.
2. Hover the cursor over the search engine you want to modify and select Add custom.
3. Define the geo settings for your preferred location, click Apply and OK.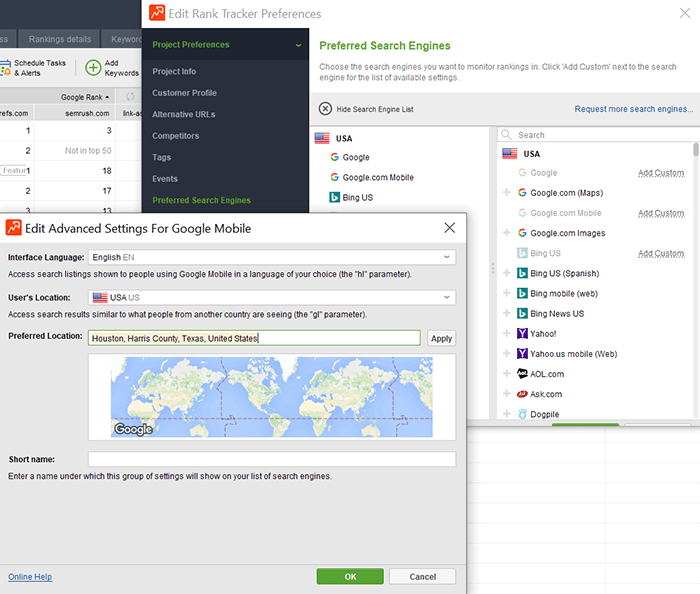 Track rich features in SERPs.
Monitor how well your website performs in Vertical search — Videos, Images, Places, Reviews, etc. There's a great opportunity to increase impressions and click rate with the help of featured snippets and other types of rich results.
1. Go to Rank Tracker's Preferences > Rank Checking Mode.
2. Make sure that the box Track organic results only is unchecked and Track multiple results for keyword is checked.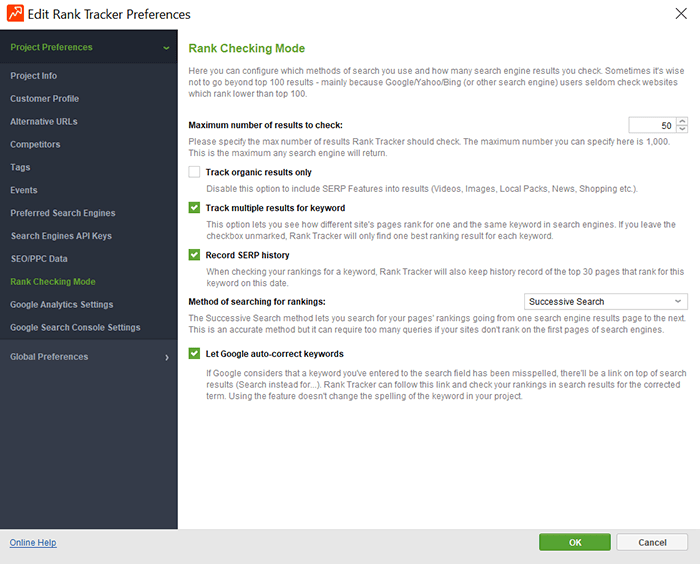 With the next check-up, you will be able to see if there are any rich features for your target keyword phrases. If your page is ranking for the keyword, the rich feature icon is highlighted in green color. If the icon is grey, it means the search results include a rich feature for the query, but the top ranking position is not yours.
Featured snippets, FAQs, featured images and videos affect the average click-through rate dramatically. If you want to improve your CTR and drive more organic traffic to your website, think of implementing structured data to get highlighted in the search results.
Track optimization efforts in a Keyword Map.
Make sure that the right pages rank for your keywords and take measures when a wrong page shows up in search results instead of your intended landing page:
1. Go to the Keyword Map module and right-click on a keyword (several keywords).
2. Select Assign Selected Keyword(s) to a Landing Page that should rank for particular keywords and enter the URL.
You will get notified with the warning sign in your rankings data once a wrong page appears ranking in search results.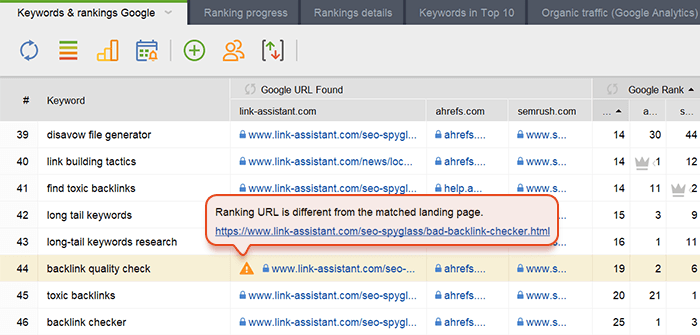 2. Organic traffic
Monitor the number of unique visitors who get to your site from search engines. The first source to examine your website traffic is your Google Analytics. In the Acquisition > All traffic > Channels module, select the Organic search channel to view traffic coming from search engines, alongside with other relevant SEO metrics: page views, sessions per user, the bounce rate.
These stats will give you clues where you need more efforts to engage better with your audience. The traffic alone means little without tracking metrics relevant to the goals of your pages, whether it's attracting more customers to purchase or having more subscribers on a blog.
The organic traffic data from Google Analytics is good in combination with the Search Console stats to track the traffic volume on a keyword level.
Currently, the traffic keyword data is hidden under the Not provided label in Google Analytics, so you will need a few tricks to collect the data in one place.
First, to have a fast analysis of your top keywords, connect your Search Console to Google Analytics account. Then, in your Analytics account, go to Acquisition > Search Console > Queries, and you will see which keywords draw the most of your organic traffic. Compare which of them get the most impressions and the highest average position. Analyze the click-through-rate for top keywords as well.

Note
A low CTR is a signal that the page is not working to its full potential. Optimizing title tags and meta descriptions will surely improve your CTR and increase the number of visitors coming from SERPs.
3. Conversion rate from organic traffic
You can find ample conversion data in your Google Analytics account. Number of conversions from organic traffic will let you know if the traffic you are receiving from higher rankings is turning into actions. If you are not seeing more conversions with the additional traffic, it could be an indicator that either you are ranking for not relevant keywords or there are conversion problem areas on your site.
Note
For tracking conversions, set up Goals in the respective module: track how many users complete the goals, calculate the total goal value and examine the funnel visualization. Also, there is an in-depth Ecommerce dashboard for multiple products and landing pages. Here you can study shopping behavior, product and sales performance, and many more useful features.
Conversion rate from the organic traffic gives you a simple metric that can be analyzed in comparison to any other online marketing efforts you may be running. To find out the conversion rate, go to Acquisition > All Traffic > Channels > Organic Search. The conversion rate shows the percentage of organic sessions that resulted in ecommerce transactions that you've defined in your Goals settings.
4. Return on investment
The most important metric to measure your results is, surely, the return on investments, briefly ROI. As no rankings or conversions growth are beneficial to your business if your SEO revenue falls short, go behind the actual SEO spends.
The difficulty in estimating the financial efficiency of your SEO strategy is that there is no strictly a cost for every click, like in PPC campaigns. Your estimates will rely on your custom Goals settings and conversions tracked.
You will find the cost of your organic traffic in Acquisitions > All Traffic > Channels.

The formula for ROI on your SEO efforts is calculated from the organic search revenue minus all SEO expenses, then divided by SEO expenses (and multiplied by 100% if you want to get the percentage).
5. Incoming links
If your site's growing, it's natural to have an increasing number of backlinks. Remember that search engines consider backlinks as users' "votes" for the good and useful content. You can monitor your backlink profile growth using SEO SpyGlass.
1. Start SEO SpyGlass and enter the URL of your site for quick backlink analysis.
2. Go to the Backlink Profile > Summary module and see the graphs showing new and lost backlinks.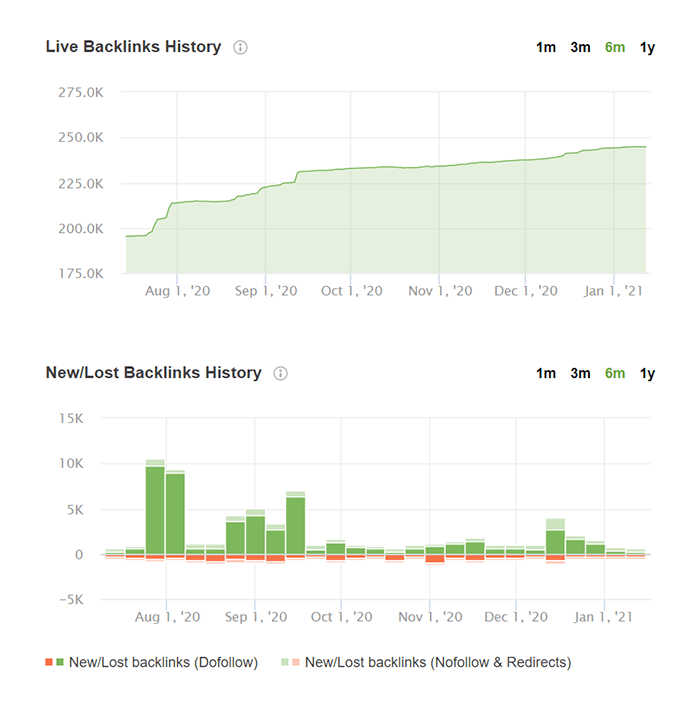 Tip
Not all backlinks are equal! Some of them can put your rankings at a risk of Google penalty.
Since backlinks are a ranking factor for Google, you've got to put extra effort to have only good-quality link building results. Make sure to monitor not only the quantity, but also the quality of each link (and its Penalty Risk).
Go to the Backlinks module, sort them by the Penalty Risk metric and review those marked with the red label. Hover the cursor point over the penalty risk percentage, and you will get info tips telling what's the issue about the given backlink. Make sure to contact webmasters of spammy sites asking to remove or to nofollow the backlink, or disavow them with the Google Disavow Tool. Here you can learn more about the Anti-Penalty Link Audit feature.

Besides the analysis of your own backlink profile, there is the Domain Comparison module that lets you discover new link-building opportunities. If you add to compare several top performing sites in your niche, you will get a great benchmark to track and improve your domain authority.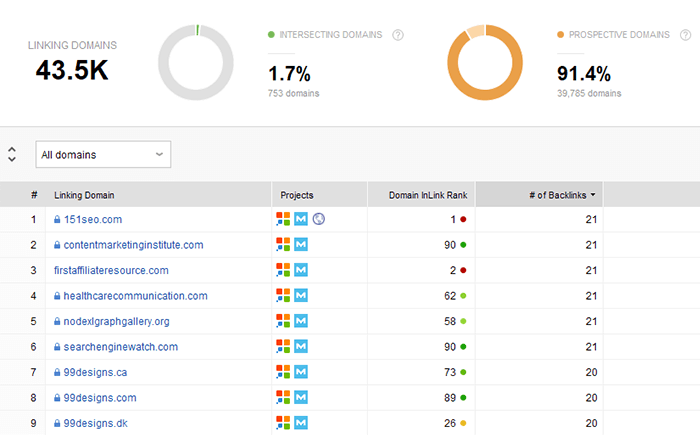 6. Indexed pages
Is the number of pages from your website increasing or decreasing in Google's index? The more pages indexed in Google, the more opportunities you have for your SEO campaigns.
The most important source of information about your indexed pages is located in the Google Search Console's Coverage report. Here you will find the total number of pages crawled by Google that are either valid or have some issues (submitted, sometimes indexed, but blocked by robot.txt), and URLs with Page Not Found result (404 error).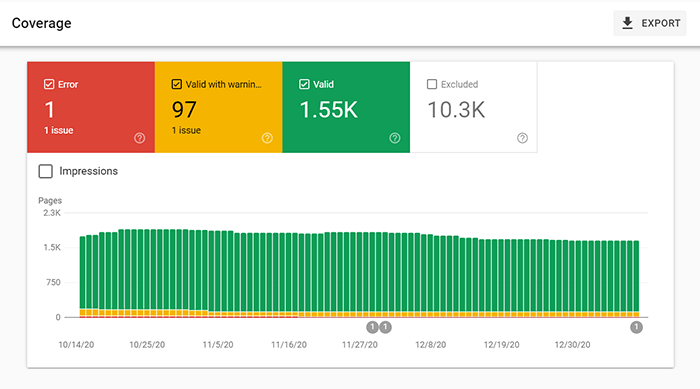 In WebSite Auditor, you can run a custom site crawl to check indexing issues. Such website audit quickly discovers all possible technical SEO issues, for example, broken pages, redirect loops, orphan pages, etc. By fixing them you will optimize your crawl budget and make your website better performing in terms of indexing and accessibility.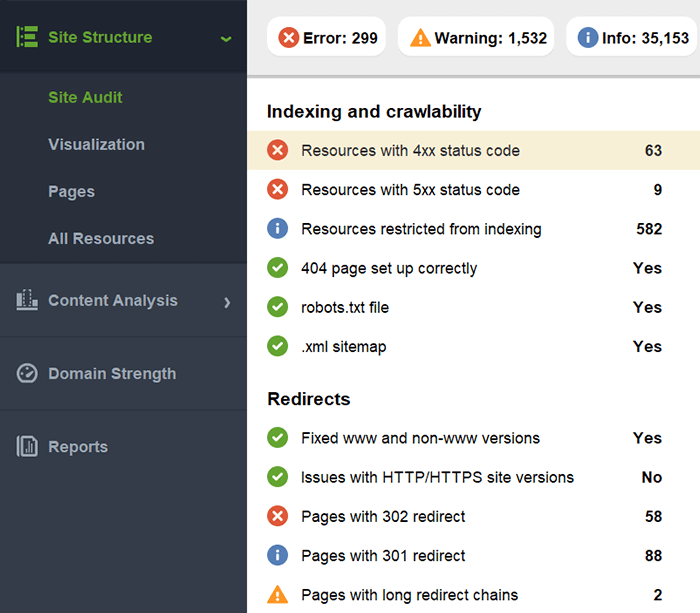 There is a possibility to specify crawler settings to run an SEO audit check as a specific search engine bot (for example as a Google mobile bot), or as a specific user agent (browser).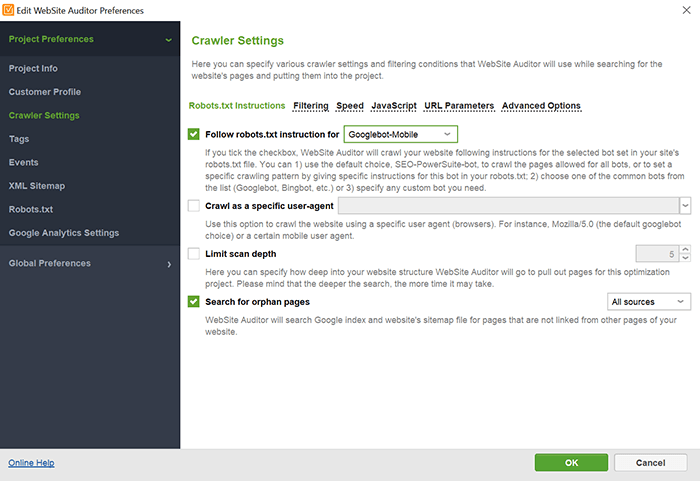 You can also see the Cache date column to check how often Google (or any other search engine bot) comes to crawl your pages. The more frequent crawls you have, the better it is for your website.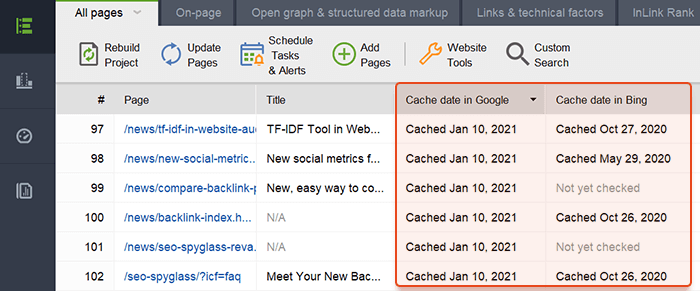 Tip
Website Auditor is more than just an SEO spider. Its in-built Content Editor is a great tool to optimize your on-page content and improve user experience and engagement. Thus, you kill two birds with one stone, checking the technical SEO on the one hand and optimizing your content on the other. The tool analyzes SERPs and suggests tips and recommendations on how to optimize the existing pages with keywords. You can track the progress by measuring SEO score on your pages.
7. Social signals for landing pages
Social media is one of the safest ways of risk-free, natural link building. Facebook likes and shares, tweets and retweets, bookmarks — all include a backlink to a web page. That is why monitoring the growth of social signals for your domain and separate landing pages is part of tracking your link building success.
You can use WebSite Auditor's Social media workspace to track the number of social signals to separate site pages (if the columns are not present in your workspace, double-click anywhere on the headers to enter the editing mode and enable the columns):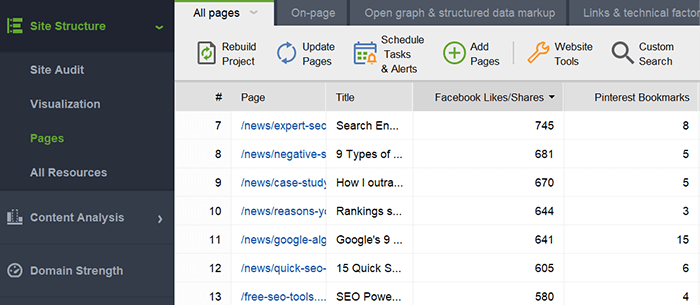 For a more in-depth analysis of social signals, make use of social listening tools, for example, Awario. Enter the URL and top keywords (for finding your linked mentions, the domain name is your main keyword to monitor) and set an alert to find mentions across the web, Twitter, YouTube and more.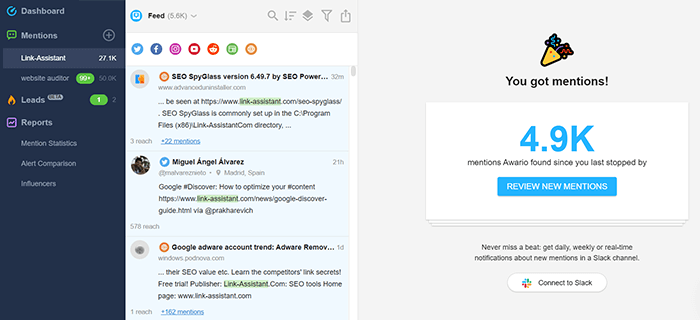 The key reasons leading to over-spending in SEO include:
• Poor keyword research.
Targeting wrong keywords and competing in the niches that are too hard to squeeze into can inflate your SEO spending without bringing expected results. Study our Keyword Research guide to refine the key phrases you target.
Guess the user intent behind your top queries, find more keyword opportunities, and target them on the right landing pages — that's the brief recipe for your SEO success.
• Manual SEO.
The more tasks you or your SEO team runs manually, the bigger your man-hour spends and budget. Make sure you automate anything possible to automate. That's where SEO tools come in very handy to automatize the tracking process.
All tools of SEO PowerSuite boast a uniform module to compile a SEO report for your choice of tracking metrics and share it in the most convenient way. For example, you can receive an email alert in case your ranking keyword changes a position on the SERP, enters or drops out of top, or in case your website traffic drops seriously.
• Poor technical SEO of a website.
Bad hosting, pages taking too long to load on mobile devices, code errors, pages closed from indexing — there are lots of issues that can put your SEO efforts down the drain. Rule number one for any SEO should be fixing the technical SEO of your website, from site structure to coding-related issues, before investing into other SEO activities. Running regular site audits can help avoid the frustration of wasted resources.
Continually Monitor Your Site's Metrics
Start small, thinking big!
Whenever starting out a new SEO activity and trying out a new technique, you test the water first. You make small steps, measure, analyze and decide if the endeavor is worth your while.
That is why, quite often, you should be tracking SEO effectiveness of small separate changes or events:
1. When you publish new content.
And what to see how it affects your rankings.
2. When you get new links.
And want to make sure it won't put your rankings at risk of a penalty.
3. When you fix some technical SEO issues on your site.
And need to see if it boosts your pages indexation and ranks.
4. When you launch a viral social campaign.
And what to see if the efforts pay off.
5. When another Google algo update happens.
Add you need to make sure your rankings keep unaffected.
Few SEO PowerSuite users know that they can conveniently track the impact of any SEO event using the built-in Events module.
The tracking module for Events lets you know for sure what has been influencing the flow of your SEO campaign and how significant each event has been. Events appear as milestones on various graphs, so it's easy to track their influence on the rankings, organic traffic flow, backlink count etc. of your website and competitors. More to that, the events are all stored in a convenient table, so that you don't need to keep them in mind.
It takes just a couple of clicks to create and manage your events in Preferences > Events (found in all SEO PowerSuite tools):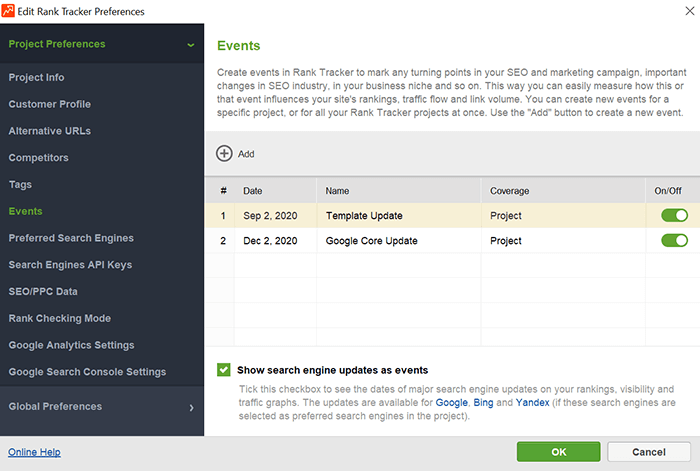 As well as access them directly from ranking and traffic graphs (in Rank Tracker). In Rank Tracking, in its lower screen go to Rank Progress > Progress Graph and right-click on the progress graph, choosing to Add event from the context menu.

For example, create events for the biggest Google algorithm updates to track if they impact your and your competitors' rankings.
So how are your SEO results by now?
SEO PowerSuite tools are here with every feature you need to effectively track your SEO progress and make informed decisions for SEO planning. Just pick the edition that suits your needs best.
Track your progress the right way to see if the SEO strategy you've selected is effective!