Why Rank Tracker?
If you think that a keyword rank checker tool providing unlimited data doesn't exist, you've never tried Rank Tracker. Track keywords with no limit, check positions in SERPs, see rankings for the exact location, and analyze the ranking performance of any keyword — all in one ranking tool.
Advanced Rank Tracking
Track keyword rankings
with no limits
Track your rankings
in any search engine
(NEW)
Precise local tracking
down to a street
SERP History
and fluctuations
Competitor
tracking
Multiple
URL tracking
Tracking of
SERP features
Mobile results
rank tracking
Track keyword rankings with no limits
In our keyword tracker, you can check position of as many keywords as you'll ever need. Even in the free version, there are no limits — check the search engine ranking of the keywords you're already using on your site, the ones you're planning to use, as well as the keywords your competition is ranking for, without a problem.
For easier management, break them up and track keyword groups: your own vs competitors', navigational vs transactional etc.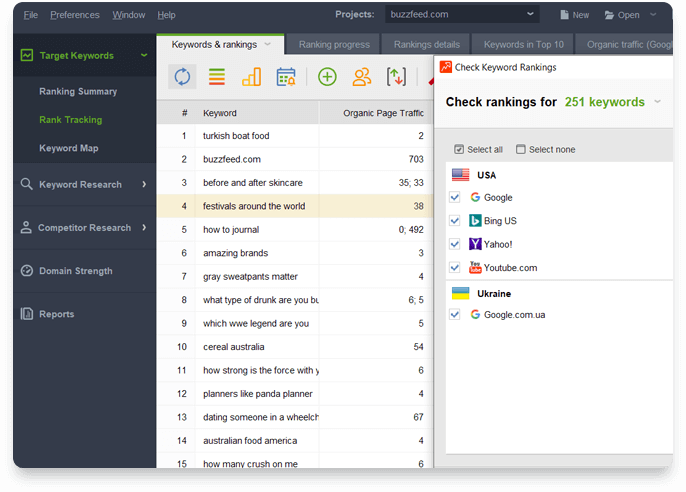 Track your rankings in any search engine
Track your website rankings across any search engine you need. Rank Tracker supports 28 search engines for checking your rankings and monitoring the SERP history for the target keywords. Whether what you're checking is Google SERPs, Bing, Yahoo, YouTube or a more localized search engine like Baidu or Yandex, we've got you covered.
Also, adjust how deep you want to go with your rank checking: check if you or your competition occupy the top 10, top 100, down to top 1,000 results in SERPs.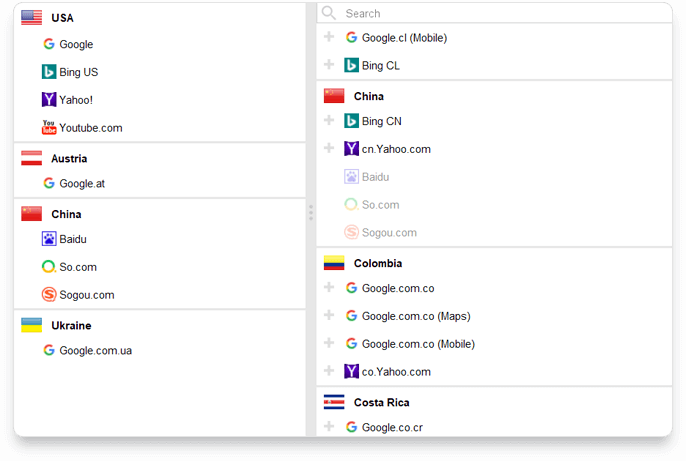 Precise local tracking down to a street
Today, all searches are local — search engines know exactly where we are and adjust results accordingly. This is why a perfect position tracker has to double as the local rank tracking software. Simply specify from where you'd like to check your ranking position: country, state, city — down to the exact street address.
Like everything else in our keyword position checker, there are no limits on this feature. Do local search for any number of locations through as many local search engines as you could possibly need.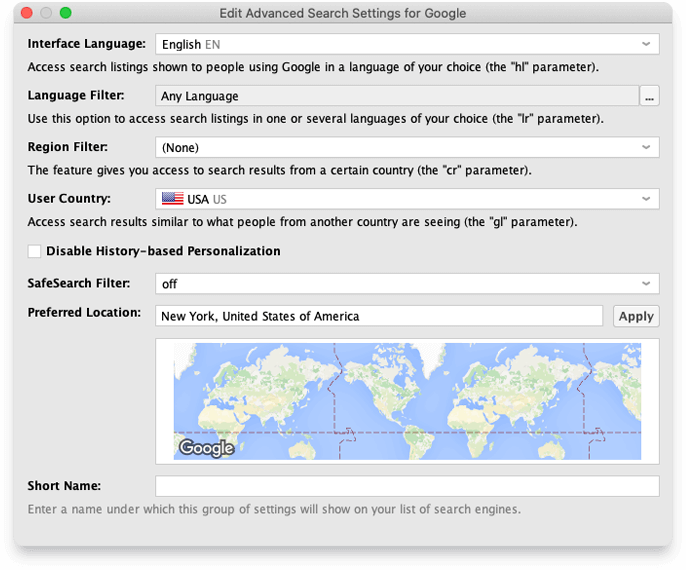 SERP History and fluctuations
From the start of your tracking, you can record the SERP history of any of your target keywords and see how the SERP for that keyword changed since you started tracking.
You'll see a dynamic view of how the positions of all the top ranking domains for this keyword changed over time, who used to occupy the highest positions vs who gets them now. Additionally, you'll get a keyword fluctuation graph, which will visualize the overall change that occurred in the SERP across the time of rank tracking — you'll be able to assess the impact of major search algorithm updates with a click.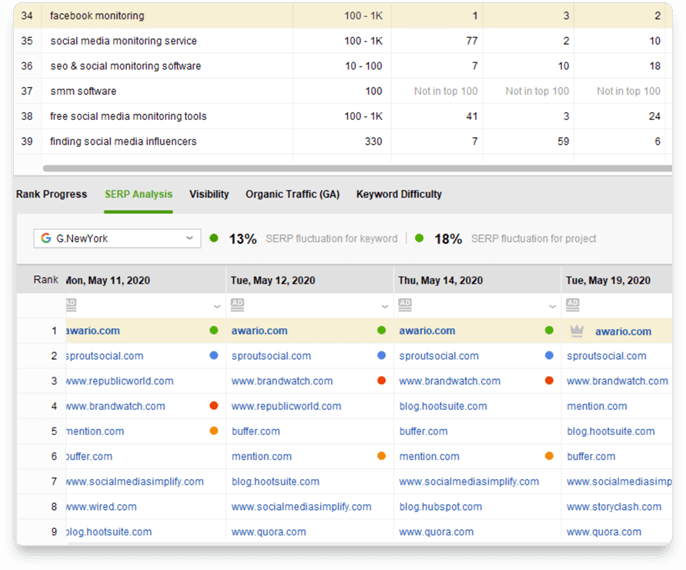 Competitor tracking
In our rank checking software, you can add up to 40 of your competitor domains to the software, and track competitor rankings. On top of checking your competition's ranking on any search engine and location, you will get the SERP history of their domain too — you can use our keyword position checker both to track competitor keywords and to see how their position changed in just a few clicks.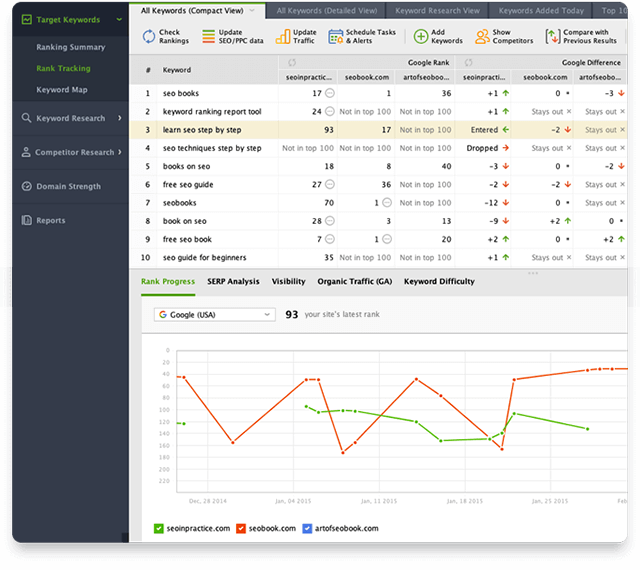 Multiple URL tracking
If you need to monitor not just your company's domain, but also YouTube, Facebook, Twitter, or just more than one website that's targeting the same keywords, you can simply add any page as an alternative URL in your project's preferences, and the tool will be checking keywords for them as well.
Add up to 10 web addresses, one URL per domain you want to monitor, and you're tracking all of the domains you need in a single project.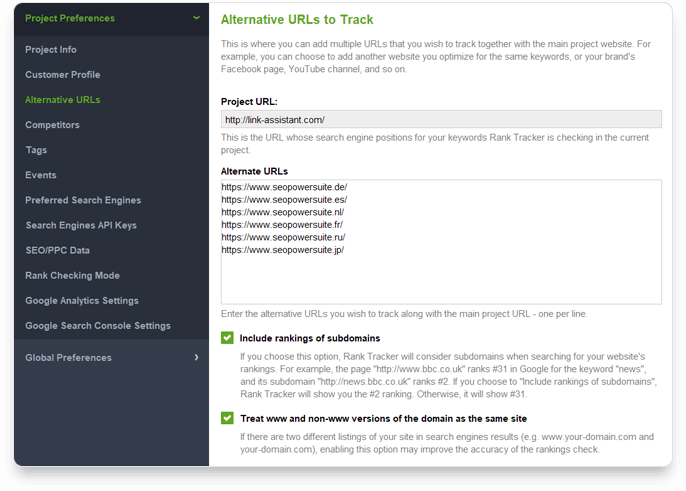 Tracking of SERP features
Ever since SERP features came along and changed search forever, tracking them became incredibly important. In our rank checking software, you'll get a chance to see, with every single keyword, whether or not you have any claims on SERP features.
Whether one of your webpages got a Featured snippet, or got into a People also ask box, got some rich sitelinks or a Twitter box, or any of the numerous features that could be present on the SERP — you'll be the first to know.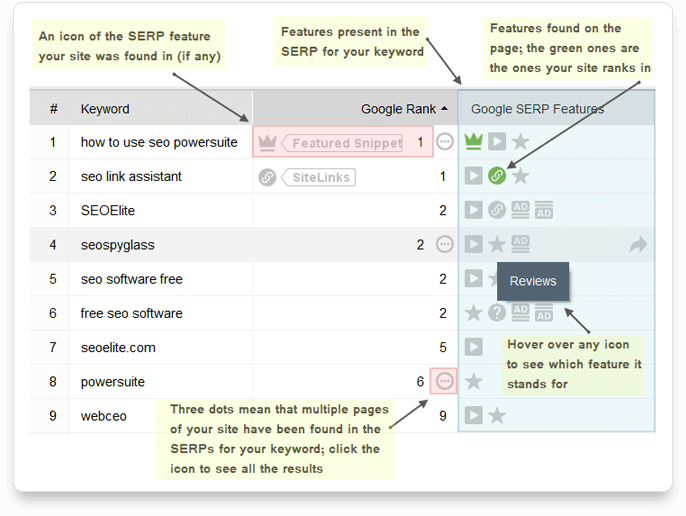 Mobile results rank tracking
Considering that most mobile traffic today comes from people's mobile devices, checking your website ranking for mobile devices specifically is key to the SEO success.
Switch between desktop and mobile keyword rank tracking to see the real picture of SERPs. Track your mobile rankings, as well as your mobile tracking history; analyze your competition's mobile performance, or see how you rank for mobile users in specific locations.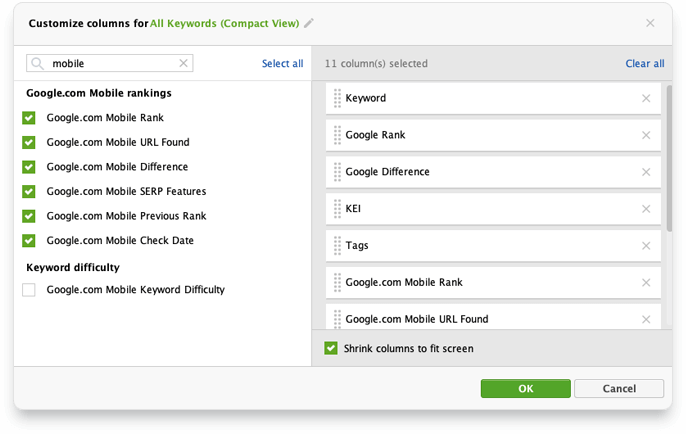 All Keyword Research tools in one
Dozens of keyword tools
in a single dashboard
Robust keyword data
PPC information
on your target keywords
Keyword mapping
Find biggest
competitors

(NEW)
Analyze keyword gaps to
find ranking opportunities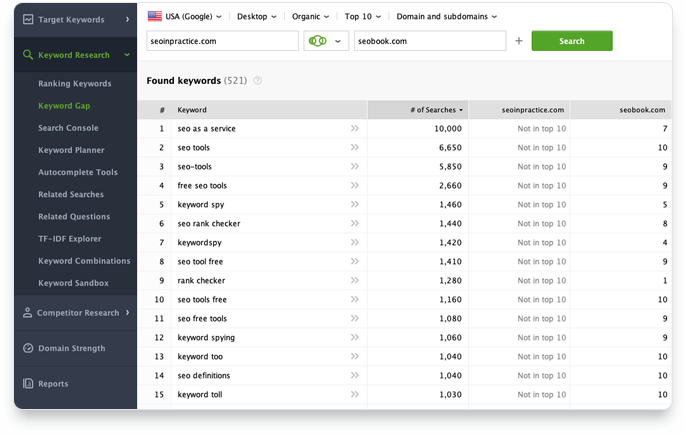 Dozens of keyword tools in a single dashboard
Rank Tracker keyword rank tool incorporates 23 keyword research tools making it the best one-stop-shop for keyword research on the market. Sure, you can see all of the ranking keywords of any URL and domain. But you can also find thousands of new ones, thanks to the integration of Google Ads Keyword Planner, Analytics & Search Console, along with extended Autocomplete tools. With Related Searches/Related Questions you'll get to see what topics and keywords search engines group with your target keywords.
Used together, these sources will give you thousands of keywords you wouldn't have found elsewhere on the web. As you find keyword ideas, you can group them by topic, user intent, and more, and then head to Keyword Combinations to create the best long-tail keywords to target.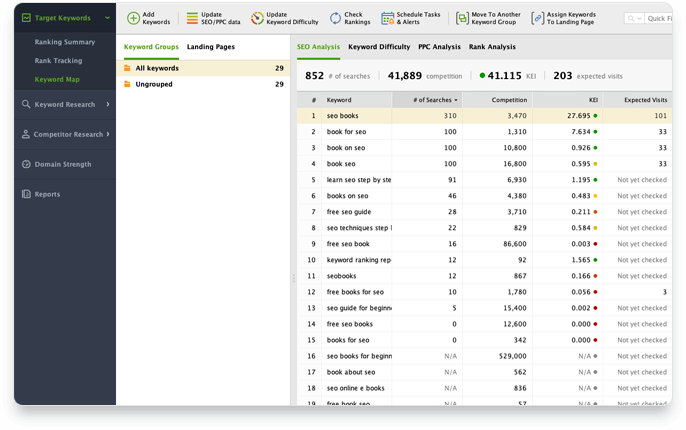 Robust keyword data
It's not just about getting a huge list of keywords. What you need is to prioritize, pick the best ones to use — for that, turn to the myriad of keyword metrics included in Rank Tracker. Search volume data and competition levels are some of the most important SEO metrics, of course. But on top of that, our rank checker can calculate Keyword Difficulty for every term — a complex metric that takes into account all SEO strengths and weaknesses of the sites of your top 10 competitors.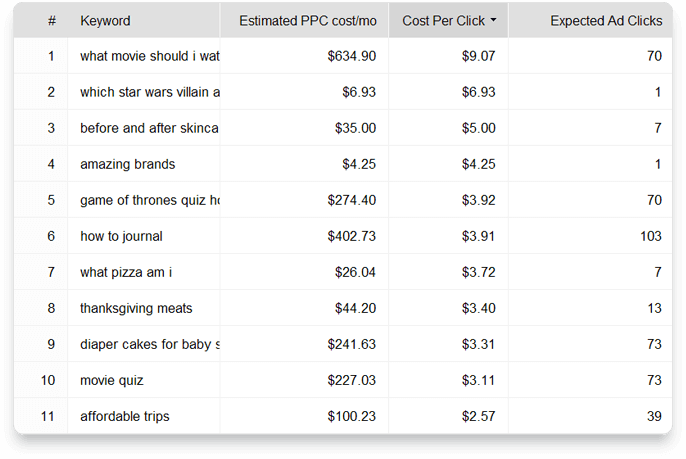 PPC information on your target keywords
For every keyword you get, you'll get some invaluable PPC metrics. Along with Organic traffic and Keyword difficulty metrics, you'll see the keywords' PPC costs per month, cost per click of every particular keyword, as well as the projected ad clicks you can expect. Use these metrics together to work out the best budget for your CPC campaigns.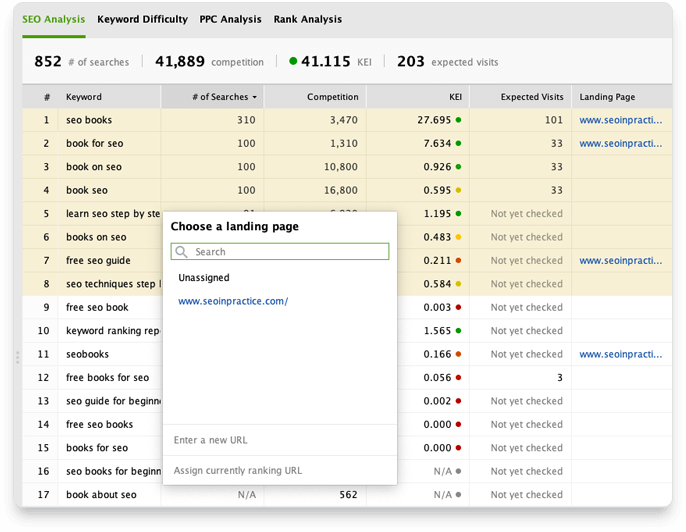 Keyword mapping
Once you've got your killer list of keywords, use the Keyword Map module to assign certain keywords to certain pages. With an intact keyword map, you'll be able to avoid keyword cannibalization, and will always see exactly which pages are targeting which keywords. Use the data on the keywords in front of you to choose the exact keywords that would be the perfect fit for a particular page for it to shoot up in the rankings.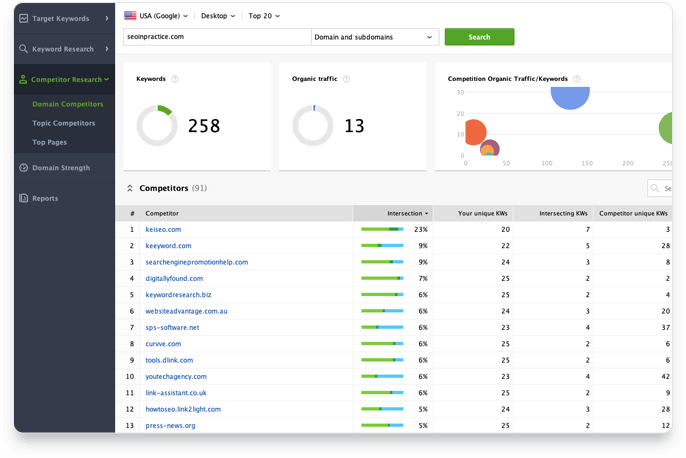 Find biggest competitors
Using our keyword tracker, identify and track your biggest competition. First, use the Domain Competitors module, finding everybody on the Web who targets the same keywords as you i.e. works in your particular niche — from then on, you can track competitor domains with ease. Once you figured out your competition, go to Top Pages, see what pages rank the highest for them, and for which exact keywords.
Alternatively, if you're creating a page for your website, enter the keywords you're planning to use into the Topic Competitors module. Rank Tracker will then find the specific pages aiming for these keywords. Combine that with our TF-IDF feature to figure out not just what keywords your rivals are using, but how they use them on their pages.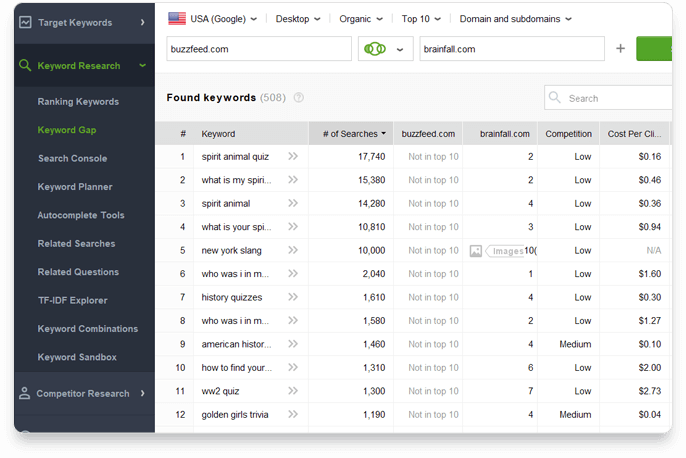 Analyze keyword gaps to find ranking opportunities
To mine the best keywords used by your competitors, you can head over to the Keyword Gap module. The feature will show you all of the keywords your competitors use on their domain ranking that you aren't using yet. With that in hand, you can analyze what the competition is doing that you aren't, and figure out multiple topics to cover and keywords to target from a single look.
The exact reports you need
Any type of ranking
report you need
Easy white labeling
of your reports
Get reports in
different formats
Completely automate
the reports you're getting
Any type of ranking report you need
With the reporting feature, you can create and schedule the perfect report, containing the exact data you need. You can turn to one of our templates, reporting on just the specific types of data acquired by Rank Tracker, for example: Keyword Rankings reports will get you a detailed account of how your rankings changed, across keywords and search engines tracked.
But all reports are fully customizable, and you can create and save a new one from scratch. So you can adjust what data exactly you're getting, and focus on just the information you need to see.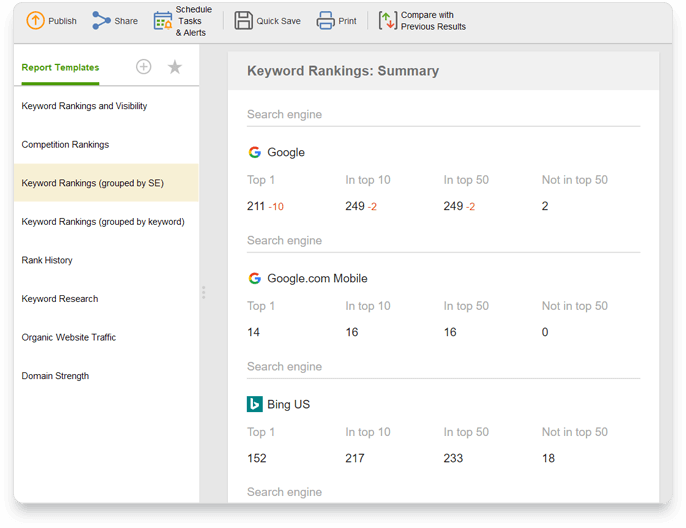 Easy white labeling of your reports
In our SEO tool, the reports you get are 100% customizable and, in a paid version (of which we have a free trial of 7 days), white-label. Stylize your report as you see fit — add your company name, email, website, address, and, to really make it your own, add to it your unique company logo.
Make the reports truly your own with just a couple of clicks.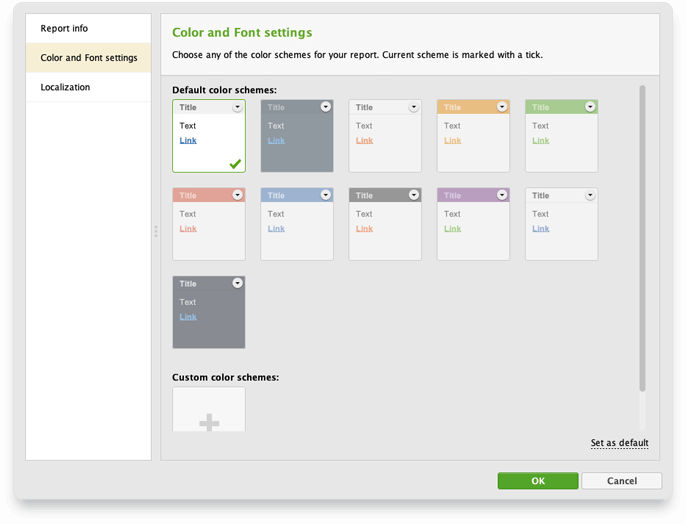 Get reports in different formats
All of the reports can be saved in PDF and HTML locally on your hard drive, printed out at a click or sent as an email. Alternatively, you can have them uploaded online and published directly to your website — you'll get a read-only report URL which you can share via email.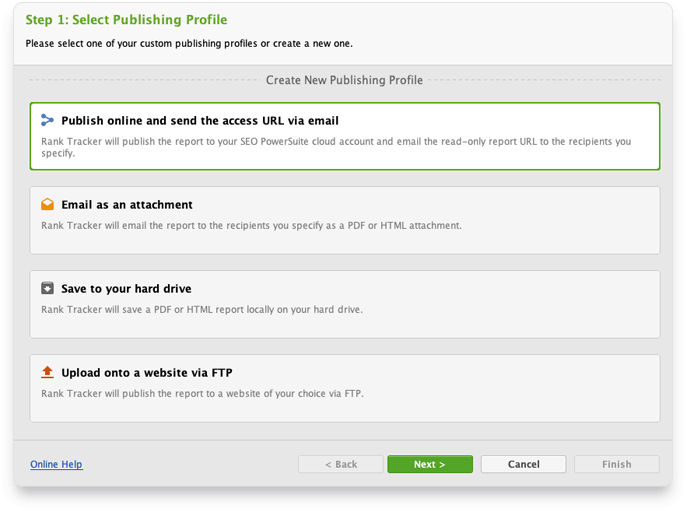 Completely automate the reports you're getting
Set up an automatic task to refresh the keyword data on the daily, weekly, or monthly basis, and then tell the keyword checking tool which report you want to create and where to send it — and voila! Your clients and your team are getting regular reports with the needed data, without you having to lift a finger.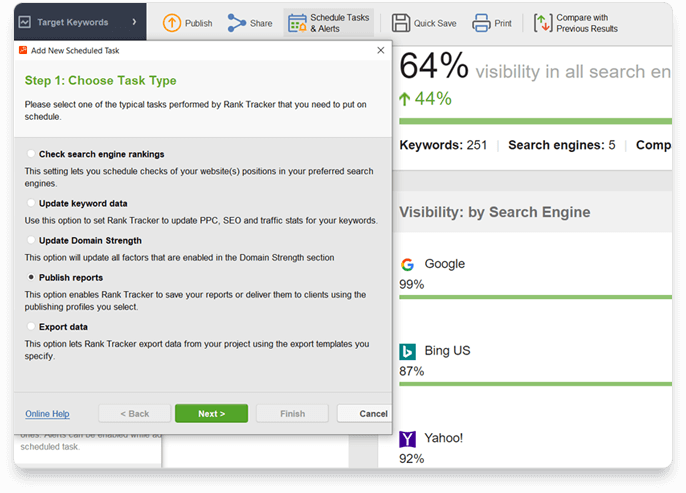 Additional Rank Tracker Features
Automation of tasks
& email alerts

(NEW)
Cloud storage
Traffic metrics
Data export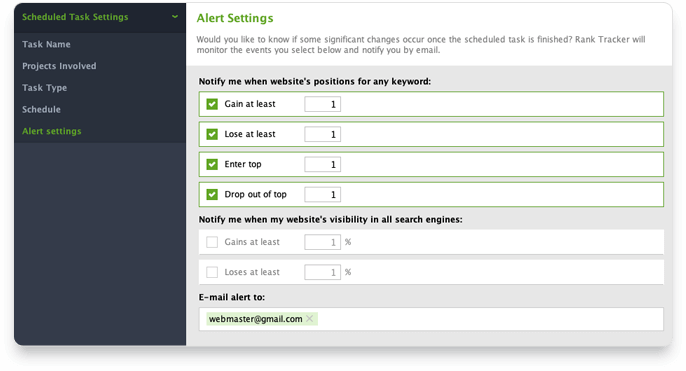 Automation of tasks & email alerts
In this rank checker, you don't have to check rankings manually every time you need to know your position change. Instead, you can make your daily rank checking automated.
The tool will then track keyword positions totally on autopilot at any frequency you prefer — and send you an email alert. This way, you don't even have to open your rank tracking software, you will see all the keyword position fluctuations for your pages as soon as they happen.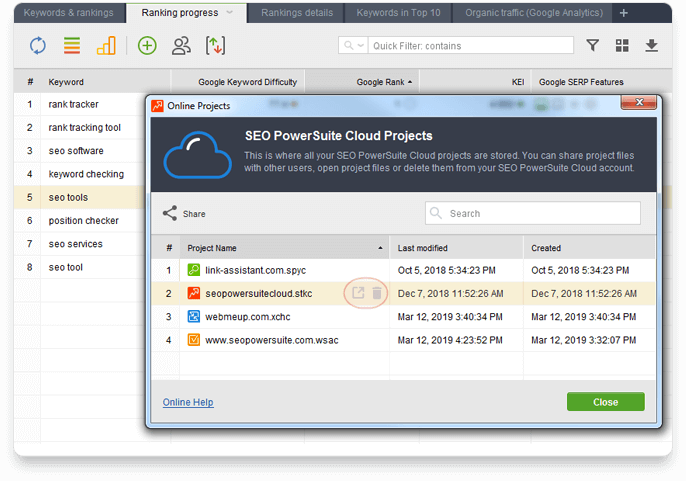 Cloud storage
Paying Rank Tracker users will be able to go beyond saving and backing up the projects to their own storage. With SEO PowerSuite Cloud intact, you can save the projects you're working on, as well as the reports you've made, online. With the access to cloud storage, you can synchronise your particular settings across multiple different projects and tools.
Alternatively, if you have a Dropbox account, you can integrate it into your Rank Tracker and store your projects there, with just a couple of clicks.
Wherever you might be, working from any computer, Cloud will allow you to access your files, share them with colleagues and clients, all 100% safe.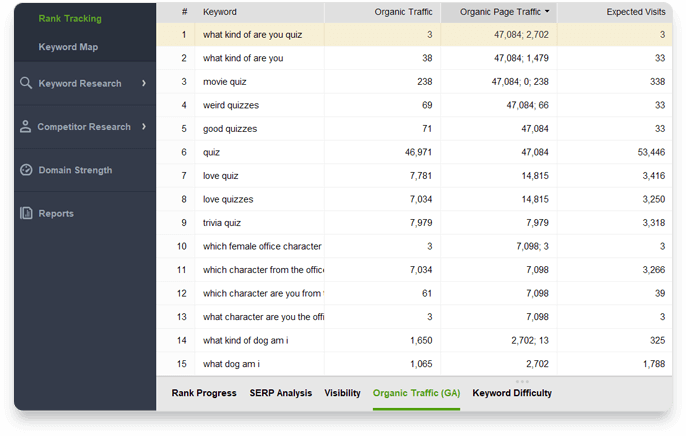 Traffic metrics
Thanks both to the integration with such instruments as Google Analytics and Search Console metrics, as well as our own proprietary methodology, Rank Tracker offers a variety of traffic metrics. After connecting your Google Search Console account to the tool, you'll get to see exactly how many clicks each of your domain pages is getting.
Additionally, Rank Tracker itself will analyze all of the keywords you chose to track for information on expected visits from these particular keywords. Using this feature, you'll be able to properly construct your content strategy, aiming specifically for the valuable keywords that are worth the trouble to optimize for them.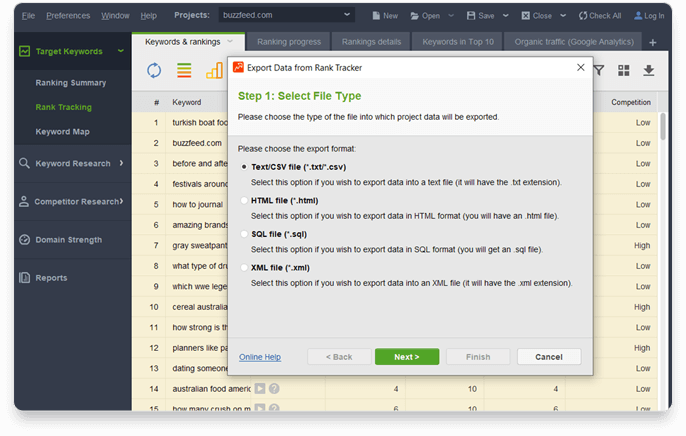 Data export
At any point, you can export the project data in any format that you need: CSV, TXT, HTML, XML, SQL.
Additionally, you can export the data presented to you by any module in the rank checker in CSV format at a single click.
Run keyword research and accurate rank tracking with the right ranking software:
Endless keyword ideas for free
Unlimited keyword position checking
SERPs features analyzer
Desktop and mobile rankings
Local SEO instruments
In-depth search data analyzer
Here's why our users love Rank Tracker:

No other free rank checker provides the same accurate ranking information and SERP intelligence as Rank Tracker. It's definitely the best keyword rank checker tool I've ever seen. The reports are clean and very easy to customize, so I can include only the data that's relevant to each client.

Melissa Cahill
Owner
Panoptic Online Marketing

Rank Tracker program is FAST! It's one of the fastest (if not THE fastest) rank checkers I've ever used. When I run a rank check for the 200+ keywords I target, it spits out the ranking results for Google, Bing and Yahoo in under a minute. After using this keyword SERP tracker and keyword position checker for the past few weeks, I'm hooked.

Ken Lyons
Co-Founder
MeasuredSEM

Rank Tracker platform has been my number one keyword rank checker for keeping track of keyword positions in SERPs for a long time, but it wasn't until recently that I realized its full potential for keyword research. The tool has every feature you can ask for of a keyword tool. With its 20 different keywords sources, it's not to be beat when it comes to long-tail keyword ideas.

Nate Freedman
Online Business Consultant
SEO N' Stuff
Free keyword rank tracking.
No strings attached, no credit card required. Download a free copy and take this keyword position checker for an unlimited test drive.

FAQ
✅ What is rank tracking?
Rank tracking is the process of monitoring how your website performs in search engines for this or that keyword. Is it ranking on the first page of Google? Is it shown in Images or Video search? Is it included in the local ranking pack?
To keep your SEO campaign on track and find the room for improvement, you need to regularly check search engine rankings for all the keywords you target.
✅ How to track local keyword ranking?
Often you need to know how your Google positions differ depending on where the searcher is. For instance, for the two nearby cities you operate in. With Rank Tracker, you'll be able to set up separate tracking for each of the locations and monitor your ranking performance in the most precise manner.
✅ How to track featured snippets?
Featured snippets are a special type of search results, shown above the top 10 ranking websites. It, thus, attracts much attention and can lure additional search traffic to your page. To track this type of results, you need to enable the Universal results tracking mode in your Rank Tracker tool.
✅ Can I build custom SEO ranking reports?
With Rank Tracker, you can fully customize the data and the look-n-feel of your reports. Feel free to brand them with your company logo and brand colors, add customer information and decide on the ranking data to include. You can manage your report templates in a user-friendly drag-n-drop editor.
✅ Is your Rank Tracker free?
Rank Tracker comes in three editions — the Free, Professional and Enterprise versions. You can pick the license depending on the features you need. But the most important SEO features are available completely for free.