8 SEO Practices for Data-Backed Competition Research
By: Inessa Bokhan
April 17, 2018
I bet your business has a few competitors on Google.
And I also bet that some of them rank higher than your website.
Do you have any idea why they've been more successful in SERPs?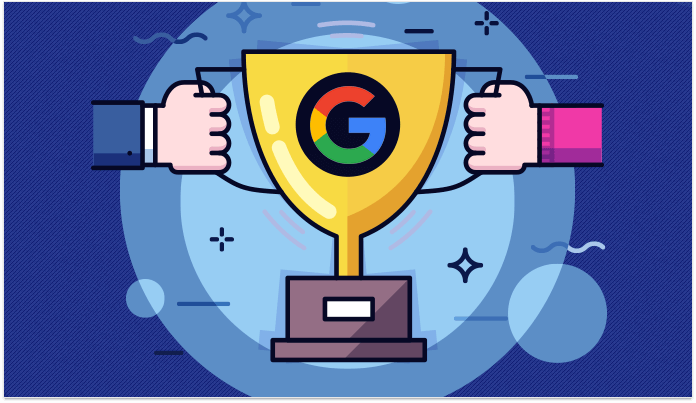 The gut-wrenching truth is... the answer's not definite!
Is it all due to the higher number of backlinks or better content, or domain authority, or anything else? Yup, without a thorough analysis of strengths and weaknesses, you can't answer this question.
In this guide, I'll share some handy practices, tips, and tools to help you get as much useful information about your competition as possible. Let's get started.
1. Identify your top online competitors
So, the first question is who we are competing with. As always, there are a few ways to figure this out:
Probably, the easiest option of all — Google your top niche keywords and write down the domains of the top 10-15 websites.
Pay special attention to the local packs if you're promoting a website of a local business.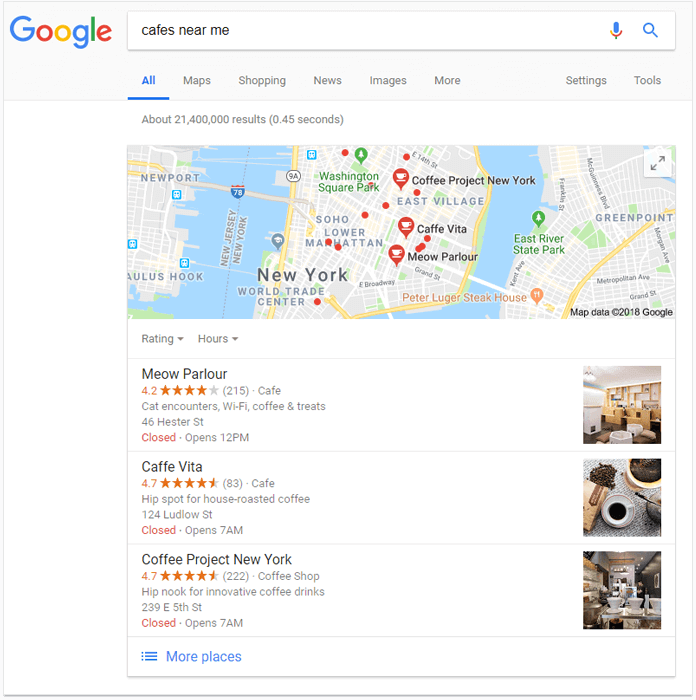 Look through the niche lists on Alexa Top Sites — browse the related categories and subcategories to find the top 50 domains with the estimated traffic and backlink data.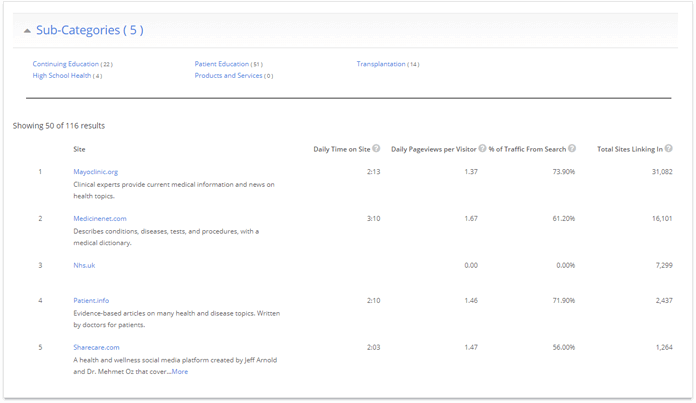 Use a tool to find and track the competing domains.
You can use the tool that's most convenient for you, and if you've been using SEO PowerSuite's Rank Tracker, here's the way to manage the task with it:
Launch Rank Tracker, create or open a project for your website, fill in your top keyword phrases, select your target search engine(s) and hang on a moment while Rank Tracker checks your site's rankings for the keywords you just put in.

Go to Preferences > Competitors, and click Suggest.
Rank Tracker will automatically pull the target keywords you just copied into your project to base the competitor research on them. Now, hit Next.
Select the search engine to look for competitors in, and click Next once more.
Rank Tracker will now look through the top 30 results for all keywords you entered and put together a list of domains that come up most frequently. In a minute, you'll see a list of 30 domains sorted by their visibility in search results for your target keywords. Choose the competitors you'd like to add to the project, and hit Finish.
That's it — your top SEO competitors can be always found in your Rank Tracker project. From now on, every time you check rankings, competitors' ranks will be updated alongside.
2. Evaluate difficulty and filter out your competition
Has it ever crossed your mind you can beat any competitor in any niche and for any keyword? Yes, you can, but how many resources will it take to conquer the top results?
Now that you have a list of your top competitors, let's collect the general SEO stats to help you get a better impression of your online competition (and your chances to outrank them).
I suggest you should check and write down the following information (for your own website and for your competitors' websites):
Domain age
Alexa rank and traffic volume estimates
IP address and country
The number of pages indexed in the major search engines
The number of backlinks
You can use multiple plugins and tools, including Rank Tracker (see the Domain Strength module) to collect these stats: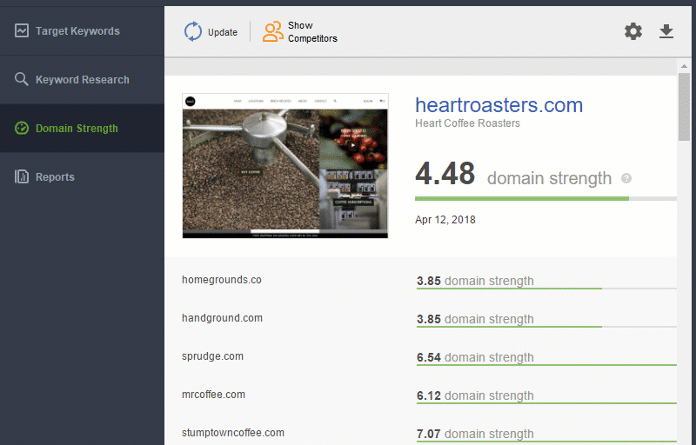 Rank Tracker will also show you the overall score for all analyzed domains, thus you'll quickly see how strong your competitors are.
At this step, it makes sense to cross out some websites that significantly outperform you, and focus on the low-hanging fruit. Or you can prioritize your SEO efforts and mark out the domains you'll compete with in the first place and domains you are going to beat in the future.
3. Get keyword ideas based on your competition
As you know, there are dozens of keyword research methods and techniques out there. In this post, I wanted to mention one practice that is extremely effective when doing competition analysis because:
it's based on latent semantic indexing principles;
it's based on your top-ranking competitors;
it takes just a few minutes to complete.
Does it strike a chord? I'm talking about the TF-IDF analysis for your keywords.
TF-IDF (short for "term frequency-inverse document frequency") is the product of how often a keyword appears on a page (TF) and how often it is expected to appear on an average web page, based on a larger set of documents (IDF).
Don't panic, you don't have to do the complex calculations on your own (that would be a complete waste of your time) — all could be managed right within Rank Tracker's Keyword Research module.
The TF-IDF tool in Rank Tracker analyzes the top-ranking pages for your target keywords and looks for terms and phrases that a large number of them use. These are the topic-relevant terms and concepts that will help you increase the relevance (and hence the rankings) of your pages in the semantic search era.
To start the research, simply launch Rank Tracker, open a project and click the Suggest button. Select the Competition TF-IDF Explorer method and press Next.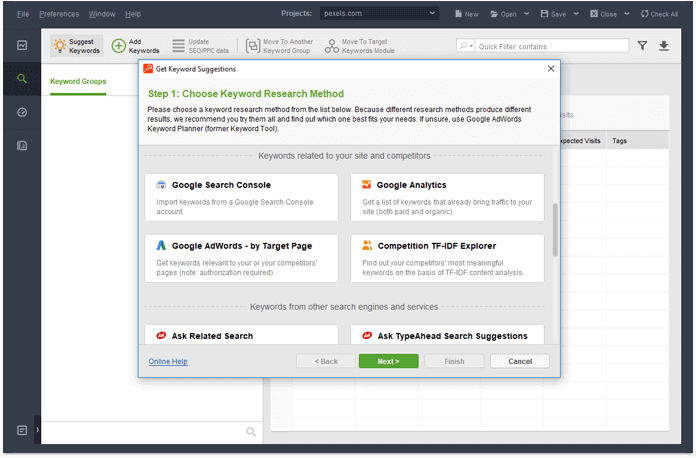 At the next step, enter your seed keywords as well as negative keywords to make the semantic analysis more precise. When you're done, hit Finish and let the tool collect the data.
I did some research for the "coffee brewing recipes" keyword and discovered that if I want to create high-ranking content for this topic, I will need to write about coffee filter types and coffee roasting, understand the difference between Mexican and African coffee mixes, and so on!
So, you don't just get a random keyword list — you get a list of semantically tied phrases that seem to be important and relevant to the search engines. And by gathering this kind of topical concepts, you'll be able to build a comprehensive content strategy.
Now, you can move the necessary keyword groups into the Target Keywords module and start monitoring the SERPs for them.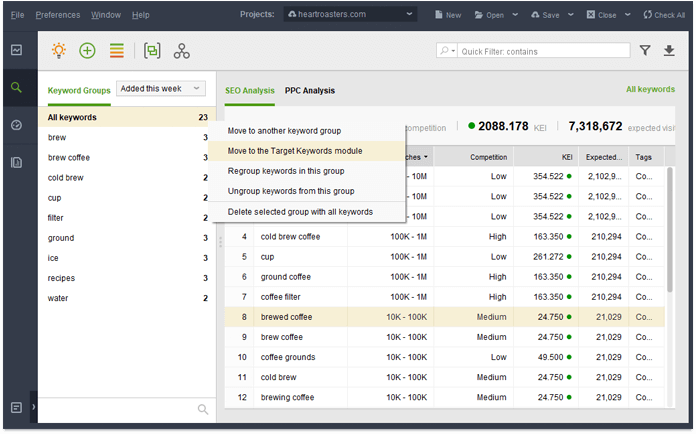 4. Analyze the SERP landscape you target
Okay, now that we have a list of competitors and a list of target keywords, it's time to look at the landscape of Google search results and see what kind of environment you're going to compete in.
Depending on your niche and keywords, you can notice how different the search engine results pages are, for instance, this page is entirely occupied by ads and Google places results: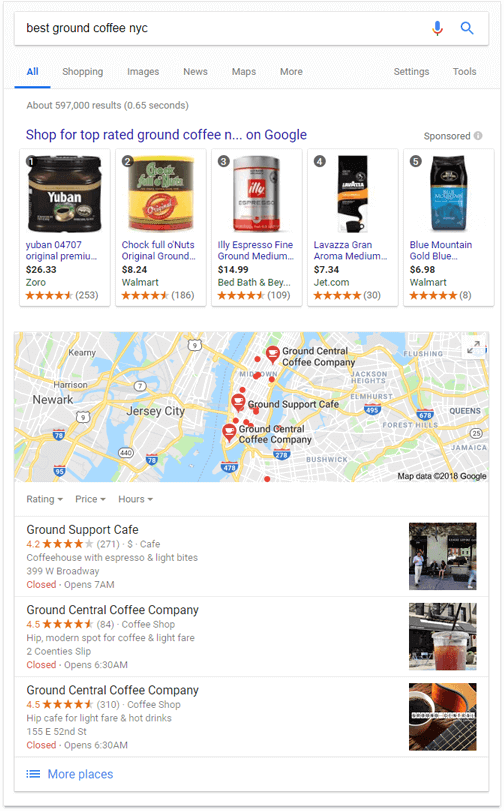 And this page mostly showcases video content: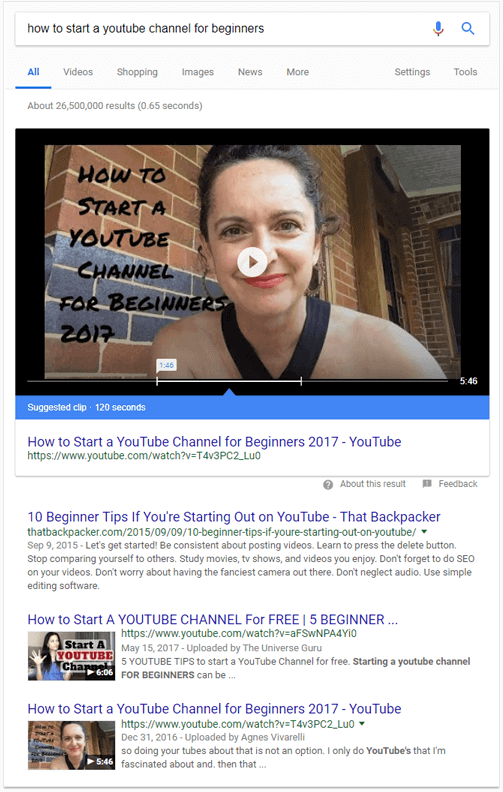 What does it mean for your SEO strategy?
If you, say, target the keywords that trigger lots of videos, it would be really challenging to beat the competition with regular static blog posts. That's why you should note what type of results get the highest ranking and keep it in mind when adapting your SEO/content strategy.
In Rank Tracker, there's a very handy feature to help you monitor SERP types and changes — the Google SERP Features column: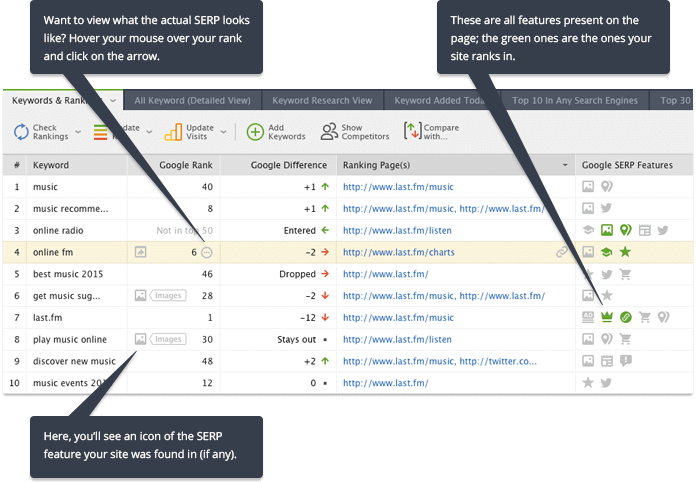 Using this data, you can:
See which SERP features your site already ranks in;
See which features are present for the keywords you're tracking and represent a traffic opportunity;
Find out if rich snippets of your site show up for any of your keywords (containing reviews, thumbnails, or sitelinks);
Check which of the SERP features are occupied by your SEO competitors.
See a competitor's page getting a variety of SERP features for multiple keywords? Why not take a closer look at its content, meta tags, structured data, and links! All these insights will help you optimize your site's pages for various search result types and get more visible to your potential customers.
5. Check how your competitors structure their websites
Following the steps above, you may now feel a strong urge to create new pages and content optimized for the newly found key phrases. Please be patient for a little while — there's still some data we need to dig before you dive into the optimization activities.
I strongly recommend analyzing how your competitors organized their websites.
Here's why I find site structure analysis important:
You can easily modify site's content, meta tags, etc., but it's much more challenging to reorganize site's categories, main landing pages, etc. If you don't want to get lost in hundreds of redirects, it's better to plan everything structure-related in advance.

You can see at a glance the top important landing pages — the ones that have most internal links pointing to them.

A good site structure implies good user experience, and I think I don't have to remind you about Google's stance on this ;)

A good site structure is at the very core of SEO. So, if you discover lots of issues (broken links, invalid redirects, orphan pages), you can try to outrank your competition even before someone finishes saying "backlinks!" Google has always been clear about the importance of well-thought-out search engine friendly structure, so don't miss this opportunity.
The good news is all this information can be graphically visualized, so you won't have to spend days collecting the pages and then weeks analyzing them. If you have WebSite Auditor installed on your computer, all you need to do is create a new project for any domain you want to analyze in detail and go to Site Structure > Visualization:
Using the data collected and processed by the tool, you can:
See the most important landing pages of your competition;

Analyze click depth;

Look through orphan pages (if any);

Check internal PageRank distribution.
After you analyze the competition, see how your own site's structure could be improved and add notes to your visualization right in the tool. After that, you'll be able to export the changes and send them to your website developer:
6. Check the on-page optimization and content metrics
I just love on-page SEO for one big reason — with it, you can literally revamp your landing pages in a day using the insight you get from analyzing competitors' pages — and this quick change is likely to bring visible results sooner than any other.
For this step, I'll be using SEO PowerSuite's WebSite Auditor and its Content Analysis module. Using the tool, you'll find all the info you need to optimize any given page for your target keywords, based on the pages that rank in the top results for the given terms. Additionally, you'll be able to get recommendations on improving your content to make it more comprehensive and topically relevant, based on the TF-IDF formula.
Here's how to run a check:
Launch WebSite Auditor and open or create a project for your site.

Go to Content Analysis and select a landing page you'll be optimizing (if you're not sure where to start, it's a good idea to optimize your homepage first). Enter your target keywords and choose your target search engine.

Once WebSite Auditor has completed the analysis, check the crucial content optimization factors on the left for any errors or warnings.
Select one of the factors with an Error or Warning status (if any), and go to the Competitors tab to see how competitors are handling this particular aspect of SEO. If there's a tangible discrepancy between how different competitors use keywords and you're not sure what to base your on-page strategy on, it's a good idea to use Competitor avg. as a reference.
To go beyond the traditional keyword usage factors, let's do some semantic search engine optimization. Jump to WebSite Auditor's TD-IDF dashboard to discover the topically relevant terms (both single- and multi-word), sorted by the number of competitors that use them. The Recommendation column will give you usage advice for each term that appears on the pages of 5 or more of the competitors.
You can implement these recommendations and edit your page right in WebSite Auditor's Content Editor.
And do not forget that you should focus on providing amazing targeted content your site visitors really need. Here are a few tips to make sure you create high-quality content:
Create long-form and relevant content.
Don't get obsessed with keyword density.
Make sure your content is regularly updated.
Provide a few relevant outbound links to authority domains.
Make use of internal linking.
Working on site's content is one of the most time-consuming tasks, but that's the best way to build your reputation as an authority figure.
7. Check the backlinks
Backlinks! Researching them is a crucial step in the competitive analysis. When you fully understand the backlink profiles of your competitors, you'll be able to build your own effective link strategy, estimate the time required to build a strong link profile, and spot valuable backlink opportunities within competitors' profiles.
Long story short, we need to find competitors' backlinks and analyze how good they are. For this part of the analysis, you can use SEO PowerSuite's SEO SpyGlass.
Launch SEO SpyGlass and create a project for your website (or open the existing one).

Go to the Domain Comparison module, and click Add Domains. In a window that pops up, enter the URLs of the websites of your competitors that you just discovered with Rank Tracker. You can add 2 competitors in the free version, 5 with SEO SpyGlass Professional, and 10 with Enterprise.
At this step, you'll see a detailed comparison of your backlink profile and the profiles of the specified competitors. You can see the overall rating of each profile at the bottom of the chart. Here you can also discover what it is that makes a given competitor stronger than you. Mark down these aspects — you'll likely need to work on them in the first place.
In the example above, you'd probably want to focus on the total number of backlinks (particularly dofollow links) and linking domains, growing your InLink Rank, and the diversity of IPs and C-blocks in your link profile.
Having compared competitors' backlinks to yours, you should have a clear understanding of where you'll be directing your backlink strategy. Links take time to build, so this has to become your long-term commitment if you're serious about outranking your competition. Luckily, there's a handy Link Intersection dashboard in SEO SpyGlass that will help you big time with your link building efforts.
Go to the Link Intersection dashboard and switch to Potential backlink domains. This is a filtered view for domains that link to your competitors, but don't link to your site. Click on the header of the Projects column to sort the view by the number of sites each referring domain links to.
This way, you can discover precious link building opportunities — domains that link to a bunch of your competitors are likely relevant resources that you have a big chance of getting a link on, too. You may want to export this list for outreach by hitting the download button in the top right corner of the screen.
8. Anything else left to review? Yes!
By now you should have a solid list of SEO insights you can use for your strategy. Do you need to dig any deeper? If you ask me, I suggest you should take a peek at a few more factors:
Social media profiles
Check how many followers/likes/subscribers your competitors have across the most popular social media platforms. Pay attention to how engaging their content is.
Here's a universal set of questions you can apply when doing this research:
Which social media platforms do competitors use?
Which social media networks are they missing?
How often do they share new content?
How do they interact with their followers?
What kind of content gets more engagement with their following?
If you notice that your competitors are doing a great job with social media content, don't let this fact discourage you. Yes, on the one hand, you'll have to work more on high-quality social media campaigns, but on the other — you can find lots of potential visitors and customers too.
Ads
Check if your competitors are using paid traffic campaigns to get conversions and sales. These may include AdWords campaigns, Facebook/Twitter/YouTube promoted content, banner ads, paid posts and reviews, etc.
Reputation check
Try to find out as many reviews of your competition as possible - look for product reviews on Google, social media, forums, review sites, etc. To save time, you can create an alert with Awario social media tool to get brand/keyword mentions from all over the Web sorted within one handy feed.
If you discover lots of negative feedback from unhappy customers, you can use this information to differentiate your business, provide new types of services, enhance customer support, in other words, make your business shine above the other players!
The final word
As you've probably noticed, the search engines have been evolving at the impressive speed — new types of search results, algorithms, techniques, etc. And that means your SEO should be constantly evolving too.
You can't rely on the competition analysis you conducted two years ago, because things are changing too fast. And that's why it's important to change the status of the competition analysis activity from "initial" to "recurring". You should keep tabs on what your SEO competitors are up to on a monthly basis, and modify your SEO strategy when necessary.
I hope this guide will help you better understand and analyze your SEO competition - please share your thoughts and tips in the comments below!
---
By: Inessa Bokhan