Q: Which came first: SEO or SEO tools?
A: Webmasters started optimizing their websites for search engines in the mid-1990s, long before the term SEO and any SEO tools were introduced.
Yet, the technology behind search engines has been rapidly evolving, and now one can barely imagine doing SEO manually, without all that handy SEO tools available to us.
But if the folks from the 90s nailed their websites' SEO, why would you need all these SEO tools?
The truth is, you can handle most of the SEO tasks manually even today, but, you have to accept that this can become a quite time-consuming thing to deal with.
Here, it's all about the priorities of your business today – to save cash on SEO tools or free up some time on SEO and spend it on more pressing matters of your business.
In today's guide, we'll talk both about the ways to do SEO manually and how SEO tools can speed up these processes and make them less time-consuming.
Let's start with keyword research.
Keyword research
Well-thought-out keyword research is what guarantees that your content drives relevant and consistent traffic to your website.
Although it's a task that is generally done with the help of the tools, you can still go for some unorthodox methods to deal with it.
How do you deal with it manually?
Here're a few ideas on how to do keyword research without using any tools:
Collect keywords you already have
You might say that you don't have any keywords on your list yet.
But that's a huge fallacy.
Let's pretend that you run a travel agency in Boston.
Well, 'travel agency' can serve as a keyword itself, still, such short-tail keywords may be difficult to rank for since the competition is likely to be very tough.
Instead, we'll go another way around and try to rank for long-tail keywords.
Where do you find them?
First, think about and write down the list of words and phrases that describe your business and what it does for customers.
It should look like this.
Travel agency

Travel agency near me

Travel agency Boston

Vacation packages

Cheap plane tickets

Budget travel

Last-minute travel

Online travel agent

Tour agency

Travel consultant
10 keywords in just a few minutes!
Moving next, try to recall the most frequent questions your clients ever asked you.
For instance, you might have already heard such questions from your customers:
What are the best places to travel with kids?
What are the top destinations in January?
What are the benefits of travel insurance?
That's not just three more keywords, that's a bunch of ideas for your future content.
Check for related searches on Google
The first page of Google's SERP is not just the coveted place you want to conquer, it's a great source of keyword ideas.
Take a keyword from the first step, and put it into Google's search bar.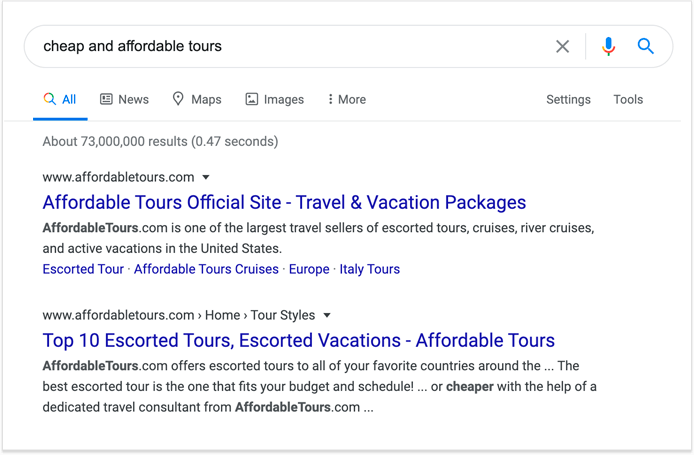 Then jump to the bottom of the page. There you'll see a list of related searches on Google.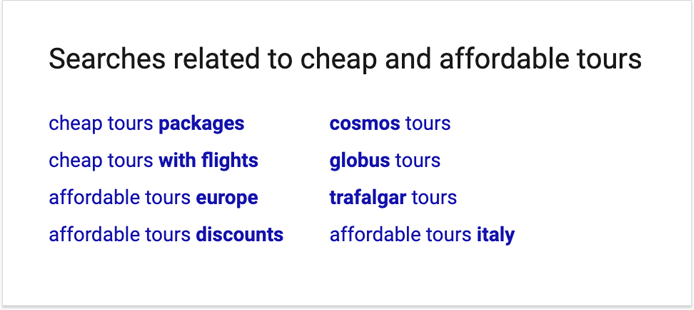 Those results are keywords themselves, all you have to do is pick those that fit your business.
Also, make sure to click on any result you see and scroll down once again to find even more related searches.
Voila! You just enriched your list with even more keywords.
Leverage Google Autocomplete Feature
If you ever searched something on the web (of course you did), you already know that Google can automatically suggest what your search query is about.
Again, take any keyword from previous steps and put it into a search bar. In the drop-down list, you'll see Google's suggestions for your query.
You can get even more keyword ideas if you also start your query with what, why, does, etc.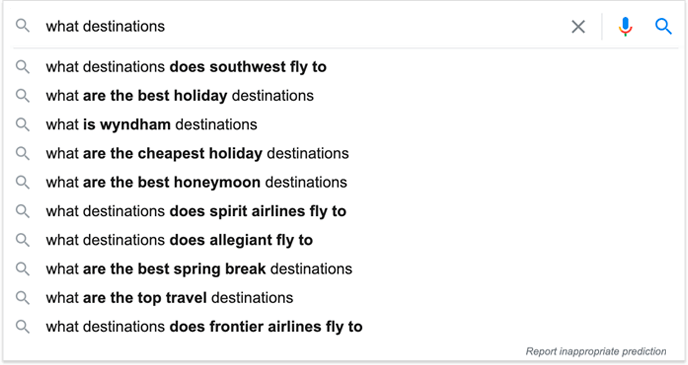 Google gives you a bunch of keyword ideas. The great thing is that you don't have to ask yourself whether these keywords are popular or not. Google itself tells you that those keywords are searched by a ton of users.
Those questions can also serve as a topic for your content. Answering those top questions in your article can bring outstanding results to your website's rankings.
Find Keywords on Reddit
Reddit — the front page of the internet, as they call it, is the place where millions of discussions happen 24/7.
It's also a unique source of thousands of untapped keywords.
Here's what you need to do to find them.
First, jump to Reddit and search for a broad topic connected to your business.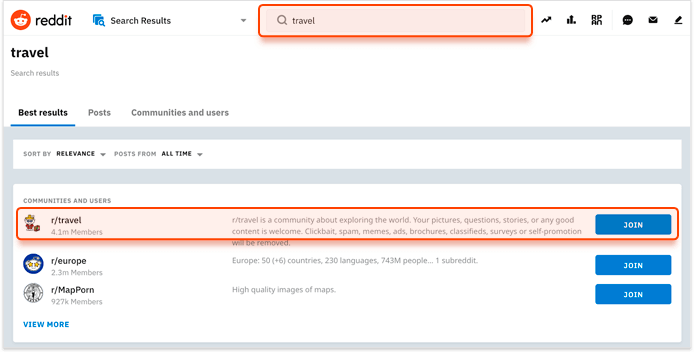 Then click on the subreddit with most members in it. In our case, this will be r/travel.
There you'll see a bunch of discussions on the topic. You have to look precisely for those with the most comments in it — this is one of the indicators that the topic is trending.
Here's a nice example of a Reddit's post that can fill up your keyword list and hint you on a new piece of content.
Your keyword here will be 'India's Golden Triangle' and you can use it in an article that answers the question 'What is the best time to visit India's Golden Triangle?'.
Find Keywords on Forums
Another way to squeeze even more keywords from user-generated content is to check forums.
You can easily find a forum where your target audience hangs out by searching for it on Google.
Just type in any of these queries:
"keyword forum"
"keyword" + "forum"
"keyword" + "forums"
"keyword" + "board"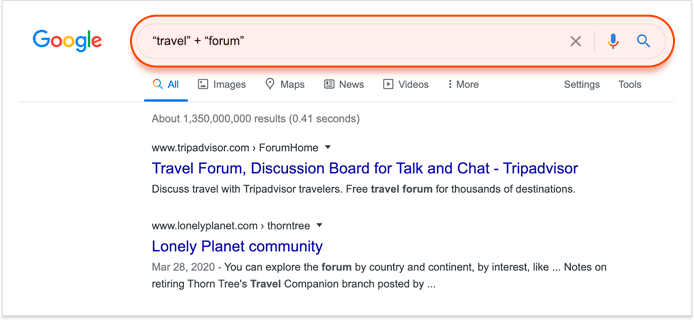 TripAdvisor's forum is a great choice for a travel-related keyword dig up.
You need to choose a targeted region and put your keyword into a search bar.
And you're all set to pick up hundreds of keyword ideas from the forum posts, just as you did on Reddit.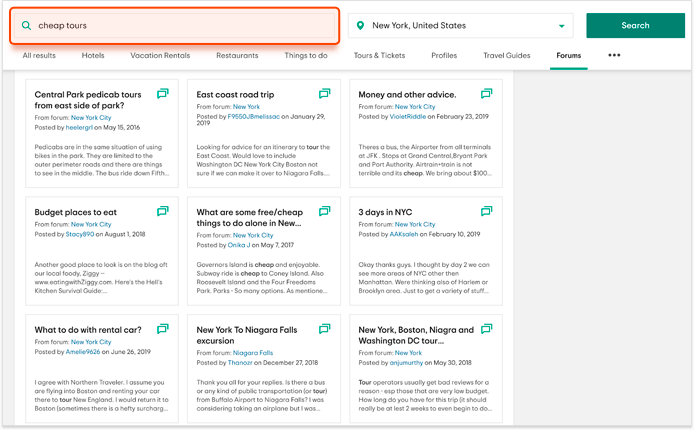 Those were a few ideas on finding keywords without any tools.
It's an easy way to enrich your keyword list from scratch, but this manual research can steal days or even weeks from your schedule if not automated.
At the same time, when doing the whole thing manually, you're missing out on important SEO metrics, and this leaves a lot of space for picking the wrong keywords for your content. For instance, you might pick a highly competitive keyword or one that no one searches for.
SEO tools, in turn, allow you to avoid taking this long and troublesome path.
To see the evidence of how quick keyword research can become, let's check how you deal with it in SEO PowerSuite.
Save time on keyword research with SEO PowerSuite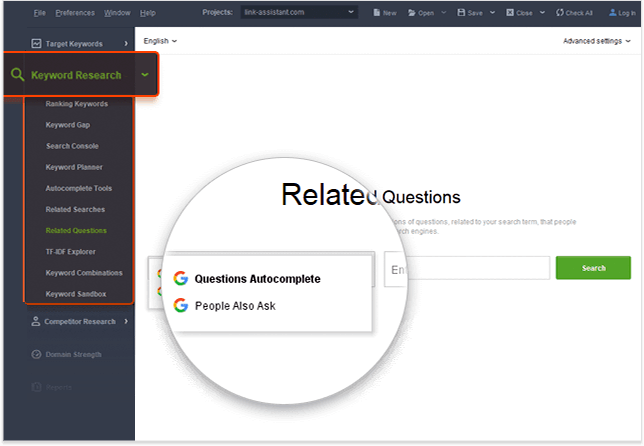 SEO PowerSuite helps you make your research less time-consuming and more data-driven.
Apart from that, here're some major benefits of automated keyword research:
You can find thousands of keywords in more than 20 keyword research tools
The whole process is automated and takes just a few minutes
Equipped with a set of important metrics, you always know what keywords are the right ones to choose
All found keywords are stored in one place for your further analysis
For instance, compared to manual research, finding keywords using Google Related Searches tool in SEO PowerSuite is a one-minute task.
You just enter a query and in a brief moment, you'll have a dashboard with thousands of keyword ideas, and, what's really important, you'll have a ton of useful SEO metrics for each keyword.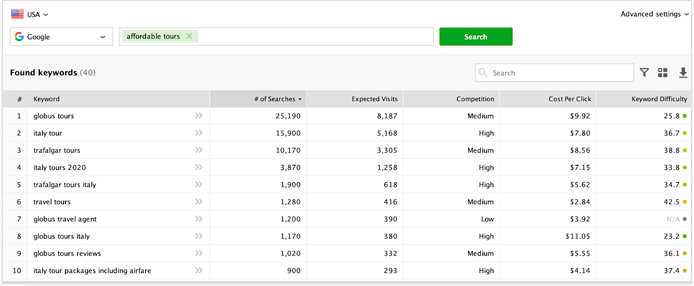 In total, you'll find more than 20 keyword research tools in Rank Tracker. They all are available at a click with both free and paid licenses.
Rank tracking
In the fast-changing SEO world, a day wasted can lead to huge losses.
This is particularly true for your rankings that can drop after another Google update, or if your competitors outrank you. Spoiler alert: this is happening all the time.
To take timely actions, it's a must to track rankings for your money-paying keywords.
How do you deal with it manually?
If you're up to checking a few keywords' rankings, then this task can be done manually and it won't cost you a lot of time.
You'll have to jump to Google, type your keyword in the search bar, and manually check if your website is listed on the first few pages of Google.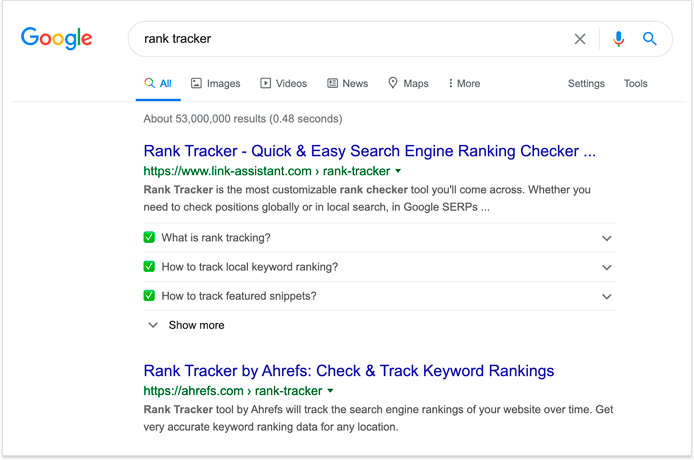 However, you should beware of the following pitfalls:
The results you get on Google's SERP depend on your previous activity and interactions. Thus, user A may be getting completely different results than user B.
Tip: To avoid getting false information, check your rankings via the Private or Incognito tab in your browser.

In most cases, Google's SERP will look different for different geolocations.

If your website is not listed in the first 50 search results, it can become quite time-consuming to find the exact position of your site on a ton of results pages.
Save time on rank tracking with SEO PowerSuite
If the list of keywords you want to track is any bigger than 5, SEO PowerSuite's Rank Tracker is what will help save your time.
The only manual work you will have to do is to set up Rank Tracker and specify the keywords you want to monitor. This can be done in Target Keywords > Rank Tracking.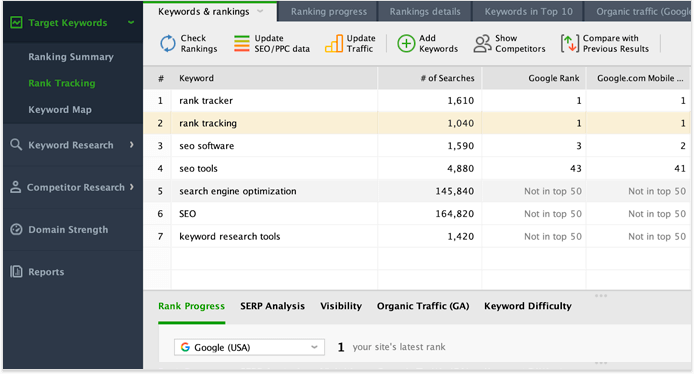 The tool will check rankings for a given keyword in as many search engines as you choose, and will also equip you with all the metrics you may need.
You can also schedule your rank checks to be done automatically in the background – reports will be sent to your email address.
Website audit
Website audits are an essential measure to improve the efficiency and visibility of your website.
As a rule, this task is done with the help of SEO tools, but if your website is not that big and you haven't set your marketing budget yet, you can do the whole thing manually.
Disclaimer: Though the manual website audit itself is not that difficult, it's in the first place horribly time-consuming. Especially if your website has more than 100 pages.
How do you deal with it manually?
Step 1. Before you focus on audit, let's highlight the factors based on which you'll be auditing every page of your website.
According to Google's guidelines and SEO best practices, we can boil down your website's audit to 6 major factors you should look at.
Those will be:
Page Titles, Descriptions, & URLs

Content Quality

Content Quantity & Diversity

Site Structure and Index-ability

Page Speed and Functionality

User Experience
Step 2. Create a spreadsheet in any app you like (Excel, Google Docs, etc.) or grab our website audit template.
The structure of your spreadsheet should look as follows:

Step 3. Get all the URLs from your website and copy them to your spreadsheet.
If you have a backend CMS system, you can export a list of pages from there.
You can also check if your site has a sitemap — just enter your website's URL in your browser and add /sitemap.xml or /sitemap.html (e.g. https://www.link-assistant.com/sitemap.html).
Step 4. Now it's time to check your URLs based on the 6 factors we've discussed above.
For your convenience, here's the checklist for each of the factors.
Website audit checklist (Click to expand)
Page Titles, Descriptions, & URLs
Title
Description
URL
Content Quality
Content Quantity & Diversity
Site Structure and Index-ability
Page Speed and Functionality
User Experience
Step 7. In the course of your audit, highlight in green the factors that pages successfully passed and those which failed in red.
For easier navigation, insert notes to the failed sections and comment on which things are to be fixed. When your audit is done, you can easily see what issues your website has at the moment and what exactly should be fixed.
Save time on website audit with SEO PowerSuite
How do you audit your website in SEO PowerSuite?
First, you jump to WebSite Auditor and enter your website's URL.
The tool will crawl every single corner of your website and collect all pages, including newly added.
Once it's done, jump to the Site Audit section and review the recommendations on how to fix any issue on your website.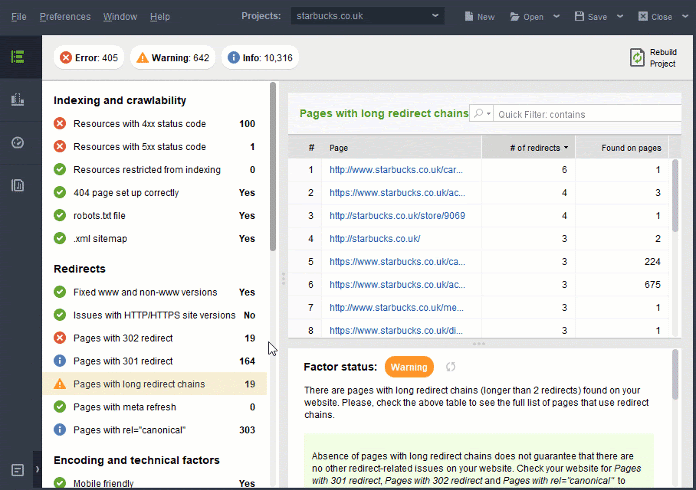 This way, you can audit your website in a more efficient manner. Without checking hundreds and thousands of pages manually.
There's another, even faster way to deal with your website audit in WebSite Auditor – your web structure visualization.
Here, the whole website is rendered into a visual graph, which allows you to spot any possible problems at a glance and fix them right in the app.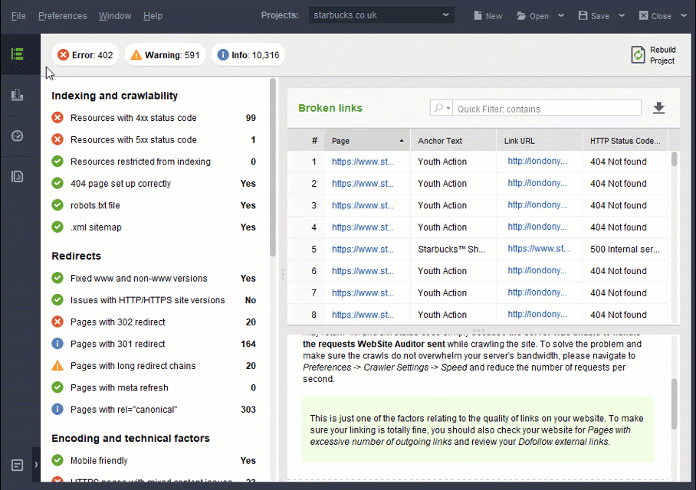 Check this guide to learn more about site visualizations.
Link Building
Backlinks are still considered to be one of the core elements of Google's search algorithm.
Thus, building and growing your backlink profile is an important part of your SEO strategy you can't miss.
Building links without using any SEO tools is not something new. There're hundreds of link building techniques, all vary depending on the time you're ready to spend.
How do you deal with it manually?
The only three tools you'll need for a manual link building are:
Google

A spreadsheet (Excel, Google Docs, etc.)

Email client
Before we jump to the first step, let's create a spreadsheet where you'll be keeping all your prospects and their contact details. To make the process of link building even more convenient, you can add more columns to your table that will indicate if a prospect has been already contacted or followed up, has a link been already placed, and so on.

Also, you can grab our ready-made Link Building campaign template.
Once the spreadsheet is created, let's start the link building campaign.
Step 1. Find Prospects
To get a backlink from another website, you'd first have to find the website that is relevant to your niche, has a good reputation, and is likely to place a link within the content submitted by you or their own content.
There're many ways to find prospects, but one of the basic strategies is to search for guest posting opportunities.
To do this, jump to Google and type one of the following search queries into a search bar:
Your keyword "write for us"

Your keyword "guest post"

Your keyword "blog for us"

Your keyword "writers needed"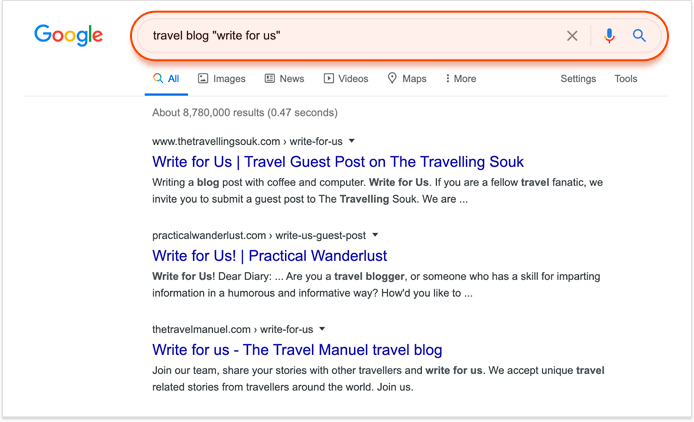 Once you've got a SERP in front of you, look through the results and find websites that are likely to post your content with the link. In general, these sites should be covering topics that are very close to what your business offers. In other words, trying to push a guest post about traveling to an SEO-focused site will likely have an unfortunate result.
And don't forget to add the prospect's URL to your spreadsheet!
Step 2. Get Contact Details
Now, let's find how to get the contact details for the outreach.
As a rule, you can contact a website owner via submitting your request via the form on a website.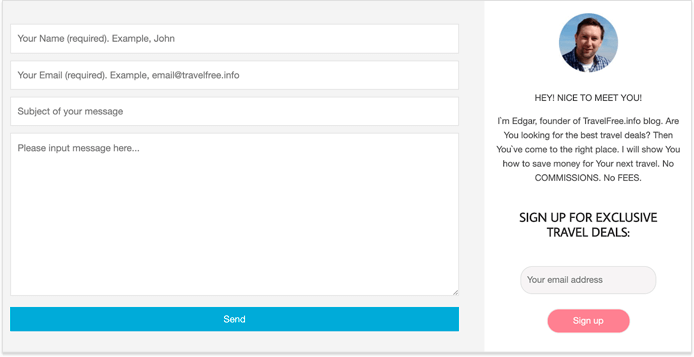 Also, you can search for the email address in Contacts or About us sections of a website.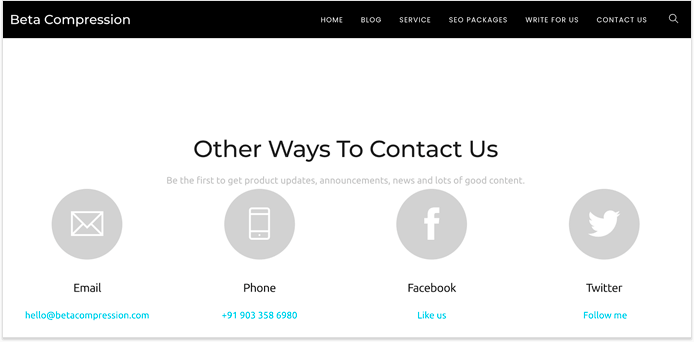 After you found the contact details, go back to your spreadsheet, and update prospects' info.
Step 3. Pitch to the Prospects
Now that you have prospects and their contacts it's time for the outreach itself.
Your task here is to pitch to your potential link building partners and clearly demonstrate to them why placing a link to your website may be beneficial for both parties.
Remember that your message to a prospect should always sound friendly, clear, and, what's more important, personal. Just imagine how many canned emails a website owner gets every day. So to increase your chances of getting a reply, it's important that your email stands out.
And never bomb all prospects with the same message! Remember, it should be personalized.
To make it easier for you to craft a great outreach message, here's a cheat sheet:
Be polite — Don't make demands. Don't be presumptuous. Think of yourself as a guest in their home.
Be professional — But at the same time don't forget to be yourself.
Don't talk down — Don't talk down to website owners even when you think you know more than they do.
Keep it short – 2-3 paragraphs will be enough. No one likes to read lengthy emails.
Talk about them – Don't just talk about yourself. Find a popular post on their site and tell them why you liked it. Find one you like. Don't lie.
Accept rejection gracefully – You're going to hear "no" sometimes. It is the webmaster's right to reject your contribution.
Also, if you feel it's difficult for you to write a great outreach message, don't be discouraged - there's a ton of inspiration online!
Step 4. Track Progress
After you've finished the outreach, make sure to note everything in your spreadsheet.
Note those prospects that you already contacted and put the date when the email was sent.
If a prospect declined your request to place a link, highlight this prospect in red.
Step 5. Follow up
That's fine if you haven't received many responses to your requests for backlinks. People are busy and rarely return to emails once they're opened.
According to statistics, 70% of unanswered email chains stop after email #1. That's not fine.
To increase your chances of getting a reply from a prospect, it's very important that you follow up on those who didn't reply to your initial request.
In your spreadsheet, note the date when you made your first attempt of contact. Add 2-3 days to the date and follow up with another message.
Don't let your message sound like spam. Annoying follow-ups lead not only to a worsened reputation but to spam complaints.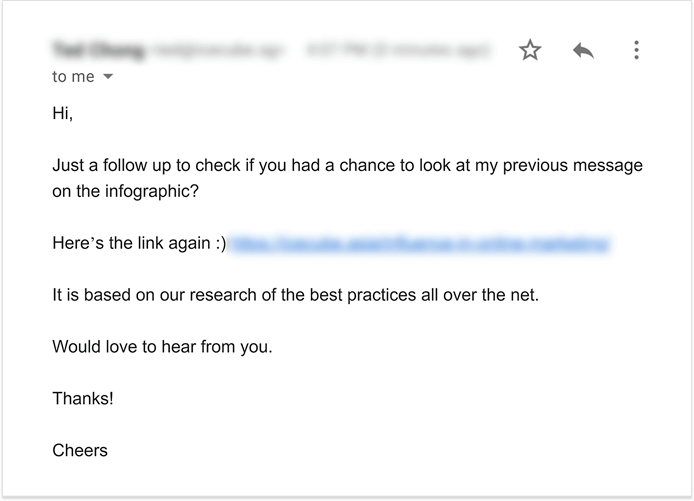 In contrast, gentle follow-ups with additional context improve your chances of getting a reply.
Make sure to note the follow-up date in the spreadsheet. If you didn't get a reply to the follow-up in a few days, highlight such prospects in red on your list and leave them be.
Step 6. Record placed links
Before any celebration, once you've got a backlink, the first thing you have to do is update the info about your prospect in the spreadsheet.
Always keep track of your placed links and don't forget to check their presence from time to time.
Save time on link building with SEO PowerSuite
SEO PowerSuite saves you long hours of manual link building since the whole process is automated and more precise.
In fact, it's an all-in-one tool that allows you to search for multiple link building prospects, reach them out right from the tool, and keep track of all your campaign's data.
You're starting with choosing one of the link building strategies in the in-app wizard, and in a few moments, you have thousands of link building opportunities in front of you.
Also, you'll have a set of most important SEO metrics indicated for each prospect. With these metrics at hand, you'll be able to sort and pick only those websites that have a good reputation.
Pro tip: Reveal link building opportunities from your competitors
One of the most proven and battle-tested tactics in link building is to look for the link building opportunities by comparing your and your competitors' backlink profiles.
With SEO PowerSuite's SEO SpyGlass you can spot thousands of link building opportunities that your competitors already benefited from. And what's more important, you'll also have an idea of their content marketing strategy too, what kind of content or market they're aiming for.
The whole process takes just a few minutes and allows you to watch your rival's link building process through a keyhole. All you have to do is to pick the right domains and use them for the sake of your own SEO.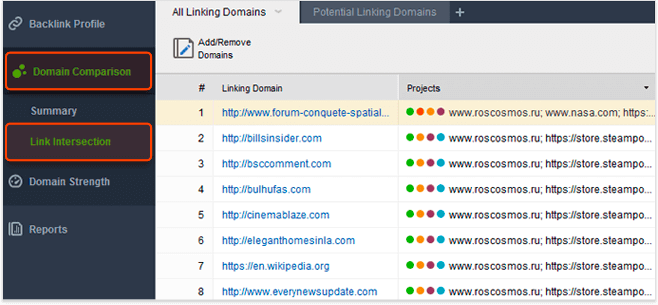 After you picked the right prospects, you can start the outreach without leaving the tool — the email client is integrated into the app.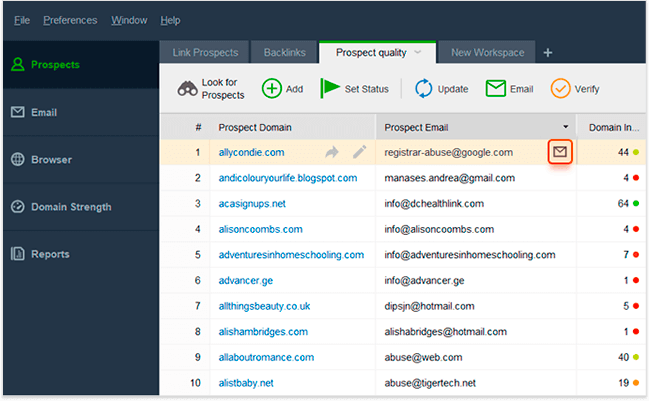 Plus, there's a bunch of outreach and follow up templates — all you have to do is pick the one you like the most and insert your details.
Once you've managed to acquire some backlinks, the tool will keep them all in one place with current statuses and all the information you may need.
By the way, we have a great guide on link building with SEO PowerSuite, make sure to read it if you want to nail your link building campaign.
Bottom line
For a decade or so, many SEOs were optimizing websites without the fancy tools.
But search engines' algorithms have been always evolving, making the scope of SEO things you should look after staggering.
That all led to the choice every business owner has to make today — save time or save cash on SEO.
With SEO PowerSuite's Professional license, you're paying $299 yearly for the all-in-one toolkit that saves you tons of time and cash, lets you focus on more serious business matters, and makes your SEO strategy more effective and data-driven.